The Best Goldendoodle Breeders in the UK (2023 Update)
The adorable hybrid of the affable Golden Retriever and the hypoallergenic, intelligent Poodle, Goldendoodles are one of the most popular designer dogs around. However, although both the parent breeds are relatively healthy dogs, they still have genetic predispositions to certain conditions, which, unfortunately, the Goldendoodle stands to inherit.
For example, Golden Retrievers are particularly prone to hip dysplasia, a common orthopedic condition that affects many breeds. This genetic condition occurs when the hip joint doesn't fit together properly and can cause pain and instability in the joints and hips of affected dogs.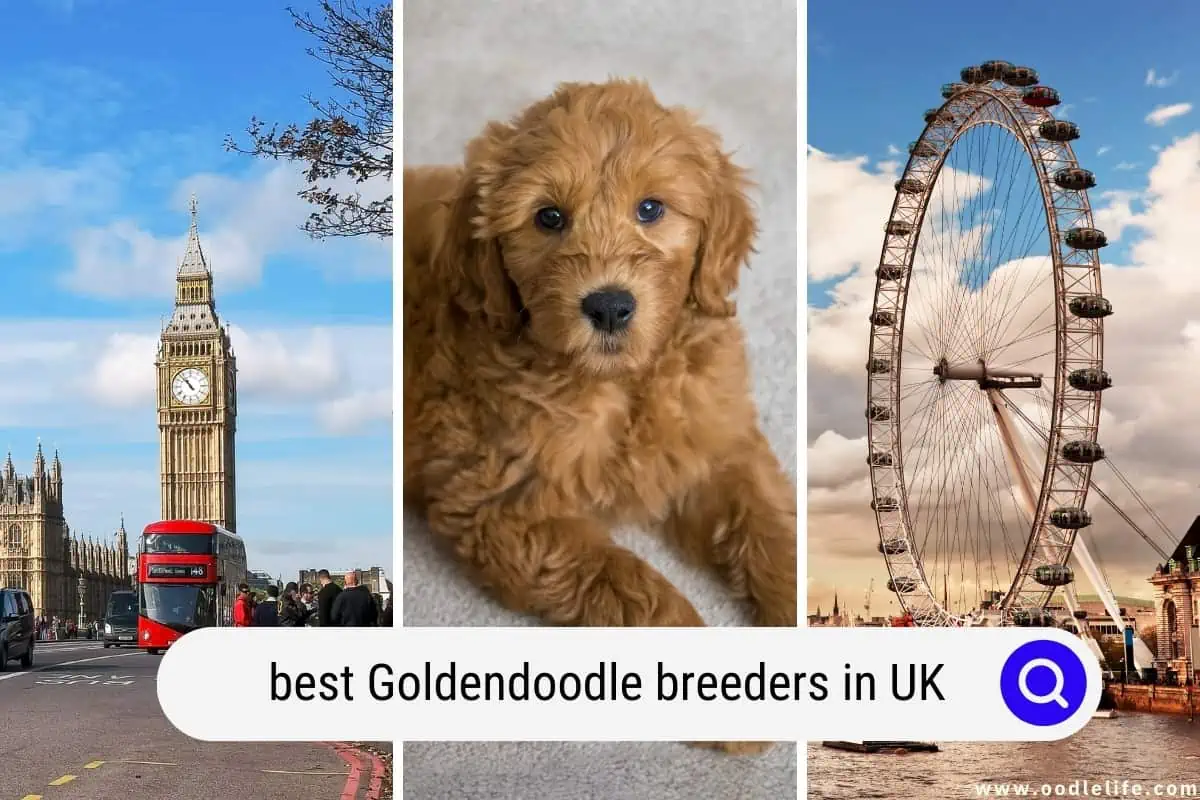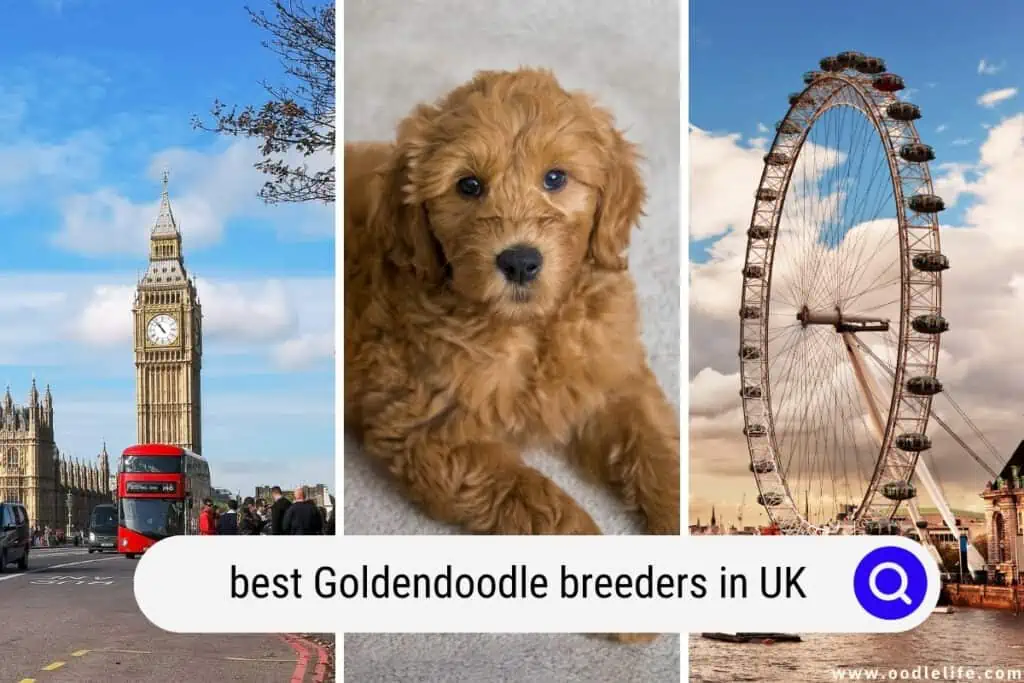 $300 2023 Discount!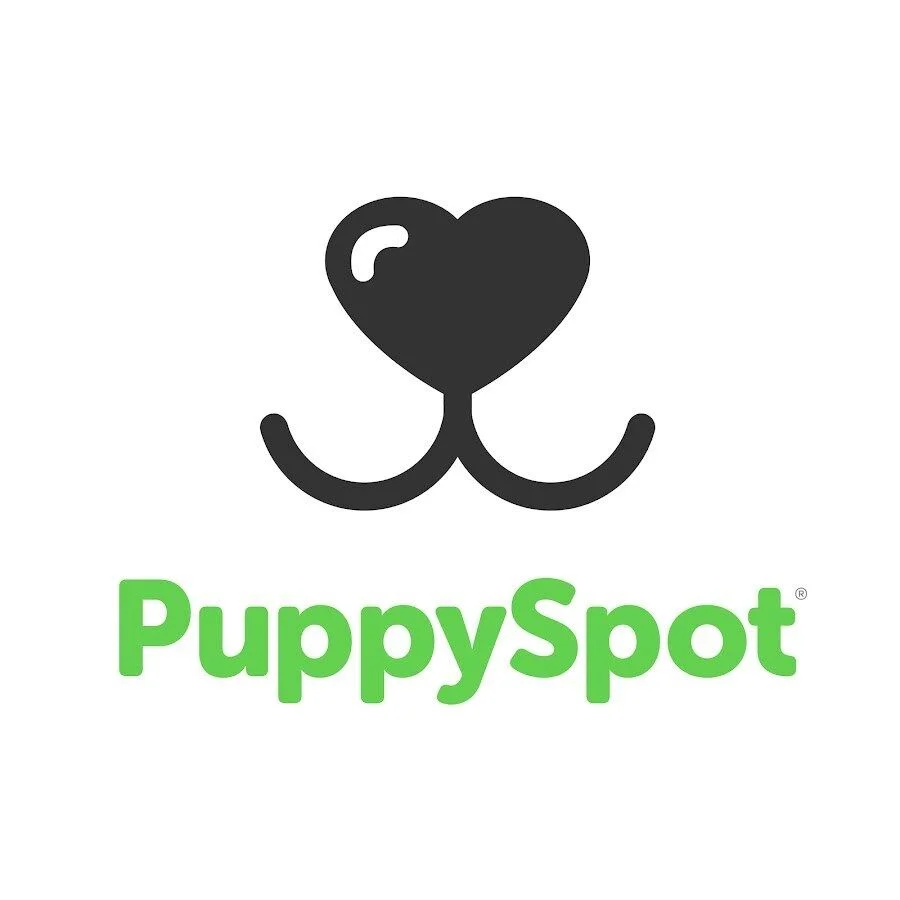 PuppySpot Adoption
PuppySpot is a reputable dog marketplace where you can browse and find compatible puppies right from the comfort of your home. They have placed over 200,000 puppies into homes in the US!
Click through and use the code PUPPY300 for $300 off any puppy adoption.
See Puppies and Save $300
In addition, Poodles have hypoallergenic, low-shedding coats but they are particularly prone to skin conditions. Common conditions in Poodles include allergies, bacterial and fungal infections, seborrhea, hot spots, and even injuries from too much grooming.
Being a hybrid, Goldendoodles will also be vulnerable to the conditions of both the parent breeds, which is why it is crucial to select your Goldendoodle from a reputable breeder that knows of these conditions and regularly tests for them to eliminate them from future bloodlines and litters.
In this blog post, we'll share some of the best Goldendoodle breeders in the UK so that you can rest assured you're acquiring your new bestie from an ethical, responsible breeder!
1. Skenasdoodles
One of the best Goldendoodle breeders in the UK, Skenasdoodles specializes in Goldendoodles and Bernedoodles. In addition to these hybrids, Skenasdoodles also occasionally breed a litter of purebred dogs like Poodles, Golden Retrievers, or Bernese Mountain Dogs.
This breeder takes the health of its dogs very seriously. Every adult dog is at least two years of age prior to being bred and is extensively health tested. Each litter of puppies is also tested to meet the British Veterinary Association and UK Kennel Club breed health guidelines.
The Goldendoodles from Skenasdoodles are DNA-tested before they are sold to their new owners. This assures that the puppies that are sold are unlikely to come down with a genetic disease later in their lives.
Skenasdoodles breeding pairs are carefully selected to minimize inbreeding as much as possible with a vast majority of their litters being 0% inbred, which reduces the chances of genetic defects.
Before they are handed over to their new owners, the Goldendoodle puppies are properly vaccinated, microchipped, dewormed, vet-checked, and generally well-taken care of. Puppies are usually at least eight weeks old before leaving the breeders for their new homes.
When you purchase a Goldendoodle pup from Skenasdoodles, you get a puppy package that includes a Skenasdoodle information booklet, flea treatment, a 12kg bag of puppy food, a whistle, and the pup's blanket with mom's scent.
Before you leave with your pup, you will be required to fill out a questionnaire and sign a puppy contract. Purchasing a Goldendoodle from Skenasdoodles also gives you access to their closed Facebook page on which they provide a lifetime of support for dog owners.
Skenasdoodles have a five-star breeding license under Thanet County Council's legislation, and all their pups are all registered with the UK Kennel Club.
Contact Details:
Website: http://www.skenasdoodles.co.uk/
Phone: 07852 185 020
Email: [email protected]
Location: Kent, England
2. Curtabemdoodles
Curtabemdoodles is a family-run breeding service that breeds Goldendoodles, Ultimate Doodles Bernedoodles, and Mountain Doodles.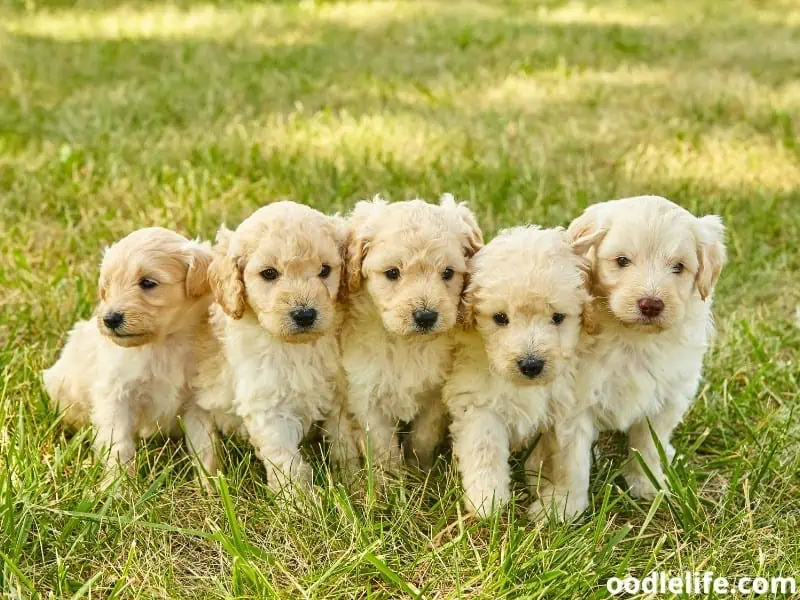 They pride themselves in breeding healthy, high-quality, happy, well-cared-for dogs. From the moment they are born, Curtabem puppies are showered with the best. Whether it is time or money, no expense is spared in making sure their pups are healthy and happy.
Curtabem dogs and puppies are crate-trained, potty-trained, and generally well-behaved all around.
Curtabemdoodles offer an imprinting course during which the dogs are trained by a professional trainer.
The imprinting program may last 4, 8, or 12 weeks, depending on the request of the new dog owner. During this time, the pup lives in a home setting with the trainer who teaches them basic commands, manners, and self-control.
The imprinting program helps new owners through the toughest part of living with and adjusting to life with a new Goldendoodle pup. Fees for feeding, boarding, and routine treatments during the imprinting program are covered by the new dog owner.
Puppies have to be a minimum of 8 weeks old before they are considered ready to leave for their new homes. At this age, Curtabemdoodles ensure they are well-cared for, vaccinated, flea treated, microchipped, and fully vet checked.
When you pick up your new Goldendoodle, Curtabem gives you a puppy pack containing detailed advice on caring for your new pup, a scented blanket, and an invite to a closed Facebook group of other Curtabem puppy parents.
Curtabemdoodles take their puppies through an enrichment program that begins as early as when they are just 3 days old. These sessions help the brain development of the puppies and equip them to deal with stressful situations. It also has a myriad of health benefits for the dogs such as stronger heart rates, lower blood pressure, and higher disease resistance.
Curtabemdoodles do their best to make sure that you and your Doodle are right for each other and that the dog is placed in a suitable environment. At 7 weeks, they throw a puppy party where they unveil your pup and begin preparations for the move.
Contact Details:
Website: https://www.curtabemdoodles.com/
Email: [email protected]
Location: Barnstaple, England
3. Northcroft Doodles
Northcroft Doodles is a breeder licensed by the East Riding of Yorkshire Council. For years, they have bred, high-quality, healthy pups and have earned themselves a 5-star rating from the licensing body.
In addition to Goldendoodles, Northcroft also breeds Cockapoos, Australian Labradoodles, and Australian Double Doodles.
Their dogs are bred in a picturesque environment with acres of fenced grassland, woodlands, a doggie pool, and a river, allowing the dogs plenty of space to play, romp, and exercise.
Before joining their new family, these dogs are fed well on a healthy raw diet which gives them a healthy, glossy coat. They are also vaccinated, wormed, flea and tick treated, vet checked, and microchipped.
Northcroft Doodles puppies are well-socialized to both adults and humans, familiar with different sights and sounds, and generally well-behaved.
When leaving with their new family, Northcroft Doodles provides a detailed care and advice sheet, a scent teddy with mom and siblings' scent to help the pup during its first few days of being alone. They are also sent off with some natural chews such as a yakker, an antler, and a calcium bone.
Their puppies are thoughtfully bred to ensure that they are hypoallergenic and that they shed very little or not at all.
Contact Details:
Website: https://www.northcroftdoodles.co.uk/
Phone: 07941 678 549
Email: [email protected]
Location: East Riding of Yorkshire, England
4. Razzlin Goldendoodles
Razzlin Goldendoodles are run by a family in the scenic countryside where the dogs have heaps of space to run and play.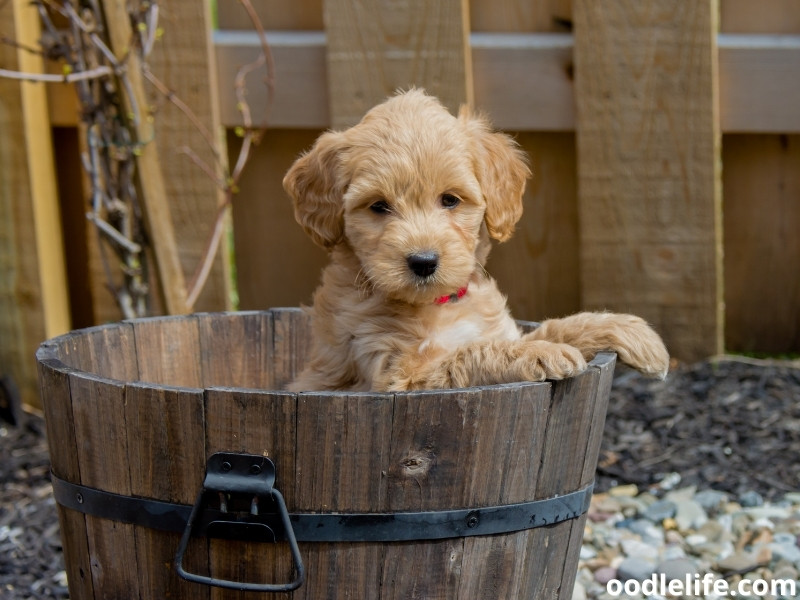 For years, this breeder has specialized in breeding only Miniature Goldendoodles which have become a highly sought-after breed in the United Kingdom. Before specializing in the breeding of Goldendoodles, these breeders were experienced Golden Retriever breeders.
Miniature Goldendoodles are intelligent, loyal, and easy to train. And of course, they don't up as much space as a Standard Goldendoodle or require as much exercise, making them suitable for less active households.
Razzlin pups are showered with love and care from the moment they are born. They are well-socialized, balanced, and confident. The parent dogs are thoroughly DNA-tested to ensure that they do not have any genetic diseases that can be transferred to the offspring.
As such, each litter of puppies is healthy and unlikely to have any genetic diseases later in life.
The pups are affectionate, outgoing, and family-friendly. They come in many colors such as apricot, red, champagne, and cream depending on the Poodle parent.
Like most reputable Goldendoodle breeders, Razzlin Goldendoodles are selective about the home they put their pups in. Their puppies go fast, and they have a long waiting list.
Contact Details:
Website: https://www.razzlin-goldendoodles.co.uk/
Phone: 07946 615 753
Email: [email protected]
Location: Norfolk, England
5. Kizzabella Doodles
Kizzabella Doodles are well-known for their Miniature Goldendoodles, known as Petites, and their Mediums, which mature to around 18 to 22 inches. Kizzabella Doodles also breed Irish Doodles in addition to Goldendoodles.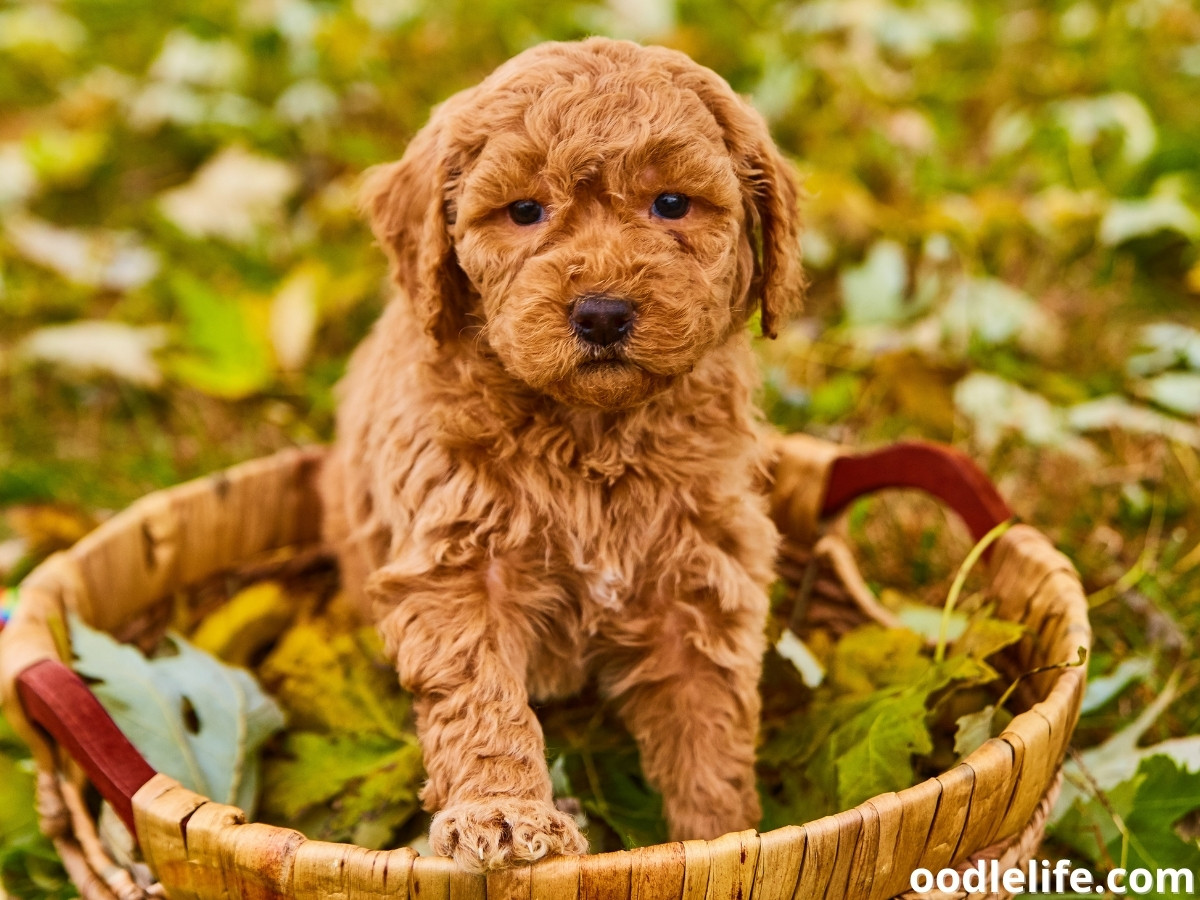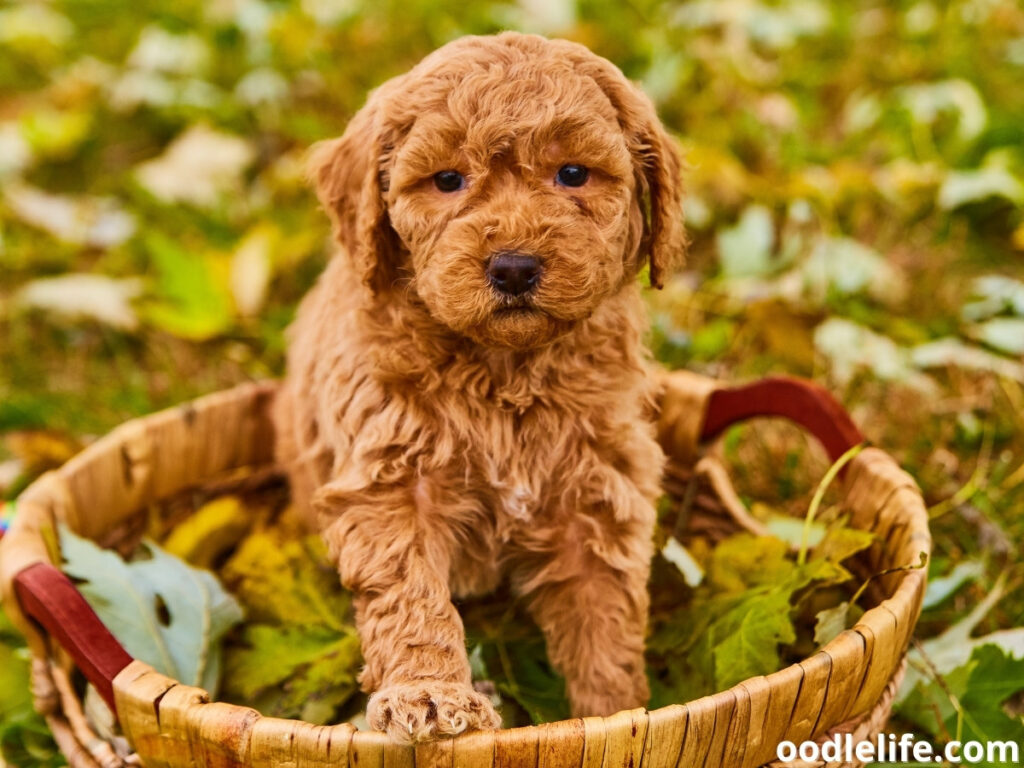 The unique thing about this breeder is that they breed extremely rare and stunning deep red Goldendoodle puppies.
They are located in a beautiful, dog-friendly part of the country which has lots of space and footpaths for dogs to explore. In addition, the proximity to dog-friendly beaches allows many of their dogs to experience water which Goldendoodles are known to love.
Kizzabella Doodles is licensed by the South Holland District Council with a 4-star license which is the highest rating newly-licensed breeders can be awarded.
This breeder pays utmost attention to the health of their puppies and all the parents of their Goldendoodle pups are screened for genetic conditions before breeding. Pups are vet checked, vaccinated, wormed, and fed a high-quality diet before heading to their new homes.
Contact Details:
Website: https://www.kizzabelladoodles.co.uk/
Email: [email protected]
Location: Lincolnshire/Cambridgeshire border, United Kingdom