5 Best Puncture Proof Dog Pools 2023 Swimming Safely!
Let's face it; as a dog owner, finding a viable way to cool down your pup is essential when dealing with the sweltering summer heat. There's no better choice than the pool! Dogs are notorious for their sharp claws and teeth, which can puncture a dog pool not made of rigid materials without much effort.
If you desire to keep your dog cool and happy during the summer, a puncture-proof dog pool is necessary to avoid wasting money. Dogs have the luxury of letting off heat as we humans do. Because of their fur, they can overheat quite quickly, which is why they enjoy jumping in the water.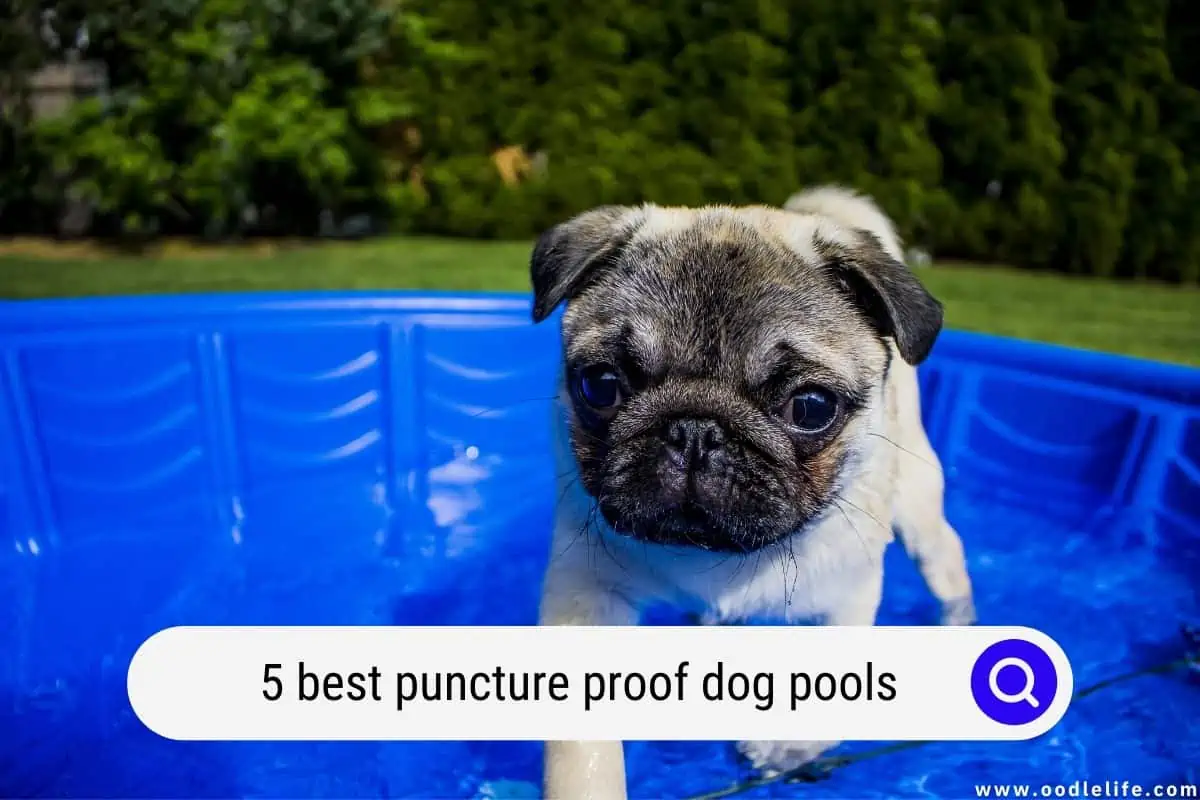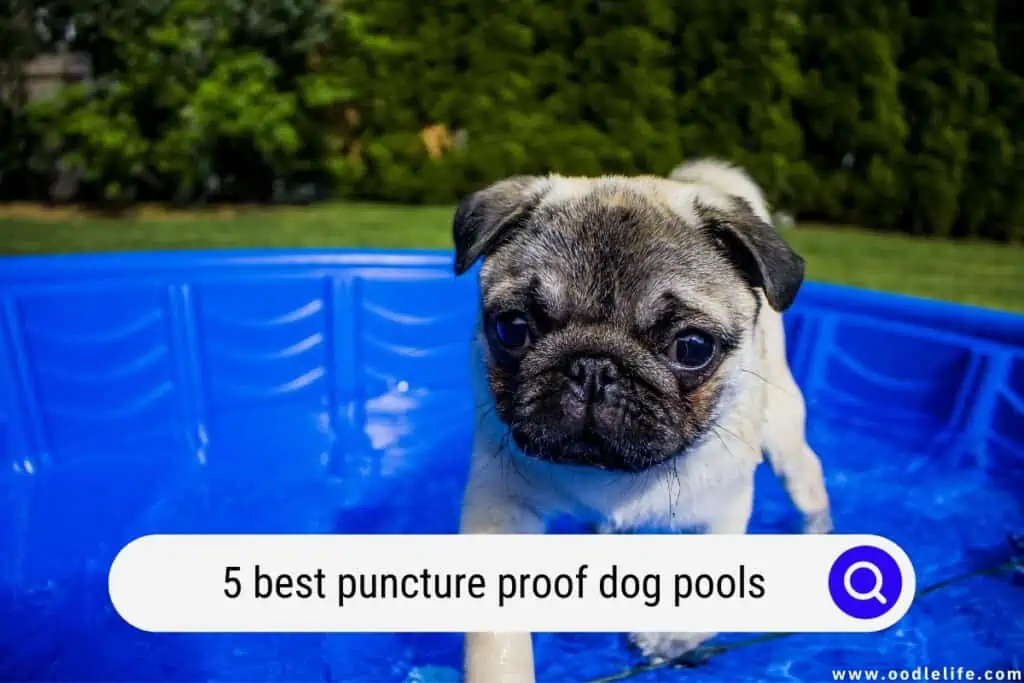 Below you'll find puncture-proof dog pools that can stand up to your dog's sharp claws:
The 5 Best Puncture Proof Pools For Dogs
Take a gander at our top picks for puncture-proof dog pools:
1. Jasonwell Foldable Dog Pool
The Jasonwell Pool is an exemplary dog pool that's more than suitable to give your close companion everything they need when the heat is beating down on them during the summer.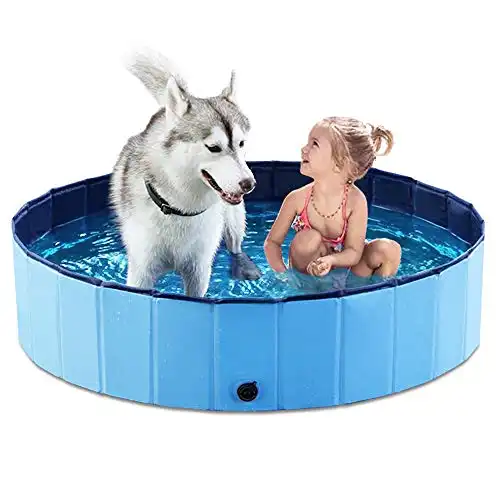 We earn a commission if you make a purchase, at no additional cost to you.
Anybody that has had to inflate anything bigger than a balloon understands how arduous such a task can be. Perhaps the best feature is that you don't have to inflate this dog pool. The pool is collapsible, so you can easily take it with you anywhere. The slip-resistant material at the bottom of the pool provides exceptional grip even when filled with water.
The Jasonwell Foldable Dog Pool comes equipped with panels made of tough material. Specifically, the PVC material accounts for most of the pool's durability and is the main reason it's puncture-proof.
The Jasonwell pool is also an excellent investment, thanks to its versatility. Although the pool is for dogs, you can use it for your children to make the summer a bit more festive.
You could also convert the dog pool into a sand pit, and your dog or your children can have a great time in it. This pool comes in several sizes, depending on the size of your dog. The sizes range from small to extra-extra-large.
Pros
Portable.
The setup is straightforward.
It's served multiple purposes.
Made of durable PVC.
Easy to store.
Cons
Slight issues with durability—complaints of leaking water.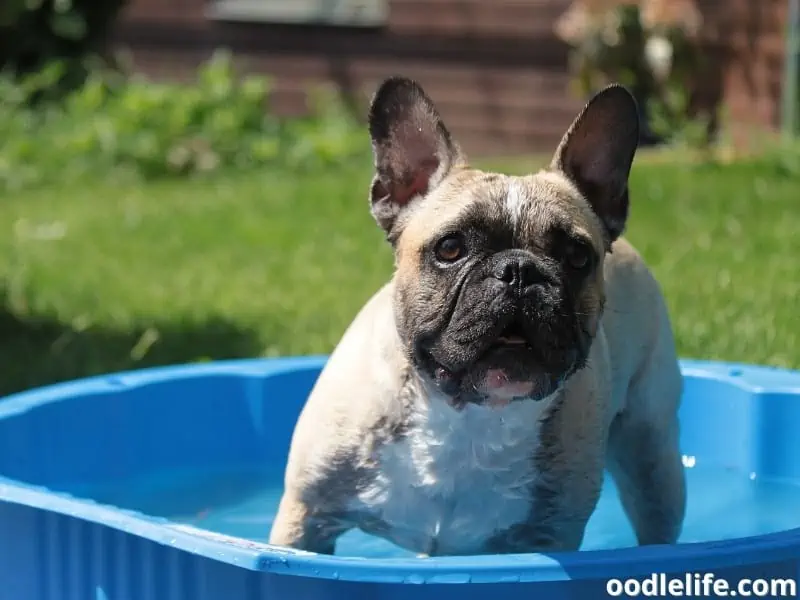 2. Yaheetech Pet Pool
The Yaheetech is another pool designed to handle even the most aggressive dogs.
Yaheetech Blue Foldable Hard Plastic Dog Pet Bath Swimming Pool Collapsible Dog Pet Pool Bathing Tub Pool for Pets Dogs & Cats w/Pet Brush&Repair Patches-63 x 11.8 inch,XXL
🐕【Premium Materials, Upgraded Stability】Made of exterior extra-tough waterproof PVC, interlayer polyester mesh, and interior 35 pieces of sturdy rectangular MDF boards, ensuring that the pet...
🐕【Various choices】: We have various sizes and colors for you to choose from. Size M is suitable for dogs under 30inches like Chihuahuas; size L is suitable for dogs under 40inches like Beagles;...
🐕【Versatile pool】: This pet swimming pool can be used both indoors and outdoors. The pool can be filled with water, a thin layer of sand or sea balls to build varieties of entertainment for the...
🐕【Portable & foldable & space-saving】: The dog/cat bathing tub featuring foldable and portable can be folded into a small portable size, easy to store and carry with for camping or traveling....
🐕【Warm tips】: Please do not exceed the maximum fill line when you fill water or half of the volume when holding sand. To ensure the normal use, please place the pool on the flat and smooth...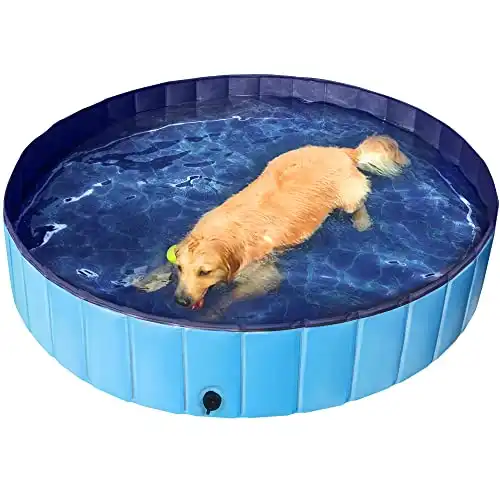 We earn a commission if you make a purchase, at no additional cost to you.
Sharp claws are no problem for the Yaheetech pet pool. This pool has a drainage valve made of PVC material which, as we know, is a very resilient material in and of itself. The setup is easy, and it has the added advantage of being portable, allowing you to take it with you wherever you may need it.
This pool is a great choice for dog owners who don't have a built-in pool. Moreover, the PVC material gives you peace of mind knowing it won't succumb to leakage or damage of any sort.
Your dog's safety is a primary focus, apparent by the scale marked on the pool delineating the recommended highest water level for your dog.
When you're done with the pool, the perfectly positioned plastic drainage valve makes draining the pool very easy. The pool folds easily, which makes taking it from place to place not only possible but practical as well. This pool can be stored easily to boot, thanks to its unique folding feature.
Pros
The pool is easy to use and comfortable.
The setup is easy.
The non-slip bottom offers excellent grip.
Very easy to store.
You can take it with you wherever you go.
Cons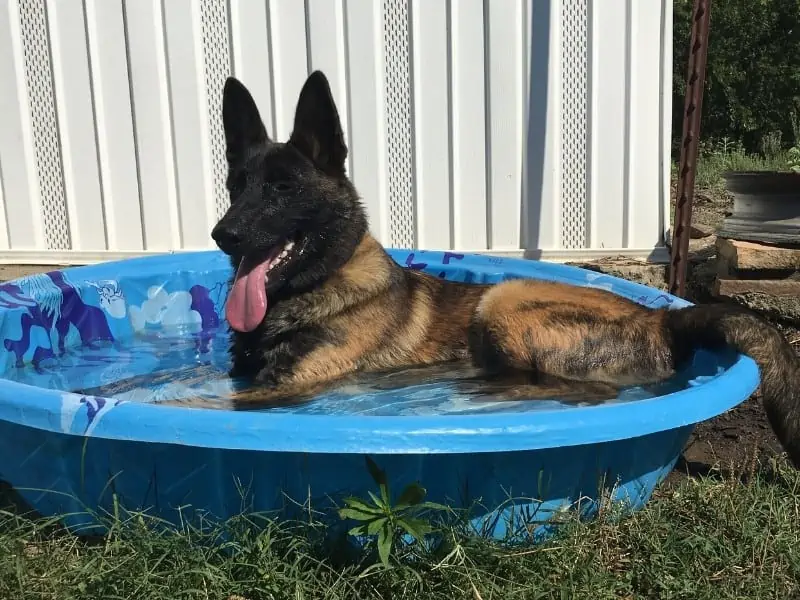 3. Petsfit Pool For Small-Medium Dogs
The Petsfit pool is amongst the best options as it is available in various sizes to accommodate small to medium-sized dogs. Its protective layer resists UV rays, and the construction features double-reinforced PVC. There are also polypropylene sheets between the walls of the side panels for extra support.
Petsfit Foldable Dog Pool Kiddie Pool for Swimming, Outdoor Pool for Puppy Cats Pets Puncture Resistant
Durable: Double wall design for better leakproof, covered in a tough puncture-resistant Oxford and nylon fabric, holding up well to pets' claws after plenty of use.
Stable: A wire frame ring in the top to keep the pool's shape from falling apart even when it is full of water.
Portable: The puppy bathtub can be folded up small into flat part, requiring little space to store or transport.
Convenient: Not need to inflate, and easy to drain by simply pushing one of the panels down to release its contents.
Spacious size: 41" in diameter and 12" deep. Ideal space for small/medium dog to take bath and play.
We earn a commission if you make a purchase, at no additional cost to you.
This pool is also easy to store and carry around to various places such as the backyard, camping, and more.
Additionally, you don't have to worry about inflating the pool, so you don't need a pump when you want to use your pet pool. When you're ready to drain it, you can push one of the panels down to allow the water to run out of the pool. The durable PVC material prevents leaks, no matter how excited your dog gets while in the pool.
There's also a steel wire frame that adds extra strength while in use. Though this pool is specially designed for small and medium dogs, it can also accommodate larger dogs, making it a versatile option.
Pros
Thick nylon fabric for extra resilience.
Perfect for indoor and outdoor use.
Protection against UV rays.
Ideal for small and medium dogs.
Cons
The pool may start to leak at the seams after heavy use.
This pool isn't a great option if your dog chews a lot.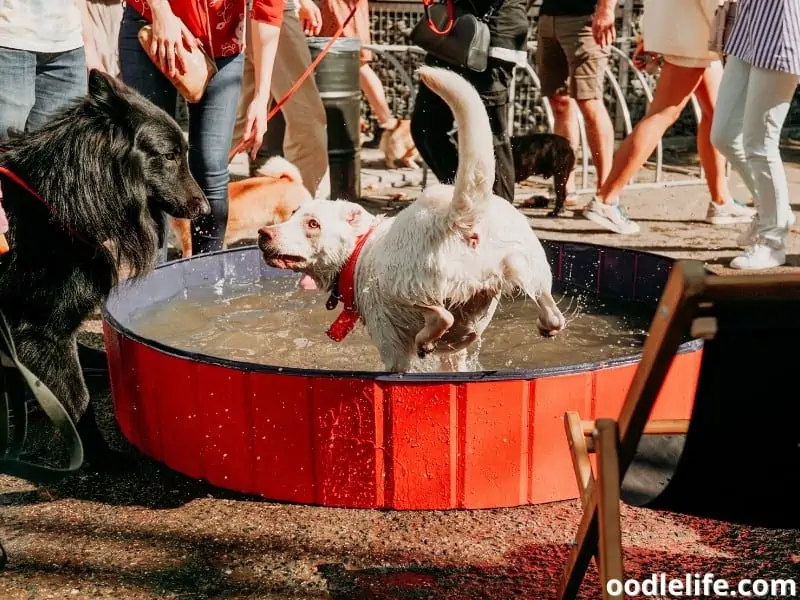 4. Niubya Dog Swimming Pool
The Niubya Dog Pool is one of the most aesthetically pleasing options on the list. It's clean and conventional in design while still offering optimal functionality. The no-slip bottom makes it perfect for your dog to jump around and play while remaining safe inside the pool.
Niubya Foldable Dog Pool, Collapsible Hard Plastic Dog Swimming Pool, Portable Bath Tub for Pets Dogs and Cats, Pet Wading Pool for Indoor and Outdoor, 32 x 8 Inches
Collapsible and Portable Design: Our dog pool is collapsible design, it's portable for you to carry. As a wading pool, it can be folded into a small size easy to store and carry with for camping or...
Durable PVC Material: The pet pool is made of high-quality PVC, thick and high-strength twinwall polypropylene sheets are built-in to support the whole pool stably without easy collapse. The anti-skid...
Simple to Use: Due to the simple structure, this foldable bathtub is simple and easy to use. there's no need to inflate it. You will be able to set it up quickly and easily. You can find a drain at...
Easy to Clean: Cleanup is a easy thing for the pool! To clean, simply wipe with a soft cloth and mild soap, then rinse. (To help your pool last longer, twist off the cap to drain all water after and...
Multi-Purpose: It is widely suitable for cats, dogs or other pets that enjoy paddling or playing in the water. It can be used as a tub to bathe your pet, or as pool for them to lounge or play in...
We earn a commission if you make a purchase, at no additional cost to you.
There aren't any inflatable parts to worry about; cleaning up is easy, and you can store it anywhere in the house without the hassle of a bulky product. You can get it in small, medium, or large to fit your dog's space requirements, as you can also transform the pool into a bathtub, sandbox, and more.
The material is anti-scratch and anti-chew, so you have a little room if your dog is energetic and tends to gnaw on things a bit. You'll also be able to let the water out easily from the PVC drainage valve near the bottom of the device.
Pros
Excellent construction.
Highly durable material.
It comes in various sizes.
Cons
The side panels aren't as strong as some other options.
The bottom edge of the pool leaks sometimes.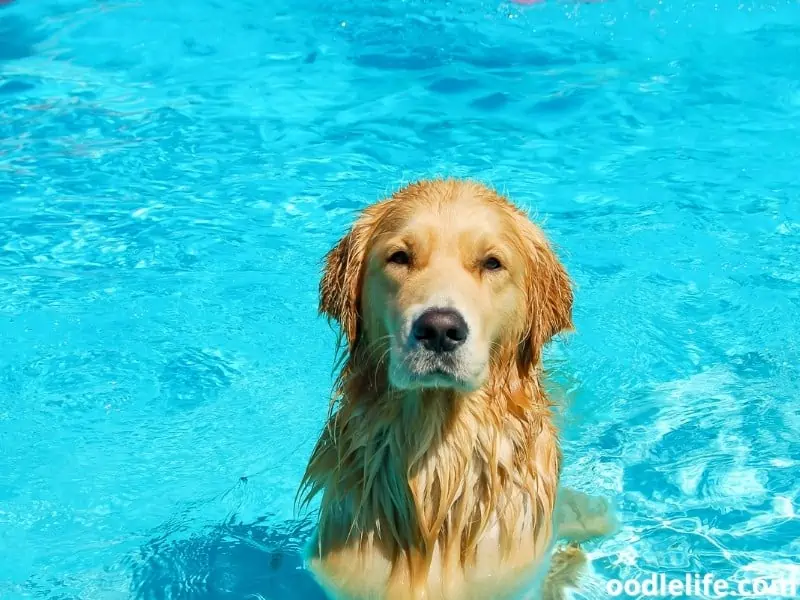 5. TNELTUEB Dog Pool
The TNELTUEB Dog Pool is an excellent addition to your dog's arsenal of toys and gadgets to keep him occupied in the summer. When they need to cool down, grab this lightweight pool that the whole family can enjoy together. The TNELTUEB pool is easy to set up, small, and lightweight enough to fit inside a drawer, and folds easily when you're done.
TNELTUEB Pet Swimming Pool for Large Dogs, 63"x12" Collapsible Dog Pool with Pet Brush Dog Chew Toy, Foldable Kiddie Pool Plastic Pet Bathing Tub, Outdoor Swimming Pool for Kids and Dogs Cat...
💦【Rugged and Durable】- The dog pet bath pool surface is made of PVC & waterproof material, the bottom of the pool use 5 mm high-strength and light-weight PE board to prevent punctures, hold its...
💦【Portable Dog Pool】- Our dog outdoor pool adopts a folding design. While it not in use, you can open and fold simply, space-saving for storage at home, and easy to store and carry, when...
💦【Easy to Use & Drain】- The dog swimming pool no inflation or pumps required! Simply unfold, make sure the drain plug is closed and then fill it with water. Build-in drainage hole adopts spiral...
💦【Large Enough】- 63 inches in diameter and 12 inches deep perfect size for small and medium dogs to fully submerse their bodies sitting down, its large enough for acting as a mini pool. Throw...
💦【Multiple Uses】- The blue portable pet swimming pool has many uses. Including dog outdoor pool, dog bathing tub, baby bath tub, kiddie pool, kids play pool, sandbox, outdoor water pond or...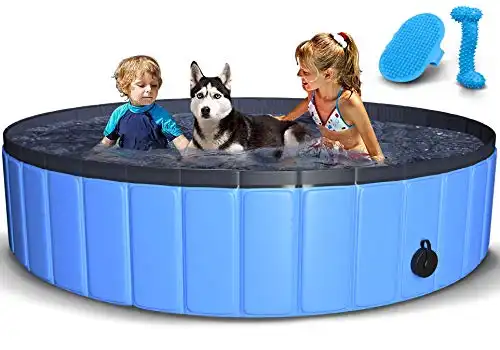 We earn a commission if you make a purchase, at no additional cost to you.
While built for larger dogs, it's a fantastic opportunity for the kids to get on and splash around with the family dog whole using the brush and chew toy that comes with the pool. The PVC material and the waterproof pet-friendly fabric work well to ensure your dog doesn't puncture the pool.
Pros
It comes with two additional accessories.
Highly durable.
Perfect for larger dogs.
Collapsible design.
It takes up minimal space.
Cons
Not great for dogs that chew a lot.
The drink gets stuck sometimes.
Buying Guide: Puncture Proof Pool
When searching for puncture-proof dog pools, it's essential to know what you're looking for. Here's a rundown of the most vital factors to ensure you're getting the correct type of pool for your canine companion.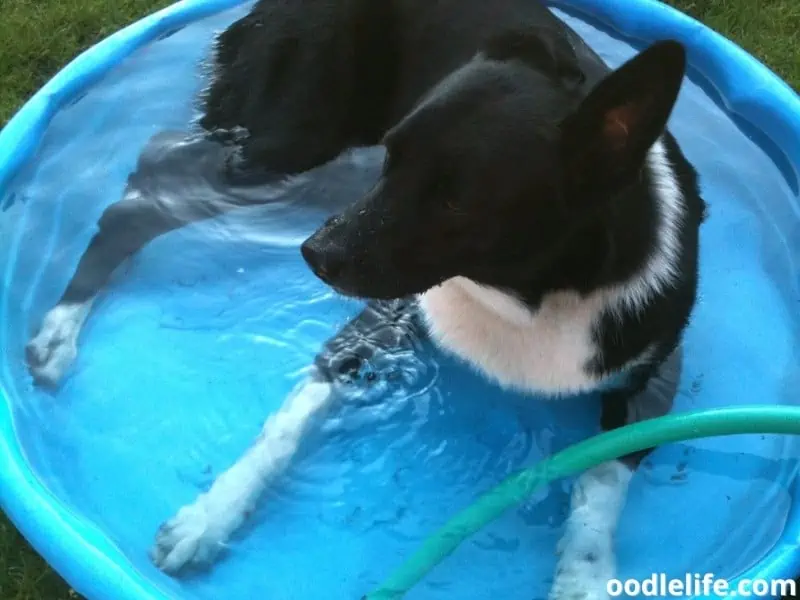 Material
You want to look for PVC, nylon, polypropylene, polyurethane, or some combination of these materials that will ensure you're not going to have to purchase another pool anytime soon.
These are the most durable materials that won't succumb to your dog scratching the pool or jumping around. You still always want to trim the nails before use.
PVC is the best option because it collapses easily, is safe for dogs, and lasts for a long time.
Never purchase an inflatable pool for your dog! It'll get destroyed within minutes, and that's just money wasted!
Shapes
Puncture-proof dog pools come in various forms, but to allow your dog the freedom to swim around in either direction, go with a circular, rectangular, or square pool.
Drainage Valve
Ensure the pool has a drainage valve near the bottom to make it easier to get rid of the water when your dog finishes playing.
Size
Consider how big your dog is and how big you want the pool to be. Remember that you want a pool that fits your dog and that you can put away with relative ease. If you find a poll that folds easily and doesn't take up much space, go for it!
Final Thoughts
The best choice on the list of puncture-proof dog pools is the Jasonwell Foldable Dog Pool. It's durable, lightweight has tons of positive reviews, and comes in many sizes for your convenience.
You don't have to pump any air to set it up, you can carry it with you in the car or tucked away in your home, and your dog will have a blast with it!