How To Make Homemade Dog Treats Without Peanut Butter? 
Homemade dog treats are a fun and healthy way to spoil your four-legged friend. Many homemade dog treat recipes call for peanut butter as the main ingredient. While most dogs enjoy the taste of peanut butter, extenuating circumstances may prohibit you from using it in your treats.
Some dogs are allergic to the sweet, nutty spread, while others simply have an aversion to it. Peanut butter can also add a huge number of calories, fat, and sodium to your dog's diet as well. If you're looking to avoid this ingredient and bake a healthy, inexpensive treat, there are several ways to make homemade dog treats without peanut butter.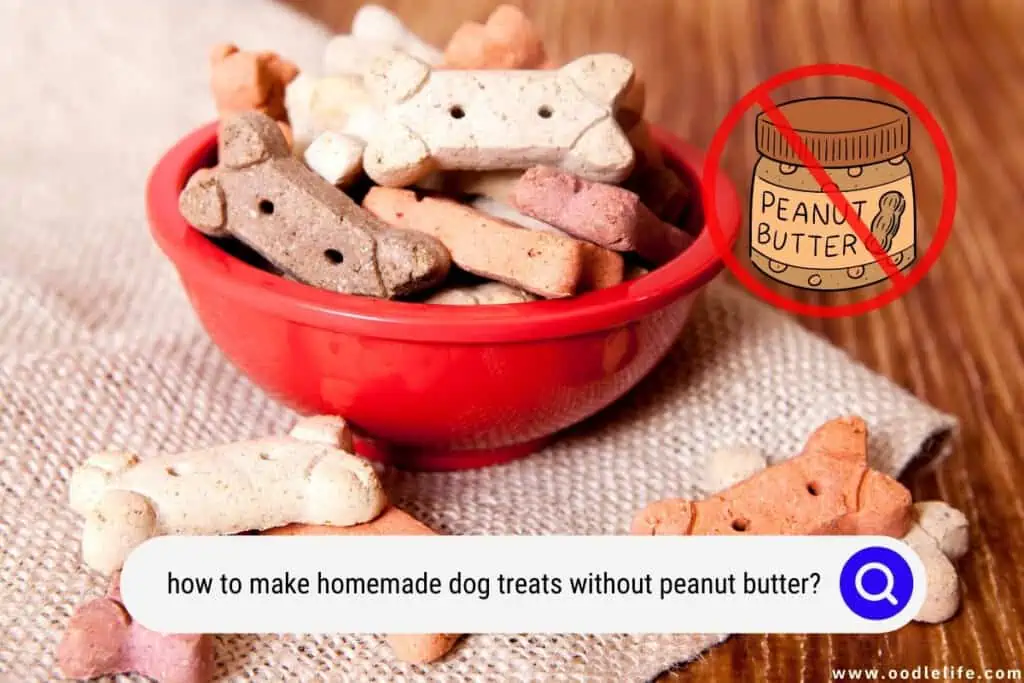 I've put together a list of my dog's favorite homemade dog treats without peanut butter. With tasty and nutritious main ingredients like almond butter, pumpkin, and sweet potatoes, your dog is sure to love them too.
Equipment Needed
Before we jump into the good stuff, I want to chat about the equipment you will need to make any of the recipes in this list. Odds are good you already have everything you need to make these dog treats.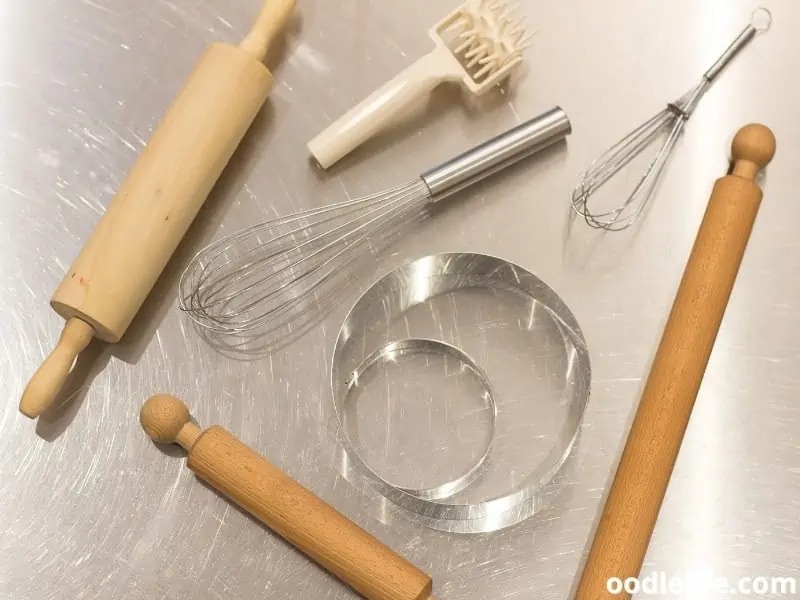 To make these cookies, you will need the following.
2 large bowls
Measuring cups
Baking sheet
A rolling pin
Parchment paper or cooking spray
Fun-shaped cookie cutters (optional)
I prefer to make my homemade dog treats in the shape of bones, but you can make them in whatever form you want. If you don't have a cookie cutter on hand, you can use a drinking glass to make circles or simply free-hand the shapes you want with a knife.
Serving Size
The serving size for each recipe is going to be a little different depending on the ingredients. However, although these treats are healthier options than store-bought ones, they're still treats. I recommend thinking about the size of your dog and its overall calorie intake before committing to a certain number.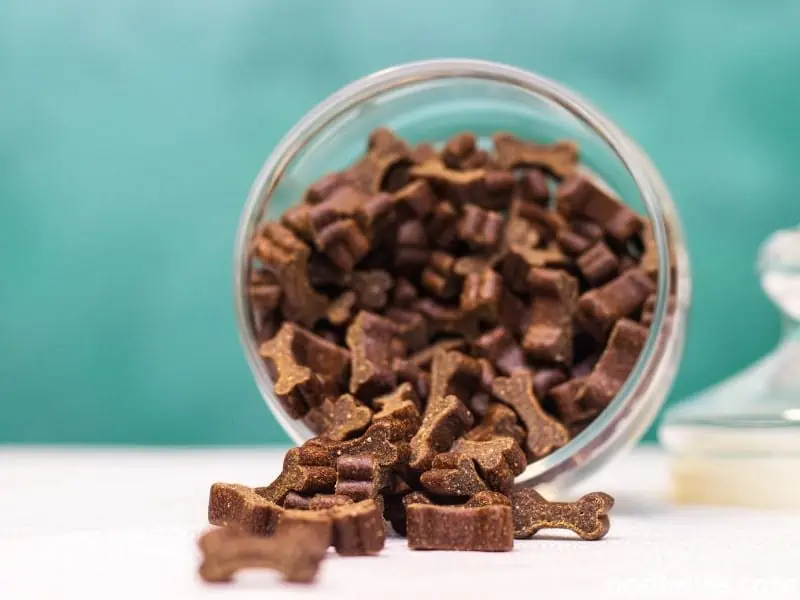 To keep it simple, I usually give my dog one homemade treat without peanut butter a day.
Almond Butter Dog Treats
Luckily for humans and dogs, there are an incredible number of nut butter alternatives that can be easily swapped out for peanut butter.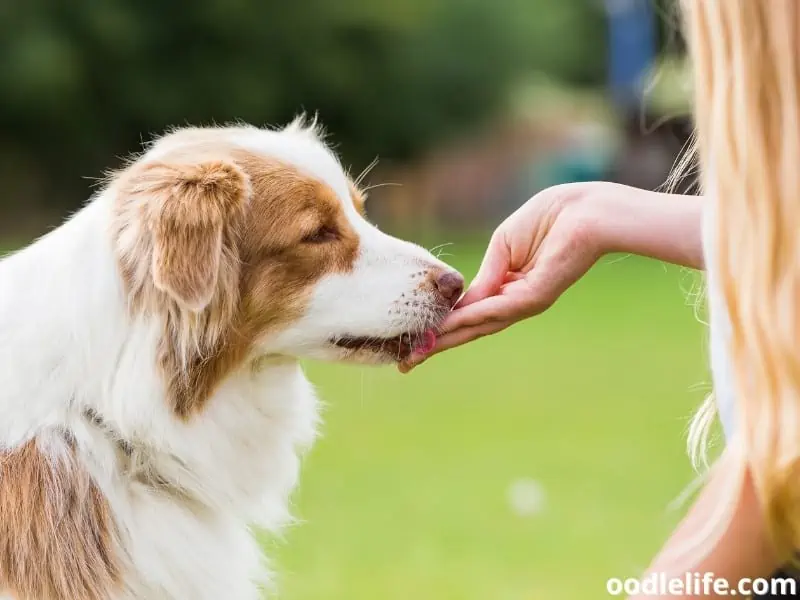 Benefits of Almond Butter for Dogs
Almond butter is an amazing alternative to homemade dog treat recipes that call for peanut butter. It has a similar nutty flavor, color, and texture. Almonds are higher in vitamin E, magnesium, and fiber than regular peanut butter, although a serving of both contains roughly the same amount of sugar and calories.
As long as the almond butter you buy doesn't contain any unsafe additives, almond butter is a safe alternative to peanut butter in a treat recipe. However, it should be enjoyed by your dog in moderation. If given too much, your dog may experience some gastrointestinal distress for 1 to 2 days.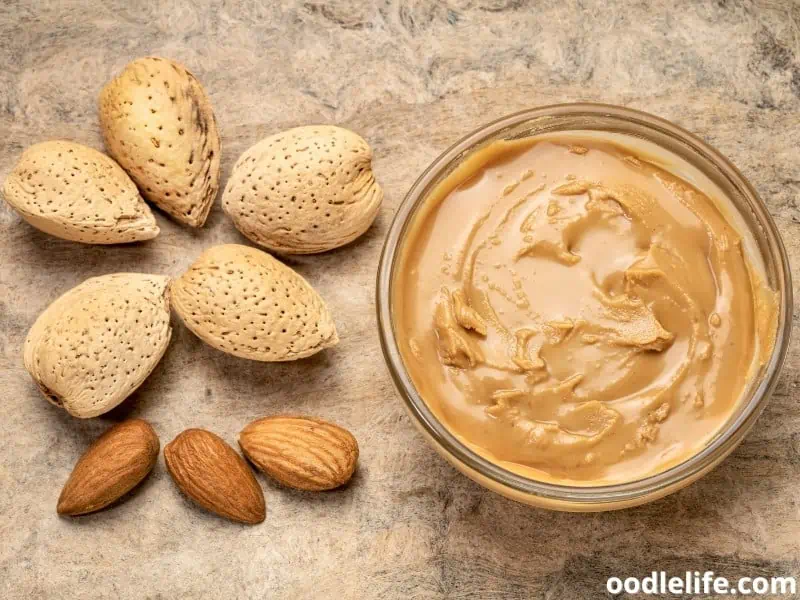 Recipe Ingredients
Before I jump into this easy homemade dog treat recipe, I want to discuss the other ingredients you will need to gather.
1 cup of almond butter – This gives the treats flavor and is packed with nutrients.
1 large egg – This acts as a binder for the treat dough and also gives them protein.
2 cups whole wheat flour – A more nutritious and flavorful flour option.
1 tablespoon baking powder – This helps the treats rise.
¾ cup of milk
If you are interested in keeping your homemade treats organic, keep an eye out for organic versions of these products during your shopping trip.
How To Make Homemade Almond Butter Dog Treats?
Your pup will gobble up these homemade dog treats without peanut butter.
First, preheat your oven to 350 degrees Fahrenheit and prep a baking sheet with cooking spray. This will keep the treats from sticking to the pan when they are done baking.
While the oven warms, mix your wet ingredients in one bowl and your dry ingredients in another. Once mixed, gently add the flour mixture into the egg and butter mixture and stir to combine until the dough is stiff.
If you'd like to cut shapes into your homemade dog treats, you will need to roll the dough out onto a well-floured workspace. Cut out the cookies using your preferred cookie cutter and place them on the baking sheet.
Bake the treats until they have achieved a golden brown color. They will be ready to take out of the oven in about 20-25 minutes.
Although your dog is going to want to get a taste right away, make sure to allow the treats to cool on a wire rack or sheet of parchment paper until they are at room temperature.
Bacon Pumpkin Dog Treats
Homemade dog treats with canned pumpkins are a go-to in my house. Although plain, canned pumpkin is available year-round, I often buy too many cans around the holidays for pies and use the extra to make these sweet treats. My dog honestly can't get enough of them.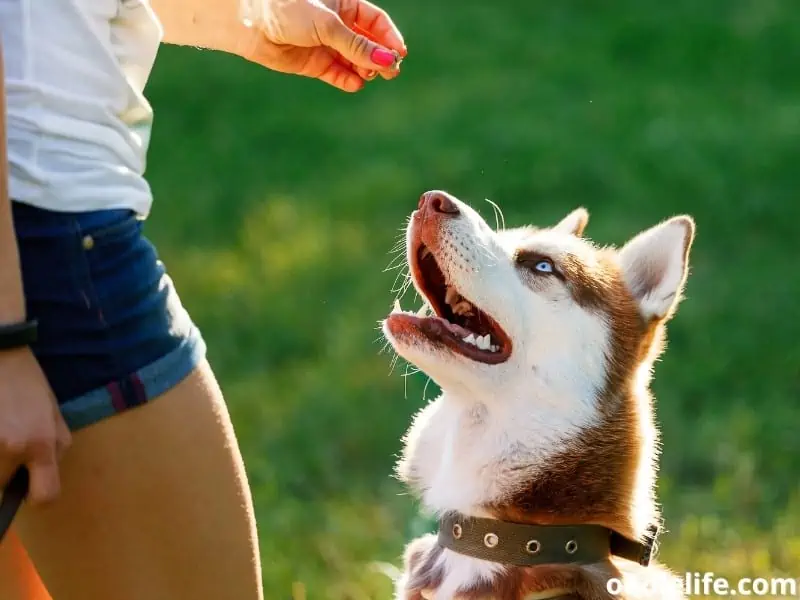 Benefits of Pumpkin for Dogs
Pumpkin is an excellent source of soluble fiber and a range of essential vitamins and minerals. On its own, pumpkin is also known to help with mild cases of dog diarrhea and constipation.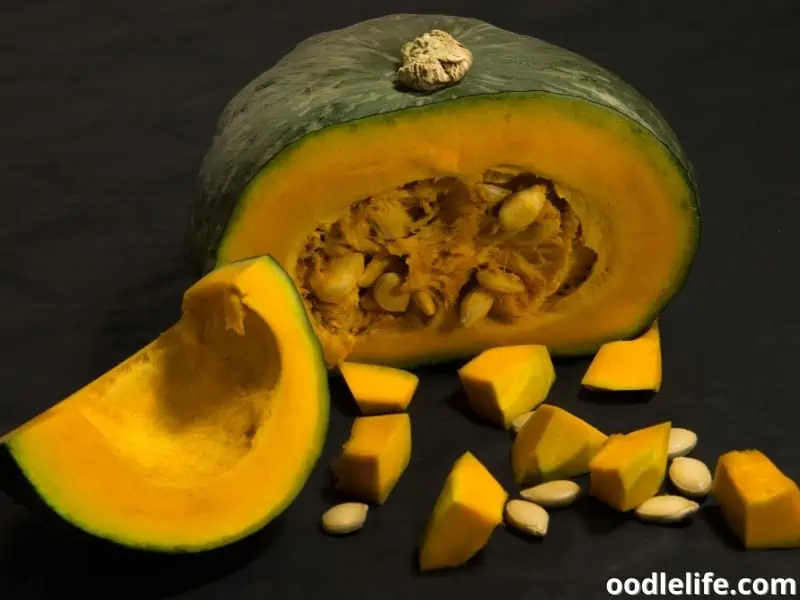 Recipe Ingredients
These homemade pumpkin dog treats from Fresh April Flours are an excellent seasonal treat to help get you and your pup in the fall spirit. They may not have peanut butter in them, but they do have bacon and plenty of bacon grease to hold them together. The extra fun flavor surprise for your spoiled dog is just a bonus.
The recipe calls for:
2 cups of whole wheat flour
½ tablespoon baking powder
½ cup pumpkin puree (plain)
¼ cup milk (or water)
1 egg
4 strips cooked, chopped bacon (plus the grease)
You must make sure to buy a canned pumpkin that is "100% pumpkin" and not a pumpkin pie mix. Pumpkin pie mix has added spices and sugars your dog shouldn't eat.
How To Make Bacon Pumpkin Dog Treats?
First, preheat your oven to 350 degrees Fahrenheit and prep your baking sheet with your preferred method.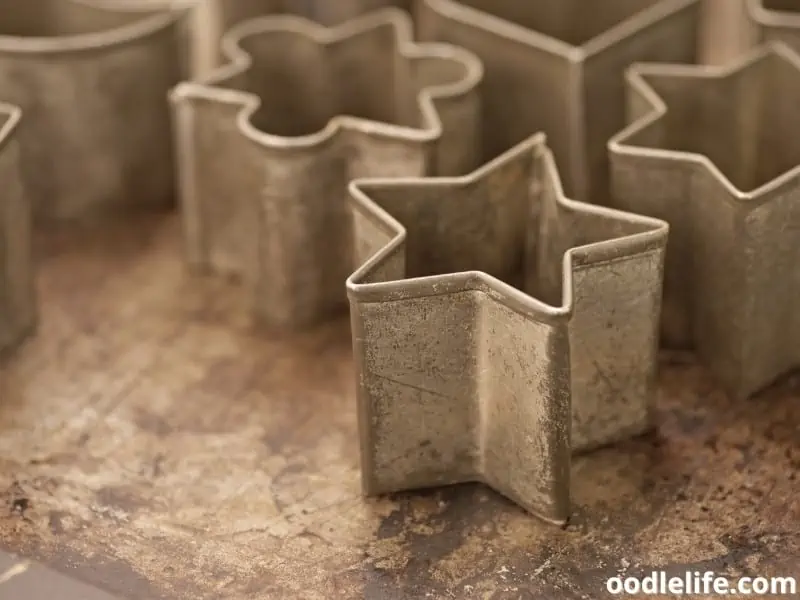 Then, cook the bacon strips on a hot pan on the stovetop. Baking the bacon in the oven beforehand is an option, but the grease from the stovetop cooking is an essential ingredient for this recipe.
Once the bacon is cooked and finely chopped, stir the dry ingredients in one bowl and the wet ingredients in another. Your bacon and the leftover grease should go in your bowl of wet ingredients. Whisk together and mix until homogeneous.
Roll out the dough onto a well-floured surface before cutting out shapes with your chosen cookie cutter. Place the treats on your baking sheet and bake in the oven for 30 minutes. For even baking, make sure to take the treats out at the 15-minute mark and flip them over.
I love these treats because you can make them in bulk and pop them in the freezer for future use. They last up to 3 months. When you're ready to give them to your dog, simply take them out of the freezer and let them thaw on the counter.
Sweet Potato Dog Treats
Sweet potato is an awesome food for dogs. They are nutritious and tasty enough to keep your dog from getting bored with his food. Their natural sweetness also makes them a great addition to peanut butter-free homemade dog treats.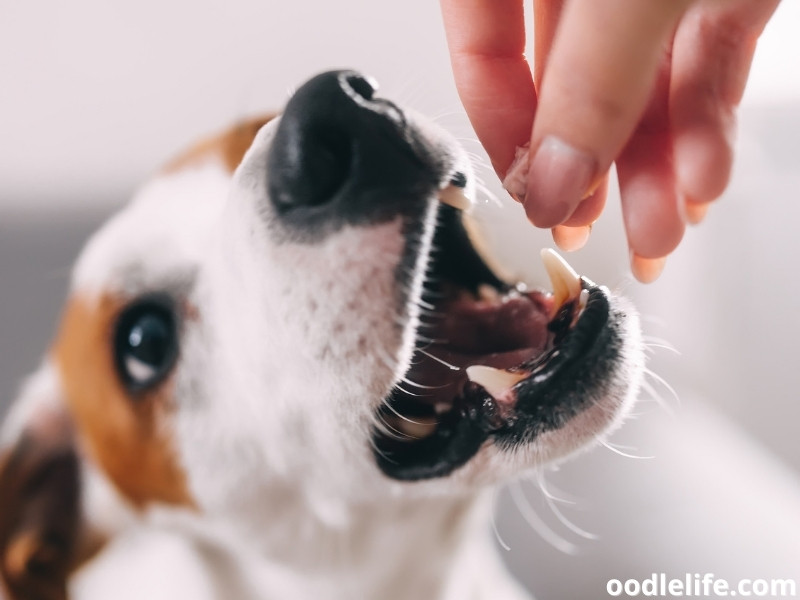 Benefits of Sweet Potato for Dogs
From a nutrition standpoint, sweet potatoes are phenomenal for dogs. They are an excellent source of fiber, low in fat, and full of vitamin A, vitamin C, and vitamin B6. They get their bright orange coloring from beta-carotene, which is necessary for your dog's bones, skin, and vision.
Recipe Ingredients
To make these homemade dog treats, you will need the following ingredients:
3 ½ cups flour
1 cup pumpkin puree
1 egg
½ cup applesauce
Once combined, these ingredients make a soft, pliable dough.
How To Make Sweet Potato Dog Treats?
First, preheat the oven to 350 degrees Fahrenheit. Mix your wet ingredients in one bowl until homogenous. Then, stir in the flour until a dough forms.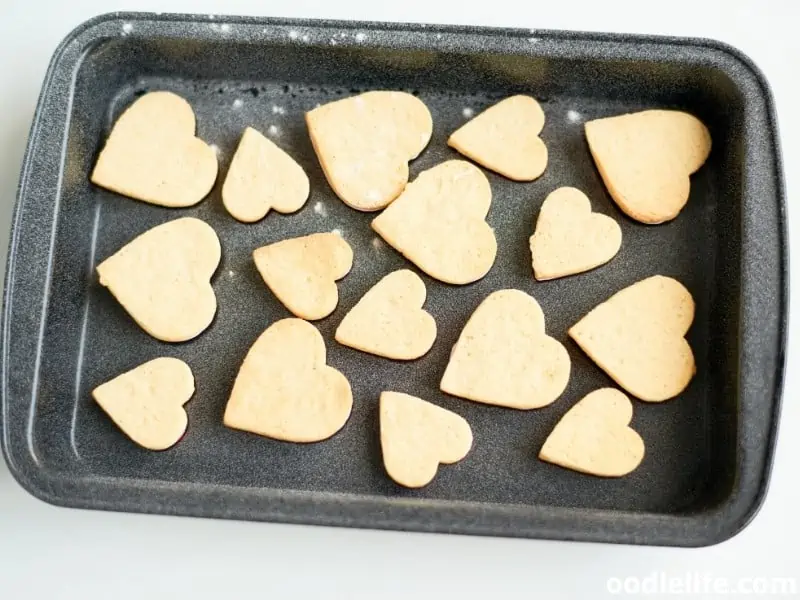 Roll out the dough with a floured rolling pin and on a well-floured workspace until ⅛" thick. Then cut out the treats using your cookie cutter or alternative tool.
Place the treats on a prepared baking sheet and let them bake for 18 minutes or until golden brown.
I love that it only takes five minutes to make this treat dough, and my dog loves the sweet potato taste. As she gets older, I think these will be a great addition to her daily diet.
Frequently Asked Questions
Before you go, take a peek at these frequently asked questions about homemade dog treats without peanut butter.
Can humans eat these treats?
Technically, humans can eat these homemade treats. After all, they are made with the same ingredients that go in our cookies and desserts. However, without any kind of sugar or sweeteners, I don't think they will please a human palette as much as they will a dog's.
How should I store homemade dog treats?
Unless you want to freeze some in a freezer-safe storage bag for road trips, I recommend buying an airtight container to store your homemade dog treats in. This will allow them to last for up to 10 days.