Smelly Safe Liver Treats for Dogs [DIY Recipes + Budget]
Baking might not be your thing, but making smelly safe liver treats for dogs doesn't require pastry chef skills. It does, however, require a strong stomach and discerning nose to get past the ingredients. But what don't we do for our beloved pets?
Homebaked liver treats are a wonderful reward for your dog's training accomplishments. While liver treats can be made with different types of animal livers, for this proven recipe, we'll concentrate on chicken livers.
Aside from being readily available at your supermarket or butcher, chicken livers bake into a healthy snack for your dog. Dogs will enjoy them, despite the scent our human noses find offensive. A dog's olfactory glands, which, according to science, are between 10,000 to 100,000 times more acute than ours, find that these biscuits smell appealing.
Nutritious Benefits of Chicken Liver Treats
Make no mistake, no one in your family is going to arm wrestle your dog to get a bite of these saliva-inducing cookies.
The dog food industry supplies hundreds of food choices for our K-9 companions. Some are a perfect blend of goodness; others have our fussy four-legged friends curl their noses.
Organ meats like liver, heart, and kidney are full of nutrients and are a better source of protein than bean and vegetable fillers.
This recipe includes only beneficial ingredients that are healthy for your dog (allergies aside), like eggs, oats, coconut oil, and liver. If your dog needs tested hypoallergenic treats, there are many good options.
To increase the food value, shop for organic ingredients. Liver treats are rich in vitamins, minerals, essential fatty acids, and a great source of iron.
Regardless of which option you choose to make, your dog will appreciate the effort. (Okay, that's not scientifically verified, but it's still true.)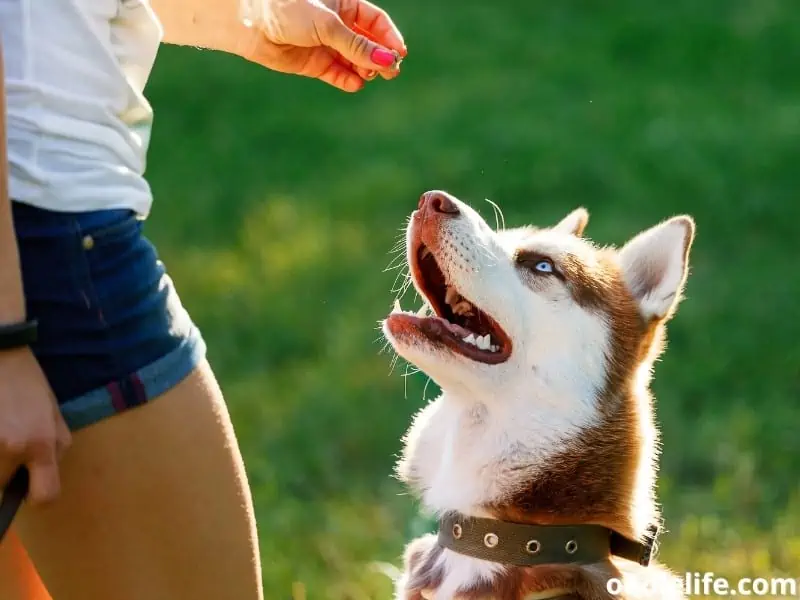 Nutritious Elements of Liver
Chicken liver, by all rights, should be classified as a supplement food. It's rich in nutrients that rank it higher than chicken breast or thigh meat on the food value scale.
Animal carnivores don't set liver aside in the wild and say, oh, that's gross. No, they gorge on it as fast as they can get it down. Call it animal instinct; they know it's good for them.
Dog parents of anemic dogs already understand that iron from liver meats is essential to their pet's health.
Chicken liver is a powerful food when it comes to nutrient-dense proteins. It really is a tiny sack of goodness.
Minerals
Copper is elemental in releasing enzymes that regulate energy, iron metabolism, and brain function.
Choline helps brain development and liver function to promote a healthy pet.
Folate or Vitamin B9 stimulates cell growth.
Iron is a trace mineral. Meat or plant sources are essential for carrying oxygen throughout the body. While iron from spinach, legumes, and certain seeds is important, organ meats rank higher on that list.
What's important about iron is that animals, plants, bacteria, and fungi depend on it. Yet, it can't be created from other nutrients.
Vitamins
Riboflavin or Vitamin B2 helps the body in healthy cellular growth and function. It enables the body process food into energy.
Vitamin A stimulates the immune and reproduction system. It also helps organs like the eyes function.
Vitamin C is a natural anti-inflammatory agent that reduces oxidation and boosts the immune system.
Compounds
CoQ10 is a vital antioxidant and immune enhancer for pets. Senior and geriatric dogs lose CoQ10 as they age. Luckily organ meats rich in CoQ10 replenish those levels and promote cell regeneration.
CoQ10 supports a healthy metabolism, detoxifies, and balances sugars. In dogs, it also promotes dental and gum health and a robust circulatory system for active dogs. Instead of giving a supplement, give a cookie.
Now that you know why liver treats are safe and healthy, let's make some.
Smelly but Tasty Chicken Liver Dog Treat
The truth is, chicken liver isn't that appealing to work with in the kitchen. But baking cookies for your dog is rewarding and allows us a chance to give back to our faithful companions. Although you might not have organ meats in your pantry, you probably have everything you need–including an audience with a wagging tail.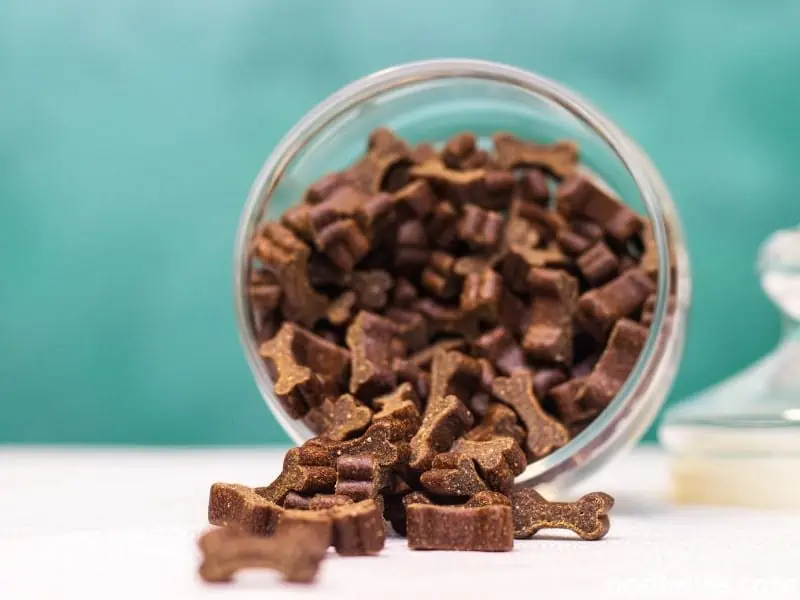 Ingredients Needed:
1lb Chicken liver thawed (you can sub with lamb, veal, beef, rabbit, turkey, duck, or pork) plentiful in health benefits
2 C uncooked oatmeal* is a good source of fiber (domesticated dogs are omnivores that can digest carbs)
2 eggs are a healthy protein that binds our ingredients
2 tbs coconut oil is a healthy saturated fat that's good for your pet's skin and coat
*You can sub the oatmeal with all-purpose flour but reduce the amount to 1 ½ cups. This sub will decrease the fiber benefit.
Kitchen Tools Needed:
Mixing bowls
Measuring cup
Baking sheet
Blender or food processor
Spatula
Extras:
Silicone cookie mold (animal bone or paw prints) (1.5″ cookie size)
Rubber gloves for food safety
Food safe canister
Clothes pin (optional) for that tantalizing smell
Step by Step How-to:
This recipe using small candy mold bones makes about 90 bite-sized cookies with 12Kcal each. It only takes a few minutes to get your ingredients together and an additional 30 minutes to bake.
Preheat the oven to 350°F.
Pulse oatmeal in blender until a flour texture
Add the liver (chicken livers are deep reddish and about 3.5″ long), crack in the eggs, and add coconut oil
Blend well until a thick but soupy-like texture
Remove any large chunks (as they make cutting on the cookie sheet more difficult)
For silicone molds, set them on a cookie sheet.
Pour creamy soup-like texture into the mold and scrape off the overflow
For cookie sheets, note these cookies don't rise.
Fill greased pan (½-¾") but don't overfill. Brownie pans work well.
Set oven timer for thirty minutes. (I always check after twenty to make sure.) To test for doneness, snap a cookie in half. If they're oozing pink, they're not quite ready.
Since you're waiting, and your pooch is too, why not try this fun game.
Suggested Substitutes
These cookies are not finicky like decadent French macaroons. If you want to change some of the ingredients as many others have before, you'll get some decent organ meat cookies for your dog.
Chopping the liver into fine bits instead of pulsing into a liquid. Dogs like the meaty flavor in each bite.
Instead of old fashion oatmeal, pulverize your dog's grain-free dog food.
Instead of chicken livers, use veal, duck, lamb, pork, turkey, or wild meat liver.
Bake and whole dry liver at 250F until dry to touch, cut into bite-sized treats without all the other ingredients.
Substitute oatmeal with rice flour, rye flour, whole wheat, or quinoa (don't use self-rising flour
Use other organ meats like kidneys or hearts.
Use regular choice meat cuts, but they will not have the same nutrient content. The liver provides 10 to 100 times more nutrients than muscle meat.
How To Store Liver Treats?
Liver treats keep well in the fridge for a week. Store them in an airtight container to seal in the freshness.
Since this recipe bakes about 90 cookies, freeze them in weekly batches. They will keep for up to three months (if your dog will let you).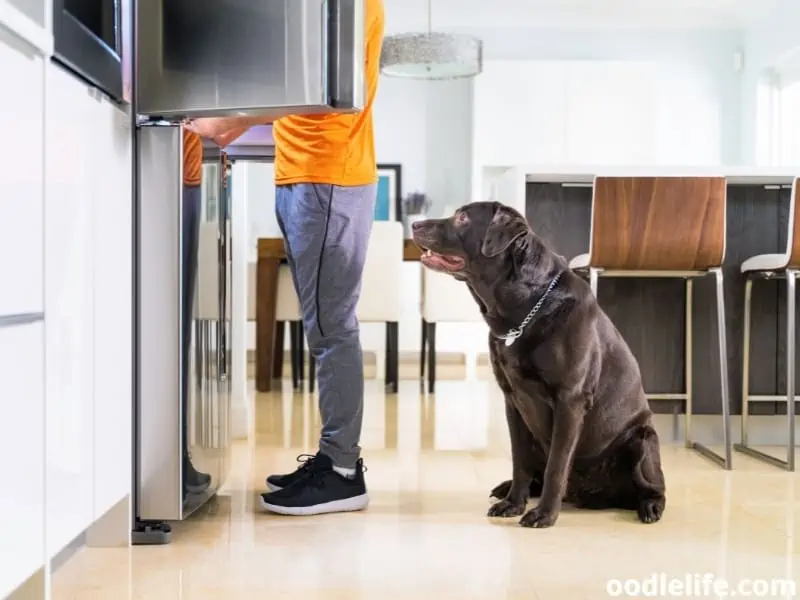 Cookie Serving Size
These chicken liver cookies are meant as a reward and aren't a substitute for a normal, healthy, and balanced canine diet.
While this treat isn't full of additives and preservatives or fattening calories, they are still a treat. Dogs prone to weight or allergy issues will not benefit from these cookies.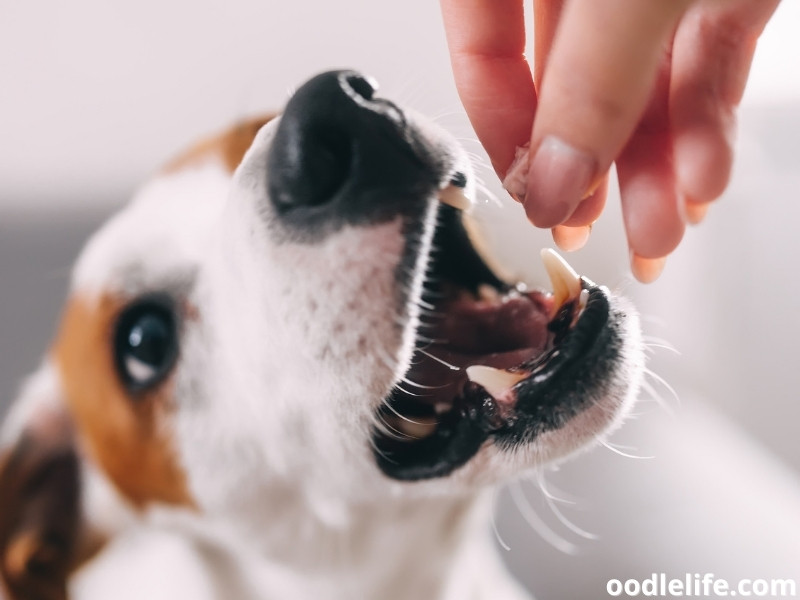 Serving Size
How many homemade dog treats should you give your dog at once? That depends on what else your furry friend ate that day. This might be a healthier treat, but it is still a treat.
A good rule of thumb is two cookies per day. For super active dogs, increase to three.
You can also easily break the bone-shaped cookies in half for training rewards. If you made them on a flat cookie sheet, cut them to the size that fits your purpose.
Watch for symptoms if your pooch is picky or has known food allergies. It's always a good idea to consult your vet.
Conclusion
Now wasn't that fun? We baked wholesome, meaty, and safe liver treats for dogs in under an hour. The best part is, that no one in your home will gain any unwanted pounds.
What's important is that this recipe provides a tasty treat or reward training cookie that you don't have to feel bad about giving.
You know they are made and given with love. Oh, and you can take that clothespin off your nose now.