Best Labradoodle Breeders In North Carolina (2023 Update)
Labradoodles are incredibly affectionate, kind, and full of energy. This loyal breed is an ideal family pet, perfect for those susceptible to allergies since they're hypoallergenic and don't shed much. They're also gentle toward children and are highly intelligent and easy to train.
If you're searching for the best Labradoodle breeders in North Carolina, you've come to the right place. We've assembled the top choices based on criteria such as ethical standards, membership worth prestigious associations that promote safe breeding practices, communication, and more.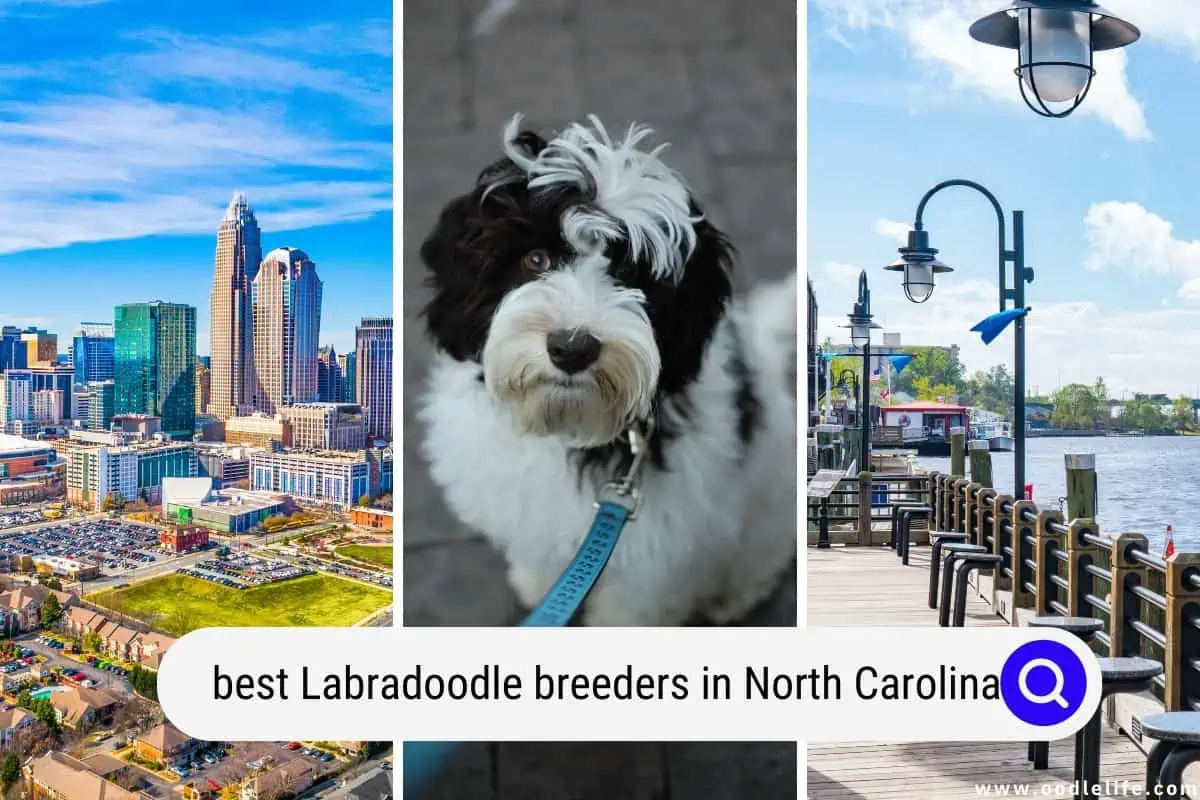 $300 2023 Discount!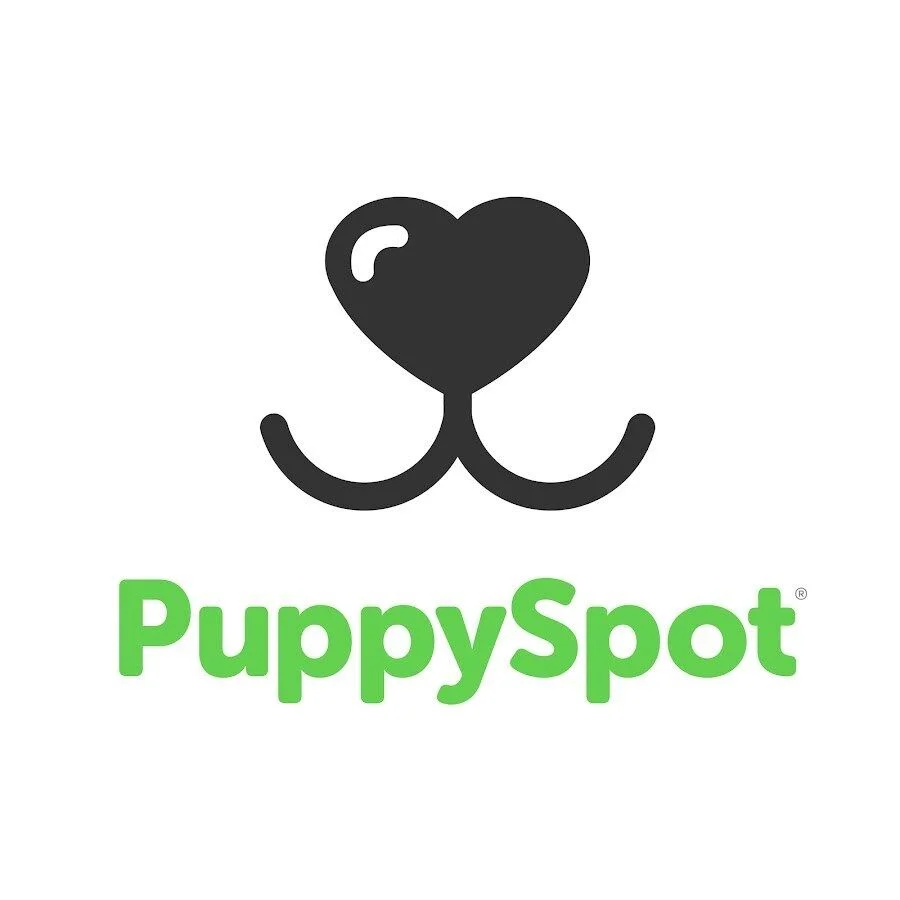 PuppySpot Adoption
PuppySpot is a reputable dog marketplace where you can browse and find compatible puppies right from the comfort of your home. They have placed over 200,000 puppies into homes in the US!
Click through and use the code PUPPY300 for $300 off any puppy adoption.
See Puppies and Save $300
Here's our list of top breeders in the area:
1. Good Day Doodles
The Good Day Doodles is a proud member of the ALAA and a responsible Australian Labradoodle breeder known for being professional. They're committed to keeping their healthy and mellow parent-dogs comfortable, ensuring they're happy, relaxed, and able to produce their litters safely.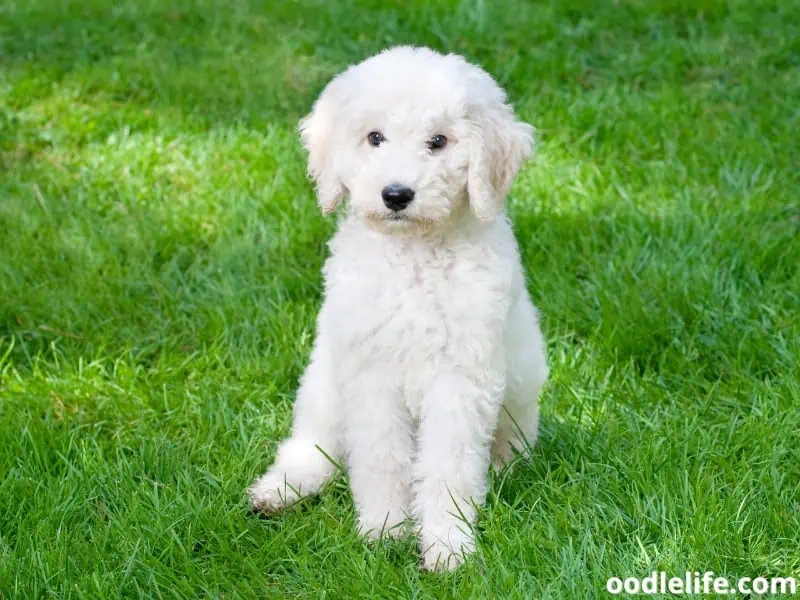 Each pup receives daily doses of love and interaction, helping to stimulate their brains, get acclimated to various surroundings, and practice proper socialization with all ages.
They raise the puppies in their home, and they start teaching them various skills early on, which helps make the transition to your home smoother. For example, the breeder starts potty training outside at six weeks old and crate training.
Good Day Doodles' adoption process is transparent, and all the puppies go to their new home spayed/neutered, microchipped, fully vaccinated, dewormed, and with a two-year health guarantee.
Contact Details:
Website: https://gooddaydoodles.com/
Phone: (336) 505-9606
Email: [email protected]
Location: Milton, North Carolina
2. Springdale Labradoodle
Springdale Labradoodle is one of the smaller Labradoodle breeders in North Carolina, raising healthy, well-behaved puppies in the home, surrounded by family. From the moment they're born until they go to their forever home, they get all the love and attention they can handle.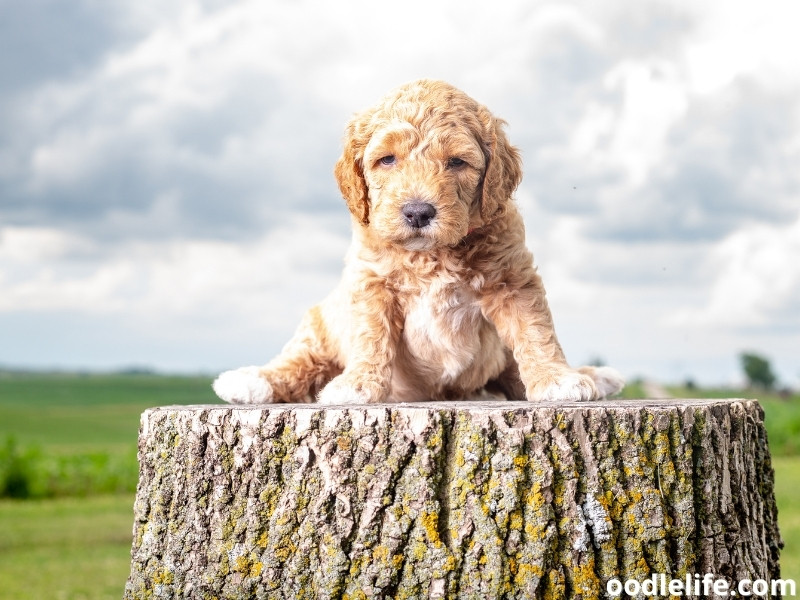 You can get a fully-trained or new puppy, as the breeders understand that some families may want to skip the potty training and early development stages. When you take your new fur baby home, they'll have received their first shots, a comprehensive health exam, and a two-year health certificate.
Additionally, they're fully dewormed, microchipped, and socialized. The breeder gives the treat of a comfort blanket with mom's scent, a three-pound bag of puppy food, a special leash and collar, a toy, and a lifetime of support and assistance.
Contact Details:
Website: https://www.nclabradoodlepuppies.com/
Phone: (336) 736-9680
Email: [email protected]
Location: Greensboro, North Carolina
3. Weddington Labradoodles
Weddington Labradoodles specializes in Miniature Australian Labradoodles, and they have excellent breed standards that adhere to the code of ethics. 
When choosing the breeding parents, they take multiple elements into consideration, such as the dog's temperament, body structure, pedigree, and other factors. You can tell their Doodles and the parents are excellently cared for when you get a glimpse of the fantastic puppies that are born and raised in their home.
All puppies get constant socialization and family attention through playing, ENS, exercising, and more. To get a better idea of how they operate, visit their website and fill out the contact form, and you'll have to submit a deposit to get on the waitlist, as they do everything online. They respond promptly and are very transparent.
Contact Details:
Website: https://www.weddingtonlabradoodles.com/
Phone: (708) 288-4018
Email: [email protected]
Location: Weddington, North Carolina
4. Oopsie Doodles!
Oopsie Doodles is an excellent choice for those who want to find reliable Labradoodle breeders in North Carolina that are known for their rigorous health testing practices.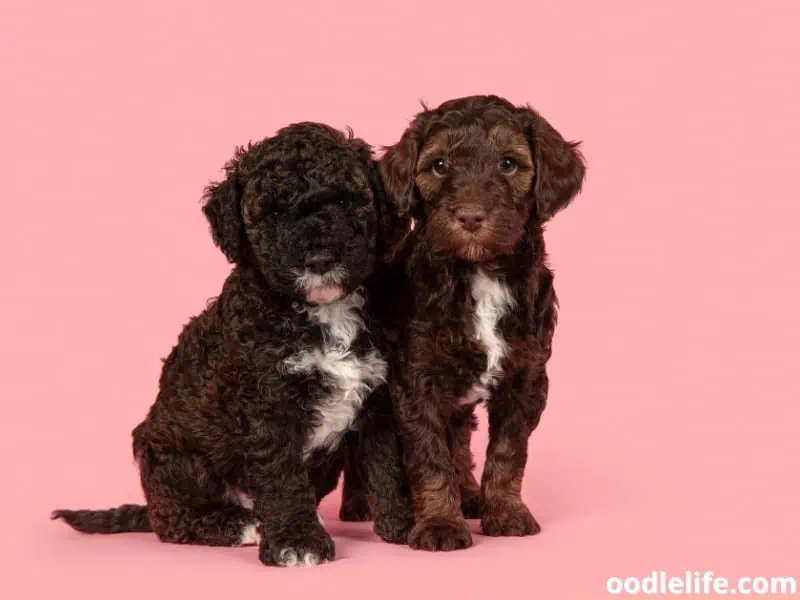 They constantly check each puppy for heart, eye, hip, and elbow disorders before every adoption. The Labradoodle pups will also have some socialization experience with children, which facilitates a smoother transition into their new home if there are younger family members present.
Each puppy also arrives with a health guarantee, up-to-date vaccines, and any necessary medical procedures that must be performed beforehand, such as spaying or neutering.
Oopsie is a member of the GANA, and the Good Dog organization, known for excellent breeding and treatment of dogs. This blue ribbon breeding business is highly recommended and offers transparent communication.
Contact Details:
Website: https://www.oopsiedoodlesofnc.com/
Phone: (252) 202-9605
Email: [email protected]
Location: Camden , North Carolina
5. Brown's Labradoodles
The Brown's Labradoodles are renowned for their quality Australian Labradoodle breeding that aligns with the ALAA when it comes to breeding their litters. Each of their dogs is bred in their home with family members.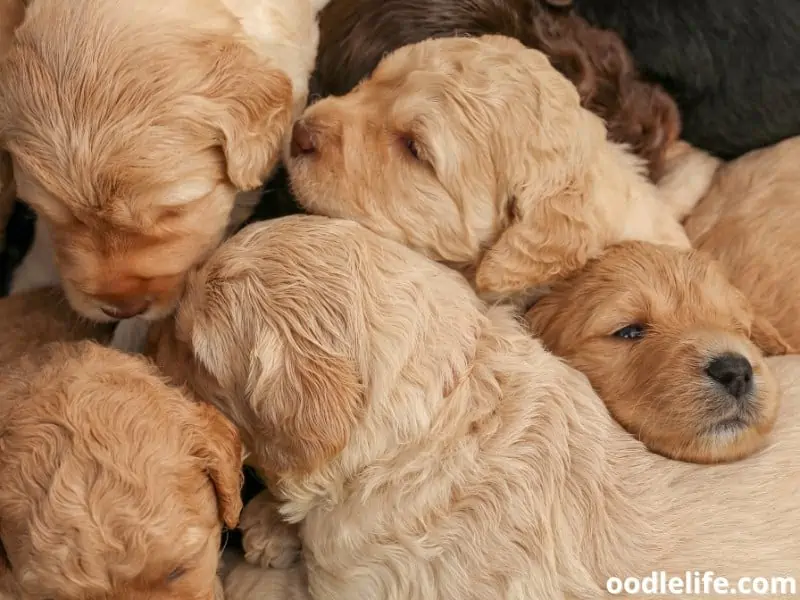 The parent breeds get tested for temperament and health before being cleared for mating to produce healthy litters. The company's puppies get cared for and loved for days to prepare them emotionally for their forever home.
The puppies will be well-balanced and greatly socialized by the time they reach your home, and if you have any concerns, they're always available to assist you. All of the Brown's pups come microchipped and dewormed along with current vaccinations. Also, after having a wellness check, you'll receive a two-year health warranty to boot.
Brown's puppies come neutered and spayed because breeding rights are not transferable. However, you'll get a small bag of Life's puppy food, a leash, a harness, and a 36×24 crate when you get your new Doodle.
Contact Details:
Website: https://brownslabradoodles.com/
Phone: (336) 543-7408
Email: [email protected]
Location: Reidsville, North Carolina
6. Lake Blue Australian Labradoodles
Lake Blue Australian Labradoodles are excellent breeders whose reputation precedes them. They're known for breeding healthy, active litters, and they are a part of the Australian Labradoodle Club of America (ALCA).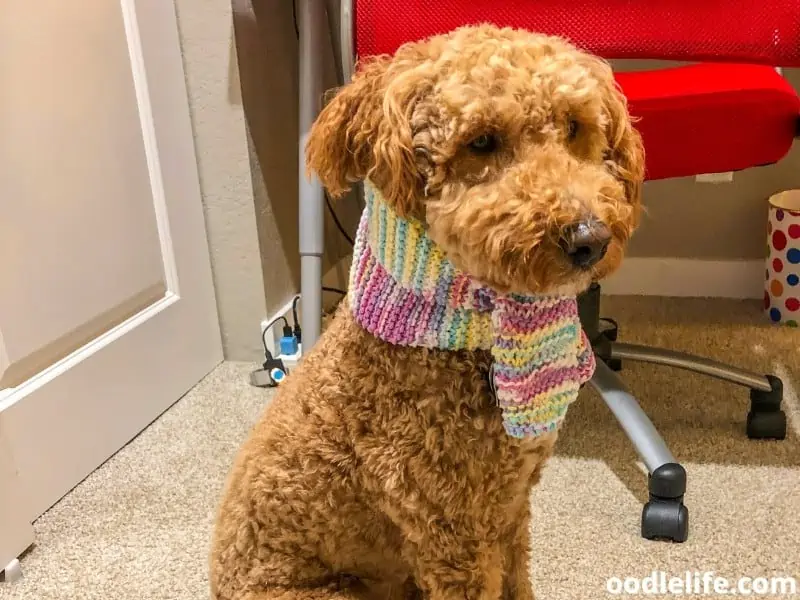 The company has an adoption process that's easy and transparent. Lake Blue Labradoodles constantly update clients during the adoption process via social media posts and emails.
They continue to help the clients and the puppies after the adoption, offering a lifetime of support.
The puppies arrive partially potty trained, with their first set of booster shots, microchipped, dewormed, a two-year health certificate, a collar, a leash, a few days worth of puppy food, and more.
In addition, they'll get a chew toy, five-generation pedigree papers, and a blanket with mom's scent.
Contact Details:
Website: https://www.lakebluelabradoos.com/
Phone: (919) 777-4072
Email: [email protected]
Location: Raleigh, North Carolina
7. DownUnder Labradoodles USA
DownUnder Labradoodles USA is an exceptional breeder with over two decades of experience. They are a part of the ALCA and the ALAA.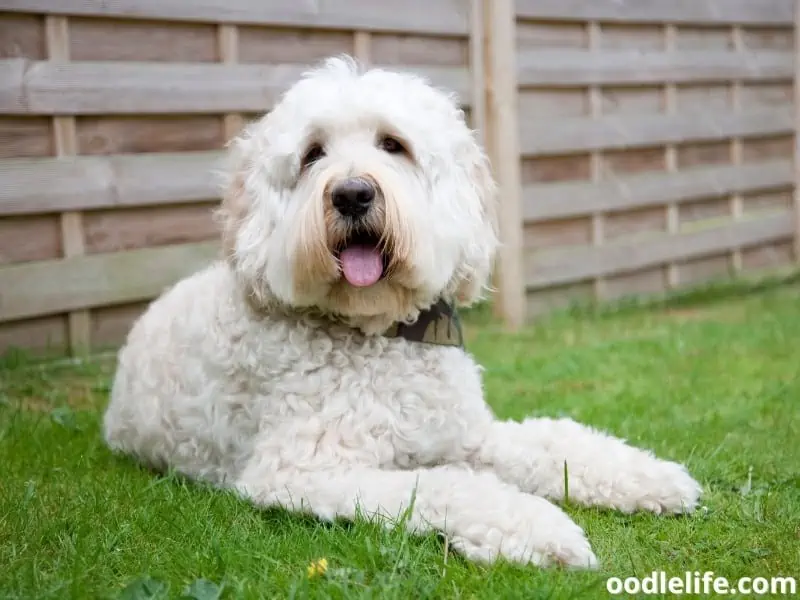 They are dedicated to breeding pups with wonderful temperaments, optimal health, and solid conformation to training. This breeder selects the best parents available, always healthy and strong.
Their dogs live in and are raised in the home with family members. Their pups come microchipped and neutered/spayed before you receive them.
They have undergone deworming and age-appropriate vaccinations; you get a health warranty. What's more, the breeder provides customer support for life. All puppies are carefully matched with families that suit the family and the puppy.
Contact Details:
Website: https://www.labradoodle.biz/
Phone: (919) 847-6313
Email: [email protected]
Location: Raleigh, North Carolina
Conclusion
For the best Labradoodle breeders in North Carolina, the selections above are an excellent starting point. Feel free to research these choices more thoroughly, as well as other breeders in the area, as many options are available.
Ask as many questions as you can! The best breeders will tell you all the possible risks and give you time to weigh your options. Always ensure you get the best fit for your family, as you don't want to bounce the pup around from home to home.
Labradoodles are fantastic, loyal pets. If you care for them appropriately, they'll make great companions!