The Best Life Jacket for Dachshund Dogs (2023)
Sizing anything for a Dachshund is notoriously tricky. Because of their history as badger-hunters, Dachshunds are a curious mismatch of body parts. They have elongated backs to slip into badger dens.
But they also have deep, barrel chests responsible for their deceptively loud bark.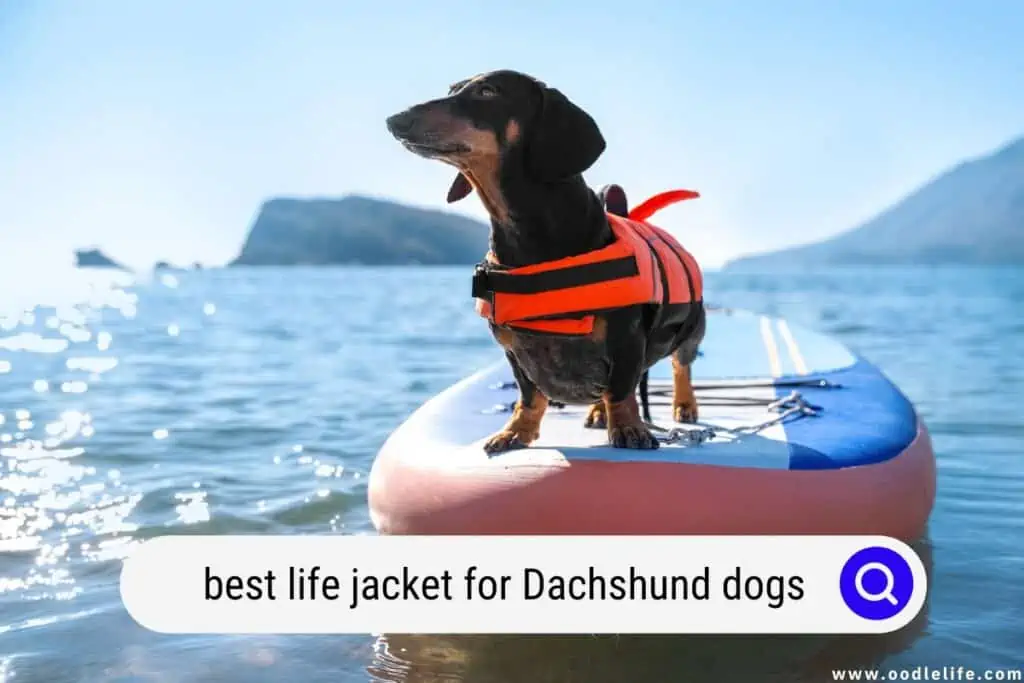 The result is a shape that eludes most harness makers. That's particularly frustrating if you are the type to take your Dachshund on hikes and outdoor excursions because Dachshunds' high energy levels make them excellent companions.
But before you can take them out safely, you need a life jacket that fits them properly. Here is what to look for when buying the best life jacket for Dachshund dogs.
Do Dachshunds Need Life Jackets?
But first, does your Dachshund need a life jacket?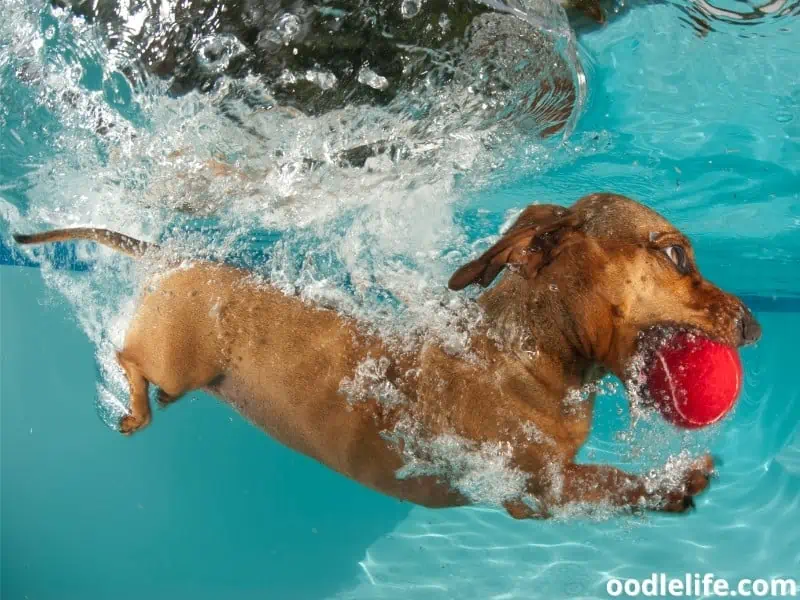 Yes. Dogs are famous for their doggy paddle, but it comes more naturally to larger dogs. Smaller dogs, especially dogs with small legs, sink in water. Since Dachshunds are both small and small-legged, you must find the best life jacket for your Dachshund dog before embarking on watery adventures.
What To Look For in a Dachshund Life Jacket?
Now that we've established your Dachshund needs a life jacket to enjoy the water safely, what should you look for when buying one?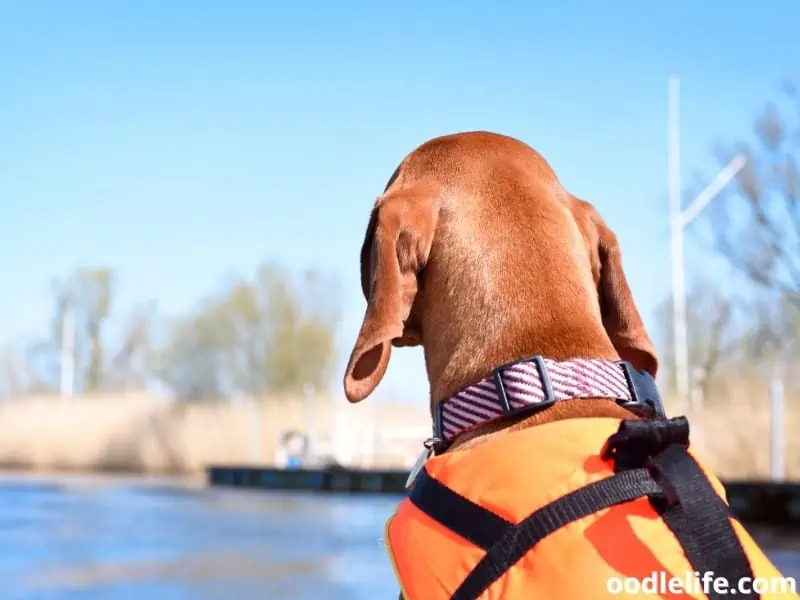 Appropriate Fit
It's surprising how elusive Doxie-specific life jackets are. The combination of a deep chest and long back gives Dachshunds a singularly awkward shape.
That makes it hard to find life jackets that fit, and finding one is imperative for your Dachshund's safety. If the life jacket doesn't sit snugly, your Doxie might slip out of it.
But if it's too tight, your Dachshund will be uncomfortable and resist donning the life jacket in the first place.
When looking for life jackets for Dachshunds, the best thing you can do is measure your Dachshund's chest. We find that this is a two-person job. One person holds the Doxie still, and the other gets to work with a tape measure.
When measuring, record:
Chest circumference
Doxie length from neck to base of the tail
Underbelly Coverage
Because of their elongated backs, Dachshunds have delicate spines. A good life jacket for Dachshunds provides support along their undercarriage.
It's imperative around the hind legs because it stops them from dangling and stressing the spine.
It also helps protect your Dachshund's underbelly from cold water. Smooth Doxies especially have minimal fur on their stomachs, making cold water uncomfortable for them.
Reflective Material
Another important consideration when investigating life jackets for Dachshunds is the jacket's reflective ability.
Doxies come in various colors and coat types, but the most common ones are black, tan, and red. None of those are highly-visible colors on their own, and they are even less visible when darkened by water.
To keep your Dachshund safe, look for life jackets with the kind of reflective coating you would use on a bicycle jacket. It gives your dog extra visibility and helps keep them safe.
Best Life Jackets for Dachshunds
So, that's what to look for when choosing a life jacket for your Dachshund. But not all canine life jackets are created equal.
Because we have Dachshunds and since we like to take them on adventures, we thoroughly investigated the different life jacket options available for Doxies. These are the ones we consider the best for your dog.
Outward Hound Granby Splash Life Jacket
Outward Hound is notorious for its high-quality harnesses and outdoor gear for dogs, and rightly so.
Outward Hound Granby Splash Pink Dog Life Jacket, Small
SIZING BASED ON GIRTH: Dogs come in all shapes and sizes. Whether your dog is short and stout or long and lanky, there's a dog life jacket fit for them. Available in sizes XS-XL and featuring...
SPLASH WITH SAFETY: The Outward Hound Granby Splash life jacket for dogs is designed with bright colors and reflective accents to provide better visibility while swimming. A front neck float helps...
NOVICE & EXPERIENCED SWIMMER-FRIENDLY: The Granby Splash dog life jacket is constructed with ripstop material that provides maximum buoyancy in the water without restricting movement on land....
SINGLE RESCUE HANDLE DESIGN: A top grab handle makes it easy to restrain and lift your dog out of the water and provides easy access for a rescue should they get into trouble.
PLAY IT SAFE: No pet accessory is indestructible. Do not leave with unsupervised pets. Remove and replace if damaged.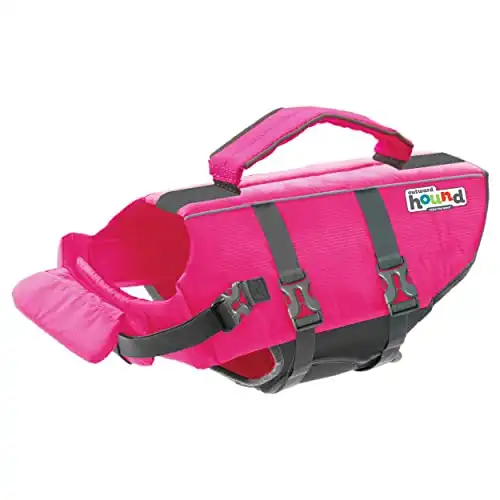 We earn a commission if you make a purchase, at no additional cost to you.
What's particularly good about the Outward Hound Granby Splash life jacket for Dachshunds is the support it gives them. It helps keep Dachshunds afloat by supporting their spine and keeping their heads above water.
Dachshunds aren't natural swimmers. They are also prone to ear infections, and keeping their ears dry helps minimize that risk.
On top of that, the life jacket comes in several bright colors that stand out against the water.
There's a sturdy handle on the back so you can rescue your Dachshund if a crisis arises. But it's also a comfortable jacket. The straps are easily adjustable, and the foam provides a supportive cushion for lazier Doxies that want to lie in the sun.
However, nothing is perfect. One significant disadvantage to this life jacket for Dachshunds is the lack of a D-ring. If you want to attach a leash, your Dachshund must wear a collar or harness underneath the life vest.
Pros
Neck support
Brightly colored
Adjustable
Strong handle
Cons
No D-ring for leash
Neck rest restricts upper head movement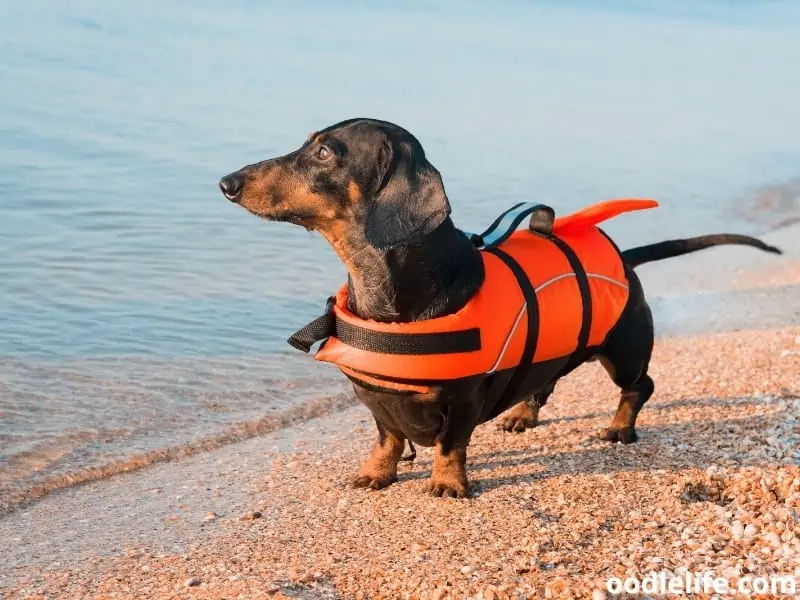 Noodle and Friends Life Jacket
We swear by Noodle products. These are the harnesses and jackets we buy for our Dachshunds, including their life jackets. The Noodle and Friends company was founded by Doxie owners as vexed as the rest of us with the challenge of finding harnesses and outdoor gear that fit their Dachshund named Noodle.
The result is a range of high-quality products uniquely designed to accommodate the Dachshund's ungainly build.
The Noodle and Friends life jacket for Dachshunds comes in an eye-watering neon yellow, ensuring your Doxie will be visible.
It also features several D-rings for leashes and has sturdy pull-up handles for emergencies.
It's less restrictive than Outward Hound's life jackets while providing the necessary back and undercarriage support.
However, it lacks the neck support of other life jackets for Dachshunds. Instead, the impetus is on the Doxie to keep their head above water.
Despite that, it's a high-quality, long-lasting product. While it may not suit an exuberant Dachshund, it's ideal for the Doxie inclined to sunbathe while you sail.
Pros
High-visibility reflective material
Strong handles
Multiple D-rings
Adjustable, comfortable straps
Cons
No neck support
Only one color/style to choose from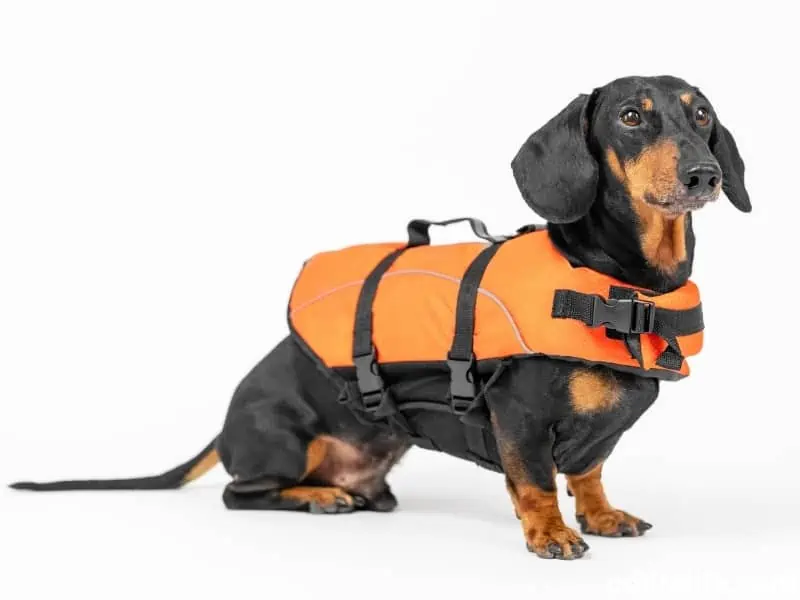 Paws Aboard Doggy Life Jacket
Paws Aboard's Doggy life jacket is immediately striking for its affordability. It's significantly less expensive than other life jackets on this list but still high quality.
Paws Aboard Dog Life Jacket, Fashionable Dog Life Vest for Swimming and Boating - Neon Yellow
SAFETY - Cozy and secure fit with constructed buoyancy. Our life jackets provide peace of mind during water activities with your canine. Features new, reflective strips for maximum visibility, and...
MULTIPLE SIZES - Paws Aboard Dog Life Jackets are available in XX-small, X-small, Small, Medium, Large and X-large sizes. Dogs come in all shapes and sizes, so should their safety!
CONVENIENT - We've included a handle on top of the life vest for quick and easy grabbing during emergencies or water activities. Our hook in loop fastening system keeps the lifevest securely fastened...
VARIOUS COLORS - Make a splash with our dog life jackets, available in a range of colors and designs to choose from. These include: racing flames, pink polka dots, nautical dogs, blue & yellow, grey...
ABOUT US: Fido Pet Products is a family owned business. As lifelong pet owners, we live an active outdoor lifestyle and consider our pets beloved family members. We develop and deliver quality pet...
We earn a commission if you make a purchase, at no additional cost to you.
It's not explicitly designed for Dachshunds but has such an expansive range of sizes that you should be able to find an option that accommodates your Doxie.
It has a highly-visible material and a mesh underbelly that supports your dog's back and legs. The mesh stands out because, while practical support, it is also breathable, so your dog won't overheat while wearing the jacket.
Although the jacket wraps around your Dachshund's neck, it doesn't offer any cushioning. Consequently, it lacks the neck support you need for a truly excellent life jacket for Dachshunds.
However, the sturdy handles and D-ring attachment combine with other elements to make it an excellent Dachshund life jacket.
Pros
Brightly colored
D-ring attachment
Strong handles
Affordable
Breathable underbelly support
Cons
No neck support
Less durable than other Dachshund life jackets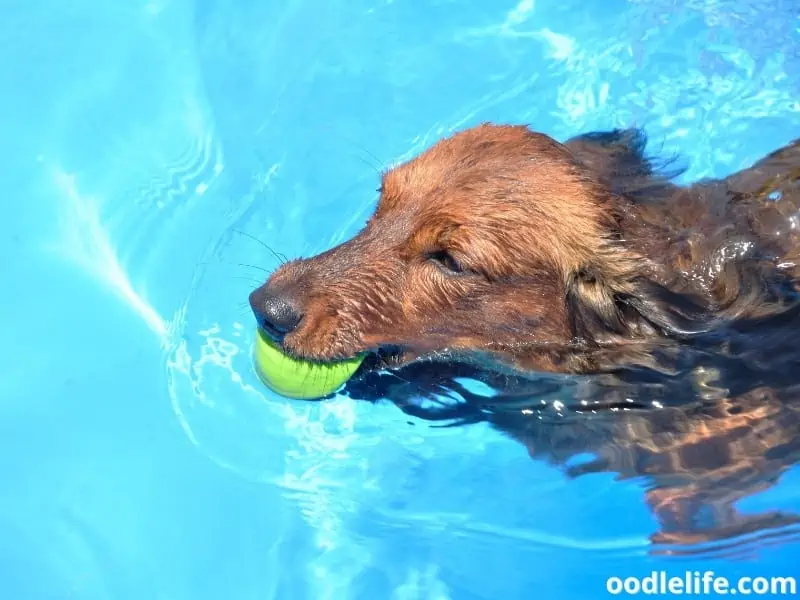 RuffWear Float Coat
The Ruffwear float coat is another life jacket that, while not designed for Dachshunds, can be adjusted to fit one.
RUFFWEAR, Float Coat Dog Life Jacket, Swimming Safety Vest with Handle
Improved fit: Our new PVC-free GAIA foam panels are soft, comfortable, and designed to wrap around and move with your dog; Their strategic placement supports a natural swimming position
Adjustable neck: The telescoping neck closure adjusts to fit a range of dog sizes; Simply adjust it once and secure it permanently for easy on and off
Made for the water: Our water-compatible webbing remains stable when wet, meaning it won't stretch or loosen in the water; The sheltered buckles are easy to use and keep straps firmly in place
Safety first: Features a strong, low-profile handle for helping your dog out of the water; We've increased visibility in low-light conditions with reflective accents and a light loop for The Beacon
Share more adventures: Made for dogs that love to join their humans on the water; A great safety option for rafting, kayaking, boating, surfing, paddle boarding, and more
We earn a commission if you make a purchase, at no additional cost to you.
It comes in several colors, all of which include reflective accents.
It's one of the more expensive Dachshund life jackets, but a high-quality one. It offers excellent neck support, even as the flexible material moves with your Doxie for maximum comfort.
It has a strong handle and conveniently placed foam panels to keep your Dachshund comfortable and supported while swimming.
There's also a D-ring, but it can be difficult to access.
Pros
Several bright color options
Good neck support
Moves with the dog when swimming
Cons
Expensive
D-ring is hard to access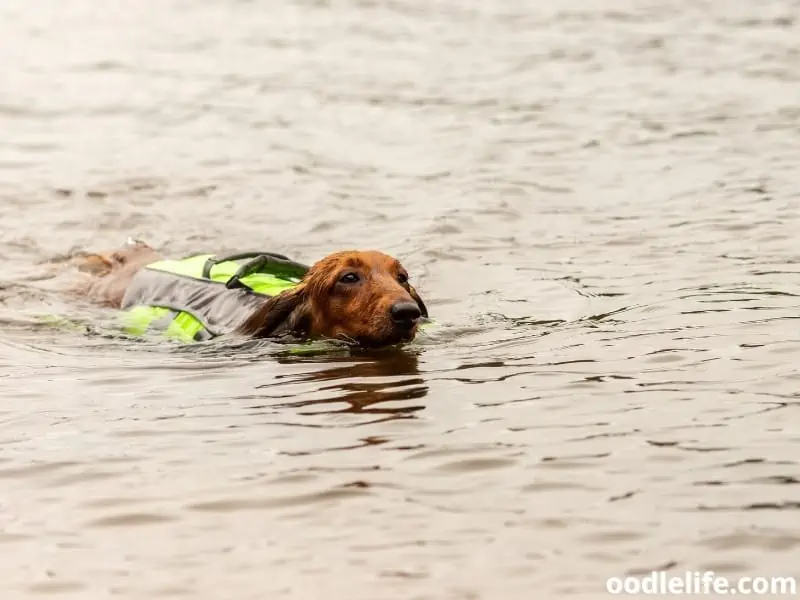 EzyDog Premium Floatation Device
EzyDog is known for its durable products. As any Dachshund owner can tell you, that's an important consideration when your dog gnaws, munches, and masticates their way through harnesses.
EzyDog Premium Doggy Flotation Device (DFD) - Adjustable Dog Life Jacket Preserver with Reflective Trim - Durable Grab Handle for Safety and Protection - 50% More Flotation Material (Large, Yellow)
BEST HIGH-PERFORMANCE FLOTATION DEVICE DOG LIFE VEST JACKET: Combining advanced manufacturing techniques and the highest performance materials available, our DFD is designed, and extensively tested,...
ADJUSTABLE DESIGN WITH 50% MORE FLOATION MATERIAL: Adjustable neoprene straps form an ergonomic, secure fit that keeps up with your dog. The EzyDog dog life vest flotation device uses superior durable...
ERGONOMIC INTEGRATED GRAB HANDLE: The integrated grab handle in our dog life vest provides and easy and secure way to handle your dog and makes it quick and easy to guide your dog into and out of the...
HIGHLY REFLECTIVE INTEGRATED TRIM: The highly reflective detailing designed into your EzyDog Doggy Flotation Device provide you with greater visibility and improved night time safety.
CUSTOM SIZING FOR A PERFECT FIT: LARGE (Large) size fits dogs with a 17"-24" body length, a 27"-44" girth, and a weight of 60-90 pounds.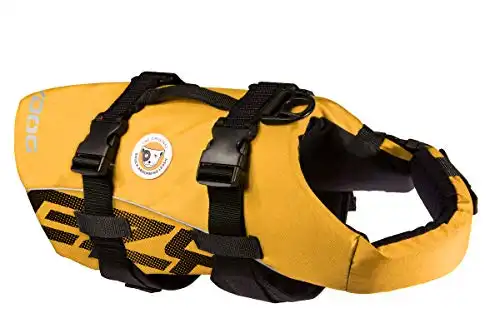 We earn a commission if you make a purchase, at no additional cost to you.
EzyDog is also one of the more expensive models of Dachshund life jackets, and that can be frustrating since they aren't designed specifically with Dachshunds in mind.
However, the durability of the EzyDog Premium flotation device ensures you will only need to buy one, making the price worth it in the long run. And once sized properly, your Doxie can swim supported but unrestricted.
Our only other reservation is the tapered finish of the EzyDog Flotation Device. Because the life jacket lies flat against your dog, making it difficult for your Doxie to keep their head above water. But that's predominantly an issue for Dachshunds in deep water.
If you plan to stick to the shallows, this durable life jacket may be perfect for your Dachshund.
Pros
Durable
Visible D-ring
Neck support
Sturdy handles
Cons
Expensive
The tapered shape can make swimming challenging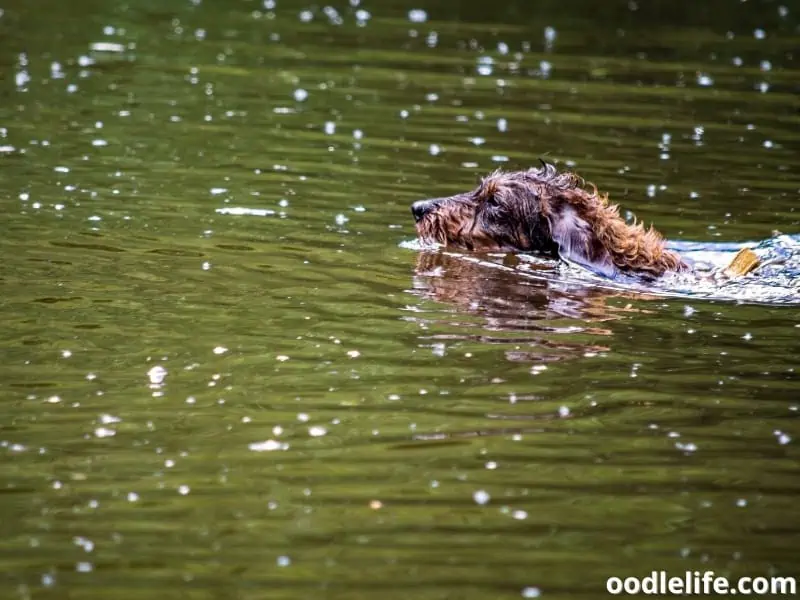 Summing Up
Finding the perfect life jacket for Dachshund dogs will always be challenging. However, there are many excellent options out there.
As you look, pay attention to the size, fit and support the life jacket offers. And never underestimate the importance of a good handle and accessible D-ring.
Most importantly, take time to measure your Dachshund before committing to a size. They don't make it easy, but it's worth it when you find a life jacket that fits your Doxie perfectly, barrel chest, long back, and all.