7 Best Maltipoo Breeders in Texas 2023
Regarded as the "teddy bear" breed, the Maltipoo resembles a teddy bear in such an uncanny fashion. For this reason, it's virtually impossible to resist cuddling a Maltipoo!
This designer breed of dog is mixed with two purebreds, the Maltese and the Poodle. These two breeds of dogs are famous in their own right, and they are highly coveted.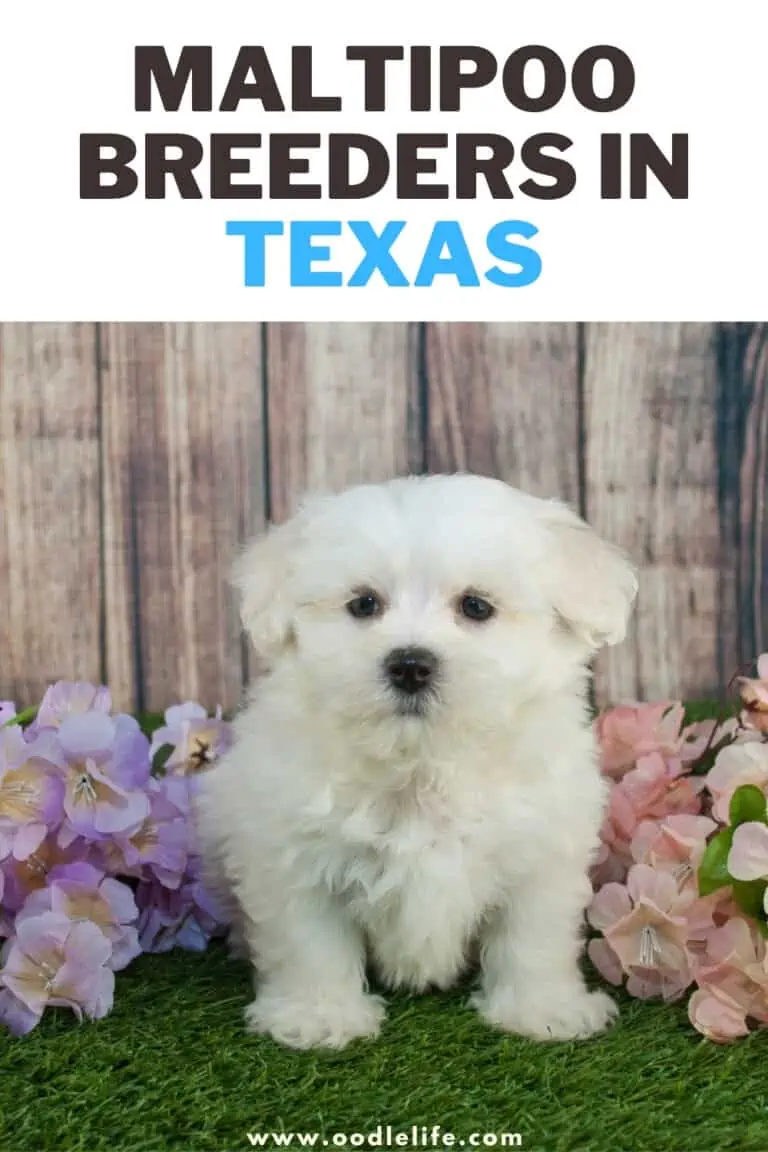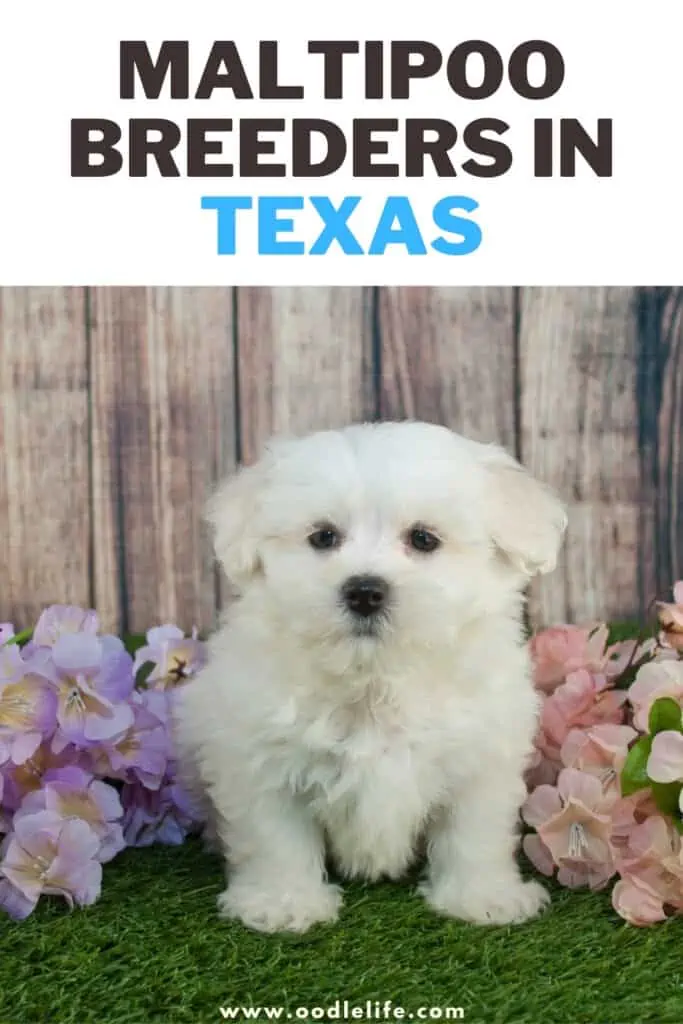 $300 2023 Discount!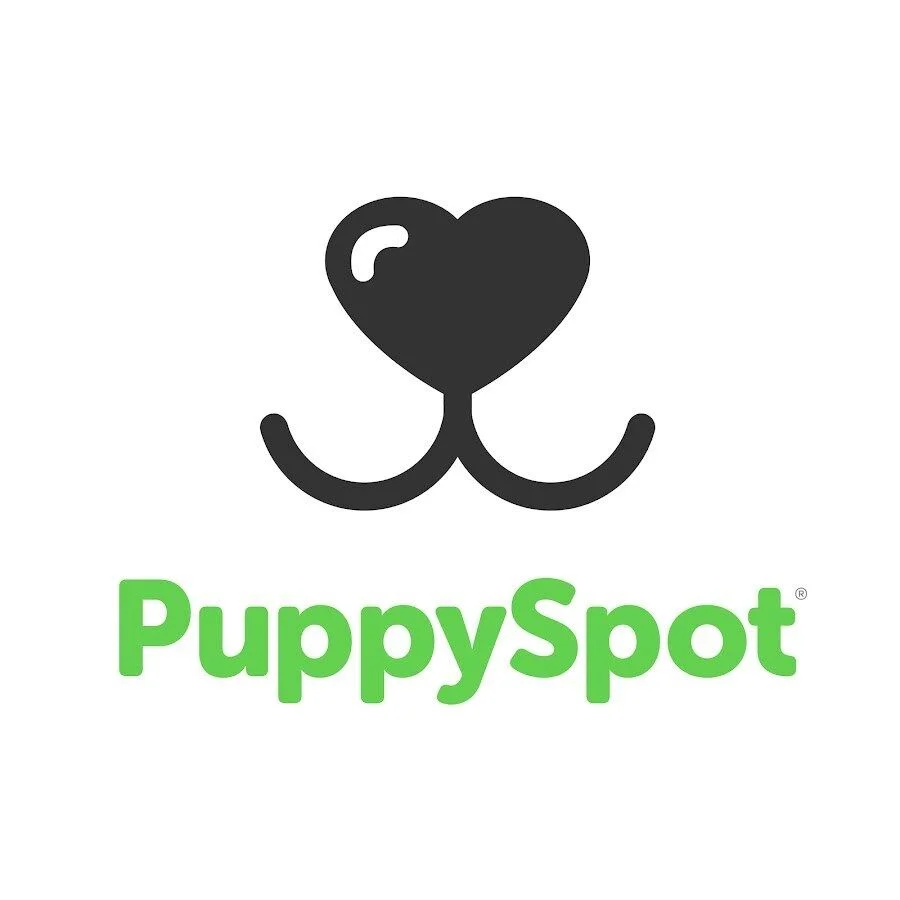 PuppySpot Adoption
PuppySpot is a reputable dog marketplace where you can browse and find compatible puppies right from the comfort of your home. They have placed over 200,000 puppies into homes in the US!
Click through and use the code PUPPY300 for $300 off any puppy adoption.
See Puppies and Save $300
Maltipoos are lap dogs eager to pet, cuddled, and loved. Maltipoos are a fun-loving and affectionate breed that is highly adaptable to just about any family's lifestyle.
If you're interested in making a home for Maltipoo, I recommend that you do some extensive research to get a hold of the best Maltipoo breeders in all of Texas.
I've assembled the top five based on reviews and comprehensive information provided on their site regarding medical care and how the pups are raised.
Top Maltipoo Breeders in Texas
Each breeder has their contact information available so that you can reach out and ask plenty of questions regarding their adorable Maltipoos!
1. Kathy's Little Pups
Kathy's Little Pups is owned by a single breeder who raises the dogs as personal pets on the 3 acres of land that she owns. Kathy is much different from other breeders in that she does not keep them in kennels or crates; instead, her dogs are bred and live in her home.
Kathy treats all of her puppies as members of the family. She would much rather have the puppies at home with her instead of going to a shelter. The pups typically weigh six to nine pounds.
Since she is a small-scale breeder, she only has small litters, which means that you should place a deposit to reserve a spot on the waiting list. Before you take the pups, they all will see a vet, get all vaccinations, a health exam, and be dewormed by the time they are eight weeks old.
Kathy is devoted to being a responsible breeder who connects loving families with pets. If at some point you become discontent with the dog, the breeder asks that you contact her immediately instead of dropping dogs off at a shelter. Her dedication to the dog's well-being is admirable and welcomed.
Contact Details:
Website: https://kathyslittlepups.com/
Phone: (817) 798-7979
Email: [email protected]
Location: Keller, Texas
2. Kimberli's Kuties
Kim from Kimberli's Kuties promises that all of her fur babies are healthy, high-quality, well-mannered, socialized, and above all, happy. The facility where the pups are raised is clean, and the American Kennel Club approves her home. There is plenty of space to run around and play, interact with other dogs, and get used to being outside the home.
Every puppy leaves with up-to-date vaccinations, dewormed, microchipped, and claws clipped. You receive a copy of their comprehensive health exam and a puppy starter kit. The kit contains the vaccination record, IAM's food and treats, and a few other goodies. You'll be given the vet's information as well so that you can stay connected to who has been cooking the pup since birth. 
Contact Details:
Website: https://kimberliskuties.com/
Phone: (817) 613-6219
Email: [email protected]
Location: Lipan, Texas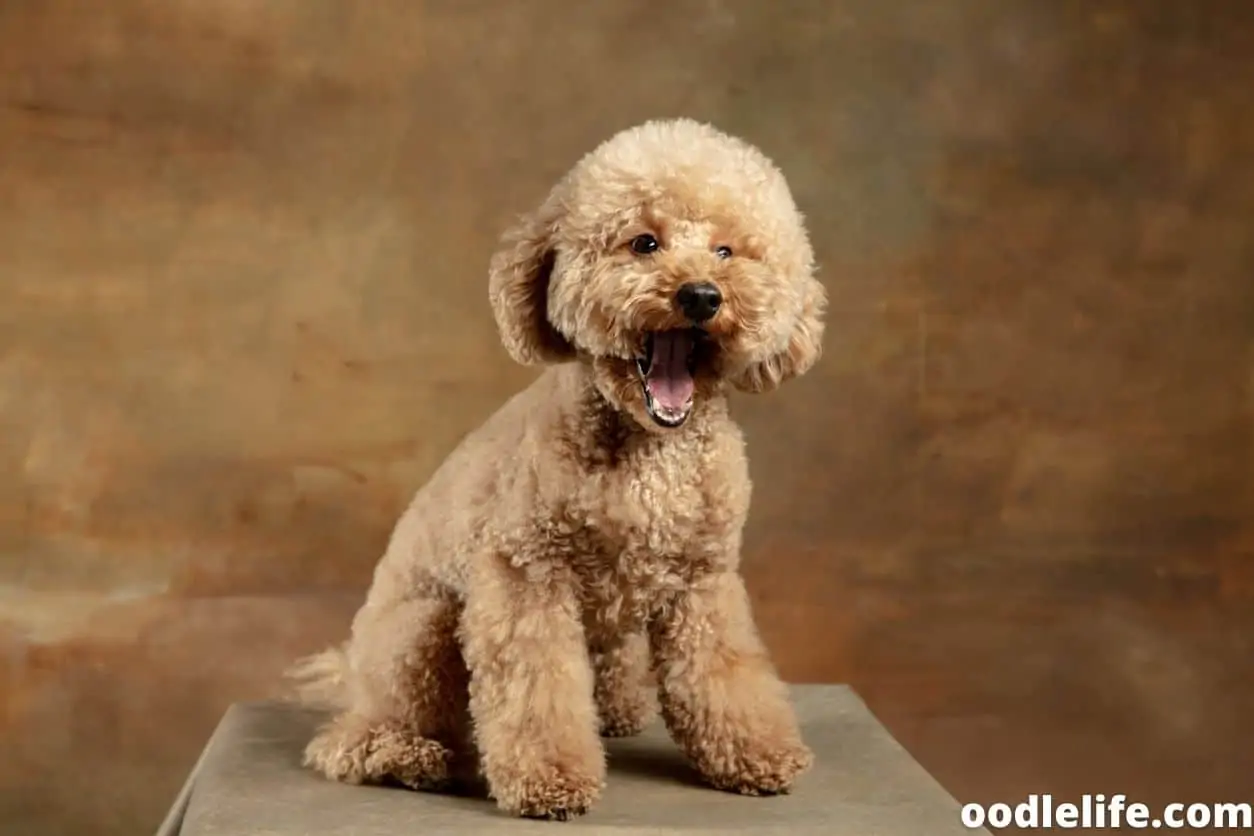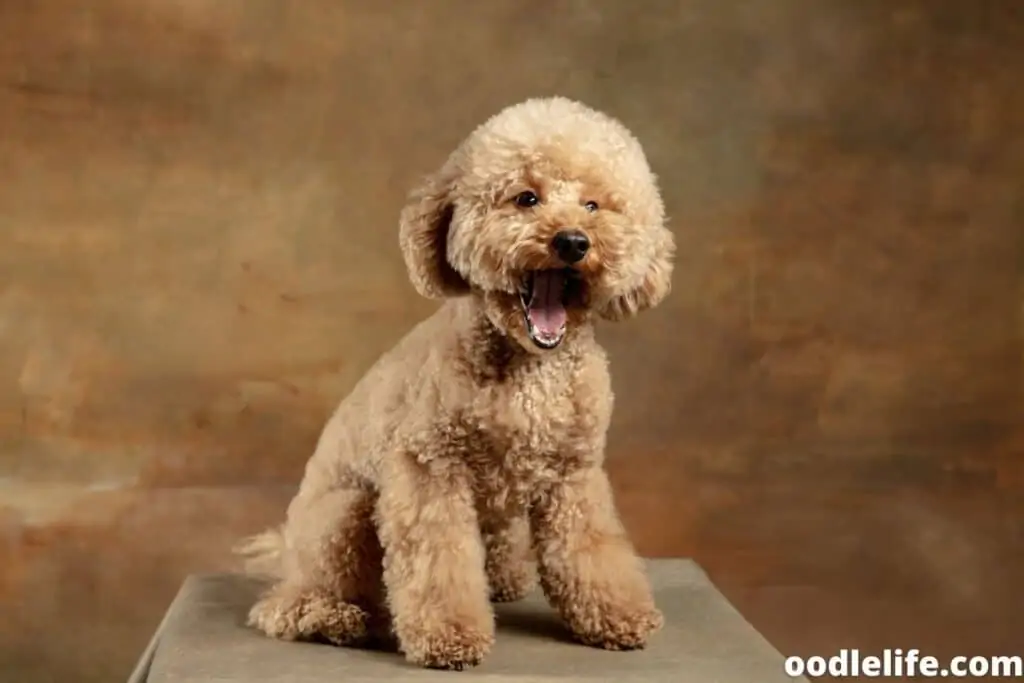 3. Vicky's Toy Puppies
Vicky's Toy Puppies is a reliable breeding service that focuses on hypoallergenic Designer pups that don't shed much. This breeder raises Shorkies, Yorkiepoos, Maltipoos, Morkies, and Shihpoos. They bring the dogs up to around their family members, including small kids, so that they learn socialization from an early age.
The pups are in padded cages with adjusted heating and cooling levels. Vicky and her family ensure that they are always comfortable and able to get out to exercise, play, and receive cuddles until they get to their new family. The breeders also take the pups for rides in the car to get more exposure to other people and animals.
Some of these dogs have gone on to become service dogs as well. To reserve one of these exceptional puppies, you have to pay a deposit and the remaining amount before you pick the pup up for good. 
Contact Details:
Website: https://www.vickystoypuppies.com/
Phone: (940) 937-8392 or 580-318-4337
Email: [email protected]
Location: Childress, Texas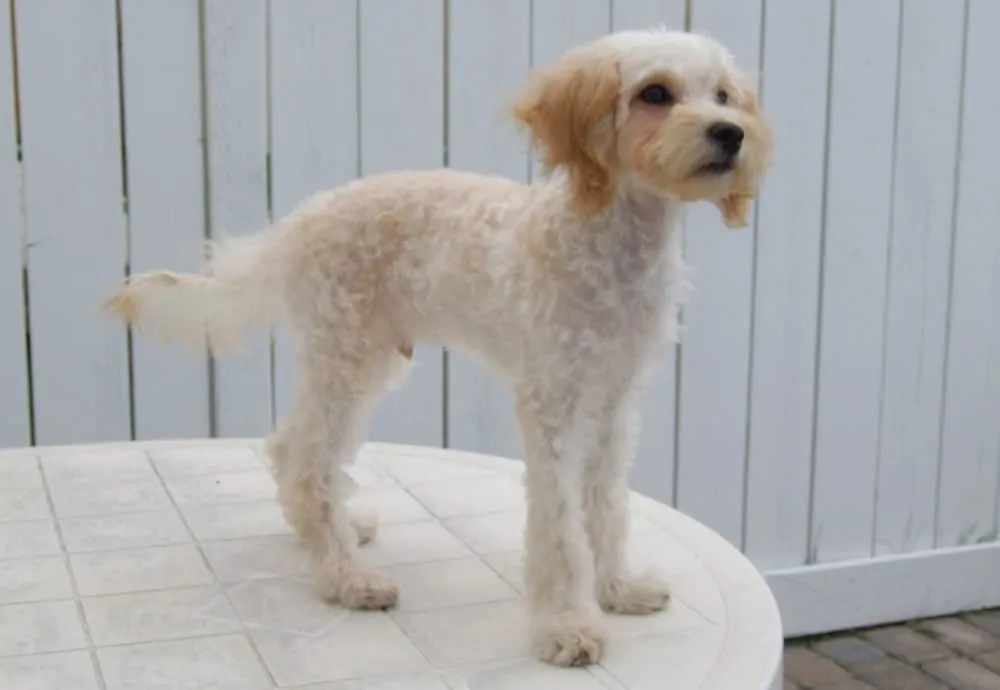 4. East Texas Toy Puppies
At East Texas Toy Puppies, you are guaranteed to get a healthy and happy puppy. All pups get microchipped and thoroughly checked by a vet before being released.
They carry all of the signature Miniature, Toy, and Teacup pups in high demand. Many puppies come from a championship lineage but are only sold as pets. They have mild temperaments; they're playful and ready to get welcomed into your home.
Schedule an appointment to meet the puppies and watch them in their everyday interactions, which will help you determine if it's a good fit ahead of time. Your new puppy will go home with two rounds of vaccines, fully dewormed, a 72-hour health guarantee, a familiar toy with mom's scent, and a gift bag with treats, puppy pads, food, toys, and Nutrical for small puppies.  
Contact Details:
Website: https://easttexastoypuppies.com/
Phone: (214) 694-8137
Location: Canton, Texas
PuppySpot is a network of devoted breeders who have been vetted. Moreover, they are endorsed by the American Kennel Club (AKC). PuppySpot's goal is to connect the top breeders in the nation with loving and responsible families. They maintain high standards for themselves and demand the same from their clientele—this is all done to improve the life of every puppy, breeder, and owner who uses their services.
Doing business with PuppySpot means that you won't be forced to wait for six months or more to receive a puppy. What's more, if the puppy doesn't reside in Texas, the organization will personally fly the puppy out to you using their airline. PuppySpot has its own USDA-certified, secure, trusted, reliable, and safe private transportation system.
When it comes to the health of each pup, PuppySpot provides a nose-to-tail check before coming home to you. You can sort Maltipoo puppies by age, gender, cost, and color. Interestingly, all of PuppySpot's pups come insured with an industry-leading 10-year puppy health guarantee.
Lastly, the dedicated team at PuppySpot vets all breeders to ensure that they are licensed before they list any of their Maltipoo puppies on the site. It should be said PuppySpot is totally against any unethical breeding practices and puppy mills. You can rest assured that these breeders are scanned before promoting any dog breed on their website.
Contact Details:
Website: PuppySpot
Phone: (888) 671-0518
Email: [email protected]
Location: United States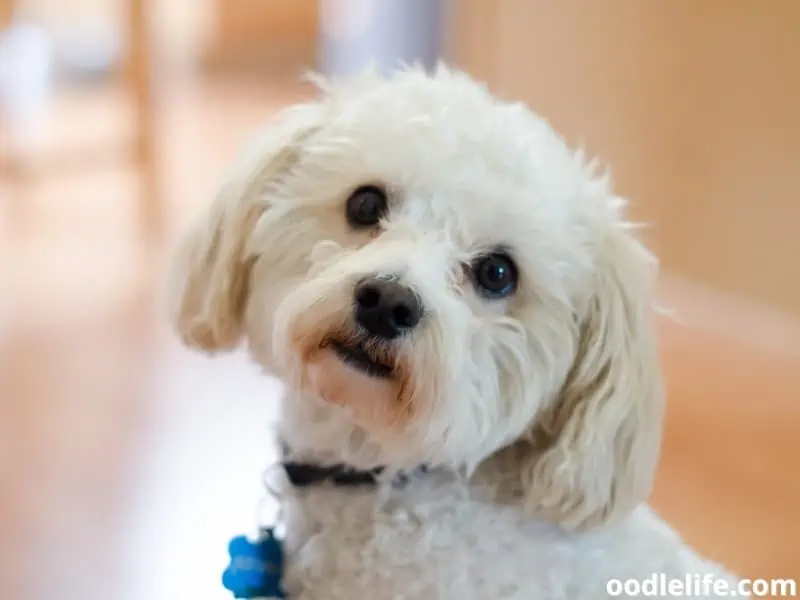 6. MaltipooPup
MaltipooPup hopes to provide all families with a beautiful companion. The family that raises these Maltipoos prides itself on giving the dogs undying love and attention, as well as preventative veterinary care. They are reliable and have received many positive reviews about their customer service and how smooth the adoption process is.
You can always call and ask for help or ask questions regarding your new pup or anything else you may need assistance with. Each puppy comes with a ton of care information, information regarding likes and dislikes, and anything else to help make the transition smooth. Contact MaltipopPup to make a deposit today and reserve a puppy from one of the upcoming litters. 
Contact Details:
Website: https://www.maltipoopup.com/
Phone: (512) 771-5466
Location: Austin, Texas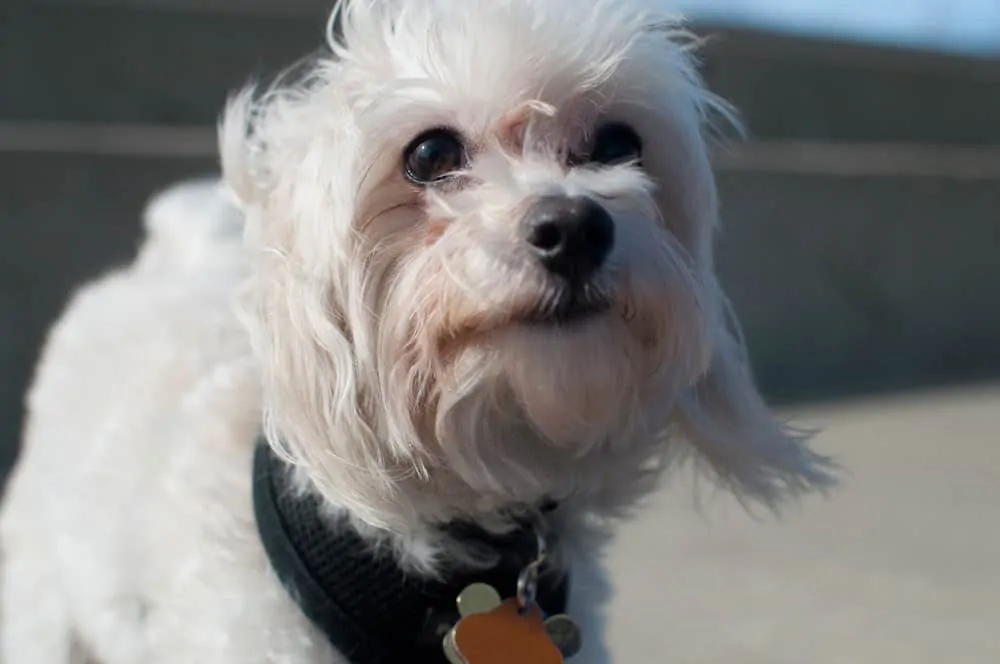 7. ETX Doodles
ETX Doodles specializes in breeding non-shedding dogs such as the Maltipoo. Breeding for this company is more like a hobby—it's done with passion and love. Socializing with their dogs is one of their priorities. This facility operates nothing like a puppy mill; they are always preoccupied with the thought of placing their Maltipoo dogs in a good home. Earning a profit comes second.
All adults involved in the breeding process are thoroughly tested for hereditary issues that they could potentially pass on to their offspring. The veterinarians evaluate ETX Doodles' puppies before leaving, and they all come with up-to-date wormings, a 1-year health guarantee, a blanket with the scent of their siblings or the smell of the parent, a puppy pack full of the puppy's current food, and pet insurance for 30 days,
Regarding price comparisons concerning Maltipoo breeders in Texas, ETX has the lowest average price for Maltipoo puppies in the entire state. You can pay a small deposit to get on the waiting list. The wait can take 3 to months or more. Typically, within a year, ETX will breed several litters and the pups raised in the comfort of their home with children, adults, and other animals to be stimulated and socialized early on.
Contact Details:
Website: https://www.etxdoodles.com/
Phone: (512) 924-3966
Email: [email protected]
Location: Elgin, Texas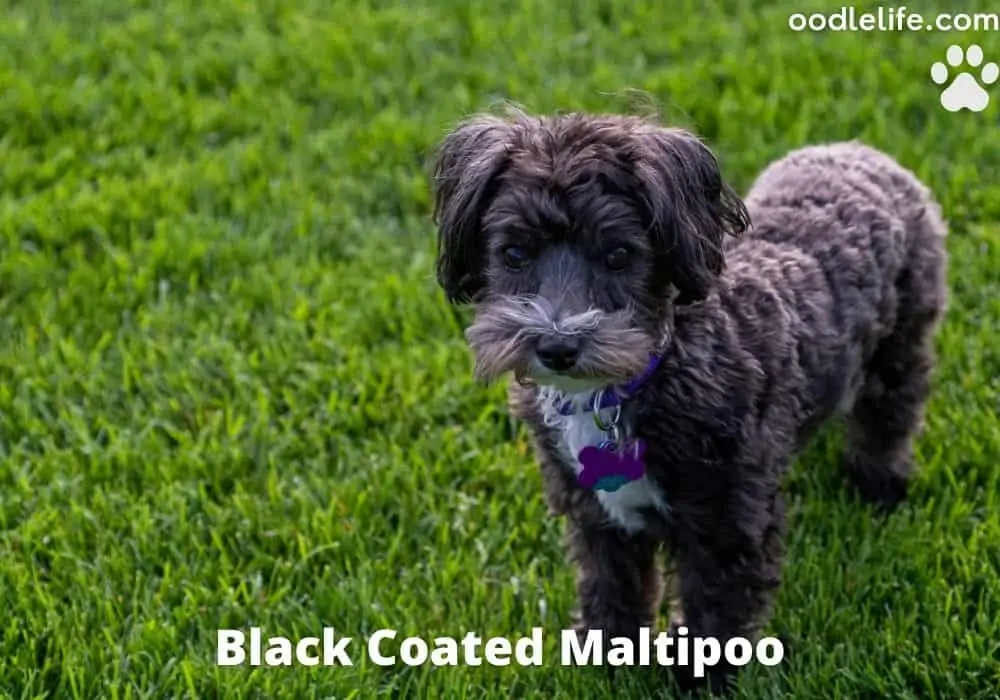 Final Thoughts
Maltipoos are loving and fun dogs that enjoy being caressed, cuddled, and companionship. They're energetic but also easy to train and intelligent. Do your research before deciding which breeder you trust to give you a healthy puppy to bring into your home.
Consider adopting (the best US Maltipo adoption sites here) and even traveling West to California where there are amazing Cali Maltipoo breeders.
Also, be aware of the responsibility of adopting these little tikes. This will be a learning process for everyone, but the breeders on the list would like your home to be their final destination. Informing yourself of any obstacles you may face along the way can help ensure that you're adequately prepared for a Maltipoo pup.