10 Best Pomeranian Breeders in Texas
Pomeranians, also known as "Poms," are small breeds of dogs that have become increasingly popular in recent years. They are small, typically weighing 3-7 pounds and standing 6-7 inches tall at the shoulder. 
If you're looking to adopt a Pom fur baby, we've compiled a list of ten reputable Pomeranian breeders in Texas for you to choose from.
$300 2023 Discount!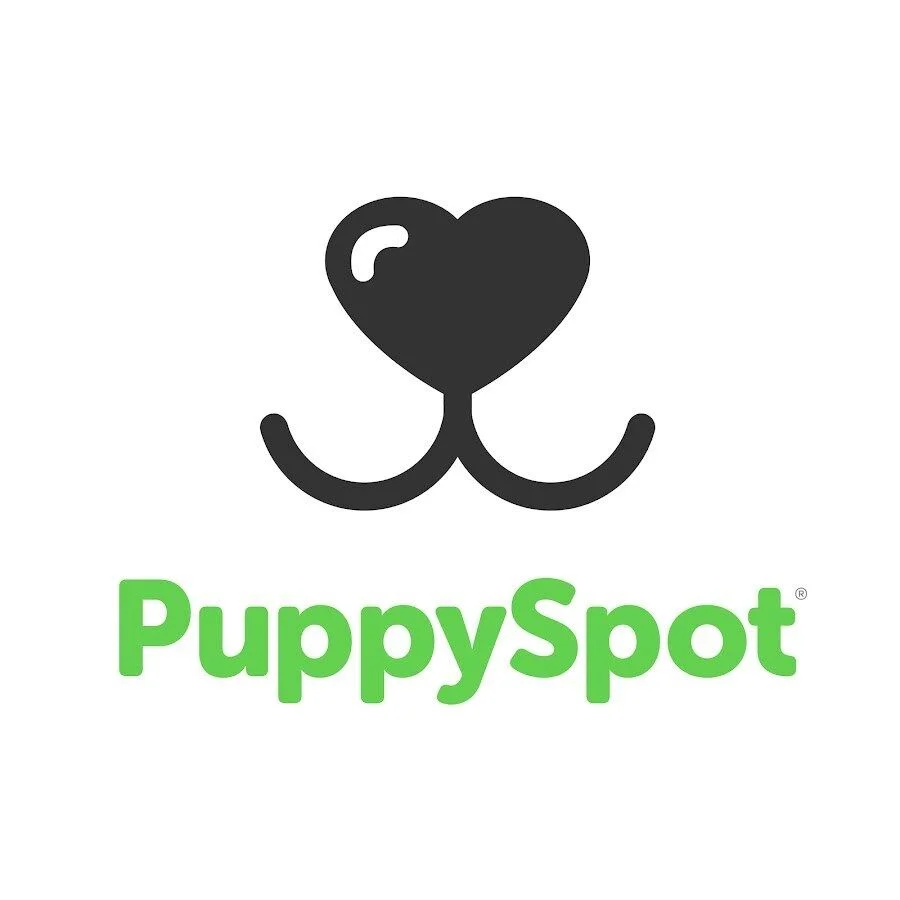 PuppySpot Adoption
PuppySpot is a reputable dog marketplace where you can browse and find compatible puppies right from the comfort of your home. They have placed over 200,000 puppies into homes in the US!
Click through and use the code PUPPY300 for $300 off any puppy adoption.
See Puppies and Save $300
However, we highly suggest you research, ask for references, and do your due diligence when searching for your new furry friend.
1. Tiny Pom Paws
Located in Smithville, Tiny Pom Paws is a reputable breeder of Pomeranians. They specialize in breeding high-quality Pomeranians that are true to the breed standard. They are committed to breeding healthy, happy, and well-socialized puppies that make great companions for any household.
All of their puppies are homebred and hand raised, ensuring they receive plenty of care, love, and attention. Their puppies start potty training immediately and are trained to use puppy pads by eight weeks old.
Tiny Pom Paws offers a health guarantee for all of their puppies, ensuring that new owners can have peace of mind about the health of their new furry companion. Their goal is to produce healthy and well-adjusted puppies bred to the AKC standard.
Breeder Details:
2. Ryan's Precious Pomeranians
Ryan's Precious Pomeranians is a small in-home hobby breeder in Burleson with over 20 years of experience breeding Pomeranians. In terms of breeding environment, their puppies are raised at home in a clean, safe and healthy environment, with a lot of socialization and exposure to different people and animals.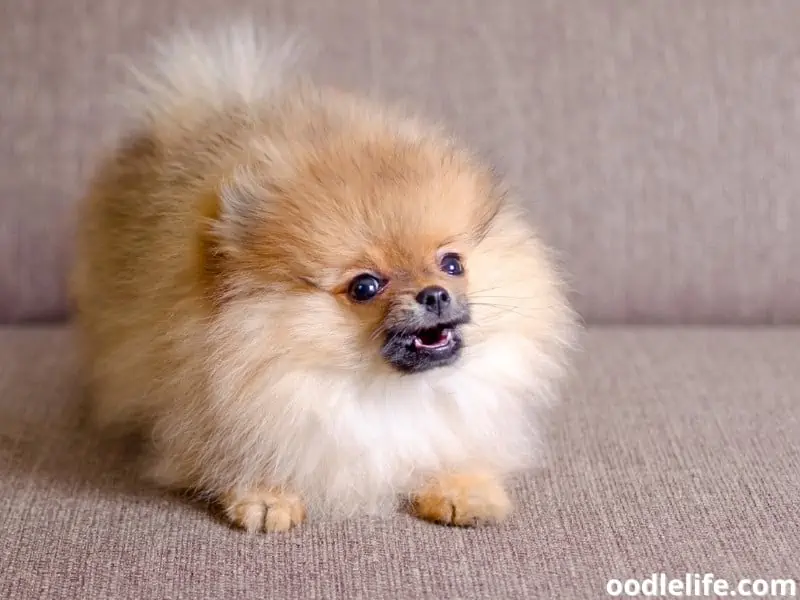 Their puppies are bred to the AKC standards, and they give a health guarantee to all their Pomeranians and the puppies' veterinary records. Ultimately, Ryan's Precious Pomeranians prioritize producing healthy and happy puppies for you.
Breeder Details:
3. J&B Pomeranians
Located in Benbrook, J&B Pomeranians are home-based Pomeranian breeders in Texas dedicated to bringing quality Pomeranian pups with a focus on health, form, and function. They place a strong emphasis on socialization. The pups are raised in a home environment and are handled and socialized daily.
From birth, the puppies are handled daily and exposed to different sights, sounds, and textures. They're also trained to familiarize themselves with basic commands. Ultimately, their goal is for each pup to be highly trainable, well-rounded, and ready to excel in its permanent home with a smooth transition.
They offer a 1-year health guarantee which covers genetic conditions. All of their puppies are also vaccinated before going to their new home.
Breeder Details:
4. Dee Dee's Pomeranians
Located in Austin, Dee Dee's Pomeranians is a tiny Pomeranian breeder with over 20 years of experience in owning and breeding Poms. They are committed to carefully breeding high-quality puppies, and they offer a variety of colors that cater to different tastes.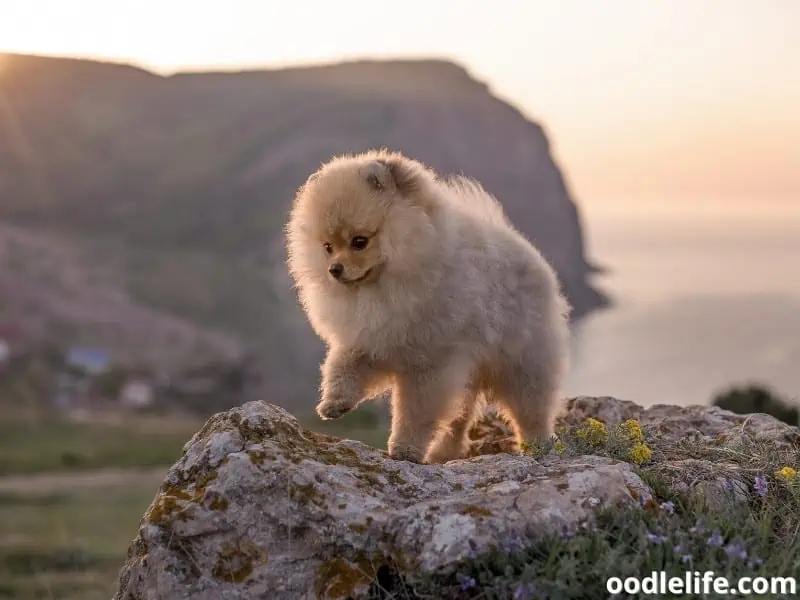 Socialization is a big part of their values regarding raising the pups. They believe that socialization is key to producing well-adjusted and confident adult dogs. As such, their Poms are housed in their lovely home and integrated into their family, ensuring they are well-socialized before moving to their permanent home.
Dee Dee's Pomeranians have a good standing with the AKC and are inspected on a regular basis. They have also been awarded the AKC's Gold Star of Approval, stating that they've exceeded all of the standards set forth by the AKC.
Breeder Details:
5. PuppySpot
PuppySpot is a reputable online marketplace that connects potential puppy owners with vetted and responsible breeders. They offer a variety of Pomeranians, and they pride themselves on connecting families with happy, healthy puppies from responsible and ethical breeders.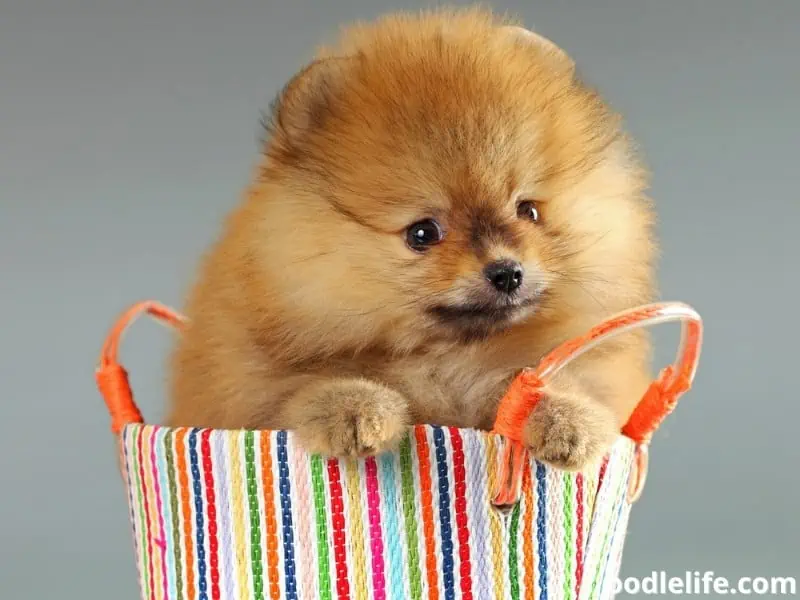 Although it's a vast marketplace, PuppySpot screens every breeder. They have a dedicated team that works closely with their breeders to ensure that all puppies are raised in a clean, safe, and healthy environment and have been well socialized. All puppies have a health guarantee and have been examined by a licensed veterinarian.
They also ensure that all puppies are up-to-date with vaccinations and deworming.
They have a dedicated customer service team available seven days a week to answer any questions and provide support. They also offer a lifetime support guarantee, ensuring you will always have access to the help and guidance you need to confirm your puppy's well-being.
It is important to note that PuppySpot has breeders nationwide, so if a specific breeder isn't in Texas, they will safely fly your Pom out by PuppySpot's in-house aircraft.
Breeder Details:
6. BearFacePomz
BearFacePomz offers top-tier quality Teacup Pomeranian puppies. They discovered that Thai Pomeranians were incredibly adorable with their cute bear faces, thick, luxurious fur, and teacup size. As such, they outsourced top Thai-class breeders committed to providing puppies that are raised in optimal conditions per strict quality control standards.
To give their customers the best adoption experience possible, BearFacePomz developed a quick and effective adoption process that allowed them to quickly find their ideal puppy, pay a deposit, and then have the dog shipped directly to them by a pet-friendly airline.
In addition to that, they offer top-class customer service, from helping you select the ideal Pomeranian for you to helping facilitate the adoption process every step of the way.
Breeder Details:
7. Susan's Tiny Paws
Susan's Tiny Paws is a small hobby breeder in Texas. All of their puppies are descended from top American and European bloodlines with many champions. The Poms are homebred, and hand raised to the AKC standards.
Susan's Tiny Paws reserves the right to refuse to sell a puppy to someone and to refund a deposit placed at their discretion. This is because they want to ensure that all of their Pomeranian puppies are adopted into loving and caring households where they can flourish. Unfortunately, they don't ship, meaning the puppies must be personally picked up.
Breeder Details:
8. Texas Teacups
Texas Teacups is a breeder located in Dallas with over 25 years of breeding and caring for small puppies. They focus on breeding high-quality Pomeranians and other teacup and toy-sized puppies. Their breeding facility is designed to provide a clean, safe and healthy environment for the puppies to grow up in, and they offer a wide range of services to ensure that their puppies find the perfect forever home.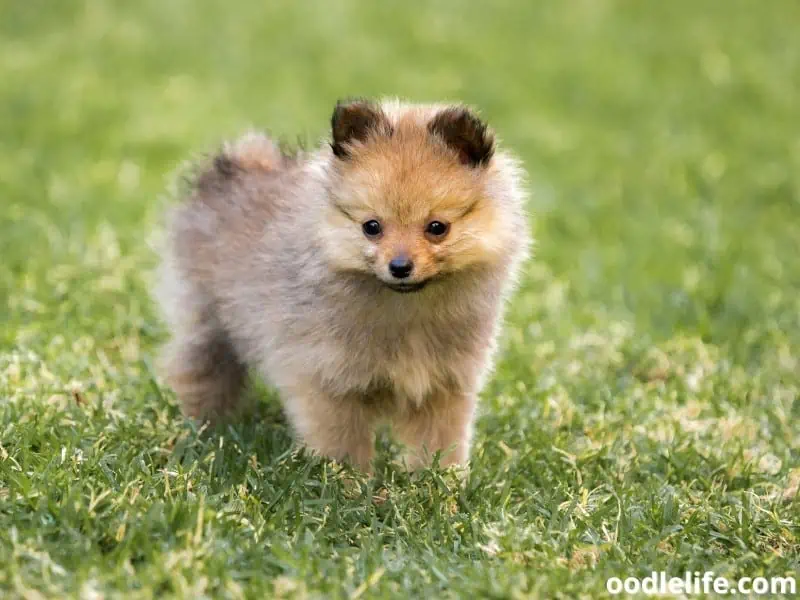 They have a team of experienced breeders and veterinary staff who closely monitor the health of all their breeding pups. All puppies from Texas Teacups receive age-appropriate vaccinations and deworming before going to their new homes, and their team can provide additional medical and grooming services if required. They also offer a health guarantee for all of their puppies.
Texas Teacups is only available by appointment, and they do offer payment plans and financing to assist you in getting your fur baby.
Breeder Details:
9. Prettiest Puppies Texas
Located in Austin, Prettiest Puppies Texas has been in the breeding business since 2012. They are committed to breeding healthy and happy puppies bred from ACA-registered parents, ensuring they adhere to the purebred standard.
Their goal is to find their pups a loving home. As such, they qualify the new family first if the puppy is a good fit for your home and vice-versa.
Prettiest Puppies offers written health assurances and records of all their vaccinations. Before moving to their permanent home, their Pomeranian puppies receive their initial vaccinations and deworming from their veterinarian. They also provide the new family two business days to get the puppy examined by a veterinarian as part of their puppy health guarantee.
Breeder Details:
10. Pomeranian Puppy Palace
Pomeranian Puppy Palace is a home-hobby breeder in the SouthEast United States. They take great pride in their love and care for their puppies, raising them at home and as a part of their family. Their pups are raised to be well-socialized, confident, and ready to be part of a new loving family.
Most of their breeding dogs come from AKC Champion and Grand-Champion bloodlines. They carefully select the breeding pair based on their temperament, conformation, and overall health, to ensure that the puppies they produce have the best chances of being healthy and well-adjusted.
Pomeranian Puppy Palace will travel between MD, VA, NC, SC, GA, FL, AL, MS, LA, and East TX to deliver your new fur baby. In addition to that, they will also be with you on your journey for as long as you would like to help you navigate life with your new Pomeranian pup.
Breeder Details:
Wrap Up
When looking for Pomeranian breeders in Texas, it's essential to research and make sure the breeder you choose is reputable. It's important to consider the environment where the puppies are raised, the health and well-being of the breeding dogs and puppies, the experience and knowledge of the breeder, and their commitment to customer satisfaction.