Best Remote Training Collar For Goldendoodles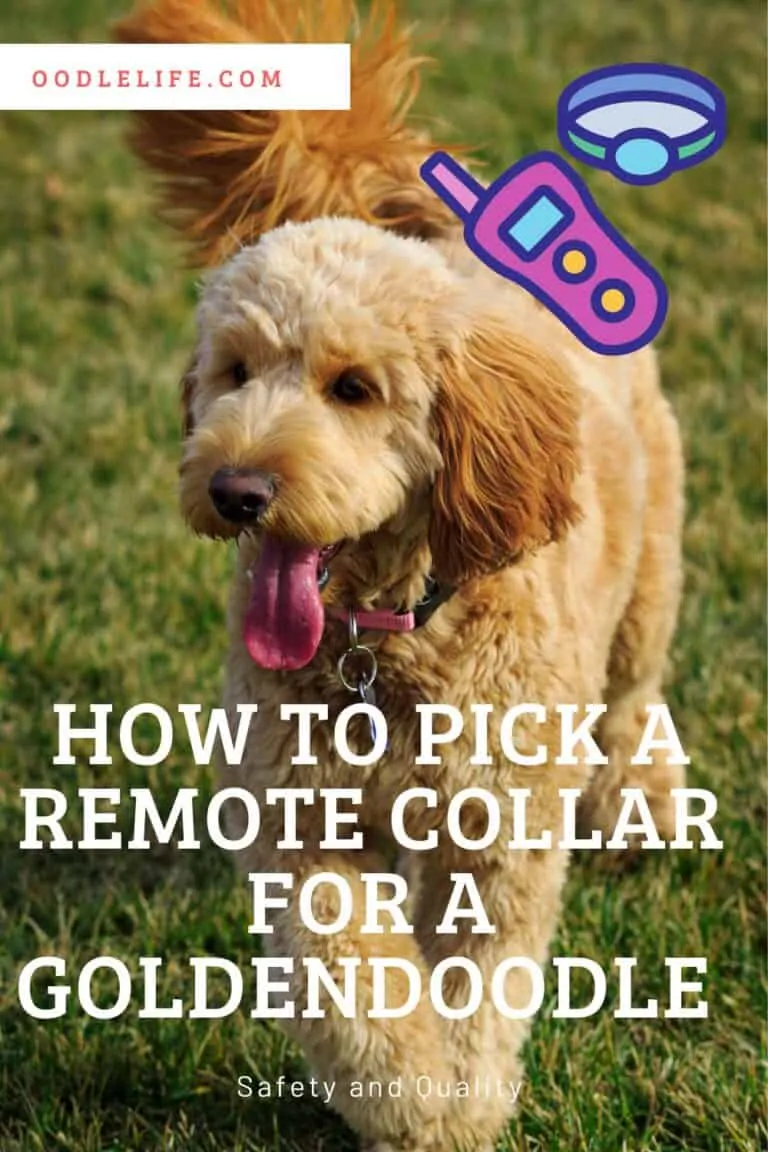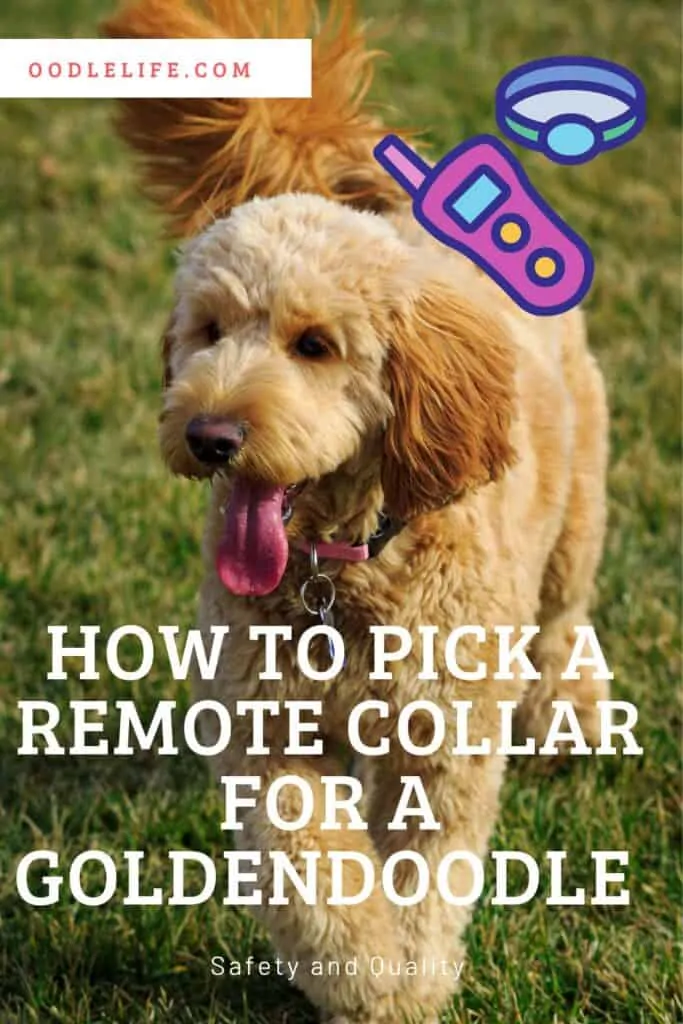 Even the best-trained Goldendoodle can run amok when off-leash. Many owners find a remote training collar incredibly useful to safely train and protect a Goldendoodle from danger.
Deciding whether or not to use a remote training collar is a decision for an individual. For an incredibly hyper or energetic Goldendoodle, a remote training collar can be used safely as part of a training program.
An out of control Goldendoodle needs time and training. They need to learn how to keep themselves and others safe.
It would be best if you give ample patience and compassion while training a Goldendoodle.
The same goes for Goldendoodles. These dogs are incredibly flexible in training and learning. Yet, they may go astray once you have removed the leash.
Suppose you are interested in a remote training collar or virtual fence for your Goldendoodle. In that case, we believe these are the best and safest products on the market. You can't go wrong with any of these options. As with any new safety gear, carefully read the instructions, and slowly introduce the tool (along with plenty of positive reinforcement).
What are Remote Training Collars?
Before we talk about the best remote training collars, you need to know why they're important and what all things you need to consider before buying them.
Remote training collars are basically a type of electronic collars. These collars have an electronic device fitted in them.
They come with a handheld remote, and once you press the remote, these collars pass an electronic stimulation to the dog. This will help in getting their attention.
Thus, remote training collars help reduce the destructive behavior in dogs and prevent them from doing unwanted things.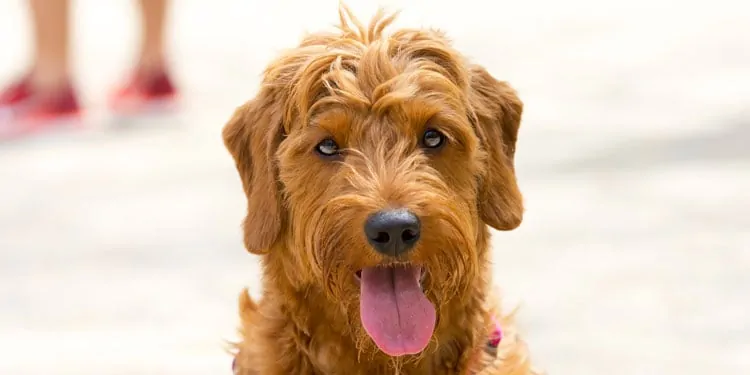 Why Should You Go For a Remote Training Collar?
For any dog owner, getting a remote training collar can be a bigger decision. It is mainly because many people worry that remote training collars are an inhumane way to discipline dogs.
However, there's a catch to consider before writing off remote training collars.
If the remote training collars are of lesser intensity, they will do the job without hurting the dog. High-quality collars used conservatively are safe and pain-free.
For a hyper Goldendoodle, the remote stimulation can be the difference between dangerous hazards and safety.
So, if you're considering buying a remote training collar, given below are some of the significant advantages.
1. The Intensity is Adjustable
You can simply adjust the intensity to a point where it's bearable for your dog.
Many remote training collars allow you to simply give a beep sound or a vibration feeling that won't cause any harm to your Goldendoodle.
2. Correcting the Behavior in No Time
One of the significant benefits of a remote training collar is how effective and time-saving it is.
For many dog owners, correcting their dog's ill behavior may take up a lot of effort. This is where a remote training collar comes to use.
These collars give quick results by correcting their dog's behavior in just the first or second try – even when off-leash or hundreds of yards away.
4. They are Budget Friendly
Most remote training collars are quite affordable. So, you don't have to worry about spending a lot of money.
Moreover, if you don't like them, most of them have a return policy too.
So, these are some of the positives of a remote training collar. Let's take a look at some of the risks.
Risks of Using a Remote Training Collar
There are only a few risks involved in using a remote training collar. Keep in mind that you can always correct them by choosing a proper training collar for your Goldendoodle.
1. May Instill Fear and Anxiety In Your Dog
Your dog can have two types of reactions to a remote training collar. First, they may correct their behavior and won't need a collar anymore, or second, where they get anxious and scared.
If your dog is of the second type, you may have to be a little more gentle and cautious. After using the collar, if you see any signs of fear or anxiety emanating from your pet, avoid using it again.
2. Not a Type of Positive Reinforcement
Pet trainers and owners always believe in positive reinforcement. Keep in mind that remote training collars are not one of them.
So, you can convert it to positive by giving your dog some treats if they correct their behavior once you use the collar.
3. May Over-correct the Behavior
You must know how to use the remote collar before using it on your dog.
If you don't, you may end up over-correcting their behavior by sending more vibrations that can make your dog feel scared.
Things to Consider Before Choosing a Remote Training Collar
Before you choose any remote training collar, there are certain things you need to consider for maximum safety and comfort of your dog.
So, let's take a look at them.
Adjustability
If you're unsure about getting a remote training collar, you can always go for one that allows you to adjust the intensity of the stimulation.
This way, you're correcting your Goldendoodle's behavior and only giving them stimulation that won't hurt them.
Types of Stimulation
There are mainly four types of stimulation, such as static, spray, vibration, and ultrasonic.
Each stimulation works for a particular category of dogs. For example, vibration stimulation is excellent and quite bearable for sensitive dogs. In contrast, water spraying is suitable for dogs who don't enjoy the water.
Safety and Budget
As these collars deliver a type of stimulation, you must invest in only good-quality collars.
Extremely cheap collars may not work efficiently and may also trigger more stimulations than needed. So, go for a medium or high-priced one for the best quality and safety.
Size and Material
Lastly, take care of the remote training collar's material for your dog's comfort. Also, pick the correct size from the size guides available for each product. Measure your dog's neck using tape (or a piece of string).
So, these are some of the things you definitely should keep in mind before buying any remote training collar.
Best Remote Training Collar For Goldendoodles
To make it easier for you, we have compiled a list of some of the best remote training collar for your little Goldendoodle!
1. Dog Training Collar – Safe and Cost-Effective
Brand: Pet Resolve
Where to Buy: Amazon
If you don't wish to overstep your budget but still want a cost-effective and safe training collar, then this is the one.
The collar comes in a single and sleek black design that will definitely go with your Goldendoodle's coat. Moreover, it comes with a simple and easy-to-operate remote.
Remote Dog Training Collar, Vibrate, Waterproof, Rechargable
🐾 FANTASTIC NEW UPGRADE SINCE MAY Is your dog misbehaving and you want a well behaved pet with minimal fuss? Don't let your dog get side-tracked by other animals or misbehave in public. Teach your canine companion how to act properly with arguably the top training collar on the market!
🐾 SUPER LONG RANGE AND MEMORY; Super long 3/4 Mile range
🐾 VARIABLE SHOCK & VIBRATION LEVELS, ANTI BARK & LIGHT for NIGHT MODE; train up to 3 dogs at once (additional collars required) with up to 10 levels of continuous or momentary shock (hold down button to shock for 1 up to 8 seconds, ideal for emergencies!) vibrations, or beeps
🐾 WATERPROOF CONSTRUCTION; does your dog love to run outside or swim?Completely waterproof and can be fully submerged without damage!
🐾 LONG LASTING BATTERY & WARRANTY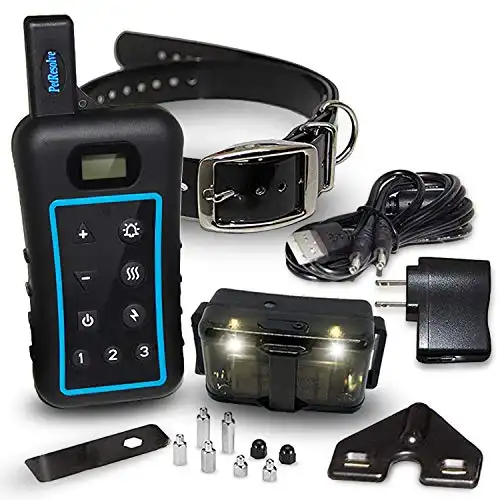 We earn a commission if you make a purchase, at no additional cost to you.
Why Buy The Dog-Care E-Collar?
One of the primary reasons this product is recommended is its outstanding features while still being budget-conscious.
Firstly, this product has a low-voltage stimulation that ensures that your little Goldendoodle won't get hurt or anxious in any way. Additionally, it also allows you to change the intensity from 0 to 99 levels for your flexibility.
The stimulation is such that they help in sending an explicit command to your dog.
You may think that due to the prices, safety is compromised. However, that is not the case because this collar is totally waterproof and reduces many risks. The security keypad lock also prevents any unintentional harm to your dog.
Lastly, it comes with a rechargeable Lithium battery that can last for more than 15 days.
2. Educator E-Collar Remote Dog Training Collar – The Very Best!
Brand: Educator
Where to Buy: Amazon
Educator E-Collar Remote Dog Training Collar is the best collar out there for anyone looking for a mild yet effective collar for their Goldendoodle.
This collar comes in five different colors, such as yellow, purple, black, and many more. Moreover, it consists of Biothane material and comes in an easy to fit buckle type.
It is moderately-priced and is affordable.
Educator E-Collar Humane Dog Training Collar with Remote, Features 100 Levels of Safe Stimulation
The Mini ET-300 one dog system with 1/2 mile range, small receiver for dogs 5 pounds and larger
Includes 1 Biothane dog collar (3/4" wide x 30" long), 1 RX-090 mini receiver (2" long x 1.5" wide x 1" high, 2.4 oz.) and 1 Mini ergonomic "stopwatch" transmitter (2.6" diameter x 1.1" thick x 4.5" high) well-suited for small hands or in situations where discretion is important
Delivers a tapping sensation similar to vibration, but more intense, making it an effective addition to the stimulation
A Pavlovian tone feature provides an effective addition to the stimulation
User-selected stimulation levels range from 1 to 100 with additional boost stimulus selectable from 1 to 60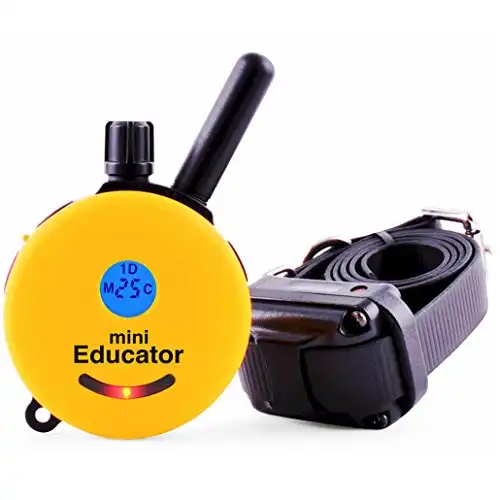 We earn a commission if you make a purchase, at no additional cost to you.
Why Buy This Product?
This E-Collar has plenty of unique features that make it definitely a standout remote training collar.
Firstly, it comes with an ergonomic remote or stopwatch you can easily hold while being discreet.
The vibration-like tapping sensation is intense enough to correct your dog's behavior but also not sharp enough to cause fear in your dog. Additionally, it comes with a user-selectable feature that allows you to select the stimulation levels from 1-100. This gives you flexibility, along with efficiency.
This remote training collar is also waterproof, along with being shock-resistant. Thus, it reduces the risk of any dangerous accidents while using the product.
Lastly, it comes with easily rechargeable Lithium batteries. You can simply charge it fully in just two hours!
So, in all terms, be it safety or flexibility, this product is the absolute best.
3. PetSafe Remote Trainer Dog Training Collar – Extremely Reliable and Waterproof
Brand: PetSafe
Where to Buy: Amazon
PetSafe dog training collar is the best for small dogs such as Goldendoodles due to its perfect size and fit.
This collar also comes in one single black design that will look adorable on your Goldendoodle (particularly cool looking on a black Goldendoodle!). It is also relatively inexpensive compared to other remote training collars.
PetSafe Remote Training Collar - 100 Yard (300 FT) Range - Collar Fits Medium or Large Dogs - Choose from Tone, Vibration, or 15 Levels of Humane & Safe Static Stimulation for Training Off Leash D...
OFF-LEASH TRAINING: Safely train and correct your dog's unwanted behaviors the moment they happen within a 100-yard range using a lightweight digital remote and collar
3-IN-1 STIMULATION: Every dog is different – choose between audible tone, vibration and 15 levels of static for comfortable training (includes a safety lock feature for higher levels)
PERFECT SIZE REMOTE: The digital remote is waterproof, easy to read, has tactile buttons and is comfortable to hold for long periods of time
LONG LASTING BATTERY and QUICK CHARGING: Remote and collar charge within 2 hours, has up to a 40-hour battery life and includes a quick-charging cable
WATERPROOF AND LIGHTWEIGHT COLLAR: The adjustable training collar is made of comfortable polyester that fits dogs 8 lb and up with neck sizes 6-23 in; not for puppies under 6 months
We earn a commission if you make a purchase, at no additional cost to you.
You can find multiple ranges of options for this product. So, you can choose accordingly depending on your budget and requirements.
Why Buy This Product?
As safety matters a lot when it comes to a remote training collar, this product offers reliability compared to other products on the market. First of all, both the remote and collar are waterproof and prevent the risk of shock.
It makes use of different stimulation techniques, such as vibration and spraying, depending on the price.
This product particularly comes with mainly three in-built options, such as tone (or beeping), vibration, and 15 static stimulation levels. The collar is also very comfortable and lightweight for your dog to handle.
Lastly, it can work well for a wide area too.
4. Dogtra Remote Training Collar – Long Range Collar
Brand: Dogtra
Where to Buy: Amazon
If you're looking for a long-range collar, then Dogtra Remote Training Collar is the best one.
This product comes in black color and the best for those wanting a smart-looking collar for their dog. The features are definitely exceptional.
Dogtra 1900S Ergonomic 3/4-Mile IPX9K Waterproof Remote Dog Training E-Collar
SEAMLESS DESIGN: The 1900S receiver is sleek and slim, which allows the strap to wrap around the receiver and your dog's neck seamlessly
IPX9K WATERPROOF CERTIFIED: The 1900S come with a durable receiver that is IPX9K waterproof certified
3/4-MILE RANGE: The range of this training e-collar is perfect for simple to complex training commands for your dog. With a range of ¾-mile, this e-collar is perfect for serious obedience, hunting, and K-9 training.
PRECISE CONTROL: With 127 correction levels, you'll have no problem finding the perfect level for your dog with the gradual and precise correction control. The LCD screen is bright and easy to read
CORRECTIONS: This e-collar has two different correction types. The first correction type is a Nick (quick ½-second) and the second correction type is a Constant (up to 12 seconds).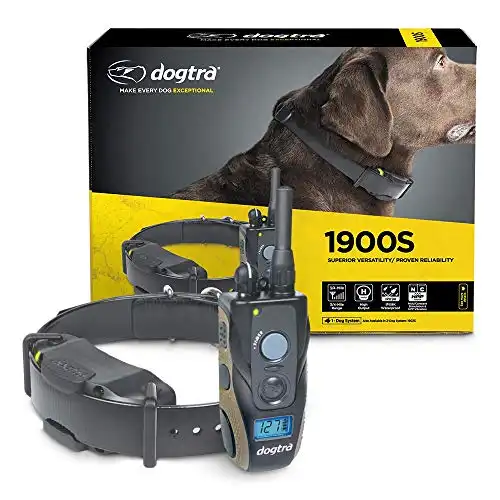 We earn a commission if you make a purchase, at no additional cost to you.
Why Buy This Dogtra eCollar Product?
The Dogtra remote training collar comes with an ergonomic design specially built to comfortably fit your Goldendoodle's neck.
It consists of three different training modes, depending on your level of training. Additionally, it can work up to ¾ mile range.
Safety-wise, every material used is waterproof and reduces any risk. The battery is rechargeable and can be charged fully in just two hours.
So, this is all about finding the right remote training collar for your Goldendoodle.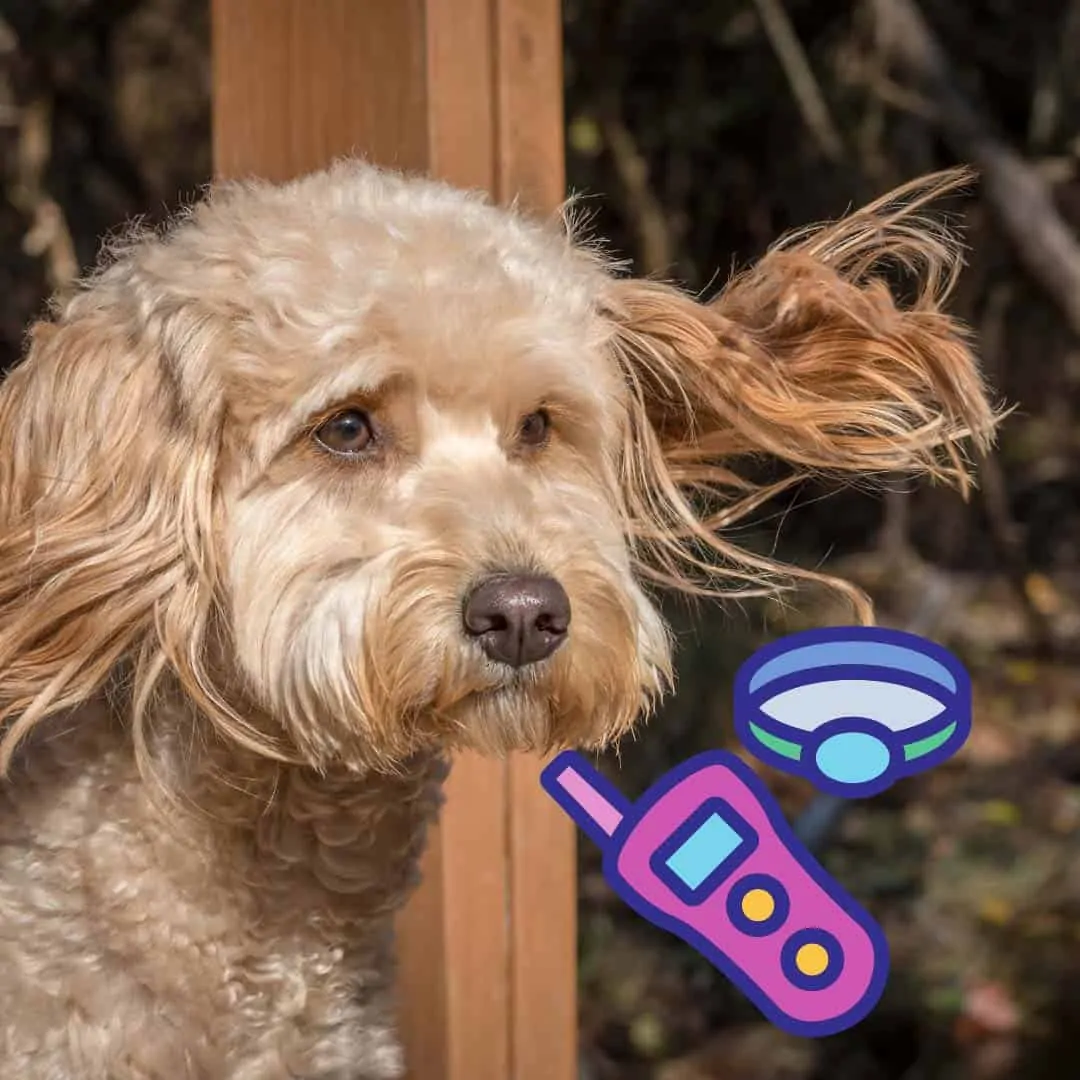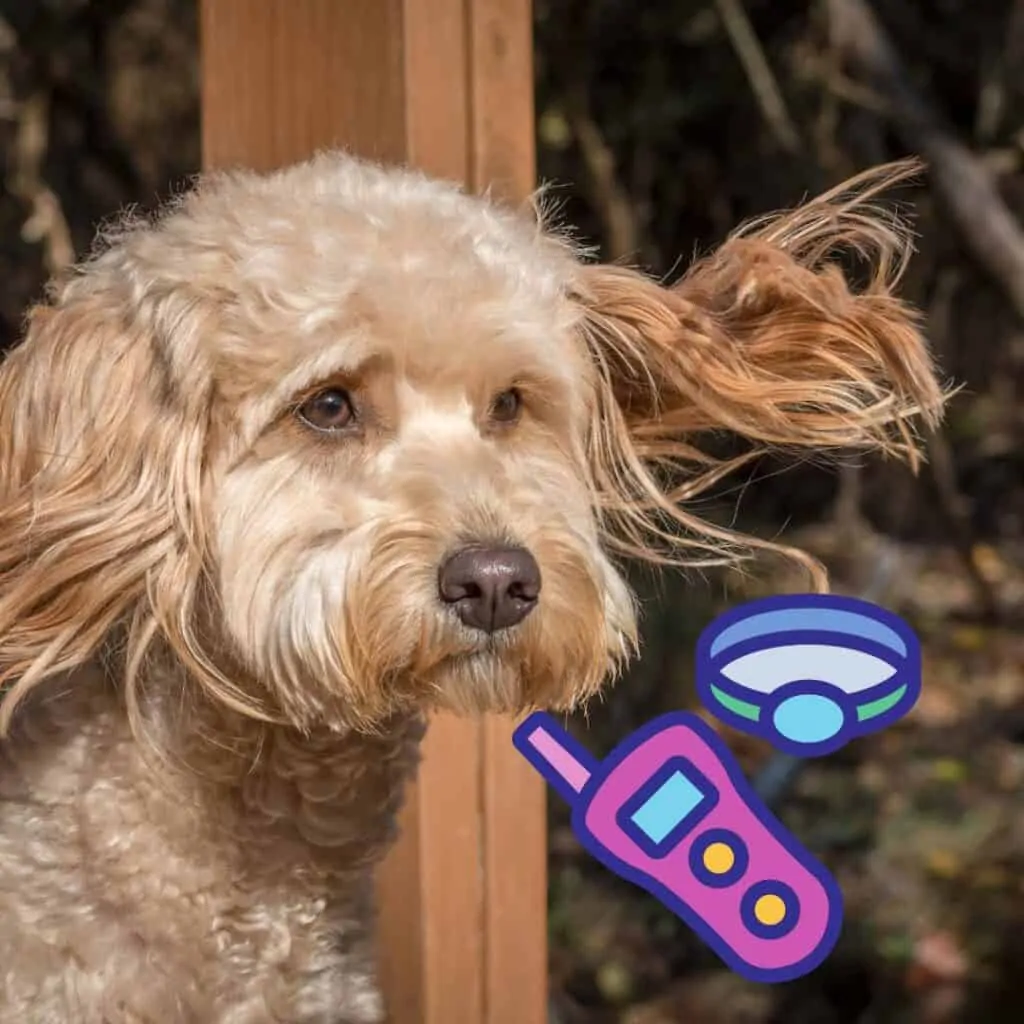 Final Thoughts
In conclusion, the choice of using a remote training collar is all yours (ASPCA thoughts).
However, remember that you don't misuse it in any way or use it on a nervous or scared dog. You need to place your dog's safety and health before disciplining in any situation.
So, if you feel like you can use this training collar safely and efficiently, choose a quality product that will last.