The 7 Best Slicker Brush for Dogs (2023)
For many of us, our dog is our best friend and we can't imagine a life without them. Not only do they provide you with unconditional love and limitless affection, but you'll also constantly be amused by their antics.
However, most dog owners know one thing. Dog ownership comes with heaps of dog fur! It gets on our clothes, on our furniture, and in our beds, and some even wake up with dog fur in their mouths. 
As family dog experts, one of the most common questions we get emailed is about slicher brushes. The market is confusing and it is hard to know when to spend for quality or when you can get by.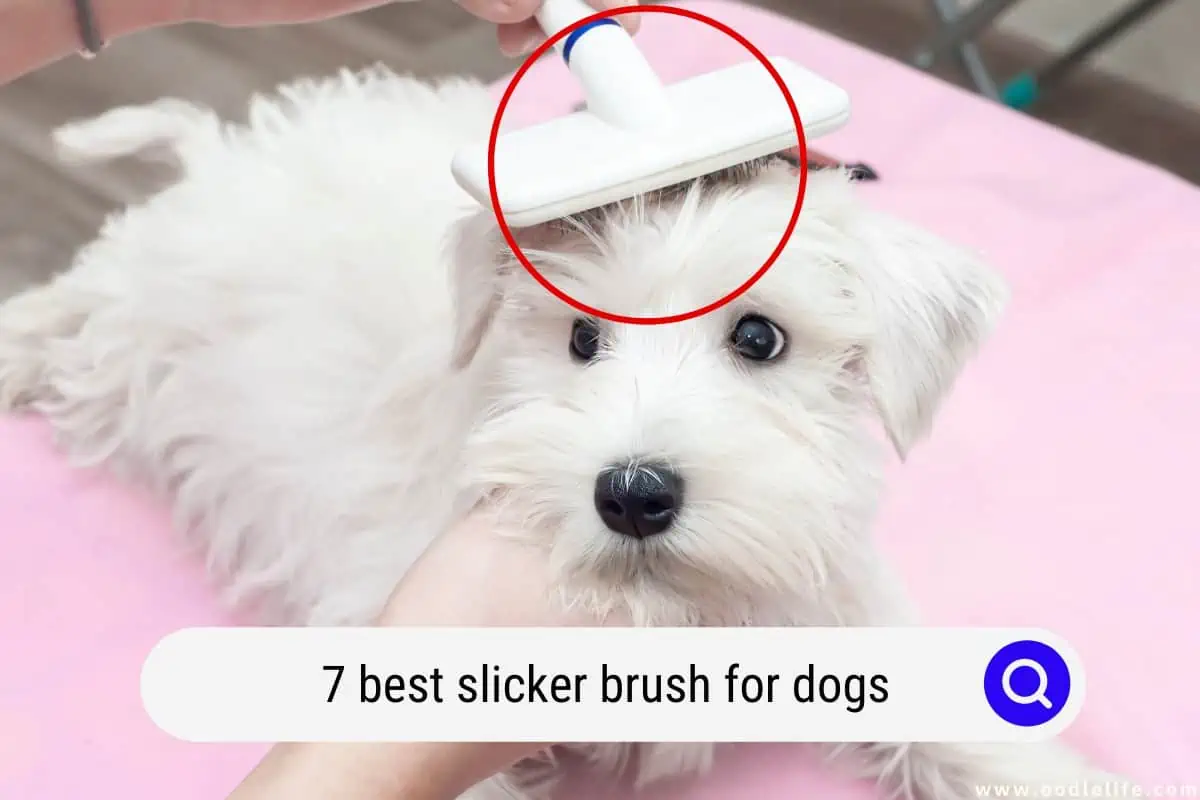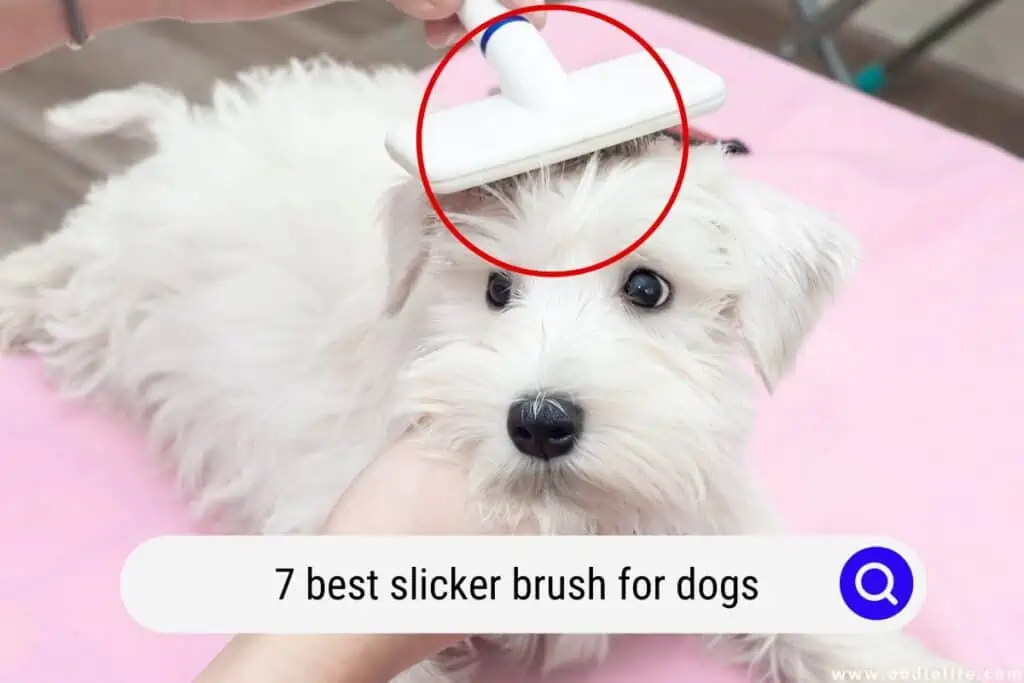 Regular grooming is crucial to keep shedding to a minimum, and a slicker brush is a necessary product to have in any dog owner's arsenal.
It helps remove tangles and matting as well as lose fur and debris from the coat. It should be used regularly to maintain your pup's coat health and to prevent knots from forming. Depending on the breed and coat type, it is recommended you brush them several times a week.
This amount may be increased during shedding seasons so that the coat doesn't become matted. However, not all brushes are made equal, and some might harm your dog while being groomed, while others are entirely useless.
Fret not! We've looked at hundreds of reviews and tested heaps of brushes, and here are our favorites!
1. Safari Self-Cleaning Slicker Dog Brush
Our favorite brush is the Safari Self-Cleaning Slicker Brush because it offers everything you could want for a reasonable price. This brush is suitable for most coats and hair textures, but it does exceptionally well for dogs with long hair.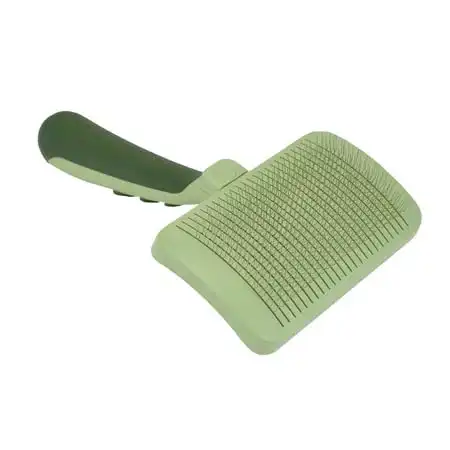 We earn a commission if you make a purchase, at no additional cost to you.
The brush comes in large, medium, and small sizes, which you can choose from based on your dog's size and coat type. A brush that is too big or little may not be suitable for your dog, so choose carefully.
The bristles are soft and pleasant and made of stainless steel. Although you won't have to worry about irritating your dog's skin, pay attention to any delicate regions because these bristles tend to snag. Even if you have multiple dogs with different coat types, you can feel comfortable using this brush on all of them.
The handle is easy to grip, sturdy, and doesn't slide around in the palm. Cleaning is simple! To get rid of hair and debris, just press the handle and release the pins.
It earns marks for overall adaptability because it works for so many dogs of diverse shapes, sizes, and coat kinds.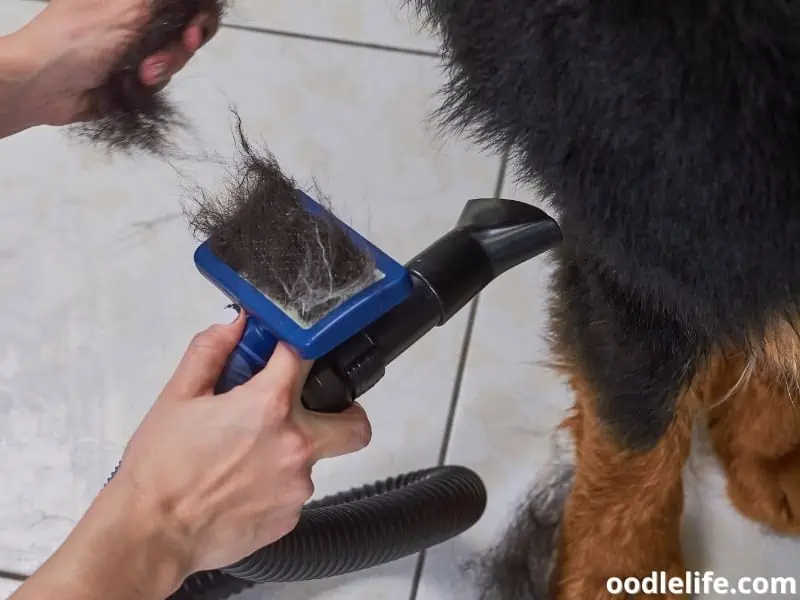 2. Hartz Groomer's Best Combo Dog Brush
The Hartz Groomer's Best Combo Dog Brush is particularly effective due to its multifunctional features and superior value.
Hartz Groomer's Best Combo Dog Brush
Developed with pawfessional groomers for everyday de-shedding, detangling and removing small mats
Features two brushes and grooming actions in one! One side contains stainless steel tips with a protective coating to remove lose hair and detangle coat; the other side has dense nylon bristles to redistribute natural oils for a healthy, shiny coat
Ergonomically designed handle allows for maximum comfort and control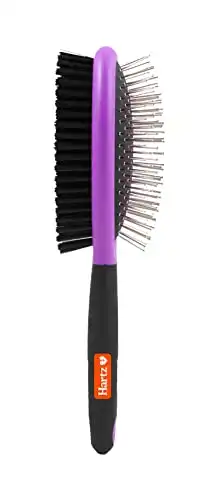 We earn a commission if you make a purchase, at no additional cost to you.
This two-sided brush includes stainless steel pins on one side that are ideal for untangling knots that are particularly challenging to handle. The opposite side features bristles made of nylon synthetic material for a soft finish that leaves your dog's fur well-kept.
The natural oils in your pet's fur are distributed by the nylon bristles, making the fur soft and glossy. It's a great option for coats that are curly, wiry, or otherwise challenging. Although it takes care of the buildup of dead hair, it won't necessarily help with de-shedding.
Since this option doesn't self-clean, you'll need to manually remove the bristle hair after each use.
3. Hertzko Self Cleaning Slicker Brush for Dogs
The tiny wires of the Hertzko Self Cleaning Slicker Brush for Dogs are twisted at an angle, enabling them to penetrate your pet's coat deeply and snag as much loose fur as possible. The wires are delicate and will be able to reach deep under your dog's hair to get the pesky fur off.
Hertzko Self-Cleaning Slicker Brush for Dogs, Cats - The Ultimate Dog Brush for Shedding Hair, Fur - Comb for Grooming Long Haired & Short Haired Dogs, Cats, Rabbits & More, Deshedding Tool, C...
$29.99
$16.49 ($16.49 / Count)
#1 Cat & Dog Brush - Voted best overall for 2022 by Spruce Pets; trusted by millions of pet owners
Effective - Reduces shedding, detangles, removes dirt & debris, keeps coat looking shiny and healthy
Versatile - Great for cats & dogs of all fur types
Easy to Clean - Simply retract bristles with the push of a button, then wipe away collected fur
Smart Design - Fine, angled bristles, ergonomic comfort grip, and push-button retraction make it easy to keep your pet looking happy & healthy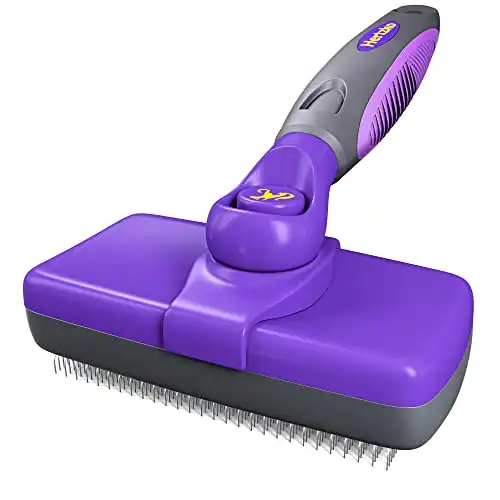 We earn a commission if you make a purchase, at no additional cost to you.
This self-cleaning brush has retractable wires bristles that will disappear when the button is pressed, making it exceedingly simple to clean as you can simply remove the hair. This should save you a ton of time because you won't have to spend a lot of time plucking off fur clumps from the bristles.
The grip itself is a little difficult to hold, especially if you're using the other hand to restrain a stubborn dog. However, the self-cleaning function more than makes up for the slight inconvenience.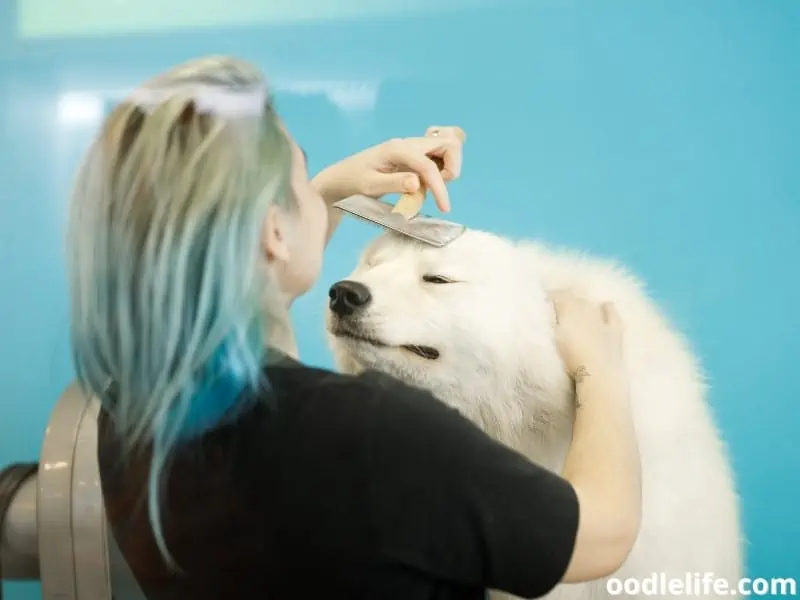 4. FURminator Grooming Slicker Brush
The FURminator's head is shaped to fit your dog's neck and back, making it simple to remove loose hair without tugging or pulling on his coat. Your dog not get hurt and will be less likely to object to getting groomed if you apply less pressure to his fur.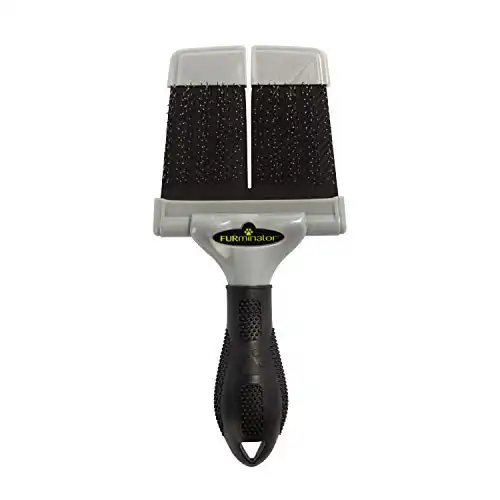 We earn a commission if you make a purchase, at no additional cost to you.
It is simple to grasp and requires less force to use during a session thanks to the grippy, ergonomic handle that protects your wrists as well as the skin on your dog.
It works particularly well for dogs with fine or wiry hair because it may get rid of problem areas without causing any harm to the fur. However, thick, curly-coated dogs may find it a touch too thin.
Given its rock-bottom pricing, you can't expect much more from this brush, but it is a little challenging to clean. It won't put much of a hole in your wallet and is reasonably priced enough that you could keep replacing it as it breaks or gets too clogged to function.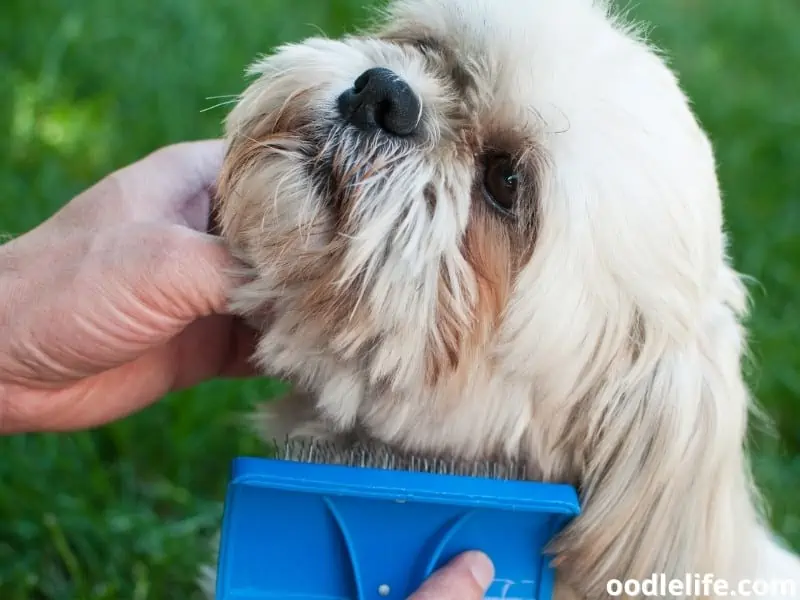 5. Li'l Pals Slicker Brush
This one is for the little guys! Grooming young dogs requires a great deal of patience and skillful angling because many dog slicker brushes are too large to be used on pups or toy dogs.
Coastal Pet Li'l Pals Dog Slicker Brush with Coated Tips - Dog Grooming Brush for Small Breeds & Puppies - One Size
Wire Dog Brush: This dog brush has flexible wire pins that fit to a dog's body for easy grooming
Pet Hair Removal: This dog grooming brush detangles fur, removes loose hair and smooths the coat
Dog & Pet Comfort: The plastic tips on each brush bristle won't irritate your dog's sensitive skin
Healthy Dog Fur: Stimulate the production of natural oils and distribute them evenly for a soft coat
Coastal Pet Cares: We design and deliver quality products that people trust for the pets they love
We earn a commission if you make a purchase, at no additional cost to you.
This Li'l Pals brush is made exclusively for puppies and toy dogs so you can groom the little ones in peace without using an overly large brush.
One of our favorite features of this brush is how it evenly distributes oils throughout the dog's coat, ensuring that the skin and fur remain healthy and beautiful.
Since the pins all have rounded, plastic tips, it is unlikely that using the brush would accidentally hurt your dog's skin.
Keep in mind that you should get this brush only if you have a toy breed pup. If you have a large breed pup, your pooch will soon outgrow the brush and you'll need a new one.
6. Paw Brothers Hard Pin Slicker Brush
The Paw Brothers Hard Pin is useful for use during bath time because of its non-slip grip, which allows you to hold onto it even when your hands are slippery from soap and water.
Ryan's Pet Supplies Paw Brothers Extra Long Pin Flat Slicker Brush for Dogs, Large
EXTRA LONG PINS - Crafted from high-quality materials, this professional-grade brush features extra-long stainless steel pins that easily penetrate deep into your pet's coat, removing dirt and debris...
COMFORTABLE - The flat slicker design allows for gentle yet effective grooming, while the ergonomic handle ensures maximum comfort and control during use.
ALL COAT TYPES - The Paw Brothers Extra Long Pin Flat Slicker Brush is suitable for all coat types and can be used on both dogs and cats. It's perfect for pet owners, as well as professional groomers.
SIZE - Head 4.5in x 3in, Handle length 4.75in, Pins 1in length
WHY RYAN'S PET SUPPLIES - Established in 1959, we have grown from humble beginnings as a family-operated four-page catalog to an international business featuring top quality products and services for...
We earn a commission if you make a purchase, at no additional cost to you.
However, you will pay a price for it as it is relatively difficult to clean unlike other self-cleaning brushes on this list. Damp, matted fur would be difficult to remove if you are brushing your dog during bath time!
The stainless steel pins are more than capable of withstanding a bit of rough treatment, but you should be careful not to dig all the way down to his skin because they are a little tough.
It can easily cut through dense patches of fur, therefore dogs with thick, double coats are the best candidates. Less fluffy mutts are considerably more likely to inadvertently harm themselves, which can make future grooming sessions tricky.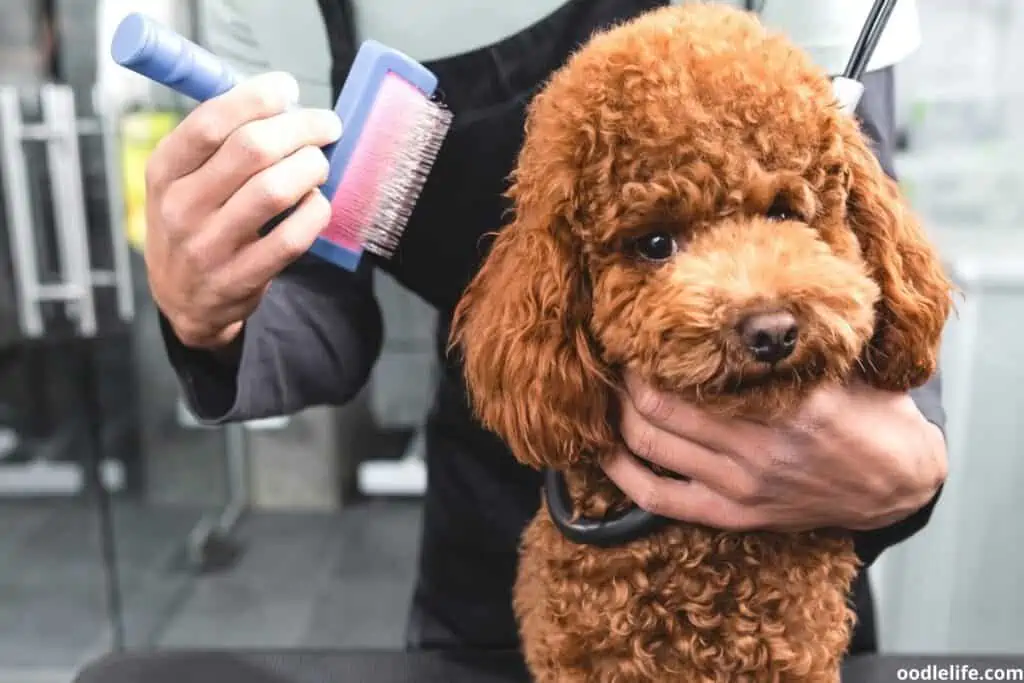 7. FURminator Undercoat deShedding Tool
Although not a slicker brush, this undercoat tool is the best thing for dogs with thick double coats. To remove any undercoat hair, the stainless steel toothy edge removes all the loose fur without harming the dirt-repelling topcoat.
FURminator Undercoat deShedding Tool, For Large Dogs, Long Hair, Blue
FOR LARGE DOGS WITH LONG HAIR: Designed especially for dogs that weigh more than 50 pounds.
REMOVES LOOSE HAIR: Reaches through the topcoat to remove loose undercoat hair without cutting skin or damaging the topcoat (when used as directed).
FOR LONG HAIR: Stainless steel deShedding edge reaches through topcoat to safely and easily remove loose hair and undercoat.
FUREJECTOR BUTTON: Push to release hair with ease.
ERGONOMIC HANDLE: For comfortable, easy grooming.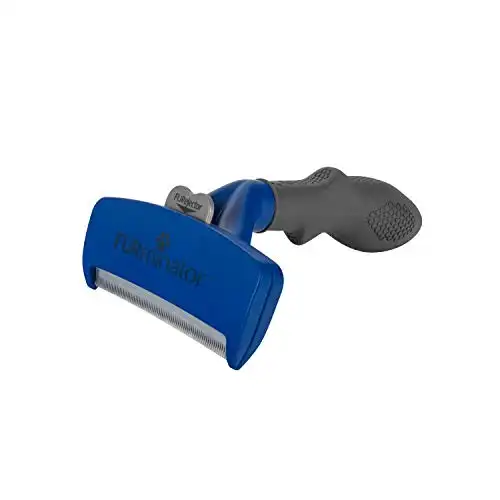 We earn a commission if you make a purchase, at no additional cost to you.
To prevent the blade from coming too close to the flesh, it is surrounded by a curved guard. Be careful near delicate regions like legs because some sensitive dogs really become agitated with this brush. Due to the blade's potential for irritation close to the skin, it must only be used on dogs with double coats.
This deshedder has a lot of staunch supporters because of how effective it is at removing dead fur from the undercoat and how simple it is to use. An ejector button that forces hair and dander out of the blades makes cleaning it relatively simple.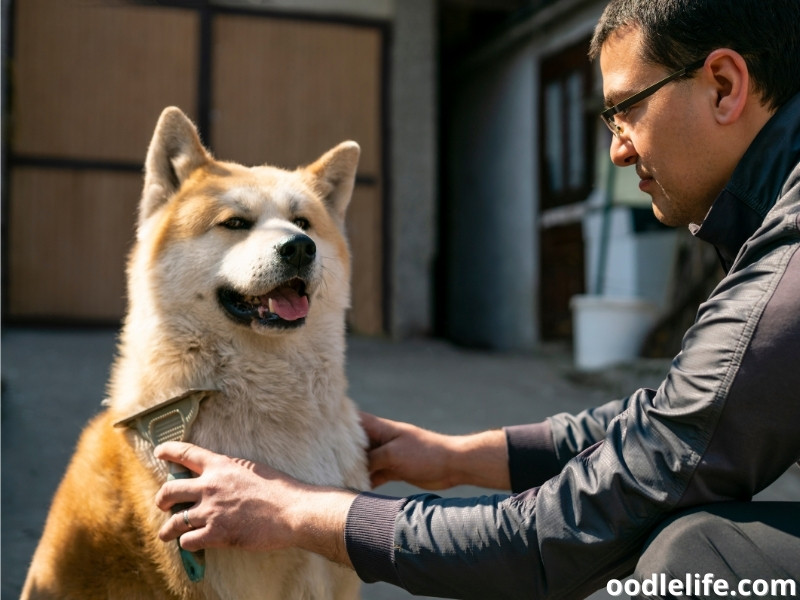 How To Pick A Slicker Brush?
Didn't find a suitable one yet? No worries, you'll have fun shopping for a new brush.
To choose the best brush for your pup, consider their size and coat type. Long-haired breeds often need a medium or firm-bristled brush while shorter-haired dogs may do better with a softer one.
When it comes to size, you want something that fits comfortably in your hand, as well as the size and shape of your dog's body.
Final Thoughts
Remember that regular brushing is important not just to keep mats at bay, but also to ensure the good physical health of both you and your pup – after all, brushing helps distribute essential skin oils and improves circulation!
All you have to do is start at the front of your pooch and work your way down until all of the fur has been groomed evenly. Be sure to focus on areas near their paws, belly, and tail where mats may be the most concentrated.
Remember to use slow strokes so that more tangles can be extracted from their coat. With regular use, these brushes can make grooming sessions feel effortless.