7 Best Dog Brush for Shedding (2023 Update)
The sheer amount of fur a dog sheds can become a messy and frustrating problem in most people's households. Their fur can get everywhere and make clean-up a nightmare. For that reason, regularly brushing their fur with an excellent brush will go a long way in saving you from that problem.
However, there's one small predicament. There are many different kinds of brushes designed for your dog's specific fur type, and it can be difficult to weigh the pros and cons among them. Fortunately, we've done that for you.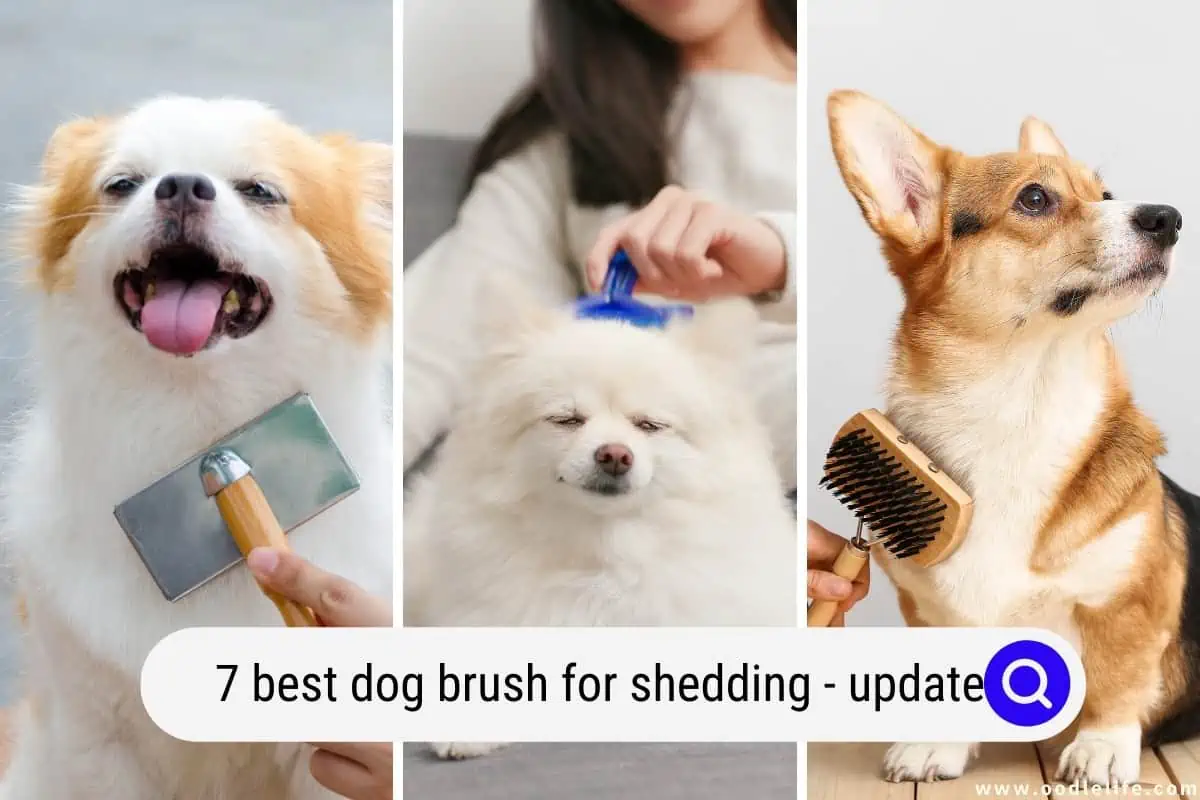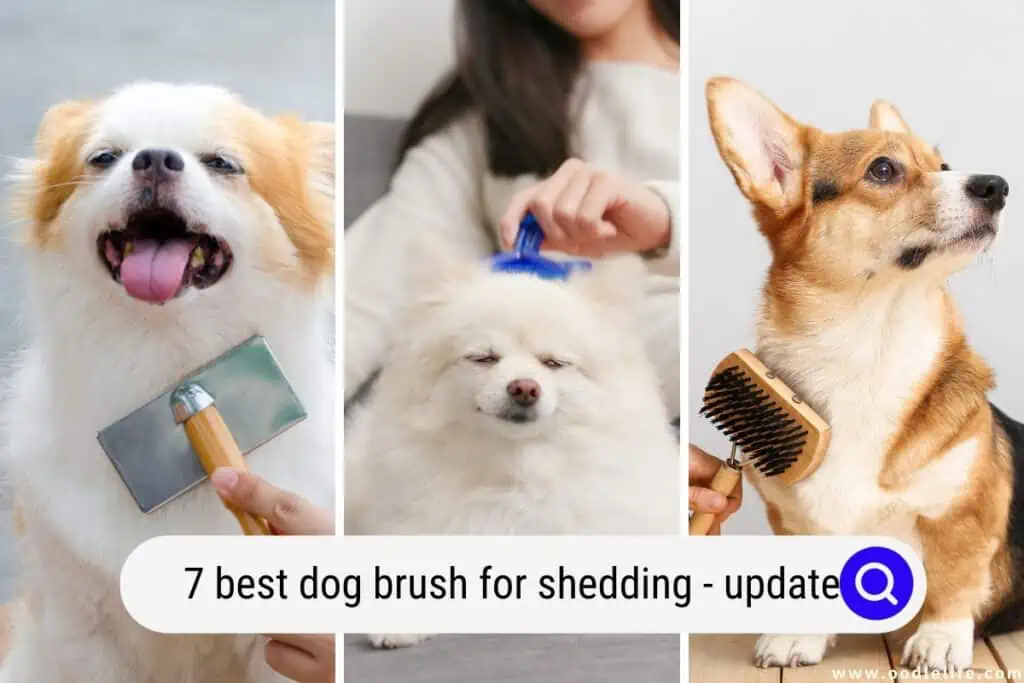 Best Overall: Hertzko Self-Cleaning Slicker Brush
Best Dematting: MaxPower Planet Pet Grooming Brush
Best Short Hair: MIU Color Pet Grooming Brush
Best Long Hair: YIRU Large Firm Slicker Brush
Best Self-Cleaning: Ruff 'N Ruffus Self-Cleaning Slicker Brush
Best Vacuum and Brush: Neabot P1 Pro Pet Grooming Kit
Best Double-Sided: Hartz Groomer's Best Combo Dog Brush
The 7 Best Dog Brush for Shedding
Here are the seven best dog brushes for shedding in 2023:
Best Overall: Hertzko Self-Cleaning Slicker Brush
The Hertzko Self-Cleaning Slicker Brush is the best overall on our list because of its thin, plentiful bristles and its ability to self-clean. This brush picks up all the loose fur hiding in your dog's fur and, with the push of a button, releases it for a simple and quick clean-up.
Hertzko Self-Cleaning Slicker Brush for Dogs, Cats - The Ultimate Dog Brush for Shedding Hair, Fur - Comb for Grooming Long Haired & Short Haired Dogs, Cats, Rabbits & More, Deshedding Tool, C...
#1 Cat & Dog Brush - Voted best overall for 2022 by Spruce Pets; trusted by millions of pet owners
Effective - Reduces shedding, detangles, removes dirt & debris, keeps coat looking shiny and healthy
Versatile - Great for cats & dogs of all fur types
Easy to Clean - Simply retract bristles with the push of a button, then wipe away collected fur
Smart Design - Fine, angled bristles, ergonomic comfort grip, and push-button retraction make it easy to keep your pet looking happy & healthy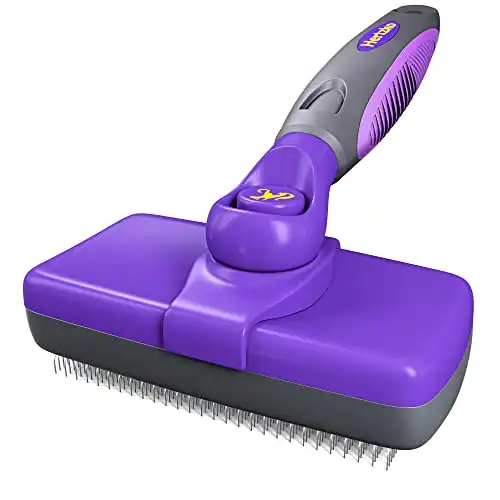 We earn a commission if you make a purchase, at no additional cost to you.
The brush is wide and captures a larger surface area of loose fur, as well. Your dog won't only feel the lightness of the less fur but cleaner as the brush collects lost dirt that found its way into their coat somehow.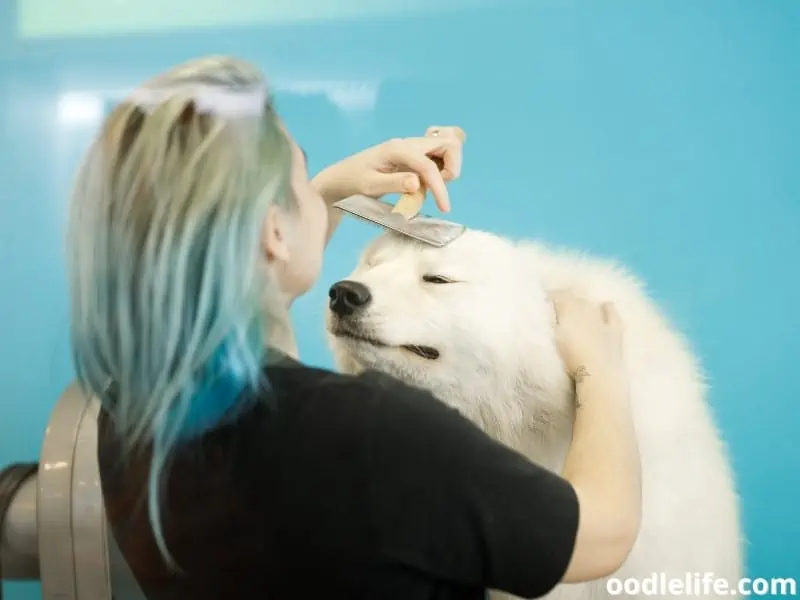 Best Dematting: MaxPower Planet Pet Grooming Brush
Utilizing the MaxPower Planet Pet Grooming Brush to get those intense tangles and mats out of your dog's fur is easy. While this brush looks intense, it's skin-friendly to your dog and won't irritate them.
Maxpower Planet Pet Grooming Brush - Double Sided Shedding and Dematting Undercoat Rake Comb for Dogs and Cats,Extra Wide,Blue
Dual-Sided Design: Start with 9 teeth side for stubborn mats and tangles and finish with 17 teeth side for thinning and deshedding. Achieve faster and more professional dematting and grooming results
Skin Friendly to Your Pets: Our Dematting Brush is designed with Sharpened but Fine Rounded Teeth, allows you easily and safely remove mats, tangles, knots, loose hair without irritation or scratching
Effective Dehedding Tool:This undercoat rake gently removes loose hair, and eliminates tangles, knots, dander and trapped dirt.Perfect solution for dogs and cats with thick fur or dense double coat...
Comfortable to Use: Lightweight and Non-Slip rubber handle for comfortable holding and stability.You will absolutely enjoy your grooming time with this pet brush
Great Gift for Pet Lovers: Our pet grooming brush for dogs is a must-have pet brush for all dog, cat and pet lovers. The ideal gift for your friends and family, they will love it!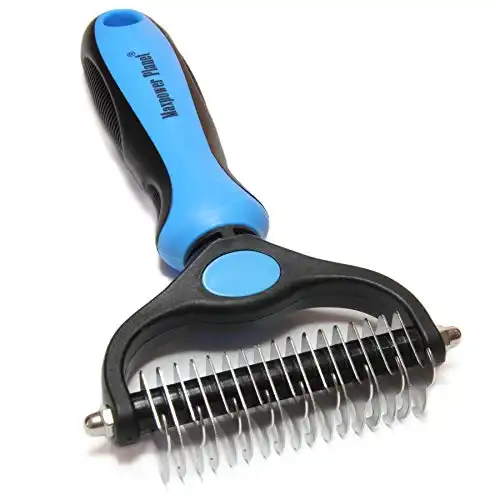 We earn a commission if you make a purchase, at no additional cost to you.
Active dogs with long hair especially make combing their fur difficult without the right tool. Once you've gotten into the habit of searching their coat with this brush, you won't find many thick mats or tangles to deal with.
Best Short Hair: MIU Color Pet Grooming Brush
Even puppies with short hair are capable of shedding, and the MIU Color Pet Grooming Brush is perfect for picking up stray hairs in their coat. Its short bristles form a straight line and collect any dirt in your dog's coat. This brush would even work on a cat, given its style.
MIU COLOR Pet Grooming Brush, Deshedding Tool for Dogs & Cats - Effectively Reduces Shedding by up to 95% for Short Medium and Long Pet Hair
Pet Hair Remover Deshedder: MIU COLOR Pet Grooming Brush effectively reduces shedding by up to 95%. It's an ideal pet grooming tools and Dog Brush Hair Brush for de shedding all Sizes of Cats &...
High Quality Dog Cat Grooming Comb: Our pet comb has 4-Inch stainless combs, Steel Edge with uniformly distributed teeth, make it a good grooming comb for cats and dogs, quickly and easily removes...
Convenient Top Coat Undercoat Brush: Our dog deshedding tool has detachable comb head, can be effortlessly removed and installed. This dog cat brush for shedding comes with Safe Blade Cover. Our cat...
Safe Dog Cat hair remover: Our dog cat shedding brush is eco-friendly, non-toxic, non-polluting, safe to use. Ergonomic Non-slip handle, make this Pet Shedding Brush durable and strong, fit in hand...
Ideal Choice for Pet: MIU COLOR Cat Brush and Dog Brush allows dogs and cats to have comfortable experience. If there is any problem for Pet Brush, we provide a complete return or refund service!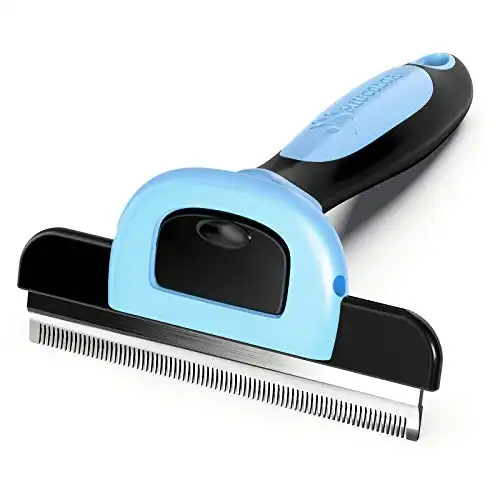 We earn a commission if you make a purchase, at no additional cost to you.
It's long enough to reach the skin and promote health benefits in your dog's skin, such as blood flow and natural oil distribution.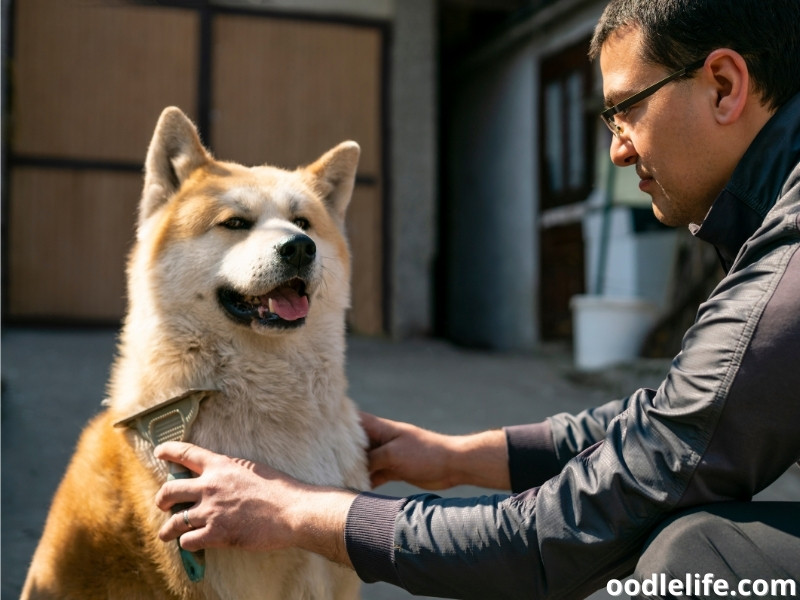 Best Long Hair: YIRU Large Firm Slicker Brush
The YIRU Large Firm Slicker Brush may lack the self-cleaning aspect most of these brush options have, but if your dog has thick, long fur, it won't matter how effective this brush is. With its long, thin, curved bristles, the YIRU slicker brush reaches deep into your pet's thick coat.
YIRU Large Firm Slicker Brush for Dogs Goldendoodles,Extra Long Pin Slicker Brush for Dog Pet Grooming Pins and Deshedding,Removes Long and loose Hair,Undercoat,25mm(1")
Professional dog pin brush for dogs,long hard stainless steel pin-25mm(1'') and 135°curved pins brush,which imitates the hand design of the rake hand.It's a large dog slicker brush,extra long slicker...
Normal length of pin is 15mm(0.59''),when you brush long hair dogs, you will find slickers are full of hair soon and you have to remove hair on brush for next brushing. Long height pin can solve it....
Supports Dry Pets- Suitable for daily care and dry hair after bathing, wet pets are not recommended.The slicker for dogs and cats can be used on medium long hair breeds. This long pin brush helps you...
Long slicker dog brush large is suitable for Alaskan, Golden fur, Poodles, Goldendoodles, Schnauzers, Pomeranians, Collies, Labradors,other large medium and long hair dogs, and a wide range of cat...
After market validation,our grooming brush,dog slicker brush for grooming,it is widely favored and recommended by groomer and owners of medium and long hair breeds pet ! 【More Tips】: YIRU...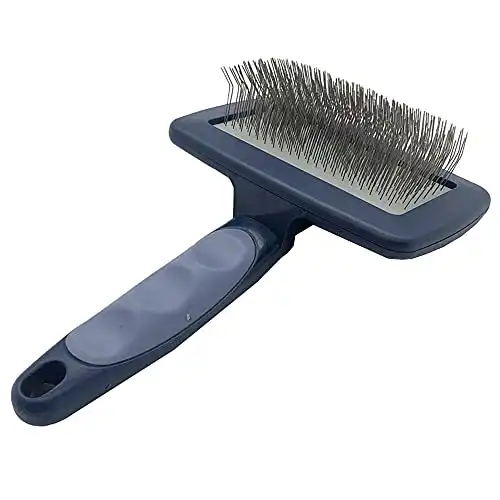 We earn a commission if you make a purchase, at no additional cost to you.
It's wise to use brushes with such long bristles on dogs with thick fur so it reaches all the potential spots clumps of fur can reside. It also can reach your dog's skin and offer relief from itchiness or de-mat certain areas you wouldn't find just by looking at them.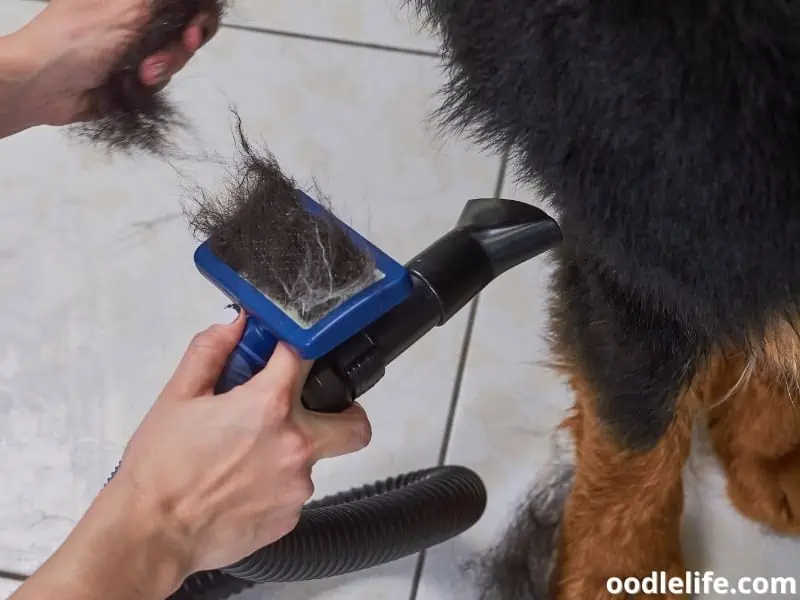 Best Self-Cleaning: Ruff 'N Ruffus Self-Cleaning Slicker Brush
Similar to our best overall brush, the Ruff 'N Ruffus Self-Cleaning Slicker Brush is a self-clean brush with a large surface area of bristles. The difference lies in the efficiency of this brush's clean-up.
Ruff 'N Ruffus Self-Cleaning Slicker Brush With PAIN-FREE Bristles | Gently Removes Loose Undercoat, & Tangled Hair | For Cats & Dogs | Reduces Shedding by 95% + FREE Pet Nail Clipper inc...
★ GROOMING MADE EASY ★ Get essential grooming tools for dogs and cats in one swoop. This set includes a slicker de-matting brush,and heavy-duty pet nail clippers. Save money by giving your furry...
★ SELF-CLEANING SLICKER BRUSH ★ Removing knots, dander, and loose hair from your pet s fur just got easier. Press the button on the slicker brush after you're done and watch the bristles retract...
★FREE Bonus PET NAIL CLIPPERS ★ Give your pet s nails a nice trim the safe way. Our cat and dog nail trimmers stand out with their sharpness, durability, and a safety stop that prevents cutting...
★ COMFORTABLE, STRONG, AND DURABLE ★ Our Slicker Brush is especially designed with a COMFORT-GRIP and ANTI-SLIP HANDLE, which prevents hand and wrist strain no matter how long you brush your pet!
★ BUY WITH CONFIDENCE ★ We ve got your back with a 100% satisfaction guarantee. Reach out to us in case of any issues with your pet grooming accessories and we ll do all we can to make it right....
We earn a commission if you make a purchase, at no additional cost to you.
With a click of a button, the bristles not only remove themselves from the fur, but the fur falls off the brush. With the hair falling off on its own, you don't even have to pause to continue brushing your dog's coat.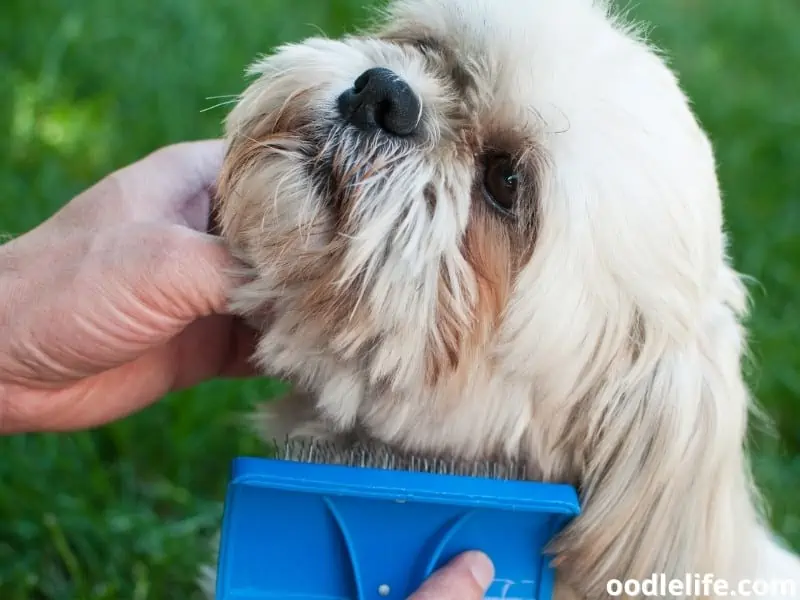 Best Technology: Neabot P1 Pro Pet Grooming Kit
The Neabot P1 Pro Pet Grooming Kit is the most technologically advanced brush featured. With a vacuum and brush combined into one, the Neabot makes brushing and clean-up simpler than a self-clean brush.
neabot P1 Pro Pet Grooming Kit & Vacuum Suction 99% Pet Hair, Professional Grooming Clippers with 5 Proven Grooming Tools for Dogs Cats and Other Animals(Renamed to Neakasa)
$149.99 ($149.99 / Count)
【All-in-one Professional Grooming】This pet grooming clippers come with 5 proven tools: Grooming brush and DeShedding brush to help prevent damaging the topcoat whilst promoting a soft, smooth,...
【Vaccumable Pet Grooming Kit】: Traditional home grooming tools bring about a lot of mess and hair in the home. But our P1 Pro grooming kit with vacuum function collects 99% of pet hair into a...
【4 Comfort Guard Combs】: The adjustable clipping comb(6mm/12mm/18mm/24mm) is applicable for clipping hair of different lengths. The detachable guide combs are made for quick, easy comb changes and...
【Low Noise Design】: Pet clippers for dogs with low noise design to help the pet feel at ease and no longer afraid of haircut. We suggest grooming your pet with our brush before trimming pet hair,...
【After-Sales Service】: Neabot P1 Pro Pet Grooming Kit & Vacuum provides 1 Year Warranty & 45 Days No-Worry Return. 7*24 customer service after your purchase. If you have any problems, please feel...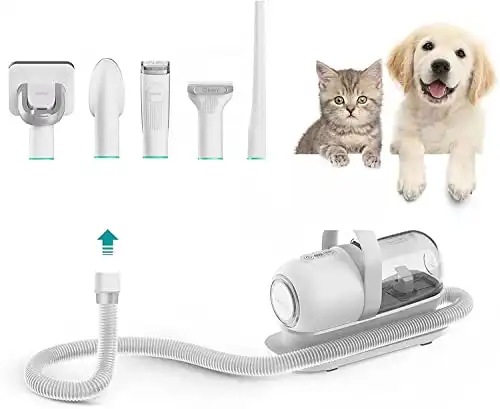 We earn a commission if you make a purchase, at no additional cost to you.
While this brush is the most expensive option, it comes with four comb staples that are easily adjusted to make your pet comfortable and an attachable clipper so you can groom your dog. Whatever sheddings you pick up and fur your chop, it's sucked up into the vacuum as you go.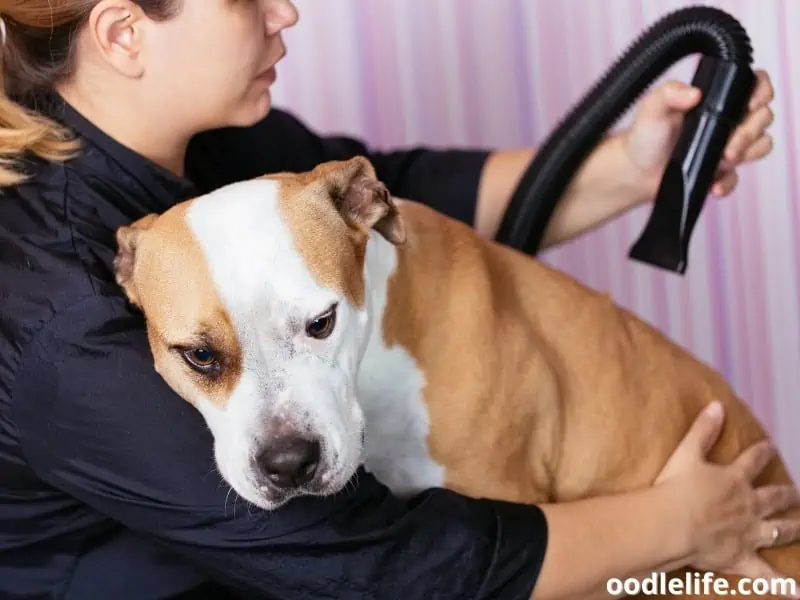 Best Double-Sided: Hartz Groomer's Best Combo Dog Brush
The Hartz Groomer's Best Combo Dog Brush is a cheap option that not only offers medium-length bristles for all dog hair types but a second side that has thick nylon bristles to move along natural oils and make your dog's coat healthier and appear shinier.
Hartz Groomer's Best Combo Dog Brush
Developed with pawfessional groomers for everyday de-shedding, detangling and removing small mats
Features two brushes and grooming actions in one! One side contains stainless steel tips with a protective coating to remove lose hair and detangle coat; the other side has dense nylon bristles to redistribute natural oils for a healthy, shiny coat
Ergonomically designed handle allows for maximum comfort and control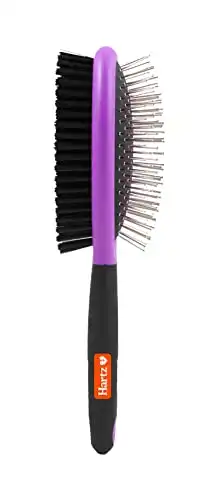 We earn a commission if you make a purchase, at no additional cost to you.
Having both options to remove the dirt and shedding hair and smooth it out make this brush one of the best on our list. It's simple but has two functions in one.
Buyer's Guide: What To Look For in a Dog Brush
While all of these options are the best we could find, there are several other aspects to consider before purchasing a brush for your dog's shedding problem.
Clean-Up
Most of the brushes on our list include a self-clean option, which is something you should consider before buying.
Cheaper options, like the Hartz Groomer's Best Combo Dog Brush, while they get the job done, it will be up to you to clean out the brush so you can reuse it, even in the middle of your cleaning. If you don't mind the extra step, it's not an issue.
Self-clean brushes will make everything easier on you, especially if you're dog can't sit still during grooming. They're just more efficient.
Price
Most brushes, including self-clean brushes, are relatively inexpensive. More technologically advanced brushes will be more expensive than others, the same way the brushes designed for a specific use will be pricier.
What's most important is your dog. Most brushes are affordable as long as you buy the right one for your dog. With the proper brush, one that will help your dog's shedding and keep them healthy, the price won't matter because you won't have to replace it continuously.
Your Dog's Comfort
Consider your dog's comfort when buying a brush. If they have thin and fine hair, don't purchase a brush with long and spikey bristles that can irritate your dog's skin. Look into a brush with small and thin bristles for short-haired dogs and vice versa.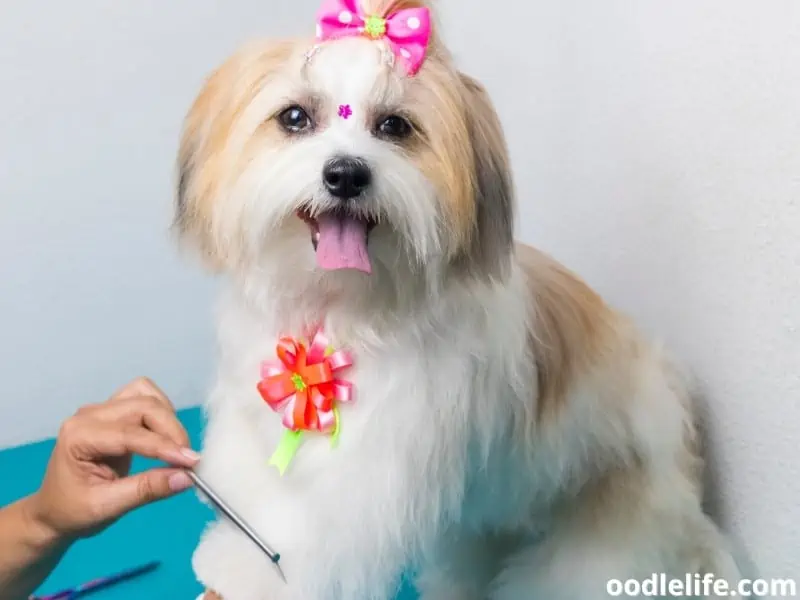 Brush Material
While it may not seem like a big deal, choosing a brush with a durable and stable material can go a long way. They all have their different perks and downfalls, for example, wood is strong but easily absorbs moisture. Plastic won't absorb moisture but is relatively weak compared to wood.
It all depends on your dog's fur and how tough it is to rake through with a brush. You'll want something sturdy for thick hair, but for fine hair, it won't break a weaker brush.
Brush Styles
There are four different styles of brushes: slicker brushes, rakes, bristles brushes, and pin brushes. They are easily notable by their names, and all have their benefits that separate them from the others.
It's vital to do your research before purchasing a brush for your dog. It will go a long way when your brush lasts a long time and does its job for the entirety of it.
Why is Brushing Your Dog Important?
While shedding can lead to a messy home and a tough clean-up, there are even more crucial reasons to keep up with brushing your dog's coat.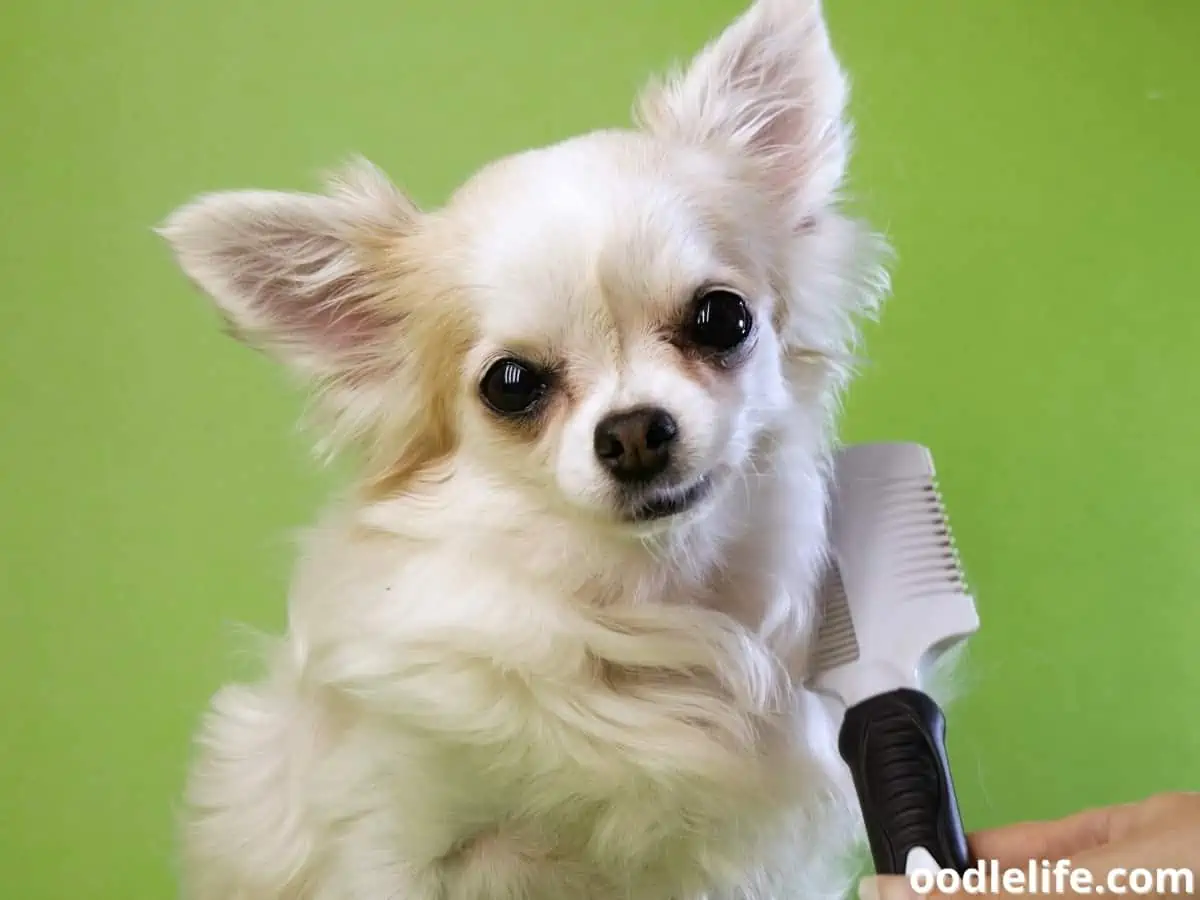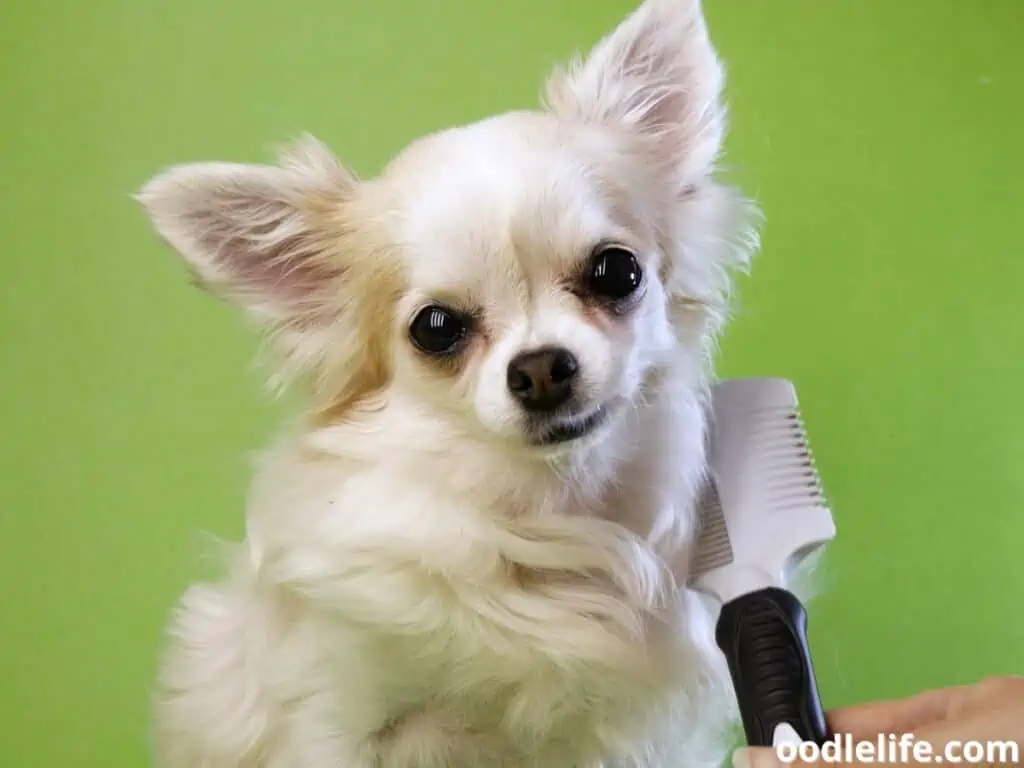 Ignoring your dog's coat can lead to many health problems.
Not only can a dog's loose fur get stuck in its healthy fur, but it can collect all kinds of dirt and bacteria. While matted and tangled fur is an issue, it can also lead to severe skin issues and cause intense discomfort in your dog.
Brushing also aids in distributing natural oils around your dog's fur and skin. If you don't brush your dog's fur regularly, it can cause a build-up in one area and cause even more skin issues.
Skin issues and a lack of proper care can lead to fleas, ticks, and just about any other parasite that finds its way into your dog's skin and fur and maybe even eventually into their bodies.
Not to mention that by not combing your dog's hair, you are increasing the amount they shed. Hoping their shedding will stop if you stop brushing them will only make matters worse.
The best way to tackle your dog's shedding issues is to comb them regularly. By consistently brushing your dog's coat, you'll lighten the hair clean-up around the house and keep your dog healthy and happy.
Conclusion
Choosing the right brush to limit your dog's shedding is a bigger decision than it seems. That's because shedding is only the beginning of your dog's problems when it comes to regularly brushing their fur.
Our list of the best seven brushes will limit the amount of hair falling off in your house but also promote a healthy coat and skin in your dog.