3 Strongest Dog Shock Collars [Commercially Available]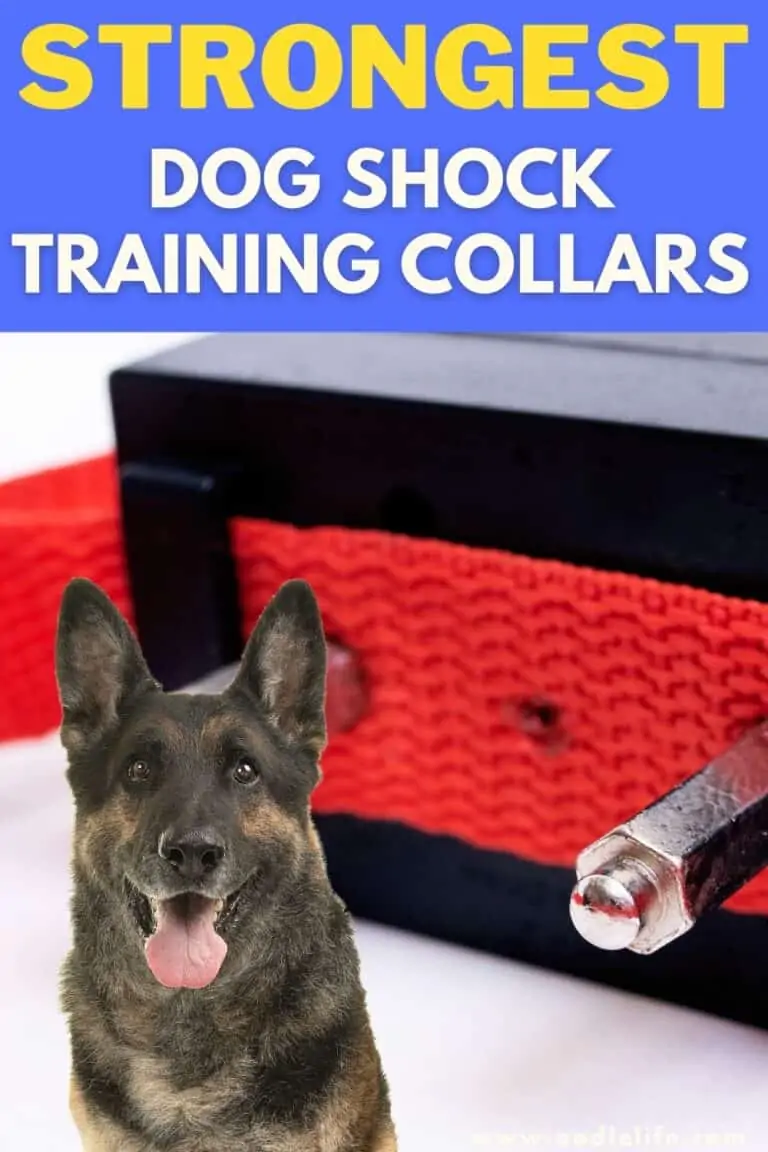 Some dogs are relatively easy to train. Those who are lucky enough to have a mellow, eager-to-please pup know and understand that – and yes, we're jealous of you.
Other dogs, however, can be incredibly difficult to train. Overly-rambunctious pups might bark, growl, pee where they're not supposed to, or even bite at times. You may feel like you've tried everything; what more can you do?
Dog shock collars serve as excellent training tools that can make it increasingly apparent that their bad behavior will elicit an unpleasant punishment – i.e., a shock.
Today, we're here to talk about shock collars: what they are, how they work, and which are the best. Our reviews of the strongest dog shock collars can help you decide which is the best option for your disobedient dog.
In a hurry? These are our top 3 strong dog shock collar picks
What is a Dog Shock Collar?
A dog shock collar is exactly what it sounds like. It's a training device in the form of a collar that features a receiver linked to a remote control. The receiver usually has two protruding metal points that sit against your dog's skin on their neck.
Meanwhile, you can control the collar via the remote control. When your dog exhibits bad behavior, you can discourage it by sending them a quick shock as a response, followed by a strong command and scolding.
Many dog shock collars feature three settings:
These settings are designed to give you a way to increase your dog's punishment gradually. Eventually, features such as the beep or vibration can even serve as a warning sign of what's coming if your dog refuses to listen: the shock.
Additionally, shock collars usually have several levels of shock intensity. For some dogs, it only takes a small zap to get their attention and get them back on track. Other more stubborn, difficult dogs might require a stronger shock.
How to Properly Use a Shock Collar
A dog shock collar can be an incredible training tool to transform your dog's bad behavior when used properly.
However, far too often, people use shock collars irresponsibly. The shock collar can quickly turn into a destructive, unfair, and even cruel punishment rather than a training tool.
Because we love our dogs – and all dogs, for that matter – we're going to give you a few essential tips to review before diving into our products.
Start With Traditional Training
Before you even touch a shock collar, you must attempt to train your dog with traditional training methods. If your dog doesn't have some kind of baseline, he doesn't stand a chance against the threat of a zap.
Maybe your dog doesn't entirely listen all the time, but if you can instill a few commands using treats and positive reinforcement, you'll have a much better time when you use the shock collar.
A few good basics to work on include common commands like come, sit, and stay.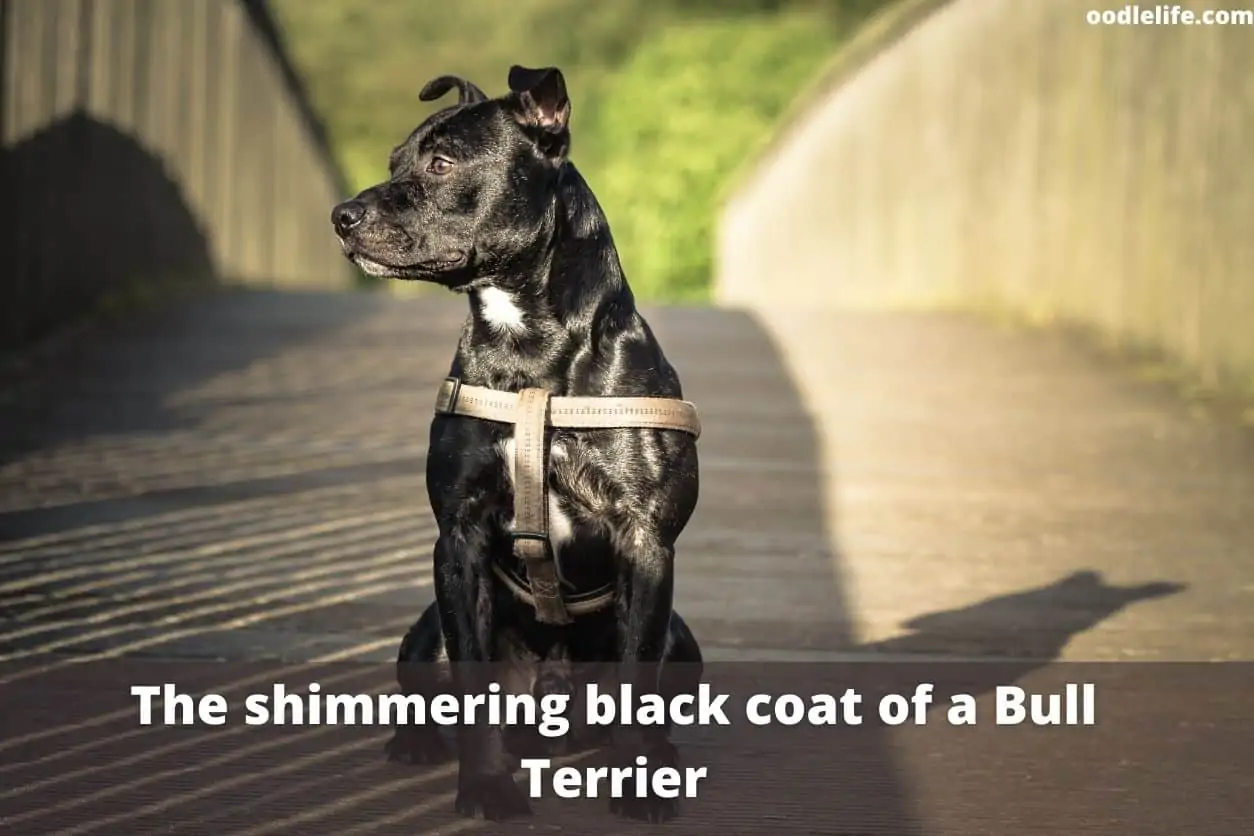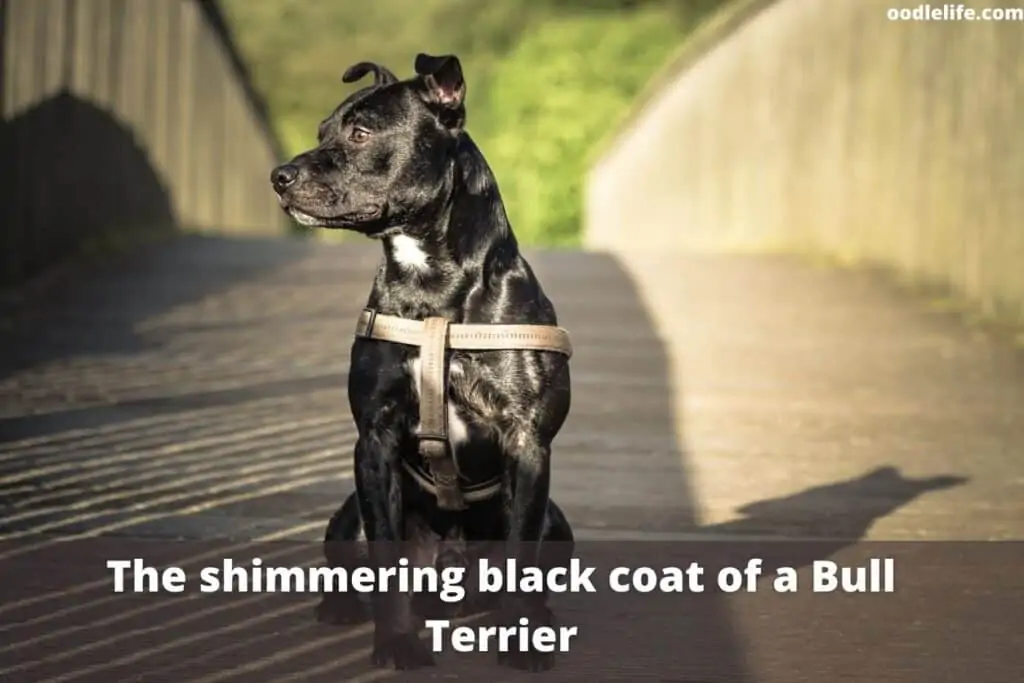 Allow Your Dog to Get Used to the Collar
Shock collars are often heavier and bulkier than standard collars, so they're going to feel different on your dog. You won't have any luck training them if they're distracted or uncomfortable, so be sure to give your dog time to get used to the new collar.
Combine Training Techniques
Shock collars basically only focus on negative response training, but what your dog really wants to do is please you. Using only negative responses, such as vibrations or shocks, isn't the ideal way to train.
Many people use a combination of negative responses with positive reinforcement. For instance, when your dog doesn't listen, he gets a buzz. When he does listen, he gets a treat. These far opposite responses make the good and bad decisions very obvious.
You also want your dog to be able to listen to you without the collar. If the only training tool you use is a shock collar, it's not likely that your dog will listen when he's not wearing it.
Use the Lowest Intensity Possible
As dog people, we firmly believe that the crime should fit the punishment. And while shock collars are incredibly safe, that doesn't mean you should be using the highest setting possible.
That being said, you should always use the lowest setting possible.
Most shock collars also have a beep and a vibrate setting. Start with the beep setting and see how your dog reacts to that. If your dog ignores the beep, try using the vibrate setting. If he ignores that, go for the lowest shock level – and so on.
Remember that the goal here is not to hurt your dog, but rather use the unpleasant feeling of a minor shock to correct his bad behavior.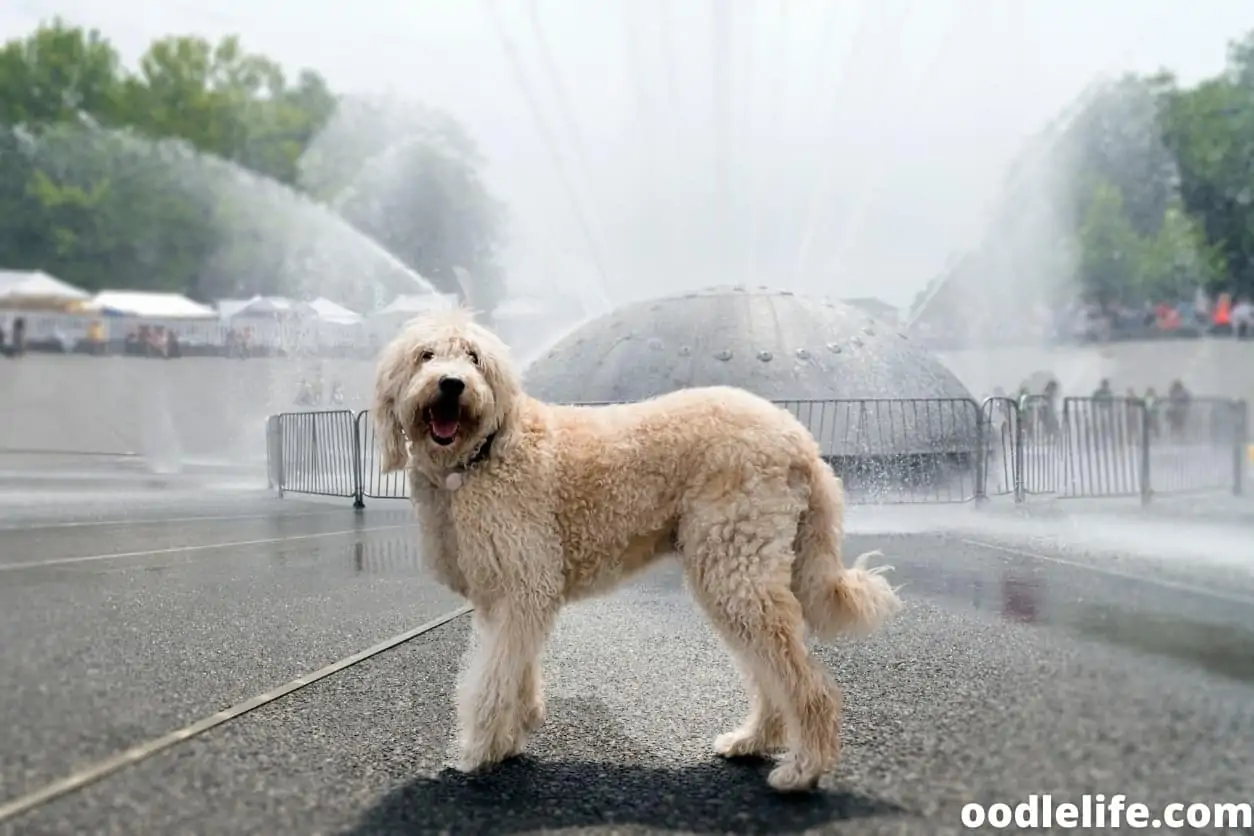 Strongest Dog Shock Collars
Now that you're a little more informed, it's a great time to check out some of the most robust dog shock collars on the market today. Keep in mind that all of these collars are perfectly safe for your treasured pet, so feel free to check them out.
Dogtra 1900S E-Collar
Dogtra 1900S Ergonomic 3/4-Mile IPX9K Waterproof Remote Dog Training E-Collar
SEAMLESS DESIGN: The 1900S receiver is sleek and slim, which allows the strap to wrap around the receiver and your dog's neck seamlessly
IPX9K WATERPROOF CERTIFIED: The 1900S come with a durable receiver that is IPX9K waterproof certified
3/4-MILE RANGE: The range of this training e-collar is perfect for simple to complex training commands for your dog. With a range of ¾-mile, this e-collar is perfect for serious obedience, hunting, and K-9 training.
PRECISE CONTROL: With 127 correction levels, you'll have no problem finding the perfect level for your dog with the gradual and precise correction control. The LCD screen is bright and easy to read
CORRECTIONS: This e-collar has two different correction types. The first correction type is a Nick (quick ½-second) and the second correction type is a Constant (up to 12 seconds).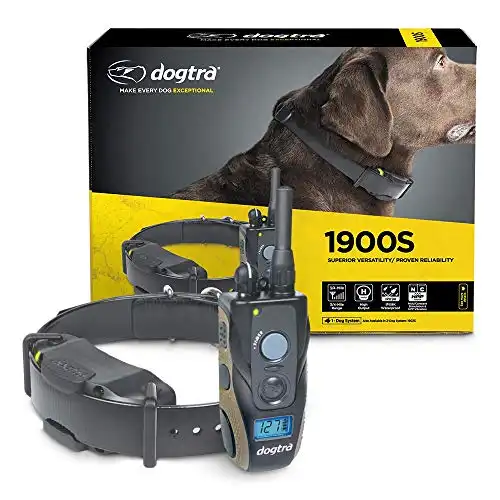 We earn a commission if you make a purchase, at no additional cost to you.
The Dogtra 1900S E-Collar is the perfect shock collar option for the pet parent who takes training seriously. This high-tech piece of equipment is sleek, slim, and easy to use.
The collar itself features quite a tiny receiver compared to other models, making the fit more comfortable for your dog's neck.
The entire product is completely waterproof as well, so if your dog loves to go for a swim in the neighborhood lake, there's no need to worry about the collar getting wet.
With this Dogtra model, your remote control will work as far as three-fourths of a mile. It's ideal for training in large, outdoor areas, and it can even be a suitable device for hunters and hikers.
With a whopping 127 correction levels, there are many options for finding the right level for your dog. You can administer the shocks in two ways:
Nick: ½ second shock
Constant: up to 12 seconds
Additionally, you can also switch the collar to vibrate mode, which will get your dog's attention without the pain of a shock.
Pros:
Easy to use
Numerous level settings to fine-tune settings
Waterproof
Great Range
Cons:
SportDOG 425 Remote Trainer
SportDOG Brand 425 Remote Trainers - 500 Yard Range E-Collar with Static, Vibrate and Tone - Waterproof, Rechargeable - Including New X-Series, Stubborn Dog E-Collar
HIGHER RANGES OF STIM: Designed for high drive/stubborn dogs that do not respond to lower levels of static stimulation
500 YARD RANGE: e-collar that can support training up to 3 dogs with the same remote with purchase of additional collars (SDR-AXS). For dogs 8 pounds or larger with neck sizes 5" - 22".
NO LOOK OPERATION: Designed for ease-of-use and no look operation while offering more levels of stimulation which allows for more customized training.
TONE, VIBRATE, AND STIM: This electric e collar offers 21 levels of static stimulation with medium/high ranges. Option to train with vibration (buzz) and tone (beep), too.
WATERPROOF: Submersible to 25 feet using DryTek technology.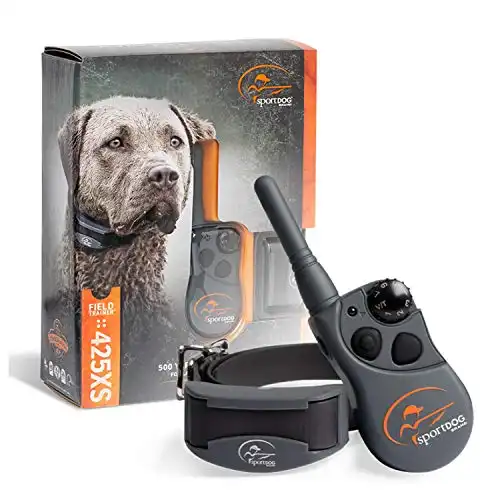 We earn a commission if you make a purchase, at no additional cost to you.
SportDOG is an excellent, well-known brand that hunters especially trust with their dogs, and we do too. Their 425 Remote Trainer is a fantastic tool that anyone can use on any dog to promote good behavior and listening.
The small remote is simple and easy to operate. It has just one dial to adjust the intensity and three buttons for high, medium, or low static stimulation.
The dial includes seven static stimulation settings, along with a vibration mode and a tone mode. The vibration mode simply causes the collar to vibrate, while the other mode triggers an audible beep from the collar.
This rechargeable device has a 500-yard range, making it ideal for long walks, training sessions, camping, hiking, and more. It's also waterproof up to 25 feet of submersion.
Pros:
Simple design
Several stimulation settings
Includes beep and vibration
Fits a wide range of dog sizes
Waterproof
Cons
Tone is very soft
Shock levels can be inconsistent
Pet Resolve Shock Collar 
Remote Dog Training Collar, Vibrate, Waterproof, Rechargable
🐾 FANTASTIC NEW UPGRADE SINCE MAY Is your dog misbehaving and you want a well behaved pet with minimal fuss? Don't let your dog get side-tracked by other animals or misbehave in public. Teach your canine companion how to act properly with arguably the top training collar on the market!
🐾 SUPER LONG RANGE AND MEMORY; Super long 3/4 Mile range
🐾 VARIABLE SHOCK & VIBRATION LEVELS, ANTI BARK & LIGHT for NIGHT MODE; train up to 3 dogs at once (additional collars required) with up to 10 levels of continuous or momentary shock (hold down button to shock for 1 up to 8 seconds, ideal for emergencies!) vibrations, or beeps
🐾 WATERPROOF CONSTRUCTION; does your dog love to run outside or swim?Completely waterproof and can be fully submerged without damage!
🐾 LONG LASTING BATTERY & WARRANTY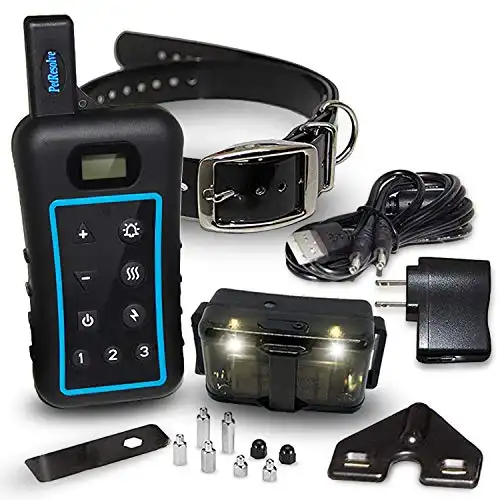 We earn a commission if you make a purchase, at no additional cost to you.
If you like clean lines, modern styles, and high-tech gear, then you'll love the Bousnic Shock Collar for your dog. This collar features an all-white design with an unassuming yet effective electronic receiver.
The entirely waterproof design comes with three modes:
The beep and vibration are pretty standard as far as collars go, while the shock comes with 16 different levels. You can adjust to help better train your dog and suit its individual needs.
The range for this collar is 1,312 feet, so you can keep training and teaching your dog even when they're not right in front of you. The electric remote is very easy to use with helpful icons that ensure you hit the right button every time. 
One of the best features of this collar is that the remote can control two different collars at once. The display screen shows you which channel you're on so that you can switch between your dogs for simultaneous training.
The screen also displays your battery level and the level of the shock, and its convenient design fits nicely in your hand.
Pros:
Long battery life
Easy and clear controls
Includes beep and vibration features
Adjustable levels
Good range
Cons:
Cannot purchase a second collar without a second remote
No way to tie off excess collar length
Final Thoughts
Dog shock collars tend to be quite controversial, but that's typical of people who don't know how they work or what their purpose is.
Dog collars were never meant to harm a dog. In fact, they're exceedingly safe. The stimulation that comes from modern-day training collars is not painful, but merely a "shock" to your dog to help train them.
We've offered you three different options today – all of which come with our personal blessing. Choose the one that best suits the needs of both you and your dog.