Best Waterless Dog Shampoo (2023 Update)
There is no replacement for a bath with good old-fashioned water and soap to clean your dog and leave the coat smelling fresh with a nice sheen. However, sometimes that bath refuses to happen.
Your dog may hate the water, you may not be able to take the time out of your busy schedule, the dog's size might make the bath an epic chore, or some combination of these three.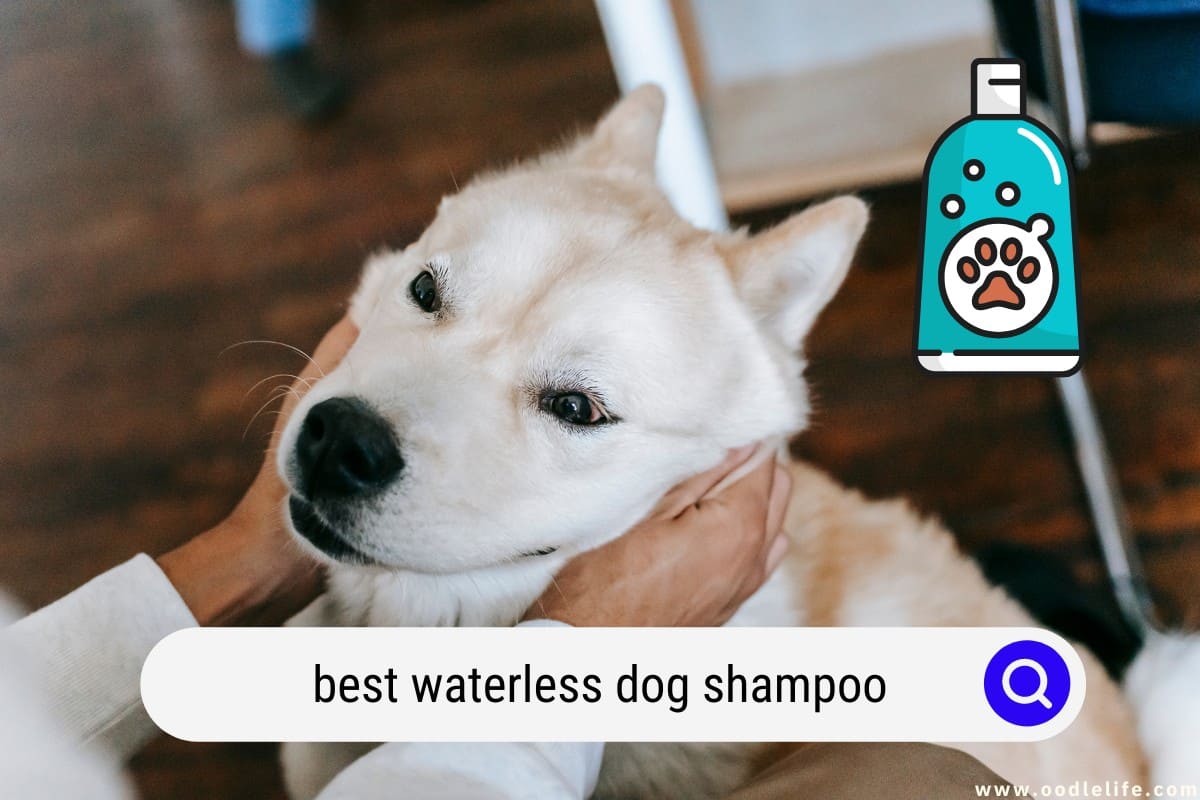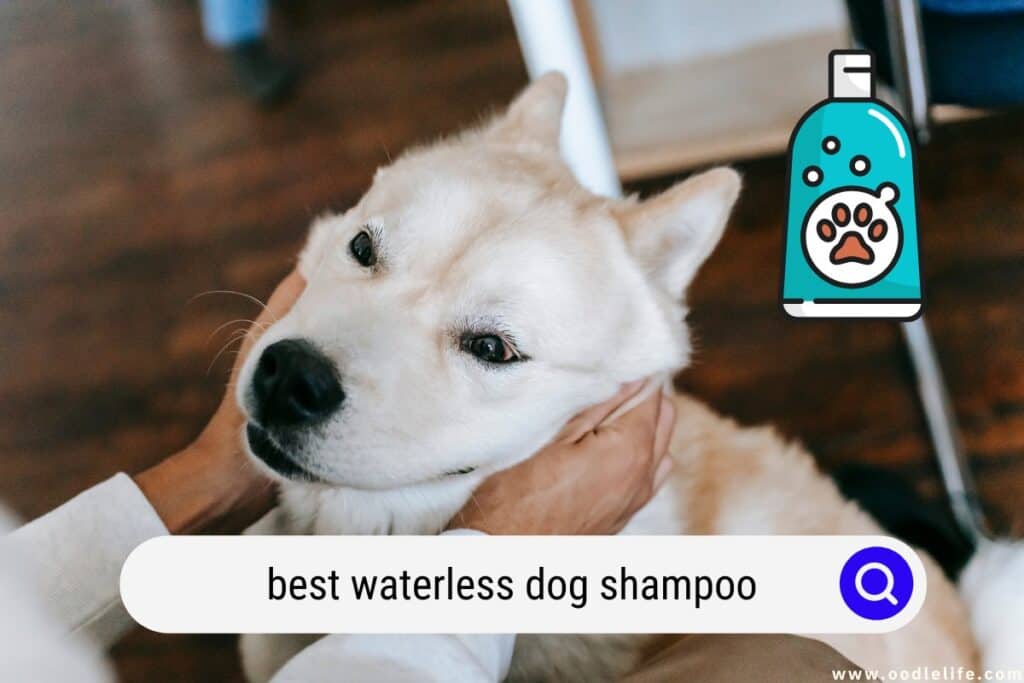 Waterless dog shampoo comes to the rescue when your dog needs to smell better, and you have to push a real bath to a later date.
Keep reading to see the best waterless shampoos we found for our dogs.
What Is Waterless Dog Shampoo?
Waterless dog shampoo works a bit like deodorant does for humans. Deodorants do not eliminate the need for showering, but they allow us to smell good between showers.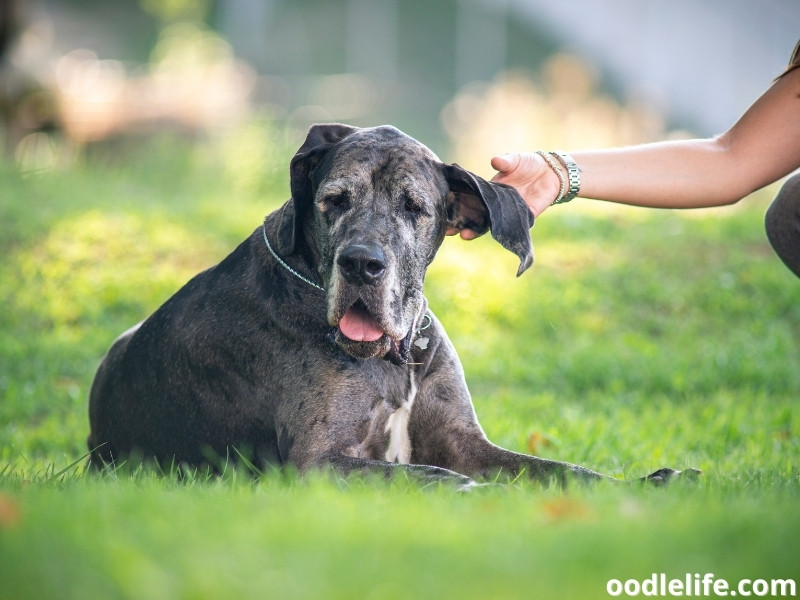 You can damage your dog's skin and coat by over-washing, but the dog needs a bath sometimes. Waterless dog shampoo allows you to extend the time between baths by absorbing excess oil from the skin.
While you have to make the time and put forth the effort to give your dog real baths from time to time, you will be surprised how good some waterless shampoos are at replacing a wet bath.
Which Chemicals Create Problems in Waterless Shampoos?
Several chemicals might lead to problems, but the number one culprit is SLS (Sodium Lauryl Sulfate). You will often only see the word "sulfate" written on a label.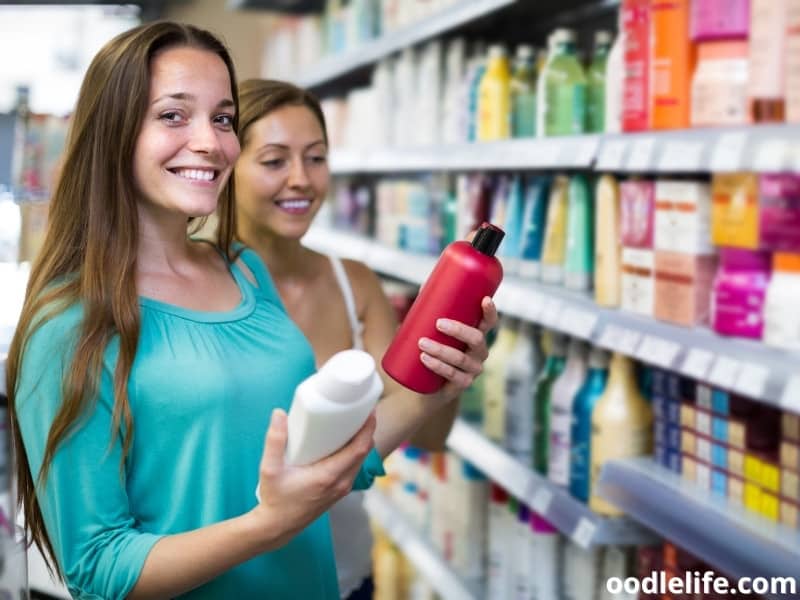 Studies have mostly looked at how sulfates interact with humans in dermal tests. You can often expect the same kinds of interactions to occur with dogs, especially sensitive breeds.
When we get a rash, we can often figure out the source and stop the problem. With dogs, we just see scratching and have to figure out what happened, and we may have difficulty spotting a rash.
The next two common culprits often only say "fragrance" and "dye" in the list of ingredients. Like with human skin, fragrances and dyes are notorious for causing dry, itchy skin.
Getting a company to explain what "fragrance" means will be a challenge. The best thing to do with anything that comes into contact with your dog is to look for natural ingredients. Fortunately, companies must include the list of ingredients, so avoid products with lengthy ingredients that raise red flags.
Sometimes you have to let trial and error play out and decide if a product works for you. For example, I discovered that sulfates are not always bad. Knowledgeable companies that invest in quality R&D can find which cosurfactants combine well with sulfates and mitigate skin irritation.
The bad thing about skin irritation is the itchiness. The good news is when you remove the irritant, the problem usually clears up quickly. An all-natural waterless shampoo could still contain an ingredient your pet reacts poorly to, so trial and error is always a factor.
Best Types of Waterless Dog Shampoos
Many people will make decisions based on the texture and scent a waterless dog shampoo leaves behind. What people think of the smell and the product is mostly subjective.
However, animal health is not subjective, it's best to avoid products containing harmful chemicals such as sulfates. Here are my favorite waterless dog shampoos with natural ingredients such as oatmeal, coconut, and aloe.
Mighty Mutt Waterless Foam Shampoo
The proof is in the pudding, so the saying goes. Everyone pays attention to whether or not products have non-irritating, non-toxic chemicals these days. Almost all waterless shampoos talk a big game about being natural, non-allergenic, and non-irritating, but then you look at the ingredients, and there is a long list of things you cannot pronounce.
Mighty Mutt Waterless No-Rinse Dry Shampoo Foam for Dogs | Natural & Hypoallergenic Foam Dog Shampoo | Anti-Itch, Soothing and Deodorizing | 8oz
ALL-NATURAL, BEST DRY SHAMPOO FOR DOGS: We believe that our fur babies deserve the highest quality and safest dog dry shampoo. That's why our Waterless Dry Shampoo Foam for dogs uses only 4 natural...
MADE IN THE USA: Our planet-friendly dry shampoo dogs formula is biodegradable, made in the USA and cruelty free.
PROFESSIONAL GRADE RESULTS: Mighty Mutt waterless shampoo is loved by professional groomers for beautiful & soft results. Our deep clean, no rinse dry shampoo for dogs formula gets your dog bright and...
ANTI-ITCH & SOOTHING: Our hypoallergenic dog dry shampoo formula is tearless and gentle. It deodorizes without irritating or drying the skin and leaves coat smelling like a Fresh Breeze and looking...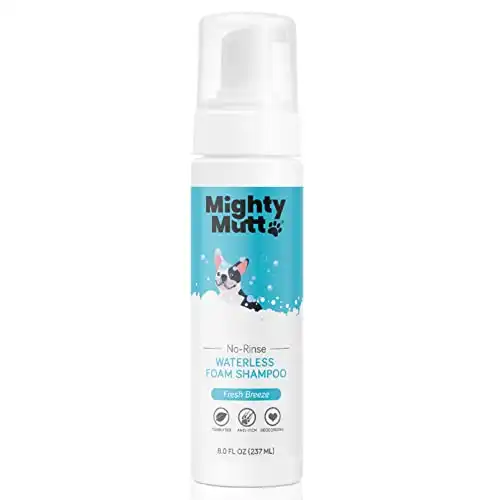 We earn a commission if you make a purchase, at no additional cost to you.
Here are the ingredients for Mighty Mutt: Water, Polysorbate 20, Vegetable Glycerin, and Natural Fragrance. When I saw that there are only four ingredients, I believed this company when they said that this shampoo has no sulfates, parabens, phthalates, or dyes.
There are also plenty of people who have sensitive skin. Products that might irritate a dog's skin, can do the same with their owners. Mighty Mutt makes a light enough shampoo that an accident will not even bother the eyes.
You can still easily wipe away dirt and leave your dog smelling nice.
Pros
No residue.
No harmful chemicals.
Good for nervous, water-hating dogs.
Cons
Pricey.
Better for soft hypoallergenic hair.
Not well-suited to coarse hair.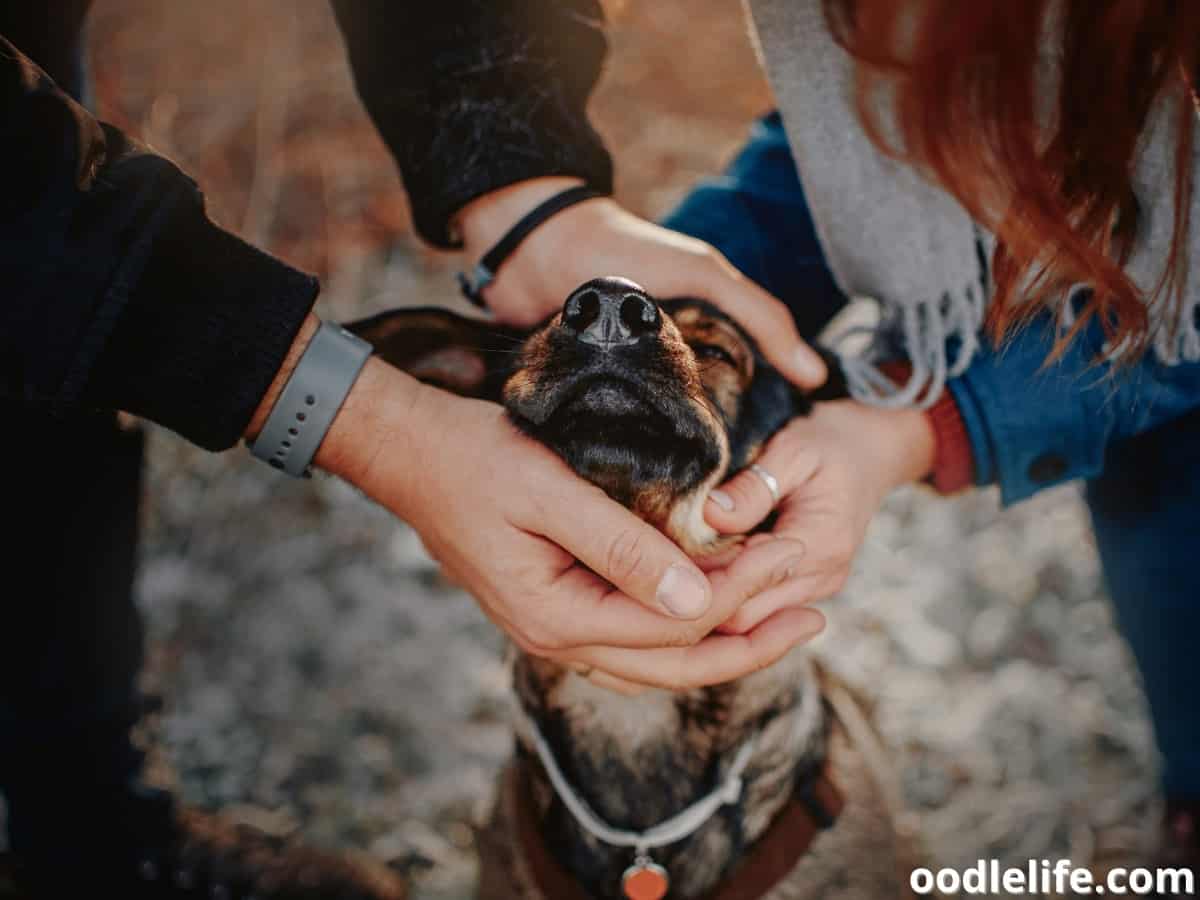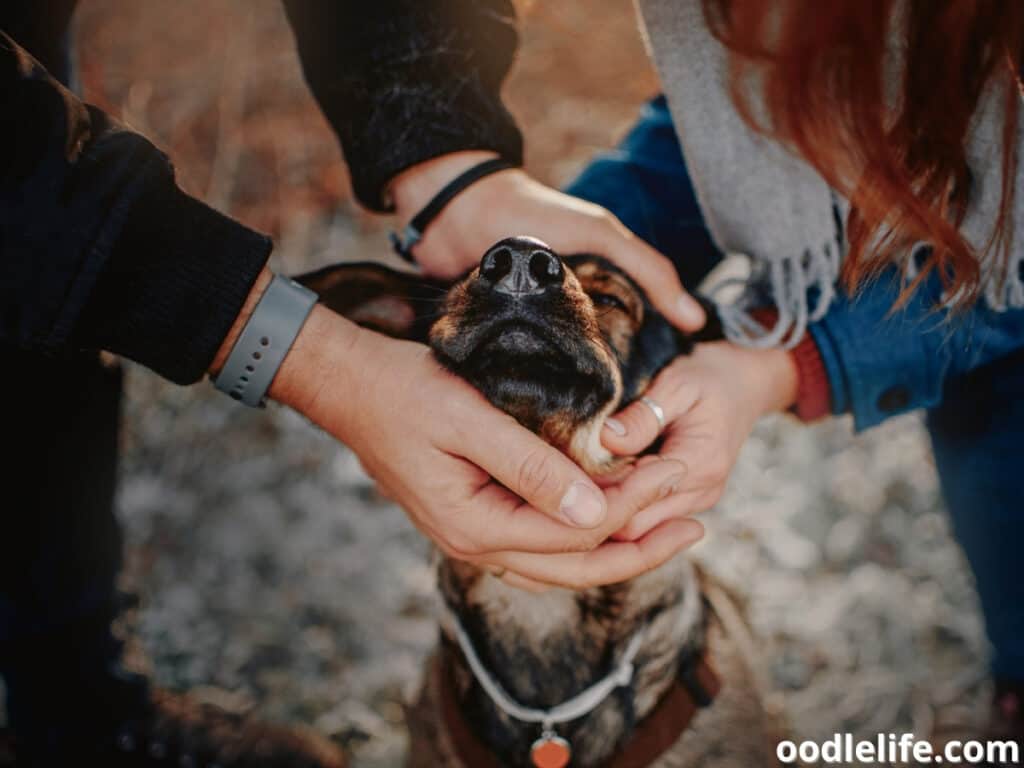 Wahl Waterless No-Rinse Shampoo
In the waterless shampoo market, competing with pH-balanced, alcohol-free, paraben-free, PEG-80-free, and having natural plant-based ingredients is a tall order.
Wahl Pet Friendly Waterless No Rinse Shampoo for Animals – Oatmeal & Coconut Lime Verbena for Cleaning, Conditioning, Detangling & Moisturizing Dogs, Cats & Horses – 7.1 Oz - Model 820...
Made in the USA - Our oatmeal & coconut lime verbena waterless shampoo is pH balanced, alcohol free, paraben free, PEG-80 free and is highly recommended for gentle cleaning and freshening dogs, cats,...
No Rinsing Necessary – For dogs, cats, horses, or other animals that don't like wet shampoos; no rinsing necessary, simply dry with a towel & brush coat
Oatmeal Formula – This plant derived oatmeal & coconut lime verbena scented waterless shampoo is great for cleansing, conditioning, detangling, & moisturizing animals; our oatmeal formula...
Allergy Friendly - Our dog icon, Rocket, was designed in the image of our family dog Cooper – a golden doodle, who has severe allergies. This is the only shampoo we have found safe and effective. He...
The Brand Used by Professionals - Wahl has been serving professional vets and groomers for over 50 years. clean, condition fur & hair for a smooth, soft coat. We are a company of animal lovers that...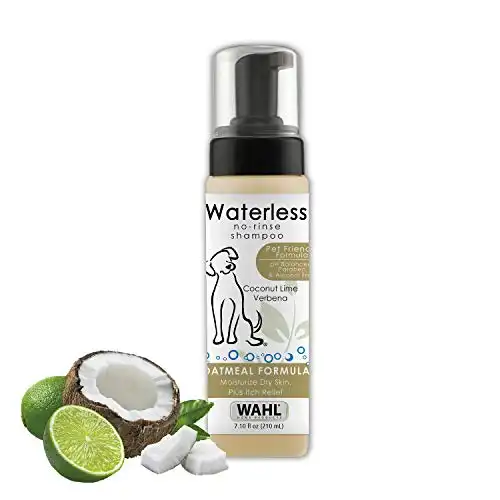 We earn a commission if you make a purchase, at no additional cost to you.
As an added benefit, all you have to do is put a dab in the palm of your hand, rub your hands together, and bond with your dog while you give a good rubdown. My dog thinks I am just giving affection while I clean him.
Afterward, you can leave the dog to dry or continue the affection with a towel. This shampoo is perfect for dogs that commonly react to allergens.
Pros
Best allergen-free choice.
Quickly apply and wipe off.
Nice tropical smell.
Cons
Not sulfate-free.
Strong scent.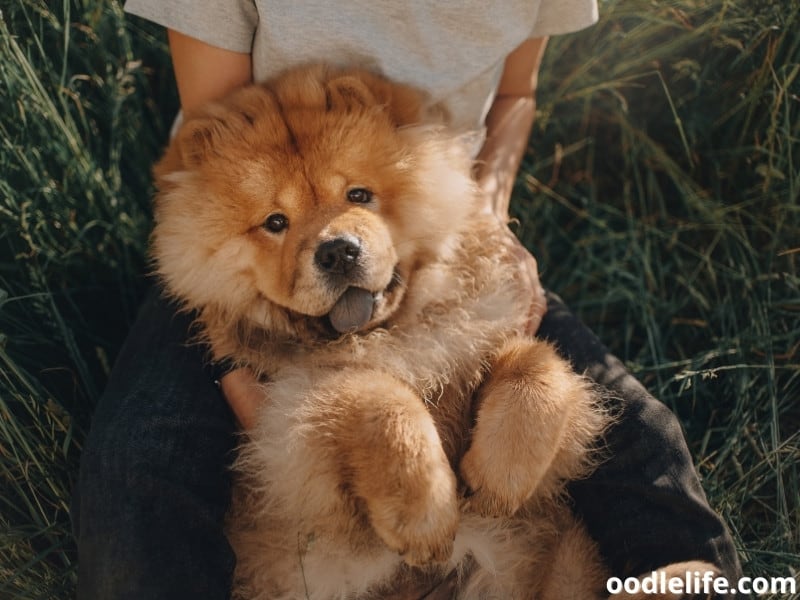 Nootie Waterless Shampoo Wipes
Nootie started in the USA as a small family business that loved dogs but grew tired of what they felt pets needed and what companies offered.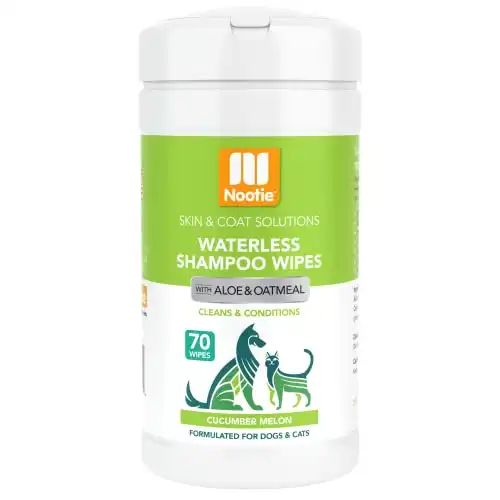 We earn a commission if you make a purchase, at no additional cost to you.
One of the great things about waterless shampoo wipes is the way you can use them. When my dog comes in from a walk and wants to get on the couch or my bed, I quickly wipe the paws and keep everything clean.
For owners who have concerns about chemicals, especially with allergies, Nootie is another brand that thinks about your needs. These wipes have no parabens, no SLS, harsh chemicals, or dyes.
Beneficial and soothing additives are aloe and oatmeal for healthy skin.
Pros
Good after walks or when traveling.
Good smell.
Non-irritating for skin.
Cons
Need too many wipes for large dogs.
Too thin for total body use.
Soapy residue.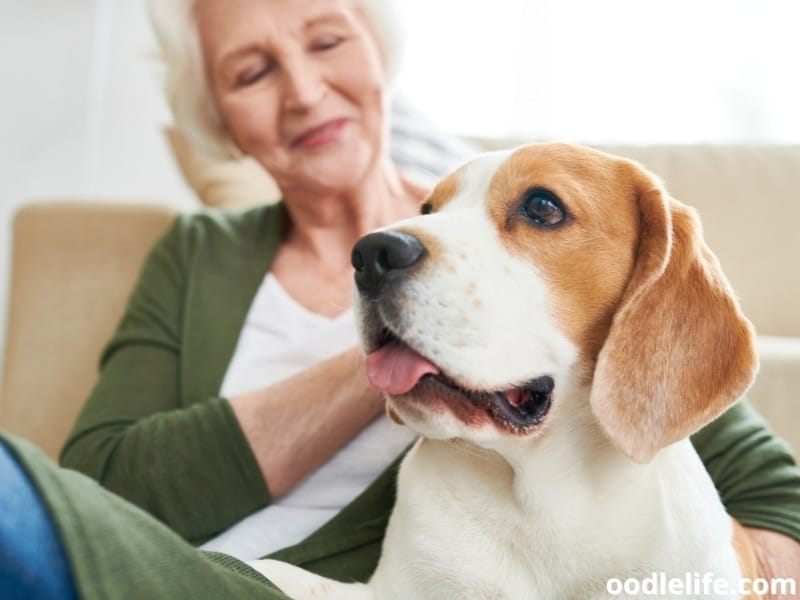 Arm & Hammer Ultra Fresh Waterless Shampoo
True to the classic baking soda appeal, Arm & Hammer advertises this shampoo more as a deodorizer than a cleanser. The label says "for pet odor elimination" and "deodorizing foam for dogs." So you know exactly what to expect.
Arm & Hammer Ultra Fresh No Rinse Deodorizing Foam for Dogs, Juniper Mist, 8 Oz | Waterless Dog Shampoo | Baking Soda Neutralizes Bad Odors for an Advanced Clean
WATERLESS DOG SHAMPOO — The Arm & Hammer Ultra Fresh No-Rinse Deodorizing waterless dog shampoo is an easy way to keep your dog clean and fresh without a full bath. Great for in between baths to...
DEODORIZING DOG SHAMPOO — Great for combatting dog odors, this waterless no rinse dog shampoo is the best dog shampoo for odor. Use this dry dog shampoo for smelly dogs to tackle pet odors
INFUSED WITH BAKING SODA — With the signature Arm & Hammer baking soda as a premium ingredient, this waterless no rinse dog shampoo naturally takes care of pet odors
EASY TO USE — To use, simply apply 2-3 pumps into hand and massage evenly from back of ears to tail, carefully avoiding eyes. Towel dry to speed up drying process. Repeat as necessary. This product...
LIGHT JUNIPER MIST FRAGRANCE — Enjoy the light and refreshing juniper mist fragrance left behind by this no rinse dog shampoo for all dogs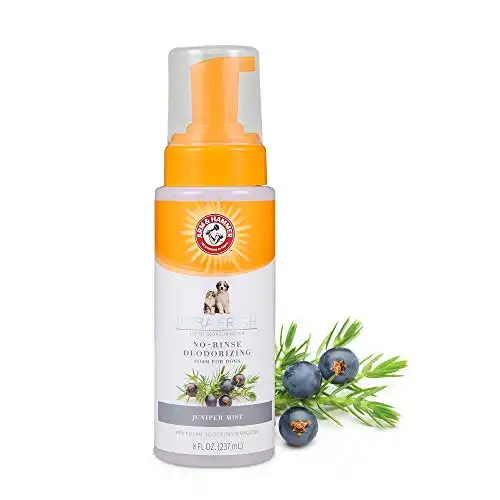 We earn a commission if you make a purchase, at no additional cost to you.
I noticed a few negative comments from people who said their dog hates baths, and this shampoo did not "help." However, Arm & Hammer advertises that their waterless shampoo freshens a dog's coat between baths. People who have dogs that are difficult to bathe, need a different solution than this shampoo.
Customers who understand the product they bought say that odors get neutralized, the coat gets a fresh sheen, and the dog does not show signs of irritation.
Pros
Budget-friendly.
Neutralizes odors.
Natural ingredients.
Cons
Some mystery chemicals added.
Sensitive skin might react poorly.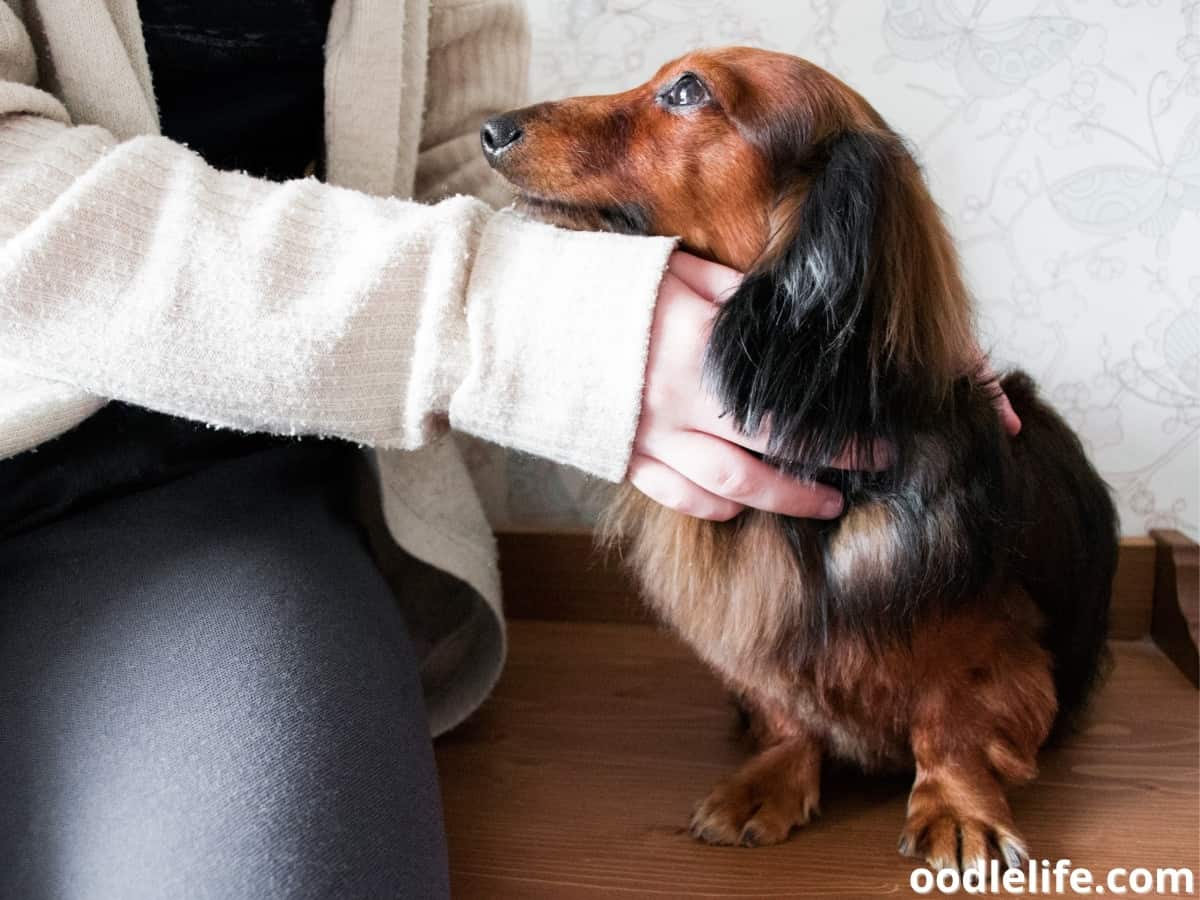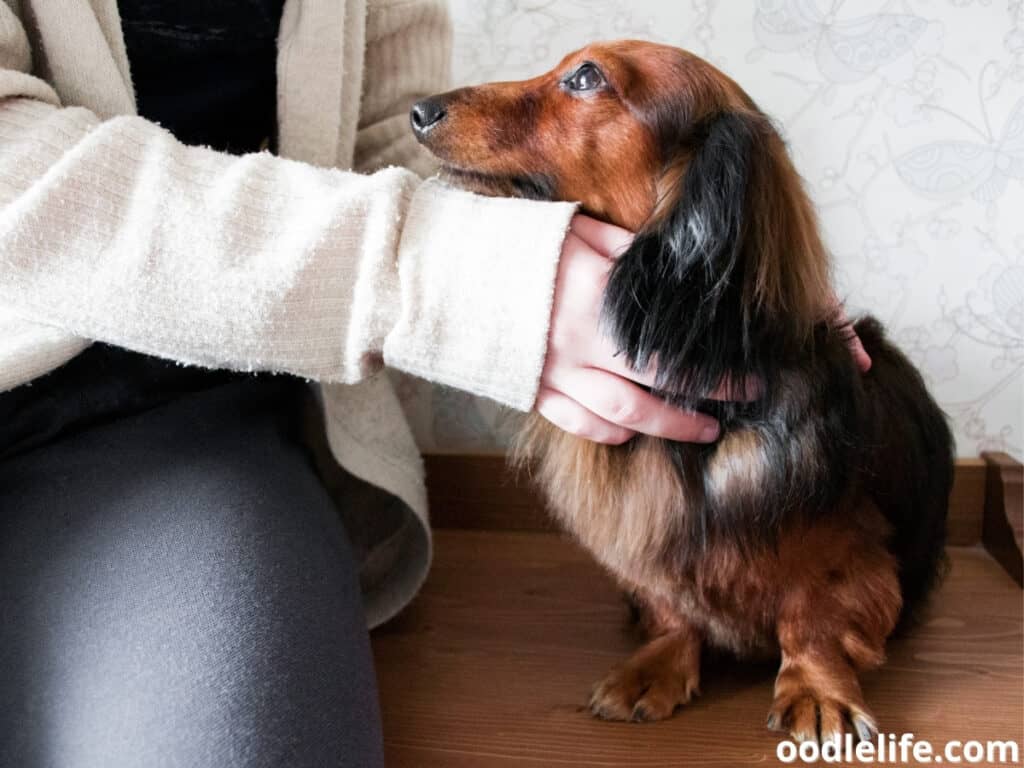 Paw Choice Foaming Mousse Waterless Shampoo
The good thing about this waterless shampoo from Paw Choice is the elimination of odors. People with dogs that like to roll on dead things in the grass say that the product neutralizes odors.
Paw Choice Dry Dog Shampoo, Waterless No Rinse Foam Mousse for Removing Pet Odor and Bathless Cleaning of Coat - Calming Lavender & Chamomile Scent, Natural, Made in USA
NATURAL COCONUT-DERIVED FORMULA - Does not contain alcohols, dyes, SLS, parabens, or other harsh chemicals. Our dry shampoo for dogs is safe for all breeds, small and large dogs, and for sensitive...
CAN'T DO A FULL BATH? YOU CAN USE IT ANYTIME, ANYWHERE - Our dog dry shampoo is perfect for extending the time between baths, smelly dogs, traveling, between professional grooming, odor control,...
EFFECTIVELY DEODORIZES AND CONDITIONS - Unlike most colognes and sprays, our foam waterless shampoo for dogs actually neutralizes odor and doesn't just mask it with fragrance. Our dog waterless...
MANUFACTURED IN THE USA in a state of the art, certified GMP facility with the highest quality ingredients and safety standards. Cruelty Free.
OUR BRAND PROMISE TO YOU - We believe in our products and always stand by them. If any of our products don't work out for any reason, we'll take care of you. As an independently-owned USA company,...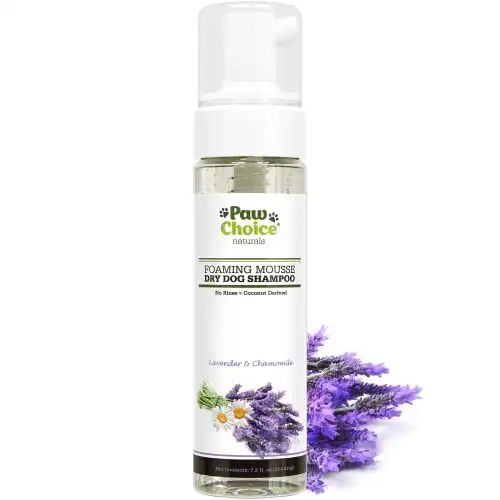 We earn a commission if you make a purchase, at no additional cost to you.
The bad thing is that Paw Choice markets this product as shampoo. As I tested these waterless shampoos, I noticed that they mostly neutralize odors, so the word shampoo is a bit false in every case.
Paw Choice chose its ingredients well and avoided SLS, alcohol, and parabens. The coconut-derived moisturizers are good for fur and skin. The ingredients list is fairly short and does not contain a list of weird additives no one can pronounce.
Pros
Neutralizes odor instead of piling on new smells.
Sulfate-free.
Mousse lathers well and is long-lasting.
Cons
Some people do not like the scent.
Strong long-lasting scent.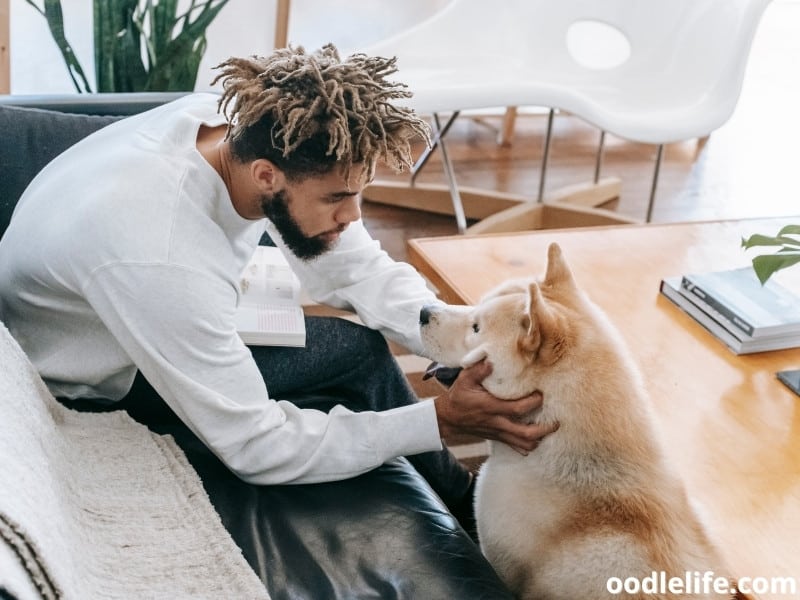 Burt's Bees Waterless Shampoo
Burt's Bees is a great waterless shampoo for anyone who is looking for one of the most chemical-free products on the market that will not irritate the skin. The downside is that the combination of all-natural products does not produce a long-lasting scent.
Burt's Bees for Dogs Natural Waterless Shampoo Spray with Apple and Honey | Dry Dog Shampoo for All Dogs and Puppies | Cruelty, Sulfate & Paraben Free, pH Balanced for Dogs - Made in USA, 10 ...
Waterless Shampoo for Dogs - Burt's Bees for Pets offers a natural waterless shampoo spray for all dogs and puppies. This dry shampoo is perfect for keeping your pet clean and fresh without the hassle...
Apple and Honey Ingredients - This dog dry shampoo is infused with apple and honey. These natural ingredients not only provide a delightful fragrance but also help to nourish your pet's skin and coat
Cruelty, Sulfate & Paraben Free - Our waterless dog shampoo is formulated without harmful chemicals. It's cruelty-free, sulfate-free, and paraben-free, making it safe for your pet's skin
pH Balanced - This dry shampoo for dogs is pH balanced. This means it's specially formulated to match the pH of your dog's skin, helping to keep it healthy and irritation-free
Made in USA - Trust in the quality of Burt's Bees for Pets. Our waterless dog shampoo is proudly made in the USA, ensuring it meets high-quality standards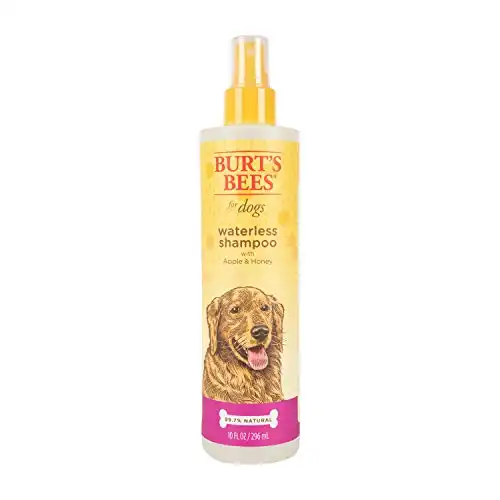 We earn a commission if you make a purchase, at no additional cost to you.
I did not have issues with the bottle leaking, but some people have. The problem is persistent enough that people have taken the top off or switched to a spray bottle. Apart from these issues, dog owners of all types are happy with the product.
Pros
Good for all dogs.
No harsh chemicals.
Cons
Very mild scent.
Damp fur.
Bio-Groom Waterless Bath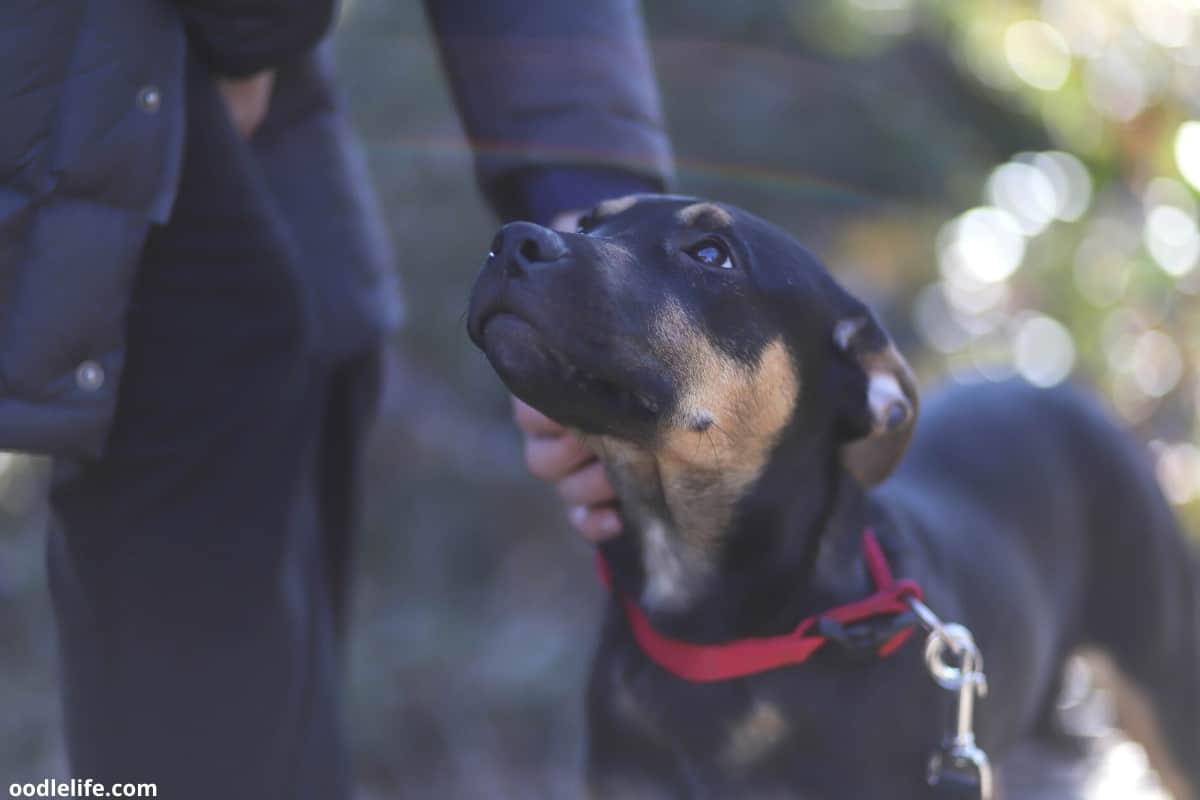 Bio-groom is one of the original players on the market for all-natural ingredients with a 50-year track record and remains family-owned. None of their products contain harsh chemicals, parabens, allergens, dyes, or artificial thickeners.
Bio-Groom Waterless Cats and Dog Bath Shampoo, 1-Gallon
It is a tearless, pH-balanced formula that gently cleans and adds luster to all coat types
It is a pH-balanced, non-alcohol formula that cleans gently and removes stains
It requires no rinsing so it's ideal for use on cats or when regular bathing is not possible
Water less bath shampoo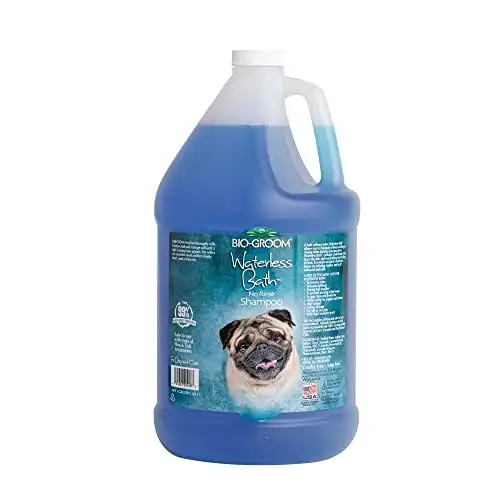 We earn a commission if you make a purchase, at no additional cost to you.
I liked the pH-balanced spray-on application. The formula works well whether coming in from a walk or keeping the dog clean between baths.
Pros
Chemical-free.
Large-volume 1-gallon available.
Long-lasting scent.
Cons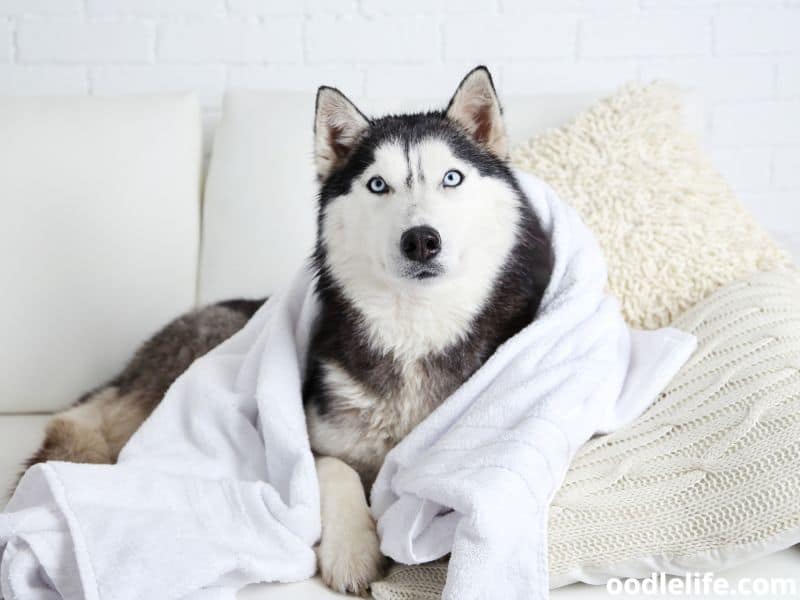 Final Thoughts
If your dog has ever needed a spot or full cleaning, but you could not give a real bath, waterless shampoos can save the day. Dogs can get dirty a million ways, and sometimes you cannot go through the hassle of a full bath.
Finding the right product might require a process of trial and error. Once you find the best waterless shampoo for your dog, you will not have to stress about paws on the bed or couch again.