5 Best Oatmeal and Aloe Dog Shampoos (2023)
Every dog owner dreads bathing their dog; they would react negatively and defensively at the thought of being clean. Unfortunately, to them, it's required and should be done monthly.
Now, you can skip a month or so, but we recommend not waiting until three months have passed to do so. Though when considering hygiene products for your dog, what is ideal when choosing shampoo products?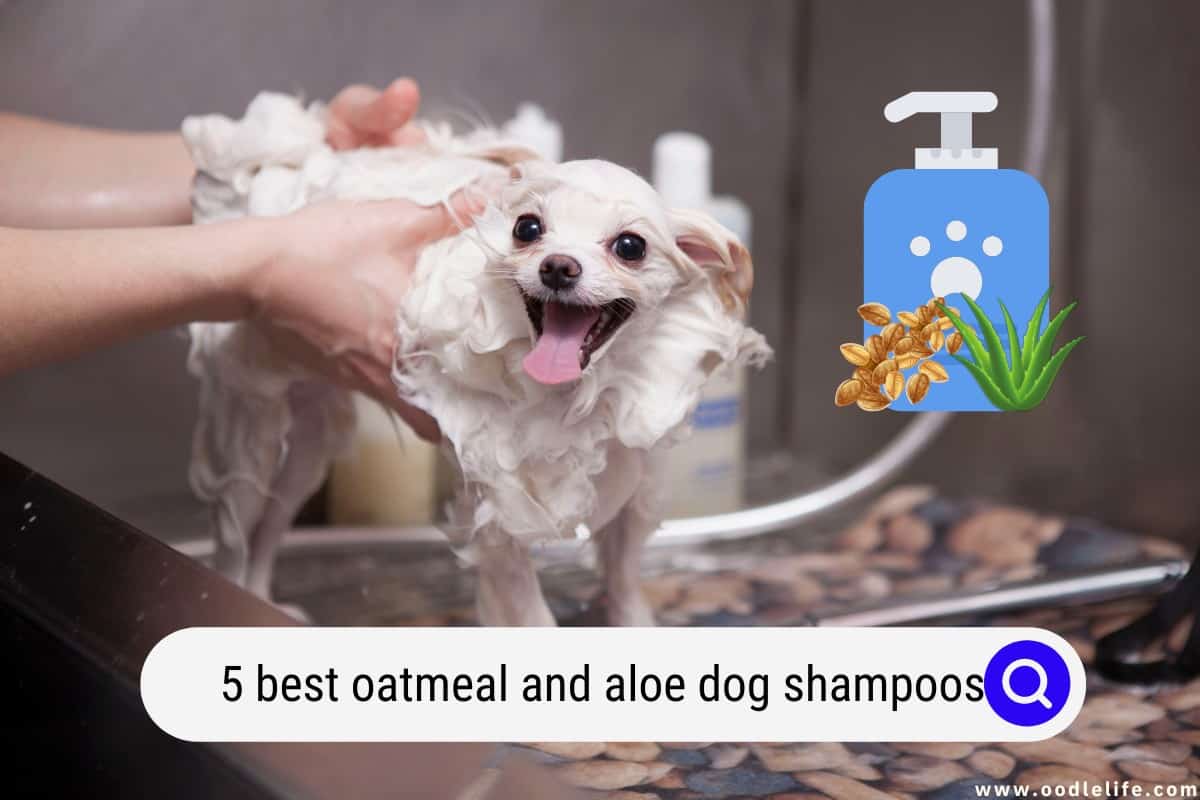 If you're having trouble figuring out which to choose from, don't worry! Here, we will review our top five options for the best oatmeal and aloe dog shampoo. We will also discuss what to look for when searching for a dog shampoo and the primary ingredients some brands use.
5 Best Oatmeal and Aloe Dog Shampoos at a Glance
Here is an overview of our top five picks for best oatmeal and aloe dog shampoo to better understand what we will go over.
Product List Review:
Nulife Oatmeal Dog Shampoo with Soothing Aloe Vera
Alpha Dog Series Oatmeal Grooming Natural Dog Shampoo
Earthbath Oatmeal & Aloe Shampoo
Natural Dog Company Sensitive Skin Shampoo (12 oz)
HoneyDew Refreshing Colloidal Oatmeal Dog Shampoo
Other Topics
Buyers Guide for Buying Dog Shampoo for your Dog
Nulife Oatmeal Dog Shampoo with Soothing Aloe Vera
Nulife's Oatmeal and Aloe Vera shampoo is ideal if you are looking for a hypoallergenic alternative for your dog. It strives to prevent dry, flaky skin with its natural ingredients and nutrients. Another beneficial factor that this shampoo provides is that it's soap-free, so you don't have to worry about washing off any flea or tick medication your dog is taking.
Oatmeal Dog Shampoo with Soothing Aloe Vera, Sensitive Skin Dog Shampoo for All Pets, with Tropical Fresh Pina Colada Scent, Hypoallergenic Formula Provides Relief from Allergies & Dry Itchy Skin
Say goodbye to dry, itchy, flaky skin – Our oatmeal dog shampoo with soothing aloe offers a soap-free and hypoallergenic solution with natural ingredients for soothing relief while rejuvenating the skin and providing vital nutrients and ingredients.
Aloe & oatmeal formula – Relieves dry, itchy skin while leaving the coat and fur clean, shiny and silky smooth. Oatmeal has a natural soothing agent and is great for hotspots and other skin conditions. Aloe is a powerhouse natural ingredient that brings soothing relief to dry, itchy, flaky skin.
Fresh clean tropical smell of pina colada – Our great smelling aloe and oatmeal hypoallergenic dog shampoo is infused with invigorating coconut and rejuvenating pineapple pina colada scent that will leave your pet with a super soft, easy to brush coat, that smells wonderfully clean and fresh.
Vet approved & made in the USA – Safe for dogs, cats and horses of all ages! We manufacture all our pet care products right here in America to the highest standards for consistency and quality, affording you the peace of mind that your pet will feel the same soothing effects from every bottle.
Pet pleasing guarantee – If our sensitive skin dog shampoo doesn't bring your pet soothing relief from dry, itchy skin or leave their coat soft, shiny and smelling great, simply let us know and we'll offer a full refund, no questions asked! Add a bottle of our oatmeal dog shampoo for dry skin to your cart today; you'll feel the gratitude right away!
Oatmeal is a soothing agent that helps relieve itchy skin and hotspots, while aloe vera is a soothing relief. With the aid of its oatmeal and soothing aloe vera ingredients, aside from soothing dry skin, it also enriches it, smoothing your dog's fur coat. Another contributing factor is that it comes in various scents, this particular product being coconut and pina colada.
Pros
Acts as a soothing reliever and agent for itchy, dry skin.
Has a pleasant pina colada and coconut aroma.
A soap-free and hypoallergenic solution.
Cons
It might leave some residue on their fur coat.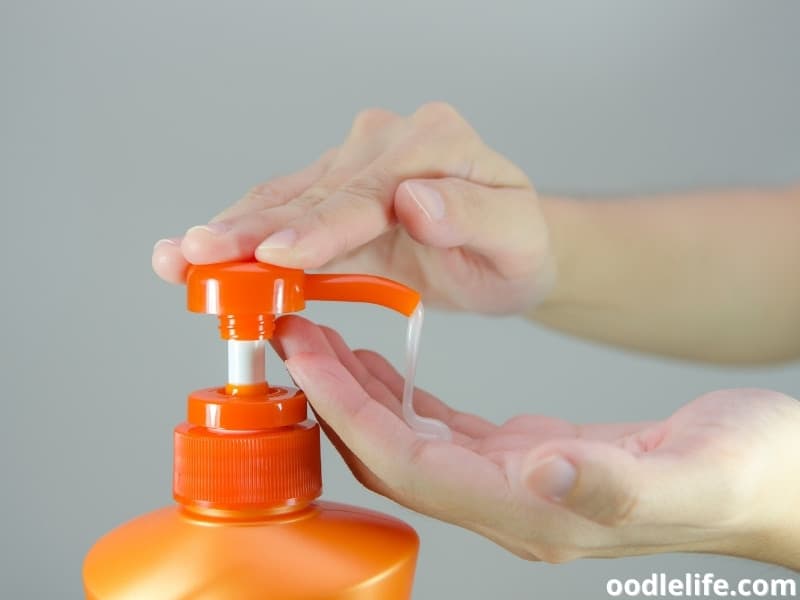 Alpha Dog Series Oatmeal Dog Shampoo is another candidate for nourishing and soothing itchy, dry skin. With the help of its composing solution of oatmeal and baking soda, it's entirely alcohol and paraben free. Aside from its oatmeal and aloe vera elements, it also incorporates fruit extracts to help soothe and relieve your dog's dry, inflamed skin.
Alpha Dog Series Oatmeal Grooming Natural Dog Shampoo and Conditioner with Aloe Vera, pH Balanced Shampoo for Dogs, Tear-Free, Moisturizing Dog Shampoo for Sensitive Skin - 26.4 Oz (Pack of 6)
SOOTHES AND MOISTURIZES DRY, ITCHY SKIN: Our all plant botanical based moisturizing pet shampoo contains high quality natural ingredients including oat proteins, aloe vera, and fruit extracts to provide instant cooling and calming relief to inflamed, damaged skin. Our gentle oatmeal and baking soda shampoo soothes irritated skin and helps to relieve itching and scratching while leaving your dog or cat fresh and clean with moisturized skin and silky, conditioned fur.
FORMULATED FOR SENSITIVE SKIN: Our soothing pet wash is effective yet extremely gentle making it an excellent shampoo for animals with allergies and other sensitivities. Its a safe alternative to other cleaners that contain harsh chemicals.
PROFESSIONAL GRADE QUALITY: Our oatmeal pet wash offers safe professional quality for dogs, cats, puppies, kittens, ferrets, guinea pigs, rabbits and horses of all ages with normal or sensitive skin. Our gentle pet shampoo is suited for all types of fur, leaving coats shiny and soft! Our formula also include conditioner that detangles and softens the skin and coat. We stand behind the quality of our products with a 100% Satisfaction Money Back Guarantee
LIGHT VANILLA/OATMEAL SCENT: A wonderful fresh aroma makes bath time a pleasant experience for you and your pet! We use a light vanilla/oatmeal scent coupled with aloe vera that works as a natural pet deodorizer that neutralizes pet odor instantly and keeps pets fresher for longer after bath time.
GREAT FOR ALL BREEDS AND LIFE STAGES: Great for dogs of all breeds and life stages. Great for dogs with sensitive skin, dry skin, dandruff, or any skin ailments; Long lasting clean fragrance that adheres to the coat for up to 2 weeks.
Pros
Ideal for all pet breeds.
Safe for sensitive skin.
Fluffs and shines.
Cons
Small ounce amount for shampoo.
The cost is a bit pricey.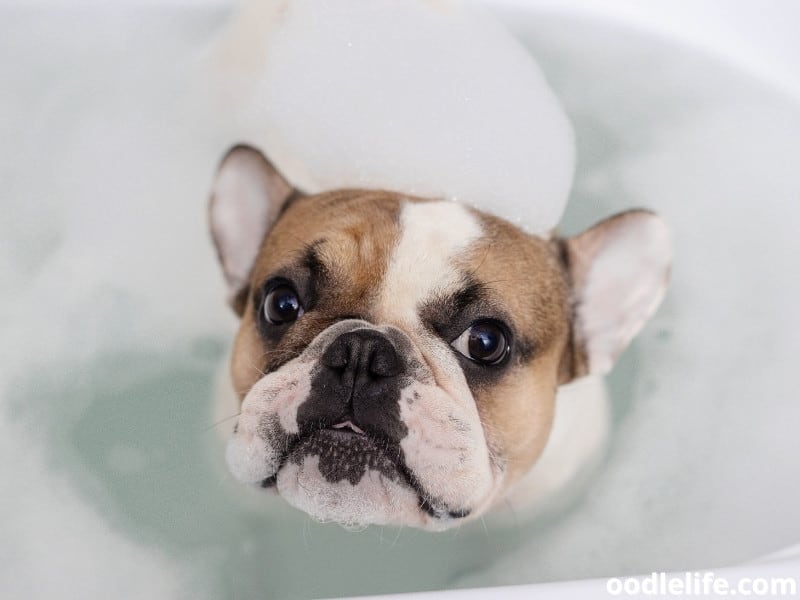 Earthbath Oatmeal & Aloe Shampoo
Earthbath Oatmeal and Aloe Shampoo is another option when choosing one for your dog. Compared to the others, it also soothes and moisturizes flaky, itchy skin. Like Nulife shampoo, it's also soap-free to prevent inflamed allergic reactions and sensitivities.
Earthbath Oatmeal & Aloe Pet Shampoo - Vanilla & Almond, Itchy & Dry Skin Relief, Soap-Free, Good for Dogs & Cats, 100% Biodegradable & Cruelty Free - Give Your Pet that Heavenly Scent - 16 fl. oz
ADDRESS DRY, ITCHY, AND FLAKY SKIN - Collodial Oatmeal and Organic Aloe Vera help combat skin irritation, promote healing, and re-moisturize sensitive, dry skin
BRILLIANTLY CLEAN & SOFT - This luxurious shampoo is soap free and pH-balanced to clean and deodorize safely and thoroughly, leaving your pet's coat and skin plush and smelling better than ever before
SAFETY FIRST - Our Oatmeal & Aloe Shampoo with Vanilla & Almond scent will not wash off topical flea applications and is safe for all animals over 6 weeks
KNOW WHAT YOU'RE GETTING - What goes into our products is just as important as what doesn't. This product contains no soap, gluten, DEA, parabens, synthetic dyes, sulfates, or phthalates, and is animal cruelty free, for a better bath every time!
100% MONEY BACK GUARANTEE - We are so sure you will love this product that we will refund your money if you are not satisfied for any reason. You have nothing to lose
Aside from being soap-free, it also doesn't use sulfates, synthetic dyes, or parabens.
Pros
Devoid of synthetic dyes and parabens.
Easy to lather and rinse out.
Cons
Minimal to no potent aroma.
It may be squeaky clean on dog fur.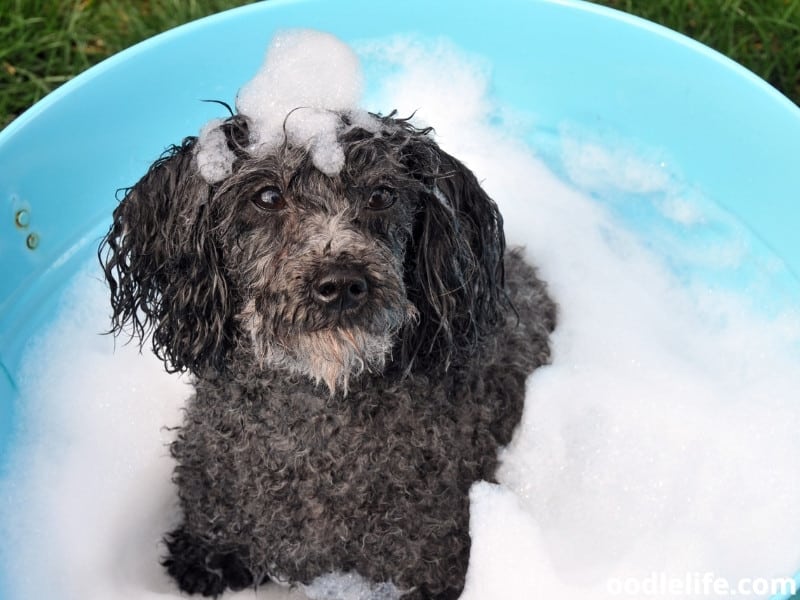 Natural Dog Company Sensitive Skin Shampoo (12 oz)
Natural Dog Company Shampoo specializes in moisturizing and smoothing out your dog's skin and coat. Aside from colloidal oatmeal and aloe vera, its primary ingredients are chamomile extract and manuka honey. Another advantage of using this dog shampoo is that it's safe for all breeds.
Natural Dog Company Sensitive Skin Shampoo (12 oz) | Aloe Vera and Oatmeal Dog Shampoo for Itchy Skin | Natural and Hypoallergenic | Non-Toxic and Paraben-Free | Hydrates, Soothes and Heals Irritation
DOG SHAMPOO FOR SENSITIVE SKIN: Includes (1) 12 oz. bottle of Natural Dog Company Sensitive Skin Shampoo that is an extra-gentle formula for dogs who have delicate and easily irritated skin.
MOISTURIZERS, SOOTHES, & HYDRATES: Give your pup a soothing, odor-eliminating, and hydrating wash that won't chafe their sensitive skin.
ORGANIC & NATURAL INGREDIENTS: Our special formula contains manuka honey, aloe vera, chamomile extract, and colloidal oatmeal, which moisturizes and nourishes the skin and coat while gently relieving itchiness.
SAFE FOR ALL BREEDS: Our nourshing shampoo is safe for all dog breeds, sizes, and ages and will help maintain a clean, shiny coat and moisturized skin.
MADE IN THE USA: Our soothing formula is free of sulfates, parabens, alcohols, toxins, and artificial fragrances to help balance your dogs skin. It works best when paired with our Skin Soother organic healing balm.
Pros
Safe for all breed types.
Organic and all-natural ingredients.
Eliminates odor and moisturizes skin.
Cons
It might not lather up properly.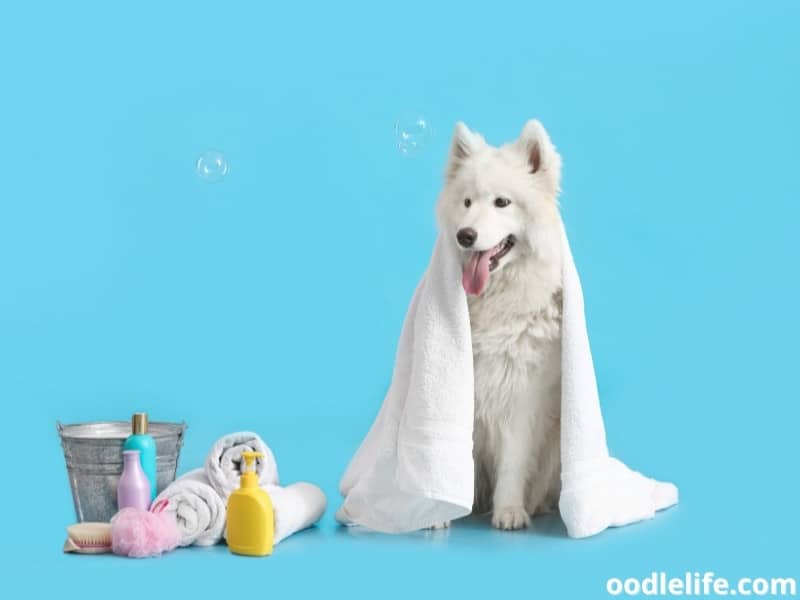 Compared to Natural Dog, Honeydew Dog Shampoo uses colloidal oatmeal, which helps moisturize your dog's skin through easy absorption. Another advantage this shampoo has is utilizing essential oils to soothe and relax your dog while providing a pleasant aroma. It also comes with a 100% money-back guarantee.
Cleansing Dog Shampoo for Smelly Dogs - Refreshing Colloidal Oatmeal Dog Shampoo for Dry Skin and Cleansing Dog Bath Soap - Moisturizing Lavender and Oatmeal Shampoo for Dogs and Great Smelling Pups
Dog Oatmeal Shampoo - Try our popular dog shampoo formulas handcrafted to cleanse and moisturize dry skin and fur for a pet shampoo for dogs that's a dog grooming supplies and pet bath staple
Deodorizing Dog Shampoo - You can trust our dog body wash and oatmeal shampoo for dogs for a pet deodorizer that removes dirt and odors thanks to potent lavender oil for dogs in our dog odor shampoo
Big and Small Dog Wash - Whether looking for a puppy shampoo for small dogs or a gentle dog cleaner for older dogs we got you covered with our versatile oatmeal lavender dog shampoo for all dogs
Dog Supplies - We take dog shower & bath accessories seriously and we believe all dog stuff should be natural and effective which is why all our dog products are created with high quality ingredients
Strong Values - We hope you love our pet grooming supplies for dogs of all shapes sizes and ages because we love our pets and make our products cruelty-free without commonly used icky additives
Pros
Made with essential oils.
Vet recommended.
Cons
It might not be a good fit for dogs with severe skin conditions.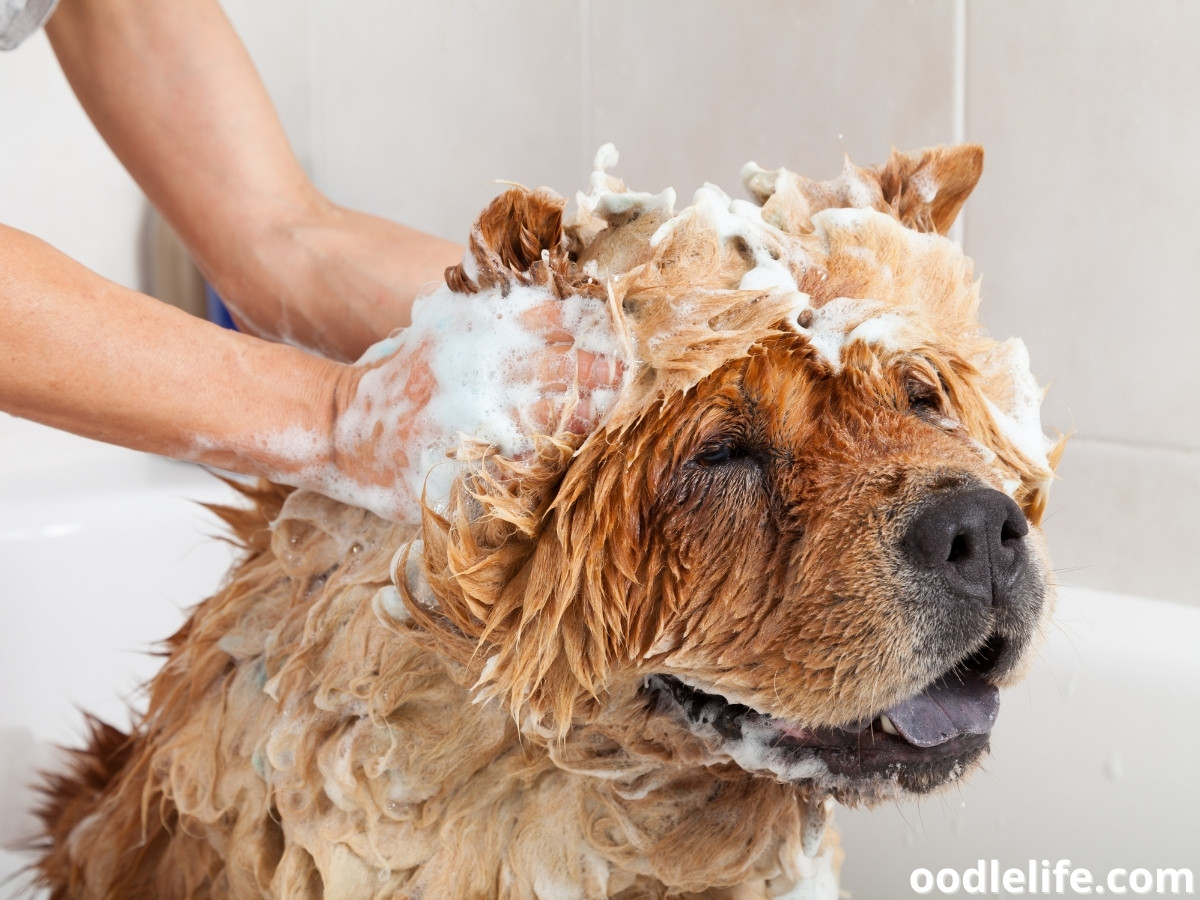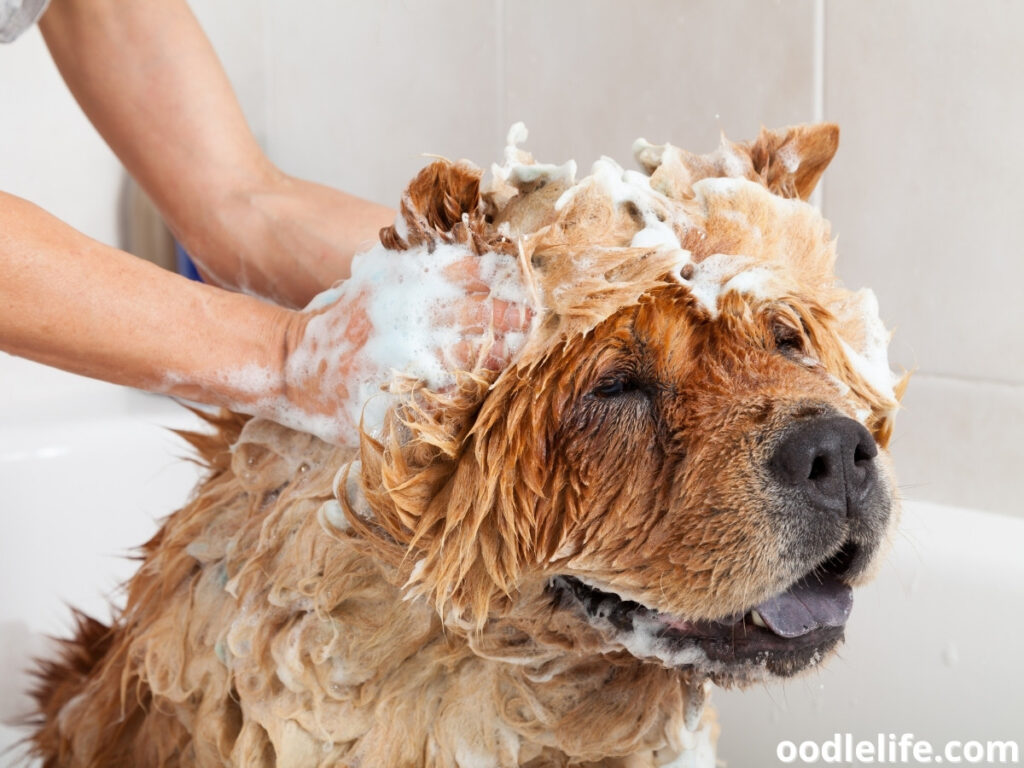 Buyers Guide for Buying Dog Shampoo for Your Dog
Before you select your dog shampoo, there are a couple of factors to consider before doing so. Below, we will discuss some tips to consider when choosing hygiene products.
Ingredients
One of the essential factors in selecting a dog shampoo is reviewing its ingredients to ensure that it won't cause sensitivity or allergic reactions.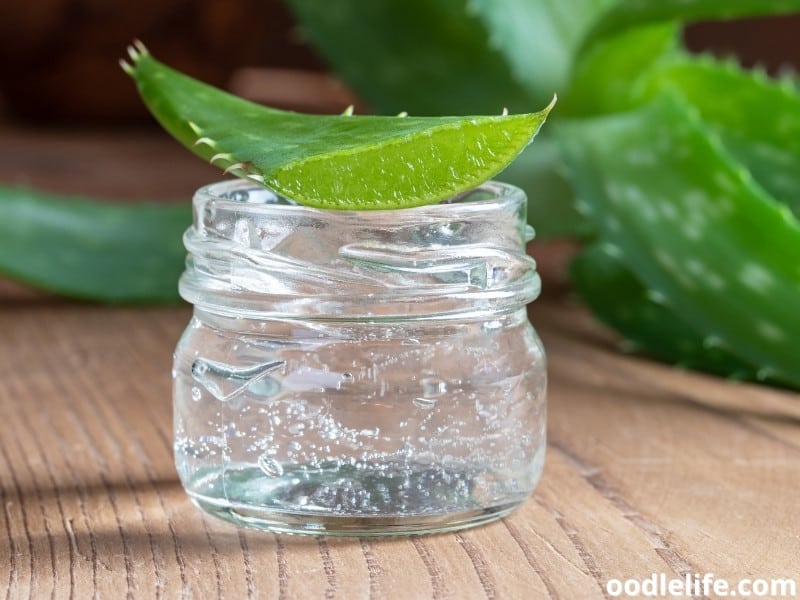 Several elements include the following:
Regular Oatmeal: This usually means that it uses oat kernel or flour. It only contains parts of the oat rather than the whole brand. It usually helps with skin nutrient solutions.
Colloidal Oatmeal: This contains the whole oat kernel. Grounding into powder helps to replenish oils and prevent dry skin.
Other Ingredients: Dog shampoos incorporate different ingredients into their solution. Several include shea butter, camomile, aloe vera, and more.
If Your Dog has any Allergies or Sensitivities
It's essential to note if your dog has allergies or sensitivities when choosing a shampoo. Ensure that the product is hypoallergenic or contains ingredients that help relieve sensitive skin. Spotting allergens can prevent dry, itchy skin irritation. Read the label before purchasing.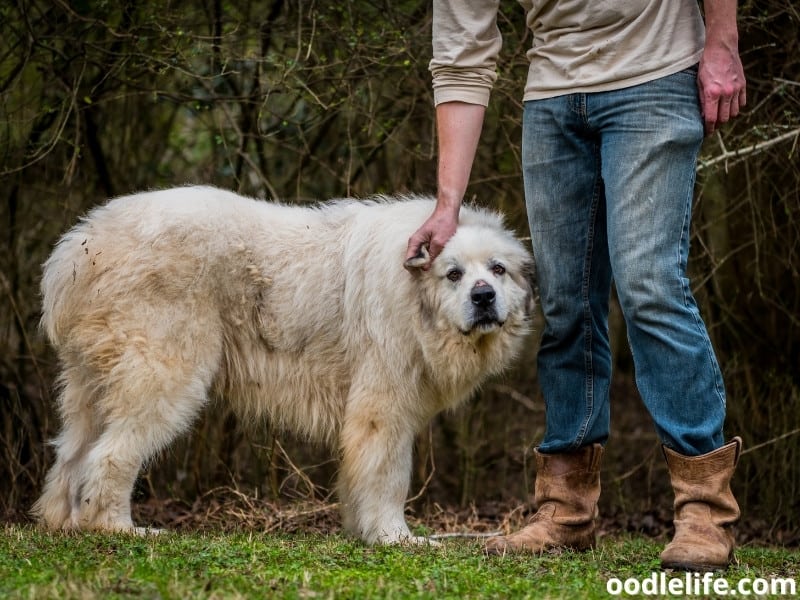 Handling Soaps
If you've been shopping for dog shampoo or other hygiene products, sometimes you'll notice that some products are soap-free. This means the product won't break down any medication you may have put on your dog beforehand. It's crucial to look for any shampoo that's soap and detergent free to avoid dry skin.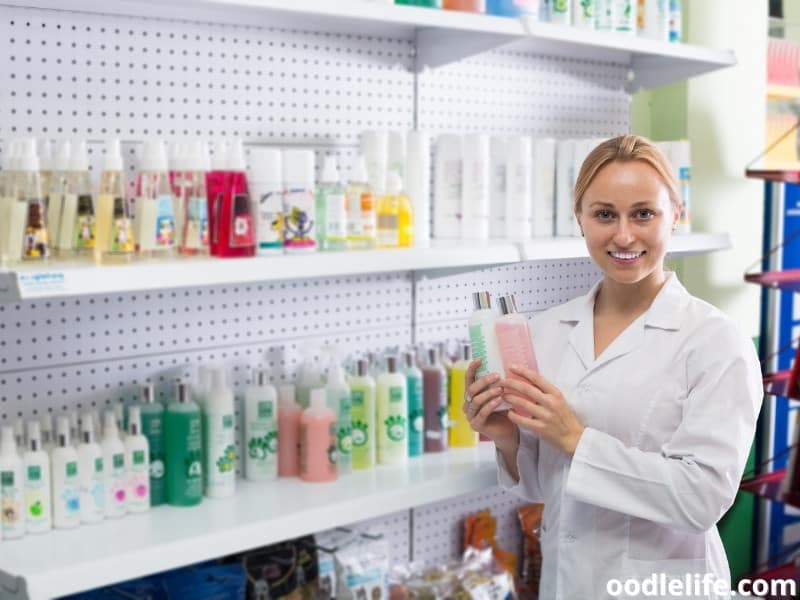 Final Conclusion
There are various options to choose from when considering an ideal dog shampoo for your dog. However, some factors you would have to consider would be its ingredients, soaps, and whether or not it's right for them due to their allergies or sensitivities. No matter what option you choose, always check to make sure it won't harm your dog.
We hope you enjoyed this article!