The 5 Best Dog Food for Cavapoo [Healthy and Budget Friendly]
If you are the owner of a sweet little Poodle and Cavalier King Charles Spaniel mix that is fondly known as the Cavapoo, you might be wondering how to best feed your beloved dog. What is the best dog food for Cavapoo dogs?
Whether you are a brand new pet owner or just want to offer your dog a more nutritious and well-rounded diet, knowing the best dog and puppy food for your Cavapoo is of utmost importance.
The top 5 best dog foods to feed your Cavapoo include a mixture of dry, wet, and dehydrated foods. These are:
Harrington's Lamb and Rice
If it MUST be wet food...
Harrington's Lamb and Rice
If it MUST be wet food...
While the type of dog food and whether you feed your Cavapoo wet or dry meals is completely up to you, it is beneficial to know the 5 best options available for purchase today. To learn more about proper nutrition in addition to the 5 best dog foods for a Cavapoo, continue reading below.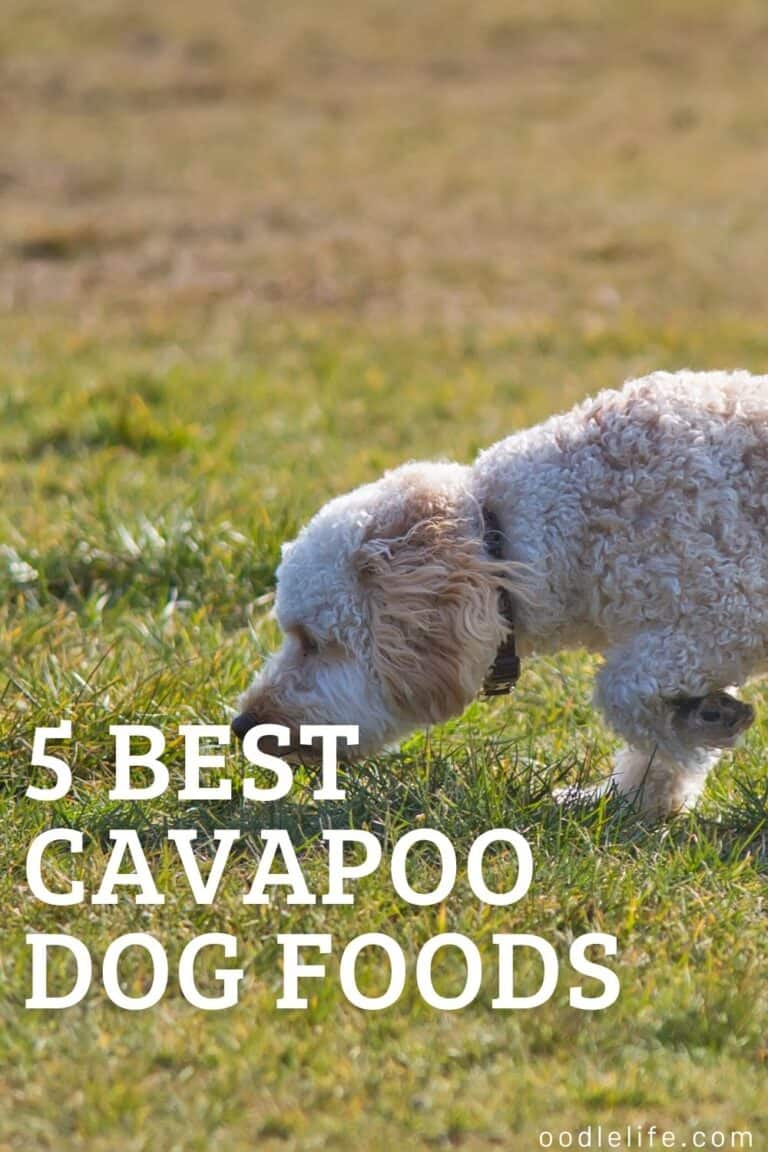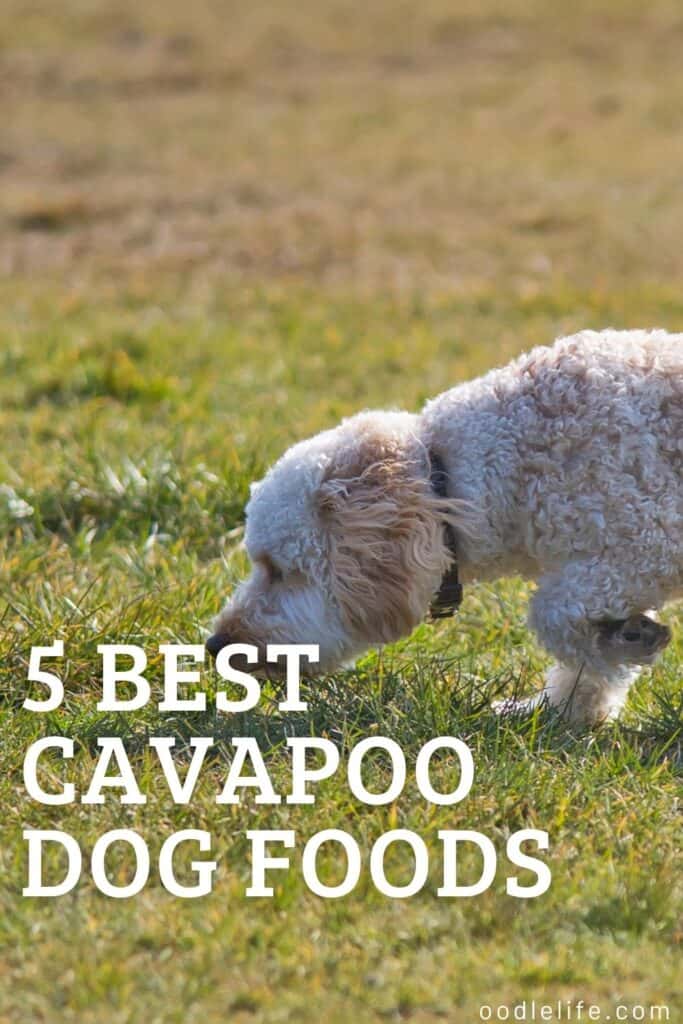 Maintain Your Cavapoo's Nutritious Diet
Since Cavapoos are very small and energetic dogs known for their adorable cross-breed mix, they are typically considered athletic. An adult Dog with energetic and athletic tendencies require the right ratio of protein to fat in their daily diets.
In addition to protein and fat, Cavapoos should receive a small number of carbohydrates to fuel their muscles and healthy fats to keep their bodies healthy. Unlike large athletic dogs that need dense diets full of these vitamins and macrobiotics, Cavapoos need moderate diets so as not to become overweight and sluggish.
Cavapoo Age and Food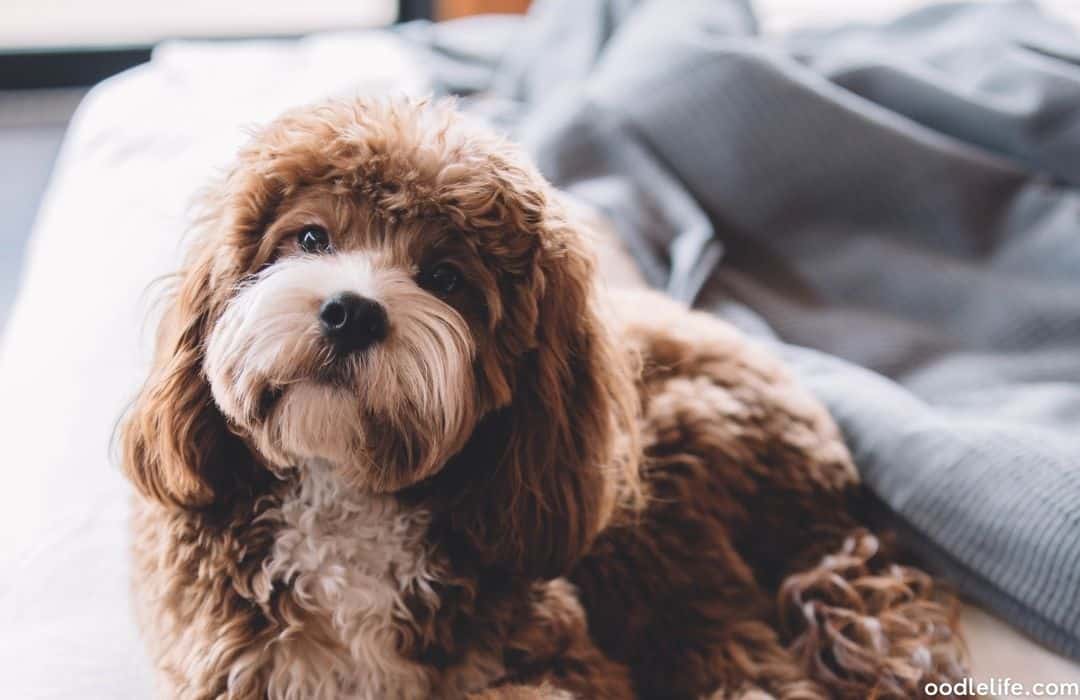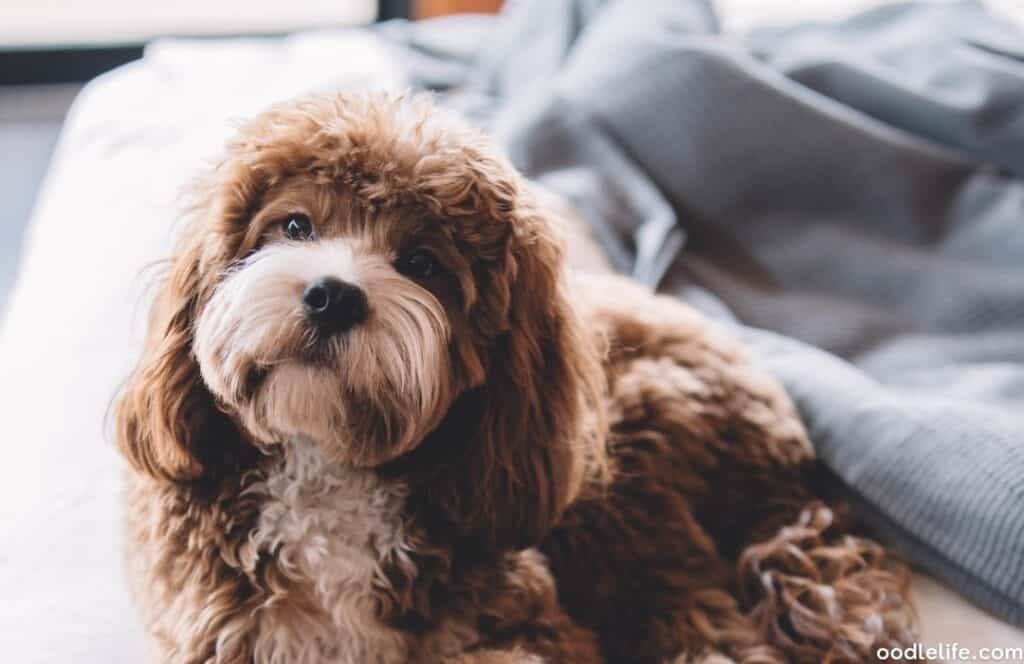 If you have a new Cavapoo puppy, it is important to remember that its dietary needs will change and evolve as it grows into adulthood. Puppies, adult dogs, and senior Cavapoos all require different diets and amounts of nutrients appropriate for their age.
While a Cavapoo puppy can thrive on puppy formula for a really short while, they will need to begin eating nutrient-dense wet foods and dry foods to supplement their growth and encourage healthy digestive systems. Really early. Small breed puppy food should be transitioned to ASAP. Follow a puppy feeding chart to figure out how much food to give your Cavapoo pup.
Cavapoo dog foods for dogs of all ages should consist mainly of animal and vegetable-based ingredients while avoiding synthetic additives and faux flavors. Some raw meat is safe, other types (like pork) can be dangerous.
The Best Dry Foods for Your Cavapoo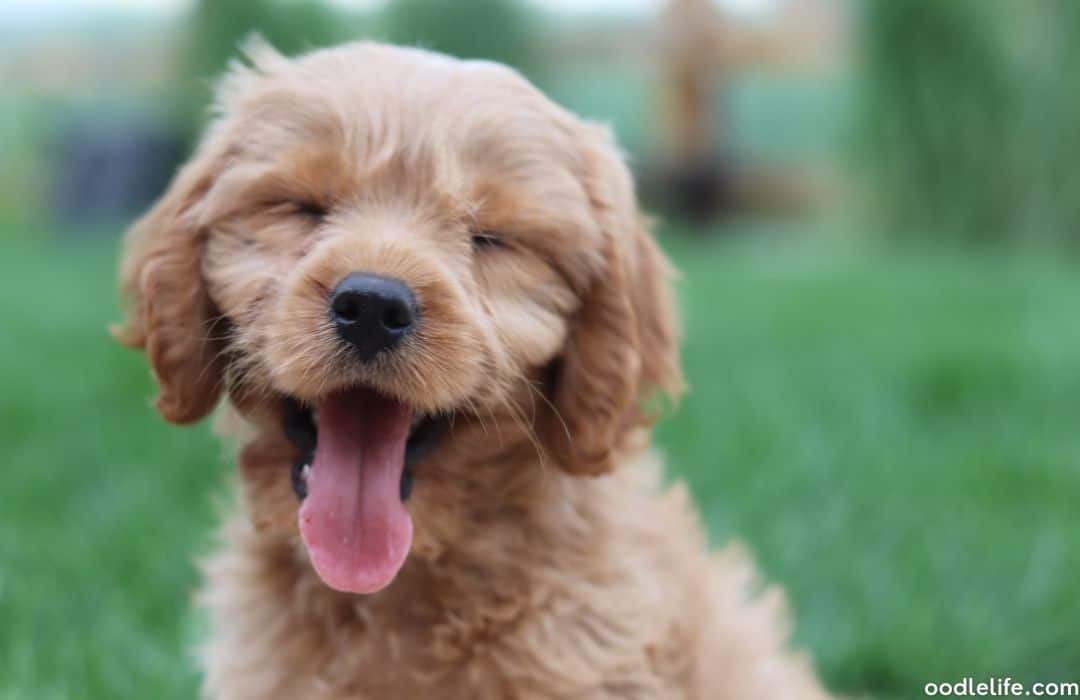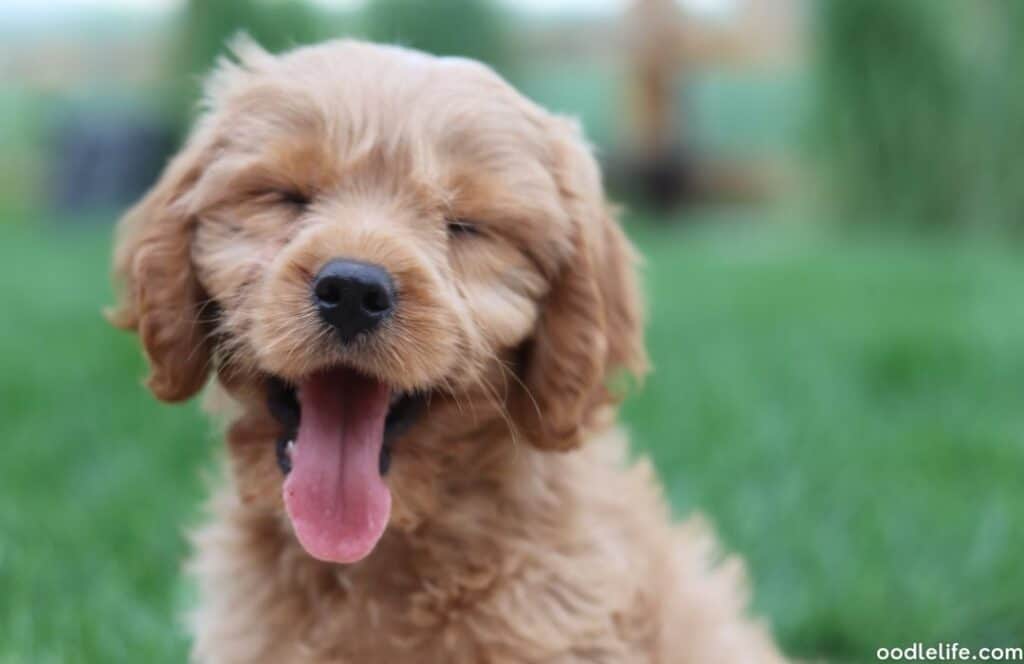 Some of the most important choices a pet owner makes when getting a dog include what to name them, what toys to buy, whether to crate train, and what to feed them.
When you become the owner of a Cavapoo, diet is even that much more important due to their sensitive digestive systems, a tendency toward gluten allergies, and picky eater preferences.
Dry food is one of the staples of a healthy dog diet. While supplementing your dog's diet with wet food, dehydrated foods, and kibble treats is important for well-rounded nutrition, dry food should make up the majority of what your Cavapoo eats daily.
Because of dry food's prevalence in the well-rounded Cavapoo diet, the 1st two best dog foods for your Cavapoo include Blue Buffalo Life Protection Formula Natural Adult Dry Dog Food and Harrington's Dog Food Complete Lamb And Rice Dry Mix.
Blue Buffalo Life Protection Formula
Blue Buffalo Life Protection Formula Natural Adult Dry Dog Food is the top best dog food to feed your Cavapoo. We have chosen this dry food because it consists of real meat ingredients from animals fed with only organic, non-GMO foods.
Sale
Blue Buffalo Life Protection Formula Natural Adult Toy Breed Dry Dog Food, Chicken and Brown Rice 4-lb
REAL MEAT FIRST: Blue Buffalo foods always feature real meat as the first ingredient; High-quality protein from real chicken helps your dog build and maintain healthy muscles; Plus they contain wholesome whole grains, garden veggies and fruit
TOY BREED DOG FOOD: BLUE Life Protection Formula Toy Breed Dog Food contains an optimal blend of high-quality proteins and carbohydrates to meet the unique energy needs of smaller dogs with a kibble size ideal for smaller jaws
ANTIOXIDANT-RICH LIFESOURCE BITS: A precise blend of antioxidants, vitamins and minerals carefully selected by holistic veterinarians and animal nutritionists to support immune system health, life stage needs and a healthy oxidative balance
A NATURAL DOG FOOD: BLUE dry dog foods are made with the finest natural ingredients enhanced with vitamins and minerals; BLUE contains NO chicken (or poultry) by-product meals, corn, wheat, soy, artificial flavors or preservatives
Contains one (1) 4 lb Bag of BLUE Life Protection Formula Toy Breed Adult Dry Dog Food Chicken and Brown Rice
The high quality of beef and game in Blue Buffalo dry food helps Cavapoos continue to develop strong muscles while the organic vegetables and fruits offer helpful vitamins like Vitamin A and Vitamin C.
Whole grains are also added to the Blue Buffalo dry food recipe to give your Cavapoo the necessary amount of fiber for a healthy digestive tract and regular bowel movements.
Some of the main benefits that make Blue Buffalo an excellent dry food for Cavapoos includes:
Added antioxidants and vitamins
Contains no chicken products
Corn and soy-free
Gluten-free
No artificial ingredients or preservatives
Promotes healthy eyesight, skin, and coat with Omega 3 & 6 fatty acids
Real, hormone-free, organic meat ingredients
From healthy fur to increased energy levels, Blue Buffalo Life Protection Formula Natural Adult Dry Dog Food is undoubtedly one of the best dry dog foods to feed your Cavapoo.
Harringtons Dog Food Complete
The 2nd best dry dog food to feed your Cavapoo is Harringtons Dog Food Complete Lamb And Rice Dry Mix. Originating in the United Kingdom, Harringtons Dog Food has become one of the most popular dog foods in both the UK and the United States due to its beefy and gamey brown rice flavors and all-natural ingredient list.
Harrington's Dog Food Complete Lamb And Rice Dry Mix, 15kg
With added omega oils, natural antioxidants, essential amino acids and nutrient rich kelp.
It can help to improve digestion, reduce flatulent odours and help improve skin and coat condition.
Packed in compostable 2kg paper bags and recyclable 15kg plastic sacks it is a completely natural dry dog food.
Harringtons Dog Food contains no dairy or soy, making it excellent for Cavapoos with frequent diarrhea or lactose intolerance. It also contains no artificial flavors, wheat, or color additives, making it completely free of harmful substances.
Some of the other major benefits of feeding Harringtons Dog Food Complete Lamb And Rice Dry Mix to your Cavapoo include:
Added Vitamin A and E for supporting healthy eyesight
Citrus extracts for increased Vitamin C absorption
Contains yucca extract to reduce bad breath and gingivitis concerns
Delicious seaweed added for complex flavor notes that your Cavapoo with love
Promotes healthy eyesight, skin, and coat with Omega 3 & 6 fatty acids
As number two on our list, Harrington's Dog Food delivers the nutrients and delicious flavors to keep your Cavapoo both interested and feeling its best.
The Best Cavapoo Wet Foods
While dry dog food should make up a majority of your Cavapoo's diet, wet food is also an important base of your dog's daily routine. Wet food is important because it often has way more meat protein than dry food.
With special BPA-free canned containers that seal in flavor and liquid fats automatically, there is less chance that your dog's food will become stale or lose flavor over time. This is excellent for wet foods that contain fresh meat and require refrigeration upon opening.
Because of the benefits offered to your Cavapoo by including wet food bi-weekly in their diet, the 3rd and 4th best foods for Cavapoos include Taste Of The Wild Wet Dog Food and Wellness CORE Natural Grain Free Wet Canned Dog Food.
Taste of the Wild Wet Food
Taste of the Wild Wet Dog Food is perfect when you want your Cavapoo's mouth to water at mealtime. Beloved by many dog breeds, this wet food is best used by mixing it in with dry food kibble to create a delicious dinner treat.
Sale
With a chunky texture of meat pieces in gravy and ingredients including real organically fed and hormone-free beef, bison, salmon, and roasted lamb, Taste of the Wild Wet Food is the perfect dog food for adult Cavapoos that already have their adult canine teeth fully developed.
Additional benefits of feeding your adult Cavapoo Taste of the Wild include the following:
Antioxidants for a healthy immune system
Completely grain-free
Gluten-free for allergies and sensitivities
No fillers, corn, or artificial flavors
Promotes healthy eyesight, skin, and coat with Omega 3 & 6 fatty acids
Real organic vegetable and fruit ingredients like sweet potatoes, blueberries, and raspberries
With pure ingredients and protein-rich meats and gravy, your Cavapoo will love every bite of this nutritious canned wet food.
Wellness CORE Natural Grain Free Wet Food
From turkey and chicken to liver and cod flavors, Wellness CORE Natural Grain Free Wet Canned Dog Food is the 4th best Cavapoo dog food and best grain-free option when it comes to feeding your beloved canine.
Wellness Natural Pet Food CORE Natural Wet Grain Free Canned Dog Food, Turkey & Chicken, 12.5-Ounce Can (Pack of 12)
ADVANCED NATURAL NUTRITION TO FUEL YOUR DOGS BEST LIFE: Premium protein expertly balanced with nutrient rich superfoods for a complete and balanced dog food, with the nutrients your dog needs to thrive and no fillers
SAVORY FOOD DOGS LOVE: Wellness CORE is available in grain and grain free recipes, as well as limited ingredient diets for dogs with food sensitivities
LEANER BODY MASS AND MUSCLE TONE: This recipe is made with a high concentration of protein from fresh meat ingredients; contains no meat byproducts, wheat, corn, soy, artificial colors, flavors or preservatives
WHOLE BODY HEALTH: Premium, nutrient rich ingredients and guaranteed mineral levels support strong immune systems, optimal energy, digestive health and healthy skin and coat
WELLNESS NUTRITION: Created by nutritionists, veterinarians and animal lovers, our recipes provide an ideal balance of nature's finest ingredients, carefully selected to nourish and sustain your pet's wellbeing
With many varieties and ingredients chosen specifically to address the health of your Cavapoo's skin, coat, digestion, teeth, gums, immunity, and energy, this wet food should be a staple in your Cavapoo's weekly meal plan for optimal wellness.
Some of the main benefits that make Wellness CORE Natural Wet Food an excellent food for Cavapoos includes:
Added flax and fish oils for healthy hair and skin
Five protein types are included in every can
Minerals from botanicals and herbs
No meat by-products included
Though Omega 3 & 6 oils are not present in the ingredient list, flax and fish oils are added for healthy skin and hair while protein-deficient Cavapoos can benefit from the high protein amount in every serving.
The Best Dehydrated Dog Food for Cavapoos
The 5th best dog food for a Cavapoo on our list is dehydrated dog food. While dehydrated dog food can lack some of the fresh protein and gravy sources as well as hydration that wet foods can offer, they are still an excellent type of food to feed your Cavapoo due to an increase in important human-grade multivitamin content.
While some Cavapoo enthusiasts and owners believe that dehydrated food should always be added to water to reap its benefits, others often feed their Cavapoo dehydrated food in its original form. The choice, therefore, depends on the owner and the sensitivity of their specific Cavapoo.
The Honest Kitchen Dehydrated Dog Food
Established in 2002, Honest Kitchen is a pet food brand that specializes in making human-grade food for dogs. This food is particularly food for Cavapoos because it equips them with a high amount of nutrients often missing in dog-grade food.
The Honest Kitchen Human Grade Dehydrated Organic Grain Chicken Dog Food 10 lb - Revel
FREE RANGE CHICKEN & ORGANIC GRAINS: The Honest Kitchen Whole Grain Chicken dog food is made with real whole food ingredients like free range chicken, organic oats & bananas, which are gently dehydrated for maximum nutrient retention & digestion.
SUITABLE FOR PUPPIES & ADULT DOGS: Complete & Balanced nutrition for adult dogs and puppies of all breeds and sizes, including large breed puppies, as well as adult mothers (gestation/lactation).
EASY HOMEMADE: Just add warm water for a wholesome & delicious meal. Serve alone as a complete meal for maximum nutrition, or use as a topper to their dry food.
HUMAN GRADE: Unlike most pet food, this recipe is 100% human grade – made with human grade ingredients & produced in a human food facility. That means higher quality ingredients & more safety standards, just like you'd expect from your own food.
WE SAY NO TO: This recipe contains no preservatives, by-products, fillers, GMO ingredients, corn, wheat or soy.
Made and packaged in an FDA-regulated facility, The Honest Kitchen Human Grade Dehydrated Organic Whole Grain Dog Food is gluten-free, wheat-free, and chemical-free, using only the best cuts of meat to create wholesome dehydrated meals.
Some of the other benefits of The Honest Kitchen Human Grade Dehydrated Organic Whole Grain Dog Food includes:
Added multivitamins and antioxidants for wellness
Easy storage and travel
Low carbohydrate content to avoid sluggish behavior
Pure meat cuts filled with protein for energy
While dehydrated dog food should not be the sole source of your Cavapoo pup's diet, it is an excellent food to feed your dog with during multiple meals throughout the week.
A Healthy Cavapoo is a Happy Cavapoo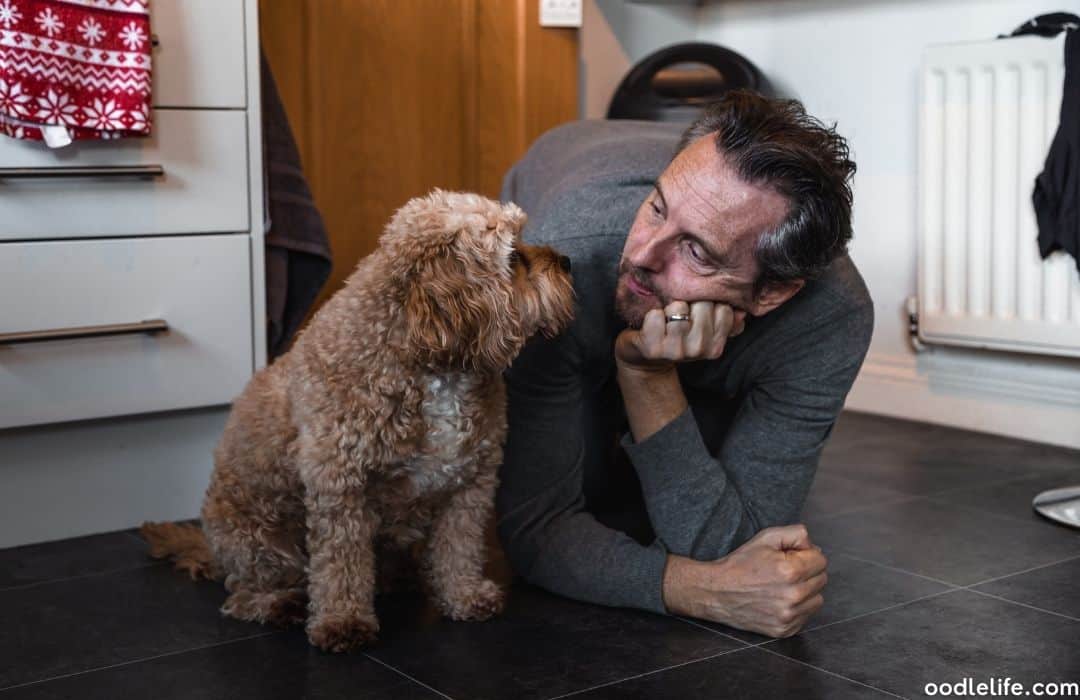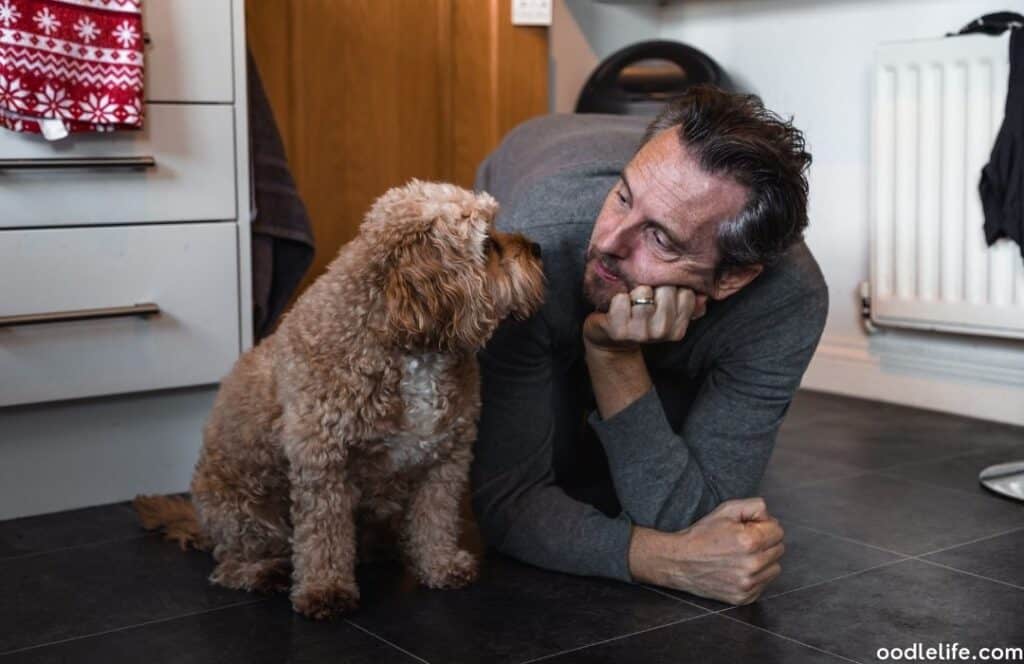 Since Cavapoos are a type of mixed breed dog mix created from two purebred dog breeds, they are at risk for a few different health problems from the Cavalier King and Poodle parent – including hip dysplasia, retinal atrophy, congenital heart problems, diabetes, and obesity.
Feeding your Cavapoo a quality diet of fresh, organic, and all-natural ingredients full of proteins, vitamins, and minerals can help your best friend live a long and healthy life full of energy, fun, and happiness.