6 Best Brushes for Beagles in 2023 – Reviews & Deshedding
Owning a Beagle is terrific, but it takes a lot of work to maintain their frequency of shedding. Beagles shed daily, so it's essential to ensure you're using the proper brushes to keep their coats healthy as they grow back.
Although shedding is normal for Beagles, excess shedding is usually caused by various factors. Having the proper brushes when grooming them can help alleviate issues from their shedding.
Here are the six best brushes for Beagles in 2022. 
Pros:

Professional groomer quality

German made steel

Perfect for coat maintenance

Pros:

Decent build quality

Slicker density high

Good for thick coats

Pros:

Perfect for detangling

Helps with every brush

Quality Lifetime steel
Nothing Compares
Pros:
Professional groomer quality

German made steel

Perfect for coat maintenance
Budget Pick
Pros:
Decent build quality

Slicker density high

Good for thick coats
The Perfect Comb
Pros:
Perfect for detangling

Helps with every brush

Quality Lifetime steel
1. BV Dog 2 in 1 Brush
This brush is equipped with two sets of bristles, one on the top and the bottom of the brush. The shorter bristles on the bottom are soft but firm enough to help remove loose dirt and hair.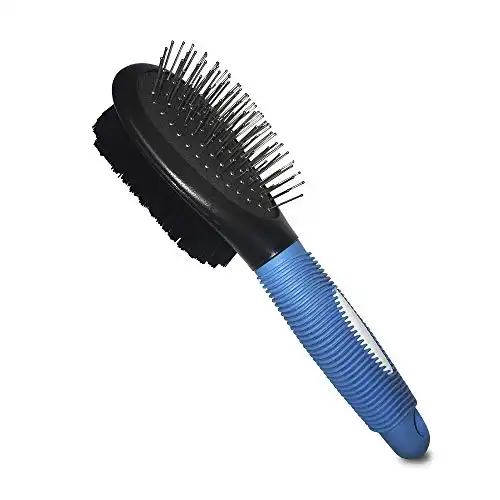 We earn a commission if you make a purchase, at no additional cost to you.
The longer bristles are very thin and pin-like. They help to detangle your Beagle's coat gently. These bristles also consist of rounded tips that aid in giving a massage as your brush.
Pros:
Cons:
A little large depending on preference.
2. Safari Bristle Dog Brush
The Safari brush was designed for dogs with short hair. It helps to keep your Beagle's coat soft and full of shine.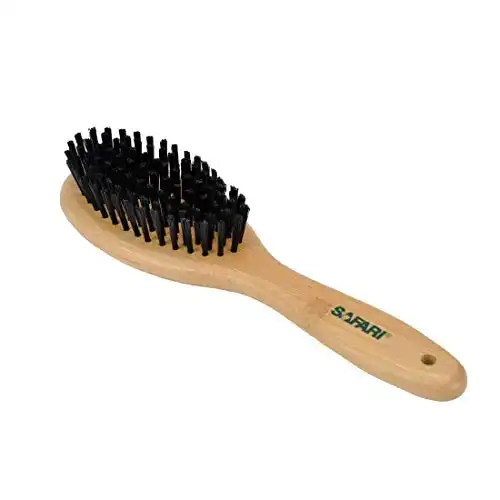 We earn a commission if you make a purchase, at no additional cost to you.
It also comprises ergonomic features like its handle, which keeps you comfortable throughout the grooming process by allowing for a firm grip.
Lastly, this brush promotes oil distribution on your dog's coat. As you brush in the direction of the hairs, it helps to spread the natural oils resulting in a moisturized coat.
Pros:
Ergonomic
Ease of use
Comfortability
Gentle on your dog
Budget friendly
Cons:
Can be very tough to clean.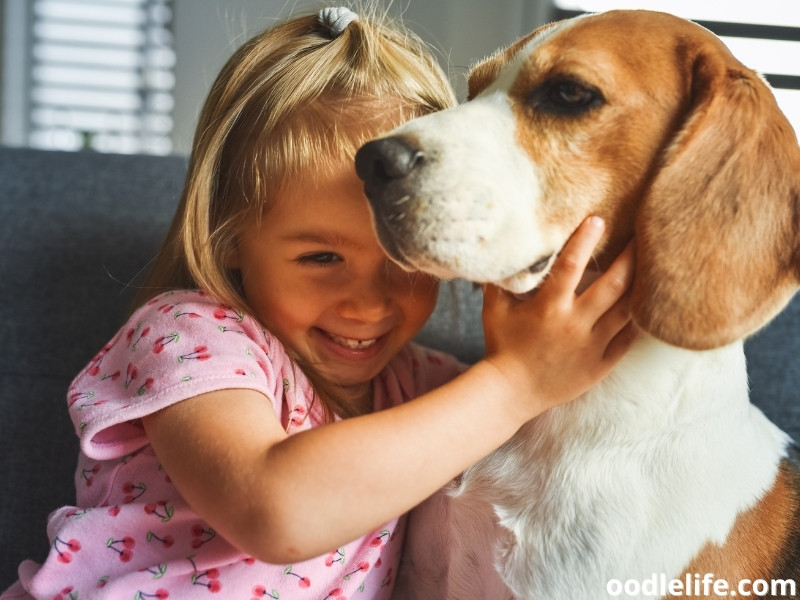 3. Conair Pro Dog Boar Bristle Brush
The Conair Pro dog boar brush is designed uniquely to comfort and relaxation for you and your dog while grooming. Its shape was created to fit in your hand as the handle keeps it secure and snug while you brush seamlessly.
CONAIRPRO dog & cat Pet-It Boar Bristle Dog Brush for Shedding, Palm-Petting Grip Technology for Natural Petting Motion, Healthy & Shiny Coat, Ideal for All Pets
HAND-HELD BRISTLE BRUSH: Featuring a Palm-Petting Grip Technology, the CONAIRPRO dog & cat Pet-It Boar Bristle Brush fits perfectly in your palm and mimics the natural petting motion, helping your...
"SOFT & GENTLE FOR OPTIMUM COMFORT: With 50 percent natural boar and 50 percent synthetic bristles, the brush glides effortlessly over short and curly coats. It is great for all-over brushing and safe...
GIVE YOUR POOCH A SHINY COAT: The handle-free brush helps smoothen the hair and effectively distribute the natural oils in your pet's fur to maintain the natural shine. Brush daily for a healthy and...
SUITABLE FOR ANIMALS OF ALL SIZES: The brush is effective on animals other than dogs, including horses, cats and smaller breeds. Just slip the grip through your fingers, hold the brush in your palm...
"PREMIUM QUALITY PRODUCTS FOR YOUR PET'S WELL-BEING! CONAIRPRO includes a wide range of dog and cat grooming products like trimmers, shears, nail clippers, combs, and more, so that you can provide...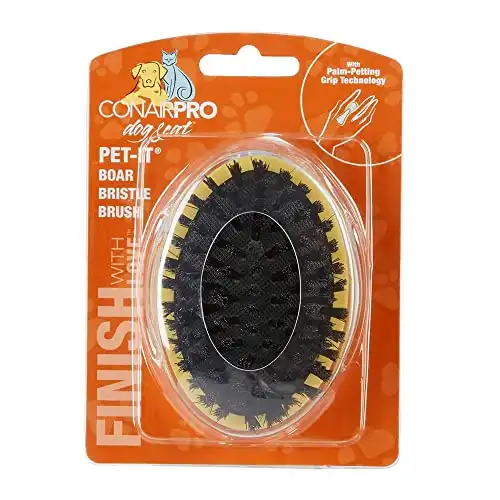 We earn a commission if you make a purchase, at no additional cost to you.
The bristles are soft but still firm enough to capture enough hair with each stroke. The overall size is ideal since it isn't too big or too small.
The brush is also easy to clean and very high quality.
Pros:
Fits perfectly in your hand.
Great for bathing your dog.
Comfortable to hold.
Reaches tough places.
High quality
Simple to clean.
Cons:
Water gets inside the handle easily.
Maybe too small for larger hands.
4. Hertzko Bristle Brush
The Hertzko brush is larger in size than most typical dog grooming brushes. Its size makes it even easier to hold onto and guide while brushing.
Double Sided Combo Pins and Bristle Brush by Hertzko - For Dogs and Cats with Long or Short Hair - Dense Bristles Remove Loose Hair from Top Coat and Pin Comb Removes Tangles, and Dead Undercoat (Sing...
Ideal brush for everyday brushing & fur fluffing - Hertzko's bristle brush gently removes loose hair, and eliminates tangles, dander, dust, and trapped dirt from your pet's topcoat. Works great on...
Gentle & safe – Densely packed bristles are soft on your pet's sensitive skin.
Grooms and massages for a healthy coat - Brushing your pet occasionally with our bristle brush increases blood circulation and leaves your pet with healthy skin and a shiny topcoat.
Comfortable, strong, and durable - Our brush is especially designed with a comfort-grip and anti-slip, which prevents hand and wrist strain no matter how long you brush your pet!
Risk-free satisfaction guarantee. If our bristle brush is not everything that we say it is, and you're not completely satisfied with it within 30 days of purchase; we will refund every penny of your...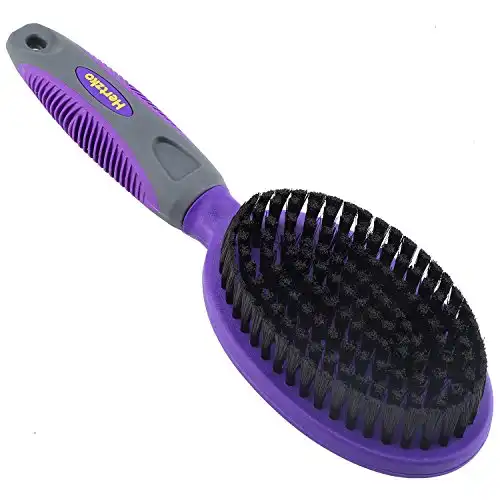 We earn a commission if you make a purchase, at no additional cost to you.
It's bristles are very soft, which is great for a gentle groom; however, it is a little difficult to use when removing undercoat hairs.
Despite this, it's great, especially for ergonomic comfort. It consists of a grip-covered handle which assists in decreasing strain on the hand and wrist.
Also, it helps to promote the release of oils which helps add the perfect gleam to your dog's coat.
Pros:
Helps make your dogs coat shinier.
No slip grip.
Soft bristles.
Easy to handle and use.
Removes dirt.
Prevents strain on wrist and hands.
Cons:
Doesn't remove hair from undercoat.
Large
5. Oster Combo Brush
The Oster Combo is another double-sided brush that works efficiently to help remove your dog's hair. It consists of regular bristles on one side and pin bristles on the other.
UANAX Oster Combo Brush for Dogs, Large (078279-102-001)
Two-sided dog brush with bristles and round-tip pins
Breaks up mats and tangles and removes dead undercoat
Ergonomic handle with grooved grip for extra comfort and control
Suitable for use on larger breeds with all coat lengths
Leaves your dog's coat looking shiny and lustrous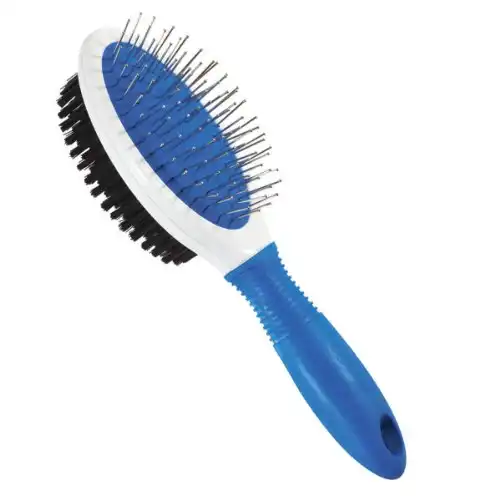 We earn a commission if you make a purchase, at no additional cost to you.
The pin-like bristles help grasp dead undercoat hair and effectively remove it while remaining comfortable to the touch. In addition, regular bristles remove loose hairs and add shine to the coat.
Due to its coating, the handle provides extra grip and doesn't get slippery even if water gets on it. This brush is also light despite it being a tad big. It also contours your dog's body as you brush for a smoother grooming experience.
Pros:
Ergonomic
Comfortable
Effectively smooths hairs
High-quality and durable
Lightweight
Double-sided bristles
Cons:
The higher build quality is reflected in the cost
6. FURminator Deshedding Tool
The FURminator Deshedding Tool is quite innovative to say the least. It does a thorough job at closely removing your Beagles hairs.
FURminator Undercoat deShedding Tool, For Large Dogs, Long Hair, Blue
FOR LARGE DOGS WITH LONG HAIR: Designed especially for dogs that weigh more than 50 pounds.
REMOVES LOOSE HAIR: Reaches through the topcoat to remove loose undercoat hair without cutting skin or damaging the topcoat (when used as directed).
FOR LONG HAIR: Stainless steel deShedding edge reaches through topcoat to safely and easily remove loose hair and undercoat.
FUREJECTOR BUTTON: Push to release hair with ease.
ERGONOMIC HANDLE: For comfortable, easy grooming.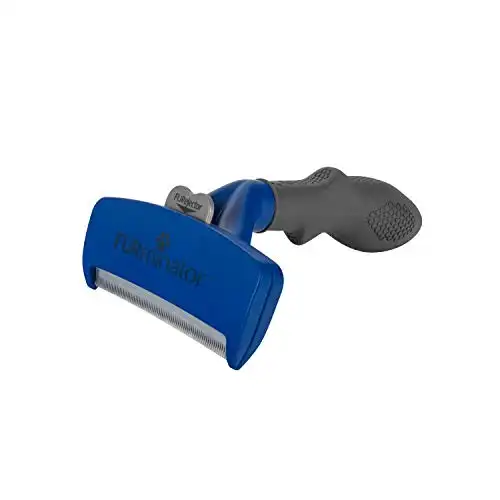 We earn a commission if you make a purchase, at no additional cost to you.
It has stainless steel edges that can remove hair from the undercoat and the top coat. Once all the hair is successfully collected, it's quickly released from the tool with a simple button.
This cool feature ensures a quick and mess-free grooming process.
Pros:
Stainless steel edge
Button release for fur
Easy cleanup
Comfortable to use
Designed for short coats
Cons:
Use caution when using this. It may result in accidental cutting if you're not careful.
What Causes Beagles to Shed So Much?
Generally, Beagle's shed a lot during certain seasons. The spring and the fall are when they tend to shed a lot of hair. However, excessive shedding can occur outside of these seasons and for several reasons.
Poor nutrition and stress are a few factors that can affect how much your Beagle sheds. If they aren't receiving the right nutrients, they will be unhealthy, thus, resulting in their coats not properly flourishing.
A diet high in omega-3 fatty acids, eggs, flaxseed, and olive oil are all great sources of nutrients for their coats. They all promote growth, provide proper nutrition, and decrease shedding.
Stress can have an extremely negative impact on your dog's health. For example, it can lead to them experiencing severe hair loss, so it's important to pay attention to how they're feeling and what's happening around them.
Lastly, skin infections can cause them to excessively shed. Again, this is due to Beagles typically having sensitive skin.
In this case it's best to get them treated at the vet if there is inflammation present or if you notice patches of hair loss.
Health Tips for Shedding
Your Beagle's environment can directly impact how much they sheds. So it's crucial that you are careful of what's around them and what they consume.
Even paying close attention to their behavior is imperative as it could result from specific stressors causing them to act out. Also, ensuring you use whole and safe products while grooming them can immensely add to the health of their fur.
Practice Good Hygiene
Good hygiene is crucial when it comes to Beagles and shedding. Keeping them clean and the environment around this will significantly decrease their shedding and prevent any potential health problems.
Keep their dishes clean.
Ensure your floors are clean.
Don't keep unclean shoes around them.
Make sure they don't get close to their feces or urine, especially if it's long-standing.
Keep their drinking water changed.
It's also important to keep in mind Beagles should only be bathed every 4-6 weeks. This gets them nice and clean while also helping maintain their fur's health.
Bathing them more frequently can cause skin irritation leading to excess shedding, It can also lead to severe dry skin.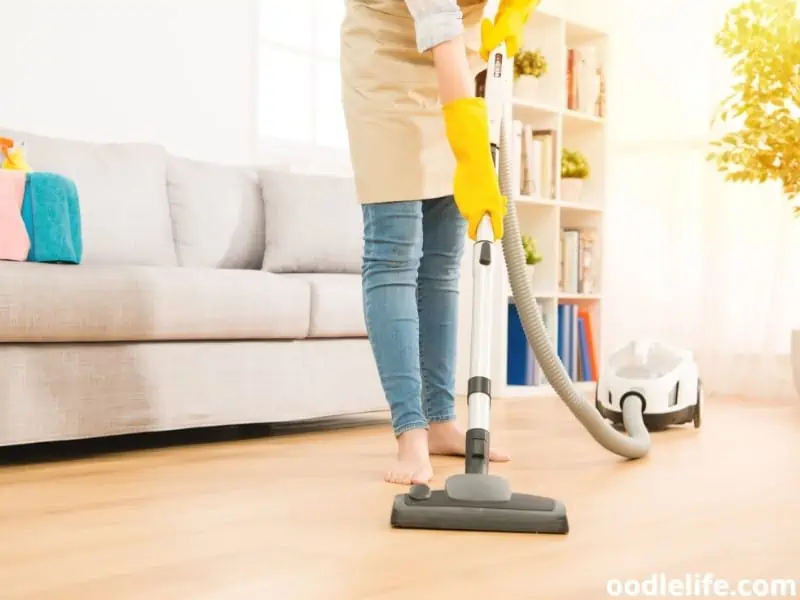 Use the Right Shampoo
The shampoo you bathe your Beagle with can't also vastly affect how they she's. Using the proper shampoo can help them to avoid skin problems, thus preventing unnecessary shedding.
Deshedding shampoos can greatly assist in reducing excess shedding. In addition, these shampoos will help to keep your Beagles skin moisturized and healthy.
Generally, you want to find shampoos rich in Vitamin E and Omega-3 fatty acids. It also helps if the shampoo is paraben-free and free of dyes to help prevent any potential allergic reactions.
Otherwise, organic shampoos are also a great option. They contain healing properties and anti-inflammatory properties.
Organic dog shampoos don't contain any dyes, fragrances, or harsh chemicals. They ultimately help repair your dogs, decrease shedding, and keep their fur in good shape.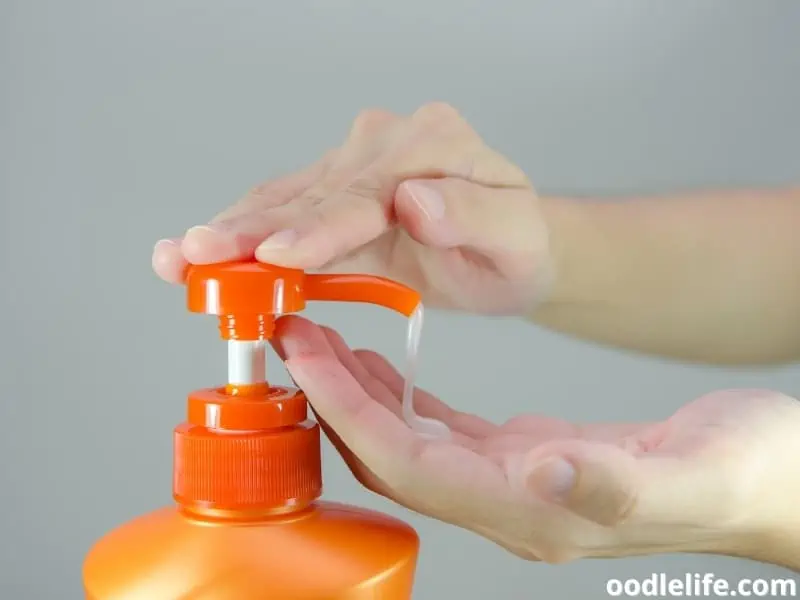 Keep Your Beagle Hydrated
Failing to keep your Beagle hydrated can negatively impact its skin and organs.
Along with other symptoms like changes in their mood, headaches, and the inability to focus, Beagles will experience skin problems due to dehydration. When a dog isn't adequately hydrated, it causes its fur becomes weak. This weakness is due to a lack of moisture which will cause it to fall out.
So, make sure they drink at least 3-5 cups of water daily if they are adults and senior Beagles. Puppies need at least 1 cup of water each day. Another great way to ensure they remain hydrated is by giving them wet food.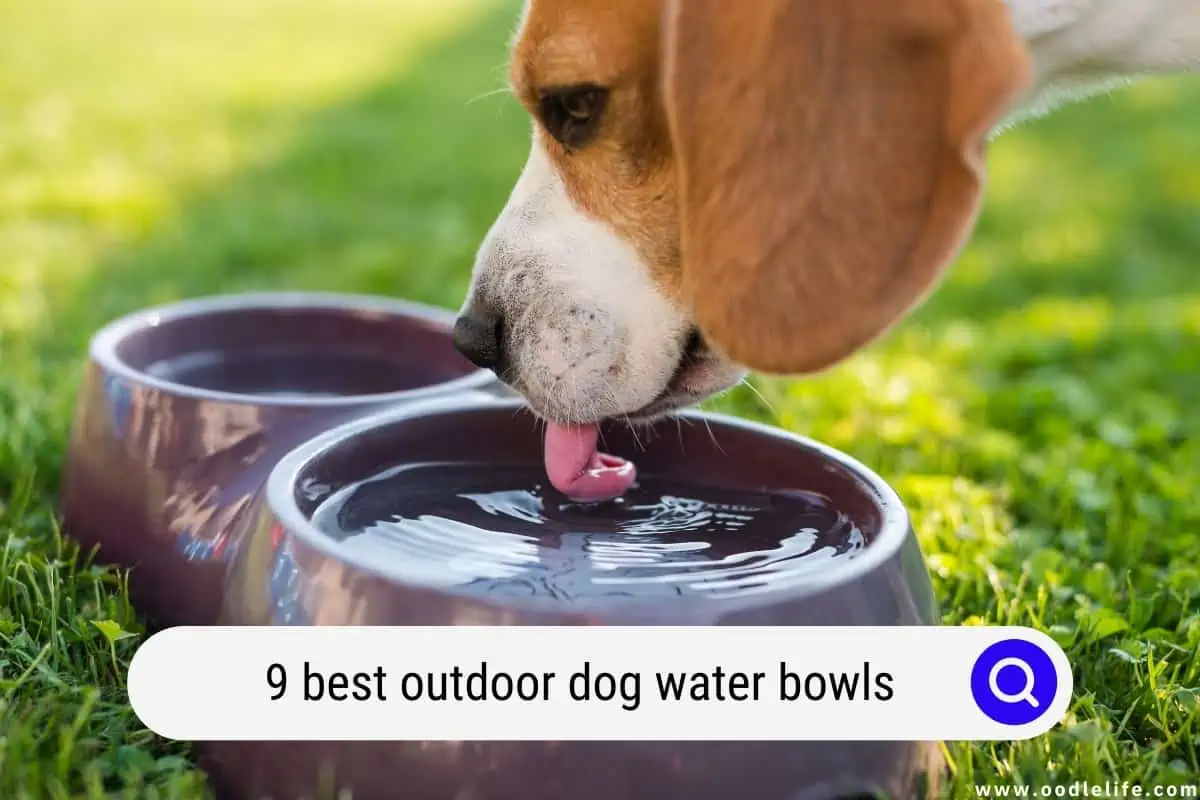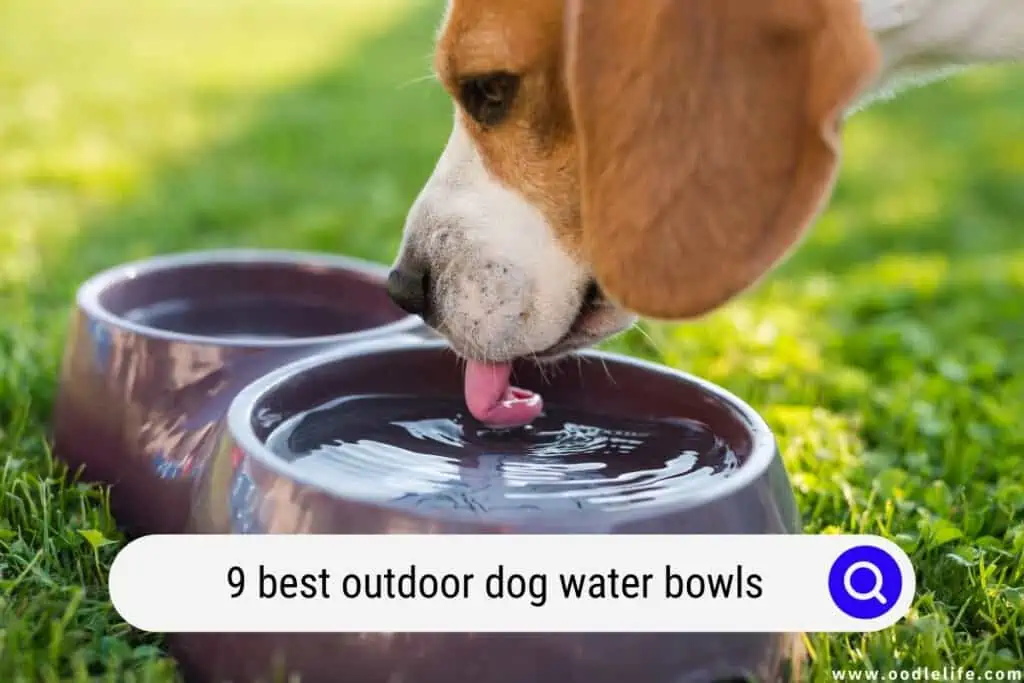 Conclusion
Owning a Beagle means ensuring you go the extra mile to take care of their fur. Simply making their lifestyle and environment are safe and healthy can go a long way.
Always ensure you keep up to par with their healthy diet, ensure they get adequate water, and groom them when needed, to prevent excess shedding while maintaining their health.