9 Best Outdoor Dog Water Bowls in 2023
Outdoor bowls have it rough! Not only do they have to stand up to your dog's voracious chewing, they also have to stand up to the elements, whether extreme heat or cold.
They can be used to provide a source of fresh water for your pup while you're out on a hike, or some innovative pooches even use their bowls to cool off during hot days, sticking their paws and muzzles into it. You'll just have to top the bowl up 20 times a day or so!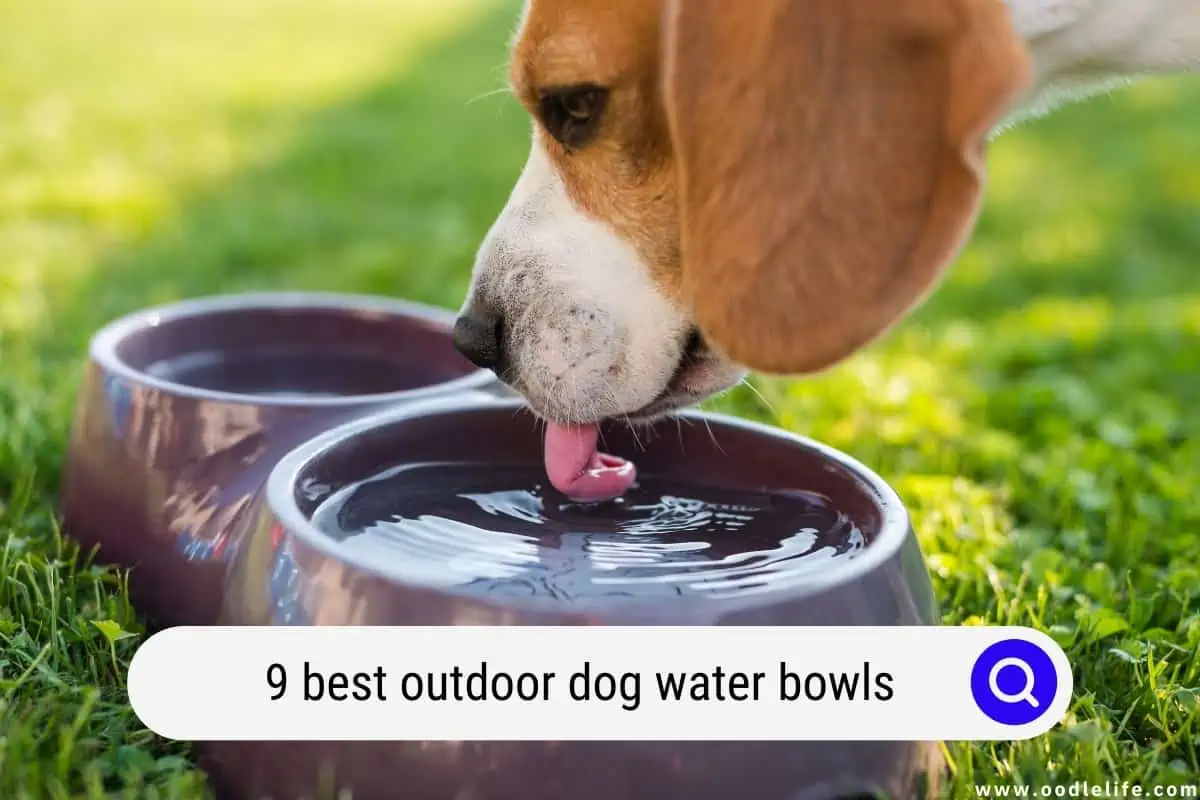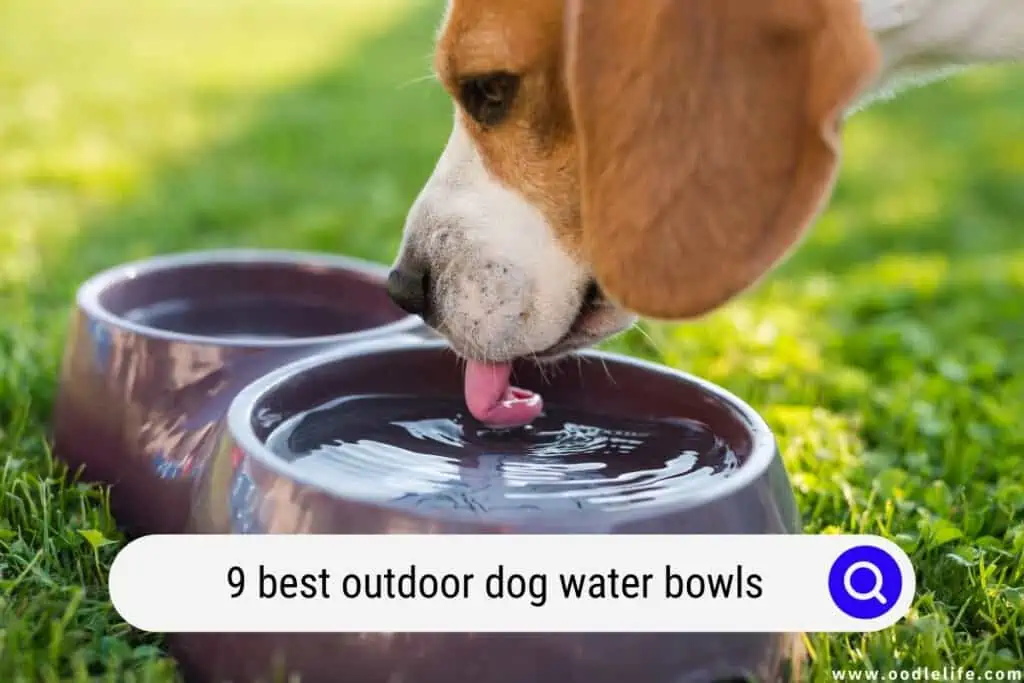 No matter what your reason for using an outdoor water bowl is, it's important to choose one that is durable and easy to clean. Make sure the bowl is big enough for your dog to drink from comfortably, and that it has a stable base so it won't tip over.
However, try as you might, we all know that dogs somehow love chasing bowls across the floor. That's where non-slip bottoms and rubber grips come in.
Anyhoo, here are our favorite rough-and-tumble dog bowls for use outdoors!
1. Coldest Dog Bowl – Small Stainless Steel Non-Slip Dog Bowl
This dog bowl by The Coldest Water company is made up of food-grade stainless steel, which is best for serving food and water to your dog.
Coldest Dog Bowl - Small Stainless Steel Non Slip Dog Bowls, Cats, Pet Feeding for Food or Water 42 oz
COLDEST DOG BOWL - Premium Non-slip stainless-steel food bowl for puppies, dogs, cats while being food safe and built to be your last dog bowl.
SUPER INSULATED – Triple wall insulated Stainless Steel, built with the highest grade and quality craftsmanship that you expect.
VET RECCOMENDED – Stainless Steel Food safe food grade and recommended by vets and pet lovers who want the best pet bowls for their dogs, cats, puppies and more.
EASY TO CLEAN – With our epicly smooth finish, the dog bowl stays cleaner longer and is much easier to clean any dirt, grime, that gets in it
NON-SLIP & SPILL – Innovative proprietary Coldest premium durable bottom grip, that is great for keeping your floors free from spills and scratches better than other dog bowls.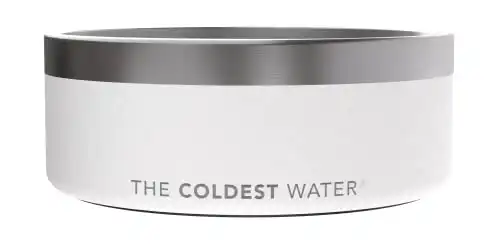 We earn a commission if you make a purchase, at no additional cost to you.
It can hold food of 2.6 pounds capacity, loads of room for plenty of water. This bowl is available in a wide range of color options like epic white, cotton candy, celestial blue, Sahara peach, and galaxy purple.
With a classy-looking matte finish, there are 3 sizes available for the bowl, a small one of 2.75x 7 inches, a medium one of 3.5 x 8 inches, and the large one of 4 x 9.3 inches.
Easy to clean & dishwasher safe, it is extremely durable and has a lifetime guarantee against manufacturer defects.
Pros:
No-slip grip at the bottom.
Wide range of color variety.
Available in three sizes.
Durable.
Dishwasher free.
Cons:
Gets rusty within months.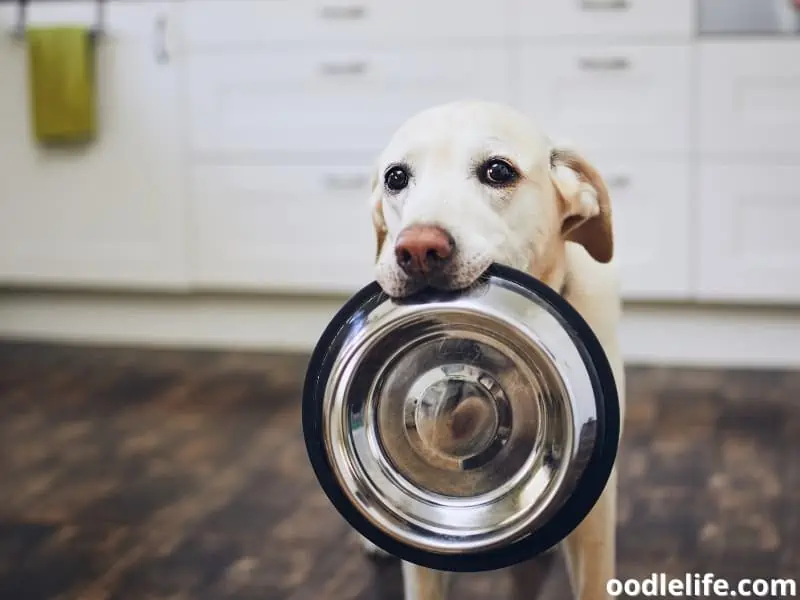 2. PETLESO Dog Automatic Waterer Bowl
This automatic water bowl is an innovative creation in bowls for dogs. With a float valve that controls the water level and keeps it constant, the water inlet pipe can be connected to a ½ inch garden hose for input. The square-shaped dish measures only 4 x 4 x 2 inches but can hold two liters of liquid.
PETLESO Dog Automatic Waterer Bowl, Auto Stock Feeder Auto-Fill Water Bowl with Float Valve for Cat Dog Chicken Outdoor Drinking, 2L Blue
Automatic Water Bowl: The bowl waterer has an internal float valve to control the water inlet to achieve the constant water level, always provides fresh water for your dog.
Dog Bowl Capacity: 2L, suitable for different sized pet like dog, cat, goats, bird, chicken or small farm animals.
Connection Option: 1. Connect with a 1/2" Female end hose which is not included in package; 2. Connect with 3/4" Female end hose with adapter.
Package include 1*Bowl& Teflon tape. Adapter and hose not included in package.
Tips: Before connecting with hose, we suggest to wrap Teflon tape around the threads of the bowl connecter and adapter first, to get a better seal for the threads and avoid water leaking.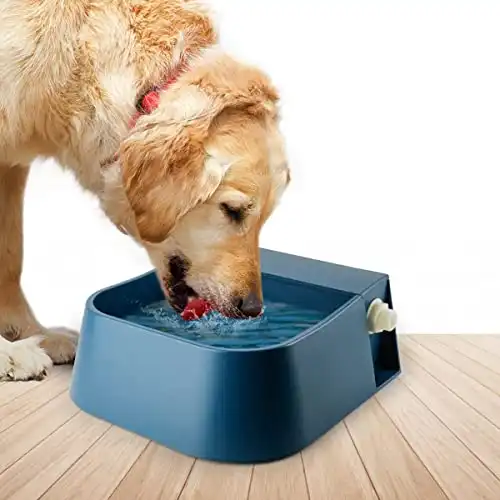 We earn a commission if you make a purchase, at no additional cost to you.
With the help of an adapter, you can fix the bowl to an end iron pipe hose that can dispense water.
The water level is controlled by a float valve, and the water is pushed through the cutesy little paw water outlet at the bottom of the bowl.
Pro:
A smart float valve keeps the water level constant.
Holds up to 2 liters.
Ground hole to keep the bowl in place.
Cons:
Difficult installation.
Does not fit the standard garden hose.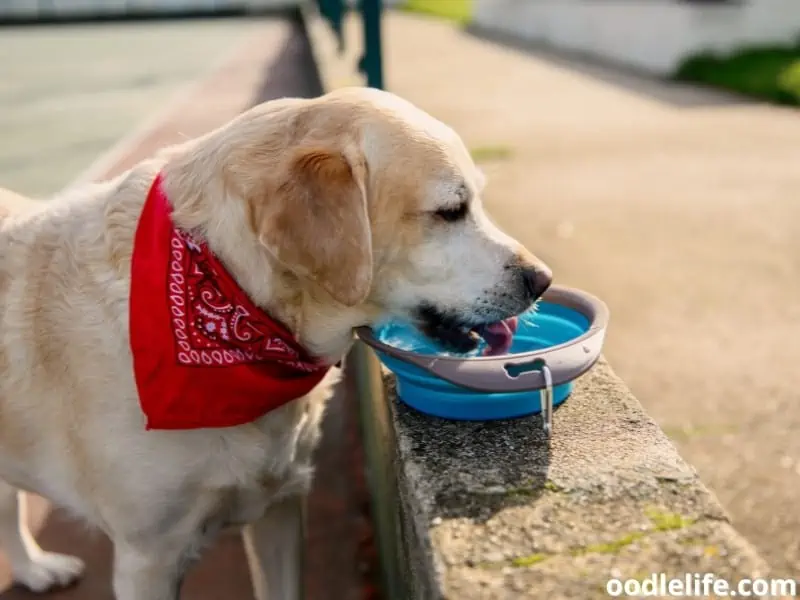 3. Neater Pet Brands Big Bowl – Extra Large Water Bowl for Dogs
This Neater Pets dog bowl is a big plastic bowl that is perfect for outdoor use. Holding up to 160 oz or 1.25 gallons of liquid, it is an excellent choice for a multi-pet household.
Neater Pet Brands Big Bowl - Extra Large Water Bowl for Dogs (1.25 Gallon Capacity) - Huge Over Size Pet Bowl - Champagne
HUGE CAPACITY - The Big Bowl has a huge capacity for food or water, holding up to 1.25 gallons of water.
COMPATIBLE WITH LEG EXTENSIONS - The Big Bowl is compatible with "MEDIUM" sized leg extensions for Neater Feeder Deluxe (Sold Separately)
ELEVATED DESIGN - The Big Bowl's high walls, sturdy non-tip base, and non-skid feet help reduce spills and keep it from sliding across your floor.
CONVENIENT - This Big Bowl's unique design is both attractive and convenient, as it fits nicely against walls and into corners of your home.
MULTIPLE PETS - The Big Bowl is designed to fit multiple pets at the same time.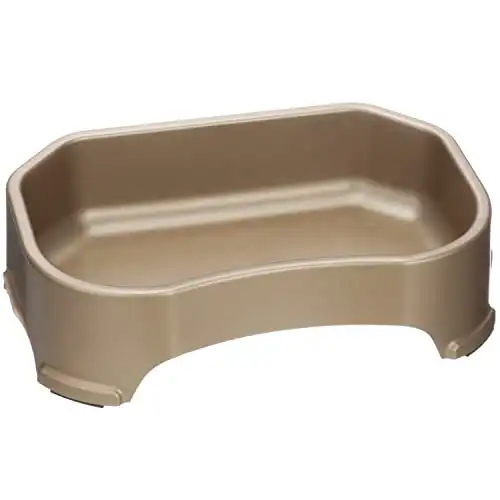 We earn a commission if you make a purchase, at no additional cost to you.
The bowl has rubber feet to prevent slipping and sliding and is raised off the ground, which makes it convenient as it leaves no stain marks.
This bowl is available in a variety of color ranges like champagne, aquamarine, and vanilla bean to match your interior design. The edges of the bowl are well-polished and shaped to be safe for your pooch as well as give it an aesthetically pleasing look.
Pros:
Raised bowl to prevent spills and stains.
Wide construction.
Wide range of color options.
Cons:
Low-quality plastic.
Upper layer can damage in months.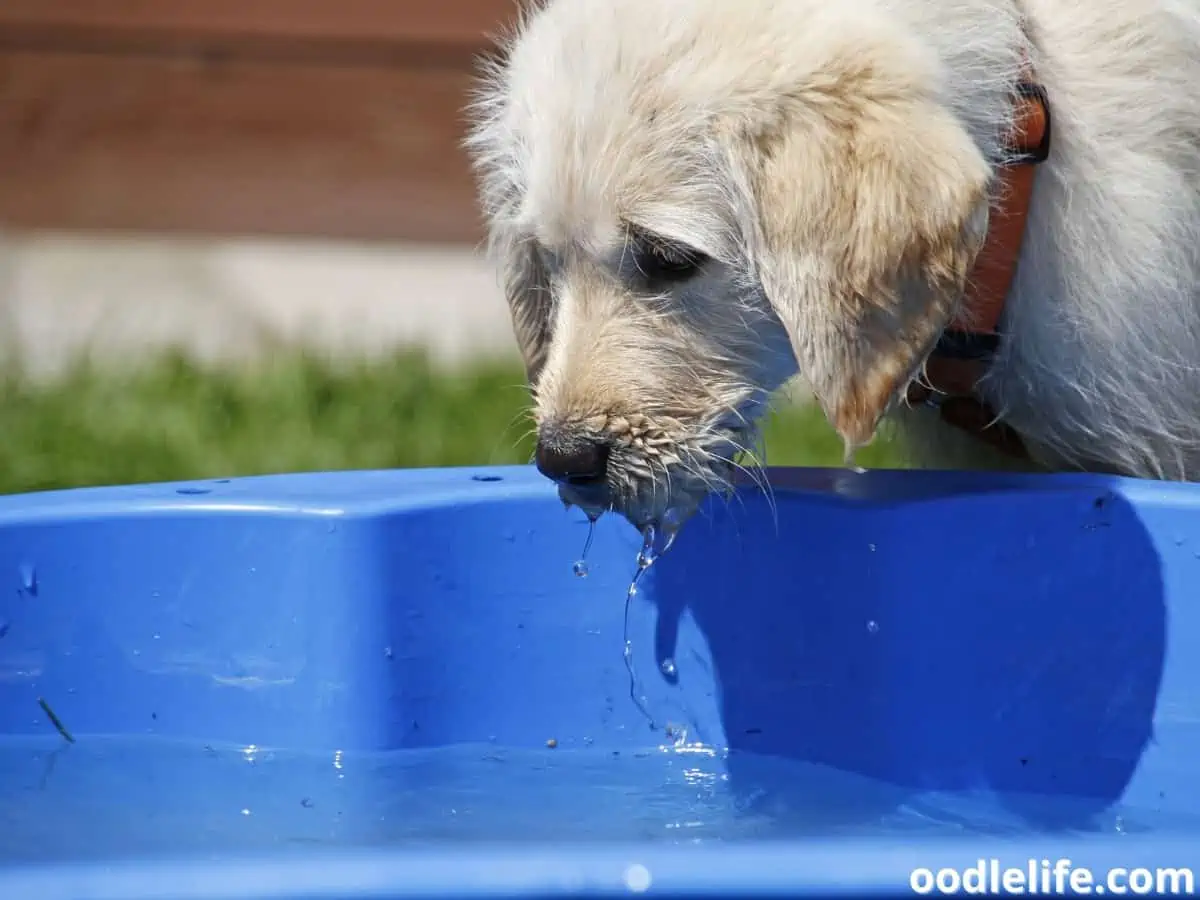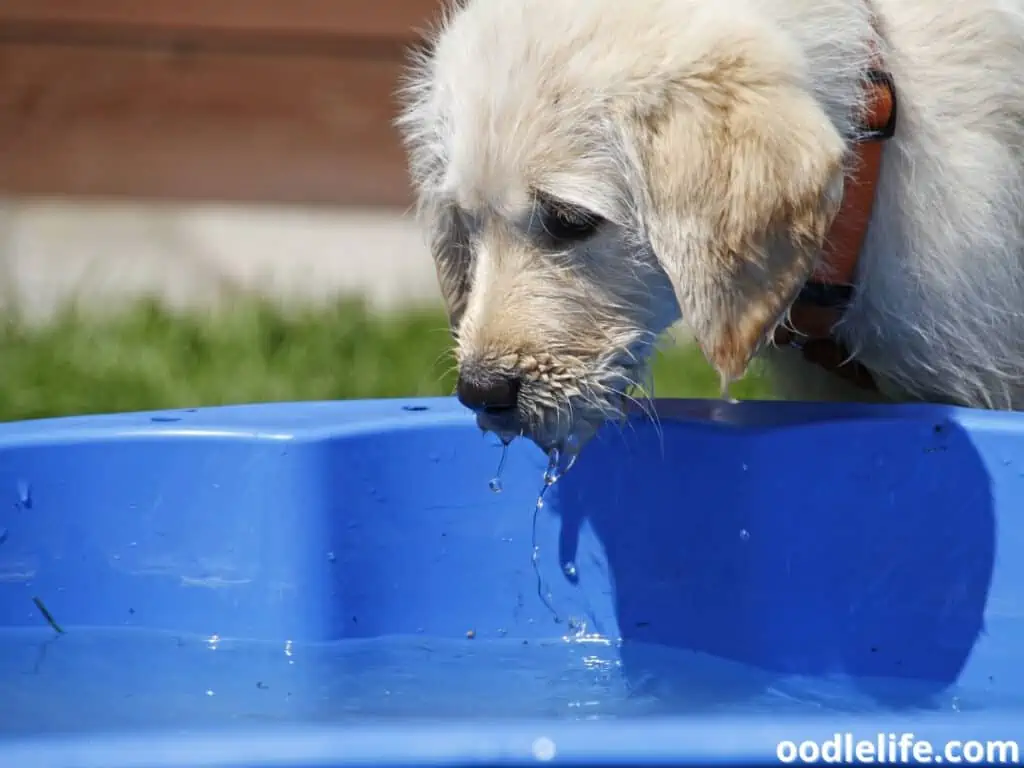 4. Maslow 88078 Standard Bowl, Stainless Steel
An oldie but a goodie, this stainless steel dog bowl of the Maskow brand is perfect for indoor and outdoor use. It can contain up to 136 ounces of water or 17 cups of kibble but is also available in various sizes.
Maslow 88078 Standard Bowl, stainless steel, 17 Cups/136 Ounce (Pack of 1)
Sold as "Maslow 88078 Standard Bowl, stainless steel, 17 Cups/136 Ounce (Pack of 1)" i.e. Customer receive "1 Bowl ", Size: 17 Cups/136 Ounce
Bowls are dishwasher safe
Available in multiple sizes to accommodate any pet
Offers durability and a variety of designs
Rust free, odor-resistant and non-chewable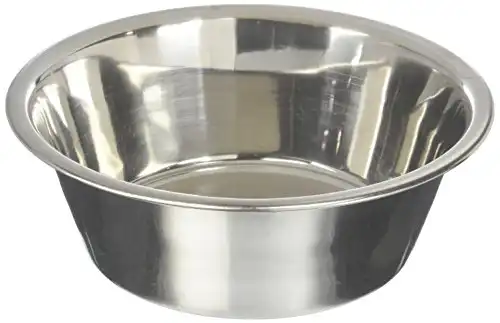 We earn a commission if you make a purchase, at no additional cost to you.
This polished- stainless steel bowl is easy to clean and dishwater safe, and the wide opening allows for easy access, even with large, flat-faced dogs like Boxers.
Pros:
Large huge bowl.
Durable and unbreakable.
High-quality stainless steel.
Cons:
Noisy and will clang if your pooch decides to play soccer with it!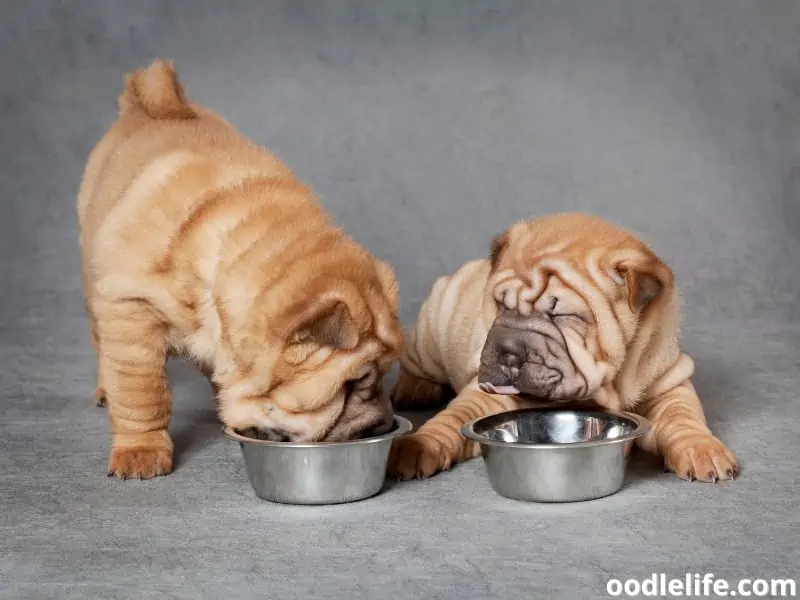 5. K&H Pet Products Thermal-Bowl Outdoor Heated Dog Water Bowl
Winter time and sub zero temperatures outside? No problem. K&H Pet Product's bowl is thermostatically controlled, heating up the water for outdoor use as the temperatures drop.
K&H Pet Products Thermal-Bowl Outdoor Heated Cat & Dog Water Bowl Gray 32 Ounces
COLD WEATHER USE: Heated pet water bowl prevents water from freezing, even in sub-zero temperatures, keeping your pet hydrated no matter the weather
ENERGY EFFICIENT: This 32 ounce gray heated water bowl is made with BPA free plastic and uses only 12 watts
QUALITY: Heated water bowl features a 5.5' steel wrapped abrasion resistant cord and electronics are safely sealed inside the bowl
AUTOMATIC: Thermostatically controlled to turn on and off as needed automatically; we recommend placing in sheltered area to protect from wind
SAFETY: We don't just use safety listed parts, we safety certify the entire product. This heated water bowl has been tested & certified by MET Labs and exceeds USA/CA electrical safety standards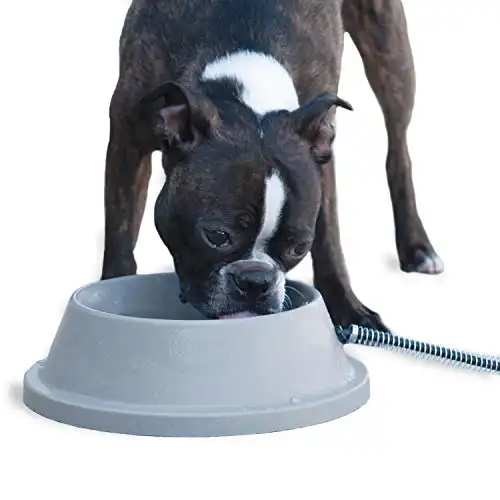 We earn a commission if you make a purchase, at no additional cost to you.
Made from BPA-free plastic, this 32-ounce heated water bowl uses only 12 watts and is ideal for places like a shed, barn, or garage.
The 5"5 abrasion cord is wrapped in steel and the electronics are safely secured within the bowl.
Pros:
Utilizes only 12 watts.
Certified safe.
BPA-free plastic is used.
Cord length 5.5 feet.
Cons:
Has been known to have durability issues.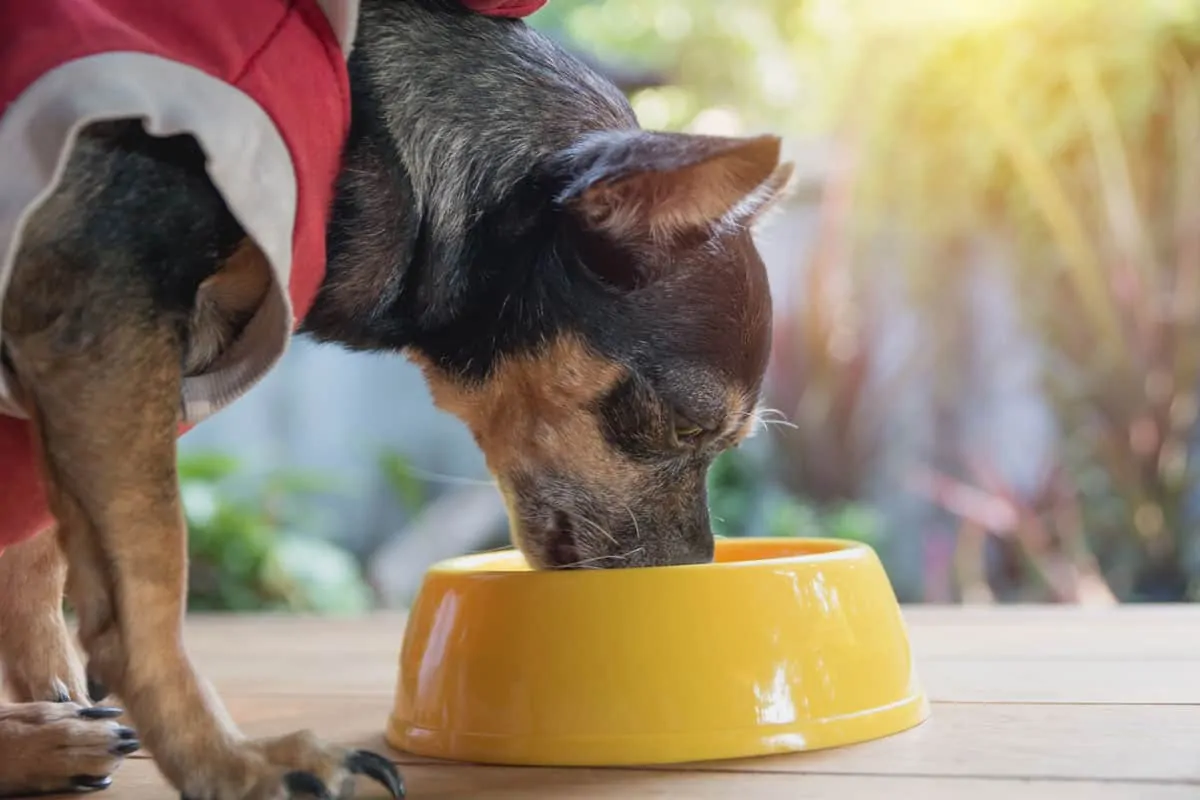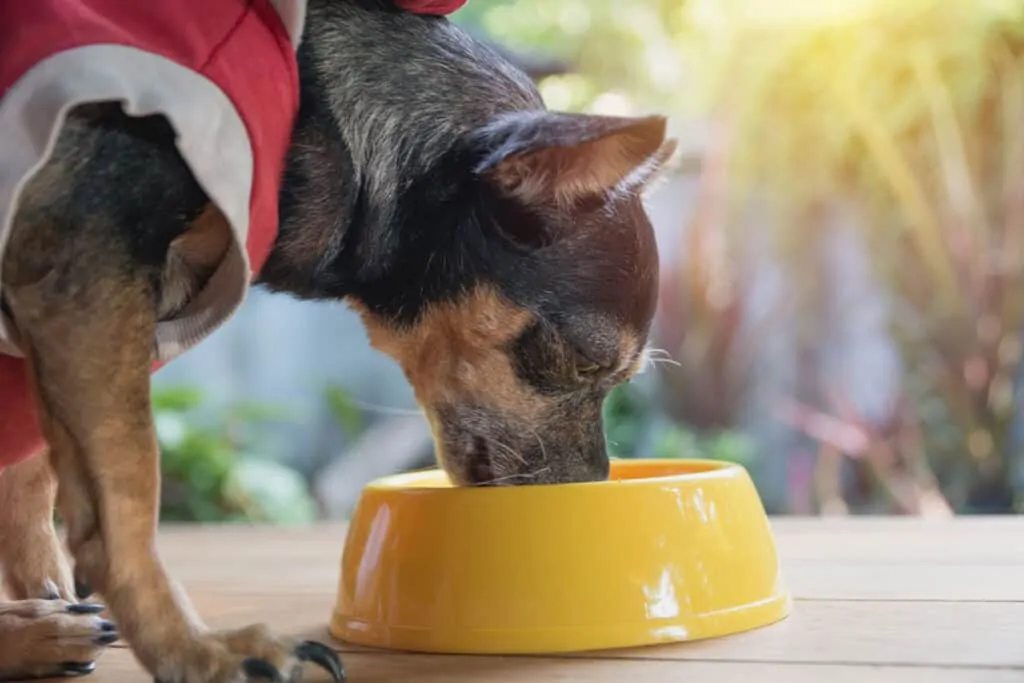 6. SUHEEUS Dog Bowl Raised Pet Food Bowls Puppy Bowls
These raised dog bowls by SUHEEUS are available in many color varieties and designed specifically to keep bugs out. Fill it with water and the outer circle of the bowl functions as a moat and prevents ants and other bugs from getting in the food or water.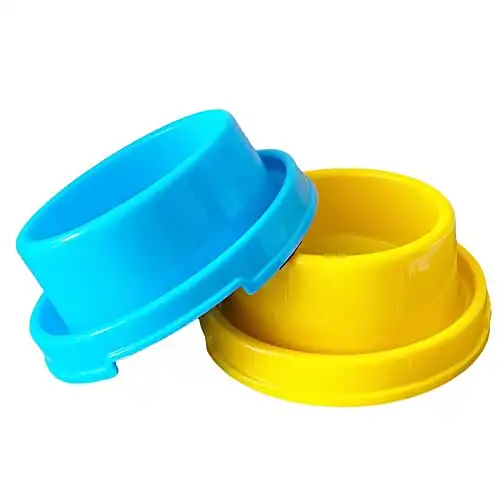 We earn a commission if you make a purchase, at no additional cost to you.
The wide base allowed by the outer circle also makes the bowl more stable, preventing spills and slips, and making it convenient for your pooch to eat and drink. Made of Polypropylene plastic, this bowl has a wide mouth opening making it easy to use, even for large breeds.
Pros:
Slip-proof constructed.
Wide large opening.
Unbreakable plastic.
Cons:
Larger bugs can crawl past the moat.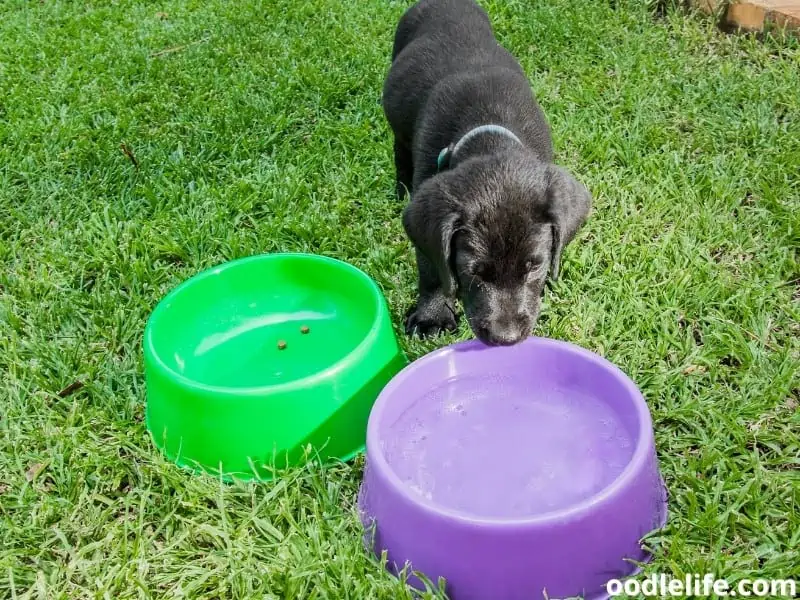 7. PetSafe Healthy Pet Water Station, Dog Water System with Stainless Steel Bowl
A combination of a water filter and a food bowl, this water system consists of a reservoir made of BPA-free plastic and available in 64, 128 and 320 ounces that feeds into a dishwasher safe, stainless steel bowl.
Activated carbon filters can be purchased separately to keep the water clean and fresh. These filters remove chlorine, sediments, and other bacteria from the water, making it safe and bacteria-free for your pooch.
Pros:
Available in three different sizes.
Removable tray for better cleaning.
Dishwasher safe bowl.
Carbon filter for deeper cleaning.
Cons:
Can develop a musty smell.
8. Van Ness Heavyweight Translucent Jumbo Crock Dish
This heavyweight translucent dish is appropriate for large dogs with a capacity of 106 ounces of wet food, dry food, or water.
Ideal for the big dogs and large appetites, this crock dish is made out of sturdy polypropylene and is available in a variety of colors at an affordable price.
Dishwater safe and easy to clean, this is a fuss-free, no-frill dish whose durability will stand up to even the most voracious chewers.
Pros:
Jumbo bowl for large dogs.
Polished plastic.
Can contain 106 ounces of water.
Cons:
Not heavy duty and might slide around.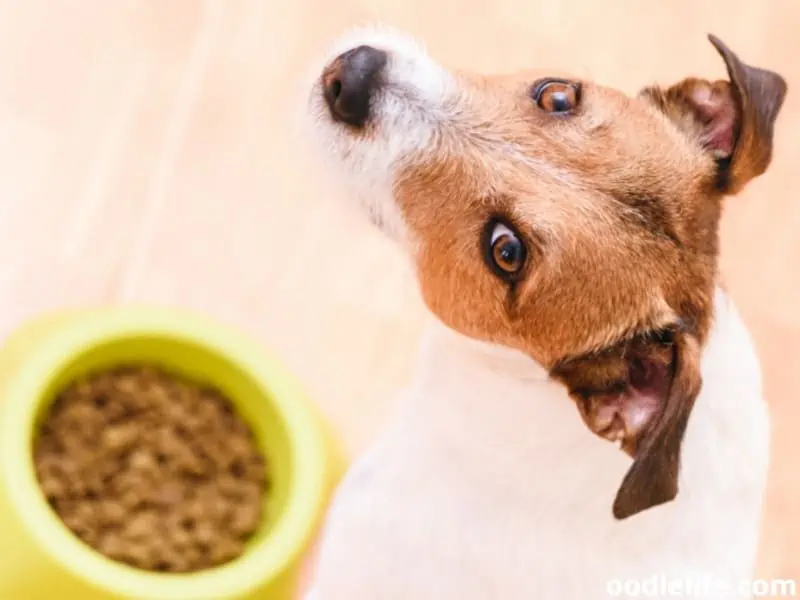 9. Farm Innovators Model SB-40 3-Quart Heated Pet Bowl with Stainless Steel Bowl
Another heated stainless steel bowl, this one comes with an anti-chewing cord, protecting you and your dog from getting zapped if your dog decides to suddenly eat the cord.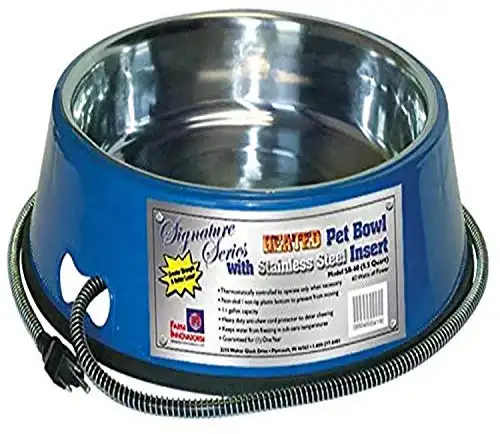 We earn a commission if you make a purchase, at no additional cost to you.
The thermostat feature of the bowl can be used when necessary by connecting the cord with the bowl and heating the water to a drinkable level with 40 watts.
It has an automatic turn off feature when the water reaches the ideal temperature. This 3-quart heated bowl has a non-skid and non-tip rubber bottom and a durable stainless steel insert that is easily cleaned.
Pros:
Rubber and textured base prevents slipping.
Turns off automatically.
Anti chewable cord.
Cons:
The insert isn't removable for easy cleaning.
Final Thoughts On Best Outdoor Dog Water Bowls
So the next time you are shopping for a water bowl, keep in mind that your dog is likely to be chasing the bowl around and knocking it about. Durability is key!
We hope this list has made it easier for you to buy the perfect outdoor bowl. Have fun!