Best Dog Food For Beagles
The bond with a true dog is as lasting as the ties of this Earth will ever be – Konrad Lorenz
Loyalty and trust are the key ingredients, along with undiminished and unconditional love, to forging a lasting and lifelong relationship with any dog. And however much affection you shower on them, a dog will return tenfold.
But Beagles aren't just any dogs, they're the feisty, playful clowns of the canine kingdom, whose incredible zest for life is equaled only by the strength of the bond that they form with their humans.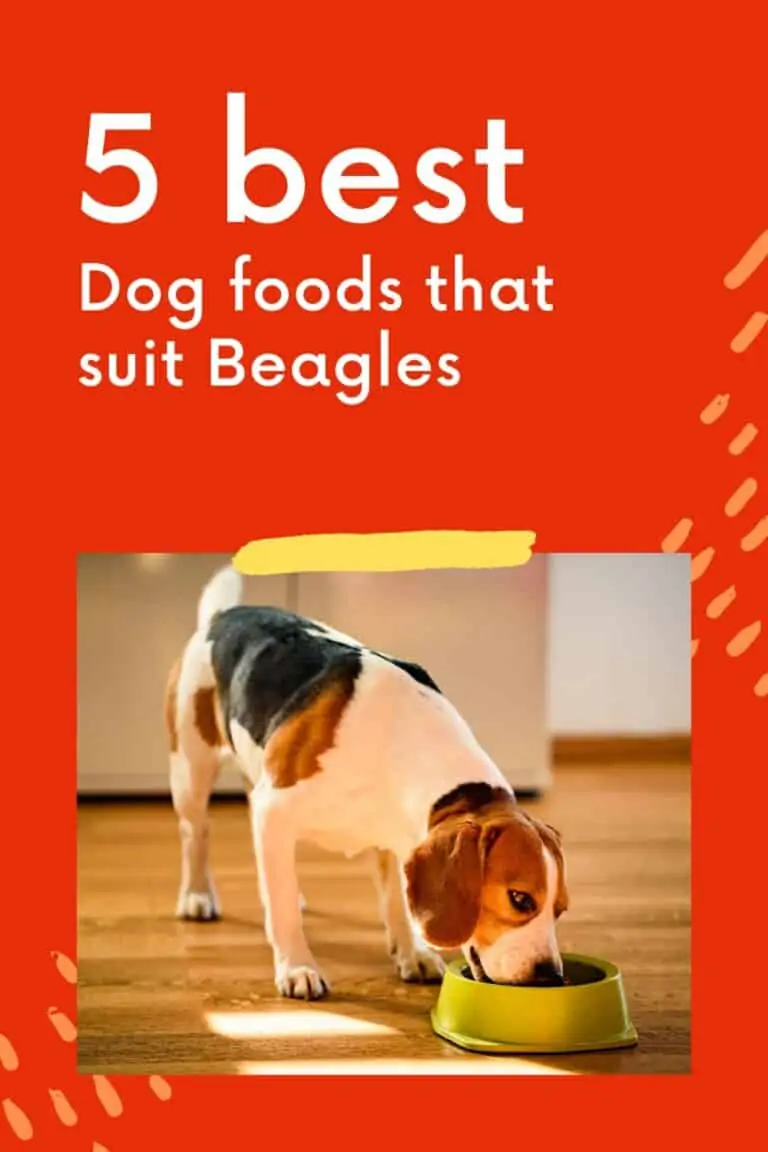 There's a reason Charles Schultz made Snoopy a Beagle and anyone who has ever spent more than five minutes with one of these mischievous hounds has been won over by their unique and unforgettable charm. Every day that you spend with a beagle is filled with a hundred happy moments that'll stay with you forever. [Plus a Beagle is John Wick's dog breed!]
That's why you'll want to make the most out of every second that you get to share with your boy, and embark on the sort of adventures with him that you'll be able to tell your grandchildren about.
And you'll want to make sure that your dog remains happy and healthy and greets each morning with reckless abandon and unfettered joy and that they never loses their passion for all of the things they loves to do, no matter how young he is or old he gets.
That's why it's important to feed him the right way and to make sure that the food that fills his bowl tastes good and imbues him with the sort of energy that means he'll never have to slow down. But with thousands of different dog foods claiming that they're the only one game in town and name you can trust, how do you know which food is the best one for your beagle?
Finding the right food for your boy is a difficult decision to have to make, but it's one that you don't have to make alone, as we've done all the hard work for you and have sniffed out the best dog food for beagles with a little help from our very own snoopy hound..
We've taken the time to find the foods that balance nutrition with taste and have been formulated with your beagle's health in mind, so that all you have to do, is choose one, fill your boy's bowl and watch his tail wag with unbridled jubilation as he eats his way to a healthier, longer and happier life. It's time to find the best dog for your beagle…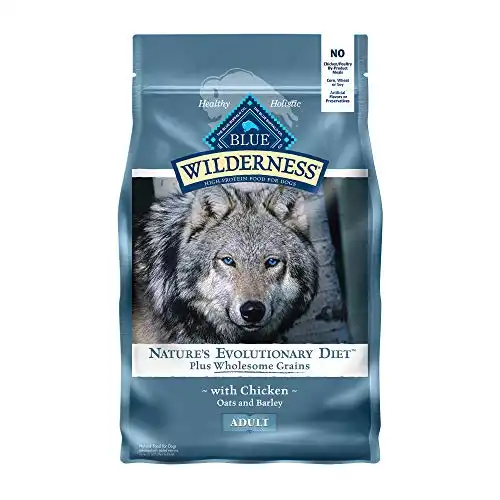 Beagles are driven by their nose and their natural curiosity, and following a scent, no matter where it takes them means that they need all the strength and stamina that they can get.
Which is why Blue Buffalo Wilderness is ideal for beagles, as its primary ingredient is designed to keep their muscles lean and healthy, and will help your pup to make sure that the chase isn't over until he decides it is.
Every Blue Buffalo recipe uses meat as its main source of protein, and the high-quality farm-fresh chicken that lies at the heart of Wilderness means that no beagle can resist the taste of this kibble.
Combining protein with wholesome grains and Blue Buffalo's patented LifeSource Bits, Wilderness contains all the antioxidants, nutrients, and fatty acids that your boy needs to lead the best life that he possibly can and make the most out of every day.
Completely natural and made with only the finest ingredients, Blue Buffalo doesn't contain any artificial flavors or preservatives and doesn't use any bulking or packing agents such as corn, soy, or wheat.
Everything in Blue Buffalo Wilderness has been carefully selected for one reason and one reason alone. To help your beagle to thrive.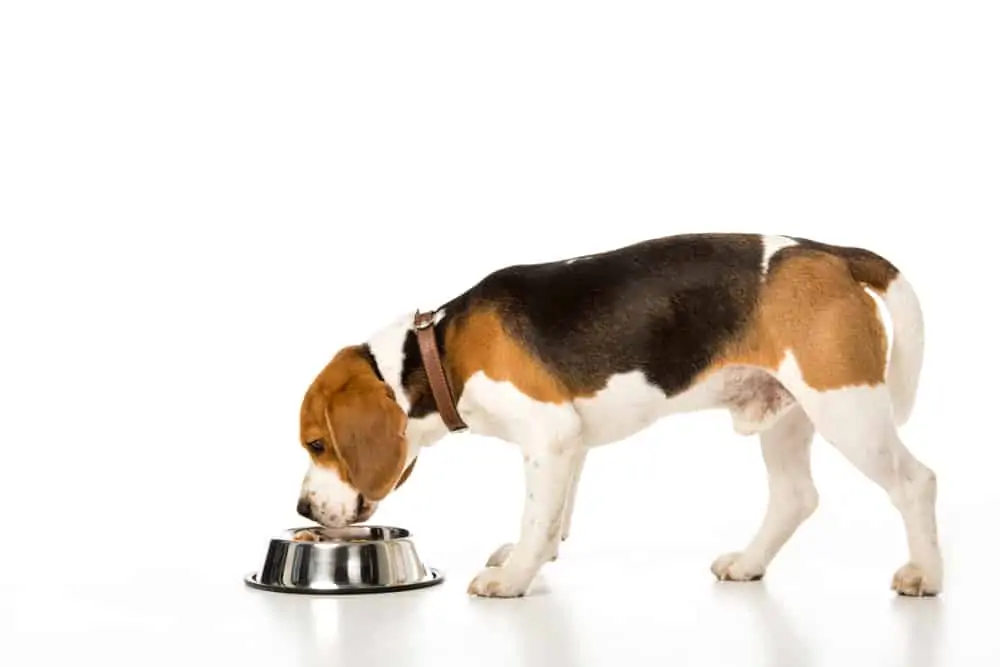 Pros
All Natural – Every ingredient in Wilderness is completely natural and has been enhanced with all of the vitamins and minerals that can help your boy to lead a long, happy and healthy life.
LifeSource Bits – Like every Blue Buffalo recipe, Wilderness includes their LIfeSource Bits which were carefully formulated by holistic veterinarians and animal nutritionists to boost your boy's immune system, and cater to all of his dietary needs at every stage of his life.
It's Chicken Time – Wilderness uses chicken as its primary protein, so it's been made to please the palate of even the pickiest of picky beagles and ensure that they'll keep coming back for bowlful after bowlful of their favorite new food.
Cons
Nothing Stays The Same – Blue Buffalo recently changed the recipe of their dog food, which made some long-time devotees turn their noses up and refuse to eat it. So it might be worth seeing if our boy actually likes it before fully committing to a Blue Buffalo diet.
Blue Buffalo Wilderness High Protein Natural Adult Dry Dog Food plus Wholesome Grains Chicken 4.5-lb
MORE CHICKEN IS COMING: An evolution of your dog's formula with more chicken than ever, plus wholesome grains
INCLUDES WHOLESOME GRAINS: Complex carbohydrates from wholesome grains help fuel your adult dog's energy needs to support an active lifestyle. Plus, it contains omega 3 & 6 fatty acids to support...
ANTIOXIDANT-RICH LIFESOURCE BITS: A precise blend of antioxidants, vitamins and minerals carefully selected by holistic veterinarians and animal nutritionists to support immune system health, life...
NATURAL DOG FOOD: BLUE dry dog food is made with the finest natural ingredients enhanced with vitamins, minerals and other nutrients and has NO chicken (or poultry) by-product meals, NO corn, wheat or...
Contains one (1) 4.5-lb bag of BLUE Wilderness High Protein Natural Adult Dry Dog Food plus Wholesome Grains, Chicken 4.5-lb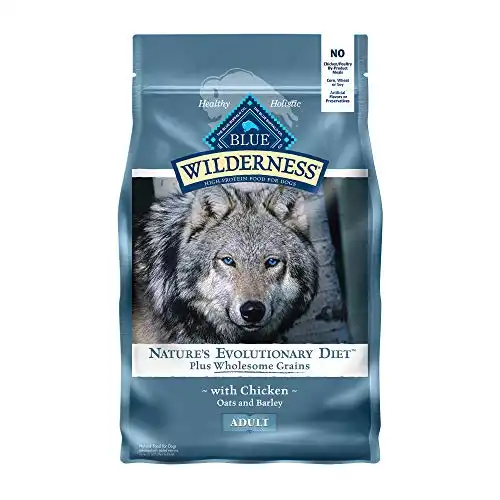 We earn a commission if you make a purchase, at no additional cost to you.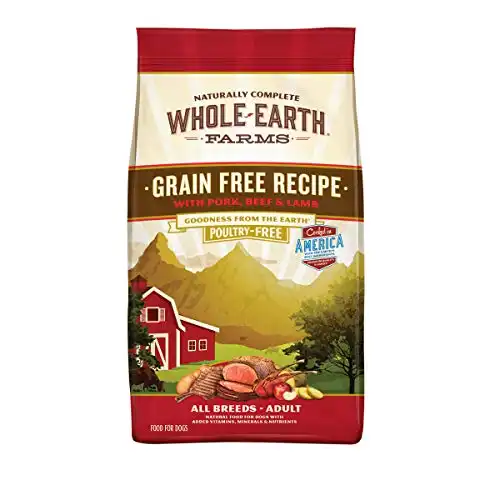 Whole Earth Farms are proud of the fact that all of its dog food is naturally nutritious and offers a completely balanced diet that's entirely derived from all of the best ingredients that the Earth has to offer.
And they should be proud of it, as they haven't let profit get in the way of creating food that only uses the best that nature provides. They put your pet's health before their needs, which is something that needs to be lauded and supported in the increasingly materialistic age in which we live.
If your boy is one of those rare beagles who has a sensitive stomach, then Whole Earth Farms could be the answer to your prayers. Completely grain and poultry free, it's as easy on a dog's tummy as it is tasty and uses high-quality protein and ingredients to make it easy for your boy to digest all the vitamins, fatty acids, and nutrients that it contains in abundance.
Formulated to keep your beagle's muscles lean and strong, his skin and coat healthy and shiny and to make sure that he never runs short of all the energy that he needs to lead an active life, Whole Earth Farms Grain-Free Dry dog food will be your beagles best friend at dinner time and the one pal that he'll never grow tired of spending time with. 
Cooked and made right here in America, Whole Earth Farms kibble only includes the best and leaves out the rest. They don't believe in using artificial flavoring, colors, or preservatives and refuse to use bulking agents like soy, corn, and wheat, as they believe that the health of your best friend is the most important thing in the world. And that's a belief system that every beagle owner can get behind.
Pros
Completely Natural – If an ingredient doesn't appear in nature, then Whole Earth Farms don't, and won't include it in their kibble. They only use the finest ingredients that the Earth provides and wouldn't dream of using anything else.
Protein-Rich – The primary and main ingredient in every batch of Whole Earth Farms dog food is always protein, which will help your beagle to maintain his build, will keep his muscles lean and strong, and fill him full of the sort of energy that he needs to tackle life head-on and without compromise.
And It's Made Right Here… – Whole Earth Farms formulate and cook all of their dry dog food right here in the US. They're a name you can trust and a brand that your boy will adore.
Cons
A Little Harder On The Pocket – Even though they've made their kibble to be as affordable as possible, it's still a little more expensive than a lot of other dog food, so if you want to feed your beagle the Whole Earth Farms way, make sure you have the budget for it.
Whole Earth Farms Grain Free Recipe Dry Dog Food, Pork, Beef & Lamb, 25-Pound
One (1) 25 lb Bag - Whole Earth Farms Grain Free Dog Food, Pork, Beef and Lamb Recipe, Dry Dog Food
The first ingredient in this natural dog food Whole Earth Farms recipe is high-quality protein, made with a blend of pork, beef and lamb and contains no corn, soy or wheat ingredients
This pork, beef and lamb dog food Whole Earth Farms recipe is crafted with a Wholesome Harvest Blend that provides omega fatty acids for healthy skin and coat and antioxidants for a healthy immune...
Developed with veterinarian and nutrition experts, this natural dry food for dogs contains glucosamine and chondroitin to support healthy joints
Serve your dog dry food with field grown vegetables that add fiber for healthy digestion as well as vitamins and minerals for a balanced diet with this grain free dry dog food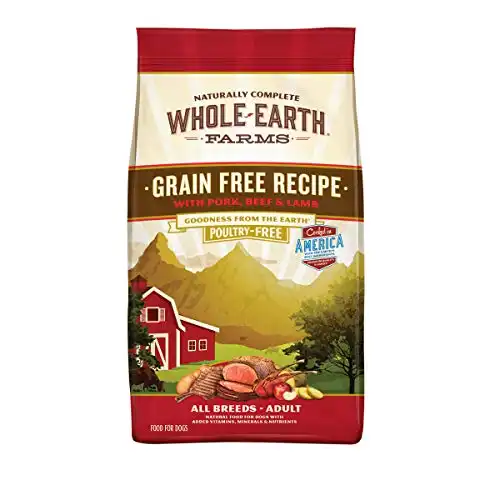 We earn a commission if you make a purchase, at no additional cost to you.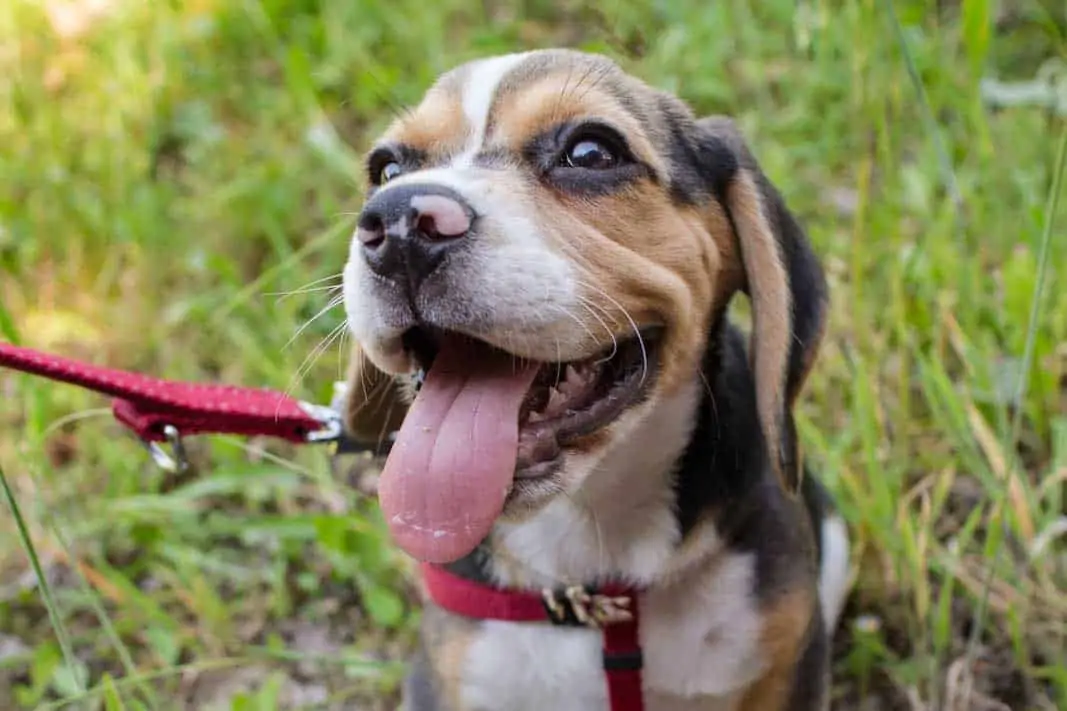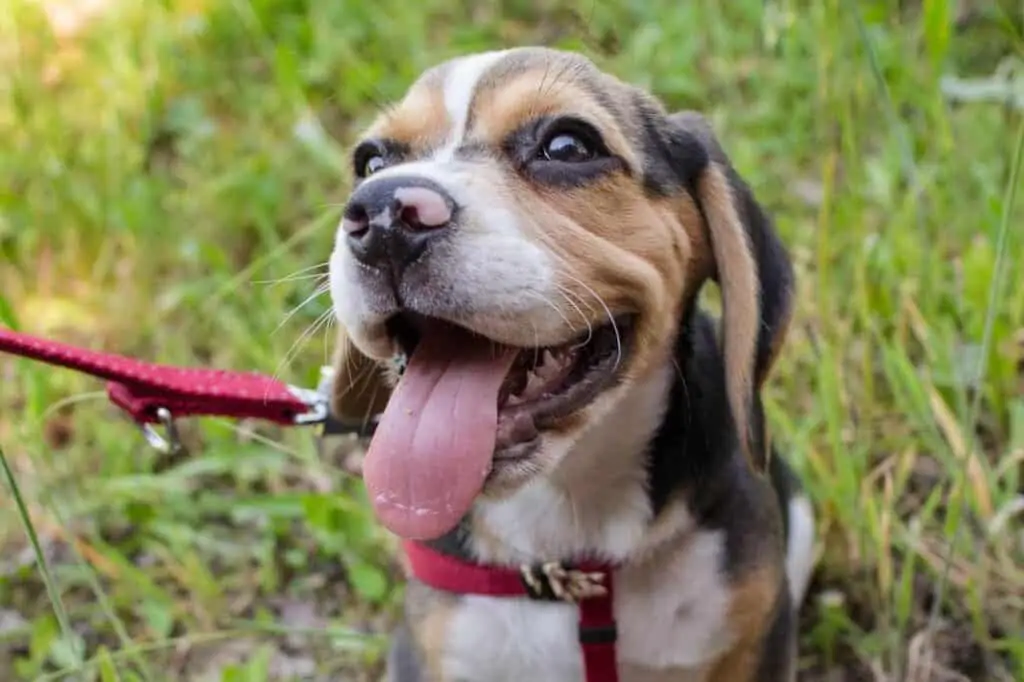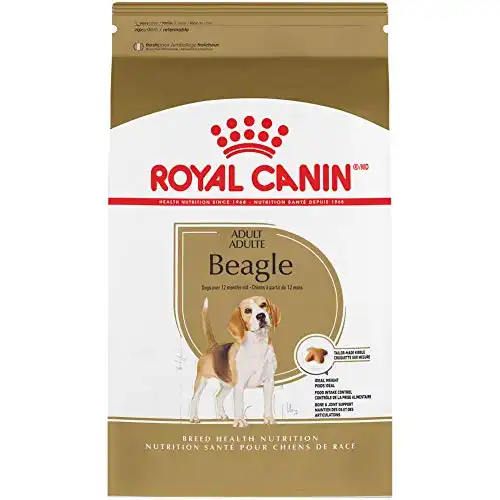 Royal Canin partners with breeders, veterinarians, and nutritionists to study the specific dietary needs of every breed of dog so that they can formulate and create the perfect food to cater to all their life and health needs at every stage of adult development. And their beagle-specific dry food has become a firm favorite with Peanut and all of his beagle pals.
The kibble has been designed to make sure that beagles chew and savor it rather than gulp it down, which ensures that all of the vitamins and nutrients that it contains will be properly digested by your boy.
Beagles are famous the world over for their love of food, and if given the chance will eat until they burst, which means that as a breed they have a tendency to pile on the pounds and are prone to obesity.
But Royal Canin has found a way to combat that, and their food not only contains the perfect number of calories to help your boy to maintain an ideal weight, it also includes a patented blend of fiber that's been created to help your beagle to feel "full" and control his appetite.
As well as helping your boy to fulfill the impossible dream and actually feel like his tummy is full, Royal Canin's breed-specific food is also packed full of the nutrients, fatty acids, and vitamins that he needs to thrive and enjoy every day of his long life.
If you're in any doubt about this kibble, just take a look at the packaging and the happy beagle on the front of it. That'll be what your boy looks like after he's enjoyed a bowl or five of this kibble.
Pros
Breed Specific – Royal Canin has designed this dry food to contain everything that an adult beagle needs to make the most out of life. Nutritionally, it's perfect for your boy.
Weight Control And Balance – The unique blend of fiber that it contains is designed to make your boy feel full and control his appetite, while the calorie content of the kibble has been carefully measured to ensure that your boy will maintain an ideal weight.
It's Paw Lickin' Good – Remember what we said about beagles and chicken earlier? That's why Royal Canin has used chicken as the primary ingredient in their kibble.
Cons
Bank Busting – Unfortunately, all that breed-specific nutrition and purpose-designed weight control comes at a cost, which means that this kibble isn't exactly cheap.
Royal Canin Beagle Adult Breed Specific Dry Dog Food, 6 lb. bag
FORMULATED FOR PUREBRED BEAGLES: Royal Canin Beagle Adult Dry Dog Food is designed to meet the nutritional needs of purebred Beagles 12 months and older
SPECIALIZED KIBBLE: Unique kibble is designed specifically to help Beagles chew and eat food slowly
EXCLUSIVE FIBER BLEND: Supports weight management to help Beagles feel full
WEIGHT CONTROL: Appropriate calorie content helps maintain an ideal weight and promotes weight control
BONE AND JOINT SUPPORT: Glucosamine and chondroitin support athletic, sturdy builds and promote bone and joint health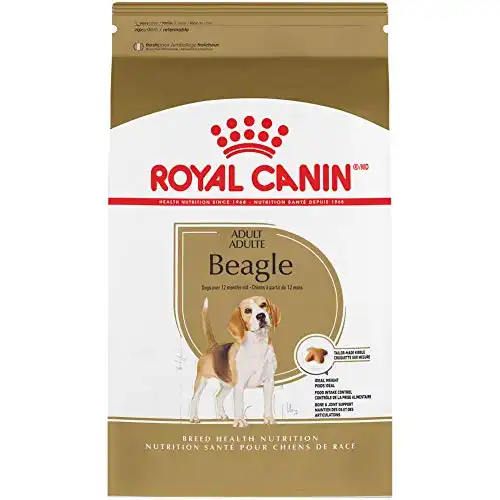 We earn a commission if you make a purchase, at no additional cost to you.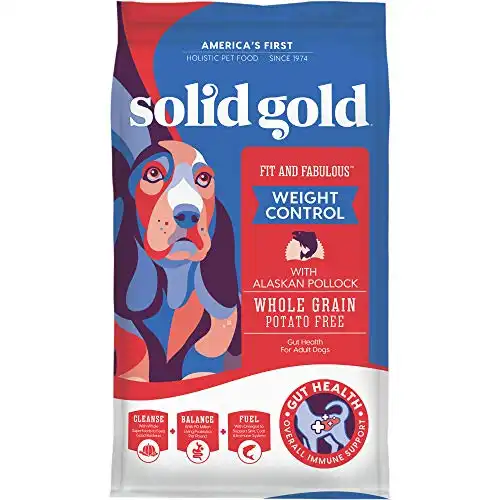 While the idea of a holistic diet is becoming increasingly popular among humans, the idea that it's as beneficial to, and for, dogs as it is their two-legged companions isn't exactly shaking the foundations of the four-legged world.
At least it wasn't until Solid Gold started making waves just over four decades ago, and made sure that clever, savvy dog owners began to realize the long-term health benefits of feeding their best friends the holistic way.
Using a carefully balanced combination of twenty different superfoods and Pollok as its primary source of protein, Solid Gold's Fit & Fabulous low carb, low calories holistic grain-free dog food is designed to help your beagle to maintain an ideal weight and not go overboard when his bowl is placed in front of him. (You can also use a slow feeder to help with a Beagle that scoffs food too quickly)
Containing all of the vitamins, minerals, fatty acids, and nutrients that your beagle needs to stay sharp, focused, and alert at every stage of his life, this holistic kibble is completely natural.
Free from artificial flavoring and preservatives, it's been formulated to create a healthier, and tastier way to satisfy all of your best friend's nutritional needs.
Pros
Superfood Central – The combination of superfoods and protein that this kibble contains ensures that all of your beagles' nutritional needs will be met at every stage of his life.
Weight Control – It's a low carb, low-calorie kibble that'll help your boy to feel full and help to prevent him from piling on any unwanted pounds.
Probiotic Goodness – Solid Gold have also packed their food with probiotics to help with your boy's digestion, so he can easily, and fully absorb all of the vitamins, minerals, and fatty acids this kibble contains
Cons
It's A Taste Thing – Some beagles like it and some don't, and you won't know which camp your boy is in until he tries it.
Solid Gold - Fit & Fabulous - Potato-Free Fresh Caught Wild Alaskan Pollock - Holistic Weight Control Adult Dry Dog Food - 24 lb Bag
Treat Your Dog to Something Fab! - Solid Gold Fit and Fabulous weight control dog food is a gluten and grain free dog food that supports gut, immune, skin, and coat health for any adult breed.
Premium Weight Control - This low fat, low calorie recipe is made with real Alaskan pollock for a lean, nutrient rich source of protein that keeps calories and fat lower to support a healthy weight.
Probiotic Support for Canine Wellness - This delicious dry dog food features probiotics that support digestive health, gut flora, and immune support for dogs.
The Best Quality Ingredients - Loaded with superfoods, antioxidants, and omega fatty acids that can support skin, coat, and immune system health for pet dogs of small, medium, or large sizes.
High Fiber, Zero Filler - This natural dog food is packed with fiber rich peas, pearled barley, and brown rice to support healthy digestion and to help your dog feel full so they'll wag with delight.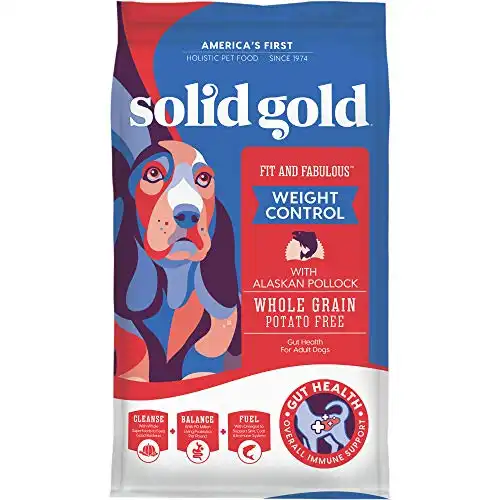 We earn a commission if you make a purchase, at no additional cost to you.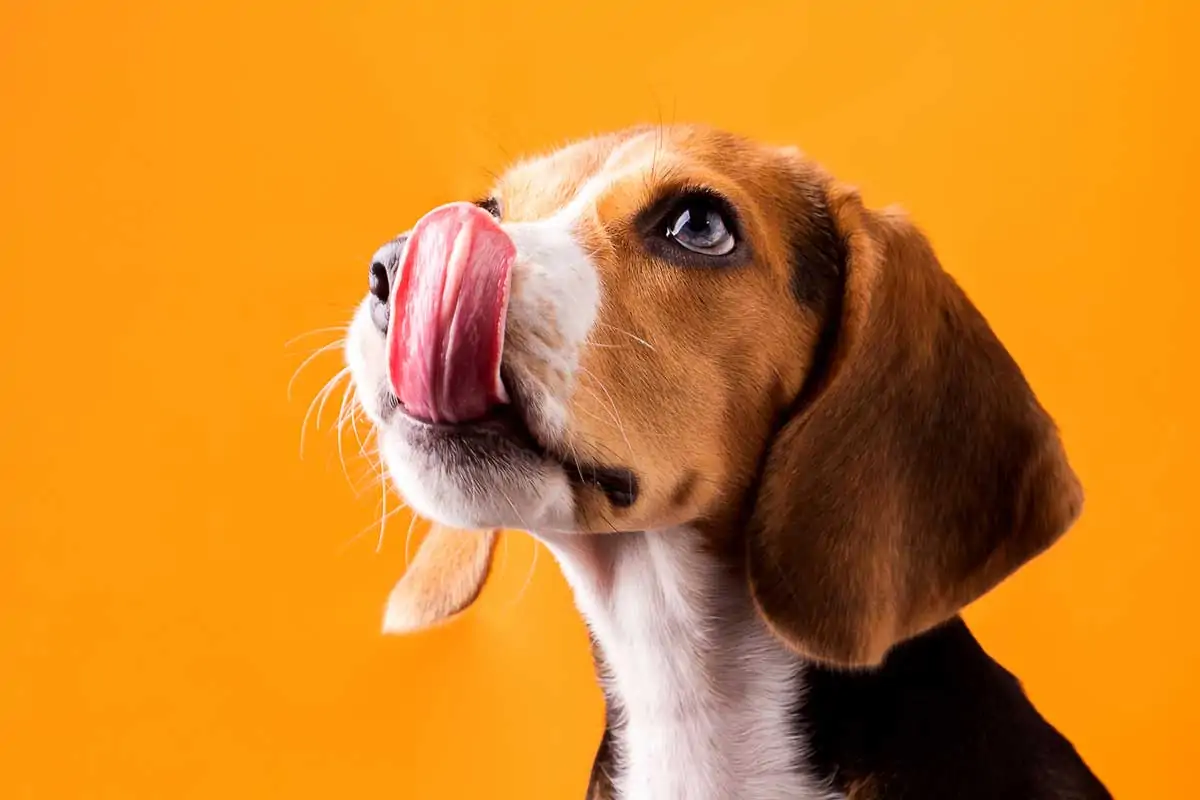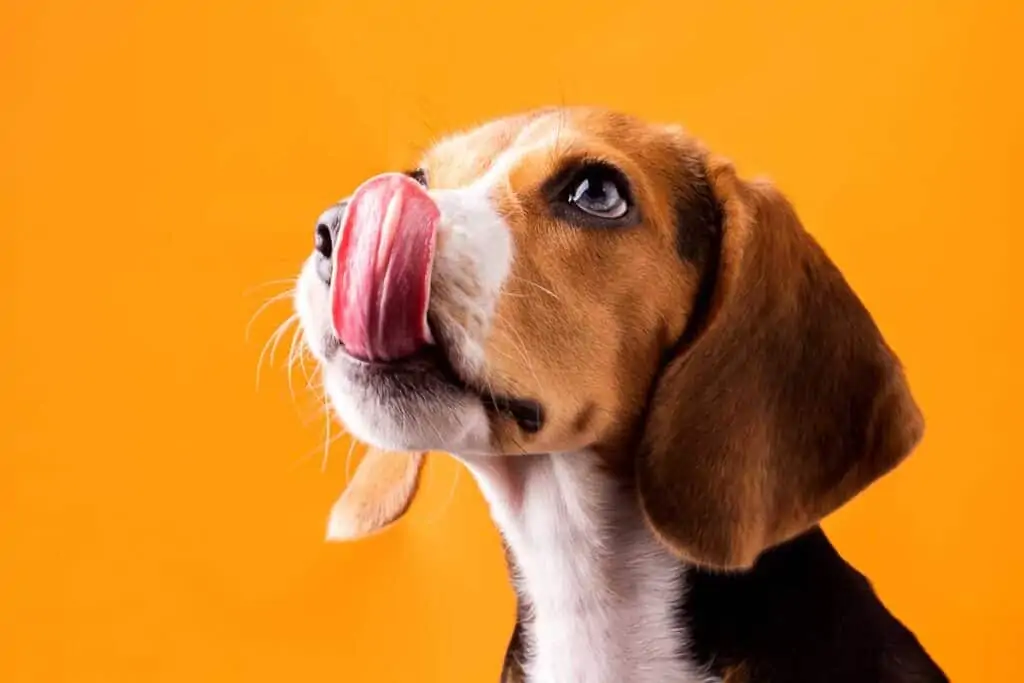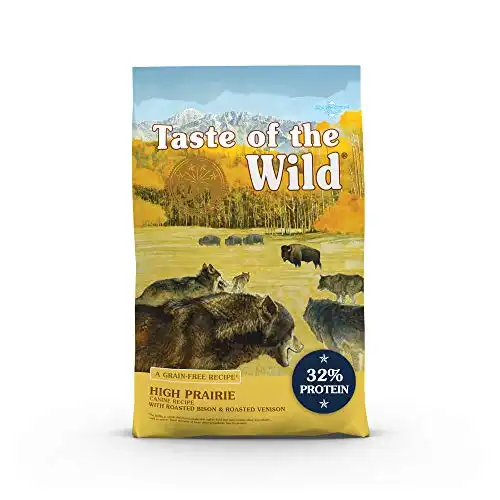 Taste of the Wild was created to mimic the natural, historic diet of dogs, and while we'd be hard-pressed to imagine Peanut chasing down and catching a Bison for dinner, we have to admit that he loves to get stuck into a bowl of this kibble and doesn't lift his snout until every morsel is gone.
A protein-rich kibble that uses vegetables to fill out the rest of its ingredient list, Taste of the Wild contains all of the vitamins, minerals, and fatty acids that your beagle needs to keep him lean, strong, looking good, and feeling healthy.
All of the proteins it uses were pasture-raised, and the patented probiotic mix that Taste of the Wild adds after their kibble has been cooked ensures that your boy can easily and fully digest this protein-rich, healthy food.
While science maintains that dogs are just two generations away from being able to fully integrate back into the wild again, this taste of the old ways is delicious and nutritious and enough to make your beagle remember what it was like to be a wolf without having to give up his spot on the sofa.
Pros
The Old Ways – Designed to imitate the historic diet of dogs, Taste of the Wild is a flavor-filled extravaganza that manages to combine a great tasting kibble with all of the nutritional benefits that science has to offer.
Absolutely Natural – All of the ingredients that go into Taste of the Wild are completely natural, so it's free from artificial preservatives, flavors, and colors and doesn't contain any grains or unnecessary bulking and packing agents.
Cons
It's a Taste Thing – Again, it's an acquired taste and your boy will either love it or hate it and you won't know which side of the fence he falls on until you fill his bowl with it.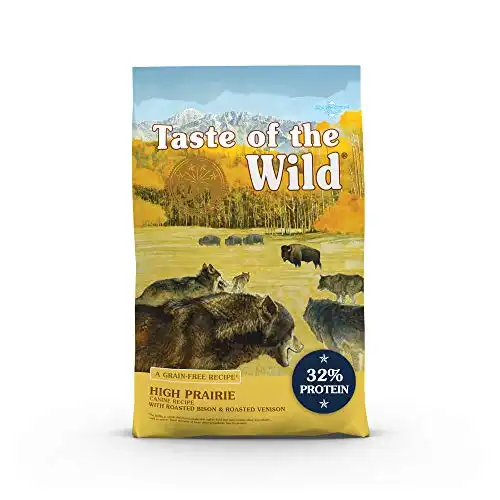 We earn a commission if you make a purchase, at no additional cost to you.
Buyers Guide
Which Dog Food Is Best For My Beagle?
The dog foods on our list could have been (and in at least one case, actually was) specifically formulated to keep your beagle happy, healthy, and active.
Any of them would be perfect for your best friend and the only thing that separates them is their price. So, work out your budget, and as soon as you know what it is, take another look at our list and the right food for your boy will soon make itself known.
If, however, you were to ask Peanut which of the foods that he thinks you should feed your boy, he wouldn't be able to tell you because he's a beagle and he can't talk.
But we're pretty sure that he'd want you to feed your boy with either Royal Canin Beagle or Taste of the Wild. They're his favorites, and as we always say, when it comes to beagles, Peanut knows best.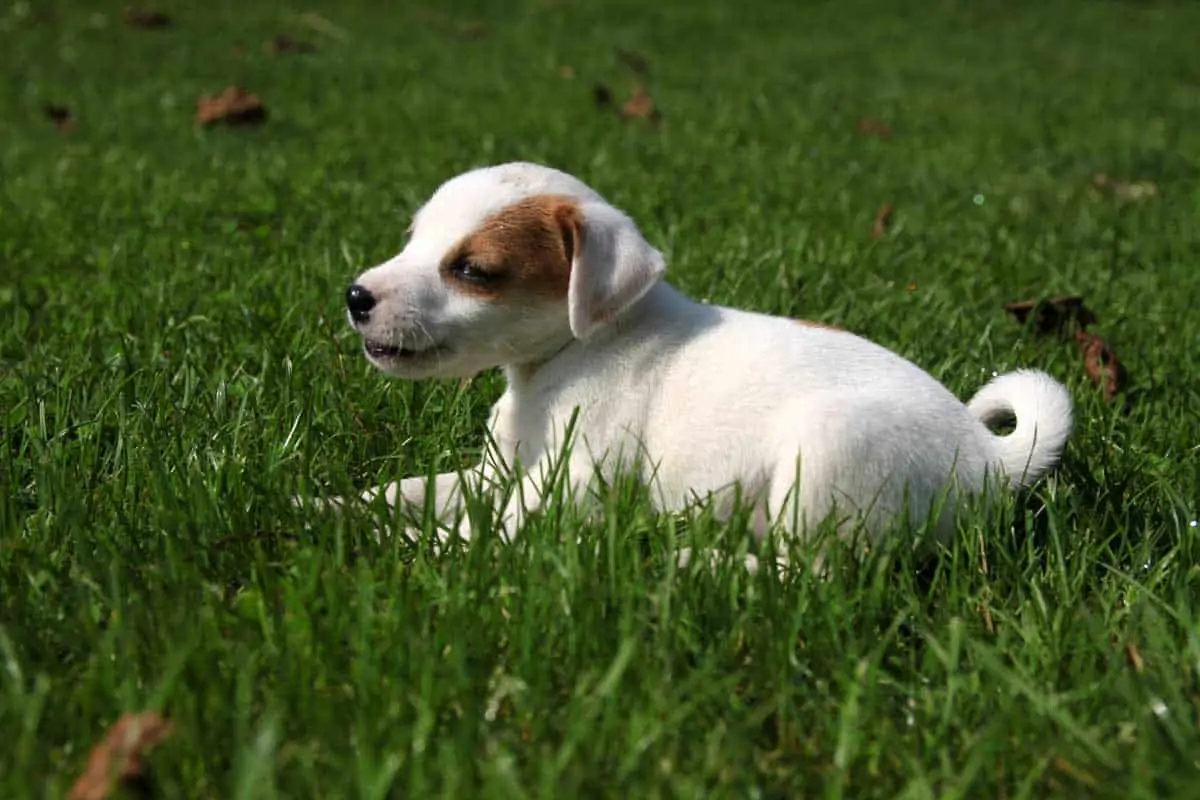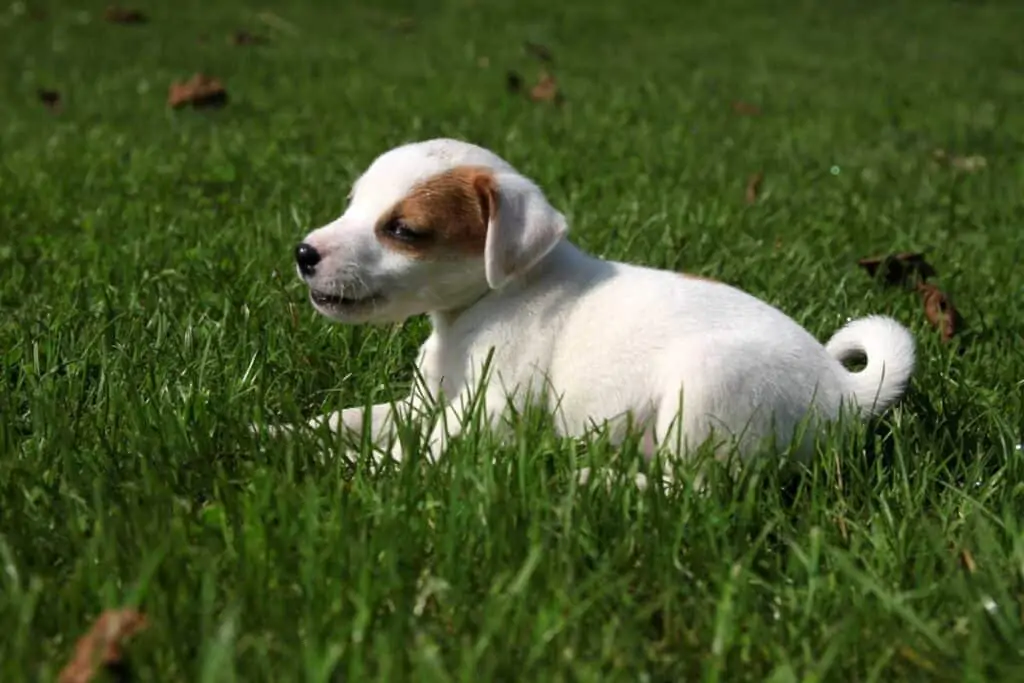 Frequently Asked Questions
What Is A Beagle?
Beagles might have originally been bred to hunt and track prey by scent but these small to medium hounds have become one of America's most beloved breeds of dogs thanks to their fun-loving, easy-going nature and having been immortalized by Charles Schultz as Snoopy.
Because they're pack-oriented, beagles love to spend time with their families and are loyal devoted companions who love nothing more than cuddling up on the sofa, going for long walks, and enjoying every single second of life.
Beagles are great with kids and have a long lifespan.
They also love to play and if they can't enjoy a good game of fetch with their humans and can't rough house with other beagles, then they're just as happy to find a game to play with your, or your neighbor's cat. Beagles love everyone and everything.