USA Made Dog Bowls (Steel and More)
So, you want to buy a new dog bowl? Whether you're making this purchase for a new family or your current pet, you're probably surprised by all the options. Dog bowls come in various materials, and manufacturers produce them to fit all sorts of needs.
Thankfully, you can buy just about anything you have your heart set on.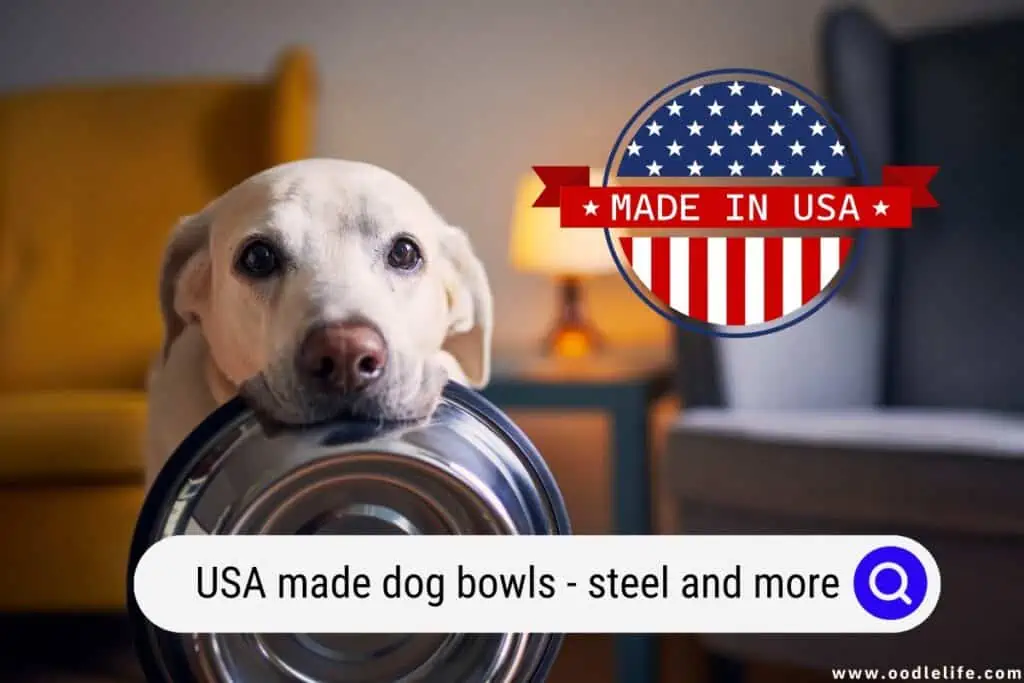 But what if you're specifically looking for USA-made dog bowls? That can be tricky, but I'll help you understand what to look for to get what you want for your furry friend.
Types of USA-Made Dog Bowls
The three primary materials you can find dog bowls made out of are stainless steel, ceramic, and plastic. You won't have a problem finding these three types between online shopping and brick-and-mortar stores.
There are some differences between each, so we'll go over them in more detail to help you make your choice.
Stainless Steel Dog Bowls
Dog bowls made from stainless steel are easily the most popular. The material is durable, easy to clean, and holds up to much abuse. They're also neutral regarding aesthetics; they can match any decor with a suitable stand or mat.
Since they're so popular, they're easy to find and widely available.
The downsides are that some dogs might not like the clatter of a stainless steel bowl, and because they're metal, you can't microwave them.
Ceramic Dog Bowls
What makes ceramic bowls fun is that many manufacturers produce them in fun colors and designs. This benefit makes them appealing to trendy pet owners or those who want to personalize their pet dishes.
Unfortunately, ceramic bowls can suffer the same fate as a dish or mug. They'll break if you drop them on the floor the wrong way. Oops!
Plastic Dog Bowls
Plastic bowls also maintain a strong fanbase. They're generally durable, can be microwaved, come in fun colors and designs, and you can personalize them.
What's the downside?
Well, if you have a dog that's a big chewer? They might enjoy working their jaw muscles out on that fancy personalized dish you just bought for them.
How To Find USA-Made Dog Bowls?
There are plenty of reasons to buy dog bowls made in the USA. Some owners want to ensure they know the bowls they're buying are made with safe materials, while others prefer American goods.
Either way, you're going to want to know how to find out if the bowls are USA-made or not.
Look for Made in USA Label
For many companies, producing goods in the USA is a big point of pride. You'll find a 'Made in USA' sticker or label on the bowl.
There are even federal laws about this label. It cannot be used on a product unless "all or virtually all" is manufactured in the USA.
So if you see that label, it's legit.
Check Company Website
Finding the label might be problematic if you're purchasing from a website because you won't have the physical product in front of you.
Like with the labels, companies are usually very outspoken if they have the 'Made in USA' status. You should find mention of it on the product page or in the About Us section.
Check Retailers
For the 3rd party retailers, look at the product description section. If the company made the dog bowl in the USA, you should find it listed there.
Reach Out to Customer Service
When all else fails, and you still have questions about where the company made the bowl? You can reach out to customer service. You can find that number or email for most products on the site.
Most companies have responsive customer service, and they'll be able to answer your concerns.
Best USA-Made Dog Bowls
You have many options for great USA-made dog bowls. But to help you get started, I've included a list of my five favorites to get you started.
1. Primitive Bone-Shaped Solid Wood Dog Bowl
This uniquely shaped stand for feeding is an elevated feeder, meaning that it's above the ground and ideal for medium and large dogs. Two stainless steel bowls come with this stand, and it's one of my favorites based on personality alone.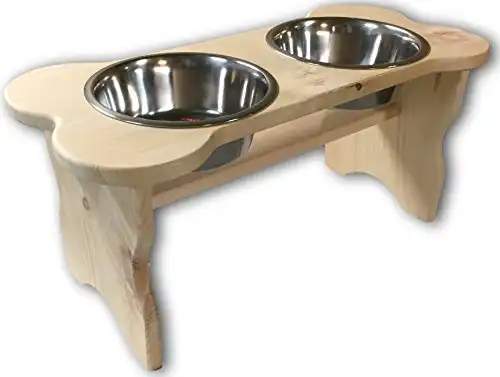 We earn a commission if you make a purchase, at no additional cost to you.
The wood is unfinished, so you can stain it or paint it to match your decor. This feature also made it a con on my list. While I enjoy getting to personalize it, other people might want to avoid the hassle of the price.
Pros:
Solid pine
Easily cleaned
Comes with two bowls
Can be painted or stained to suit
Appropriate for medium or large dogs
Elevated for comfort
Cons:
It can be a bit costly.
Unvarnished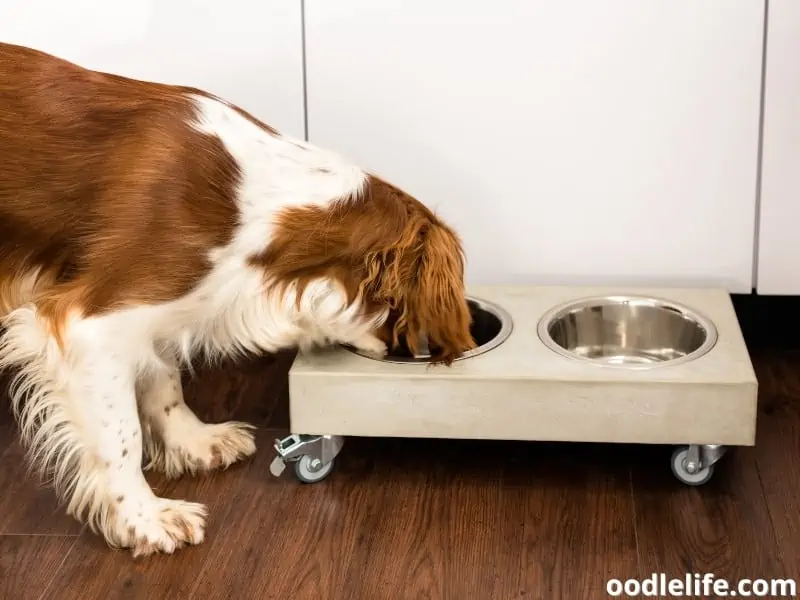 2. Our Pets Comfort Diner Elevated Dog Food Dish
This elevated dog food dish definitely contrasts with the previous one on the list. It's a little less stylish and trendy, but it makes up for that in a nicely simplistic utility. Made from plastic, this stand is easy to clean.
OurPets Comfort Diner Elevated Dog Food Dish (Raised Dog Bowls Available in 4 inches, 8 inches and 12 inches for Large Dogs, Medium Dogs and Small Dogs), Black, 12-inch
HEALTHY DINING EXPERIENCE: Elevated dog bowls and raised dog bowls provide a healthy feeding position that can help aid in digestion. The Comfort Feeder is an elevated dog bowl, dog water bowl, and...
REDUCE JOINT STRESS: Using a raised dog feeder helps to reduce stress on joints and bones – This makes our elevated dog bowls and dog feeder perfect for more mature dogs and an ideal raised dog bowl...
YOUR PET STAYS HYDRATED: Our raised dog bowl serves as a constant water supply by removing one stainless steel dog bowl and attaching any two-liter water bottle making this an automatic water bowl for...
RUST RESISTANT AND EASY TO CLEAN: Includes two removable, stainless steel dog bowls that are easy to clean and top rack dishwasher safe.
ELEVATED DOG BOWL & PET FEEDER DIMENSIONS: OurPets largest 12" comfort feeder measures 27" x 15." x 12" and holds 5.5 cups of dry dog food in each dog bowl making these great elevated dog...
We earn a commission if you make a purchase, at no additional cost to you.
The price is affordable, and the dish does what you'd expect it to do.
Offered in four inches, eight inches, and 12 inches, you can find the right height for your dog. Doesn't every dog deserve to be comfortable when eating?
Pros:
Plastic stand, wipe clean
Three sizes
Elevated for comfort
Simplistic and elegant design
Stainless steel bowls
Cons:
Lightweight, easily pushed around
Bowls aren't very large.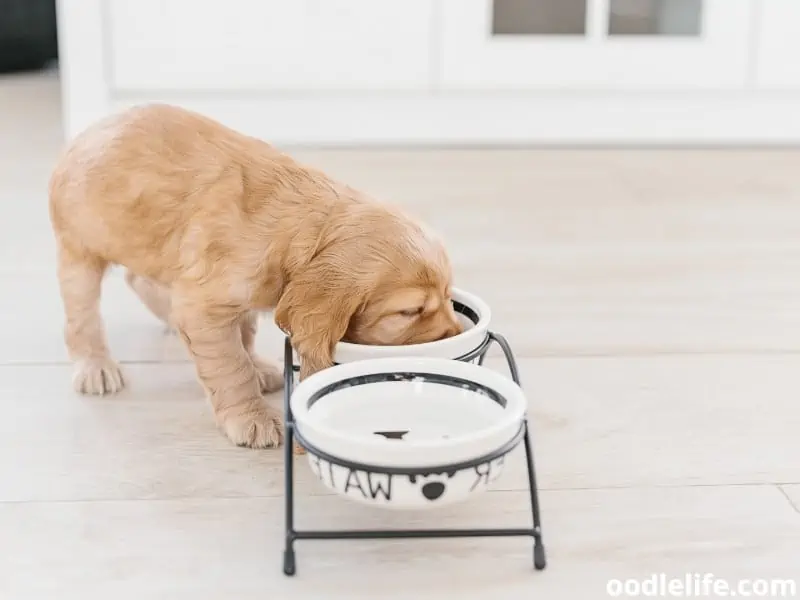 3. JJD USA's pet Dog Bowl
These nicely weighted stainless steel USA-made dog bowls are heavyweight and an excellent investment. They have rounded edges on the inside and a nice solid lip. The bottom is lined with rubber, which helps keep these heavier bowls in place and doesn't allow your pet to push them around.
JJD USA's pet Dog Bowl – Water Bowls for Small, Medium or Large Dogs, Perfect for Any Kind of Kibble, Treats and Water, pet Feeder Christmas (Navy Blue)
🐶 Stainless Steel Bowl; - Made with premium quality double-wall, non-insulated stainless steel to provide a long-lasting Bowl for your pet. Crafted from 304 grade 18/8 stainless steel. Best in...
🐶 Non-Slip Base; - Double walled Stainless steel bowls with rubber base to avoid slipping and helps protecting your surface from scratches. The base Is designed in such a way that it grips to the...
🐶 Easy Cleaning; - Its simple yet elegant design makes it easy to clean. Due to the use of the best quality stainless steel in our dog bowls, we made the cleaning of this product way easier. It...
🐶 Capacity; - It can hold up to 64 ounces or 8 cups of water so that you don't have to worry about refilling your pet's bowl again and again. Fill once and it can last for a full day! It is the...
🐶 For Every breed; - Our Dog bowls are for every sized pet; it can be used for small pets like cats and small size dogs to medium or big sized dogs. It is as useful as it gets. It is made up of...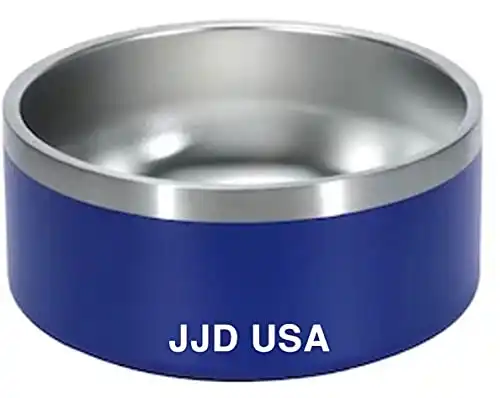 We earn a commission if you make a purchase, at no additional cost to you.
There aren't really any downsides to this bowl, and it comes reasonably priced.
Pros:
Stainless steel bowls
Rounded inside for easy cleaning
Solid lip for easy cleaning
Heavy weight
Rubber bottom
Cons:
None really! This is a solid bowl for all larger breed dogs.
4. Platinum Pets 6.25 Cup Embossed Non-Tip Stainless Steel Dog Bowl
Platinum Pets Stainless Steel Dog Bowl comes in several sizes, and in addition to being made from stainless steel, it also has a colored coating.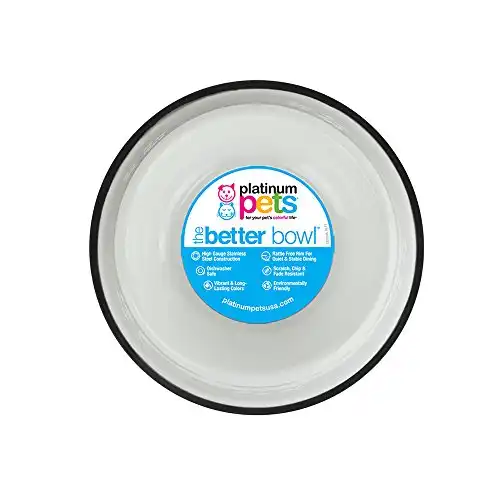 We earn a commission if you make a purchase, at no additional cost to you.
You can buy this bowl in one of 15 colors, so you're sure to find something that you like. It's also durable and chip, rust, and fade resistant. A silicone base is installed on the bottom to prevent the bowl from being pushed around.
Pros:
Stainless steel
Comes in fun colors
Durable, chip, rust, and fade resistant
Silicone base prevents sliding
Cons:
Silicone base is removable, sometimes by your pet.
5. Loving Pets Bella Bowl, Dog Bowl, Large
The Bella Bowl is a generously sized stainless steel bowl with a poly-resin exterior. You can buy this in numerous styles, ensuring you buy the most attractive fit for your home. The bowl is reasonably weighted and comes with a removable rubber base to prevent skidding.
Loving Pets Bella Bowls, Dog Bowls, Large-Espresso
Stainless steel interior with an attractive poly-resin exterior
Vet-recommended stainless steel
Includes all the benefits of stainless steel
Removable rubber base prevents skids, spill and noise
Dishwasher safe (remove rubber ring)
We earn a commission if you make a purchase, at no additional cost to you.
Like others on this list, that rubber base is sometimes a con. But only because an energetic dog might remove it for fun! Otherwise, you'll be glad to have this durable, reliable bowl in your home.
Pros:
Stainless steel
Fun exterior designs
Rubber bottom to prevent sliding
A reasonable weight
Cons:
Rubber bottom is removable
Sometimes comes with stubborn labels on bowl's interior; soak in hot water.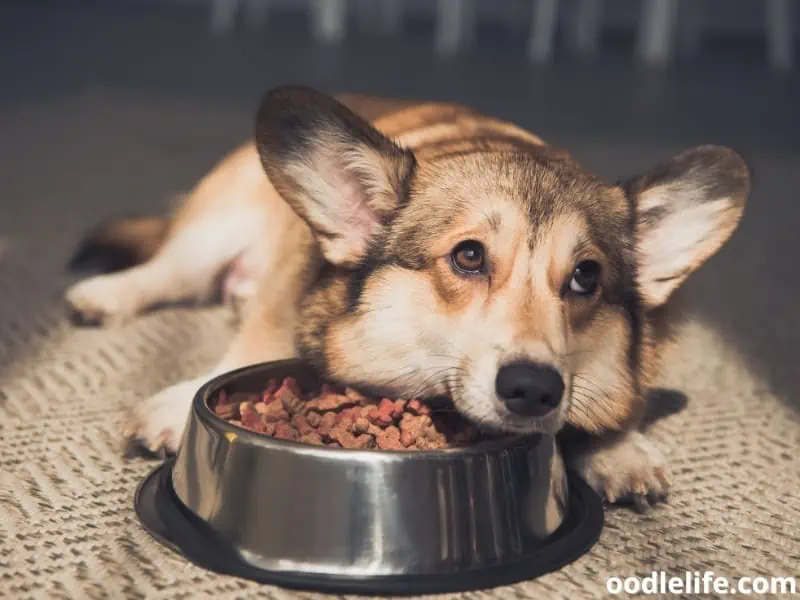 How To Choose a USA-Made Dog Bowl?
Now that you've looked through some of my favorites, you might still be unsure which to choose. I get it; it can be tough. You want the best for your dog, both in functionality and presentation!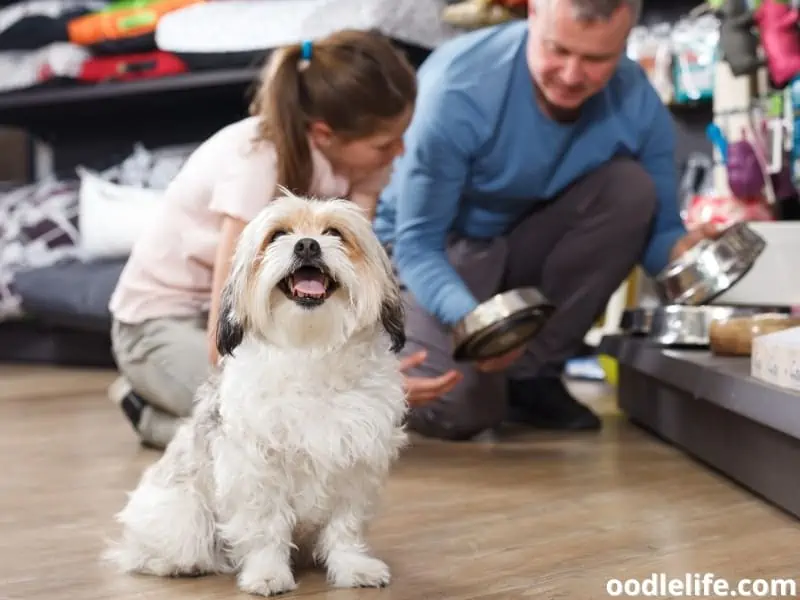 Here are some thoughts to keep in mind when making your purchase:
Which do you prefer? Steel, plastic, or ceramic?
How much space do you have?
How large is your dog?
Do you have style preferences?
Would you prefer a stand that's easier to clean?
How active is your dog? Will they want to push the bowl around?
Answering a few of those questions should help guide you. And if the first bowl doesn't work out? Try another!
Before You Go
There are all kinds of USA-made dog bowls, and thankfully it's not too hard to figure out which manufacturers make products in the USA and which ones are just leading you on.
Many great brands take the health and safety of your pet into consideration, so you're in good hands whether you choose a steel, ceramic, or plastic bowl for your dog.