Best Dog Christmas Sweaters Large Breeds (5 Best Reviewed!)
Snowflake Pattern Christmas Jumper
Snowflake Christmas Sweater with Collar
Large Dog Reindeer Sweater
Christmas Elf Sweater for Large Breeds
Mihachi Christmas Dog Sweater
Snowflake Pattern Christmas Jumper
Snowflake Christmas Sweater with Collar
Large Dog Reindeer Sweater
Christmas Elf Sweater for Large Breeds
Mihachi Christmas Dog Sweater
A perfect guide to finding a large Christmas sweater for your dog.
Christmas is the perfect time of the year to deck the halls and yourself. However, in this frenzy of the festivities, you should definitely not forget to dress up your dog and give them a cute Christmas present.
To help you out of this, we have compiled a list of some of the best Christmas dog sweaters large size to lighten up your dog's day.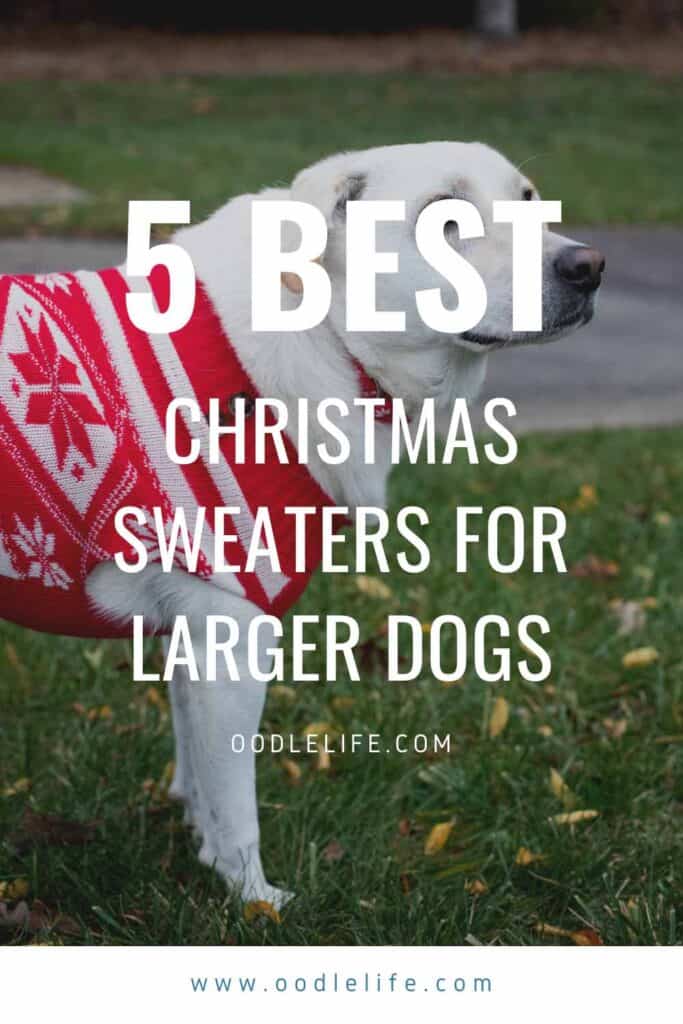 A Christmas sweater is an excellent present for your dog as it can keep them comfortable, snug, and warm during the cold winter evenings. Additionally, the sweaters can also make your dog look extremely cute and cuddle-worthy!
If you live in a warmer climate over Christmas (it can be very hot down in Australia and New Zealand at Xmas!) a sweater might not be the right pick for your dog. Consider checking out a Christmas bandana for your large or medium dog instead.
Now, who wouldn't like to see a large dog in an adorable Christmas sweater? So, let's read on to know more about the best Christmas sweaters for your unique dog!
Which Things to Consider Before Buying a Christmas Sweater For Your Dog?
Before you buy any dog Christmas sweater, there are certain things you need to consider for providing the utmost comfort.
1. Know The Size
It is imperative to know the size of your dog as a tight-fitting sweater can cause discomfort. Additionally, your dog may also get irritated and ruin your Christmas plans. This would certainly backfire on you!
So, before you buy any sweater, measure your dog's size. Usually, for a large dog, the measurements are around 20 for torso length, 18 for neck circumference, and 24 for chest circumference. However, we still recommend measuring your dog's size with proper tape.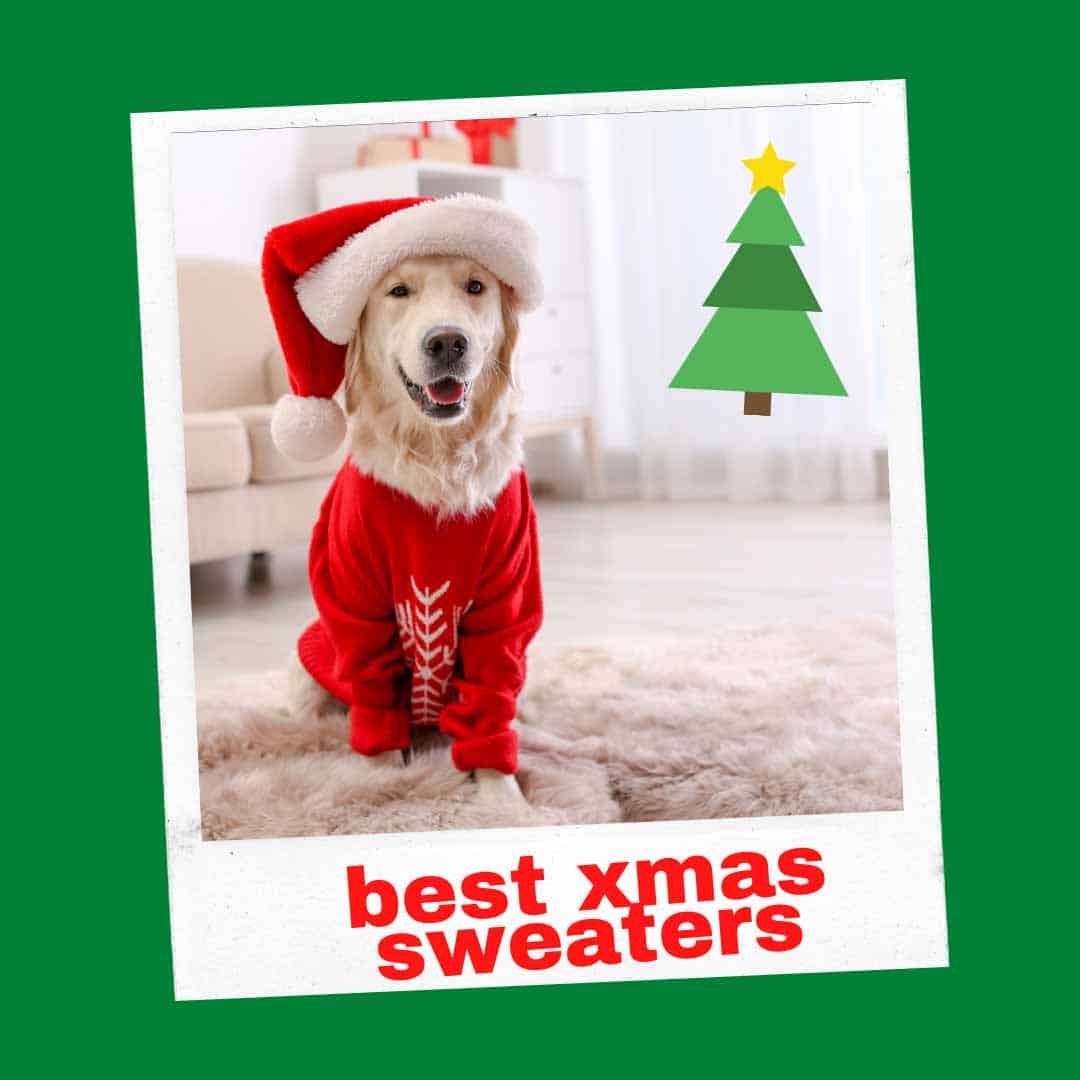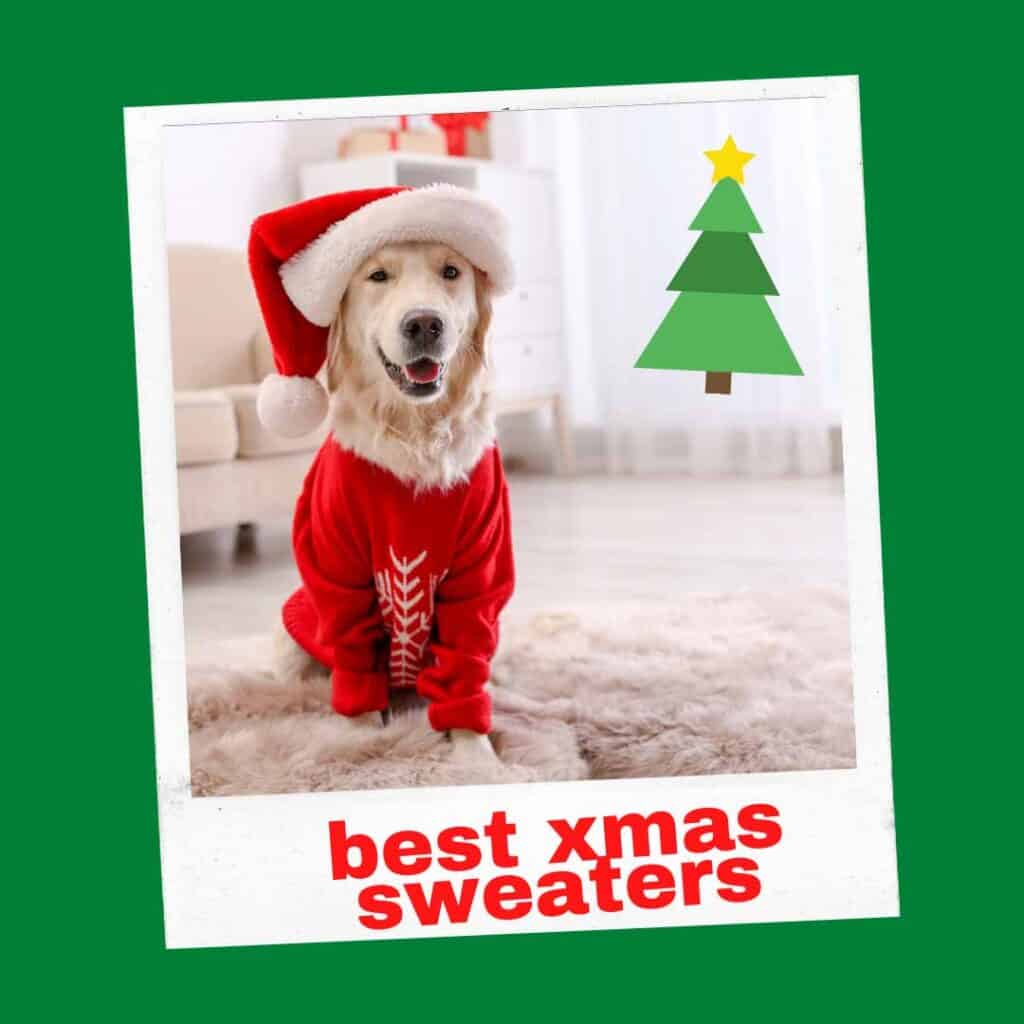 2. Look Out For Minor Details
When you are trying to find a dog sweater, look out for specific small details. These details include checking if the sweater would not come in the way of your dog's potty or peeing time.
The sweater should also provide some access to collars or harnesses so that your dog feels comfortable, not hurt.
You can also look out if you can easily remove or put on the sweater on your dog. Now, dogs are exciting creatures, so you cannot take a lot of time while putting clothes on them. Larger sometimes excitable dog breeds like the Bernedoodle can be tricky to dress.
Hence, we recommend finding dog sweaters with zippers, buttons, or even Velcro so that it becomes easier for you and your dog.
3. Material Matters
Apart from everything, you should check the material of your sweater. The design matters, but comfort matters more for your dog.
A low-quality material can cause itching and rashes to your dog. This can result in skin problems. However, if you have chosen an excellent quality sweater, it can provide comfort and warmth to your dog!
You can also check out the different types of materials like fleece or waterproof sweater depending on your needs. 
4. Pattern and Style of Sweater
After comfort, try to find a sweater that has a proper style and pattern. This hugely depends on your dog's size.
If you are buying online, you can check out the pictures of old buyers and see if your dog can carry off that sweater fabulously. Also, go for brighter Christmas shades as they can bring out your dog's cuteness in a better way. After all, it is Christmas!
If you're under budget, you can also consider the price of the sweater.
So, these are certain factors you can consider before buying a Christmas sweater.
Best Christmas Sweaters For Your Dog
There are many sweaters available in the market today. However, we have found some of the best sweaters that can make the job easier for you if you are in a hurry!
Mihachi Dog Sweater
Brand: Mihachi
Where to Buy: Amazon
One of the cutest dog sweaters we came across is Mihachi Dog Sweater. It is a perfect blend of comfort and beauty.
Mihachi Dog Sweater - Winter Coat Apparel Clothes with Colorful Stripes for Cold Weather
SIZE L-- The sweater neck girth is 15.6-18.7 inch, chest girth is 28.8-31.2 inch, and body girth is 20 inch. In order to pick the suitable size, carefully measure the pet's neck girth, chest girth, mainly at the widest point of the dog's chest and rib cage area.
KNITTED FABRIC-- The sweater is made of 102% high quality polyester, the fabric is very soft and comfortable, and the knitted sweater is also very warm
FASHIONABLE PATTERNS-- Cute snowflake patterns, colorful colors, classic and stylish, will definitely suit your little friends.
EASY TO WEAR-- The elastic high neck design makes the sweater very easy to put on and off, and for better control, the sweater has a small hole under the collar.
ABSOLUTELY WARM-- The knitted sweater is very warm, it is a must-have coat to keep warm in the winter, against the cold.
This sweater comes in three sizes, namely – small, medium, and large. You can go for any depending on your dog's size. However, the large size is most preferable for large dogs. The neck style is a turtleneck to give a more winter look to the sweater.
Talking about the other details, the sweater has a proper cut to ensure no-hassle whenever your dog wants to poop or pee! So, you do not have to worry about washing the sweater properly.
The material is polyester and is made up of pure terylene.
What We Liked About It
There are certain things that we really liked about this sweater. Firstly, the material is incredibly soft compared to other sweaters. It is 100% pure terylene that can protect your dog from harsh wind.
The snowflake pattern and the vivid red color add to the feels of Christmas festivities and suit any dog type!
It also comes with an elastic that can adjust to your dog's body and make it easier for you to put on or off the sweater.
So, we totally recommend buying this cutesy outfit!
Kuoser Christmas Snowflake Cold Weather Dog Coat
Brand: Kuoser
Where to Buy: Amazon
Is your dog a huge fan of snow and outdoor winter activities? Well then, this sweater is a must-buy!
Kuoser Christmas Snowflake Cold Weather Dog Coat for Winter Reflective Reversible Dog Warm Fleece Jacket Waterproof Windproof Dog Vest with Furry Collar for Small Medium Large Dogs Red S
PREMIUM MATERIAL: Outer layer with WATERPROOF terylene material, the inner layer with fleece and cotton, windproof and snowproof. This dog fleece jacket will keep your lovely pet warm in the cold weather
REVERSIBLE: Snowflake pattern on one side and Plaid Design on the other side. Cute, full of winter atmosphere, it is unique for your puppy while wearing it. Green and Red are perfect for dog boys and girls.
HOOK & LOOP Design on Chest & Neck:easy to put on and take off, will do not hurt your pet dogs. It will be the best gift for your dog for Christmas,Thanksgiving, etc.
REFLECTIVE: Reflective piping on the Brim and Back. highly visible near street lights or headlights ensuring your pet's safety.
QUALITY: We are aiming to create the best dog coat. If you have any problem when receiving the dog jacket, please feel free to contact us, we will solve your problems within 24 hours.
This Christmas sweater comes in six sizes, namely – XS, S, M, L, XL, and XXL. So, you do not have to worry about your dog being super healthy if you're buying this sweater. The pattern is plaid-type in red color to give your dog a cute yet fashionable look.
It has a waterproof material that can protect your dog from the wet climate of the winter season. Additionally, if the dog is naughty, this coat has a neon and reflective surface that can allow you to find them in the dark.
What We Liked About It
One of the most amazing things about this sweater is the material. It is pure terylene that offers both comfort and waterproof material. The sweater also has a furry neck design to make your dog feel like royalty.
If you do not like plaid design, you can turn the sweater and get a snowflake design! Best of both worlds, right?
There is an extra hole for harnesses and collars for better safety, so go ahead and buy this sweater for your adventurer dog for Christmas!
Lanyar Dog Reindeer Holiday Sweater
Brand: Lanyar
Where to Buy: Amazon
This is one of the best Christmas gifts you can give to your little buddy. It is designed with lovely reindeer patterns that your dog will love.
It is available in different sizes, namely – XS, M, L, XL, and XXL. The wide variety of different sizes will ensure the best fit for your dog, no matter how small or big they are.
The brand also provides you with accurate measurements in the sizing chart to make sure it fits your dog.
The material it is made of is 100% acrylic. Make sure you wash it with cold water to avoid damage.
What We Liked About It
What we liked most about the sweater is a classic and straightforward design. It is very elegant with an authentic Christmas look on it.
The sweater is very cozy and comfortable for your dog and will keep them warm throughout the day.
If you own a large dog, then the large size will fit well. It is also stretchable to provide the best fit. You can again go for the X-Large size.
BOBIBI Dog Sweater
Brand: BOBIBI
Where to Buy: Amazon
Keep your dog warm during the cold weather with this Christmas Elf holiday sweater.
BOBIBI Dog Sweater for Christmas Pet Cat Winter Knitwear Warm Clothes
Material : 100% Acrylic Fibers,which is stretchable
Clown holiday Sweater keeps furry baby toasty warm and feeling sucure on the freezing weather.
Pullover sweater design, no buttons or zippers, looks stylish; The front leg holes are perfect, there are no "sleeves" to hang down as a trip hazard; Leave enough space at the bottom for him/her to use the washroom without dirtying self.
A big hit! A cute ugly sweater to help your pet fit in with the themed "ugly sweater" parties, also a great addition to your Christmas celebration.
Size Medium:Back length:12.6"---Chest length:15"---Neck:11.8"
It is available in different sizes, namely – XS, S, M, L, XL, and XXL, and guaranteed to find a suitable size for your furry friend.
The design is clean and straightforward. It is gray and green with a Christmas Elf on the back of the sweater that will make your dog look cuter than ever.
It also comes in red color with Santa Claus on the back of the sweater. Your puppy will grab everyone's attention!
The material it is made of is 100% acrylic. It is stretchable to give your dog the best fit. Remember to always wash it with cold water to not damage it.
What We Liked About it
This is one of the cutest dog sweaters available. The two designs are adorable, beautiful, and attention grabbers.
The sweater looks very stylish, with no haphazard zippers or buttons. There are no sleeves that your dog will trip over.
It is designed to give your dog enough space at the back of the sweater for bathroom time. You do not have to worry about your dog getting dirty.
Mihachi Christmas Dog Sweater
Brand: Mihachi.
Where to Buy: Amazon.
Show your dog how much you love them with this colorful Christmas sweater. It provides your dog with a mixture of style, warmth, and comfort.
Mihachi Christmas Dog Sweater - Winter Clothes with Colorful Snowflake Patterns Soft Knit Keep Warm-M
❄Size M:Neck 13-16", Chest 22-23", Back Length 16", measure around the widest point of your dog's chest and rib cage area to determine your dog's girth.
❄MATERIAL: Made of 100% high-quality polyester, soft and comfortable , knitted material breathable and heat preservation.
❄DESIGN: Rich color, with the words "merry Christmas" and snowflake patterns, orderly stripe sequence, beautiful and lovely. And designed elastic high collar is easy to put on and take off, and a hole down the neck is prepared for passing through the leash.
❄CLEANING: Easy to clean, machine washable, no shrinkage, no fading, hang and use again after drying.
❄KEEP WARM: With a classic Christmas theme, colorful patterns are fashionable and bring warmth to pets during the cold season.
It is available in different sizes, namely – S, M, L, and SM. The large size is preferable if you own a large dog. It will not be tight and will keep them warm throughout the winter season.
The material it is made of is 100% polyester. It is easy to clean and will not shrink after washing.
There is a hole below the neck for the leash if you take your dog out for a walk. You can put the pulling rope through it without having to take off your dog's sweater in the freezing weather.
What We Liked About it
The design is very stylish and elegant. It is designed with snowflake patterns to suit the Christmas theme. It is full of colors that will keep your dog happy and excited.
The material is excellent for keeping your dog warm and cozy during winter. It is also suitable for washing without shrinking or fading.
Final Thoughts
Christmas is the perfect opportunity to make everyone around you happy, even your pets, and what will make your furry friend happier than a warm sweater!
Try our list of the best stylish and cozy sweaters available out there to ensure your dog's happiness.
So, let's get your dog dressed for Christmas!