5 Best Dog Harness for Labradoodles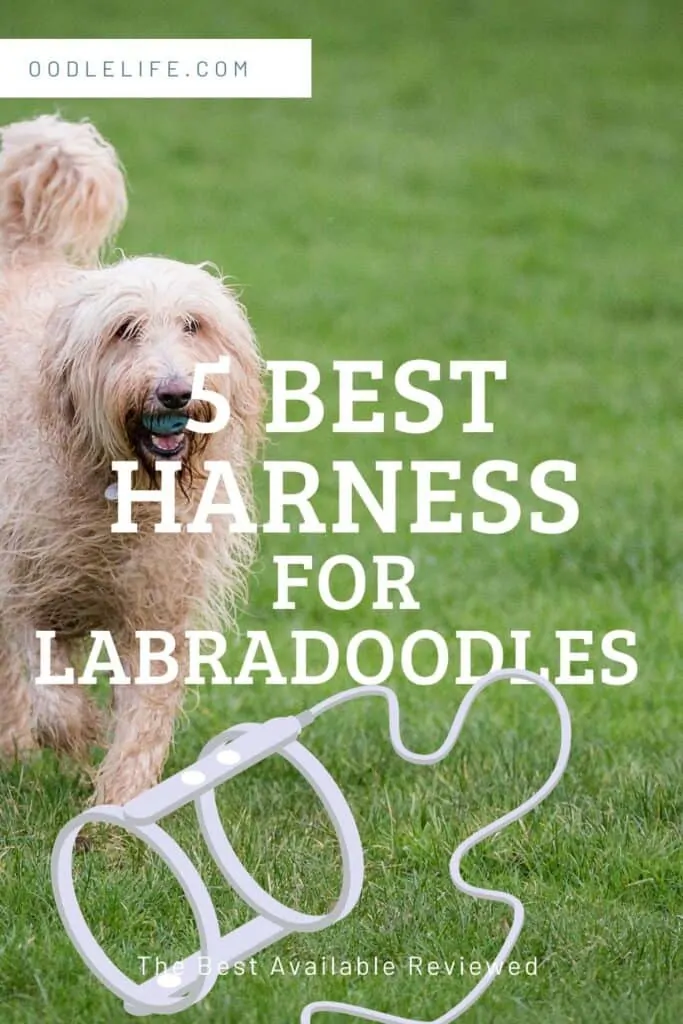 Labradoodles are a loveable breed. These hybrid pups combine the loving and loyal nature of the Labrador and the poodle's intelligence, making them the perfect mix of the two.
Their strong work ethic and loving nature are what makes them loved by many. Labradoodles are incredibly social and get energized in the presence of people and their pets. However, sometimes these pups can get a bit too excited.
Pros:

Remarkable value

Easy use

Washable

Adjustable

Pros:

High end quality

No pull

Durable

Performance focus

Pros:

Great for travel

Good for water

Easy step in design
Remarkable Value
Pros:
Remarkable value

Easy use

Washable

Adjustable
Performance Pick
Pros:
High end quality

No pull

Durable

Performance focus
Step In Pick
Pros:
Great for travel

Good for water

Easy step in design
08/02/2023 09:35 am GMT
Additionally, these pups can grow up to be huge, so keeping their energy controlled is a task, indeed, when introducing them to social situations with new people. Here a good harness comes to the rescue.
Investing in a good harness is essential in controlling your pup while giving them the comfort they deserve. With your Labradoodle's size and energy, you must invest in harnesses that can meet the needs of you and your pup.
Today, we've compiled a list of features that are a must-have for any Labradoodle harness. We narrowed down the available harnesses to our top 5 Labradoodle harnesses suitable for Labradoodles of all sizes and nature.
So, let's get started!
Features To Look For In Labradoodle Harnesses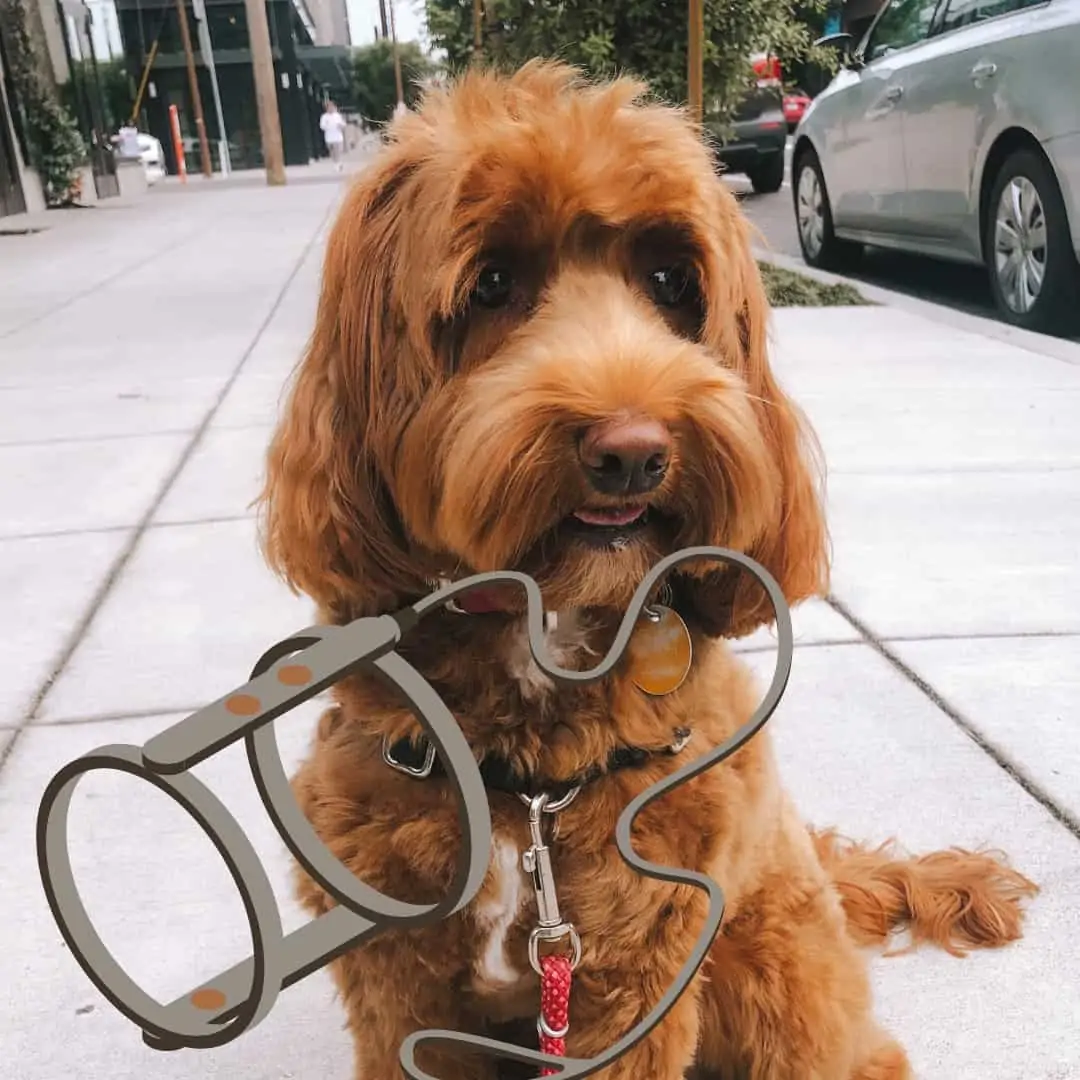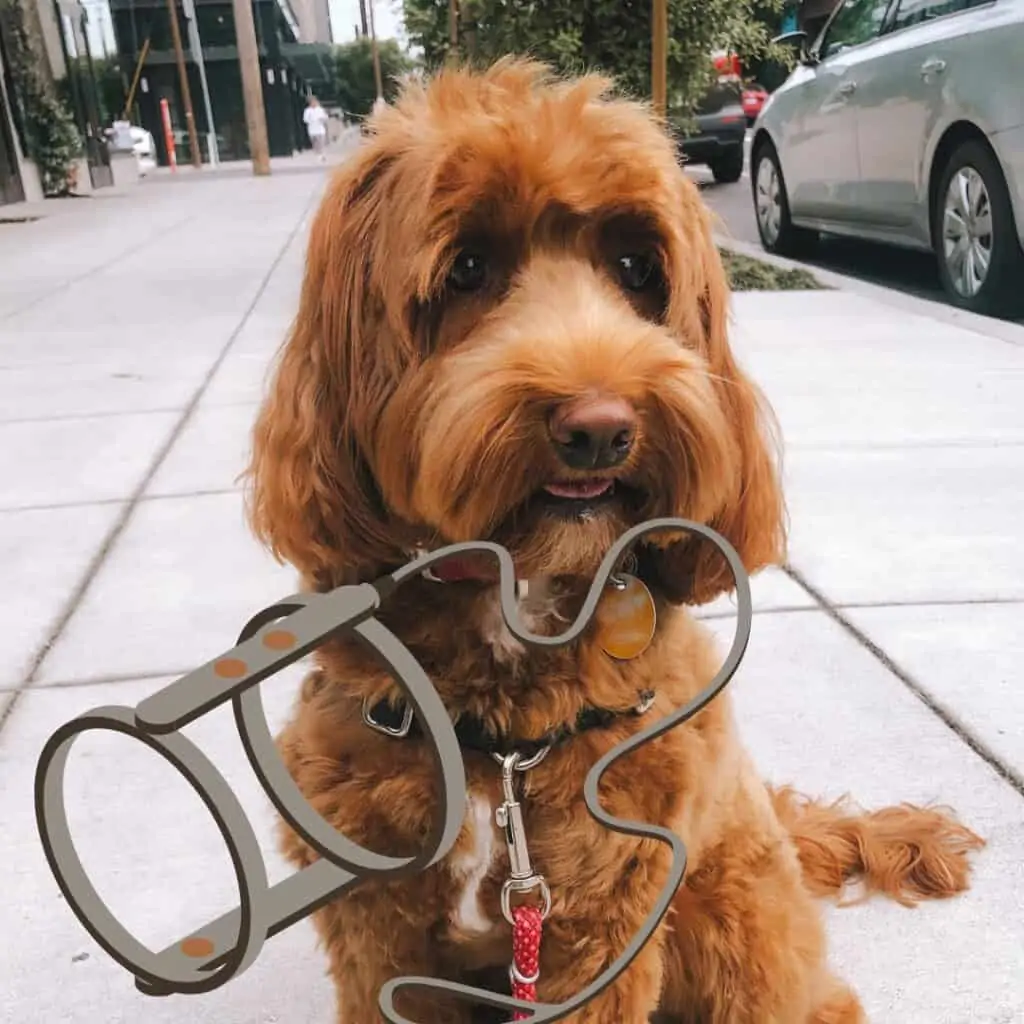 Each labradoodle has a different set of needs, so it is essential to choose versatile harnesses and adjust in any situation.
Here are some features you need to be on the lookout for when deciding upon a suitable harness for your Labradoodle:
Metal Hardware for The Harness: Labradoodles are a tough breed. Their bodies are packed up with muscles, so metal hardware is a necessity for their harnesses. Try looking for harnesses that include premium quality metal buckles, slides, and rings. This will ensure that the harness does not get damaged in hard pulling and wear and tear.
Sturdy and Durable Straps: From pulling the Labradoodle in place to simply chewing up the straps, durable and robust straps are essential. Try looking for Nylon straps that are tightly woven to ensure durability in any circumstance.
Padding and Comfort: Labradoodles are prone to dysplasia of the hip and their elbows. Therefore, you need to be extra cautious when selecting a harness for them. Try to opt for ones that have inbuilt padding that distributes pressures across their joints effectively and evenly.
Breezy and Breathable Material: Labradoodles can get hot quickly with all their fur, so it is necessary to get a harness with a breathable material. Such material can help to regulate your pup's body temperature and prevent overheating. Open cut designs and the mesh material is an excellent choice for Labradoodle harnesses.
Adjustability Factor: Labradoodles are bound to grow giant, and that too very quickly. Thus it's best to invest in harnesses that can be adjusted according to the size of your pup rather than just opting for the standard "small, medium, large" sizing.
5 Best Dog Harness for Labradoodles
Now that you know the qualities to look out for in harnesses, we can move onto our top picks for Labradoodles harnesses. These harnesses are comfortable, versatile, and an excellent investment for any Labradoodle owner.
So, let's dive in!
Our Fav – Julius-K9 IDC Powerharness for Dogs
Julius products are popular amongst every dog owner, and their harness collection is no different. This brand is known for its adjustable harnesses that provide the utmost comfort for your pup.
Performance Pick
Julius-K9, IDC Powerharness for Performance
Many sizes available (Goldendoodle to Poodle, Small dog to Large)
Professional control for urban walks: IDC Powerharness is your dog harness for bustling days, early morning walks, and getting around safely. It is a harness you can fit in one move and count on when you need it.
Interchangeable hook & loop patches: You can choose from countless different patch options to express your dog's personality, mood, or to display useful information on your harness.
Sturdy construction for everyday use: The handle atop the harness allows you to control your dog with confidence. Reliability and durability are guaranteed by the shatterproof buckle, and the use of first class materials. The reflective elements of the harness ensure good visibility, and the first class lining provides comfort.
One-click fit for daily use: To make your bustling days go smooth, the harness can be fitted in a single move.
We earn a commission if you make a purchase, at no additional cost to you.
This sturdy and easy to use harness features many elements that make it a perfect choice for all pups, especially Labradoodles. The adjustable straps, the sturdy Velcro, and the pull-resistant nature of this harness really make it worth every penny.
Here are the key features of Julius Powerharness:
No pull-wide nylon strap that firmly holds onto the dog's chest
A well-cushioned in-built shoulder pad
The adjustment can be made through the handle and ring attachments
Premium quality hardware with durable material
Water-resistant material to make outdoor trips comfortable
Pros of the Julius Powerharness
The sturdy material makes it resistant to heavy tugging and pulling
The premium-quality hardware doesn't break under the hard wear and tear
The durable straps paired with the compact design gives the owner full control over the pup
The broad chest strap firmly grips onto the torso with adequate pressure
Saddlebag attachments are available in larger sizes
Cons of the Julius Powerharness
Velcro straps are prone to wear out after some time; hence their hold comes into question.
Too much tightening of the straps can cause discomfort to the Labradoodle due to its rough texture
The shoulder pad is made with neoprene, which makes it difficult to ventilate the pup's body
You pay more for the high quality
Just Works Well – RUFFWEAR Multi-Use Support Dog Harness
Ruffwear takes the cake for most Labradoodle owners. Their multi-purpose harness provides good grip and fits for the dog while maintaining optimum comfort levels.
For active dogs
RUFFWEAR Multi-Use Support Dog Harness, Hiking and Trail Running, Service and Working, Everyday
Super secure: Anatomically designed for canine companions with a nose for adventure; Ideal for challenging terrains, working dogs, service dog handlers, and amputee dogs
Lift and assist: Made for maneuvering, the padded, reinforced handle is designed to safely and comfortably help your dog up and over obstacles
Customizable fit: 5 convenient points of adjustment for full range of motion; 2 sturdy leash connection points; Anodized aluminum V-ring and webbing loop
Built to last: Durable construction for a high-performance, lightweight feel; Resilient, rugged, and made for year-round use; With reflective trim and safety light loop (Beacon light sold separately)
Padded for comfort: Foam-padded straps provide lasting comfort without hindering movement; Designated area for patches and signage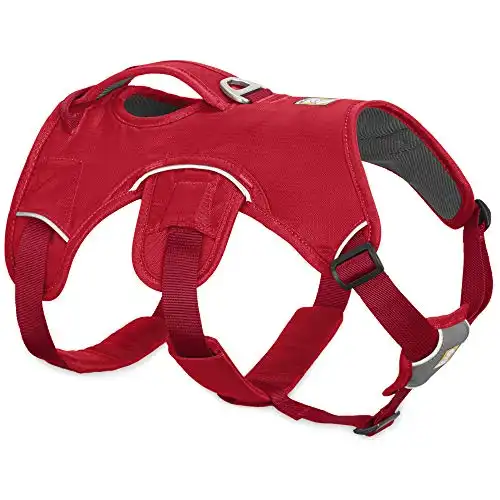 We earn a commission if you make a purchase, at no additional cost to you.
This reliable and stylish dog harness can last for years on end. It's great for dogs that tend to push and pull a lot. The sturdy clip, paired with its easy-to-wear design makes it an excellent option for Labradoodles.
This harness will definitely keep your pup comfy while looking incredibly stylish with their wide variety of colors to choose from. Here are some notable features of the Ruffwear Harness:
A super secure fit made to compatible with the anatomy of any active dog.
The handle is made to be maneuvered and handled according to your ease
The fit is customizable and adjustable, so you can completely match the fit to your Labradoodle's size.
Durable construction and premium material to ensure high performance.
Padding and cushioning are provided to contort according to your Labradoodle's body and give maximum ease and comfort.
Pros of the Ruffwear Harness:
Five-adjustment points are provided to customize the fit according to your pup's needs
Comes in a variety of colors and visibility patches, so you can choose from a wide range
ID pockets are provided on the harness to slip in identification slips and dog tags
The high-quality material ensures the longevity of the harness
Cons of the Ruffwear Harness:
There are less expensive options
There are no front attachments
Reliably soft – Puppia Soft Harness
The Puppia soft harnesses are perfect for puppies. Their soft material paired with their firm grip makes them exactly what your puppy needs.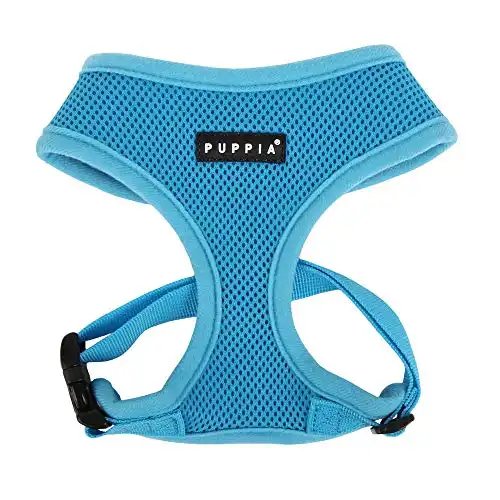 We earn a commission if you make a purchase, at no additional cost to you.
The Puppia harnesses are known for their wide variety in sizes and breathable yet durable material. These harnesses are made with potent hardware that lasts a long time and completely safe to use with puppies.
Here are some notable features about the Puppia soft harnesses:
Made from 100% polyester
The chest belt is adjustable and follows a quick-release system
Comfortable padding provided at the neck area
Can be washed in the machine
Air mesh material to provide breathability
Resistant plastic buckles for adjustment straps
Pros of the Puppia Harness:
Breathable material
Cost-friendly price point
A wide array of colors
Suitable for puppies
Cons of the Puppia Harness:
Sizing is reported to run small
No Pull – PoyPet No Pull Dog Harness
The Poypet no pull dog harness is best for dogs that are in training. The no-pull design prevents your Labradoodle from tugging too hard. Simultaneously, the reflective material makes it easy for you to take your Labradoodle out for night walks. (You could even get a glow in the dark frisbee to keep the night fun going!)
The control handle on the back makes it easy for you to maneuver the movements of your pup. Additionally, there are three straps included for incredible customization.
The prominent features of the Poypet No Pull Dog Harness are:
The training harness doesn't allow the dog to pull excessively
The reflective material guarantees safety for walks through the dark area
The control handle is easy to use and allows for greater control over the pup's movement
No, pull and choking thanks to the metal leash attachment points
Premium quality material
Black mesh pocket to carry ID
Pros of the Poypet No Pull Dog Harness:
Reflective material
Breathable built
Double leash attachment hooks
Soft handles for training
Cons of the Poypet No Pull Dog Harness:
Does not fit larger dogs perfectly
The sizing is limited
Colourful – Rabbitgoo Dog Harness
If your Labradoodle tugs and pulls on its leash, this harness is for you. With two adjustable leash attachments and adjustable straps, this harness is perfect for controlling your pup while giving them maximum comfort.
Remarkable Value
rabbitgoo Dog Harness, No-Pull Pet Harness with 2 Leash Clips
Adjustable Dog Harness - Recommended Breeds: Small to Large Dogs, such as Golden Retriever, Goldendoodle, Labradoodle, Maltipoo, Huskie, Labrador, Alaska, German Shepherd, Akita, etc.
No Pull, No Choke - Our non-pulling dog harness is specially designed with 2 metal leash rings for safer dog walks. Use the chest attachment clip to stop your dog from pulling on walks, perfect for dog training or dogs who tend to pull. The back one is great for casual walks, jogging, hiking, etc
Easy to Use - This hassle-free overhead harness is easy to put on and take off with its 2 fast-release buckles. Slide the harness over your dog's head, buckle it up, adjust the straps, and here you go! Grab the top handle for additional control. Lightweight and easy to clean
Fully Adjustable - This adjustable harness features 4 easy adjusting straps around the body. You can use its 2 neck straps and 2 chest straps to create a perfect fit for your dog with some room of growth. No worries about slipping out or choking
Safe and Comfortable - Your dog will enjoy the daily walk in this comfort dog harness! Made of durable nylon oxford and padded with soft cushion to protect your dog's skin. Breathable air mesh keeps your dog cool during outdoor activities. Super bright reflective strips ensure a safe walk both day and night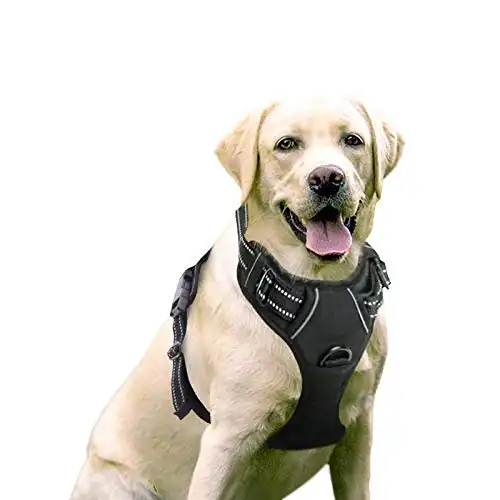 We earn a commission if you make a purchase, at no additional cost to you.
The padded nylon material ensures that your pup feels absolutely comfortable. This Rabbitgoo harness is primarily known for its large variety in sizing and generous fit. Other notable features include:
Built-in handle provided at the back for extra control over the pup
The neck and chest straps are made to be adjustable and can be customized according to your Labradoodle
It's safe and comfortable
The connection points are strong and sturdy
The reflective stripping makes it perfect for night walks
Pros of the Rabbitgoo Harness:
High-quality material with reflective striping
Adjustable sizing for the vest
No, pull the front ring and back control D-ring
Padded air mesh material to ensure comfort and breathability
Wide variety of colors and sizes
Cons of Rabbitgoo Harness
The sturdy strap material may cause irritation when rubbed against the skin extensively
The adjustments are a bit hard to fix
Final Thoughts on Choosing Your Labradoodle Harnesses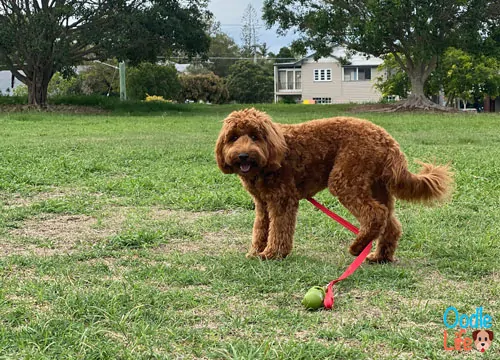 Even with our concise list, it gets hard to narrow down and decide on one option. So, we've devised a quick and easy buying guide for you to look for when selecting the right harness for your Labradoodle.
Adjustable Harness: Try opting for adjustable harnesses when looking for one for your Labradoodles. It's best to get these as you customize the sizing according to your pup's needs. To get an idea of the excellent fit, try putting in 2 fingers between the harness and your pup's skin, and if you can slide it with ease, you have the perfect fit.
Reflective Striping: Reflective material is beneficial if you enjoy taking your pup out for night walks. This makes it safer for you to take your energetic Labradoodle out at night and prevents them from getting lost.
Padded Interior: Padded interior significantly reduces chafing and provides support to your Labradoodle's body. Try opting for padded material that offers breathability.
No choke and pull: For Labradoodles in training, no choke and pull harnesses are great to control the pup's movement and be comfortable during the process of training.
Conclusion
Choosing the right harness is essential in training your Labradoodle comfortably. By following our guide and looking through our selection, we hope you find the perfect fit for your Labradoodle.
Harness training beats lead to collar easily. And it is safer!
Be sure to test the harness out with your Labradoodle to see if it fits your pups' needs and make sure that your Labradoodle is comfortable. Happy shopping!