4 Best Dog Clippers For Cockapoo Dogs
Simply the Best
Oster Golden A5 Two-Speed Animal Grooming Clippers with Detachable CryogenX Size 10 Blade (078005-140-002), Black
Budget Conscious
BOUSNIC Dog Clippers 2-Speed Cordless Pet Hair Grooming Clippers Kit - Professional Rechargeable for Small Medium Large Dogs Cats and Other Pets
Shhhhh (Quiet)
Ceenwes Pet Clippers (Upgrade Version) Low Noise Professional Dog Clippers Rechargeable Cordless Pet Clipper Trimmers Pet Hair Grooming Kit for Cats Dogs and Other Animals
Simply the Best
Oster Golden A5 Two-Speed Animal Grooming Clippers with Detachable CryogenX Size 10 Blade (078005-140-002), Black
Budget Conscious
BOUSNIC Dog Clippers 2-Speed Cordless Pet Hair Grooming Clippers Kit - Professional Rechargeable for Small Medium Large Dogs Cats and Other Pets
Shhhhh (Quiet)
Ceenwes Pet Clippers (Upgrade Version) Low Noise Professional Dog Clippers Rechargeable Cordless Pet Clipper Trimmers Pet Hair Grooming Kit for Cats Dogs and Other Animals
There are certain breeds of dogs that require special grooming and care due to their non-shedding coat characteristics. One such breed is the Cockapoo.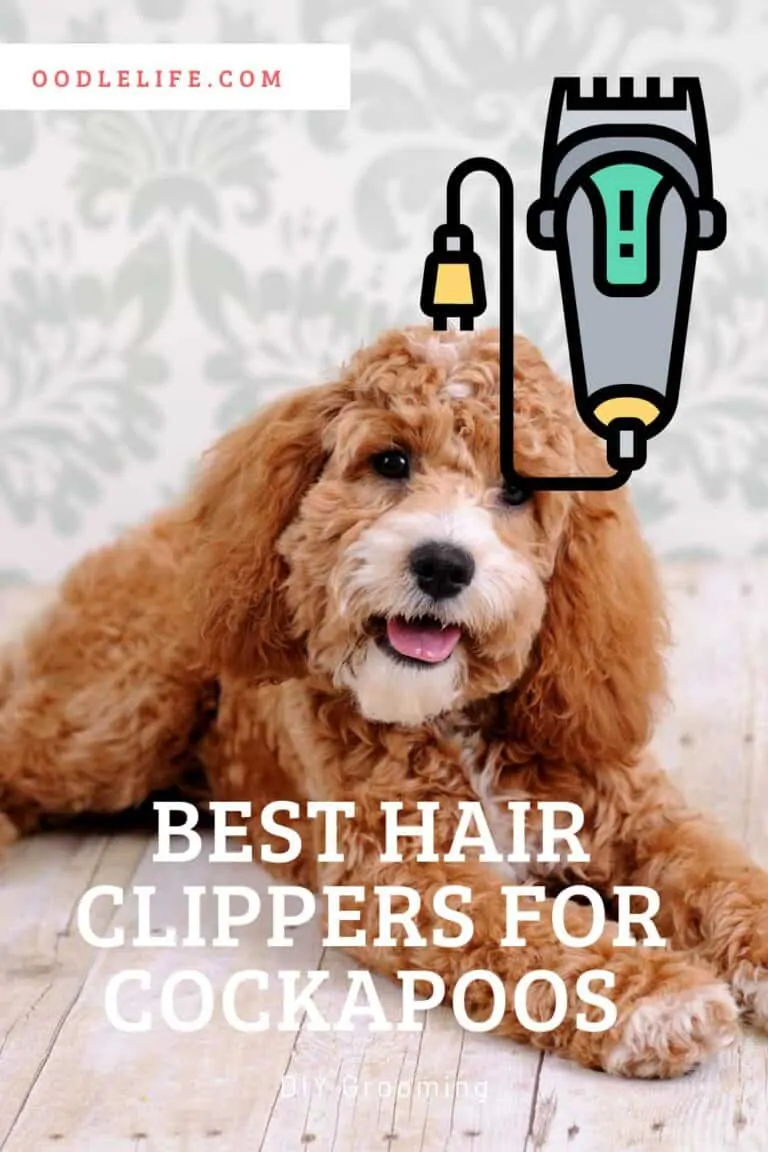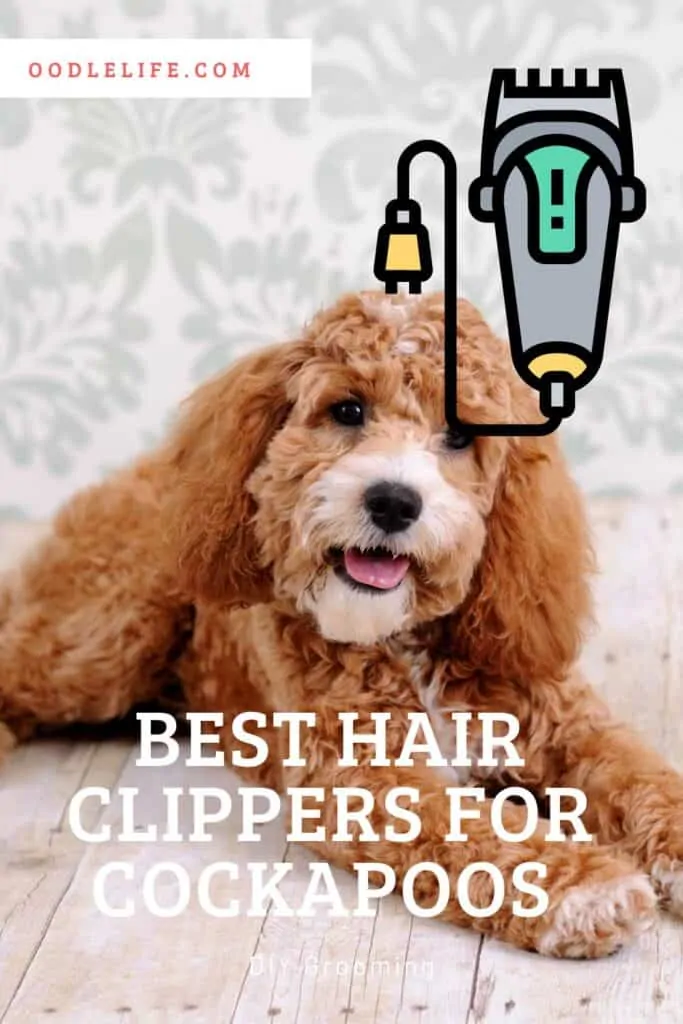 Cockapoos are known for their long and luscious hair. However, sometimes they may require extra grooming. So, for this, you require a sharp bladed efficient dog clipper that can help you shave your dog's hair safely.
In this guide, we'll take a look at what you should look for when DIY grooming a Cockapoo and how to find the best dog clippers to suit their coat.
Why Should You Go For a Dog Clippers to DIY Groom a Cockapoo?
Dog clippers are very important for dogs with extra thick or non-shedding fur. Quality clippers used frequently are essential for Cockapoos coat health.
There are plenty of reasons why you should consider getting a dog clipper for your little Cockapoo.
1. Better Hygiene of Your Dog
One of the primary reasons why you should go for a dog clipper is better hygiene. Moreover, it also helps in improving the overall smell and fragrance of your dog.
A dog clipper can help in removing dirty fur and also remove any foul smell trapped inside it.
Grooming your Cockapoo's hair using a dog clipper is very essential for your dog's hygiene.
2. Removing Ticks and Fleas
For any dog owner, ticks and fleas are a considerable menace when it comes to their dog's fur.
Ticks and fleas can cause damage to your dog's skin and also give rise to skin irritation. So, it becomes essential to eliminate them.
With the help of a dog clipper, you can shave off or trim your dog's fur and get rid of such insects.
3. Ease in Detection of Skin Diseases
Sometimes you may feel like your Cockapoo may be going through some skin allergies or diseases.
In such a situation, you can easily trim your dog's fur using a dog clipper. Once the fur is gone, you can look out for any signs or take your dog to the vet.
4. Reduces Shedding In Dogs
Trimming or shaving off your dog's fur helps reduce minimal seasonal shedding that even some Cockapoos experience.
It is because the fur of your dog may shed a little when you're brushing your dog's hair. So, you can simply trim them off and get new and shinier fur!
5. Removing Hair Matts
Dogs having medium-long or long hair are often at risk of developing hair matts.
Hair matt occurs when your dog's fur entwine and gets bunched. It can get tough to brush your Cockapoo's hair if it has hair matts. Moreover, cutting them with scissors is quite risky.
So, with the help of a dog clipper, you can remove the hair matts and give your dog's hair the perfect smoothness.
In this way, a dog clipper can help maintain your dog's fur, keep them hygienic, and reduce the probability of diseases and allergies.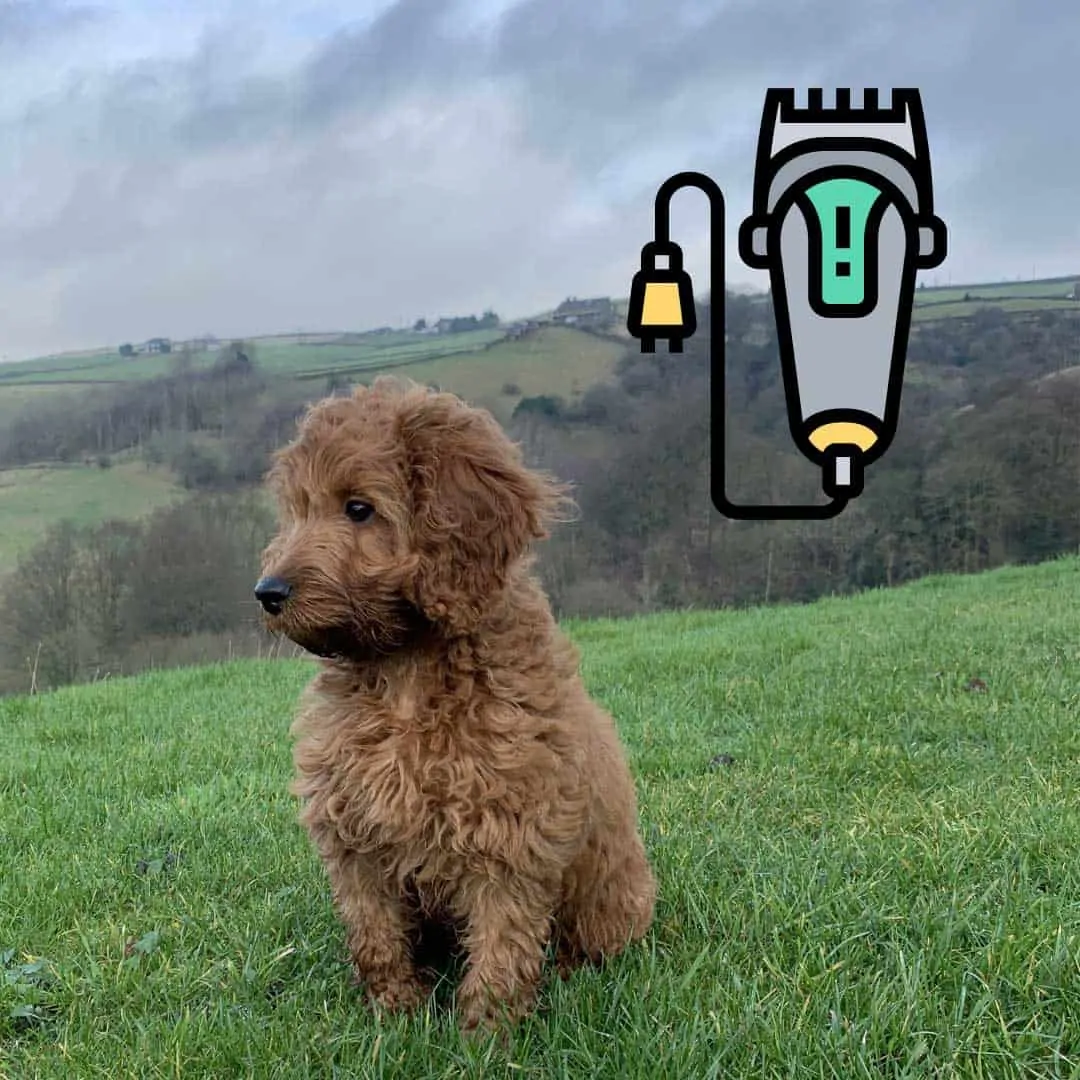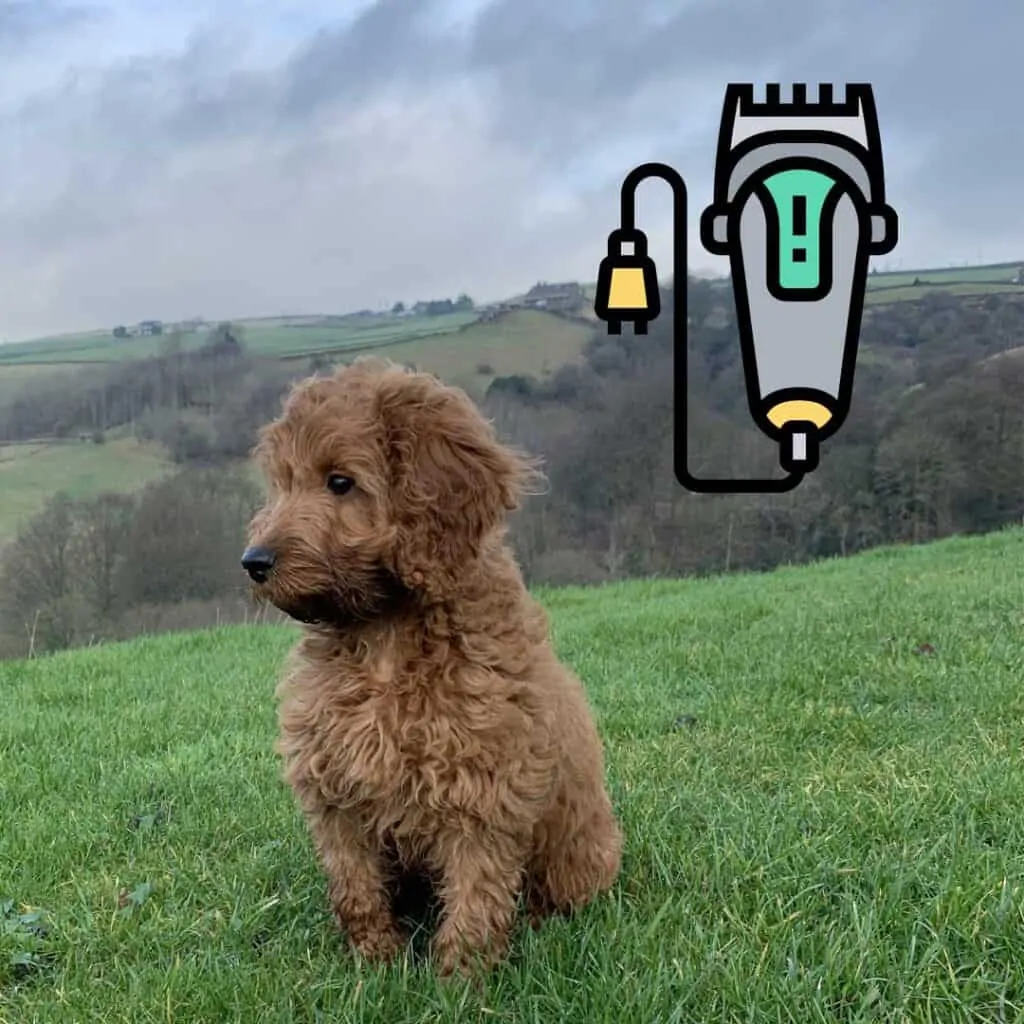 How to Choose the Perfect Dog Clipper For Your Cockapoo?
You must look out for particular things while choosing the perfect dog clipper for your dog.
Keep in mind that an efficient dog clipper can help you get all of the benefits mentioned above. On the other hand, an ineffective dog clipper may harm your dog's skin and can also be a waste of money for you.
So, let's take a look at the factors you need to consider for buying a dog clipper.
1. Handling and Maneuverability of the Dog Clipper
You must go for a clipper having a proper and flexible handle that allows you to maneuver through your dog's fur.
Keep in mind that the dog clipper's handle should have proper ergonomics that give you the ease of shaving and comfort.
Moreover, you should also keep in mind the balance of the dog clipper. Sometimes dogs can get impatient and move around a lot. In this situation, the dog clipper should have the proper balance to trim the hair.
Lastly, the handle should neither get too heavy to hold nor too lightweight to cause any troubles while trimming the fur.
2. Power of the Dog Clipper
Another critical thing to keep in mind is the power of the dog clipper.
The dog clipper's power can cause significant changes in various factors. For example, you can either have a cordless dog clipper or a cord one. Both of them have their own set of pros and cons.
Additionally, some dog clippers also allow you to change the power or speed settings for more flexibility and ease.
3. Noise and Vibrations
Just like the other dogs, Cockapoos also have strengthened hearing senses. Due to this, if the dog clipper makes a lot of noise, it can cause your dog to get scared and anxious.
The same goes for vibrations coming from the dog clipper. If they're too noticeable and robust, your dog can get wary of the machine and may try to run away.
So, you must check if the machine doesn't make a lot of noise or vibration. For this, make sure you always read the user reviews to get the real idea of the dog clipper's nature.
4. Generation of Heat
As the dog clippers work for an extended amount of time, they may start generating heat.
If that happens, it can hurt your dog somehow or, in the worst cases, even harm their body.
So again, many users may complain that they had to switch off their dog clippers in between. If this is the case, then try to look out for another option.
5. Ability to Give a Clean Cut
Lastly, what matters is the ability of the dog clipper to give a clean and effortless cut.
This ability is based on the performance of the machine and its features. So, ensure that you look for useful features as per your dog's nature and breed to get the best results.
You can also check the user reviews to get proper before and after images of dogs on whom this particular machine has been used.
Apart from the above things, you may also consider the budget and brand of the dog clipper.
Now, let's talk about the best four dog clippers specially made for Cockapoos.
The 4 Best Dog Clippers For Cockapoos Reviewed
It can get very confusing for any dog owner to look out for the best dog clippers, especially for their Cockapoos.
However, if you want to save your time and efforts, we have come up with a quick list of the best dog clippers out there.
So, keep reading!
Simple the Best – Oster Golden Animal Grooming Clipper – The Best Dog Clipper
Brand: Oster
Where to Buy: Amazon
This is definitely the best dog clipper you can purchase for your Cockapoo. It offers you a fast, versatile, relaxed way to groom your dog.
The Oster Golden Clipper can do the job for all grooming purposes. It is also great for precision if you want to give your dog an exact look that you desire.
Oster Golden A5 Two-Speed Animal Grooming Clippers with Detachable CryogenX
Versatile pet grooming clippers with two-speed switch.Two Speed motor Hi - 2,700 SPM, Lo - 2,100 SPM
Great for precision and general-purpose grooming
Great for thick coats (like Goldendoodles and Doodle dogs)
Detachable Size 10 CryogenX blade included
Virtually unbreakable chew-proof housing
Compatible with all Oster A5 detachable blades
We earn a commission if you make a purchase, at no additional cost to you.
What We Liked About It
The device comes with a powerful motor that can run 2 different speeds efficiently. You can use the low speed for precise grooming around the delicate areas and face. Then, you can easily switch to high speed for fast and efficient body grooming.
The blades are cryogenically treated to enhance the machine's durability and make it last for years. You can use it for as long as you want without worrying about blunt blades or chewed up clippers.
You can choose from different combs to add more safety and versatility to the machine. These clippers are easy to attach to the device, and they provide you with several cutting lengths to pick from.
So, if you want the best general-purpose grooming clipper that professionals use, this is the one for you.
Budget Grooming – Bousnic Dog Clippers – Best Value
Brand: Bousnic
Where to Buy: Amazon
If you are looking for value without busting the budget, this may be the right clipper for you.
You get a premium-quality machine that offers you excellent performance and features.
BOUSNIC Dog Clippers 2-Speed Cordless Pet Hair Grooming Clippers Kit - Professional Rechargeable for Small Medium Large Dogs Cats and Other Pets
COMPLETE SET OF DOG GROOMING KIT: Why spend a fortune on a pet salon when you can groom your pet's hair at home? This dog clippers includes everything you need to trim your dog's or cat's hair...
DO YOU HAVE AN ANXIOUS PET? Many pets get stressed and uneasy by the sound and the vibration of pet grooming clippers. However, the Bousnic skin-friendly pet clippers is whisper-quiet and has a very...
PRECISION CUT AND CORDLESS DESIGN: It doesn't matter if your dog has straight or short hair – these dog hair clippers with the 2 speed levels and the ultra-sharp stainless steel and ceramic blades...
POWERFUL RECHARGEABLE BATTERY: Our pet clippers for dogs and cats have a built-in 2200mAh Li-ion battery that you can easily charge it with the USB cable. Once the dog trimmer are fully charged, the...
We earn a commission if you make a purchase, at no additional cost to you.
You do not have to spend a lot on the clipper and its accessories. It comes as a complete set that includes the clipper, four trimming combs for different cutting lengths, scissors, an oil bottle, a comb, and a USB cable. Such a great deal!
What We Liked About It
To make it as easy as possible for your dog, this device is whisper-quiet with low vibration. This is an excellent feature, as some dogs are anxious and distressed when it comes to grooming.
The blades are ultra-sharp to trim the hair as efficiently and fast as possible. It also comes with two different speeds to choose from.
The design is very stylish and unique. It comes in a whitish color that is pleasing to look at.
It has a powerful, long-lasting battery that you can charge quickly with the USB cable that it comes with. You can plug it into your power bank, phone adapter, or even your laptop.
So, suppose you want a relatively cheap dog clipper that offers you outstanding performance. In that case, this is definitely the one for you.
Professional Groom Quality – Wahl Professional Animal Bravura Pet Clippers – Professional Quality
Brand: Wahl
Where to Buy: Amazon
Wahl Professional Animal Bravura Pet, Dog, Cat, and Horse Corded/Cordless Clipper Kit, Purple (#41870-0423)
Combines the power and durability of lithium ion battery innovation with Wahl's adjustable 5-in-1 blade to give groomers, animal professionals, and pet owners everything needed in a lightweight...
Ideal for the feet, face, and all finish work on all dog breeds, light body clipping on small- and medium-sized dogs, and cat grooming; The 5-in-1 blade adjusts between sizes #9, 10, 15, 30, and 40,...
The rechargeable battery has a 90-minute cordless run time of cool running, low vibration, and quiet operation; the clipper will operate at full power until the battery is completely depleted;...
The Bravura can also be used for trimming horse's bridle path, ears, muzzle, and fetlocks as well as trimming show cuts for goats, pigs, and cattle
Includes one Bravura clipper, 5-in-1 fine blade set, 6 plastic attachment guide combs, cleaning brush, blade oil, instruction book, charge stand and charger, soft storage case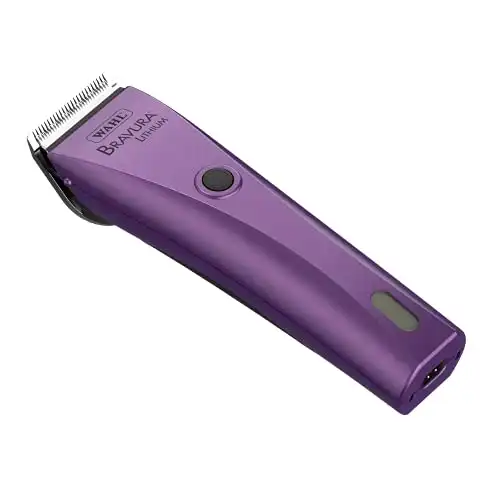 We earn a commission if you make a purchase, at no additional cost to you.
If you do not mind paying some extra bucks for the best professional quality dog clipper, then this is the one for you.
The Wahl Clipper gives you everything you need to get the job done for professionals or dog owners who want to give a perfect haircut for their dog.
If you are thinking of grooming Oodle dogs as a side hustle – go for a professional level cutting instrument.
What We Liked About It
It comes with a long-lasting ion battery that can run up to 90 minutes without any cords. The machine is also very lightweight, which makes it practical and flexible to use.
The Wahl clipper comes with a 5-in-1 blade, which means you can adjust one blade to five different cutting lengths. This can offer you a great variety of cuts that can help you give the best look for your dog, especially if you are a professional groomer.
It has a unique and beautiful design that feels comfortable in your hands. Comfort is essential for professionals who use the machine for hours every day.
For Scaredy-Dog – Ceenwes Pet Clippers (Upgrade Version) – Lowest Noise but Slower
Brand: Ceenwes
Where to Buy: Amazon
Some dog owners prefer a clipper with the lowest noise possible, even if it takes a longer time to cut the hair. If you are that person, the Ceenwes is the device for you.
Ceenwes Pet Clippers (Upgrade Version) Low Noise Professional Dog Clippers Rechargeable Cordless Pet Clipper Trimmers Pet Hair Grooming Kit for Cats Dogs and Other Animals
★【ALL-IN -ONE】This pet grooming clippers also come with 12 tools: 1 × Pet clipper( included Battery),1 × AC Power Adapter,1 × Cleaning Brush,4 × Comb Attachments(3-6-9-12mm),1 ×Comb,1 ×...
★【LOW VIBRATION & NOISE】Pet clippers for dogs with Precision motor, low vibration and ultra quiet design, free it from work noise with only about 50 db, to help the pet feel at ease, not afraid...
★【SHARP&ADJUSTABLE BLADE】Cat clippers with Titanium acute-angle blade combining with the ceramic movable blade for smooth and efficient cutting,the fine-tuning knob offers five level of length...
★【CORDLESS DESIGN】Light weight and cordless design for easy use. The pet grooming kit is equipped with a charger. Charging for 3-4hrs, pet grooming clippers can sustain uses of 3-4hrs . With the...
★【SATISFACTION】 keeps your pets always looking good, it's very useful both in home and profession salon use!
Meanwhile, with the small and delicate clipper body, your kids also can join with...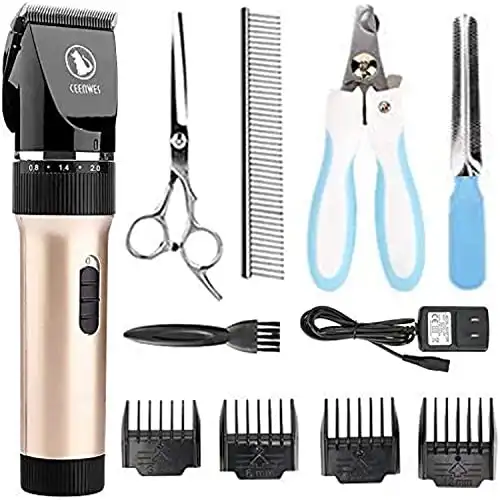 We earn a commission if you make a purchase, at no additional cost to you.
What We Liked About It
The product gives you great value. It comes as a complete set that includes the clipper, a battery, a power adapter, a nail file, a nail clipper, a comb, 4 cutting combs, a slicker brush, and a cleaning brush.
The main feature of this clipper is the whisper-quiet and low vibration design. It will spare you from all the noise and unneeded headaches. It will also make your dog feel safe and at ease as well.
It is safe and easy to use and will definitely make your pet look good all the time!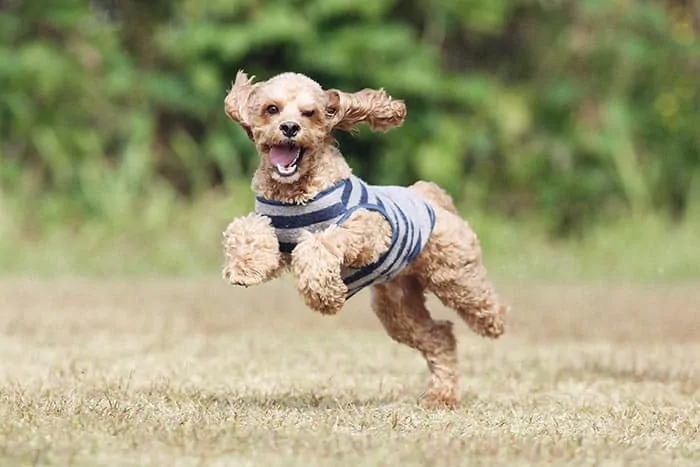 Final Thoughts
Keeping your Cockapoo's gorgeous hair healthy and shiny is definitely a good thing.
For this, a dog clipper can help you in trimming and shaving your dog's fur without any extra effort or time consumption!
So, go through the guide and find only the best dog clipper for your Cockapoo!