Best Dog Food for Golden Retrievers (5 Top Choices)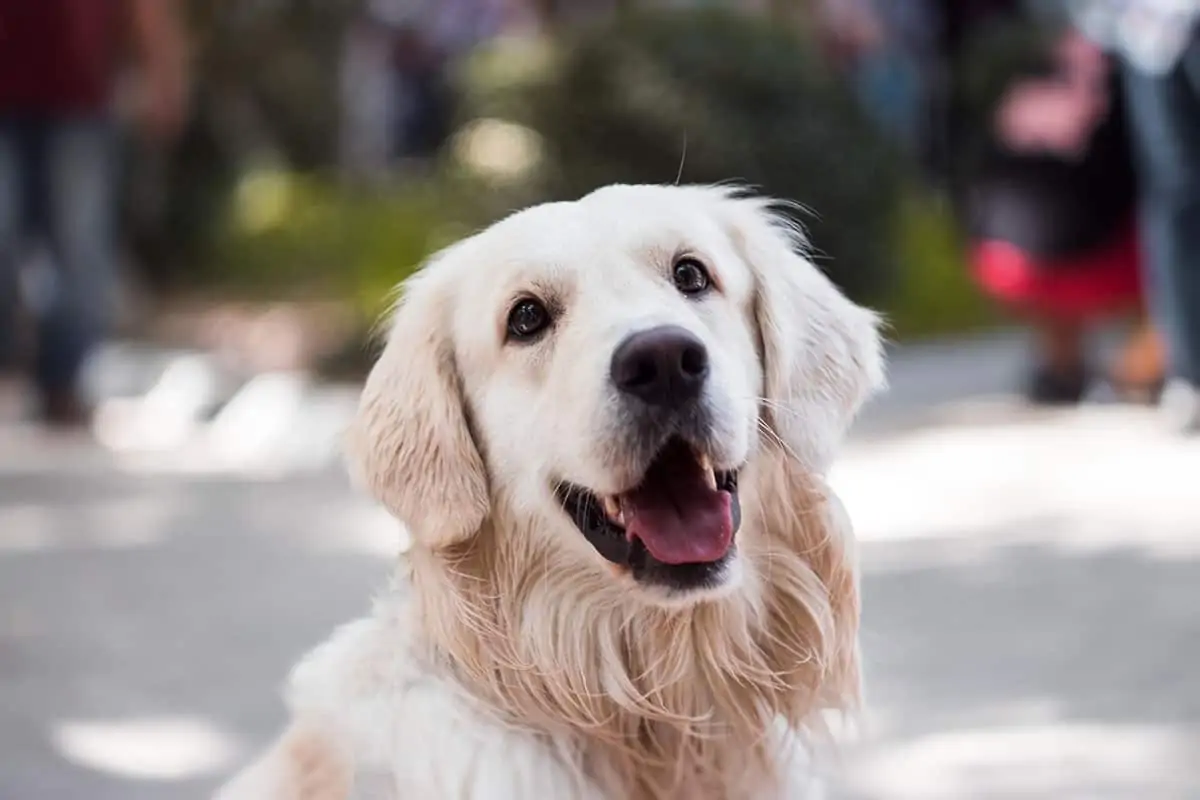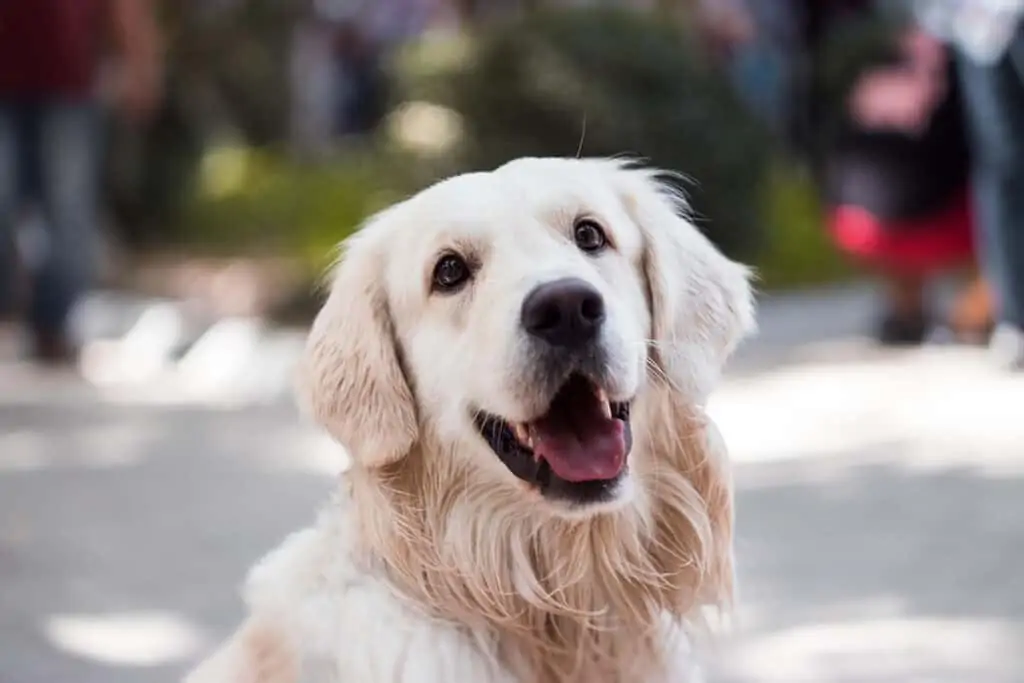 When we think of golden retrievers we think of those big doggy smiles, calm eyes, and explosive, tongue-dangling energy, but to keep them in this state of perpetual excitement and bliss requires very specific nutrition.
It can be difficult choosing a dog food. There are so many on the market, it's hard to even know where to start, but don't worry.
We've rated and reviewed five of the very best foods for golden retrievers you can buy.
We've even pawed together a buyer's guide and FAQ section to clue you in on all the golden rules.
In a Hurry?
No problem, dog parent. Here's our top pick straight away.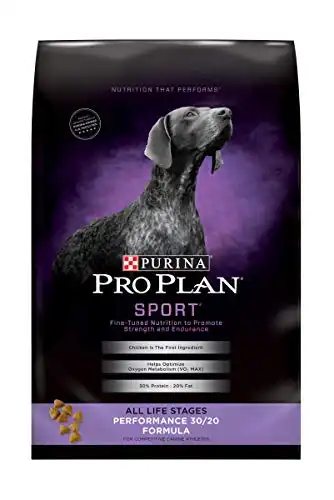 Our number one chow for your resplendent canine really is among the best dog foods around.
Specifically designed for active dogs in the prime of life, it's perfect for all those retrievers out there full of beans.
Pro Plan Sport features real chicken as its main ingredient which is essential for maximizing nutritional content and keeping your dog's diet as natural as possible.
Using a proprietary blend of proteins and fats, this kibble helps your dog develop and maintain lean muscle, so their bodies can keep up with their playful brains.
Few are aware of this, but respiration plays a big part in the metabolization process.
Many of the chemical reactions that occur during digestion use oxygen as a means of converting nutrients into energy.
Purina Sport invigorates this process, helping your retriever utilize oxygen more efficiently.
It's also been reported by many customers that this food isn't just great for dog's insides, but their outsides too, helping them maintain shiny, thick, smooth coats.
Pros
Contains amino acids for muscle recovery
Real chicken is the main ingredient
Helps your golden retriever develop lean muscle
Invigorates oxygen metabolism
Helps maintain healthy coats
Comes in a variety of flavors
Affordable
Cons
Some online orders had a different, slightly spoiled smell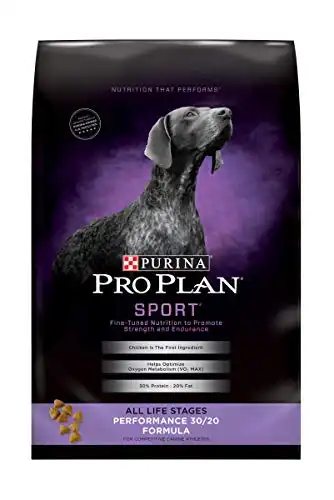 We earn a commission if you make a purchase, at no additional cost to you.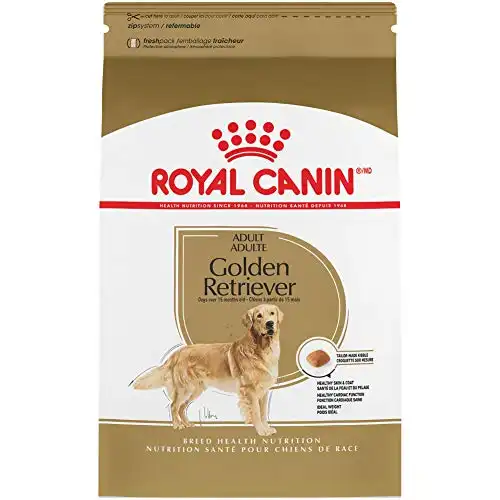 Our second super snack is designed exclusively for golden retriever tums, easily snagging second place on our crunchy list.
Even the shape of this kibble is tailor made to suit the straight muzzle and scissor chomping style of golden retrievers. Amazing, right?
Brimming with nutrients that ensure a lustrous coat, your retriever will be looking sharp, and thanks to the taurine, EPA, and DHA content, this food is amazing for your golden guy or gal's ticker too.
It's never easy on you or your woofer when doggy weight problems strike, but with precision ratios of proteins and fats, this kibble can help your retriever shed or gain weight faster than other diets.
The caloric content is measured out perfectly for a retriever's specific dietary requirements.
Unfortunately, the meat content is made up of byproduct meal and fats, but that may actually be beneficial to retrievers with weaker digestive systems.
Real meat can be too rich for some dogs and cause stomach upsets. Perhaps it would be a good idea to mix this kibble with wet food with a higher meat content, giving your dog the best of both worlds.
Pros
Good for the heart
Mild ingredients help digestion
Designed for golden retriever's specific dietary requirements
Great for weight gain and loss
Full of vitamins and minerals that promote healthy skin and coats
Precise protein levels for developing lean muscle tissue
Cons
No real meat
Not suitable for pups under 15 months
Royal Canin Golden Retriever Adult Breed Specific Dry Dog Food, 30 Pounds. Bag
$104.99
$82.99 ($2.77 / lb)
FORMULATED FOR PUREBRED GOLDEN RETRIEVERS: Royal Canin Golden Retriever Adult Dry Dog Food is designed to meet the nutritional needs of purebred Golden Retrievers 15 months and older
SPECIALIZED KIBBLE: Unique kibble is designed for a Golden Retriever's straight muzzle and scissor bite to encourage chewing
SKIN AND COAT: Reinforces the skin barrier with essential nutrients to support healthy skin and coat
HEART HEALTH: Taurine, EPA, and DHA promote healthy cardiac function
WEIGHT MANAGEMENT: Precise calorie and fat content designed for big dogs supports weight management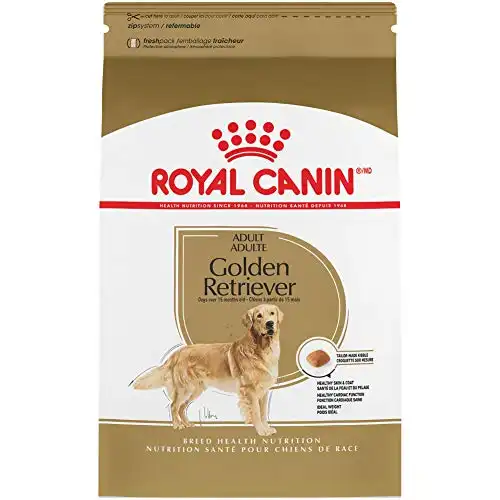 We earn a commission if you make a purchase, at no additional cost to you.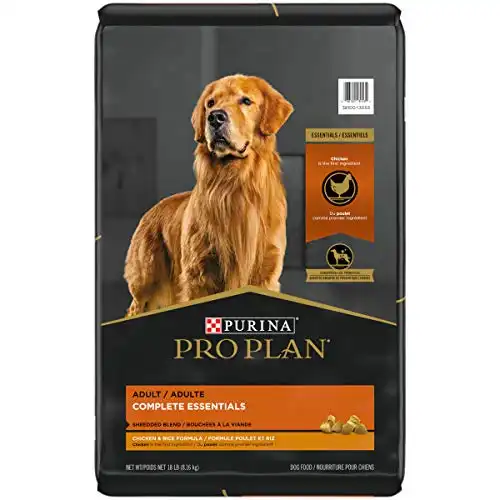 Next on our nutritious list is yet another Purina blend designed for digestional perfection.
Fortified with tons of live probiotics, this food will give your golden gobbler the best bowels this side of the Mississippi.
As it should be, real meat is the number one ingredient here, just the succulent good stuff.
You may find it hard to stop having a little nibble yourself. A lesser component is byproduct meal, but small amounts aren't necessarily a bad thing. A wild dog's diet would include some of these parts of animals.
This Pro Plan variant is also super high in proteins which is essential for lean muscle growth after exercise.
Your woofer will be svelt and slender in no time at all. If your dog has a history of stomach problems, this shredded blend will make digestion much easier too.
It's always good to be a little bit cautious when a food says it's veterinarian recommended, but this food actually seems to be genuinely backed by a lot of vets as an affordable yet genuinely healthy option.
That said, it can't hurt to check in with your vet to make sure.
Pros
Ideal fat to protein ratio for optimal body conditioning
Affordable
Live probiotics aid digestion and gut health
Perfect for retrievers with sensitive stomachs
Meat is the number one ingredient
Recommended by vets
Shredded chunks provide great texture and make digestion easier
Available in a few flavors
Cons
Some customers claim this food isn't stored properly before delivery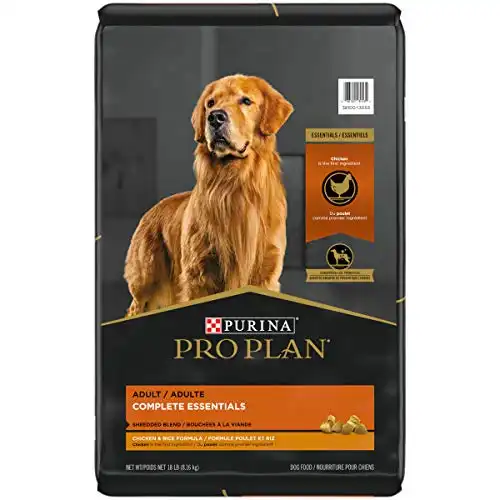 We earn a commission if you make a purchase, at no additional cost to you.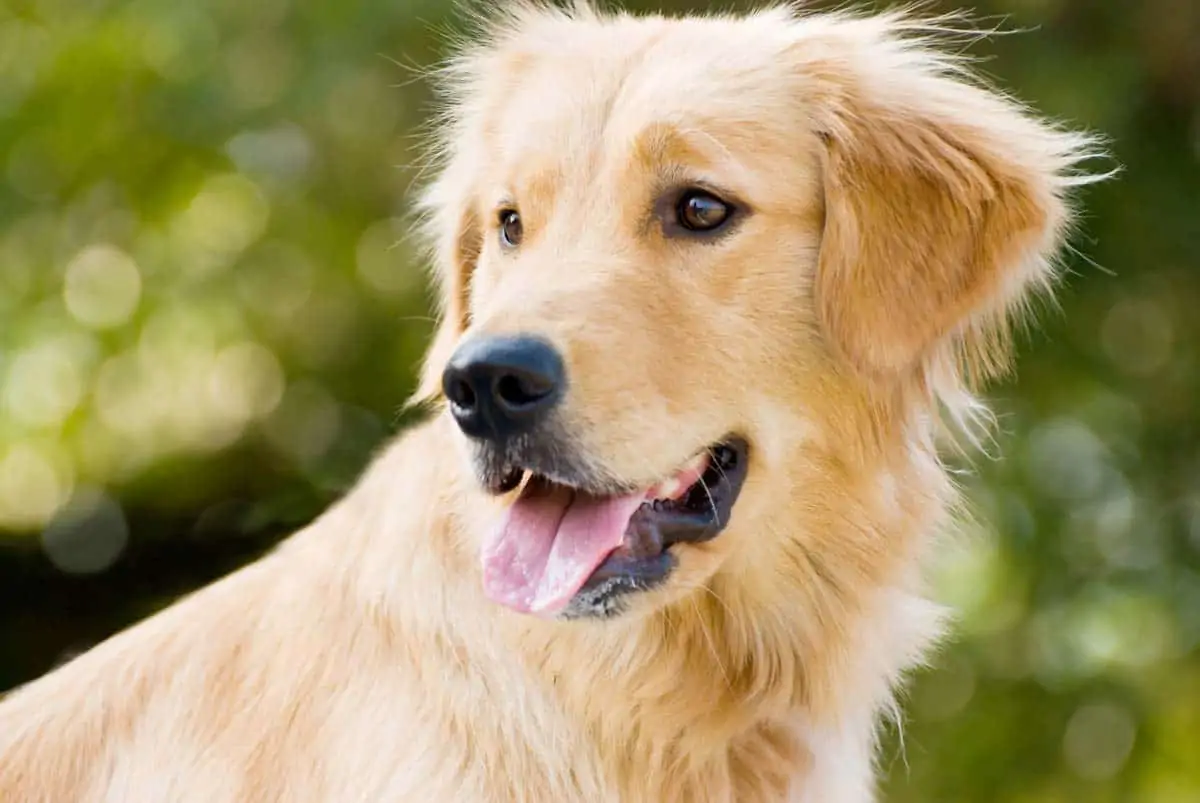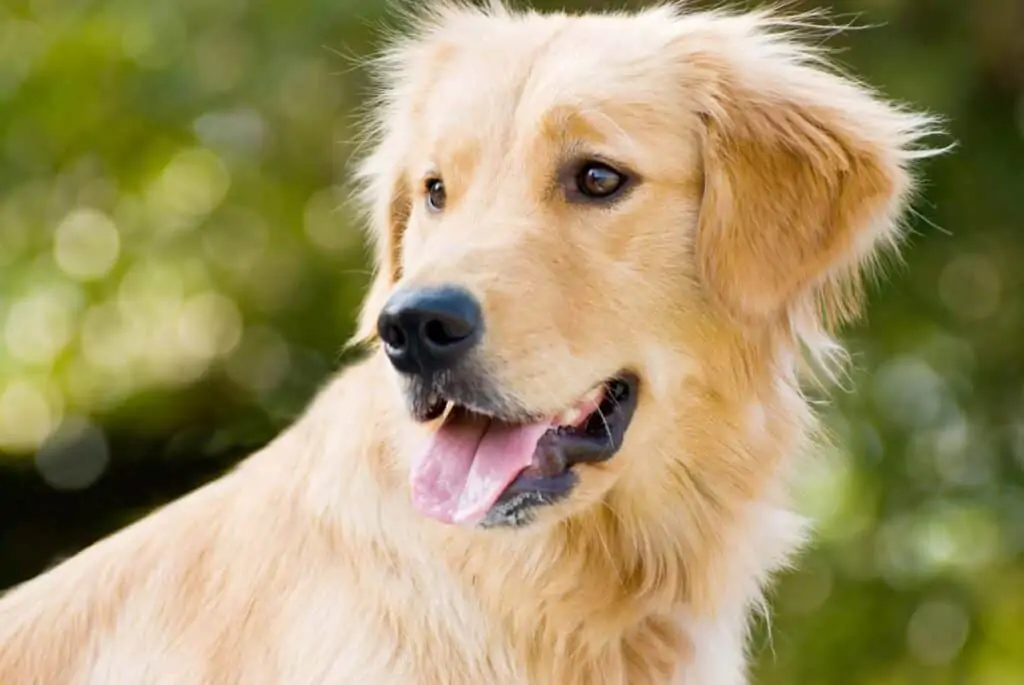 You need look no further than the giant image of a very smiley golden retriever on the front of this dry food pack to know it's an ideal snack for yours.
Full of balanced proteins and fats this food is designed to get your bundle of joy into shape and develop lots of lean muscle to stay that way.
There are no artificial flavorings, colorings, or preservatives used whatsoever in this blend, making it a truly healthy option for your retriever.
You can expect to see positive changes to their weight as quickly as 10 weeks.
This is a great affordable food to start your dog on to transition them from prescription snacks.
It's gentle enough not to disturb their stomach culture too much, making it a pretty handy treat for older dogs that aren't as active who are in and out of the vet.
If your golden retriever prefers their dried food soaked, Dr. Hill's dog food is slightly more absorbent than other dry foods on the market, making them a more succulent treat.
This extra swelling also makes for some extra tasty frozen snacks too.
Pros
No artificial colorings, flavorings, or preservatives
Perfect for shedding weight, but can also be used to maintain ideal weight
Gentle on the stomach which means easier transitions
Veterinarian recommended
Great protein to fat ratio
Pretty affordable
Cons
Might not be necessary if your dog's already in great shape
We earn a commission if you make a purchase, at no additional cost to you.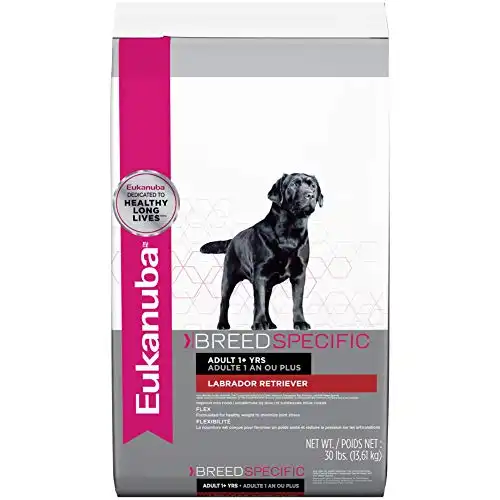 Our final fantastic food for your furry, floppy eared friend is another breed specific option designed with extra focus on dental hygiene.
After munching this crunchy kibble for 28 days, tartar build-ups should be completely eliminated, leaving your dog with strong teeth and not so nasty breath.
This food's all about meat-based proteins. The main ingredient is chicken – plain and simple – and it also contains byproducts, dried cartilage, and fish meal.
Animal-based proteins are the most important part of your dog's diet, so the focus on that area of nutrition is appreciated. It will help your retriever grow lots of strong muscles and keep joints working smoothly.
Animal proteins are also important for a thick and glossy coat, so feeding your retriever this heavily animal-based treat will have them looking incredibly majestic.
Combining beauty with brains, vitamin E and DHA content help with mental acuity.
Many customers claimed they saw a noted improvement in the health of their dog's skin after eating Eukanuba as well.
Pros
Great for your retriever's lovely coat
Promotes healthy skin
Contains shed loads of meat protein
Helps develop lean muscle tissue
Fights build-ups of tartar
Main ingredient is real meat
Affordable
Has lots of grains
Cons
No veg content
Some customers claimed they received bad batches
Eukanuba Breed Specific Labrador Retriever Dry Dog Food, 30 lb
EUKANUBA Labrador Retriever Dog Food features 3D DENTADEFENSE System, which is proven to reduce tartar build-up in 28 days
Our nutritional dog food is made with high-quality, animal-based proteins to help your lab build strong, lean muscles for an optimal body condition
Our Labrador retriever dog rood is formulated to help support healthy joints
EUKANUBA PREMIUM Labrador Dog Food contains calcium to support strong bones
Promotes healthy digestion and skin and coat health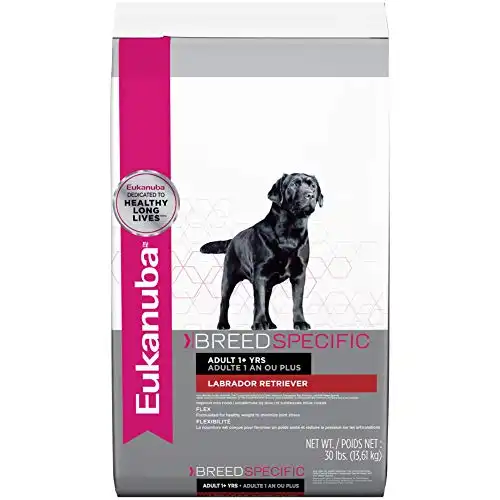 We earn a commission if you make a purchase, at no additional cost to you.
Best Dog Food for Golden Retrievers Buyer's Guide
Before you buy your beautiful dog a big old sack of chow, there are a bunch of things to consider first.
Here are a few of the most important ones.
Grain-Free and DCM – URGENT!
For a long time, boutique grain-free dog foods have been seen as the healthiest option for pups and hounds the world over.
They're a little pricier, but if you're anything like us, you'll spare no expense to ensure your best fluffy friend is healthy and happy; however, the way we think about grain-free foods is on the brink of drastic change.
DCM is a very particular form of canine heart disease that usually only really affects very large dogs, we're talking your dobermanns, alsatians, Irish wolfhounds, etcetera, but over the last few years, vets have begun to see a fairly steep rise in cases of DCM in small and medium-sized dogs.
After reports of DCM in dogs that previously wouldn't have been at risk kept rising, in 2019, the FDA launched an investigation and discovered a possible correlation between grain-free legume-based diets and the development of DCM.
Of all dog breeds affected by this sudden and unusual spike, golden retrievers have the most reported cases.
This doesn't exactly mean they're definitely more susceptible.
The statistics are thought to be skewed slightly by a bias caused by stronger retriever based online communities through which information about risks is shared.
More retriever owners are made aware of the risk than owners of other breeds, thus more retrievers get tested, and finally, more are found to have the heart defect.
It could, of course, also mean that retrievers are more susceptible to developing the heart disease after all.
If you're currently feeding your retriever grain-free food, stop immediately! They may enjoy grain-free food very much, but it's better to be safe than sorry.
Even if you have other breeds on a grain-free diet, it's just not worth the risk to keep feeding them boutique foods until we have a clear understanding of what's causing these unusual heart defects.
If food is grain-free, it should make that very clear on the packaging as it has been a selling point for many years, but to make sure, check the small printed ingredients.
Commonly used grains are wheat and corn. If the product does not contain them, it's likely that it's a grain-free product and to be avoided.
Budget
Dog food is never really all that expensive, but there will be some that are two or three times the price of cheaper options.
Ideally, money wouldn't even be a consideration when it comes to your dog's health and happiness, but you need to be able to afford food consistently as frequent changes in diet will have a negative impact on your dog's health.
Settle on one that your dog enjoys, has healthy ingredients, and that you can continue to afford. Hard to find dog foods should also be avoided for consistency's sake as well.
Breed Specific
Breed specific dog foods are great. They give you the peace of mind that comes when you know your golden fluffer is getting exactly the nutrition they need to thrive, but you still need to be cautious.
Breed specific foods may still have subpar ingredients, and their mission to provide a generalized nutritional standard for an entire breed omits cases of individual difference.
Not all golden retrievers are the same. They can have very different dietary requirements. It's also important to note that these foods are designed for purebreds, so unless you're absolutely sure that your doggo pal is 24-carat gold, stick to a different food.
One final thought on breed specific foods is that they're not totally necessary. A really good blend of standard dog food with great ingredients will be just as good for your retriever as the one marketed directly towards them.
Age – Golden Years or Puppy Times
How old is your super furry family member?
Age is one of the most important things to consider before settling on a food.
Different age retrievers have different nutritional requirements.
Puppies
Although retrievers are generally seen as medium-sized dogs, technically, they're classed as a large breed, and large breed puppies don't need as much calcium in their diet.
Too much of it and their bones can grow too quickly which will inevitably lead to mobility problems in later life.
It's also a good idea to avoid high concentrations of phosphorus too.
Middle Aged
Unlike us, retrievers don't get the urge to buy a swanky car when they hit middle age (although that would be adorable), they simply change their diet ever so slightly.
This is the easiest stage to feed your dog as you can stick to what they like.
Unless your pooch has digestive or weight issues, you can focus on protein-based foods that will help them develop lots of lean muscle.
The more lean muscle your dog has, the less pressure there will be on its bones, and the faster it will burn calories during exercise.
Golden Oldies
For all the lovely senior softies out there, you'll need to take a trip to the vet.
Diets will vary greatly from older dog to older dog, but generally speaking, when they're getting on a bit, golden retrievers need some extra proteins and fiber.
To keep them in tip-top shape, you may also need to augment their diet with supplements.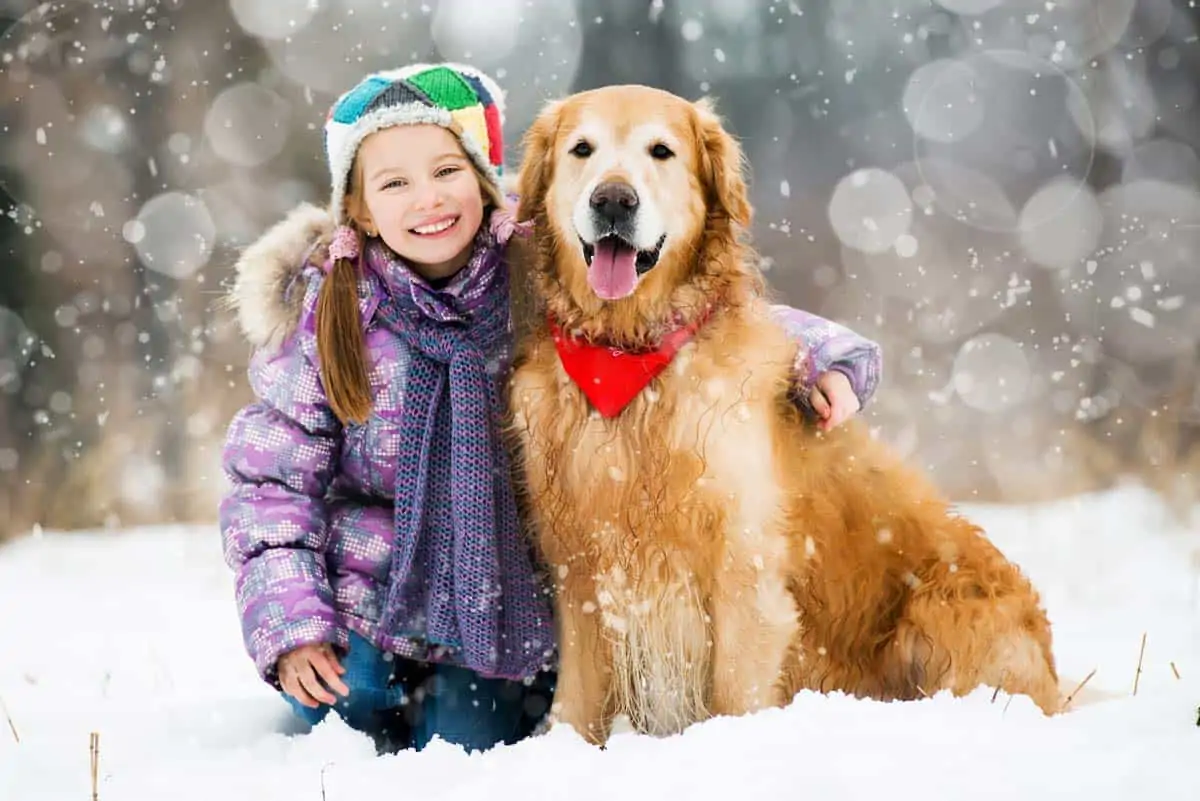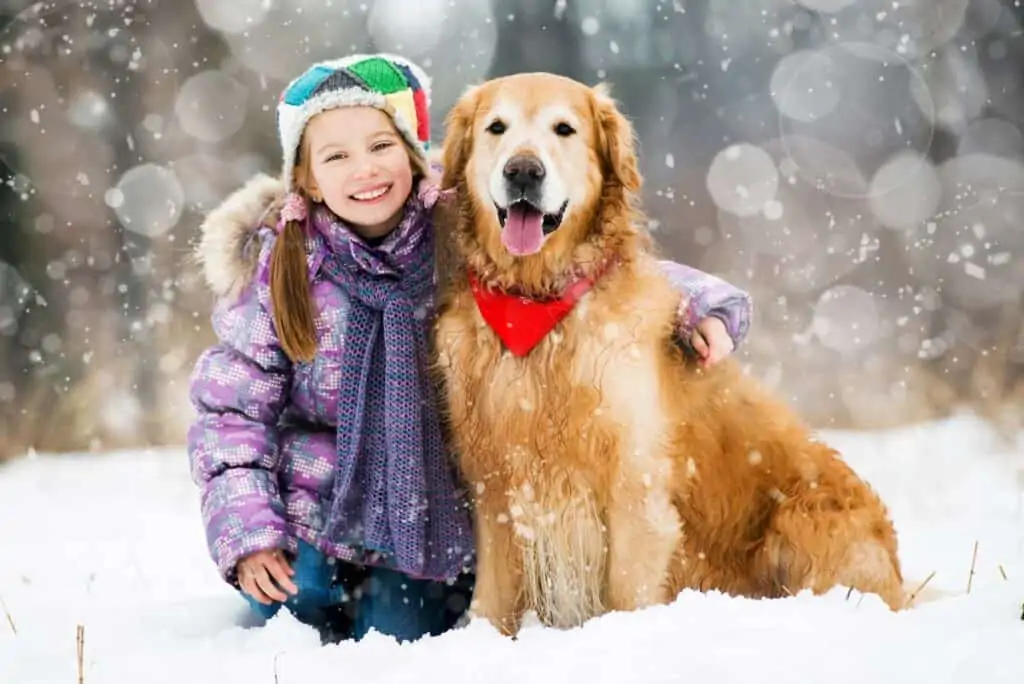 Good Ingredients
Not all dog food is created equal. Some are made with nicer, more nutritious ingredients than others.
The first major thing you should look out for is meat content.
Real meat is preferable but may also be too rich for dogs with sensitive stomachs that are acclimated to a milder diet.
Dog foods often also use animal byproducts to provide protein. Whether this is a good thing or not is heavily debated, but it's been found not to have any adverse effects on the health of dogs.
A mix of byproducts and real meat can be a good pairing.
The last animal content will be fats, most commonly chicken fat. Due to their high omega 6 content, animal fats are quite effective at lowering cholesterol, improving heart health, and reducing cancer risks.
Dogs prefer meat, but they're actually omnivores, able to eat a whole host of different veggies and fruits.
These veggie extras are typically very good for them. That said, some of the ingredients still being monitored by the FDA include peas, legumes, lentils and potatoes.
As long as they're registered as safe to eat, a food that's a quality mixture of meat and veggies will likely be the most nutritious for your dog.
They'll also provide loads of antioxidants that promote healthy skin and coats.
Taurine is an essential part of any dog or cat's food. For dogs, it helps with eye health, reproductive health, digestive health, and heart health.
Probiotics are living bacterias that aid in the entire digestive process. They're harmless to your retriever but great for helping them metabolize nutrients.
Frequently Asked Questions
Are dogs allergic to grains?
They can be, but it's very rare. Less than 1% of dogs suffer from intolerances to grain.
The allergens are actually most likely to be the meat itself.
Is wet food better than dry food for dogs?
There are benefits to wet food in some circumstances, for example, a dog with few remaining teeth will benefit from a soft lubricated food, but for the most part, nutritionally speaking, they should have relatively similar content.
Are golden retrievers more likely to suffer from DCM?
They do have a higher report rate, but that may not actually mean they are more likely to get it.
Still, it's good to stay vigilant, stay away from grain-free food, and get them tested periodically.
Summing Up
There you have it, folks. Five of the very best dog foods for golden retrievers doing the rounds at the minute.
As long as you pay close attention to what your dog likes, and clue yourself up on what it needs, you shouldn't have a problem finding what's best for their furry tums.