5 Best Dog Food For Huskies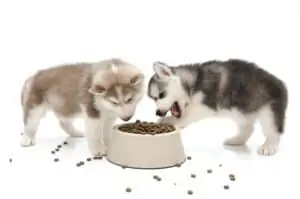 Siberian Huskies are one of the best breeds of dogs.
Not only are they beautiful, but they are intelligent too.
They are a particularly athletic breed and are known for being rather vocal.
Although they are used as a working breed in many places across the world, they make great domestic four-pawed companions too.
If you own a Siberian husky, it is only natural to wonder which type of food is the best.
While opinions can differ, one thing remains the same – you want to choose good quality food.
In this article, we have chosen five of the best brands of dog food that are suitable for huskies.
We have included a buyer's guide which discusses everything you need to know about the food and a frequently asked questions section to answer any questions you may have.
We hope this article will help you find a wooferful food!
In A Hurry?
Here is our top choice for husky food:
Blue Buffalo Wilderness Adult Dog Food
Blue Buffalo Wilderness is our top choice because it contains a good quality protein source and ingredients.
It comes in three different flavors, and three different bag sizes to choose from.
The recipe is grain-free and will be suitable for dogs with sensitive stomachs.
The carbohydrates used are healthy, and the antioxidants included are great for your dog's overall health.
Blue Buffalo uses LifeSource bits which contain essential vitamins and minerals to help aid your dog's overall health.
While this may not be the cheapest dog food available, it is highly rated due to its good quality ingredients. The quality is reflected in the price.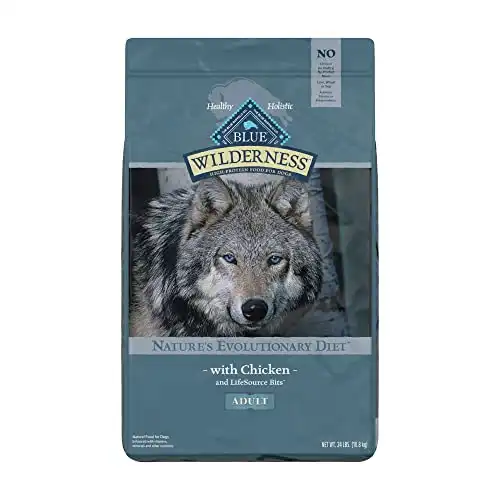 Blue Buffalo is available in 3 bag sizes, 4.5, 11, 24lbs. When looking at the price, it is one of the more expensive foods we have included.
However, the high quality of the food reflects that.
The food comes in 3 different flavors, chicken, duck, and salmon. Blue Buffalo Wilderness is a high protein food that has protein as the main ingredient.
If your dog has sensitivities it is a great choice because it has a grain-free recipe. The high protein content encourages lean muscle mass.
The Wilderness food is particularly good for active dogs and helps with joints, teeth, and your husky's overall health.
The LifeSource bits include essential vitamins and minerals, and the carbohydrates included are healthy and complex.
The food contains foods that are rich in antioxidants, such as blueberries and cranberries.
Pros:
High in protein
Grain-free
Rich in antioxidants
Cons:
Not the cheapest food available
Blue Buffalo Wilderness High Protein, Natural Adult Dry Dog Food, Chicken 24-lb
MORE CHICKEN IS COMING: An evolution of your dog's formula with more chicken than ever, plus wholesome grains
PACKED WITH REAL CHICKEN: A recipe made to satisfy your dog's natural love for meat, this high protein dog food features real chicken to help build and maintain lean muscle mass
HEALTHY INGREDIENTS: BLUE Wilderness grain free dog food, made with healthy carbohydrates including sweet potatoes and peas, helps fuel your adult dog's active lifestyle; It also contains omega 3 &...
ANTIOXIDANT-RICH LIFESOURCE BITS: A precise blend of antioxidants, vitamins and minerals carefully selected by holistic veterinarians and animal nutritionists to support immune system health, life...
A NATURAL DOG FOOD: BLUE dry dog food is made with the finest natural ingredients enhanced with vitamins and minerals; BLUE contains NO chicken (or poultry) by-product meals, corn, wheat, soy,...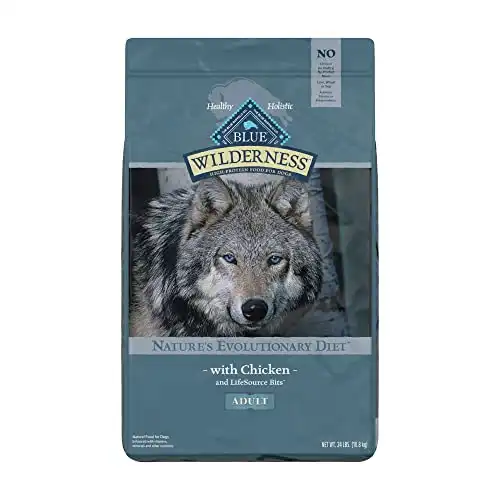 We earn a commission if you make a purchase, at no additional cost to you.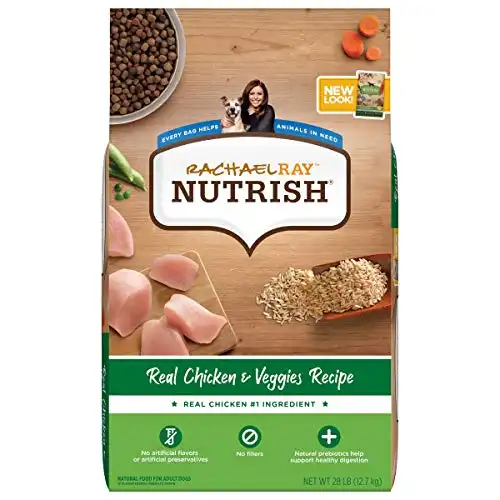 Rachael Ray Nutrish is a great choice of food. When you consider the high-quality ingredients, the food is reasonably priced.
It is available in the following sizes – 6, 14, 28, and 40lbs.
While it only comes in one flavor, chicken, and veggies, it is gentle on your husky's stomach.
It contains whole protein sources, with protein being the main ingredient.
There are no wheat and wheat gluten ingredients. The chicken used is from farm-raised sources.
There are added vitamins and minerals, such as vitamin b12 to help with your husky's overall health. In addition to this, the natural prebiotics help with digestion.
Rachael Ray Nutrish contains whole grains such as brown rice and uses chicken fat to provide omega 3 and fatty acids.
Pros:
Chicken is the number one ingredient
Contains natural prebiotics
Available in four different bag sizes
Cons:
Only available in one flavor
Rachael Ray Nutrish Premium Natural Dry Dog Food, Real Chicken & Veggies Recipe, 28 Pounds (Packaging May Vary)
Contains one (1) 28-pound bag of Rachael Ray Nutrish Real Chicken & Veggies Recipe
Now more nutritious and delicious compared to previous recipe
Natural dry dog food for adult dogs with added vitamins, minerals and taurine
Includes Nutrish's Whole Health Blend which helps support a healthy mind, body, and energy level and Made with real chicken as the number one ingredient
A portion of the proceeds from the sale of this product will be donated to The Rachael Ray Foundation, which helps animals in need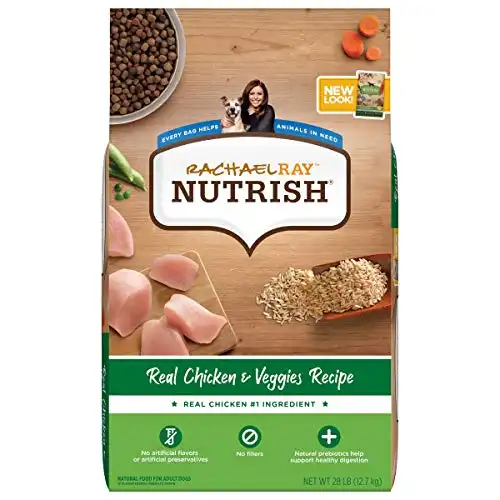 We earn a commission if you make a purchase, at no additional cost to you.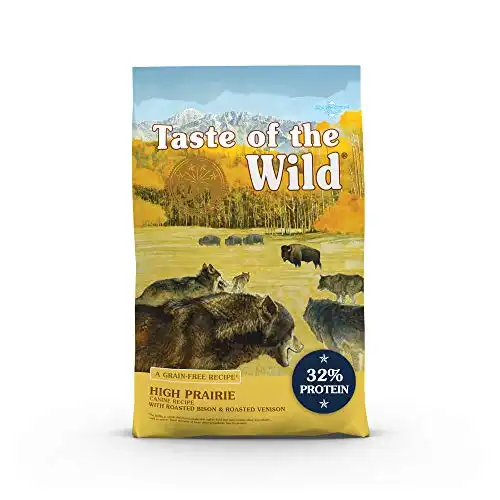 Taste of the Wild is high in protein and makes up 32% of the food. While the food does include an animal meal, this is in addition to the high-quality protein source.
Taste of the Wild is one of the more expensive brands, but the quality does reflect this.
It comes in two bag sizes, 14, and 28lbs. This food uses two protein sources, bison and venison.
The food is highly digestible and contains proprietary probiotics to help with overall digestion. There are no artificial preservatives, colors, or flavors added.
The ingredients are taken from sustainable sources, and the antioxidants included help to maintain a shiny and healthy coat.
It uses optimal amounts of amino acids to help support lean muscle growth.
Pros:
High-quality protein source
Supports lean muscle growth
Highly digestible food
Cons:
Contains meat meal alongside the high-quality protein source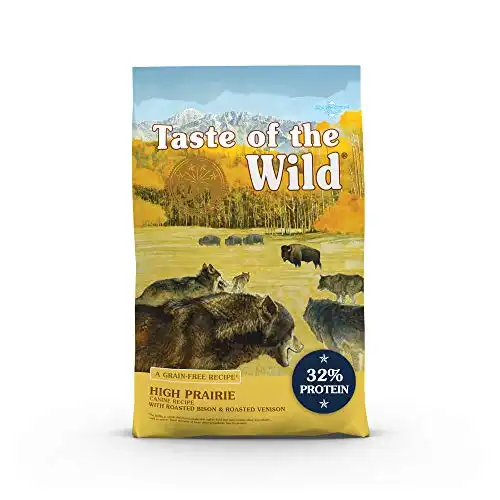 We earn a commission if you make a purchase, at no additional cost to you.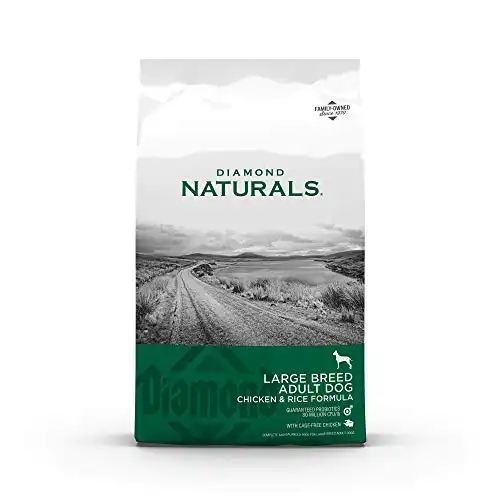 Diamond Naturals is a large breed-specific food. The food is available in two flavors, chicken, and lamb.
There is also puppy food available which will make the transition from puppy food to adult food seamless.
The food is made by a family-owned company and is reasonably priced. It comes in three different bag sizes – 6, 20, and 40lb.
The protein is of high quality and all of the ingredients used are sustainably sourced.
Chicken is the first ingredient and it is a single protein source. However, the food does contain chicken meal alongside this. Diamond Naturals uses antioxidants, probiotic technology, and digestive support.
In addition to this, it contains glucosamine and chondroitin which help with joint support.
Pros:
Protein is the number one ingredient
Ingredients are sustainably sourced
Tailored for large breeds
Cons:
DIAMOND NATURALS Dry Food for Adult Dogs, Large Breed 60+ Chicken Formula, 40 Pound Bag, 40 lb (838_40_DBD)
High quality protein made with real cage free chicken; tailored for a large breed dog with optimal amino acid profile for LEAN, STRONG MUSCLES
Premium ingredients with added vitamins & minerals; superfoods for antioxidants; fatty acids for skin & coat; levels of glucosamine & Chondroitin
Nutrient rich and HIGHLY digestible with PROPRIETARY PROBIOTICS that survive and thrive in the GI tract; at levels
Family owned & run, MADE in the USA choosing ingredients from TRUSTED, SUSTAINABLE sources around the world; Call with questions 800 442 0402
No corn, wheat, filler; NO ARTIFICIAL flavors, colors, or preservatives; Made with the most scientifically advanced food safety protocols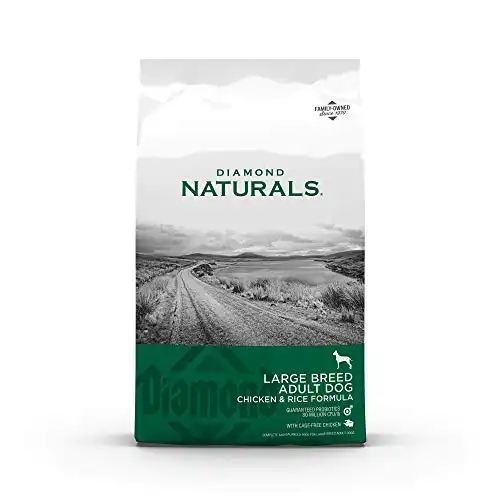 We earn a commission if you make a purchase, at no additional cost to you.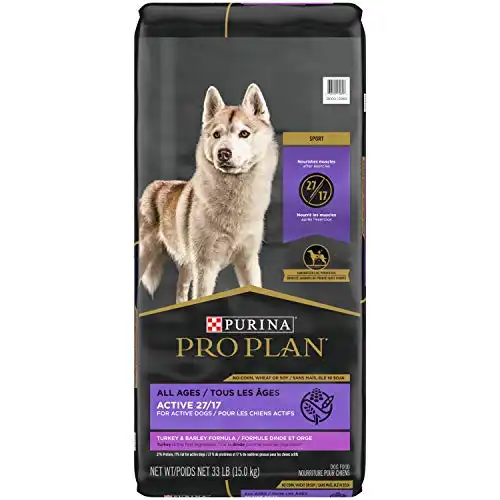 Purina Pro Plan is a scientific food. While it contains natural ingredients, additives that benefit your husky are added too.
The active food is aimed at breeds like huskies in particular.
This food is one of the most expensive ones we have featured. However, it does contain good ingredients. It comes in a wide range of sizing options, from 4lb to 50lb.
Purina Pro Plan comes in turkey and barley, and the main carbohydrate is rice. It does contain corn and grains which may disagree with some huskies, however.
It is fortified with live probiotics that help with your husky's digestive health.
It contains 27% protein which is a good amount, and 17% fat which helps to promote lean muscle mass.
The food is made in the USA and helps to support your dog's immune system.

Pros:
Aimed at active breeds
Fortified with live probiotics
Promotes lean muscle mass
Cons:
Does contain wheat and corn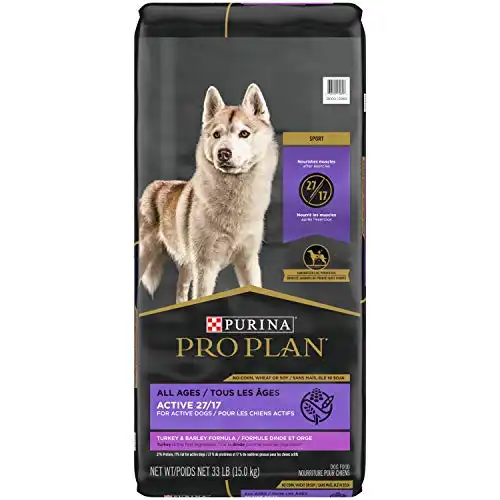 We earn a commission if you make a purchase, at no additional cost to you.
Best Dog Food For Huskies Buyer's Guide
Here is a useful buyer's guide that contains everything you need to know about husky food before purchasing.
Cost
Before you purchase any kind of dog food, you should always consider the price of it.
While the price is not the most important factor you need to consider, it is still something you need to think about.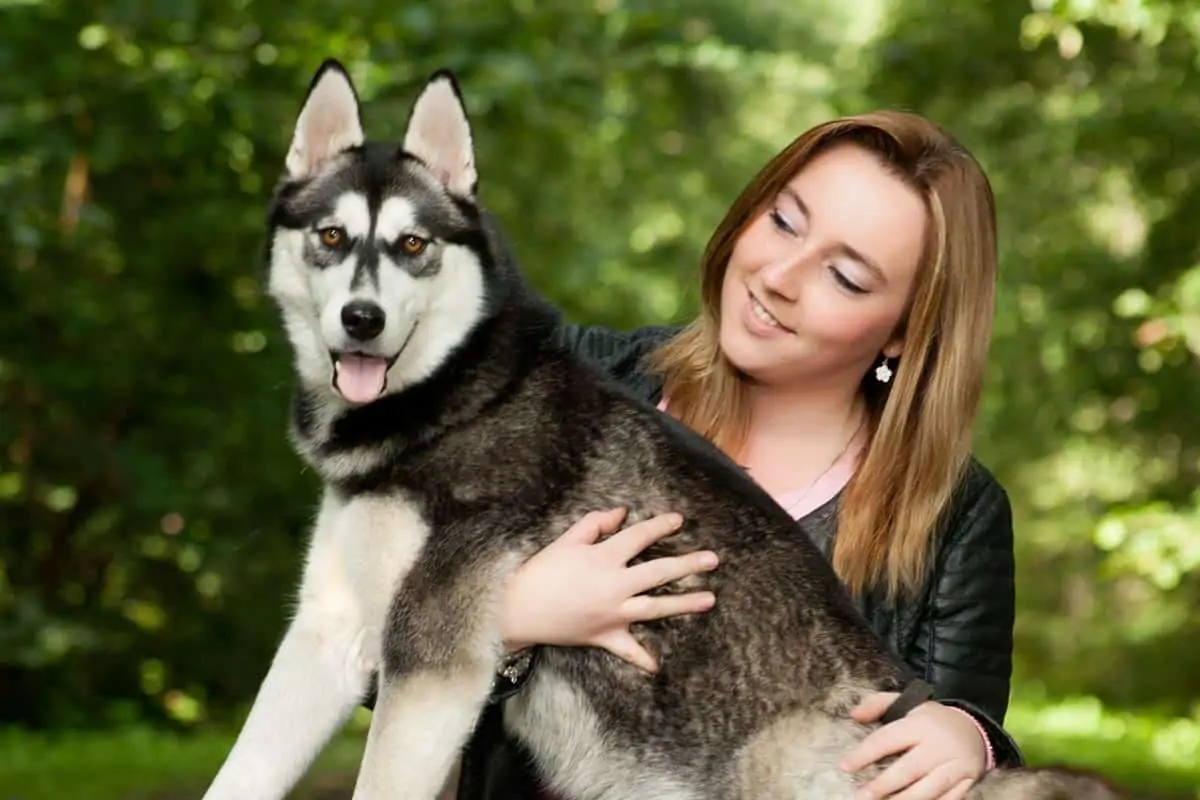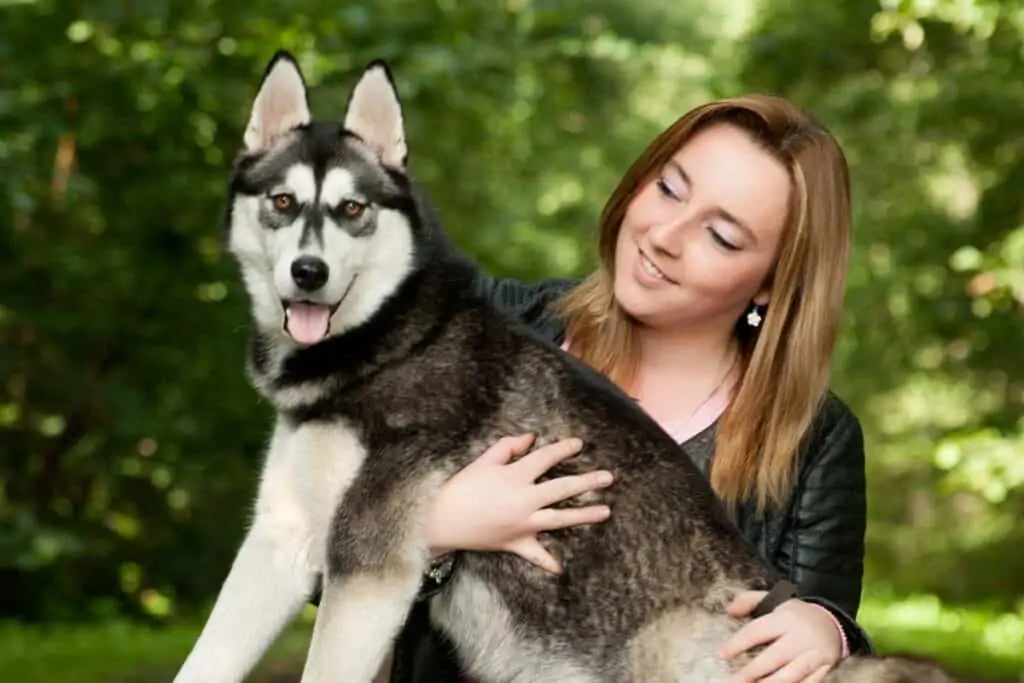 For example, if you choose a very cheap dog food, the quality is likely going to reflect this.
Very cheap dog food tends to have a lot of filler and additives, rather than a high protein content and good carbohydrate sources.
Given this, it may not be the best food to feed your dog, especially if they have digestive issues.
In contrast to this, food can also be overpriced. Sometimes you may be paying for the name of the brand, rather than for the quality of the food itself.
Given this, middle ground food tends to be the best option, but you should always shop within your budget and choose the best option for the budget you have.
When looking at the cost of food, it is important to consider the cost per meal. This is different from the actual cost of the food. It is worked out when you break down how much each meal you feed your dog costs.
If the food is of good quality, you will need to feed less of it to your dog. This is because it does not contain any fillers. Food that contains filler will keep your dog full for a shorter period.
Given this, although food may be more expensive to purchase outright, it will likely save you a significant amount of money in the long run when it has better ingredients.
If you are looking to save money, bulk buying food is a great option. While this is more expensive initially, the bag will work out a lot cheaper in comparison to buying separate, smaller bags.
Ingredients
The ingredients of the food are important. As we touched on above, you want to choose a food with the best quality ingredients.
Ideally, for huskies, you should try to avoid additives and fillers where possible.
As they are a large breed of dog that comes from an active and working background, they should be fed on a high protein diet. This will allow them to build lean muscle mass and maintain it.
Protein is essential for any dog, but in particular for huskies, given the nature of the breed.
When you are looking at the protein on the ingredients list, good food will have a single protein source rather than using meat and animal derivatives.
In addition to this, a meat meal is not a good protein source in comparison to a single source of protein. If the food has more than one protein source, this is good.
Good food will include a carbohydrate source such as sweet potato, rice, and other whole grains. While the carbohydrates should not make up the bulk of the food, they should be present.
In addition to this, vitamins, minerals, and a good fat source should be present too. Many foods will also contain fruits and vegetables.
When looking for a good food, the fewer ingredients, the better. If the food contains a lot of ingredients and additives you do not recognize, this is a sign that it may not be the best food for your husky.
Quantity of Food
Siberian Huskies typically eat a lot differently in comparison to many other large breeds.
You would expect a large breed of dog to eat a substantial amount of food per day in comparison to a smaller breed.
Given their size, and the amount of exercise a husky can do, this is a natural assumption.
However, huskies typically eat a lot less in comparison to other breeds, such as Labradors or German shepherds. This is because of their genetics.
Huskies were bred for use in freezing temperatures, their physical strength, and endurance. Given the climate, huskies originally would have become used to food being particularly scarce.
This has translated through to domesticated huskies and it is not uncommon for your husky to eat a lot less than you think it should.
While this may seem concerning to some owners, it is not something you need to worry about. As they have an efficient metabolism, this will not harm their body in any way.
Energy Dense Food
As Huskies eat less food in comparison to other large breeds, this does mean that the food you feed them is particularly important.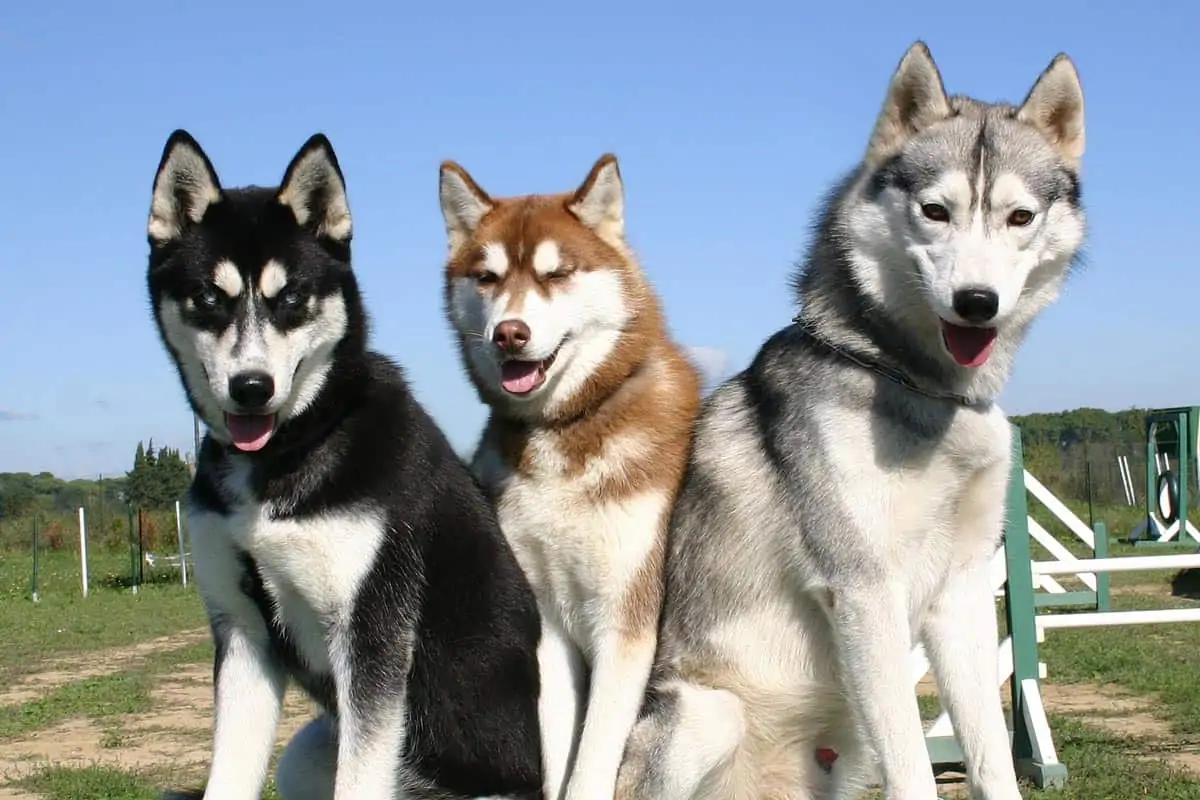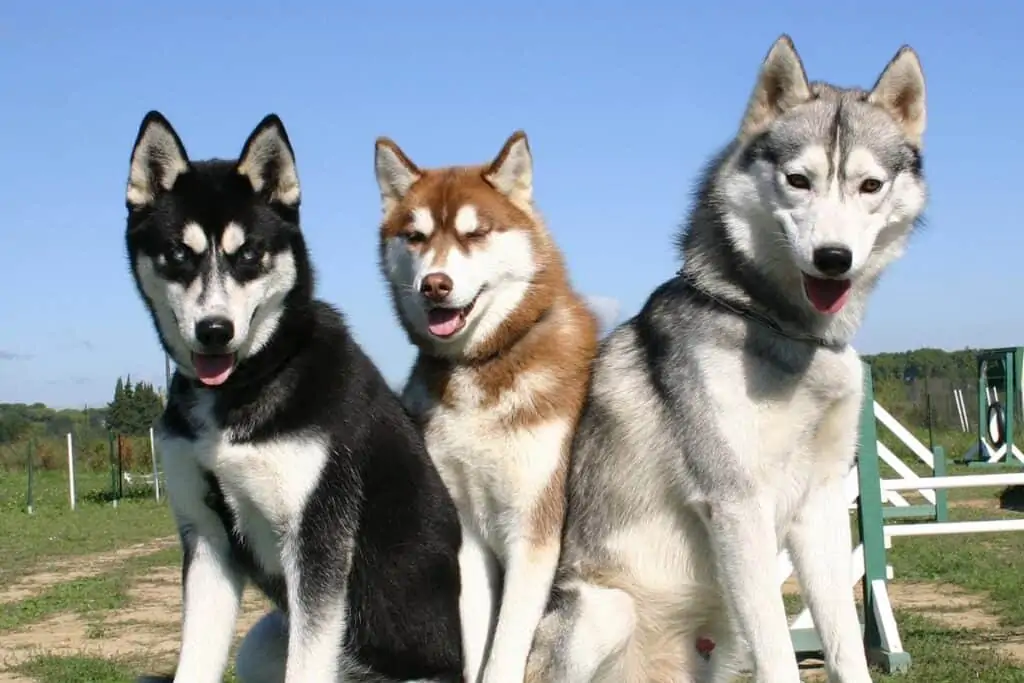 You will need to ensure that the food is high in protein, dense, and contains a good amount of calories. This will help to fuel the breed efficiently.
As they are active dogs, the meals you feed them must be rich in goodness to help to give them the energy and nutrients they need.
As mentioned above, the better the quality of the food, typically the more expensive it is. However, as huskies eat less food, this will balance out.
Switching food
If you have decided to change your husky's food, you cannot change them on to the new food instantly. It needs to be a gradual process.
If you change to a new food straight away, this is likely to cause stomach upsets. This is because your dog is not used to the new dog food.
To help prevent any diarrhea or sickness, you should gradually introduce the new food into your dog's diet. We would recommend doing this over 10 – 14 days. The slower you change the food the better.
For the first few days you should feed your husky around 80% of their existing food, and 20% of their new food. Mix the food well.
After a few days, feed the dog 70% old and 30% new. As the days continue you want to aim to have your dog completely on the new food after around 14 days by decreasing the old food slowly.
While it is not always possible to gradually change a dog's food, where possible you should do this.
When you are planning to change the food you will need to ensure that you have a small bag of the old food, or enough left for the transition process as you do not want to rush it.
Wet vs Dry food
In this article, we have focused specifically on dry dog food, however, you can choose to feed your dog wet food. It is worth noting that wet food is not recommended for dogs in the same way as it is for cats.
While wet food is good for hydration, over time it does leave a build-up of plaque and tatar of the teeth. In contrast to this, dry food helps to keep the dog's teeth clean.
While you could give wet food as a treat or mix it in with the dry food, if you have a fussy dog, you may find that it can cause them to stop eating their dry food on its own.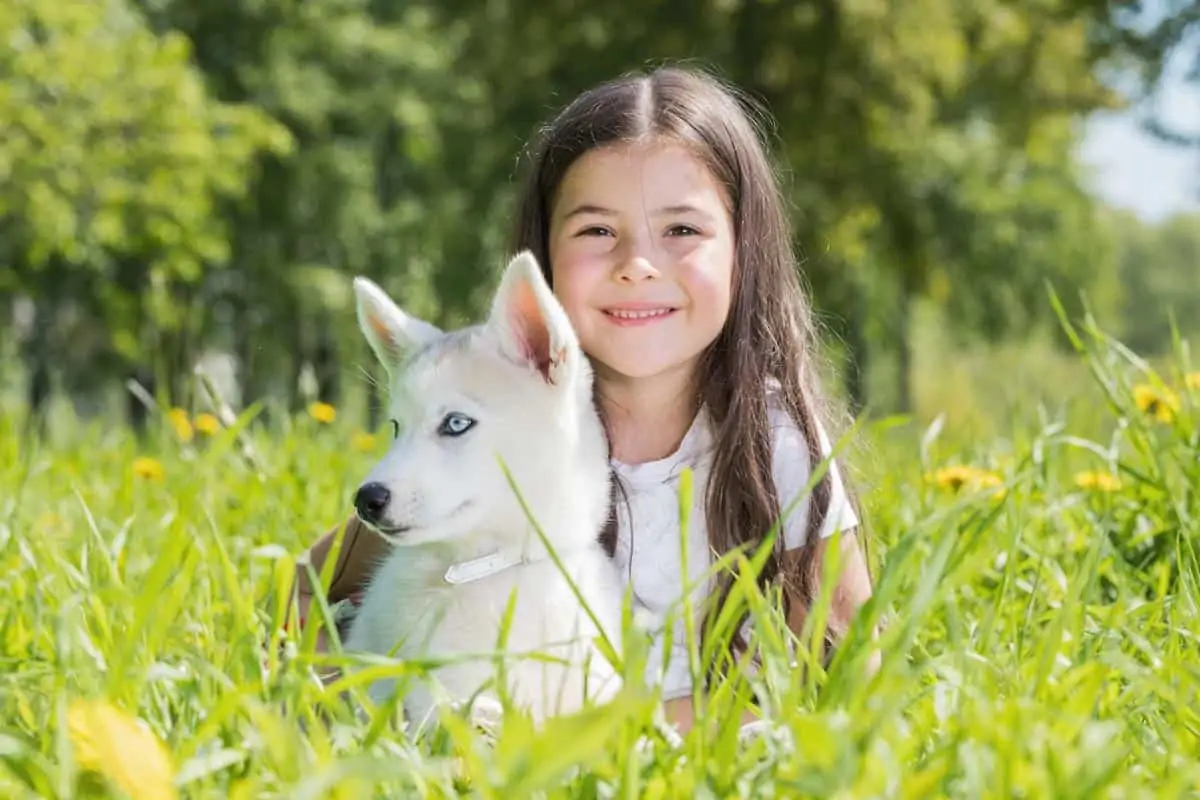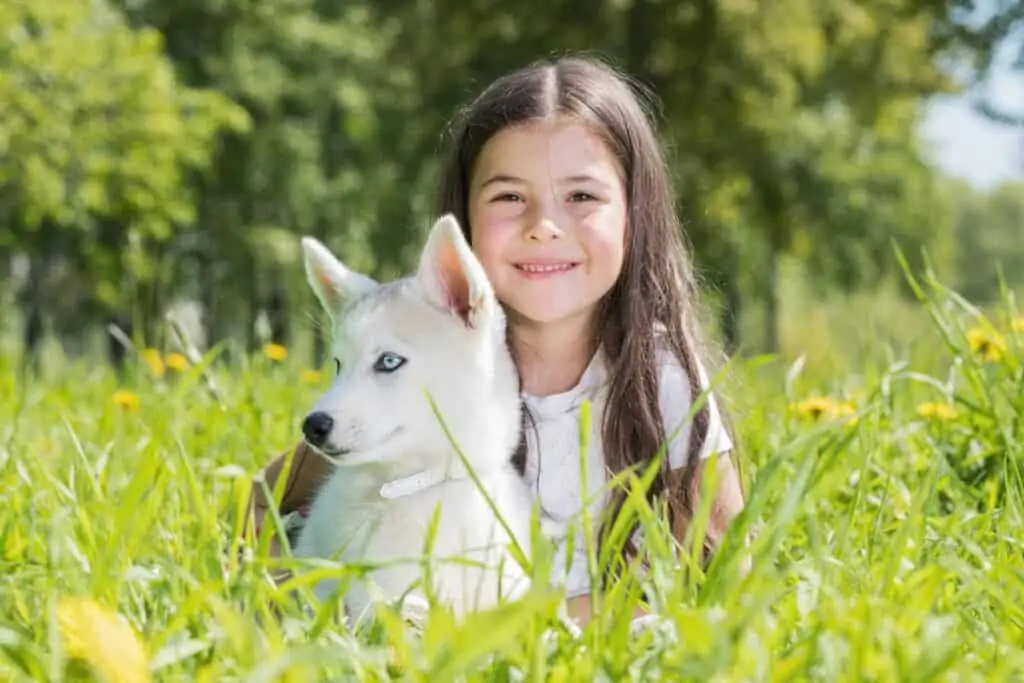 Frequently Asked Questions
We have answered some frequently asked questions that you may have about husky food.
How Much Should I Feed My Siberian Husky?
The food your husky will eat will be less in comparison to other large breeds. Given this, you may have to adjust the feeding amounts accordingly.
On the back of the food packet, there will be a feeding guide. You may need to feed the smaller amount suggested for the weight of your husky.
If you find your dog is constantly leaving leftover food, you are likely feeding them too much, if they are still looking for food, you may need to feed them more food.
The feeding guide on the back of the food packaging is just a recommendation and the amount of food you feed your husky will vary as every dog is different.
Is it Normal For Huskies Not To Eat?
It is normal for a husky to eat less food than the average large breed. However, your dog should still be eating, even if this is only in small quantities.
If your dog has stopped eating completely, we would highly encourage you to take your dog to the vet as soon as possible.
There could be a potential health issue or illness causing your dog to stop eating. It is always best to speak to a professional to rule out any issues.
However, if your dog is eating less than normal this can be linked to a few different things.
For example, as huskies are typically high-energy dogs, if your dog has not been on a walk or has not had enough exercise it is unlikely to each much.
Unlike other breeds, huskies do not overeat. If they feel as though they do not need the food, they will not eat it just because it is in front of them.