Top 4 Glow in the Dark Frisbee for Dogs (Reviews)
Best Overall: Hyperflite Professional Grade
Flashlight - LED Light Storm!
Skipdawg: Doubles as Tug Toy
A glow in the dark frisbee is a neon UFO – hurtling through the sky, only to be plucked from their path by the skillful chomp of your dog's teeth. Nighttime frisbee fetch with your dog is so much fun! You can make it easier for yourself and your pup by using a glow in the dark or light up frisbee.
Want to play the evening frisbee with your dog? Well, we highly recommend that you pick up a quality glow in the dark product. In this article, we will introduce you to a few of the things that you will need to think about when picking up a glow in the dark frisbee for dogs. We also want to give you a definitive guide to some of the best options on the market. Let's jump in, shall we?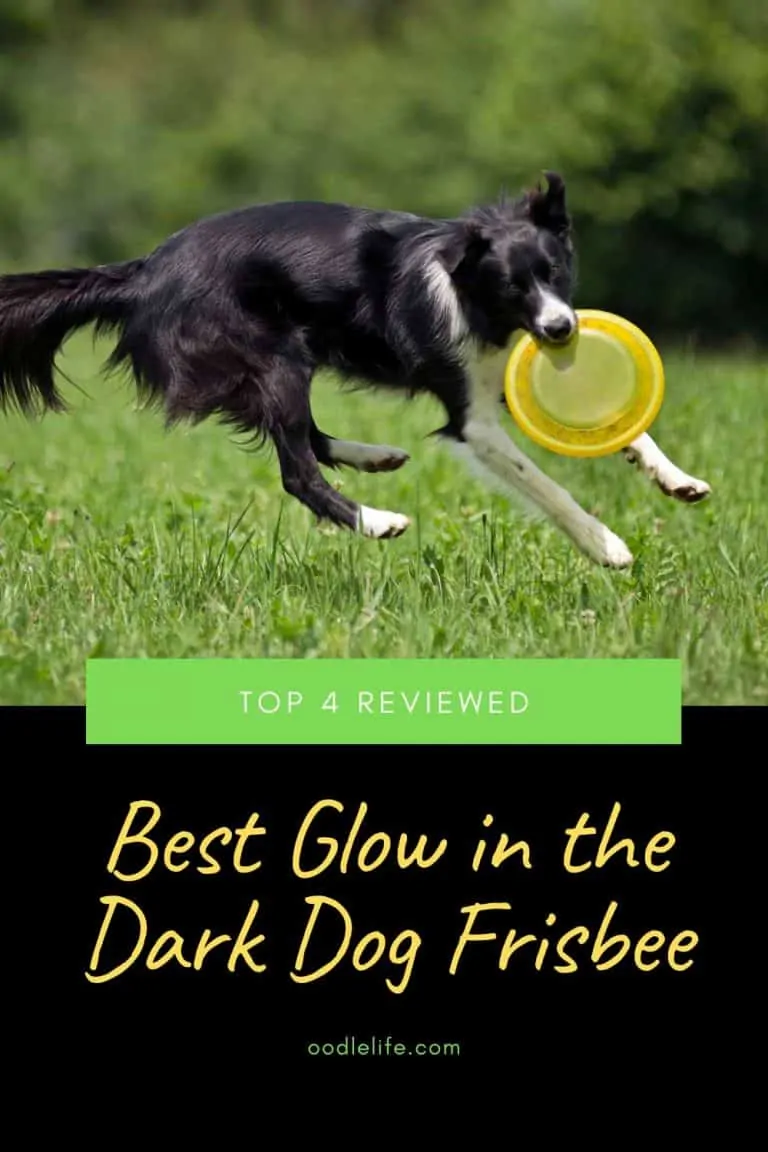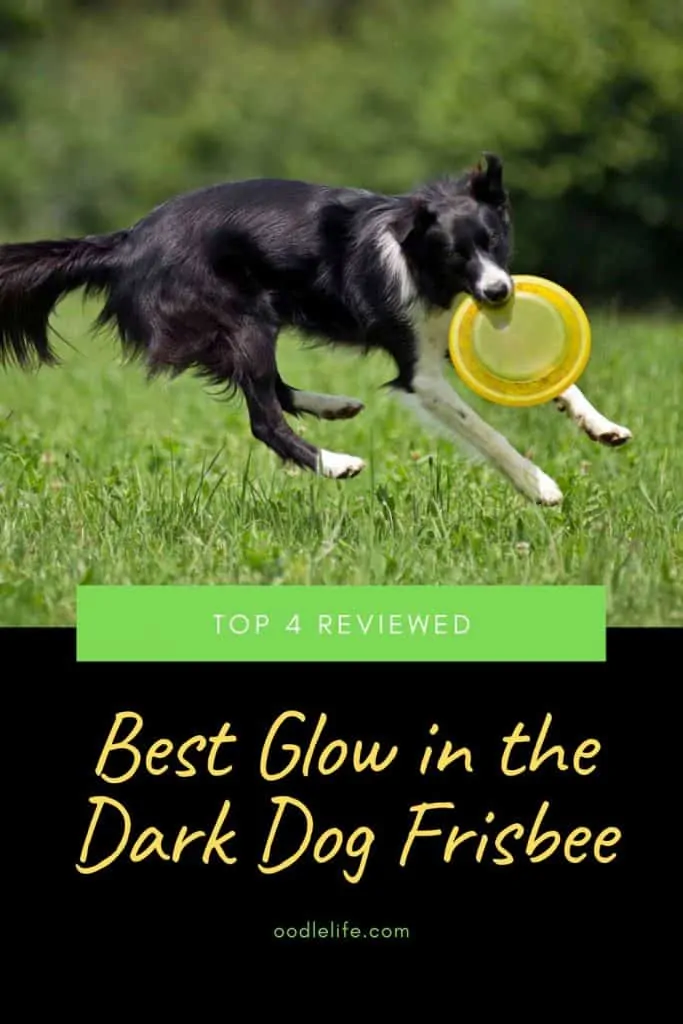 Why Get a Dog Frisbee?
Dogs love to chase things. It is stimulating, and it really plays into their natural instincts. They are predators, after all. If you own a dog, then you do need to keep them stimulated like this. The last thing you want is to have a bored dog, right?
Dogs also need exercise, and chasing after frisbee is a great way to get them all tired out and burning off some of that excess energy. Chasing after a frisbee will give your dog more of a workout than a simple walk.
Of course, if you suffer from limited mobility, you may not walk long distances. A frisbee can come in quite handy here. You can toss it for your dog, and they will run and get it. This means that they will 'essentially' be exercising themselves. You can do the same with pretty much any thrown toy, but frisbees are designed to travel long distances.
Why Purchase a Glow in the Dark Dog Frisbee?
A couple of reasons, really.
The main is so that you will be able to play frisbee with your dog when it isn't too bright outside. You do need to remember that dogs have a slightly different vision than ours. As humans in mildly dark places, we may struggle to see the frisbee. Dogs can see up to five times better – but their v vision is still not perfect. Light up frisbees make it a little bit easier for everyone to spot when the light isn't too great.
Glow in the dark frisbees is also a lot more eye-catching. Dogs absolutely love this. If you struggle to get them to chase a standard frisbee, toss a glow in the dark frisbee out there. They will probably end up chasing it.
There is no real reason why you would want to get a glow in the dark dog frisbee if you aren't playing with the dog in a low light situation. The difference in cost between a glow in the dark dog quality frisbee and a non-glow in the dark one is so negligible that you may as well just pick up a glow in the dark one, to begin with.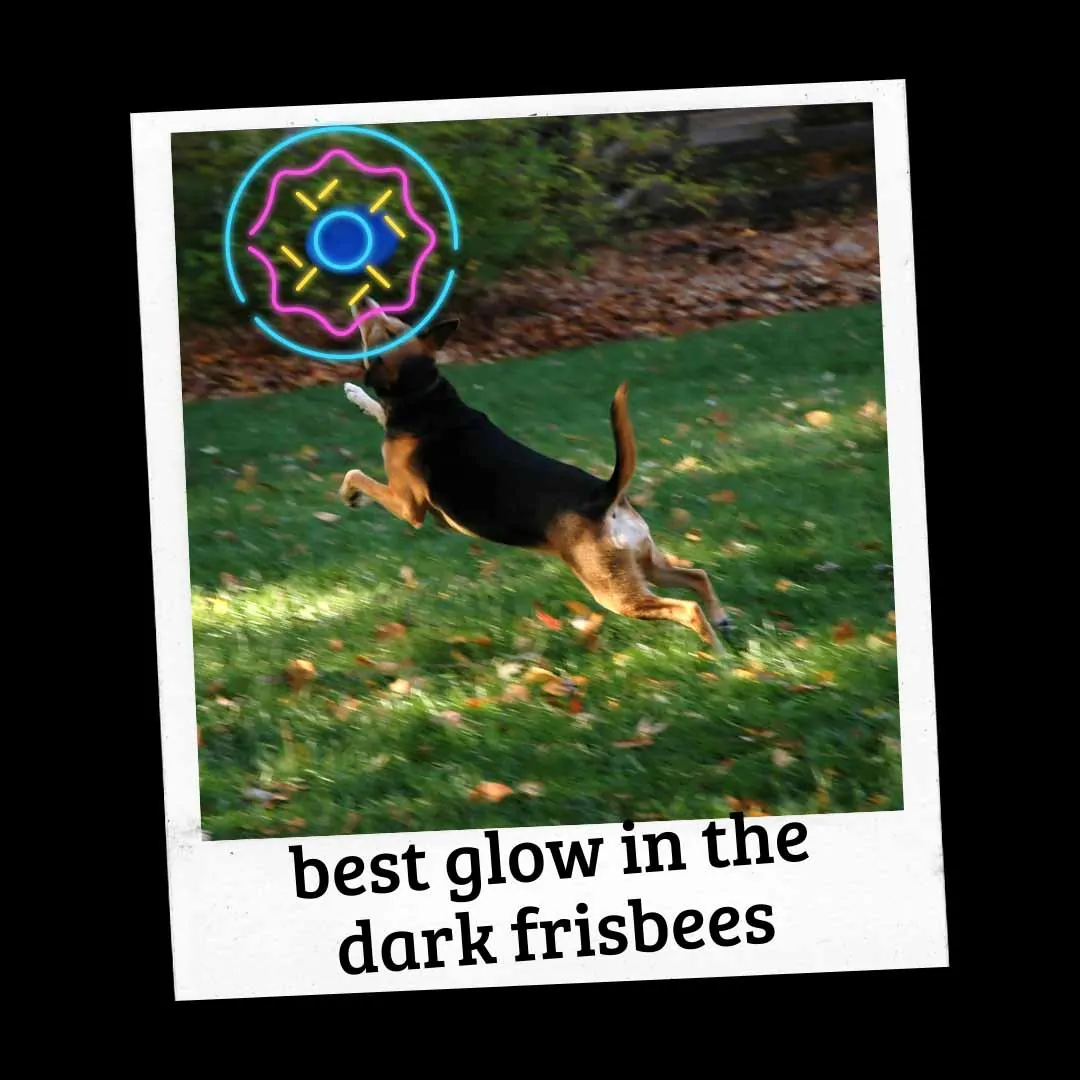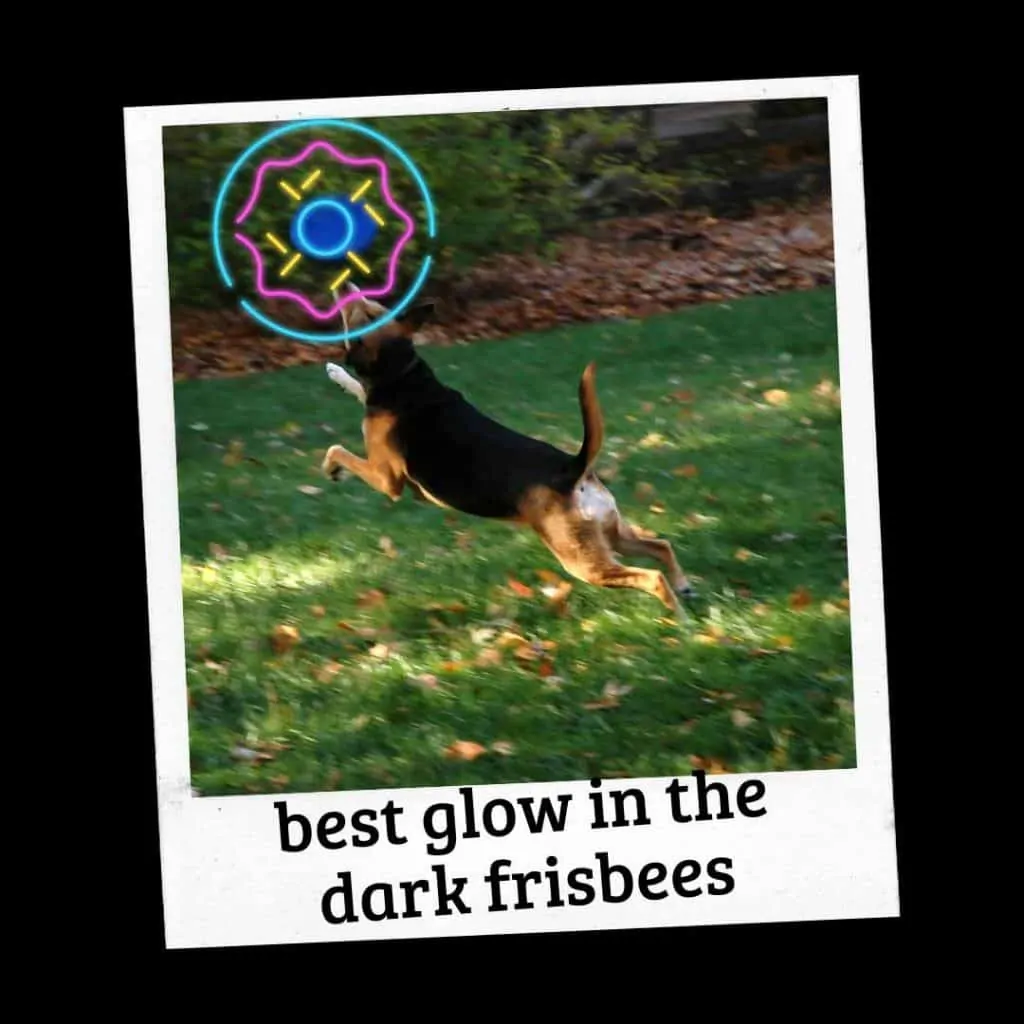 What Makes a Quality Dog Frisbee?
Your main concern when buying a dog frisbee is ensuring that it is puncture-proof. If a frisbee hasn't been designed especially for a dog, then you should give it a skip. A low-quality frisbee will be torn to shreds by your dog. This means that not only are you down a frisbee, but your dog runs the risk of swallowing small, harmful pieces of plastic. This isn't too good for their health.
Quality frisbees also travel through the air a little bit better. They travel in a predictable direction, and you can get a lot more distance from them. This is going too far more stimulating for the dog.
Of course, quality glow in the dark frisbees will be standing out a lot more too, which should make it easier for your dog to spot. This means that you have a much better chance of them returning it to you.
Quality dog frisbees are not going to be cheap. However, we 100% recommend you spend a little bit of extra money on a decent frisbee. What would you instead do? Spend a bit more cash now and end up with something that will last years, or really cut corners and get something that needs to be replaced every few months?
The Best Glow in the Dark Frisbee for Dogs Reviews
We will round off by talking about what we regard as some of the best glow in the dark frisbee for dogs' options on the market. While each of these four products brings something slightly different to the table, we are confident that you will end up with a decent frisbee for your furry friend if you choose any one of these products.
Best Overall: Hyperflite Professional Grade
We will kickstart this list by talking about what we genuinely feel is one of the best frisbees on the market. This one has actually been designed and regularly used by people who train their dogs for competitive frisbee catching (known as disc dogs!)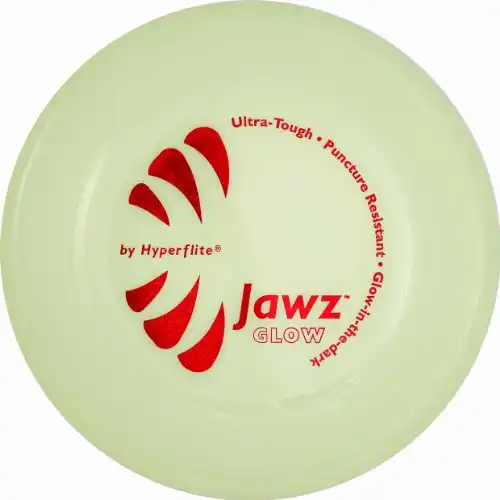 We earn a commission if you make a purchase, at no additional cost to you.
Here are the premium features that make this pour favourite glow in the dark frisbee
Puncture resistant: this dog frisbee is virtually unbreakable. Your dog will not be able to sink their teeth into it. This means that it is going to last a whole lot longer than your average frisbee.
Available in a multitude of different colors. Many of them are glow in the dark.
Competition grade: this is the same size and weight of disc regularly used in disc dog competitions. So, if you are training your dog for that sort of competition, this is the perfect option.
Aerodynamic. This means you can throw it further while also enjoying the disc flying in a far more predictable direction.
There are only two real issues with this frisbee. The first is that it can't be used as a chew toy. Although, we doubt that there are that many people giving their dogs frisbees as chew toys. However, you may need to train your dog a little bit not to 'play' with the frisbee outside of games of fetch. The second issue is that it doesn't float, so try to avoid playing anywhere near water, or you are going to be losing a decent frisbee.
All in all, if you want what is often regarded as the best frisbee on the market, this is the one that you need to be picking up.
Quality Brand and Safety: Chuckit Paraflight
Next up on our list is the Chucklit Paraflight.
If you are interested in pet supplies, then you will probably have heard of Chuckit before. They have oodles of products in their range, most of them designed for dogs. This is a brand that can 100% be trusted.
ChuckIt! Paraflight Flyer Dog Frisbee Toy Floats On Water; Gentle On Dog's Teeth And Gums; Large
10 INCH FRISBEE: Ideal frisbee for dogs for high-flying games of fetch, designed for long-distance flight The Paraflight fetch toy floats in water - great for playing at the pool, beach or lake
DURABLE DESIGN: This large dog frisbee features a multilayer nylon interior with soft rubber edges that's gentle on puppy's gums and teeth. Frisbee gradually descends for jumping and catching mid...
PET TOYS: Get ready for bonding fun with your dogs and cats. Check out a variety of our pet toy products such as frisbees, perches mirrors for birds, prey wand toys for cats, plush toys, light-up...
CHUCKIT FETCH TOYS: Chuckit creates toys that enrich the human-animal bond. Bright colors help dogs and puppies stay engaged. Checkout Chuckit for ball launchers, bouncy balls, frisbees, indoor dog...
JUST FOR PETS: Petmate makes a variety of pet products for dogs, cats, chickens other small furry friends Check out our brands such as Aspen Pet, Arm Hammer, Booda, Chuckit, JW, and more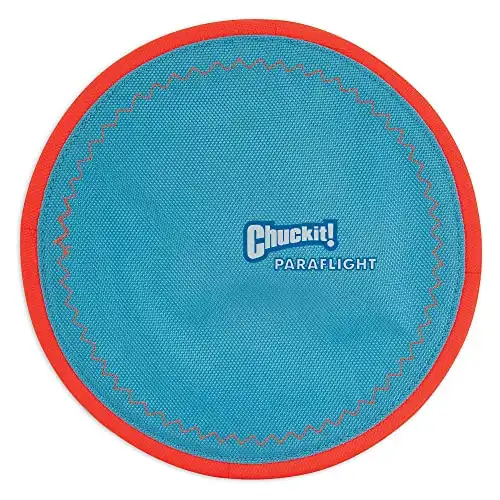 We earn a commission if you make a purchase, at no additional cost to you.
In addition to this, all of their products are heavily tested before being launched onto the marketplace. This means that if you pick up a Chuckit product, you know that it will be safe for your dog to use. Here are the features you can enjoy from the Chuckit Paraflight:
Waterproof!
Durable: this frisbee has been made from a combination of rubber and nylon. This means that it is nigh on unbreakable. However, the main benefit of this frisbee is for puppies. Their teeth are not as sturdy as older dogs. As a result, you will be pleased to know that the Chucklit Para light is soft enough for even the youngest of active puppies. It won't damage their teeth or hamper tooth growth.
Bright colors ensure that it is eye-catching for the dog.
Aerodynamic, which means that the frisbee's movement is going to be a lot more predictable, and it means that you will be able to throw it a lot further.
Unlike the previous frisbee, this one is ideal for dogs that enjoy being in the water. (Perfect for Bernedoodles or Goldendoodles that love to swim!) Regular contact with the water won't damage your Chuckit Paraflight. It will just float around until the dog retrieves it.
The main issue with this product is that it is slightly lighter than some of the other options on this list. This means that it will probably not be ideal for playing with your dog on the windiest of days. However, to be honest, this is perhaps not a concern for most dog owners. Most of us probably wouldn't pull out a frisbee when it is incredibly windy.
If you purchase the Chuckit Paraflight, you will end up with a quality frisbee from a reputable brand. While it is suitable for use with all dogs, we highly recommend that you pick one of these up if you have a puppy. The soft construction is perfect for their teeth.
LED Lights: Nite Ize Flashflight
This offering from Nite Ize is a little bit different from the previous two options. This is because it doesn't strictly glow in the dark. In fact, it doesn't glow in the dark at all. Instead, it has a series of LED lights on it, which ensures that your dog will be able to see the frisbee even on the darkest of evenings.
If you look closely at this frisbee, you will see a series of LED lights. As the frisbee floats through the air, it will spin around. This will give the appearance of the lights moving and changing color. It creates a beautiful pattern, and it is undoubtedly going to be eye-catching for the dog.
Once again, this product has been designed to be durable. However, do bear in mind that it is not intended as a chew toy. This means that your dog should be fully supervised when they play with it. However, we seriously doubt that even the burliest of dogs would be able to break this frisbee.
The only issue with the Nite Ize Flashlight is that you are going to need to have batteries. However, you probably will not need to change them all that often. LED lights do not need that much power, which means that a set of batteries will last a decently long time. Don't worry about the dog getting access to the batteries, either. The battery compartment has been designed to be 'dog proof.' This means that your dog will be completely safe when playing with the Flashflight.
You should pick up the Nite Ize Flashflight if your dog doesn't seem to be taking well to the standard glow in the dark frisbees, or if you live in a particularly dark area. It stands out a lot more, and the brightness of the LEDs is pretty much all you need to encourage your dog to chase it.
Doubles as a Tug Toy: SKIPDAWG Dog Frisbee
We are going to round off this list by talking about the SKIPDAWG dog frisbee. This is a bit different from the previous three. You see, unlike the other options, this one can actually be used as more than just a frisbee. In fact, it has been designed to be used as a tug toy too.
This dog frisbee has a durable nylon construction. This means it is virtually unbreakable, but it will also be friendly and soft on your dog's teeth. In fact, it is so soft that even puppies should have no problem with this.
When this glows in the dark, it is surprisingly bright too. You should have no issues playing with your dog when it is dreadfully dark outside. The bright color also means that you won't be losing this in a hurry, either!
The major downside is that it is also being designed as a chew toy. It is not going to be as aerodynamic as the other frisbees. This means that you may not be able to throw it as far. Although, for most people and dogs, this shouldn't be a problem. The dog is still going to be having a lot of fun playing with it!
We recommend that you pick up this glow in the dark frisbee if you are interested in a multi-use toy and are not too fussed about how aerodynamic the frisbee is. It is ideal for those that just want a good, fun toy for their pet.