The Number 1 TOUGH Labradoodle chew toy for puppies – A complete review
My miniature labradoodle Max loves his chew toys. He has accumulated quite a variety of awesome toys! There is one single Kong toy however that is his ABSOLUTE favourite.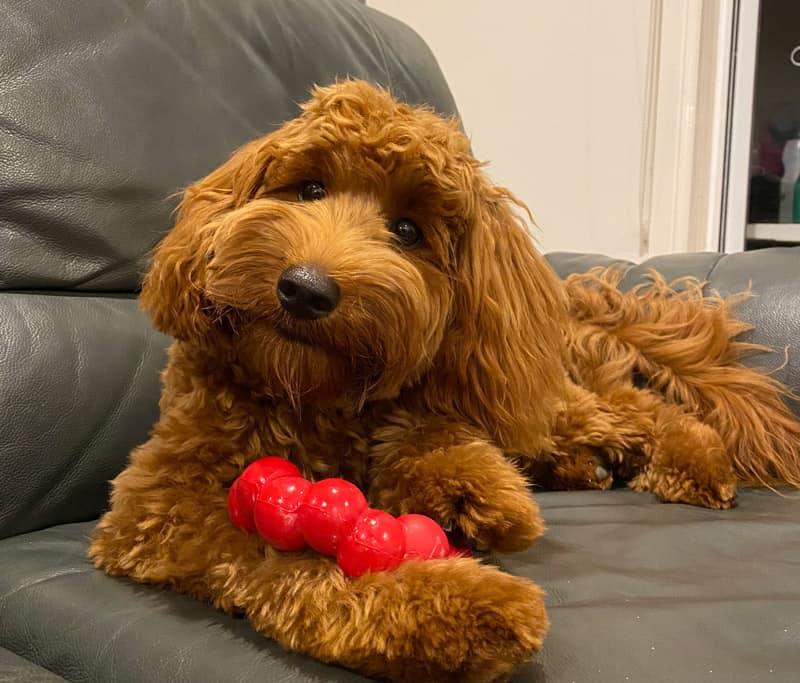 This particular KONG chew toy is super indestructible and the perfect size for a Labradoodle puppy or a Miniature Doodle Dog (like the tiny Toy Goldendoodle!)

When I picking a Labradoodle chew toy, I want it to do three things:
Be engaging and stimulating for the Puppy
Be durable and long lasting
Help give the puppy some exercise
For a bonus, I love it when we find a dog toy that humans can throw or interact with the Puppy. I love playing indoor games with dogs, and want a house friendly toy that entertains the dog.
And this toy? Does all these.
So Which Kong is this?
Kong is the Colorado based mega company that makes the indestructible snow-man like Kong toys. You'll find them in practically every Puppy home today!
We like Kong products – but there is one Kong product YOU SHOULD AVOID for Oodle dogs who like to chew like Goldendoodles or Cavapoos.

The surprise smash hit Kong for our Oodle puppy is – The Kong Ring.
[button-green url="https://amzn.to/38gkI6g" target="_self" position="left"] Check Current Price on Amazon[/button-green]
The Kong Ring (Medium/Large) for Labradoodles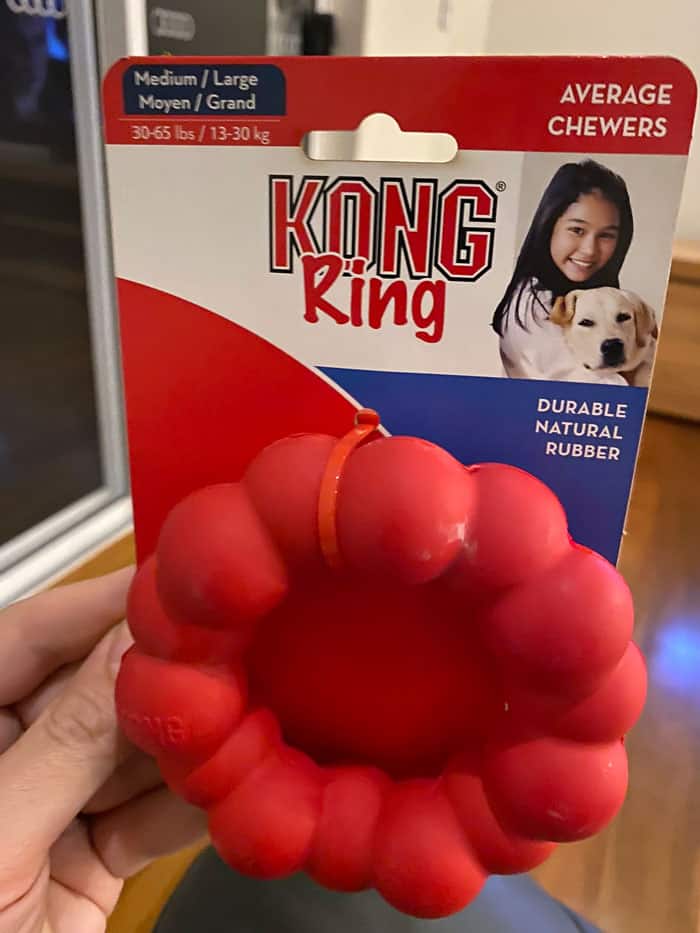 Product Name: Kong Ring (M/L)
Product Description: Durable Kong Ring made of tough red plastic. Designed to last long chewing sessions. Hardy and great for dog teeth and gum health
Brand: KONG
Durability

Ease of Cleaning

Puppy Friendly

Safe for Houses
Summary
It has been over a month and our dog still LOVES this this super fun toy. It is his absolute favourite chew toy.
Pros
Proven durability for medium chewers
It bounces! A fun throw toy even indoors
The ribbed chewing helps with teeth and gum health
Easy for small jaws to grab without hyper extending
Cons
Despite being advertised for medium/large dogs, it is more suitable for Miniatures or puppies
Even the most durable toy requires supervision and will deteriorate 
Isn't that chew toy meant for larger and heavier dogs?
Even though our Labradoodle is a miniature and also a Puppy – the appropriate size is the Medium/Large. This size ring is perfect for him!

The Medium/Large Claims it is aimed at dogs 13-30kg. At less than half that weight, it suits our Oodle puppy perfectly. Miniatures and Toy Doodle Dogs would be fine with this Kong.
If you are using it for puppies, then the Kong Ring M/L toy really is suitable for even larger sized Oodle puppies like the Bernedoodle or the Goldendoodle.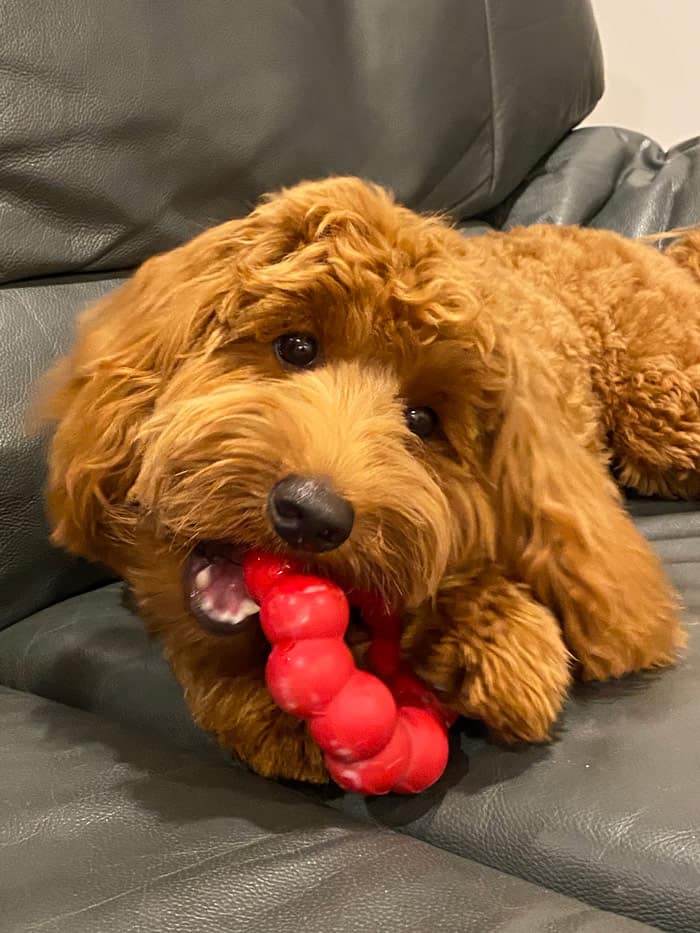 The Kong Ring is pitched at medium chewers, and says it is made of durable natural rubber. As you can see from the packaging, the Kong Ring is a super simple product.

The Kong company claims (Kong website) that
The Red Rubber will last a long time
The chewing will be an enriching experience for the puppy
And that the toy promote healthy teeth and gums
The 'added nubs' feel good on dogs gums
Like giving a puppy dental treats or carrots, the process will help keep the puppy teeth health
The toy is durable enough for indoor or outdoor Labradoodle play
I can't say that Max agrees with ALL of what Kong claims. One thing is for sure though – our dog LOVES this super fun toy.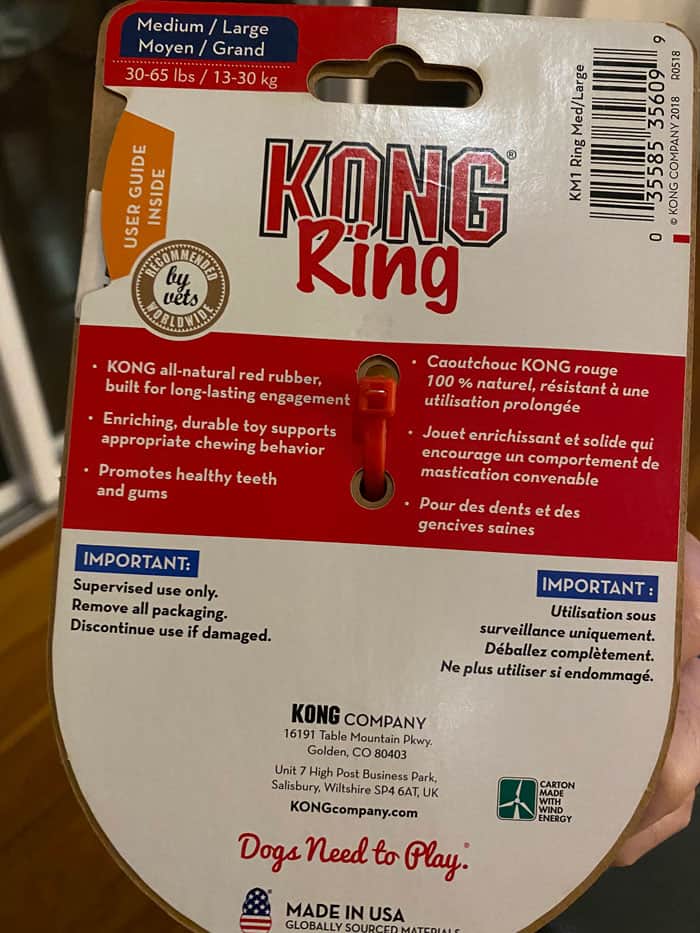 Why This Kong Ring Puppy Toy Is The Number One Labradoodle Chew Toy
This toy is easy to grab for both owner and Puppy. He loves grabbing it on the run and flipping the ring back over his mouth without having to hyperextend his Puppy jaw.
It has shown its durability as the favourite toy of an active chewer for over a month. The rubber is holding up well at this stage!
It cost At the time less than 20 bucks in Australia (around 12 USD) leaving more dollars for dog treats
It is as tough as old boots and the reviewers LOVE it. All reports online mimic my experience that this is one seriously fun, tough toy
Why This Toy Has A Few Bad Reviews
I always research toys online and read reviews first. The glowing reviews for the Kong Ring Labradoodle chew toys match my experience really well. There are however a few people who have had some issues.

"JW" wrote on a Pinterest wall: "This product is sold for medium to large dogs – but when we got it the Ring was too small for my standard size Goldendoodle! Would suit miniature dogs better."

So if you have a SMALL or MINI crossbreed dog or puppy like my Labradoodle, this is ideal.
However:
If you have a larger sized Pup – there are other durable toys for you. Steer clear!
So… Should you buy a Kong Ring?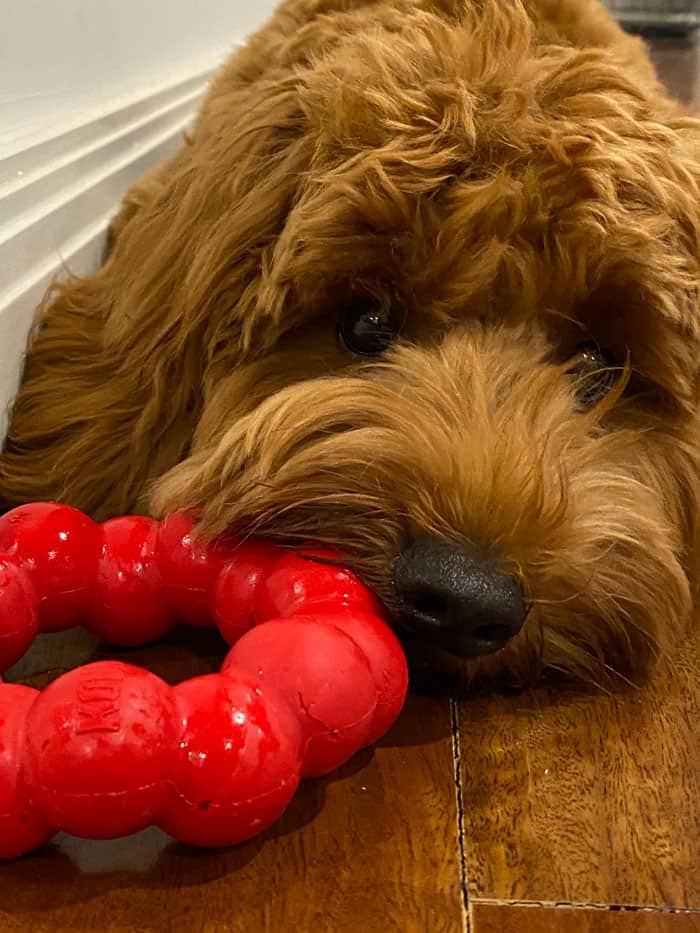 If you have a puppy or a small dog like a Cavapoo or Mini Labradoodle – absolutely! It's an absolute winner of a strong, durable and fun toy.
All toys will deteriorate eventually – and supervision while chewing is always advised.
If you are looking for more Labradoodle information, check out our comprehensive breed comparison of the Labradoodle Vs the Goldendoodle