5 Best Dog Oatmeal Shampoos (2023)
Just like humans, dogs can experience dry and itchy skin. There's no reason to let your furry friend suffer from itchiness, whether it's because of allergies, the weather outside or an underlying health condition.
One of the best things you can do to help soothe your dog's skin is bathing them with a dog oatmeal shampoo. You don't want to do this too often because it can further dry out their skin, but oatmeal is a natural anti-itch ingredient that your dog will thank you for using on them.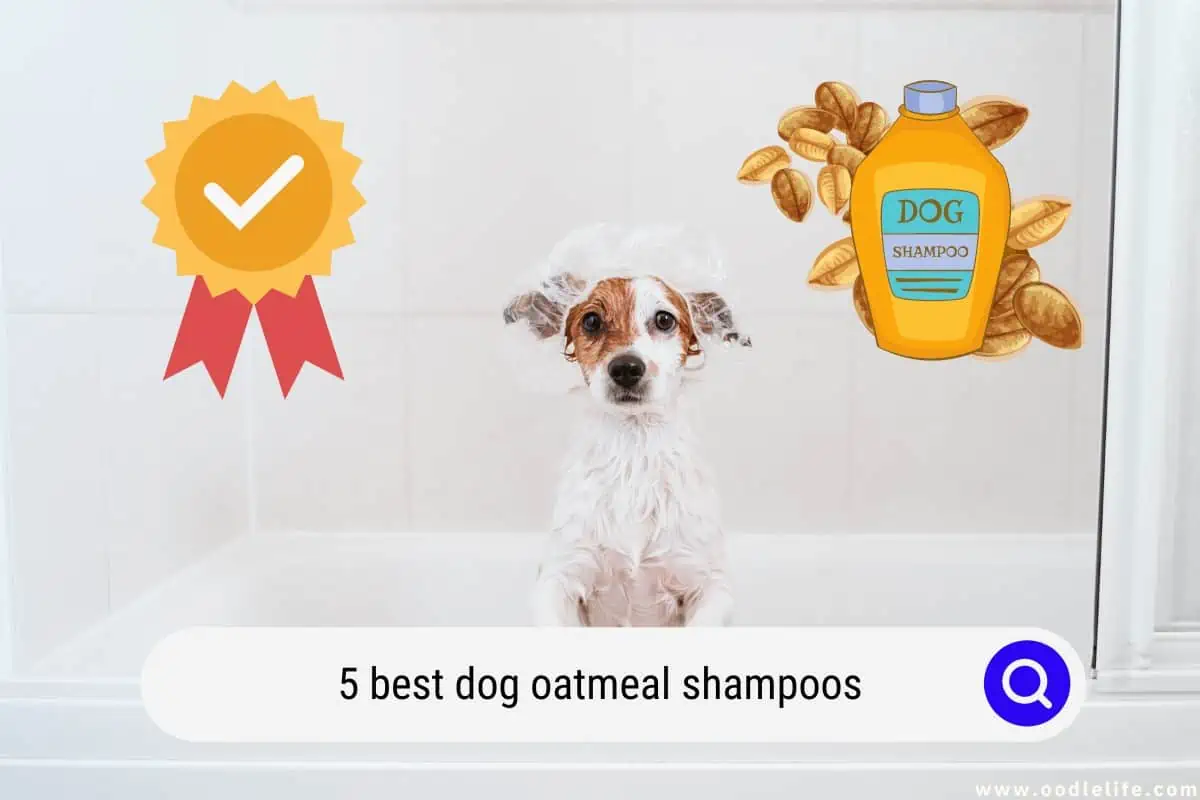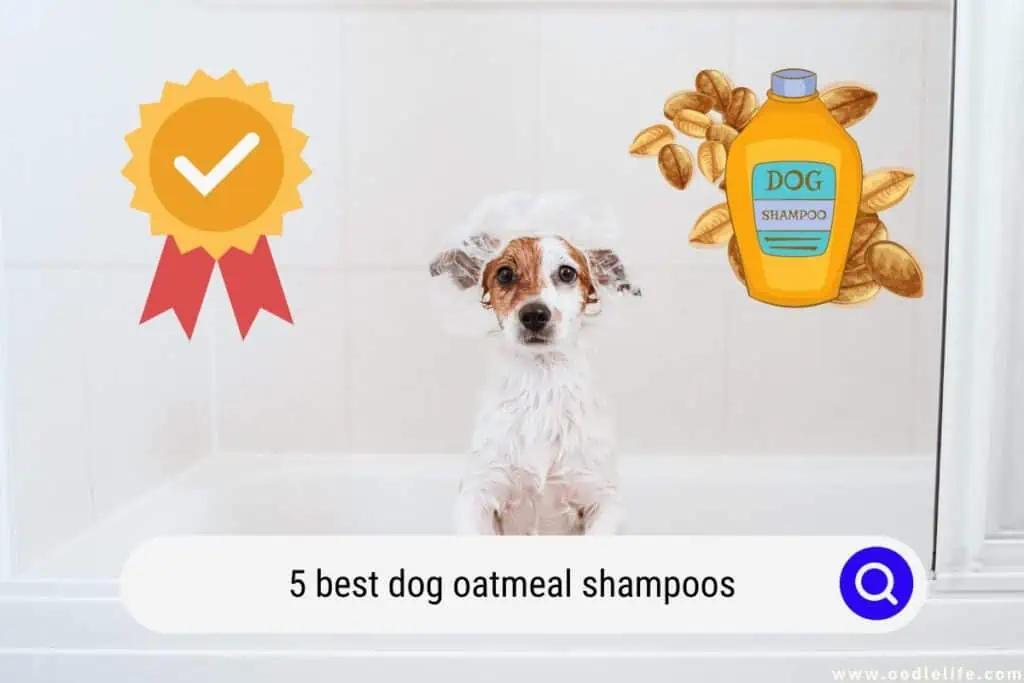 Is Oatmeal Shampoo Good or Bad for Dogs?
Oatmeal shampoo is suitable for dogs! These sensitive skin formulas are perfectly safe to use on your dog when you want to improve the look and feel of their fur. They almost always come with other natural ingredients that aren't harmful to your furry friend.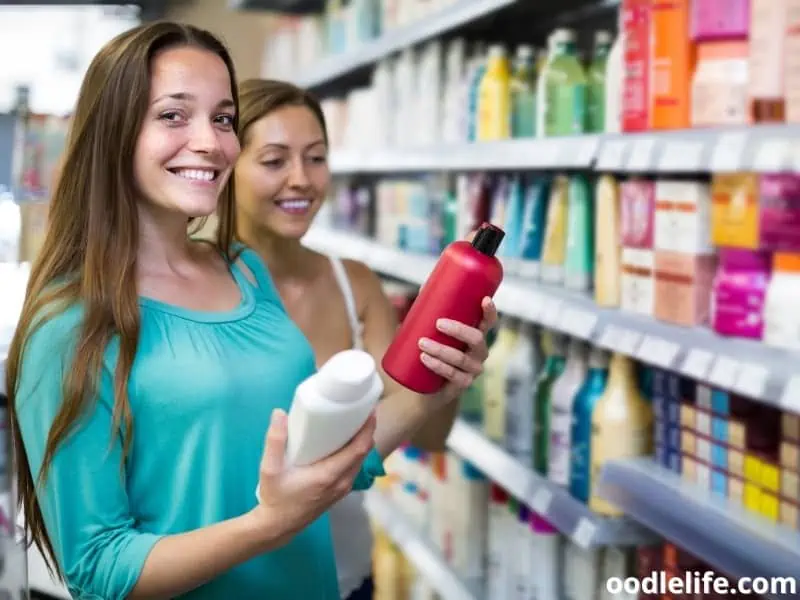 Why You Should Use Oatmeal Shampoo on Your Dog?
Not everyone needs to use an oatmeal shampoo on their dog, but there are a few reasons you might choose this type of grooming product. Oatmeal shampoos are ideal for helping your dog if they have itchy skin.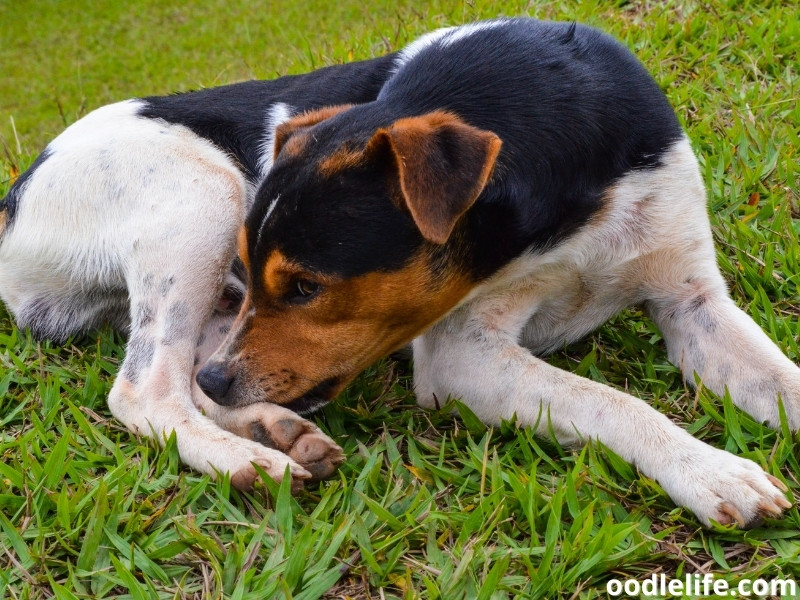 These shampoos can be incredibly soothing for your pup, whether they naturally have dry skin or an underlying health issue that causes their skin to itch. They usually have a mild formula and shouldn't cause any other itchiness to your dog like traditional shampoos.
You also might consider using an oatmeal shampoo on your dog when you want to moisturize its skin. For those dogs without extra dry skin, you can still use an oatmeal shampoo to help keep their skin soft and moisturized.
The Best Oatmeal Shampoos for Dogs
There is a lot of dog oatmeal shampoo on the market, so how do you know which one to choose? We've rounded up the five best dog oatmeal shampoos to soothe your dog's skin, cleanse them, and keep them smelling amazing.
1. Wahl Dry Skin and Itch Shampoo
One of the best oatmeal shampoos available for your furry friend is the Wahl Dry Skin and Itch Shampoo. This oatmeal shampoo contains all-natural ingredients that are designed to soothe your dog's sensitive or itchy skin. The core ingredients are oatmeal, almond oil, and coconut extract.
WAHL Dry Skin & Itch Relief Pet Shampoo for Dogs – Oatmeal Formula with Coconut Lime Verbena 64oz - Model 821004-050
Made in the USA - Our oatmeal formula pet shampoo is pH balanced, alcohol free, paraben free, PEG-80 free and is highly recommended for moisturizing dry skin & providing itch relief
Oatmeal Formula – This coconut lime verbena scented pet shampoo is great for moisturizing dry skin, cleaning dirty coats, & itch relief. The thick lather rinses off clean & keeps your pet looking...
Less is More - Wahl has a higher concentrate of coconut derived sodding agent, which means you don't have to use as much as other dog shampoos. A little bit of shampoo goes a long way and provides a...
Allergy Friendly - Our dog icon, Rocket, was designed in the image of our family dog Cooper – a golden doodle, who has severe allergies. This is the only shampoo we have found safe and effective. He...
The Brand Used by Professionals - Wahl has been serving professional vets and groomers for over 50 years. clean, condition fur & hair for a smooth, soft coat. We are a company of animal lovers that...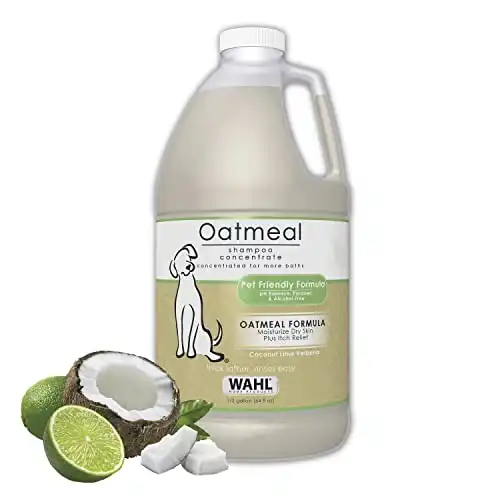 We earn a commission if you make a purchase, at no additional cost to you.
We love this Wahl shampoo because it's free of all alcohol, phthalates, parabens, and silicone. This will keep your dog's skin soothed and less itchy compared to other dog shampoos. The formula is at a high concentration, so a little bit goes a long way.
The container comes with 64 ounces, so it should last you quite a while. Professional groomers and veterinarians have trusted the Wahl brand for over 50 years, so you know you're using a great product on your furry best friend.
Even if you have another dog in the house that doesn't have allergies or sensitive skin, the formula is excellent on all dog skin types. This way, you don't need to keep several different dog shampoos in the house necessarily.
When using the product, you'll find that it lathers easily into your dog's fur and skin, meaning you don't have to rub aggressively, which could further irritate their skin. Once you lather and rinse, you'll be left with a happy dog with subtle lime and coconut scent.
Pros:
A little goes a long way.
The scent is subtle.
It's extra soothing.
Cons:
It doesn't have a detangling agent.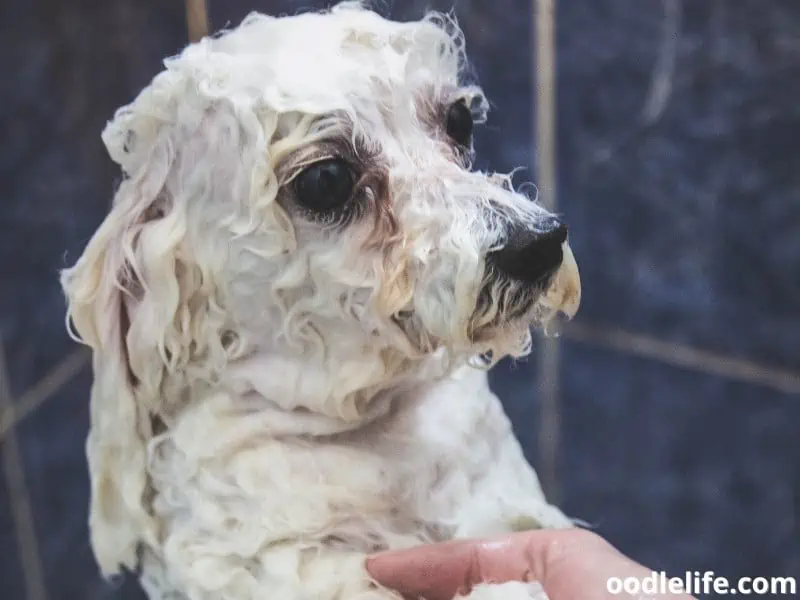 2. Paws & Pals 6-in-1 Oatmeal Shampoo
If you're looking for a soothing oatmeal shampoo for your dog that has a longer-lasting fragrance, then you need to consider Veterinary Formula Solutions Ultra Oatmeal Shampoo. This gentle shampoo is pH balanced and ready to constantly stop your dog from itching.
Paws & Pals 5-In-1 Oatmeal Dog Shampoo, Conditions, Detangles, Moisturizes, Anti Itch, Odor Control - Made in USA w/Medicated Clinical Vet Formula - Best for Dog, Cat & Pets w/ Dry Itchy Skin ...
Proudly Made in USA - Vet formulated and manufactured in Los Angeles, CA USA without sacrificing vegan and organic principles or quality
6-in-1 Oatmeal Pet Shampoo & Conditioner - reduced shedding – anti itch, smelly odor control, moisturizes dry skin, conditions & detangles
Naturally Medicated Formula - Made with all natural ingredients plus pH balanced, alcohol free, paraben free Best for itching, deodorizing, shedding control, allergies, sensitive skin.
For Dogs & Cats - Our tear-free formula is the result of natural oils, vitamins, oatmeal, aloe vera, turmeric & sweet basil extracts that do not irritate or inflame your dog's eyes or nose
20oz Bottle with Pump - Less is more, Paws & Pals has a higher concentrate of oatmeal extract which means you won't have to use as much as other dog shampoos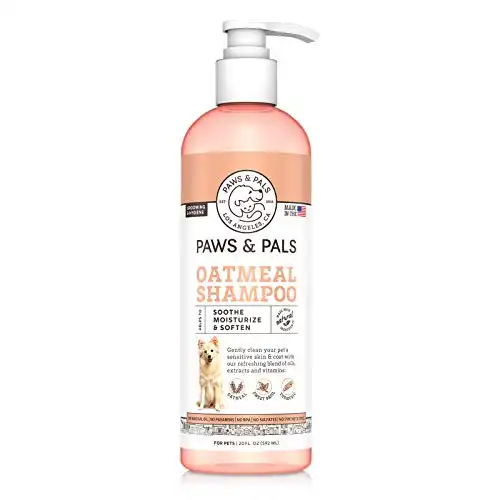 We earn a commission if you make a purchase, at no additional cost to you.
The formula has no parabens and sulfates, making it safe to use on sensitive skin or any of your other pets. The main ingredients in this shampoo are colloidal oatmeal, raspberry, pomegranate, silk protein, and jojoba oil. The fruity scent is long-lasting and smells fantastic.
Another component we think dog owners will love about this shampoo is that it has an antioxidant formula. Antioxidants in the formula can help protect your dog's skin from more allergens and illnesses. It also helps to condition your dog's coat.
If your dog suffers from itchy skin, bathing them might be the only solution. While it can dry out their skin, using this formula that's safe for frequent use can be the solution you're looking for. Another great feature is that it won't wash away any topical flea and tick treatments you're using.
While the formula is a conditioning, you might need to consider purchasing their oatmeal conditioner if you have a dog with a thick or curly coat. The shampoo alone should work fine on dogs with a thin and straight coat, but be sure to brush through your dog afterward if you have a thicker coat dog.
Pros:
The scent lasts long.
You can use it frequently.
It's pH balanced.
Cons:
You have to buy a separate conditioner for curly-coat dogs.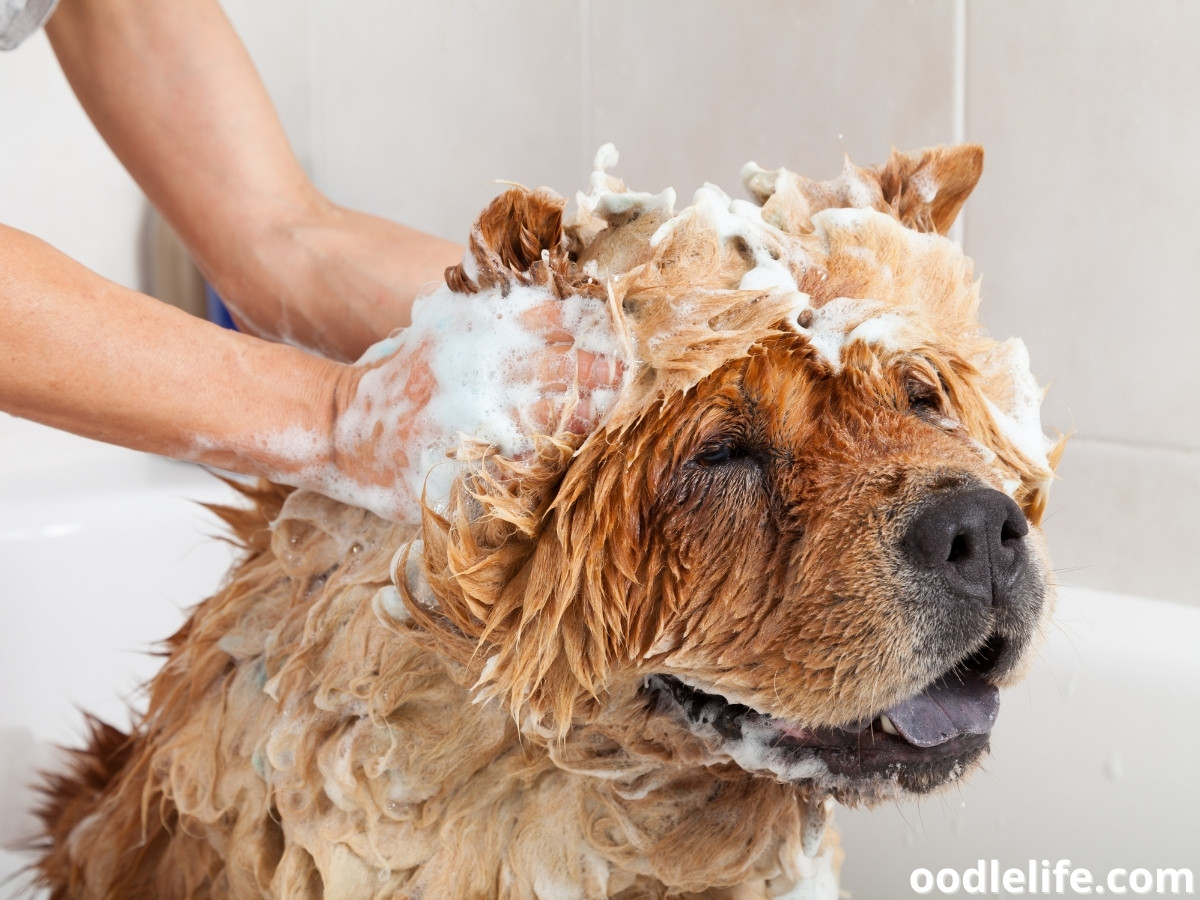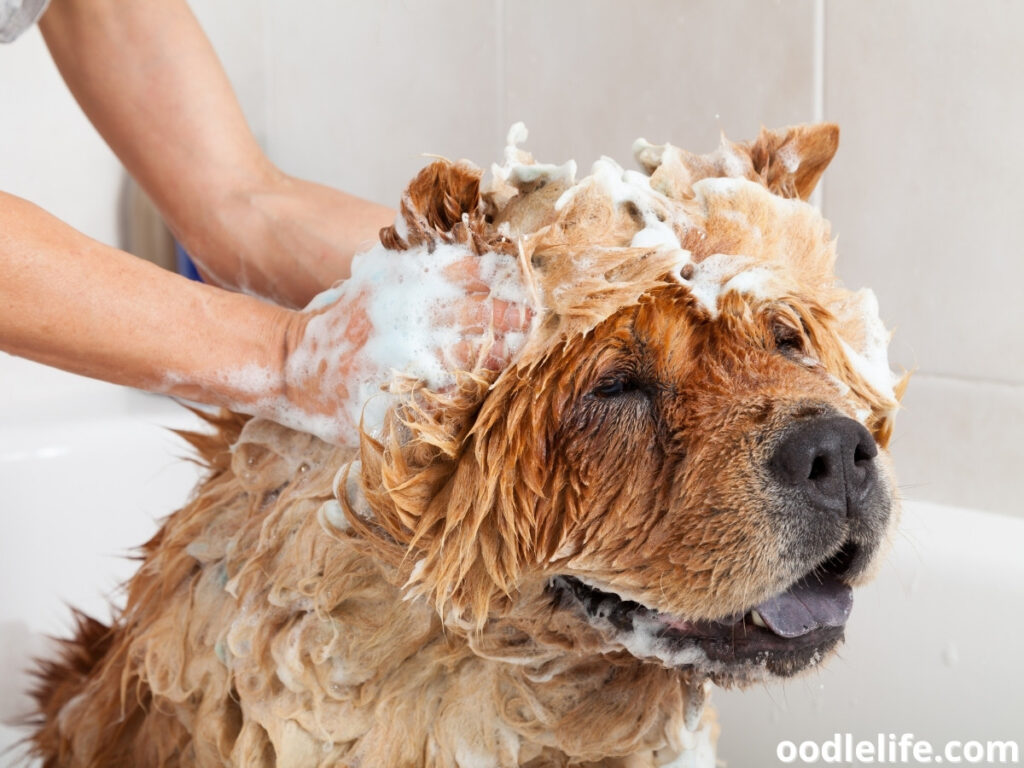 3. Veterinary Formula Solutions Ultra Oatmeal Shampoo
Another great oatmeal shampoo is from Paws & Pals. This oatmeal shampoo has some unique ingredients compared to other oatmeal shampoos for dogs. The ingredient list includes things like oatmeal, turmeric, and basil.
Veterinary Formula Solutions Ultra Oatmeal Moisturizing Shampoo for Dogs, 17 oz. – Moisture-Rich Nourishing Shampoo – Leaves Coat Clean, Soft, Silky, Shiny – Long-Lasting Fragrance (FG01210)
MOISTURIZE AND SOOTHE – Our Ultra Oatmeal Moisturizing Dog Shampoo with silk protein, DL-panthenol, glycerin and pomegranate is formulated with patented conditioners and emollients to clean and...
FOR A STRONG AND SHINY COAT – This moisture-rich, nourishing, oatmeal pet shampoo leaves your dog's coat clean, soft, silky and shiny. The antioxidant formula moisturizes, conditions and protects
LONG-LASTING FRAGRANCE – The exceptional long-lasting raspberry tea and pomegranate fragrance in this pet shampoo has patented fragrance extenders so your clean, soft dog will smell amazing long...
FORMULATED FOR DOGS – Ultra Oatmeal Shampoo for dogs is sulfate-free, and pH balanced for your pet's sensitive skin. It will not wash away topical spot-on flea and tick treatments
EFFECTIVE & AFFORDABLE – Veterinary Formula Solutions products are created with premium ingredients but available at a price that pet parents can afford. We know your dogs and cats are more than...
We earn a commission if you make a purchase, at no additional cost to you.
You'll love that the formula is free of all chemicals, alcohol, and soaps. The lack of these things means you don't need to worry about further irritating your dog's sensitive and itchy skin. The formula is tear-free, so there is no need to panic if you accidentally get it in your dog's eyes.
Even without detergents and soaps, the shampoo has a way of thoroughly cleaning your dog's fur and skin. The 6-in-1 formula targets six issues that dogs experience. The six issues include itching, odor, shedding, dry skin, detangling, and conditioning.
The fact it can condition and help detangle is a massive bonus for those who have a furry friend with a thick and curly coat. Much like other oatmeal shampoos, the formula of this one is highly concentrated. You only need a little bit to get a great lather and start washing your pup.
We love that it's safe to use on other pets in your home. The one thing we think needs improving with the shampoo is that the pump bottle isn't sturdy and can break easily.
Pros:
It's safe on other animals.
It helps with shedding.
The formula is highly concentrated.
Cons:
The bottle isn't made well.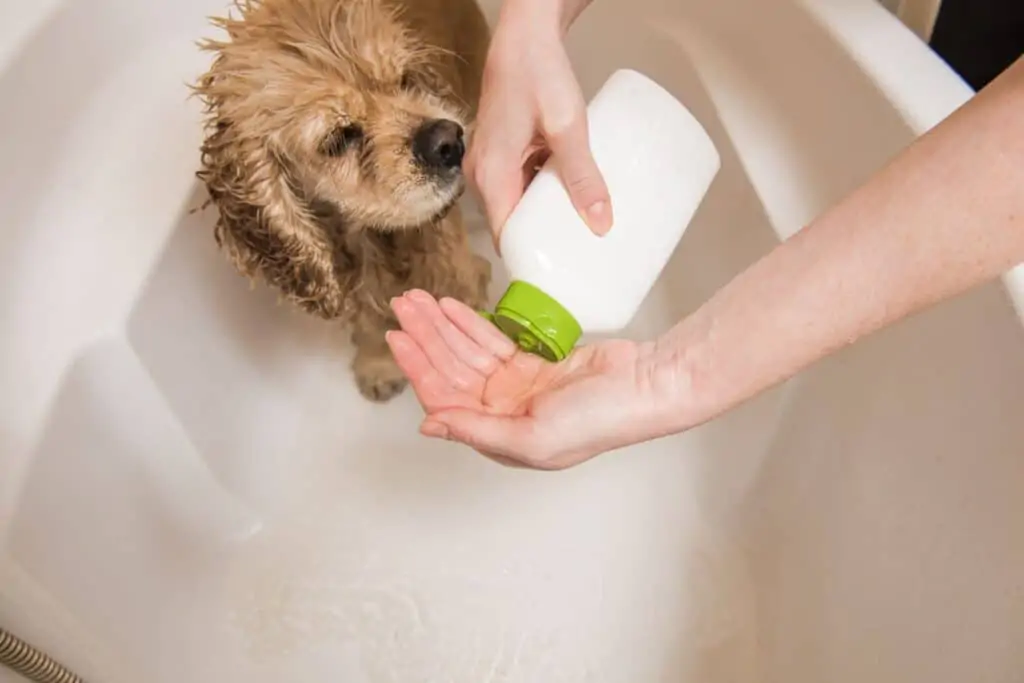 4. Pets Are Kids Too Anti-Itch Oatmeal Shampoo
The Pets Are Kids Too oatmeal shampoo is a fast-acting shampoo when you want to quickly relieve your dog of its itchy skin. The formula begins to soothe their skin after just one use, while with other products, you'll probably see improvement but not like you would with this shampoo.
Pet Oatmeal Anti-Itch Shampoo & Conditioner in One! Smelly Puppy Dog & Cat Wash! Relief for Allergies, Itchy, Dry, Irritated Skin!! Smells Amazing! (1 btl)
$24.99
$18.98 ($1.12 / Fl Oz)
Comprehensive anti itch formula: oatmeal, baking soda, and aloe vera based pet shampoo with coconut provides instant itch relief! Our revolutionary pet wash was specially formulated with cats and dogs...
Vet endorsed & smells incredible: The light yet amazing oatmeal cookie scent is the long lasting way to eliminate odor. Formulated for large or small dogs and cats. This is the secret of some leading...
Pet allergy friendly: soap/shampoo/conditioner/lotion – helps protect your doggy or kitty from itching, shedding, & allergies! Zero harmful chemicals (unlike other dog shampoos)
Tear free & dandruff free: The only dog shampoo I'll use on my own pets from puppy & kitty to senior dogs and cats! Plant derived ingredients are gentle on paw and nose and provide enhanced...
Lifetime, no questions asked, manufacturer money back guarantee (yes, lifetime) - You and your pets will Love it or get a full refund, plus it is made 100% in the USA cruelty-free so go ahead and make...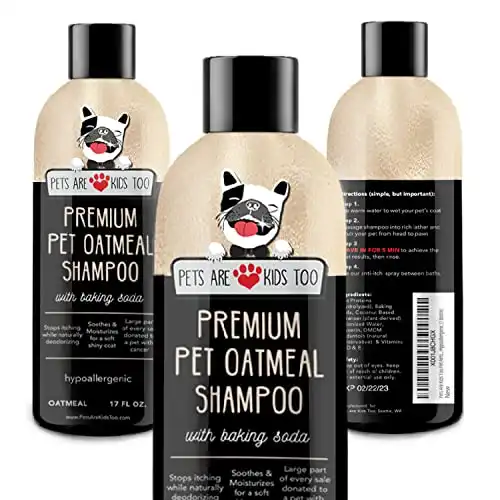 We earn a commission if you make a purchase, at no additional cost to you.
The formula of this shampoo consists primarily of oatmeal and baking soda. The oatmeal nourishes your dog's fur and skin, while the baking soda helps clean out any dirt and debris from their coat.
This product is ideal for dogs with allergies since it's considered a hypoallergenic shampoo. It contains no soap, chemicals, parabens, or alcohol that can cause harm to their already sensitive skin.
There is a subtle scent with this product. You'll get a whiff of coconut, but some owners don't think it really smells like coconuts or is too subtle, but that is all preference. While it's a little pricier, it's a fantastic product that you don't need to use too often.
Pros:
It contains baking soda.
It works after one use.
It's hypoallergenic.
Cons:
Some owners complain about the fragrance.
5. Honest Paws 5-in-1 Oatmeal Shampoo
Last but certainly not least, we have Honest Paws 5-in-1 Oatmeal Shampoo. As the name suggests, this great product has five main jobs when you use it on your dog. It helps clean, condition, detangle, deodorize, and moisturize your dog's dry skin.
Honest Paws 5-in-1 Oatmeal Shampoo and Conditioner for Allergies and Dry, Itchy, Moisturizing for Sensitive Skin - Sulfate Free, Plant Based, All Natural, with Aloe and Oatmeal -16 Fl Oz
$18.49
$16.99 ($16.99 / Count)
Five Benefits In One Wash - Cleans, deodorizes, conditions and detangles coat, moisturizes skin-- Honest Paws Skin and Coat 5-in-1 Dog Wash is a one-step and easy to use premium dog wash. It is all...
Safe, Non-irritating, Natural Ingredients - Other brands claim to be natural but only have less than 1% of natural ingredients! Unlike other industry-standard dog shampoos that may contain harmful...
So Soft, Clean, And Shiny - This wash uses the hydrating properties of soothing oats and aloe that replenishes the skin's natural moisture while conditioning the fur. Prevent matting and irritation,...
Good For All Breeds And Ages - This formula can be used on all breeds and on puppies over 12 weeks of age. It is dye-free, and it does not contain MEA, DEA, sulfates, or parabens.
Honest Paws Guarantee - We hold ourselves to the highest of standards when it comes to your satisfaction. If you are not satisfied with your product, let us know, so we can make it right. No if's,...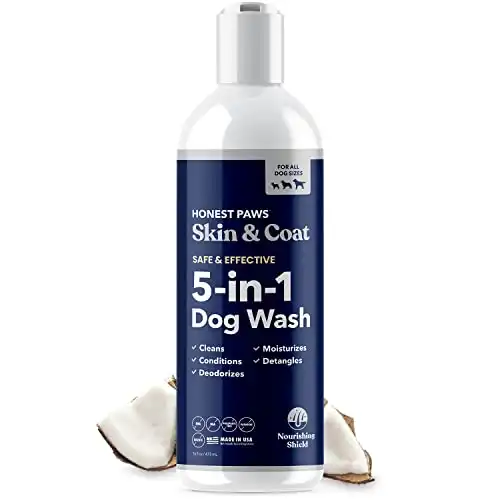 We earn a commission if you make a purchase, at no additional cost to you.
While it's not an entirely natural product, more than 98% of the ingredients are all-natural, making it still a good option for your furry friend. It contains no dyes and no harsh synthetic chemicals.
The natural ingredients consist of oatmeal, palm, and coconut, so you can expect your dog to have a fresh and subtle coconut scent once they're out of the bath. The detangling agent is great for dogs with thick coats and is still effective on thin-coat dogs.
Something to note about this product is that if you have a puppy under 12 weeks old suffering from allergies or dry skin, you won't want to use it on them. It's only formulated for dogs older than 12 weeks.
Pros:
It has five functions.
It has a great scent.
It can detangle curly-coat dogs.
Cons:
You can't use it on puppies.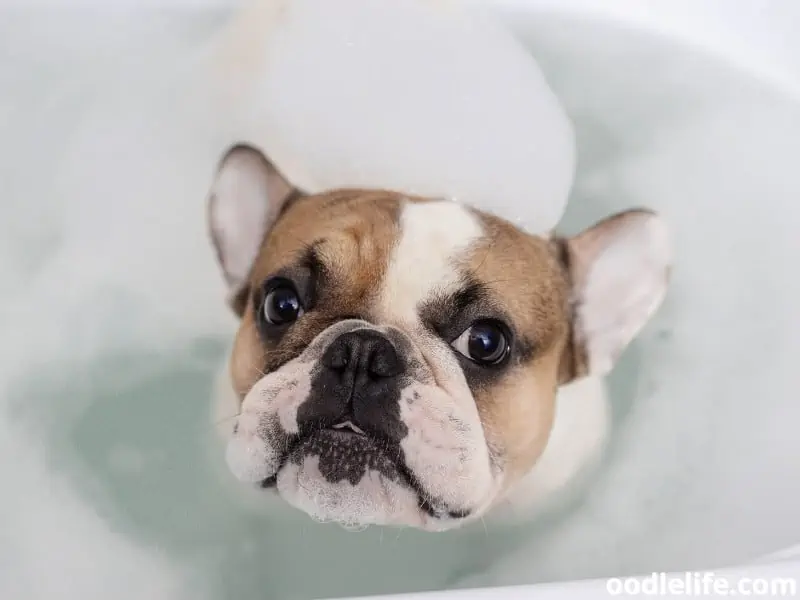 Final Thoughts
High-quality oatmeal shampoo is one of the best ways to help ease your dog's itchy skin. It soothes, cleanses, and leaves them smelling fresh. If your dog could say "thank you," they would after you use one of the five best dog oatmeal shampoos.