4 Best Dog Spider Costume Reviews (Small Dogs and Large)
Best All Round
California Costumes Pet Spider Pup Dog Costume Costume
Tarantula!
Rubie's Pet Spider Harness Costume, Medium
Easy to wear
Princess Paradise Tarantula Dog Costume, Black, Medium
Soft and scary
Dog Spider Costume Halloween Pet Costume Halloween Dog Cat Spider Cosplay Costume
Spooky Alternative!
Rypet Dog Bat Costume - Halloween Pet Costume Bat Wings Cosplay Dog Costume Pet Costume for Party L
Best All Round
California Costumes Pet Spider Pup Dog Costume Costume
Tarantula!
Rubie's Pet Spider Harness Costume, Medium
Easy to wear
Princess Paradise Tarantula Dog Costume, Black, Medium
Soft and scary
Dog Spider Costume Halloween Pet Costume Halloween Dog Cat Spider Cosplay Costume
Spooky Alternative!
Rypet Dog Bat Costume - Halloween Pet Costume Bat Wings Cosplay Dog Costume Pet Costume for Party L
One of the cutest and funniest dog costumes is turning your puppy into a spider. Given the eight legs – picking a durable and good looking costume is more difficult than you might think. We found the four best dog spider costume options available.
Investing in pet costumes is super fun! But can bust the budget. That's why you need to ensure that whatever choice your make is worth it and would last long. We hope that these reviews will help you pick out the best costume for your dog, helping them look their (spooky) best.
Have you ever wondered if dogs can be scared of the dark?
Remember to be careful at Halloween time with candy and dogs. Vets recommend separating potentially poisonous candies and storing them well away from dogs.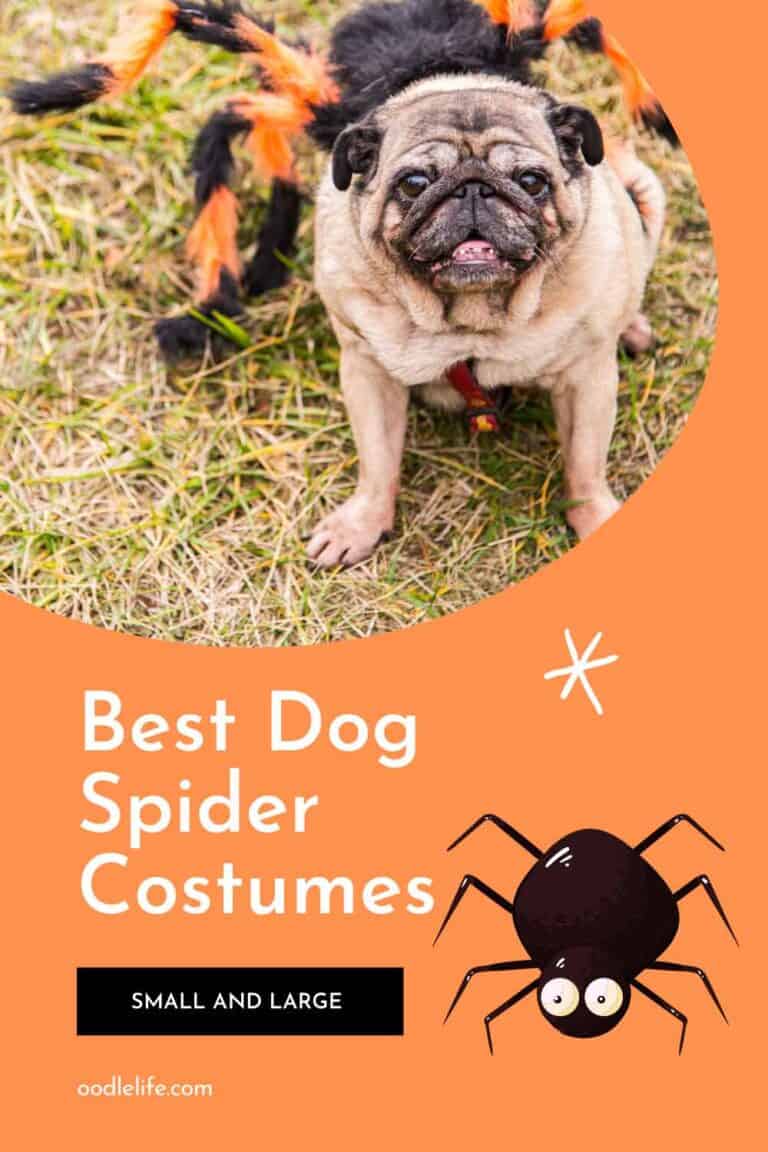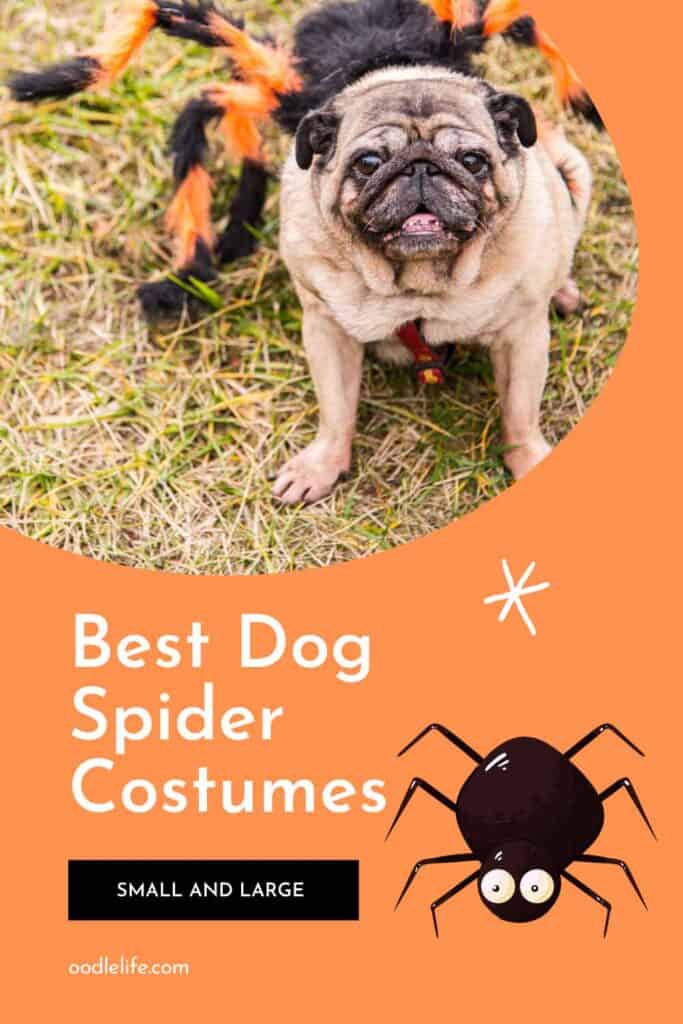 BEST Overall: California Costumes Spider Dog Costume
Sale
This is the best dog spider costume you can buy for your dog if they are a moody lad and would like to stay low-key everywhere. Anything walking in this soft and furry spider costume can easily confuse and scare everyone at first sight. Thus, investing in it is a perfect way to make your evening strolls with your dog crazy and fun.
This is one of the easiest-to-wear dog costumes. It has vibrant colors and is fluffy to touch. Additionally, you'd love how this furry costume has the softest possible material, making it easier for you to use it in almost all seasons.
Here are some of the most notable features of this kickass costume:
Beautiful orange and black color contrast
Made up of pure polyester
Soft and fluffy abdomen and tailpiece
Separate furry head
Multiple googly eyepieces
8 main legs (shocking!)
Available in various sizes
Best Small Dog Spider Costume: Princess Paradise Tarantula
Princess Paradise Tarantula Dog Costume, Black, Medium
Plush Tarantula Dog costume with attached hood and six spider legs
Runs small; Medium Dog costume designed to fit 17" around at the chest and 15" neck to tail
Hook and loop closure under belly
Look for Princess Paradise trademark on tags to help ensure you've received authentic, safety-tested items
Look for matching adult and child costume for a creeping creepy group costume
This one is especially for dog owners who have one of those cute small pups, and they want to show them off a little too much. This soft and plushy costume is made to cover just the back of your dog and provides no such closure to the abdomen, tail, head, or legs. This makes it the best spider costume option to dress up your dog in all around the year. Some of this costume's most notable features include:
Soft plush base with hairy top
Made to suit small sized dogs only
Pure polyester material
Perfect for almost all weather
No closure-closure provided
Attached spider legs (6)
Hooks and loops for easy wear-ability
Trigger Warning: You and your dog are likely to be surrounded by a lot of people who'd simply gather to praise your dog's cuteness whenever you take them out in this costume. Make sure that you both aren't too anti-social and introverted before you plan on investing in this irresistibly cute costume.
Minimal Design: Rubie's Spider Harness Costume
Rubie's Pet Spider Harness Costume, Medium
Easy-to-wear spider costume sized for your best friend straps around waist and neck
IMPORTANT! Not all costumes will fit all breeds without some adjustment, consider your pets' shape and the costume style
CONSULT THE RUBIE'S PET SIZE CHART and watch the measuring instructions video before selecting size
Search for Rubie's coordinating people costumes and accessories, like pumpkin, bat, devil, ghost and many more for group costume fun
Family-owned, family-focused, and based in the U.S.A. since 1950, Rubie's has classic and licensed costumes and accessories in sizes and styles for the entire family, of course they'd remember your four-legged best friend
This is another best dog spider costume option for anyone who owns several dogs of various sizes and breeds and wants them all to wear twinning costumes. Additionally, this spider costume is quite minimalistic in its looks, covering just the back of your dogs while leaving their abdomen and head open. Thus, minimalistic design eases wearing this costume and is also great in making this costume viable for all seasons. Some notable features of this costume include:
One sized fits dogs of various sizes and breeds
Available in multiple colors
Easy to wear
Soft strap to lock around the belly or neck area
Made up of mixed polyester material
Soft velvet-plush one-piece article
8 spider legs made up of hard velvet for resilient walking
Scary and Durable: ANTOPM Dog Spider Cosplay Costume
Dog Spider Costume Halloween Pet Costume Halloween Dog Cat Spider Cosplay Costume
【UNIQUE SPIDER STYLE】--Simulation spider legs design is very suitable for posturing.The entire product is black with smooth lines, complete interpretation of the mysterious and cool spider.
【ADJUSTABLE SIZE】 Small costume: chest girth (15.7 -21.6 inches), neck girth(11.8 -15.7 inches). The neck and chest of costume is designed with Velcro to make it convenient to adjust suitable size for puppy or cats, easy to wear and take off.
【HIGH QUALITY & COMFORTABLE】--3MM thickness, brings your pet comfortable wearing experience 100% body-safe and eco-friendly, harmless to the pet, worry-free to use.
【BREATHABLE AND LIGHT MATERIAL】made of breathable felt fabric and lightweight material make the cats comfortable to wear, no sense of restraint. No harm to your puppy and cats.
【SUITABLE FOR FESTIVAL】 The giant spider costume is perfect for Halloween, it is also suitable for other occasion, such as Thanksgiving, Christmas, Birthdays party and Theme party.
Chances are, you are about to find the perfect costume for your dog to flaunt this Halloween in the form of this one. This is one of the softest, fluffiest, and scariest spider costumes for dogs you can find.
The deep black colors with a hairy galaxy of spider legs all around make this costume the stuff of nightmares for sure. Don't worry too much about scaring people off. Your dog's cute and innocent eyes are going to make up for everything people feel about you for bringing this scary thing along.
The best part about this costume is its perfect balance of simplicity and minimalism and some extra spider-ish looks. This is because of the simplest possible back and abdominal coverage that this costume provides while being surrounded by extra thick and fluffy spider legs. Some notable features of this product are:
Self-print soft felt fabric
Size adjustments allowed, making it a perfect option for dogs and cats of various sizes
8 simulated hairy spider legs assist easy posturing
Hooks and belts allow for easy wear-ability
Light, breathable, and soft material
No need to worry about Halloweens and other occasions now that you've come of the cutest and the scariest options to dress up your dog in. Make sure to choose the perfect size for your dog in whichever of these costumes you pick. Also, making your dog wear these for the first time could be a tiring activity. Try to stay patient and go gentle on the little being.
Bonus Costume – Dog Bat Costume!
Almost all these spider costumes come with one problem, and that's spider legs breakage. This usually occurs right when you make your dog walk for the first time in their spider dress. Don't worry if your dog is one of those reckless champions and would break such a cute costume's spider legs.
You can dress them like a bat instead. Here's one fantastic bat costume option that you may want to consider for your dog:
RYPET Dog Bat Wings Costume
Rypet Dog Bat Costume - Halloween Pet Costume Bat Wings Cosplay Dog Costume Pet Costume for Party L
COOL BAT WINGS DESIGN: Mysterious bat wings is an excellent cosplay accessory, when your pet wears this bat wings costume, they will become cool and mysterious and attract more attention. The bat wings brings endless fun to your pet and you on Halloween party.
LASTING AND LIGHTWEIGHT: The bat wing is made of 5 mm thick felt cloth to keep the shape of the bat for a long time, This bat wings will keep stand up as picture show. Lightweight and soft felt fabric makes the cat comfortable to wear, no sense of restraint.
ADJUSTABLE SIZE: Chest girth: 55-78cm(21.5-30.7in), Neck girth: 38-58cm(15-22.8in). Velcro design for neck and chest fastening straps makes the size adjustable, convenient and flexible. Please refer to our size chart and measure the size of your pet before placing the order.
SUITABLE FOR MULTIPLE OCCASIONS: Funny bat wings great for halloween party, masquerade, costume party, birthday parties or any event where you simply want to have fun. A great gift for your pet.
100% GUARANTEE: For each of our customers, our customer service team will provide you with professional support, If you have any questions, please feel free to contact us. Full refund or replacement is available if you are not satisfied with our Bat Wings, Please be assured of the purchase.
This one is for all those reckless dogs that won't bear a fluffy spider legged costume for long. You can turn your dog into a cute bat with this costume that just looks like a bat's wings. All you've to do is to tie the wings at your pet's back and hook them at the belly area, and they'd turn from a simple dog to a mysteriously funny bat. Some noteworthy features of this costume are:
Soft felt cloth material
Each wing is layered multiple times to ensure the shape
Simple and lightweight design
Easy to wear
Hooks and belts allow for an easy tightening
The adjustable size makes one pair useable for multiple pets and breeds
Long-lasting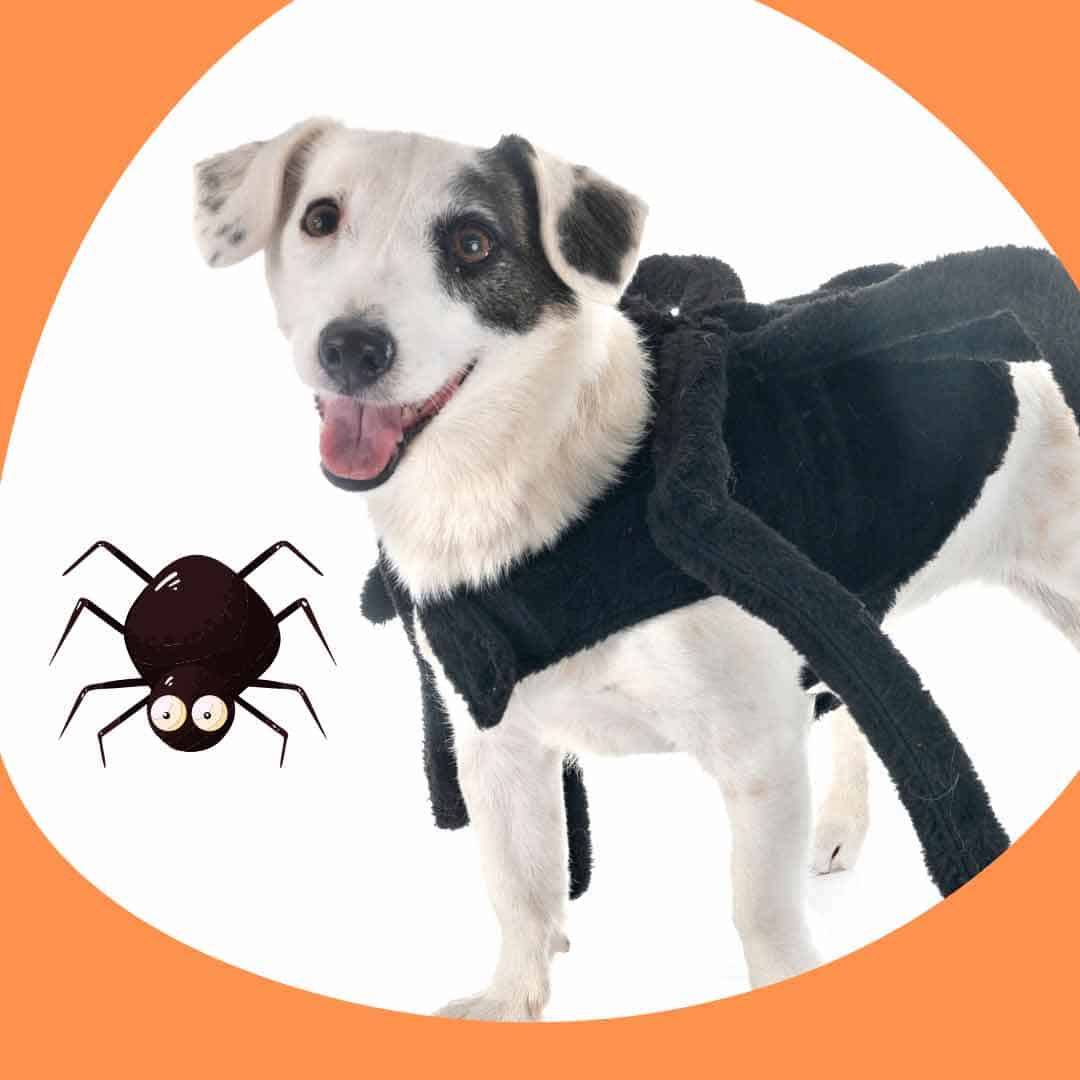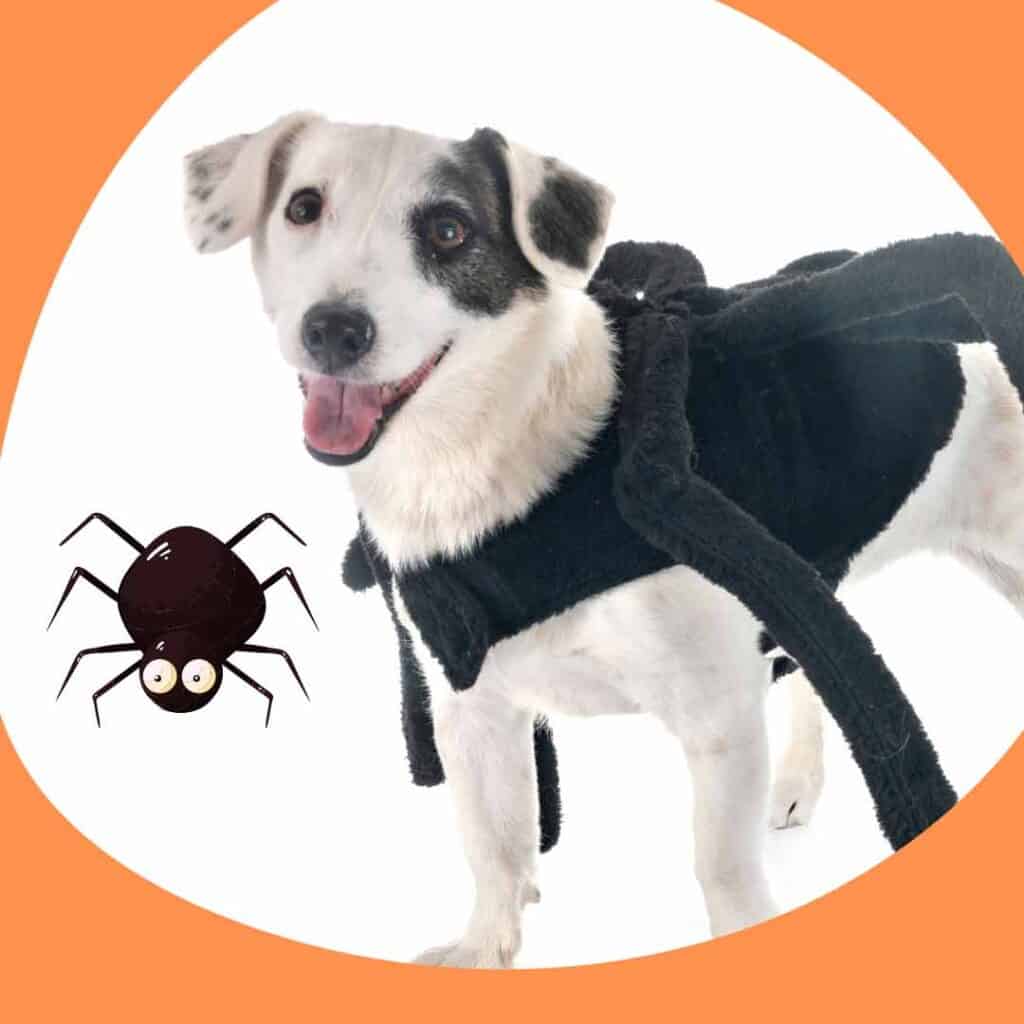 Best Dog Spider Costumes Conclusions
Just imagine how cool you and your pet would look whenever you both would head out together, all dressed up and ready to impress.
Heading out at night? Why not consider a glow-in-the-dark dog frisbee for some low light play time!
If you're reading this, you might be someone who won't go for an ordinary dog costume no matter what. Don't worry if you can't think of something unique to get for your little friend. Here were some of the best dog spider costumes that are sure to make your pet stand out of the crowd.