10 Best Motion Activated Dog Toys (2023 Update)
Every dog owner is always looking for the next best toy to keep their pup active and happy. If your dog has strong jaws, a penchant for chewing, and an instinct to hunt, your house is probably filled with ripped-up plush toys, chewed-up rubber bones, or toys abandoned under the couch because your dog has grown bored of them.
Another common problem faced by dog owners is separation anxiety. If your dog hates being left alone, she might chew your belongings, scratch at doors, or bark loudly, potentially disturbing your neighbors.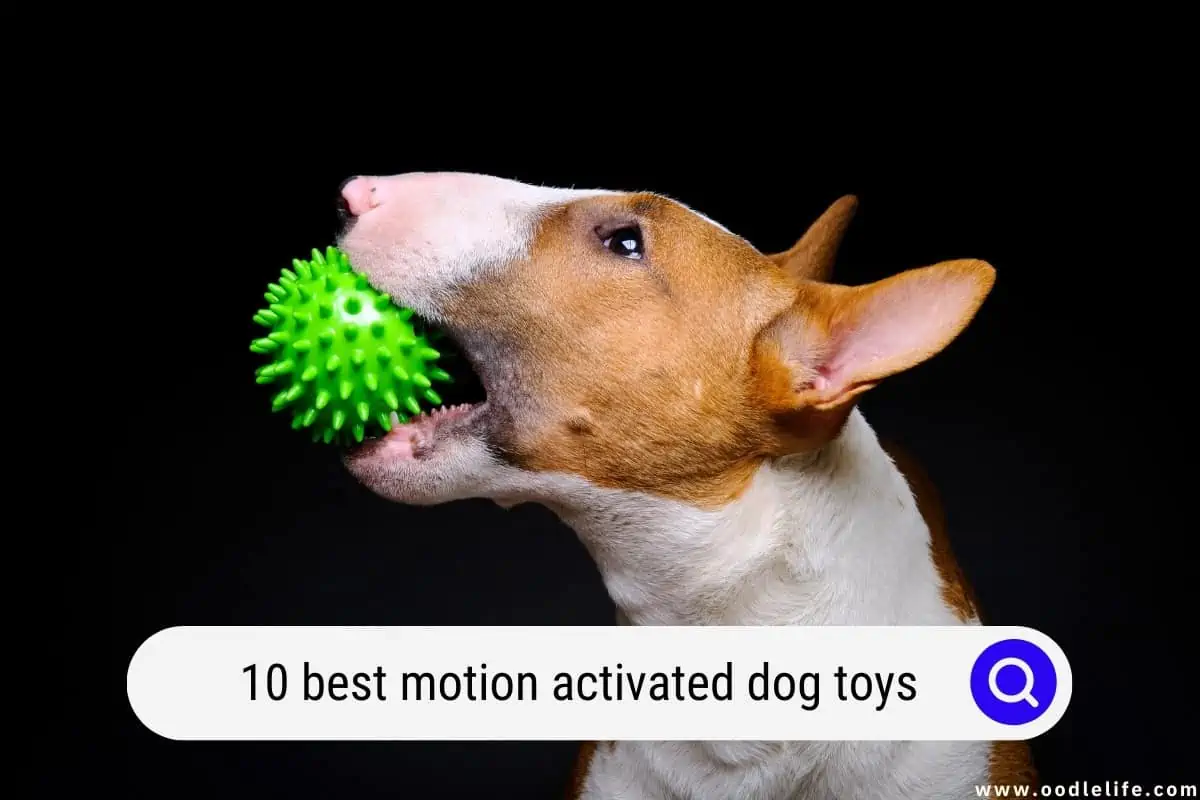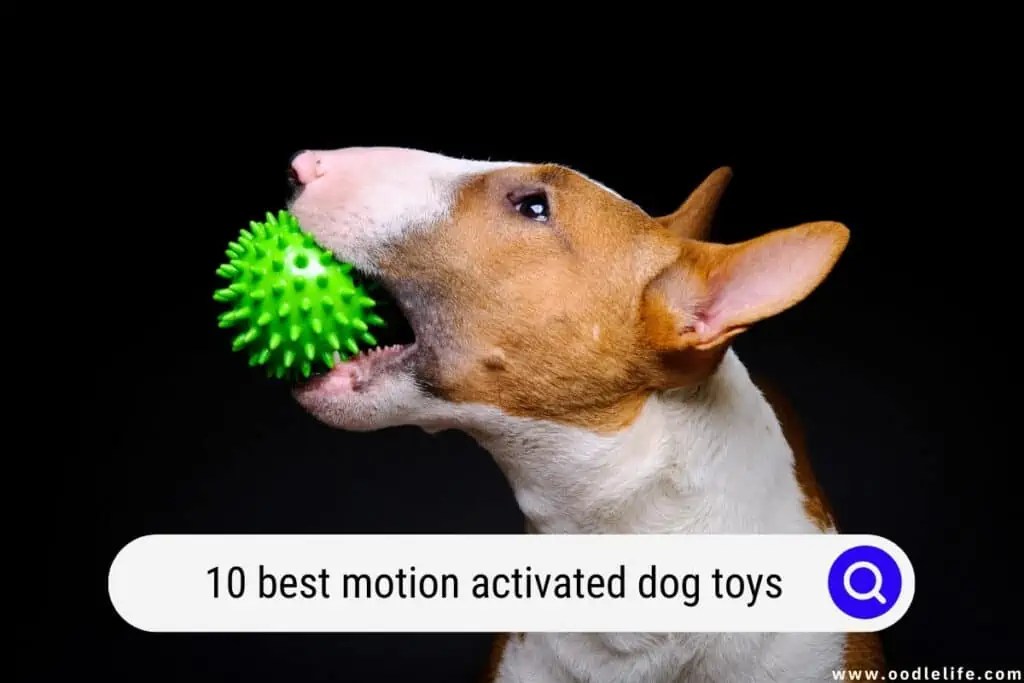 Looking for a solution to keep your dog occupied and entertained for hours? Need an engaging toy to help alleviate your dog's separation anxiety, stress, and loneliness? Motion-activated dog toys are the answer.
These toys move so your dog can chase and hunt them. These toys provide a greater mental stimulus than regular toys and allow your dog to participate further in playing. This is great for your dog's physical and mental health, leading to a happy pup and happy human.
But what motion-activated dog toys stand out from the rest? Dog toys have come a long way and there are some stellar options on the market. These are the motion-activated dog toys we've determined will best keep dogs of all sizes and temperaments entertained and engaged.
VARRAM Dog Fitness Robot
If your dog gets bored easily, investing in the VARRAM Dog Fitness Robot is a fantastic option. This smart toy rewards your dog with treats as he engages with it and lets you use an app to schedule his play and rest times when you are not home.
VARRAM Pet Fitness Robot: Interactive Treat Dispenser and Companion Robot for Dogs & Cats, Schedule Automatic Play, Activity Monitoring, Treat Tossing, Manual Play via App
STAY INTERACTIVE WITH TREAT REWARDING AND FUN ACTIVITIES: Take care of your pet like pro even when you are away. Our smart robot plays with your pet by zooming around the house and rewards their...
IMPROVE PHYSICAL AND MENTAL HEALTH: Physical activities for your pet is essential to keep their mind and body strong and healthy. With our robot, you are able to monitor and track your pets' daily...
Durable Design: Our pet fitness robot is durable and built to last. It is made of poly-carbonate material and easy to clean. Our robot has also passed IPX4 water resistance test, holding up to tough...
CONVENIENT AUTO SCHEDULING & EASY TO MANAGE APP: You can simply access our app to schedule and manage play time, treat dispensing, treat counts, sleep time, and more! You can even control the robot...
AUTONOMOUS DRIVING WITH AI: Our app is available on Android and Apple devices. The autonomous driving feature powered by AI allows our robot to navigate different places and ensures optimal engagement...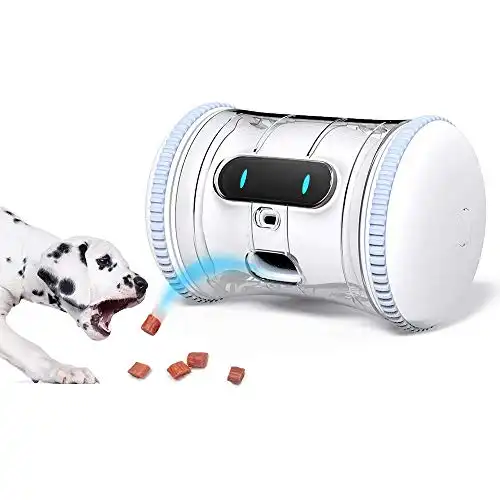 We earn a commission if you make a purchase, at no additional cost to you.
How It Works?
This wheeled toy zooms around the house, encouraging your dog to chase and play. It provides 16 different play modes to interact with your dog and keep him engaged and interested. It uses AI to autonomously drive and can easily navigate your home while avoiding obstacles.
You can also control it manually if you choose.
Design
This robot is white, cylindrical in shape, and supported by two wheels that propel it across the ground. It is made of durable polycarbonate and is certified water and chew-resistant.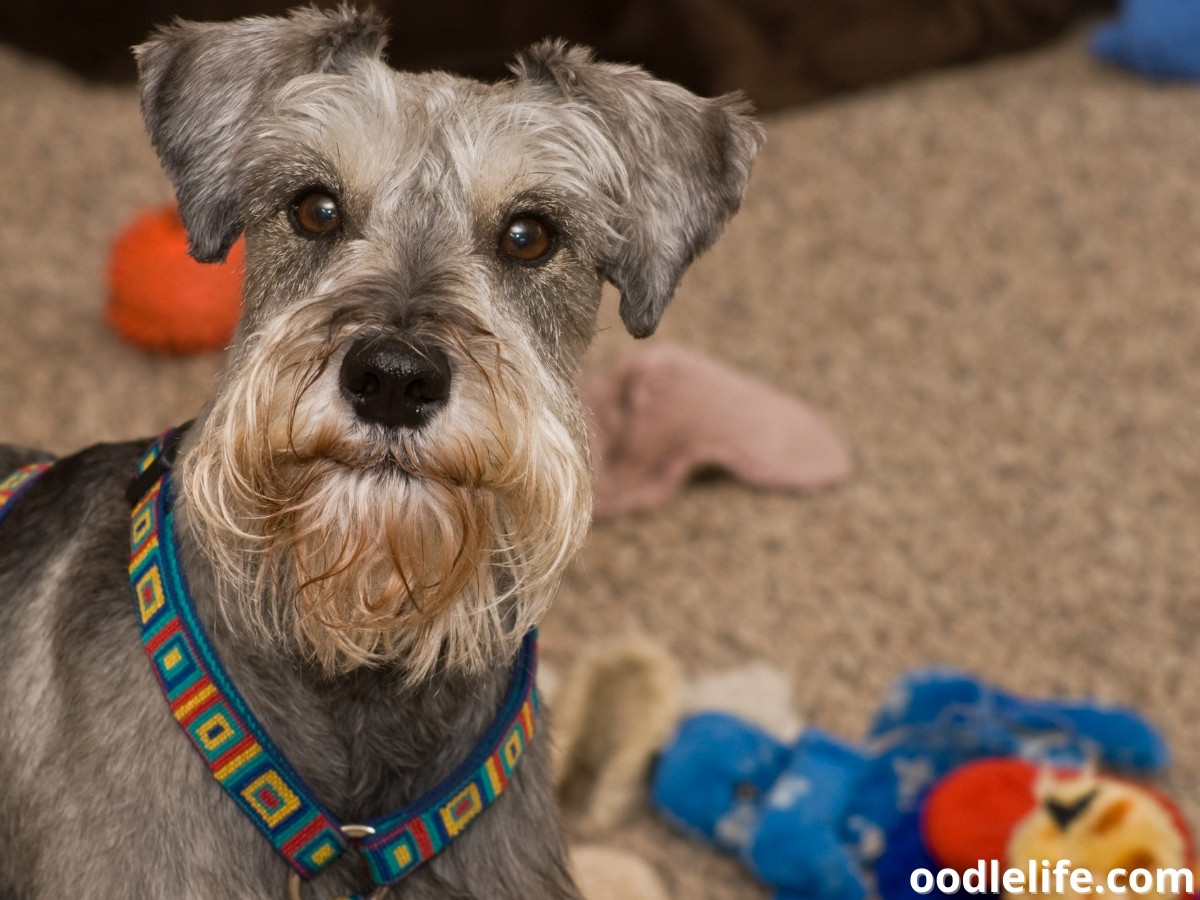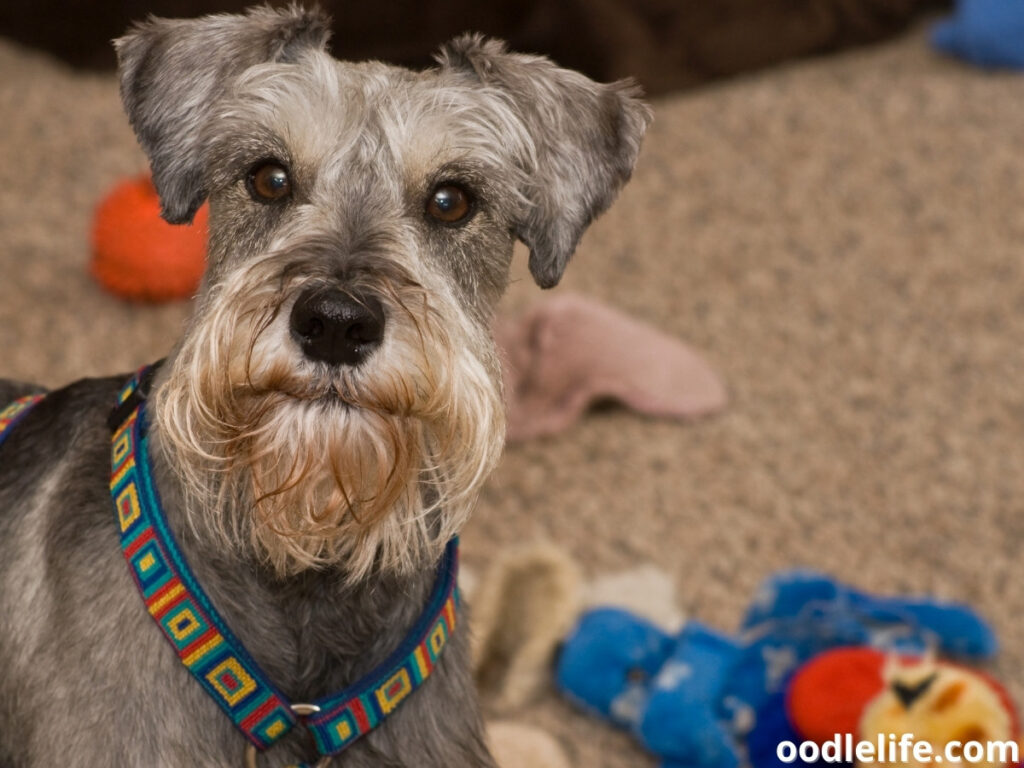 Cheerble Wicked Ball Toy Interactive & Automatic Ball
This unassuming little blue ball has the potential to keep your dog occupied for hours once it is turned on. Users have noted how quickly their dogs grew interested in the Wicked Ball.
Cheerble Dog Ball Toy Interactive & Automatic Ball, Self-Propelling Ball for Dogs, Smart Robotic Interactive Indoor Pet Toy, USB Rechargeable Toy for Small Medium Dogs Stimulate Your Pet's In...
Smart Interactive Dog Toy Ball: When the electronic Wicked Ball is turned on, it will move or roll automatically. With 3 interactive modes (gentle mode, normal mode, active mode) , Wicked Ball shows...
Build-in Automatic Obstacle Avoidance System: Equipped with intelligent obstacle avoidance sensor, Wicked Ball dog toy can circumvent obstacles and course-correct independently. So Wicked Ball won't...
Suitable for Pets and Easy to Use: Wicked Ball is made of polycarbonate material, which is durable for pets to play. Open the shell by rotating, press the button inside by 3 seconds, then close it for...
USB Rechargeable Long Lasting Battery: Wicked Ball toy ball for pet comes with charging cord, it can work for hours after only 1-hour fully charge.
Warm Tips: When the dog ball toy's outer shell is opened, Wicked Ball will power off immediately. This ball is not suitable for dogs who chew aggressively. While it is designed for dogs, Wicked Ball...
We earn a commission if you make a purchase, at no additional cost to you.
How It Works?
The Wicked Ball has three interactive modes to choose from based on your dog's play style: gentle, normal, and active. Once you select your mode, your dog is ready for the chase.
It is designed to avoid obstacles so that the ball will not get stuck behind a couch or lost under a bed. It can be opened and closed to select the mode and is great for playing both indoors and outdoors. It also has a long-lasting rechargeable battery that guarantees hours of fun.
Design
This blue ball is designed with curved ridges and flashing lights to further stimulate your dog mentally. It is made of durable polycarbonate but should not be played with by super aggressive chewers.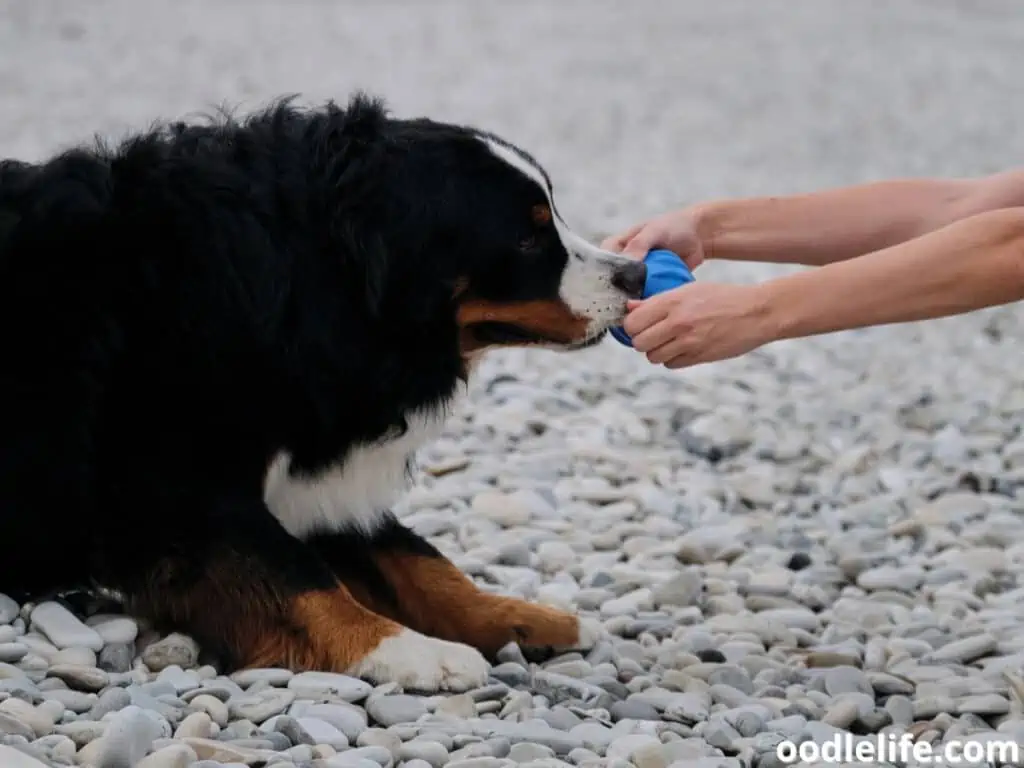 BENTOPAL Motion Activated Dog Toy
The BENTOPAL Motion Activated Dog Toy provides an upgraded game of fetch for your pooch. When it's turned off, it looks like a simple blue ball, but it's so much more than that.
BENTOPAL Interactive Dog Toy Wicked Ball for Indoor Cats/Dogs with Motion Activated/USB Rechargeable
【Motion activated toy】 Works 5 minutes and auto turn off. Touch to wake it up when the ball in sleep
【Auto ON/OFF】 When the ball hided in somewhere, pets can't find it easily. BENTOPAL ball will re-rolling when sleep time up to 1.5 hours. which will remind pets find it and play
【Two modes available】 This is the first toys with active bouncing mode in market, the wicked ball will jumping when it setted Mode 2. Mode 1 is normally rolling on the floor. LED color light make...
【Rechargeable】 Built with 180mAh battery, charging 3 hours, working 8 hours continuously. View pic 5 to know how to open the ball
【Safety with us】 BENTOPAL provide 30 days free return, if you found your pet don't like this toy
We earn a commission if you make a purchase, at no additional cost to you.
How It Works?
This interactive ball bounces and rolls on its own, providing unexpected and exciting movements for your dog to play and chase. Some notable features include its reminder feature, motion-activated sensors, auto-fetch setting, touch-to-wake aspect, and long battery life.
Design
The BENTOPAL Motion Activated Dog Toy is a round blue ball. It also provides visual stimulus for your dog by lighting up in different shapes and colors.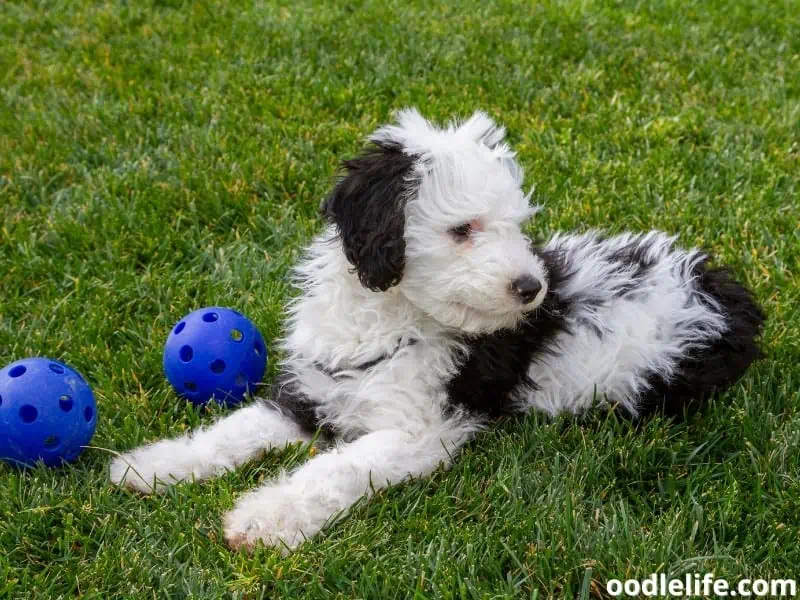 PetSafe Automatic Ball Launcher
This Automatic Ball Launcher is perfect for pets whose preferred game is fetching. This automatic launcher hurls balls across the yard and provides an excellent source of exercise for your furry friend, ensuring they get their daily game of fetch even when you're busy.
PetSafe Automatic Ball Launcher
Automatic Ball Launcher plays fetch with your dog; interactive features aid in training
Pet receives plenty of exercise chasing launches between 8-30 feet; 9 settings; 6 angle settings
Multiple safety sensors keep people and pets safe; MOTION SENSOR on the front protects dogs and people from launched balls up to 7 FEET away from the launch pocket.
PetSafe Brand is an industry leading US manufacturer of pet behavior, containment and lifestyle products since 1991, helping millions of people and pets each year.
Call, chat, or email with our expert US-based customer care specialists six days a week. They are waiting to assist you and your pet with your product needs.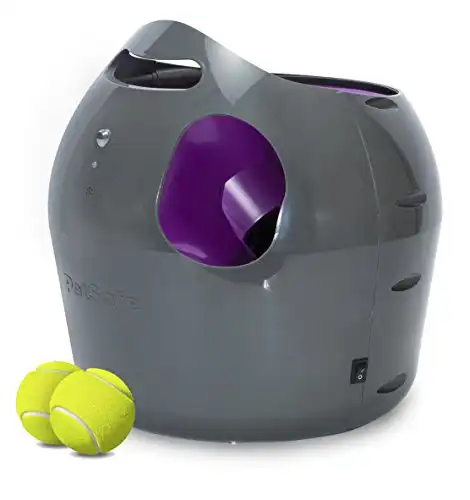 We earn a commission if you make a purchase, at no additional cost to you.
How It Works?
Simply load the balls into the ball launcher and they will automatically launch across the room or yard. The launcher throws the balls between 8-30 feet, which you can control through the distance setting. If you're out in a field, you can expand the launch further, and you can make it smaller if you're playing fetch indoors.
Safety
We've opted to include safety features for the PetSafe Automatic Ball Launcher because some pet owners are concerned about safety risks for themselves or their pets while using an automatic ball launcher.
However, this ball launcher has multiple sensors, including a front motion sensor that prevents both humans and pets from being pelted with a tennis ball. It can sense motion up to seven feet in front of it and will not launch the ball until the area is clear.
It also includes a fifteen-minute break after fifteen minutes of continuous play to make sure your pup doesn't get too exhausted while playing. Finally, it makes an alert noise to alert you and your pet when a ball is about to launch. Safety is of utmost priority with this toy!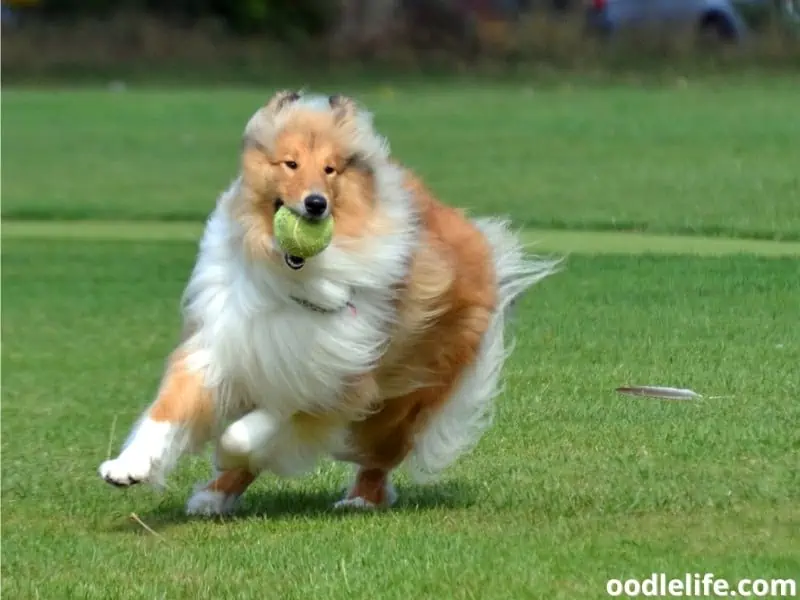 NEILDEN Upgrade Interactive Squeaky Dog Toys
Need for something cute and fun? Look no further than the NEILDEN Upgrade Interactive Squeaky Dog Toys. These cute plushy critters are more durable than you'd think.
NEILDEN Upgrade Interactive Squeaky Dog Toys Plush Puppy Chew Toys Giggle Dog Balls Durable for Tug and Fetch Pet Toys for Small Dogs
Playtime Has More Fun - The interactive dog ball will automatically shake and send a simulated Dog barking which will attract dog to have fun with it. And it will activate again by shaking or powerful...
New Battery Design - Compared with other products, we adopt a new battery design. When squeaky dog toys is out of power, we only need to connect the data cable for charging instead of reinstalling the...
Replacement and Washable - We offer two high quality plush covers, both of it are use Unique material for pet to chew it. Both plush covers are durable and can be replaced or washed when used for a...
Perfect for Indoor and Outdoor Play - Giggle dog balls will accompany your pet like a friend when you are in busy, the crazy shaking of the toy can release the dog's energy that can satisfy dog's...
Gurantee - The inside electronic ball is not a chew ball. If you have any dissatisfaction about our product, do not hesitate to contact us within 24 hours. If our products have quality problems We...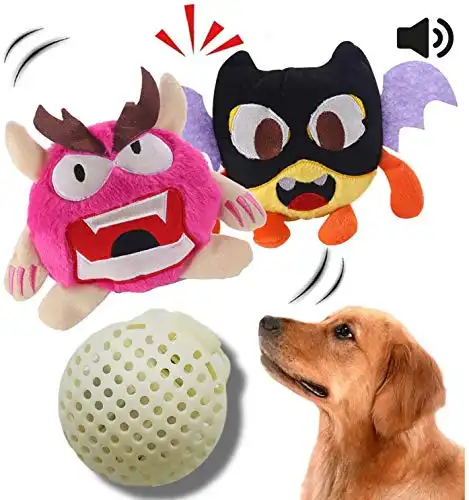 We earn a commission if you make a purchase, at no additional cost to you.
How It Works?
This interactive plush dog ball automatically shakes when it detects motion and simulates the sound of a dog barking to engage your dog with audio. Its shaking allows your dog to pounce and chew on it without the risk of tearing it to bits like it would a plush toy.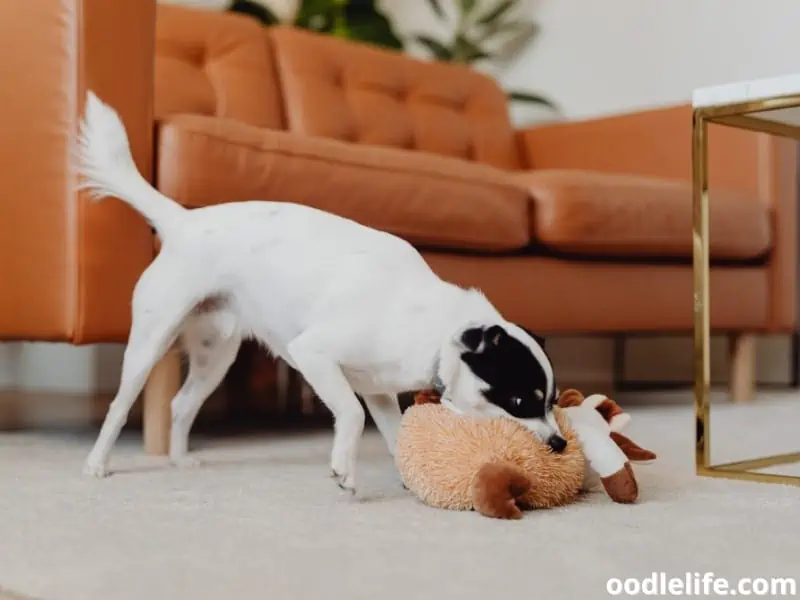 PETGEEK Interactive Dog Bone
This enrichment bone provides your dog with built-in programming that causes the bone to rotate, spin, and keep your dog busy for hours.
PETGEEK Interactive Dog Toys Automatic, Dog Interactive Toys for Boredom, Enrichment Dog Puzzle Toys for Entertainment with Upgraded TPU Material, USB Rechargeable Dog Toys for Medium Large Dogs
AUTOMATIC & INTELLIGENT INTERACTIVE MOVING DOG TOYS: Automatic dog toys built-in programmed moving patterns create different routes and unexpected movements. Attract your dog's attention and does not...
USB RECHARGEABLE INTERACTIVE DOG TOYS: Electronic dog toys equipped with USB port, can be easily charged without replacement of batteries. Interactive dog bone built-in 850 mAh lithium polymer...
ENTERTAIN & EXERCISE SMART DOG TOYS: Motorized dog training toys attract dog excited to chase, bite and running. Motion activated toys for dogs could help your dog exercise and entertainment more....
SAFE & EASY TO USE PUPPY TOYS: Battery operated dog toys made of upgraded TPU material & rubber cover. Detachable protecting cover are easy to take off, convenient to cleaned! Press on/off button of...
100% SERVICE GUARANTEE: PETGEEK interactive dog toy are not for Aggressive Chewers, environmentally friendly, relatively durable. Tips: Remove external accessories before charging, refer to the...
We earn a commission if you make a purchase, at no additional cost to you.
How It Works?
Internal programming makes the PETGEEK Interactive Dog Bone automatic in its movements. The specific patterns it moves in keep your dog stimulated and entertained. It provides an excellent source of exercise and helps your dog become smarter through puzzle games.
All you need to do to activate it is put it on the ground and tap it.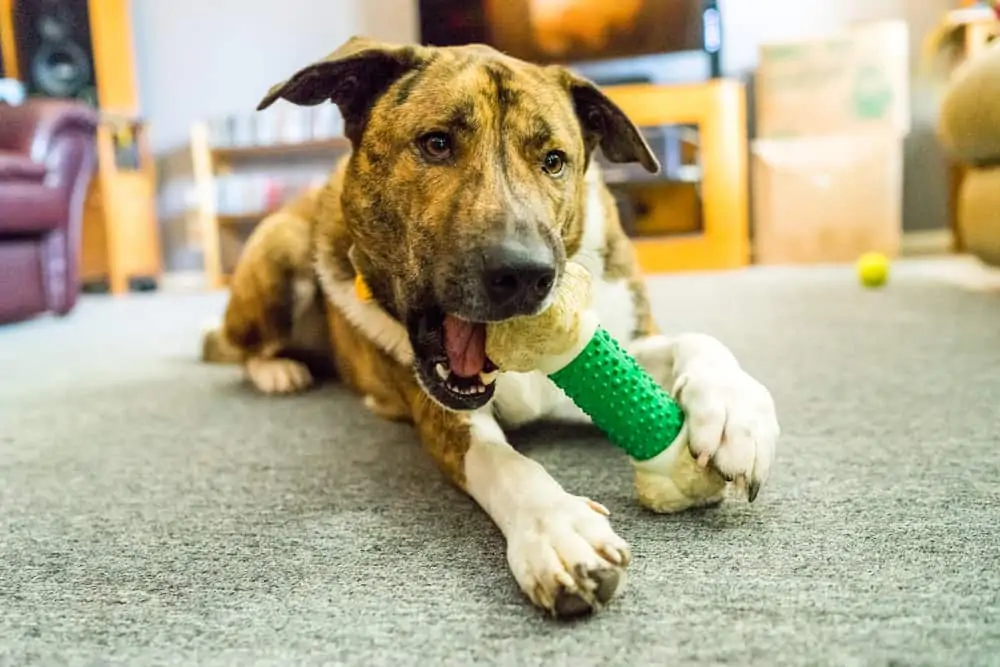 Interactive Floppy Fish Dog Toy
This fun, shark-shaped plush is more than it appears. It flops, wiggles, and bounces to give your dog an epic struggle to capture it.
Interactive Floppy Fish Dog Toys for Large/Medium/Small Dogs,Squeaky Plush Tough Puppy Toys ,Motion Activated (Floppy Shark)
【Interactive Fun for Dogs and Puppy】The tail moving shark toy looks like real. Every time your dog touches the toy, the automatic motion sensor would start to work and the plush shark toy moves in...
【Durable & Safe Materials】IOEN interactive dog toys are made of plush and natural cotton, which is safe to your dogs. Improved Mechanism to endure chew and bite, it's good for your pet to keep...
【Squeaky & Stimulating】This dog squeaky toy has a built-in vocal bladder which emits sound when pets bite, it a best toy for stimulating and interactive training, you can not only strengthen the...
【USB Rechargeable】This toy is USB chargeable which is more environmentally friendly and saves you money to replace batteries. Upgraded large capacity battery to ensure safe charging, charge it 3...
【Easy to Use】Please make sure the switch is off and faces the switch to shark belly while installing.Push the electromotor to the utmost end of tail and press the mouth to seal the toy. Finally,...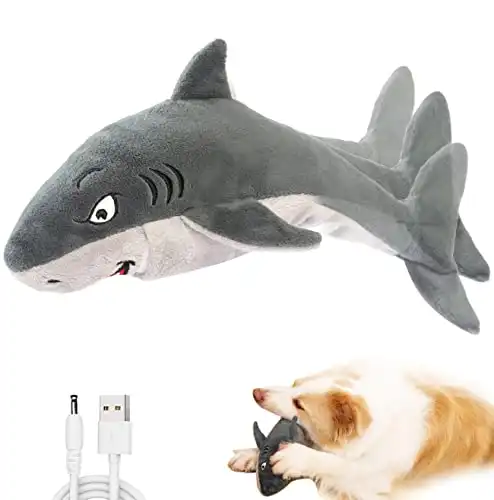 We earn a commission if you make a purchase, at no additional cost to you.
How It Works?
Each shark contains a motion sensor inside it that can sense when your dog approaches and cues it to start flopping like crazy. It also provides further stimulation through an internal squeaker. This toy is also USB chargeable.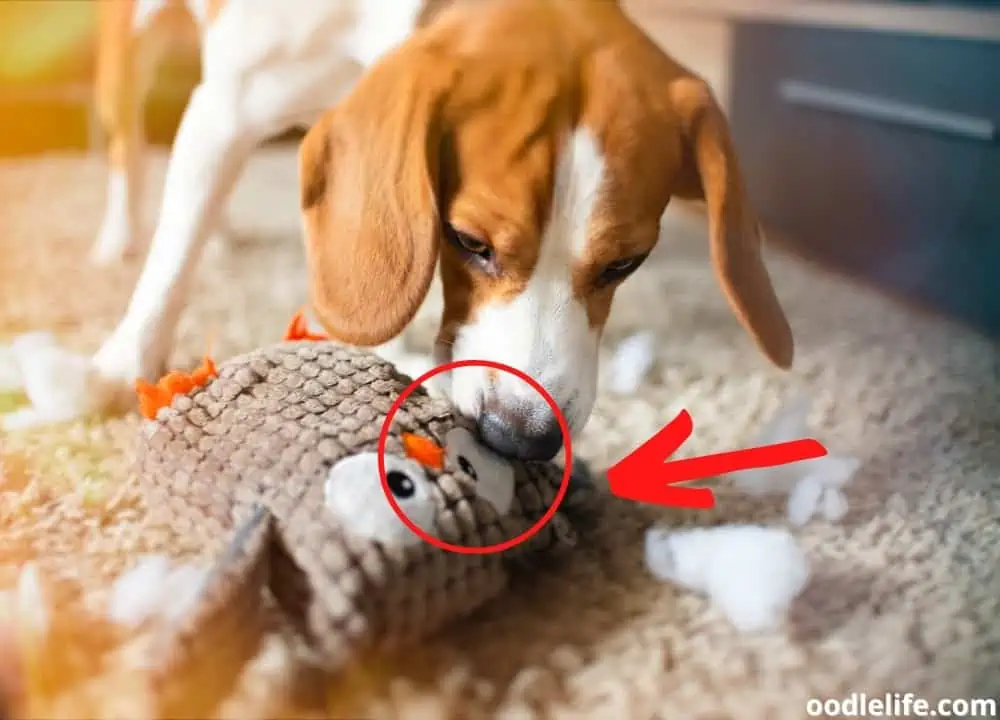 LIDLOK Interactive Dog Toy
Have an active dog? Luckily for you, the LIDLOCK Interactive toy has an active mode. It will also keep your dog interested for hours because you can stuff this toy with peanut butter, treats, or dog toothpaste to further pique his interest.
LIDLOK Interactive Dog Toys Rubber Chew Toy, Auto Moving Dog Toy for Medium/Large Dogs,Motion-Activated/USB Rechargeable
Two modes are available: The funny dog toy has 2 modes: Shaking with vibration mode & bouncing with rolling mode. Auto working 5 mins every 1.5h.Motion-activated heavy duty dog toy.
Motion-activated Dog toy: Working 5 mins every 1.5hrs.Restart by touching under standby mode.
Dog Teething Chew toy: Squeezing dog toothpaste on the big dog toys surface can maintain your dog's dental hygiene. Apply peanut butter to make chewing more fun for your dog and playing time longer.
Rechargeable: USB charging, convenient. Fully charged for about 3hrs.
Dog Toys Large Breed: 5.8 in long,1.1lb weight (Heavy for puppy).Suitable for medium-large dogs.Free return & exchange with LIDLOK.【Although the dog toys are sturdy, there are no toys that are...
We earn a commission if you make a purchase, at no additional cost to you.
How It Works?
Set this toy on your preferred mode: normal shaking mode and active mode. Once your dog approaches the toy, it starts shaking for five minutes straight and stays charged for three hours with a USB cord.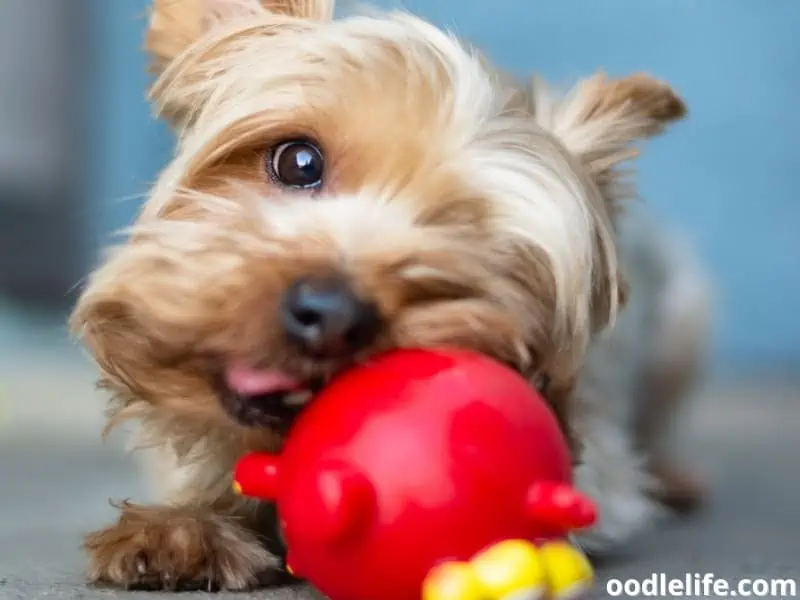 Babble Ball
If your dog needs more mental stimulation tha physical, the Babble Ball is a great choice. Rather than the motion activation causing the ball to bounce or shake like many of the other options on this list, the Babble Ball is motion activated to talk.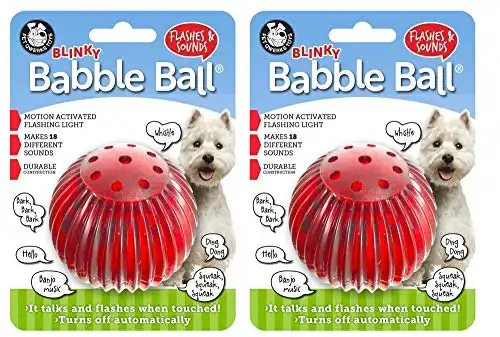 We earn a commission if you make a purchase, at no additional cost to you.
How It Works?
When the Babble Ball senses your dog approaching, it will begin flashing light and speaking eighteen different phrases. This toy is great for dogs who are blind or deaf because it allows them to play using their remaining senses. This ball can still allow your dog to be active, though, because your dog can push and chase it just like a regular ball.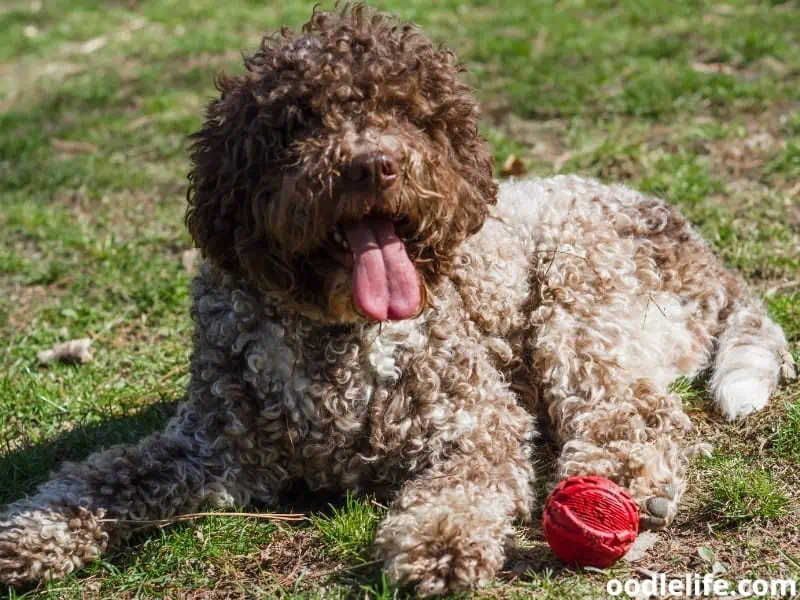 BARHOMO Interactive Plush Dog Toy
The BARHOMO Interactive Plush Dog Toy is the perfect match for a prey-focused dog. Its furry tail shape mimics the motions of a small animal to engage your dog in hours of playtime.
BARHOMO Interactive Plush Dog Toys for Medium Large Small Dogs, Motion Activated Durable Squeaky Dog Chew Toys (Full Unit) (Full Unit)
Upgraded 1:Reinforced plush cover (3 layer plush+1 pcs cover) and shell,last 3 times longer than other ones
Upgraded 2:USB rechargeable battery included with Motion Activated Robotic Moving
Upgraded 3:With 3 layer plush,largely reduce the noise when playing indoor
Upgraded 4:Two Modes(active mode and normal mode),active modes suit for active dogs/outdoors,normal modes suit for timid dogs/indoors
Interactive dog toys for medium large/small dogs,suitable for outdoor and indoor play,outdoor plush squeaky dog hunting toys,automative moving dog toys for boredom, smart stimulating self play dog...
We earn a commission if you make a purchase, at no additional cost to you.
How It Works?
Two modes, normal and active, let you adjust this toy depending on your dog's level of play and whether you are indoors or outdoors. This plush, motion-activated toy bounces and spins around on the floor to encourage your dog to chase and pounce on it.
Endless Hours of Fun Await!
We hope we've helped you find your next high-quality, countless hours of playtime purchase! No matter which toy you choose, your dog is guaranteed to have a great time.