6 Best Puppy Shampoos 2023 Update
Welcoming a puppy into your home is an exciting time, but it's also a serious undertaking. Like human babies, puppies require extensive care and attention to be safe and healthy.
One element of puppy caretaking that owners typically don't think of right away is bathing. Regularly cleaning your dog is essential to preventing skin infections and matted fur. While you may already be familiar with bathing an adult dog, washing a puppy is a bit more involved.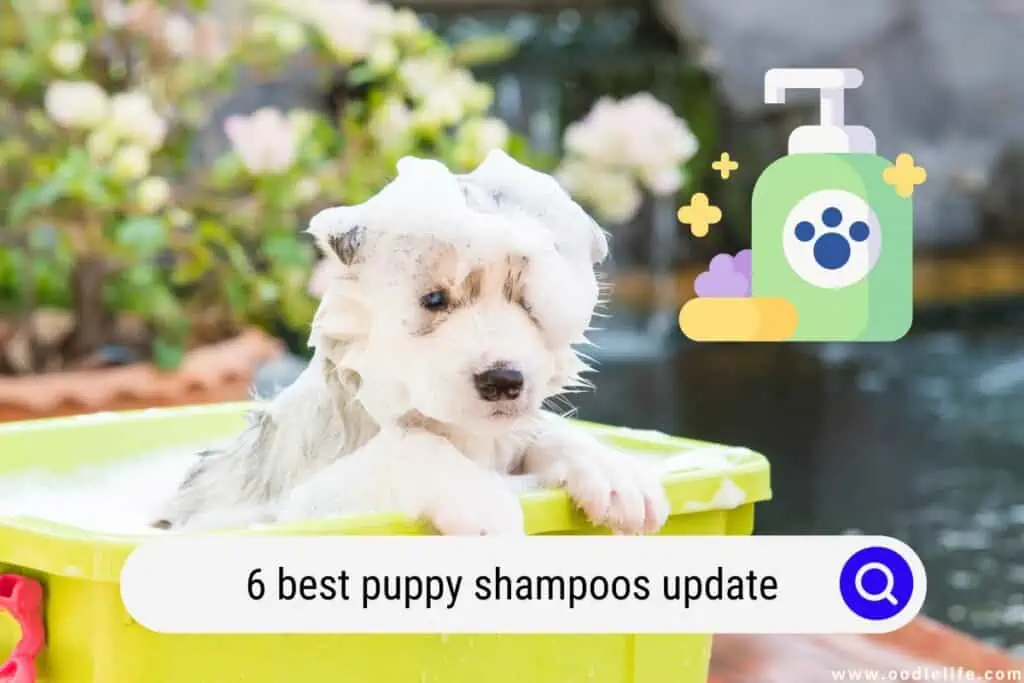 To help, we've put together a guide on the best puppy shampoos for 2023. These shampoos cover a broad price range and feature ingredients that keep your puppy's fur soft and shiny and their skin clean and healthy. Read on to learn more about the best puppy shampoo options.
Best Puppy Shampoos for 2023
Washing a puppy requires extra care, but many great dog shampoos work well for puppies. The following dog shampoos have natural ingredients that are gentle and effective at cleaning, making them some of the best puppy shampoos for 2023.
1. Wahl Dry Skin and Itch Relief Pet Shampoo for Dogs—Oatmeal Formula with Coconut Lime Verbena
Wahl Dry Skin and Itch Relief Pet Shampoo for Dogs with the Oatmeal Formula is one of the best puppy shampoos currently available. Like several of the shampoos on this list, this Wahl shampoo utilizes oatmeal as a key ingredient.
Wahl Dry Skin & Itch Relief Pet Shampoo for Dogs – Oatmeal Formula with Coconut Lime Verbena & 100% Natural Ingredients – 24 Oz
Made in the USA - Our oatmeal formula pet shampoo is pH balanced, alcohol free, paraben free, PEG-80 free and is highly recommended for moisturizing dry skin & providing itch relief
Oatmeal Formula – This coconut lime verbena scented pet shampoo is great for moisturizing dry skin, cleaning dirty coats, & itch relief. The thick lather rinses off clean & keeps your pet looking...
Less is More - Wahl has a higher concentrate of coconut derived sodding agent, which means you don't have to use as much as other dog shampoos. A little bit of shampoo goes a long way and provides a...
Allergy Friendly - Our dog icon, Rocket, was designed in the image of our family dog Cooper – a golden doodle, who has severe allergies. This is the only shampoo we have found safe and effective. He...
The Brand Used by Professionals - Wahl has been serving professional vets and groomers for over 50 years. clean, condition fur & hair for a smooth, soft coat. We are a company of animal lovers that...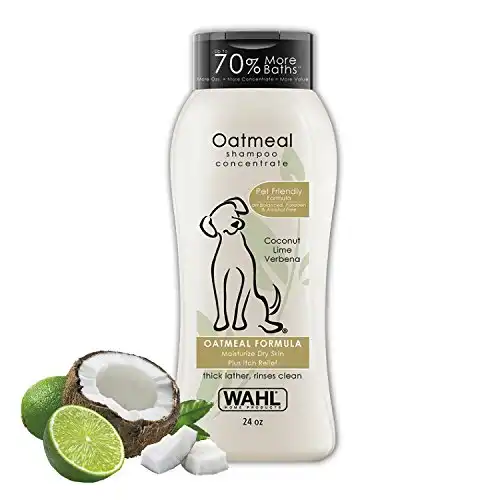 We earn a commission if you make a purchase, at no additional cost to you.
So, why is oatmeal a good ingredient in puppy shampoos? Oatmeal has natural anti-inflammatory properties, which can help alleviate your puppy's irritated or itchy skin. Oatmeal can also help moisturize your puppy's fur and can potentially help with fleas and ticks.
Wahl Dry Skin and Itch Relief Pet Shampoo earned a spot in this list mainly by having a higher concentration of cleansing ingredients than other competitors, meaning you can use a smaller amount of shampoo and get the same cleansing results. The higher concentration makes a bottle of Wahl shampoo a fantastic price performer. The company estimates that you can make a bottle of their shampoo last 70% longer than other brands.
Pros
Alcohol-free.
Paraben-free.
Larger bottles with greater ingredient concentration than most brands.
Cons
Not as moisturizing as other brands.
Has a scent and some FDA-approved color dyes, which may irritate a dog with allergies.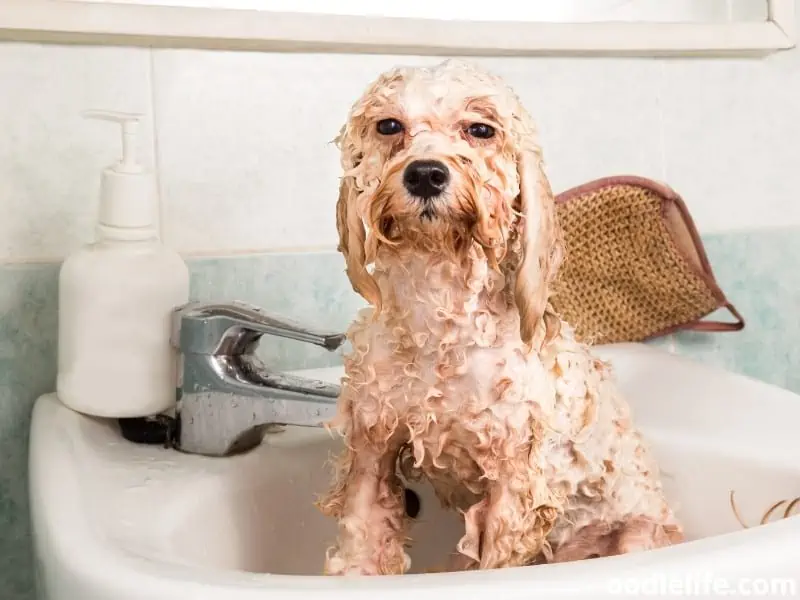 2. Nature's Miracle Oatmeal Shampoo for Dogs
Nature's Miracle Oatmeal Shampoo for Dogs is a great puppy shampoo if you have a smelly pup. This shampoo neutralizes odors and has a subtle but pleasant oatmeal and aloe scent.
Nature's Miracle Oatmeal Shampoo for Dogs, 32 Ounces, Oatmilk and Aloe Scent
FOR DOGS ONLY: Specially formulated shampoo for dogs.
OATMILK & ALOE SCENT: Freshens with a light scent, leaves your dog smelling nice and clean.
ODOR NEUTRALIZING FORMULA: Helps neutralize odors and leaves no wet dog smell.
ENRICHED WITH ALOE & VITAMIN B5: Provides moisture and shine.
SOOTHES PETS' SKIN: Safe for pets when used and stored as directed.
We earn a commission if you make a purchase, at no additional cost to you.
This shampoo is an oatmeal shampoo that contains colloidal oatmeal, which signifies that the oatmeal in the shampoo has all of the active ingredients that help soothe skin irritation. Nature's Miracle Shampoo also has aloe vera, a fantastic natural moisturizer that will keep your puppy's fur soft and shiny.
Nature's Miracle Oatmeal Shampoo is particularly gentle, making it ideal for young puppies trying out shampoo for the first time. The shampoo formula only uses mild surfactants, plant-based ingredients, and other safe additives. This shampoo has no dyes or drying alcohols.
Pros
Neutralizes odors without using a strong or irritating scent.
Large containers make products last longer.
Contains colloidal oatmeal and vitamin B5 for healthy skin and fur.
Cons
Gentle soap may not be effective for fleas or other serious skin infections.
The minimal scent may not fully eliminate odors for puppies with a significantly strong stink.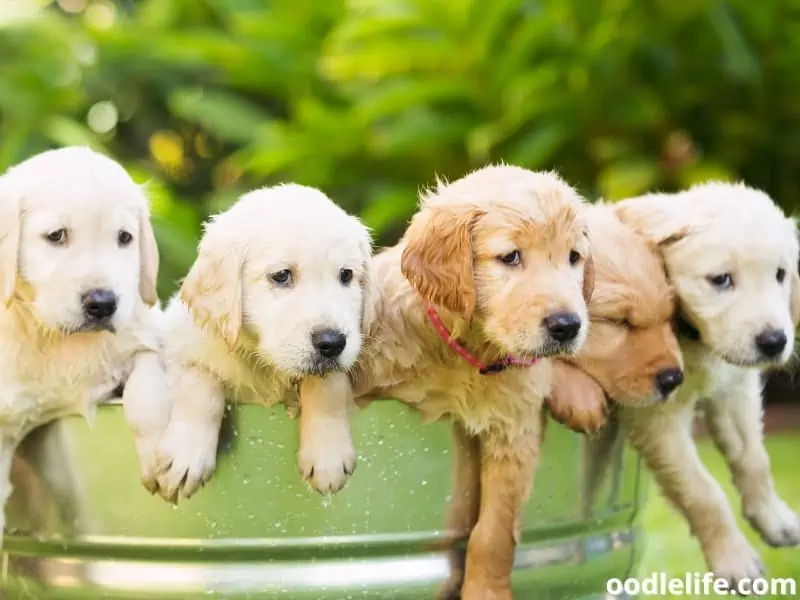 3. Burt's Bees for Dogs Oatmeal Dog Shampoo
You may already love Burt's Bees products for humans, but did you know they also make fantastic dog shampoo? Burt's Bees for Dogs Oatmeal Shampoo is a cruelty-free dog shampoo that uses only the safest and healthiest ingredients.
Burt's Bees for Dogs Oatmeal Dog Shampoo | With Colloidal Oat Flour & Honey | Moisturizing & Nourishing, Cruelty Free, Sulfate & Paraben Free, pH Balanced for Dogs - Made in USA, 16 O...
PET GROOMING BRAND IN THE USA - Join the millions of pet parents who can t get enough of Burts Bees for Pets by using Americas pet grooming brand
SOOTHES AND SOFTENS - Burt's Bees Oatmeal Shampoo cleans, soothes, softens, and conditions your dog's dry skin and coat
MADE WITH THE HIGHEST QUALITY INGREDIENTS - This gentle formula includes ingredients like colloidal oatmeal, honey, and beeswax for sensitive skin
SUITABLE FOR ALL DOGS AND PUPPIES - This mild tearless shampoo is pH balanced especially for all dogs and puppies
SAFE AND GENTLE -   This formula is free of fragrances, sulfates, colorants, and harsh chemicals HOW-TO: Wet dog down. Apply shampoo from back of ears to tail, carefully avoiding eyes. Lather, rinse...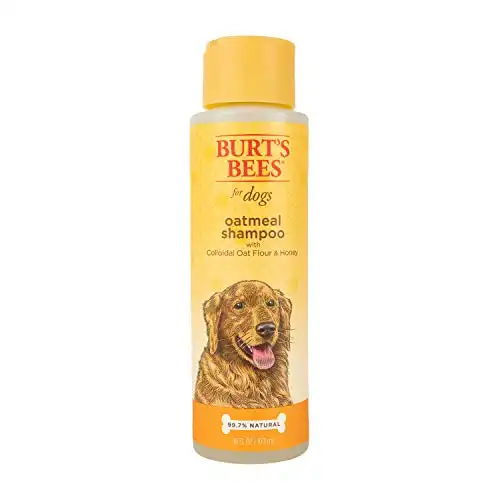 We earn a commission if you make a purchase, at no additional cost to you.
This natural dog shampoo is one of the best puppy shampoos because it has no concerning ingredients that could potentially cause irritation or allergic reactions. Burt's Bees for Dogs Oatmeal Shampoo is free of sulfates, fragrances, and dyes and features naturally moisturizing and anti-inflammatory ingredients such as oatmeal and honey.
Burt's Bees is an excellent brand for dog shampoo if you are taking care of a young puppy with soft, newborn skin. Sulfates can be very harsh on sensitive skin, and it's fairly rare to find a dog shampoo that doesn't use them. Furthermore, the plant-based ingredients in the shampoo will help nourish your puppy's skin and fur as they develop.
Pros
Sulfate-free, fragrance-free, colorant-free, and cruelty-free.
Natural ingredients such as green tea extract and honey will support your puppy's health.
Comes in many sizes, including a 128-ounce container.
Cons
Can't effectively rinse out topical treatments, such as tick treatments.
Unscented shampoo won't cover up any wet dog smells.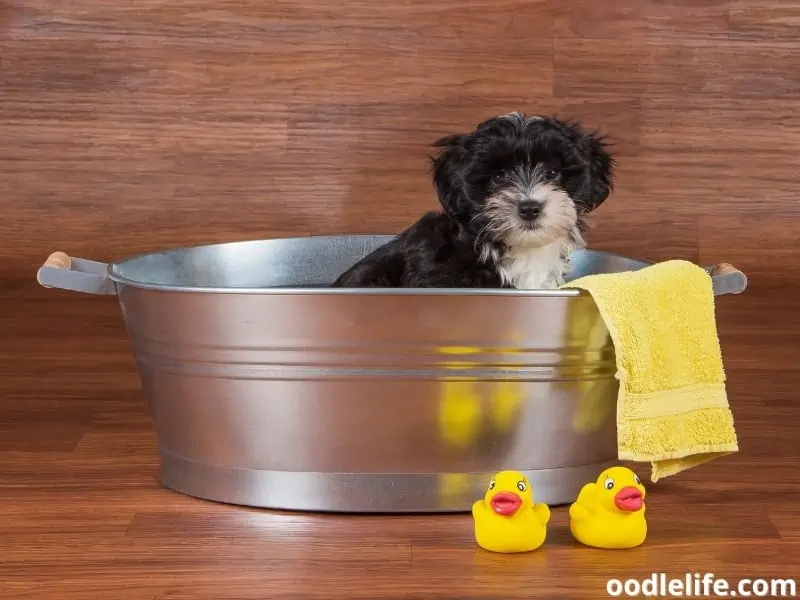 4. Honest Paws 5-in-1 Dog Shampoo and Conditioner
Honest Paws 5-in-1 Dog Shampoo and Conditioner is another plant-based shampoo that deserves a spot on the list of best puppy shampoos. This dog shampoo is made almost entirely with plant-based ingredients and serves five hygiene functions: cleansing, conditioning, moisturizing, detangling, and deodorizing.
Honest Paws 5-in-1 Oatmeal Shampoo and Conditioner for Allergies and Dry, Itchy, Moisturizing for Sensitive Skin - Sulfate Free, Plant Based, All Natural, with Aloe and Oatmeal -16 Fl Oz
$18.49
$16.99 ($16.99 / Count)
Five Benefits In One Wash - Cleans, deodorizes, conditions and detangles coat, moisturizes skin-- Honest Paws Skin and Coat 5-in-1 Dog Wash is a one-step and easy to use premium dog wash. It is all...
Safe, Non-irritating, Natural Ingredients - Other brands claim to be natural but only have less than 1% of natural ingredients! Unlike other industry-standard dog shampoos that may contain harmful...
So Soft, Clean, And Shiny - This wash uses the hydrating properties of soothing oats and aloe that replenishes the skin's natural moisture while conditioning the fur. Prevent matting and irritation,...
Good For All Breeds And Ages - This formula can be used on all breeds and on puppies over 12 weeks of age. It is dye-free, and it does not contain MEA, DEA, sulfates, or parabens.
Honest Paws Guarantee - We hold ourselves to the highest of standards when it comes to your satisfaction. If you are not satisfied with your product, let us know, so we can make it right. No if's,...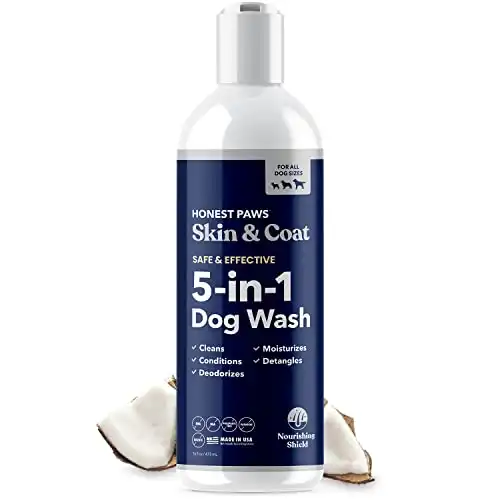 We earn a commission if you make a purchase, at no additional cost to you.
The Honest Paws shampoo and conditioner is a smart option for puppy shampoo if you want a shampoo that can be efficient and effective without using harsh chemicals. This shampoo uses surfactants made from coconut and palm oil and nourishing ingredients such as aloe and oatmeal extracts. Additionally, Honest Paws dog shampoo has no sulfates or paraben, ensuring a healthy bathtime for your pup.
If your puppy has long hair, this shampoo might be your best choice. The detangling and moisturizing properties of this shampoo will make bathing easier and, therefore, less stressful for your dog. Plus, a thorough detangling while washing decreases the chance of getting matted fur between baths.
Pros
Cleanses and moisturizes at the same time.
Plant-based ingredients.
Sulfate-free and paraben-free.
Cons
Not as moisturizing as a traditional conditioner.
Ingredients may irritate allergy-prone puppies.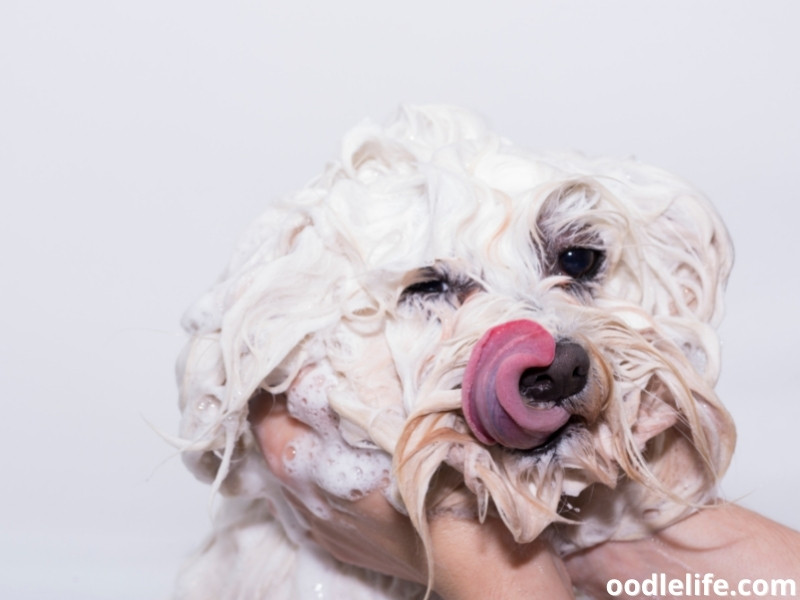 5. Cloud Star Buddy Wash Shampoo and Conditioner
If you are looking for a dog shampoo that has simple ingredients rather than long-winded chemistry lingo, consider Cloud Star Buddy Wash Shampoo and Conditioner. Buddy Wash features plant-based ingredients exclusively that anyone would recognize and understand, such as coconut, lavender, and tea tree oil.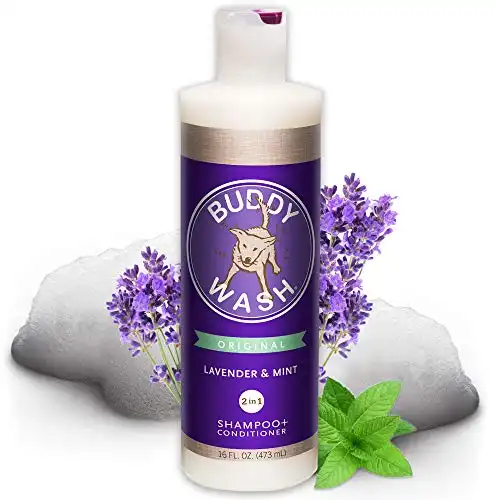 We earn a commission if you make a purchase, at no additional cost to you.
Since Buddy Wash is a combination shampoo and conditioner, it is formulated to have both cleansing and moisturizing properties. Additionally, Buddy Wash contains natural deodorizing agents.
Buddy Wash is the best puppy shampoo for you if you want to give your puppy a luxurious and soothing bathtime experience. This shampoo's fragrances are not only pleasant for humans but also work as aromatherapy to help your dog relax. Scents such as mint, lavender, and tea tree oil will surely help a nervous puppy get through their first time using shampoo.
Pros
Plant-based ingredients.
Soothing scents that deodorize and relax your dog.
Cons
Some dogs can be allergic to certain plant ingredients, particularly tea tree oil.
Deodorizing effects may not be as long-lasting as shampoos that use harsh chemicals.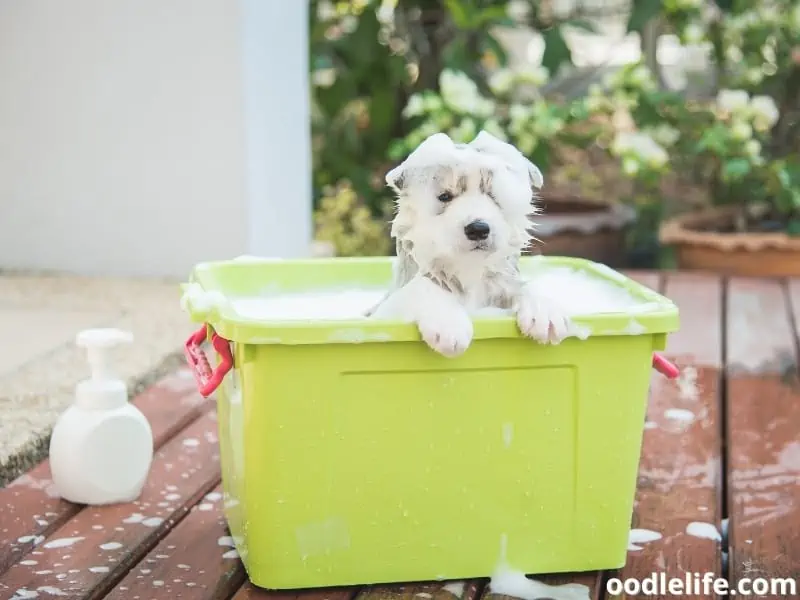 6. TropiClean Lime and Coconut Shed Control Shampoo for Pets
TropiClean Lime and Coconut Shed Control Shampoo is a great dog shampoo if your puppy has irritated skin and frequently sheds fur. This shampoo formula focuses on exfoliating and nourishing the skin to encourage healthy fur growth and decrease excessive shedding.
We earn a commission if you make a purchase, at no additional cost to you.
TropiClean Lime and Coconut Shed Control Shampoo use soothing, plant-based ingredients with a fun tropical scent, including extracts from fruits such as papaya, lime, and pomegranate. This dye-free and sulfate-free shampoo will keep your puppy's skin clean, soft, and moisturized.
Pros
Exfoliates and cleanses skin without using soap.
Fruit-based ingredients create a pleasant scent and are safe to use on puppies.
Cons
The scent is mild and won't work as a long-term deodorizer.
Does not lather as well as soap-based shampoos.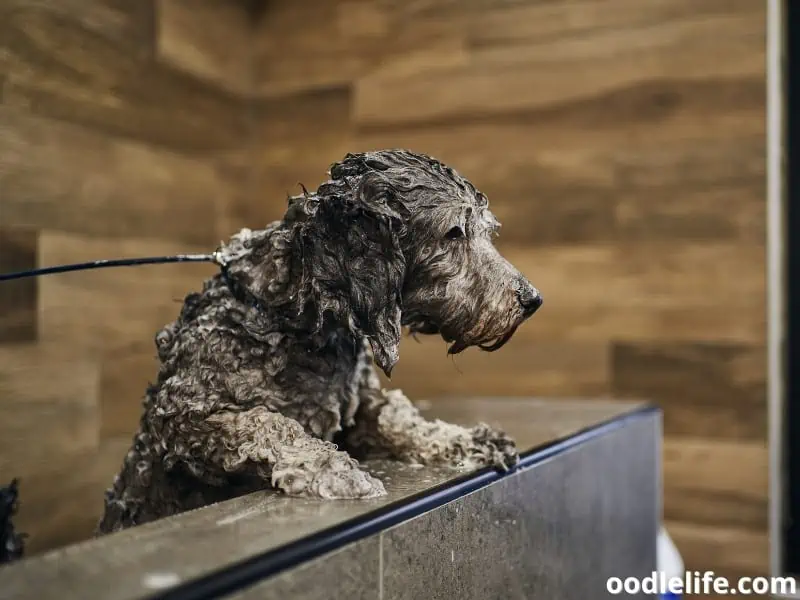 Frequently Asked Questions About Puppy Shampoo
Before diving into which shampoos are best for your puppy, it helps to have background knowledge. Here are answers to some of the most frequently asked questions about puppy shampoo and how to clean a puppy.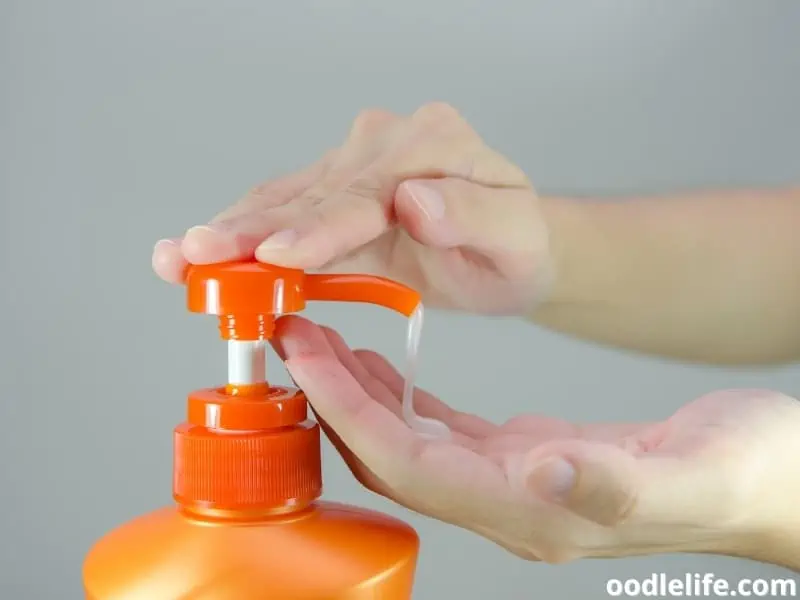 Do puppies need puppy shampoo?
Yes, puppies benefit from shampoo formulated for young dogs. Puppies have softer fur and more sensitive skin than older dogs and thus need gentle shampoos that can cleanse their skin and fur without irritating them.
At what age can puppies use dog shampoo?
According to the American Kennel Club, puppies don't need shampoo until they are three months old. Before a puppy is three months old, all they need is warm water and gentle rubbing with a towel. Avoid getting puppies younger than two months fully wet since they can't regulate their body temperature well and can easily get cold.
How often should a puppy be bathed?
You should bathe your puppy once a month. Cleaning your dog regularly will help eliminate dirt and grease, detangle their fur, and prevent infections or skin problems.
Although bathing your dog too frequently can dry out their skin and might stress them out if they dislike getting washed, a steady routine of monthly baths should keep your pup clean and comfortable.
Can I use human shampoo on a puppy?
Never use human shampoo on a puppy or any dog, for that matter. Humans and dogs have different natural pH levels, and the two types of shampoo are formulated to match each of them respectively. Human shampoo can cause your dog to have significant skin irritation, especially if it is a young puppy with soft, sensitive skin.
Final Thoughts
You may need to experiment with different products as you figure out which shampoos and conditioners work best for your young puppy. Overall, your puppy should be fine as long as you stick to shampoos with natural ingredients and no aggressive cleansing chemicals.
We hope this guide to the best puppy shampoos helps you on your journey of taking care of your new furry friend.