The 5 Best Shampoo for Cavapoo Dogs 2023
While a Cavapoo dog is adorable with its curly hair, the cuteness only goes so far until they start to smell bad.
DIY grooming is easy for Poodle mixes like the Cavapoo, provided you choose the correct products. You need to choose the best shampoos for Cavapoo coats to keep their non-shedding wavy coats healthy and smelling good.
These fluffballs require shampoo to keep them clean yet won't harm them by stripping oils
You need quality Cavapoo shampoo that does NOT bust the budget
As a Cavapoo and Poodle expert, I get asked ALL the time about the best shampoos and conditioners. By the end of this article, you will know the 5 trusted shampoos that we recommend and use.
No time to spare? Here are the top 5.
Allergy Safe Cavapoo Shampoo
Hypoallergenic and Natural
White Coat Cavapoo Shampoo
Allergy Safe Cavapoo Shampoo
Hypoallergenic and Natural
White Coat Cavapoo Shampoo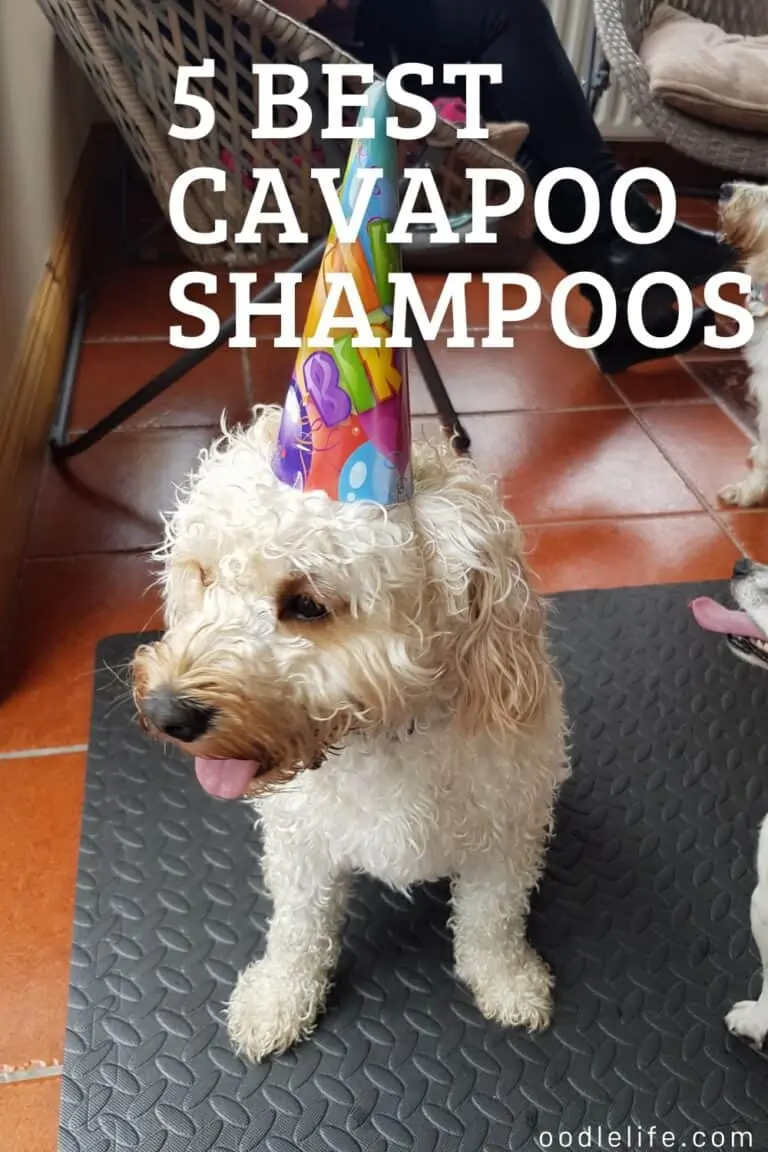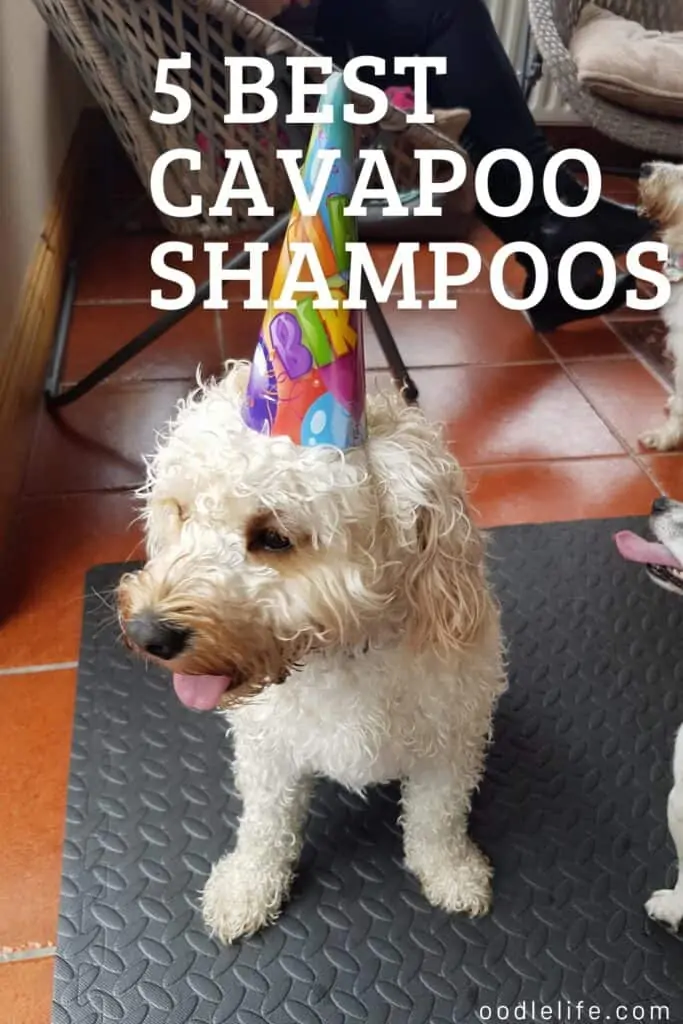 Read along and explore the best shampoo for Cavapoo breeds. Additionally, learn about the factors to consider when choosing dog shampoo. You'll find everything you need to know in our comprehensive Buyer's Guide for the best Cavapoo shampoo, including scents, sensitive skin, and other topics.
5 Best Shampoos for Cavapoos
Here are the five best shampoos and two-in-ones that we could find for your Cavapoo. Keep reading as we cover a bit of background about each shampoo in addition to its pros and cons.
The Overall Best Low Allergy Cavapoo Shampoo: Virbac Allergroom Shampoo
Does your Cavapoo have skin issues? Your search is over! The soap-free and hypoallergenic Virbac Allergroom Shampoo is the best shampoo for Cavapoo breeds with dry skin and suffer from allergic reactions to other shampoos.
Virbac Allergroom Shampoo 16-Ounce
Provides protection against bacteria and yeast build up on the skin
Easy to use soap free formula
Provides slow release of ingredients long after the shampoo is rinsed off
Allergroom cleanses without undue stripping of the lipid layer while adding moisture
For Use on both dog and cats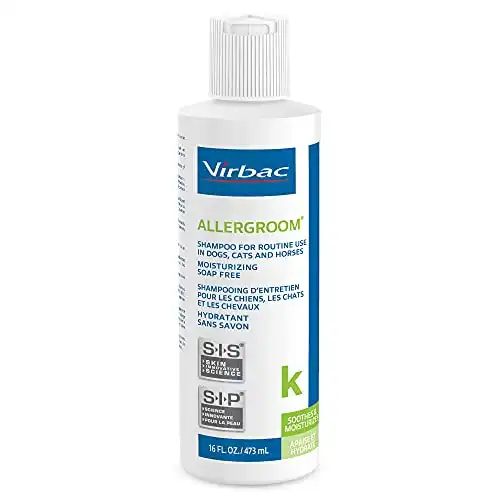 We earn a commission if you make a purchase, at no additional cost to you.
Here's why Virbac Allergroom's the best low allergy Cavapoo shampoo on our list:
It has no harsh aroma despite being an allergy-specific shampoo.
It has long-term effects. Virbac Allergroom shampoo releases its ingredients over time, even after you washed it off your dog.
Provides gentle cleansing without stripping the lipid layer while adding moisture.
It helps clear skin-related issues your Cavapoo is facing.
Patented glycotechnology protects your Cavapoo's skin from yeast and bacterial buildups.
Nothing's perfect. Here's a minor flaw with this shampoo:
Some past buyers stated that their dogs had more dandruff than usual when they used Virbac Allergroom shampoo.
Natural and Great Smelling: Earthbath Hypoallergenic Dog Shampoo
The cruelty-free Earthbath Hypoallergenic Dog Shampoo is a mild and hypoallergenic cleanser that's non-toxic formula is excellent for Cavapoos who can't stop licking themselves.
Why?
Earthbath contains organic and natural ingredients like Vitamin E, aloe vera, essential oils, and coconut-based cleansers.
earthbath Hypoallergenic Dog Shampoo, Fragrance Free, 16 oz – Pet Shampoo for Sensitive Skin & Allergies – Made in USA
HYPO-ALLERGENIC FOR SENSITIVE SKIN/ALLERGY: This mild, hypo-allergenic shampoo is FRAGRANCE FREE and formulated especially for pets with skin allergies and sensitivities. Puppies & kittens, older...
NATURAL & ORGANIC INGREDIENTS: Blended with the finest ingredients, such as renewable plant-derived and coconut-based cleansers, organic aloe vera, and vitamin E. NO PARABENS, NO DYES, NO SOAP, NO...
SAFE & EFFECTIVE: Our products are designed with the health of your beloved, furry friend in mind. We believe the ingredients that touch your pet's coat and skin should be as naturally effective,...
CRUELTY FREE: We at earthbath have a genuine love for pets and concern for the environment. Since 1995, these passions have been at the heart of everything we do, from the ingredients we put into our...
HAPPINESS GUARANTEE: We are so sure you will love this product that we will refund your money if you are not satisfied for any reason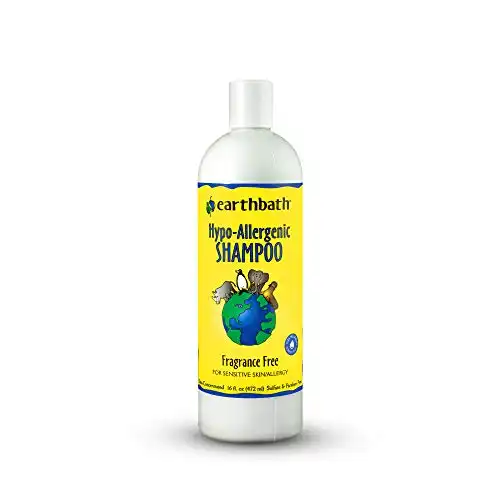 We earn a commission if you make a purchase, at no additional cost to you.
Are they safe for your dog? Of course!
Moreover, this combination of ingredients could lead them to have a shinier coat and healthier skin.
The reasons why Earthbath is an excellent shampoo for your dog:
Free of alcohol, soap, parabens, diethanolamine (DEA) dyes, sulfates, and phthalates
pH-Balanced. The science here says how pH can affect hair.
Fragrance-free. No intense smells will float through your home.
A gentle cleanser that won't damage your Cavapoo's skin. That way, they remain comfortable and maintain healthy skin.
Topical flea applications won't wash off.
A reason why Earthbath is a runner-up:
You may notice your Cavapoo has more oily fur.
Best Deodorizer: Healthy Breeds Dog Deodorizing Shampoo
Healthy Breeds Dog Deodorizing Shampoo is a sweet pea and vanilla-scented cleaner that's excellent for getting rid of your Cavapoo's wet dog smell. Healthy Breeds contains essential fats that nourish your Cavapoo's skin and help prevent flakes and scaling.
Healthy Breeds Bulldog Deodorizing Shampoo 16 oz
Keep Your Dog Fresh And Clean With The Delicious Sweet Pea Vanilla Scent! Get Rid Of The Wet Doggy Smell!
Ph Balanced! The Best Shampoos Are Between 5.00-7.00 On The Ph Scale In Order To Keep The Vibrant Color, Shine And Health! The Shampoo Also Contains Essential Fatty Acids That Nourish And Aid In The...
Hypoallergenic Formula Is Safe For Use With Topical Flea Control Treatments. Healthy Breeds Deodorizing Shampoo Is Gentle And Soap-Free Leaving Your Dog'S Coat Silky And Lustrous!
Buy With Confidence! Made In The Usa! All Shampoos Made In Federally Regulated Manufacturing Facilities! Excellent Customer Service And Return Policy. 100% Satisfaction Guaranteed!
Healthy Breeds Offers An Assortment Of Dog Healthcare Products, Grooming Products And Treats For Over 200 Breeds! Make Sure To Search For Your Breed! Click The Healthy Breeds Hyperlink Above To See...
We earn a commission if you make a purchase, at no additional cost to you.
It rinses easily yet cleans deep and won't leave your dog with dry skin.
Here's why Healthy Breeds Dog Deodorizing shampoo is one of the best:
pH-balanced: Healthy breeds have a pH between 5.00-7.00 on the pH scale.
Safe to pair with your topical flea applications.
Varied selection. You can select what shampoo you want based on the dog's breed.
Value ratio. A fantastic choice for those who bathe your Cavapoo once a month.
Pleasant fragrance. If you love sweet pea and vanilla, you're in luck! It's not too harsh of a scent, yet Healthy Breeds is enjoyable for those who desire a shampoo that leaves a sweet scent behind.
Here's an issue with this particular shampoo:
Healthy Breeds Dog Deodorizing shampoo lacks soothing ingredients like aloe vera and oatmeal. Because of this, it may not be the best for Cavapoos with sensitive skin, despite the hypoallergenic claims.
For Light or White Coats: Bio-groom Super White Pet Shampoo
Bio-groom Super White is the best shampoo for Cavapoos that are white. Bio-groom designed this shampoo to enhance lighter (or white) coats while adding luster to their body.
Bio-Groom Super White Pet Shampoo, 1-Gallon
Designed to enhance white and light-colored coats
Rich formula cleans thoroughly while adding luster and body
Leaves hair smooth, manageable and shiny
controls matting
Dilutes 4:1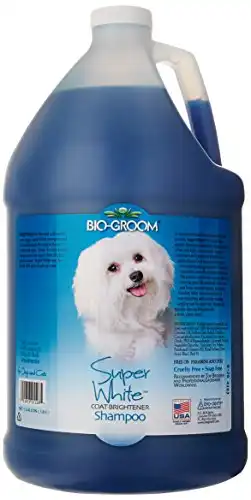 We earn a commission if you make a purchase, at no additional cost to you.
Here's why Bio-groom Super White is a fantastic shampoo:
It dilutes well, which is handy for saving money.
Not harsh, unlike other whitening shampoos you'll find.
Mitigates matting while making their fur manageable.
No overwhelming scent. It has a subtle floral fragrance.
Derived from natural ingredients like coconut oil and also hydrolyzed protein.
A minor factor that might negatively impact your decision to buy this shampoo:
Several reviewers mentioned that there was leaking when they opened their Bio-groom Super White. If you purchase this shampoo, be careful when opening it.
Most Affordable: PetAg Fresh 'n Clean 2-in-1 Shampoo and Conditioner
PetAg Fresh 'n Clean 2-in-1 is an ideal shampoo and conditioner that you can use for your Cavapoo. The soap-free two-in-one contains natural soothing ingredients like aloe vera, oatmeal, and Vitamin E, which soothes and potentially repaisr your Cavapoo's skin.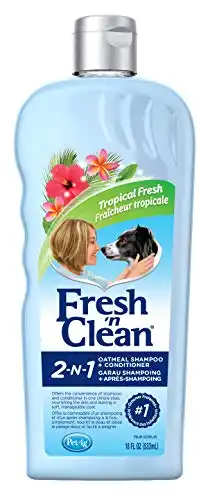 We earn a commission if you make a purchase, at no additional cost to you.
If you decide to go with PetAG Fresh 'n Clean, ensure you choose the right bottle. The orange bottle is better for dogs with oily skin, while the blue bottle is mild and an excellent shampoo for most Cavapoos.
Why's PetAg Fresh 'n Clean a fantastic value? Here are numerous reasons:
USA-made.
Deodorizes with Arm and Hammer.
Vitamin E infused.
Pleasant fragrance. Whether you want your Cavapoo to smell like an orange, tropical flowers, or baby powder, you have a few options.
Soothes skin with natural ingredients
The reason you might not consider this as the best shampoo:
The conditioning isn't thorough. However, this two-in-one does what it needs to.
Best Shampoo for Cavapoo Buyer's Guide
Since you likely have a better idea of what shampoo you'll want, you'll need to consider some crucial factors before buying. That way, your Cavapoo doesn't have any undesirable interactions.
Dive deeper into our buyer's guide to understand what factors to keep in mind when shopping for the best shampoo for Cavapoo breeds.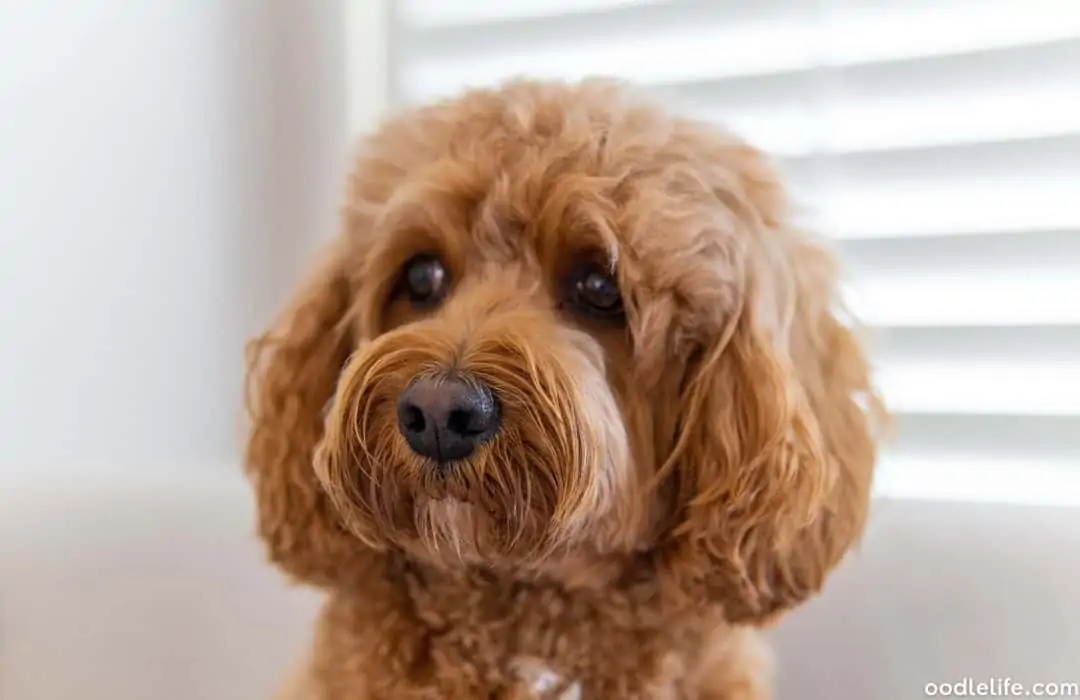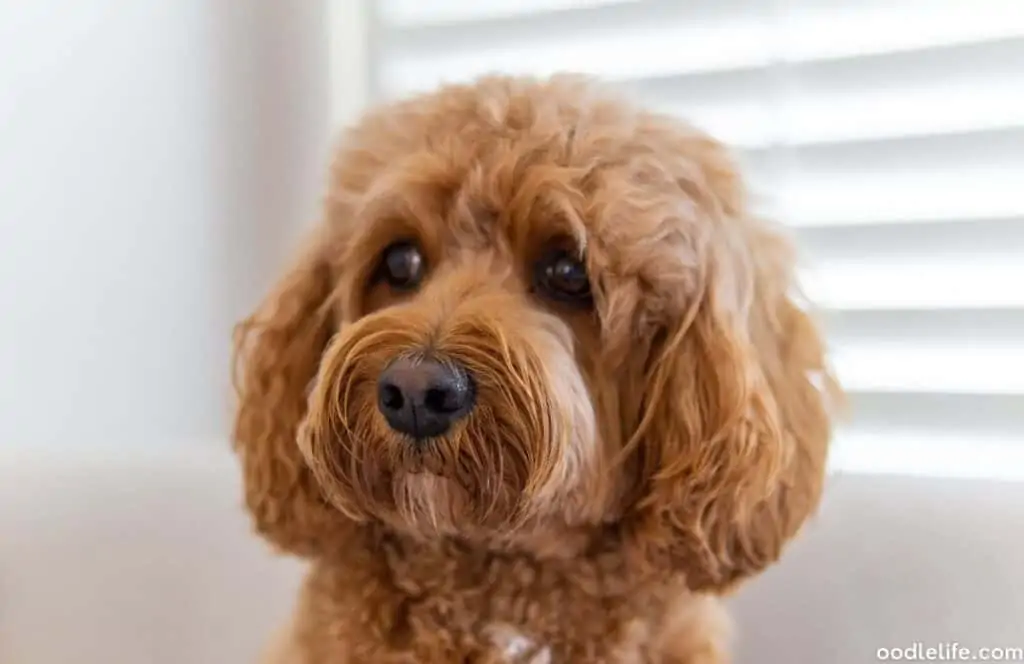 Natural Ingredients
When shopping for shampoos for your Cavapoo dog, you should ensure that you're putting the same effort toward caring for your dog's coat as you do with its skin.
For this to happen, you should use a shampoo with natural ingredients containing synthetic materials, fragrances, or chemicals. Dogs with sensitive skin and weaker coats can be affected by the presence of these ingredients, resulting in even more shedding later on.
Sensitive Skin
You can probably find a medicated shampoo for your dog breed that treats explicitly the condition or ailment it has.
Bottle Size
After you check for the ingredients and whether it's suitable for dogs with sensitive skin, compare bottle sizes of different shampoos that you've found while researching. Usually, the larger bottles, the more you save.
Dilution
Formulas can either be used straight from the bottle or diluted with water, depending on the manufacturer. While diluting your shampoos adds extra time to washing your fuzzy buddy, it potentially saves you some money in the long run.
Moreover, diluting your dog shampoo allows you to control how strong it is, which could be beneficial if it's too strong for your Cavapoo's skin.
Two in One
Some shampoos double as conditioners as well, giving your pet's coat an extra level of softness and shine. Investing in two-in-one shampoo and conditioners will likely save you time and money.
Medicated Dog Shampoo
When your Cavapoo has skin problems, you'll need to find a shampoo designed to treat it. If you have no idea of what shampoo to choose, veterinary professionals will give you recommendations.
Is the Shampoo Puppy Friendly?
Unless the manufacturer states otherwise, almost all dog shampoos are fine to use for Cavapoo puppies. Keep in mind that some shampoos or two-in-ones may be too harsh for your dog's skin. Puppy shampoo that is specially formulated is always the safest bet.
Frequently Asked Questions
Read along to absorb potentially critical frequently asked questions regarding bathing Cavapoos before you invest in shampoo.
How Often Should I Bathe My Cavapoo?
Unless they're rolling around in the mud or getting into mischief, you should bathe Cavapoos once every few weeks. If you want to wash your Cavapoo more frequently, wash them at least twice a month.
Is Baby Shampoo Okay for Use on Cavapoos?
Though most veterinarians and other specialists advise against washing your dog with human shampoo, baby shampoos have a milder formula than those for adults.
While we recommend only using a shampoo meant for dogs, if you don't happen to have any lying around, baby shampoo could be a temporary alternative. I wouldn't risk – and waiting and buying puppy shampoo or dog shampoo is a much better idea.
How Do I Bathe My Cavapoo?
To bathe your Cavapoo, you should take the following steps to ensure that they're comfortable:
Brush their fur before starting anything. Doing this will prevent tangling and matting.
Set up a non-slip mat in the tub. That way, they'll feel at ease when you're bathing them.
Use your selected shampoo, but don't be aggressive when rubbing it into their fur. Moreover, avoid getting any shampoo in your Cavapoo's eyes. Start kneading the shampoo in from their head and make your way down.
Ensure you thoroughly wash the shampoo. Any residual shampoo can lead to itchiness.
Dry your Cavapoo immediately. Damp fur could lead to an overgrowth of bacteria and lead to fungal infections.
Brush their fur again. After drying your dog, brushing your Cavapoo's hair again will prevent matting and tangling.