What Is The Best Shampoo for Cockapoo? The 3 Best
At a Glance: The 3 Best Shampoo For Cockapoo
Cockapoos are a support cute and super popular Poodle mix dog breed. Party of the reason for their enduring popularity is their beautiful, soft, non shredding coat.
We go into detail in our comprehensive review and testing result for Cockapoo shampoos in the article below.
Best Overall
Best Value for Puppies
Groomer Pick
Nootie- Pet Shampoo, 1 Unit 16oz, Japanese Cherry Blossom
Wahl 4-in-1 Calming Pet Shampoo – Cleans, Conditions, Detangles, & Moisturizes with Lavender Chamomile - 24 Oz
Cloud Star Buddy Wash Lavender and Mint, 16 Ounce (Pack of 2)
Best smell, best feel, overall winner.
Natural ingredients that won't irritate puppy skin.
Most recommended in our Groomer survey.
Best Overall
Nootie- Pet Shampoo, 1 Unit 16oz, Japanese Cherry Blossom
Best smell, best feel, overall winner.
Best Value for Puppies
Wahl 4-in-1 Calming Pet Shampoo – Cleans, Conditions, Detangles, & Moisturizes with Lavender Chamomile - 24 Oz
Natural ingredients that won't irritate puppy skin.
A Cockapoo puppy has a single layer coat made up of long hairs that extend all the way to the skin. This trait makes typically low shedding.
Caring for the coat a non-shedding Cockapoo coat involves brushing, detangling, and cleaning and treatment with the best Cockapoo shampoo.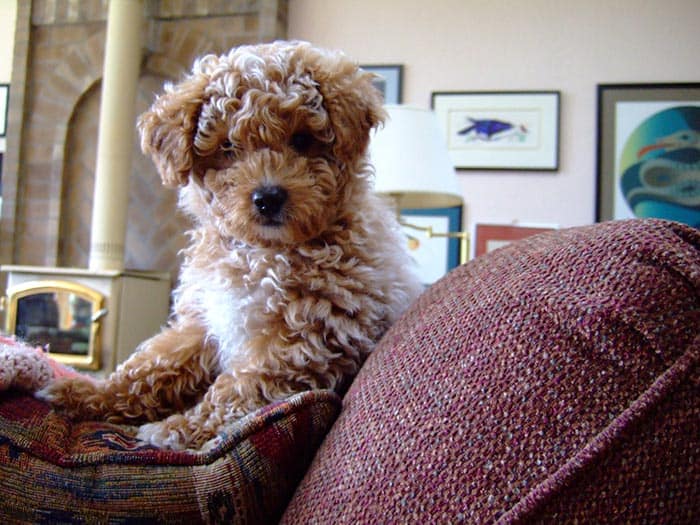 The Best Cockapoo Shampoo Is The Nootie Japanese Cherry Blossom
I loved this shampoo from first smell. Once the ingredient list was checked, and the hand feel and puppy lather was checked, it shot straight to the top of our list. We test lots of shampoos for different Poodle Mix breeds at Oodle Life, and this shampoo is consistently popular. .
Nootie- Pet Shampoo, 1 Unit 16oz, Japanese Cherry Blossom
Revitalizes dry skin & coats - rosemary extract stimulates the follicles resulting in a strong and healthy coat
Made with natural ingredients
Sols & paraben free - no harsh chemicals
Safe to use along with topical flea & tick products
Age range description: Senior
The deep and moisture enriching cleaning offered by the Nootie shampoo is remarkable given the natural and puppy friendly ingredient list.
At Oodle Life we have tested so many shampoos for Poodle mix breeds and Cockapoos specifically, and the Nootie Japanese Cherry Blossom shampoo is the winner.
I really like that the lather was easy to achieve without using too much shampoo. With some other brands tested I had to use two or three times the amount of shampoo to get a similar level of lather.
It also is the most highly recommended shampoo for other breeds, in a survey we ran of Bernedoodle owners listed it as their favourite for that breed.
The Best Shampoo for Cockapoo Puppies Is Wahl 4-in-1
For Cockapoo puppies the most recommended shampoo is from the mega grooming company Wahl. A budget conscious product made with an excellent base of natural ingredients.
Wahl 4-in-1 Calming Pet Shampoo – Cleans, Conditions, Detangles, & Moisturizes with Lavender Chamomile - 24 Oz
Made in the USA - Our lavender chamomile pet shampoo is pH balanced, alcohol free, paraben free, PEG-80 free and is highly recommended for cleaning, conditioning, detangling, & moisturizing coats
Calming Formula – This lavender scented pet shampoo is great for cleaning dirty coats, coat conditioning & detangling, & skin moisturizing short to long coats. The thick lather rinses off clean & keeps your pet looking and smelling clean
Less is More - Wahl has a higher concentrate of coconut derived sodding agent, which means you don't have to use as much as other dog shampoos. A little bit of shampoo goes a long way and provides a rich lather that's easy to rinse off
Allergy Friendly - Our dog icon, Rocket, was designed in the image of our family dog Cooper – a golden doodle, who has severe allergies. This is the only shampoo we have found safe and effective. He loves the smell too!
The Brand Used by Professionals - Wahl has been serving professional vets and groomers for over 50 years. clean, condition fur & hair for a smooth, soft coat. We are a company of animal lovers that want the best for your family member
Wahl make human hair products (including some hugely popular human hair clippers) and also dog and pet grooming products. They let all customers know that the shampoo is made in the USA.
I love the simple and natural ingredient list of this shampoo. The value for money for a puppy specific wash is excellent. Sure, it might not be the best for heavy duty cleaning for a super muddy Cockapoo – but for a fresh and great smelling puppy Wahl provides a great solution.
This shampoo is also a concentrate, which again means less shampoo to get an excellent lather. Excellent value.
Groomers Recommend a Bulk Purchase of Buddy Wash For Long Term Value Cockapoo Shampoo
I was recently writing an article comparing the similar (but unique!) breeds of the Cavapoo vs Cockapoo. In the article I spoke with two groomers about grooming the two hypoallergenic breeds.
When asked which shampoo they preferred (conference call) for a Cockapoo or Cavapoo, they ended up agreeing on Buddy Wash. Both said that if they had to buy commercial for an at home grooming salon or just their own dogs – they would bulk buy the Buddy Wash.
My Cockapoo HATES having a bath HELP!
"My 16 month Cockapoo Shep hates hates HATES having a bath. He goes beserk and barks and jumps. The jumping is very splashy and a bit dangerous as it makes the floor slippery. Help!" – Regina P
Hey Regina and Shep (cool name!)
Some dogs just hate having a bath. For some dogs you can do simple things at bath time and make all the difference. For other dogs a bath just isn't going to work at all and you might need to change things up significantly.
Even though Cockapoo are energetic and certainly not always *tiny*, they are relatively small dogs. Try these tips in order and see how you go.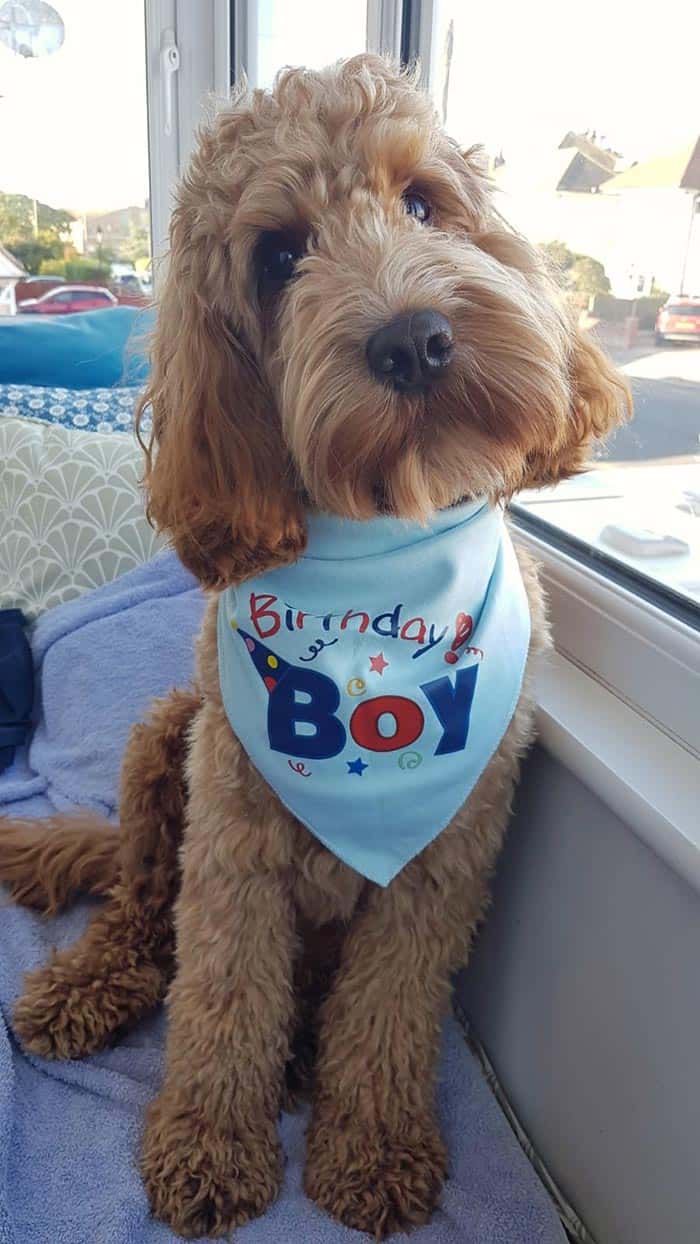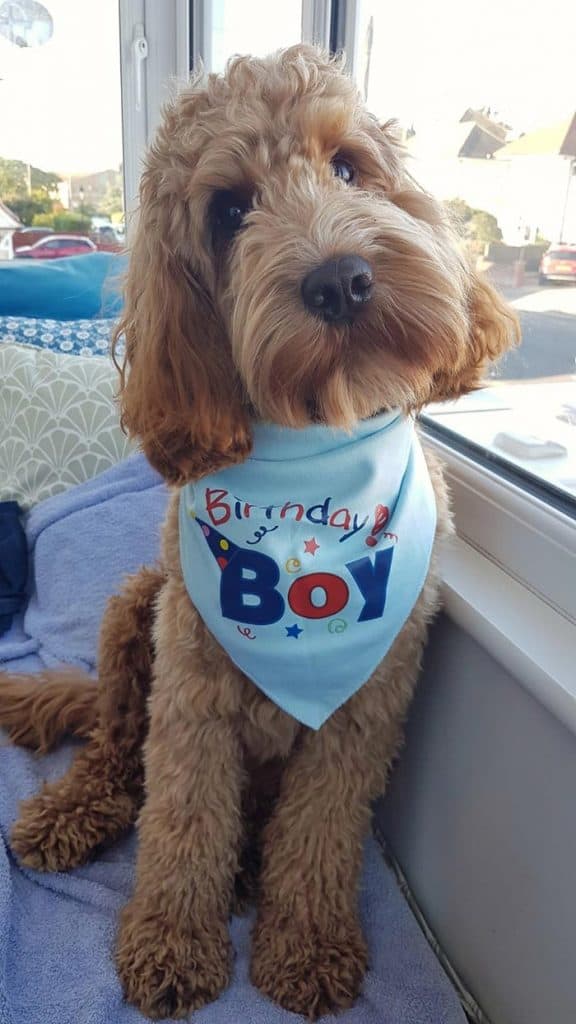 Basic Bath TimeTips for a Cockapoo Who Hates Baths
It can be pretty frustrating when you have a Cockapoo that seems to love swimming and playing in water that just HATES having a bath.
Some of these simple tips might feel very basic – but they are important! Check off this list before you progress to the intense or costly alternatives options.
Change the shampoo to something low odour and low bubbling.
Keep the head of your dog above water and free from shampoo till the very last minute.
Use an insanely shallow bath. Some dogs get frightened of even mildly deep water. Give them a bath with an inch (2.5 centimetres) of water only.
Even have a running tap and a plastic jug and give them the worlds slowest bath, one scoop at a fine
The water temperature needs to be warm. Never got, and try and avoid cold.
Make sure you dog isn't slipping in the bath. A Cockapoo that cant get a stable paw grip will panic and want to be somewhere else. Consider less water or using a plastic anti slip mat at the base of the shower
If your dog freaks out when you brush or comb their coat
If you have ticked all these boxes and they just don't cut it, there are other options to bathe your Cockapoo.
Simple Cockapoo Coat Care Steps
Non shedding Cockapoo coats require frequent grooming and preventative actions. It's important for us to keep the grooming as simple as possible.
Taking a few correct Cockapoo grooming and coat care steps will
Save time
Save money
Avoid costly grooming problems
Prevent unnecessary veterinarian visits
Keep Cockapoo and owner happy and comfortable
Some people shower their dog instead
If your cockapoo just cannot stand bath time, consider showering them instead. You need to keep the following in mind.
Showers can be slippery for dog and owner – be cautious
Make sure your shower is large enough. No point cramming a dog and yourself into a tiny cubicle
Be careful not to get water into your dogs ears. Water can clog the ears and cause physical harm or increase the risk of infection or inflammation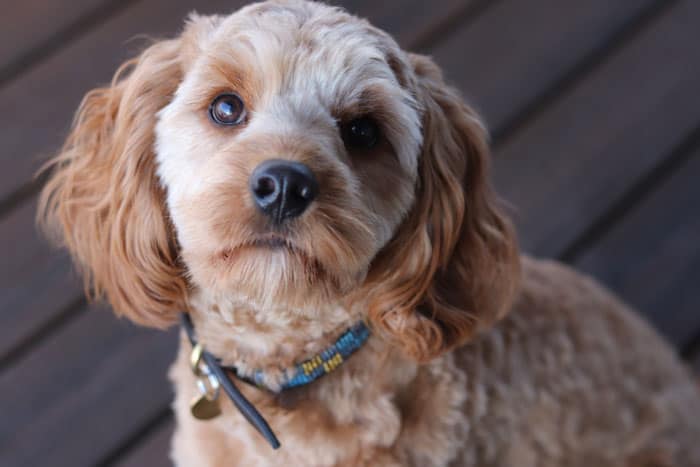 Consult the Cockapoo Behaviour Experts
The only other real alternative is to have your Cockapoo professionally groomed. Fine someone with excellent experience and reviews. It is appropriate to let the groomer know of your troubles in advance.
Good groomers are almost magicians at getting your dog comfortable
The different environment and exposure can desensitise your dog to grooming and bath time
Ongoing cost will be substantial as non shedding dogs require fairly frequent grooming.
Some owners have tools be they found some success by taking their dog to a professional behaviour management clinic. They were taught strategies to overcome the obstacle of bath time.