9 Best Shampoos for Poodles (2023 UPDATE)
I've owned a couple of Poodles, and I still remember how my first – a white miniature, would get so dirty. I had to shampoo her several times to get all the dirt out of her soft fur. Such fun times!
Finding the perfect shampoo for her coat wasn't exactly a walk in the park, and it required some research on my part.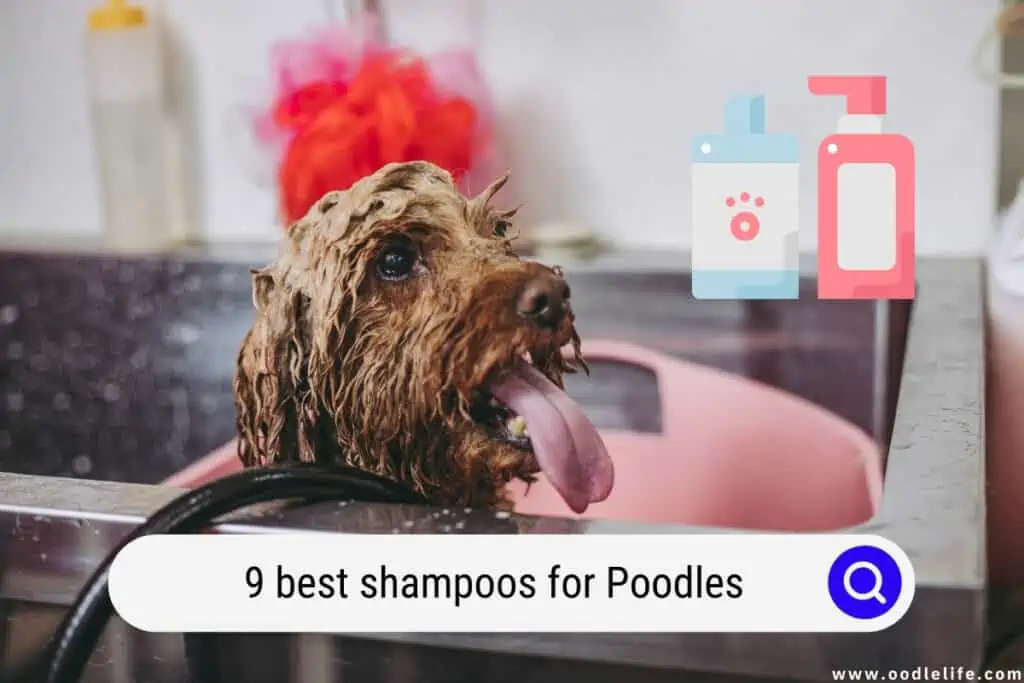 Poodles are as smart as a tack, cute as a button, and easy to train, but their fur requires lots of TLC. Caring for a Poodle's fur can leave any owner feeling lost when it comes to finding the best shampoo product. Shampoos for young kids may work for Poodles, but nothing beats a shampoo product tailored to your dog's unique needs.
If you need the scoop on the best shampoo products for Poodles, give one of my updated picks for the best Poodle shampoos on this list a try.
Got no time? Here are the 4 best.
Best Overall Pick: Oatmeal Shampoo for Oodles
OODLELIFE Soothing Shampoo and Conditioner Aloe Oatmeal + Coconut
Refreshes & Soothes: Like a comforting belly rub, it cleanses, conditions, detangles, and moisturizes - dog itching skin relief
USA-Made: A top-quality, homegrown product for your furry friend.
Soft coats - Safe, non-irritating, natural ingredients that nourish your dog's coat. Dog bathing made easy with our oatmeal dog shampoo for allergies and itching.
Eco-Friendly, Pure Formula: Only the good stuff, none of the bad.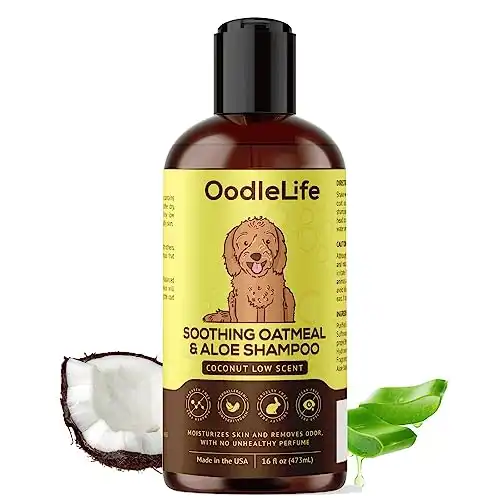 We earn a commission if you make a purchase, at no additional cost to you.
Pros
This shampoo cleanses, conditions, detangles, and moisturizes your dog's coat, providing relief from itching and skin irritation.
Made with safe, non-irritating, natural ingredients, it nourishes your dog's coat and leaves it soft and shiny.
The shampoo is eco-friendly and free from harmful perfumes, dyes, drying alcohols, or parabens, making it safe for your dog and the environment.
Cons
The scent of coconut may not be appealing to all dogs.
Some users have reported that the shampoo is not effective in treating severe skin conditions.
If you are looking for a natural and safe dog shampoo to pamper your Poodle, then OODLELIFE Dog Shampoo and Conditioner Aloe Oatmeal + Coconut 16 fl oz is a great choice. The shampoo is made with natural ingredients that soothe and nourish your dog's coat, leaving it soft and shiny. It also provides relief from itching and skin irritation, making it ideal for dogs with sensitive skin.
The shampoo is eco-friendly and free from harmful chemicals, making it safe for your dog and the environment. However, some dogs may not like the scent of coconut, and the shampoo may not be effective in treating severe skin conditions.
Overall, OODLELIFE Dog Shampoo and Conditioner Aloe Oatmeal + Coconut 16 fl oz is a great product for owners who want to give their furry friends a luxurious and soothing bath experience.
Strong Second – Nootie Japanese Cherry Blossom
Nootie is a Poodle hair care treatment designed to nurture, condition, and deodorize your Poodle's hair. The sweet, calming vanilla and Japanese cherry blossom scents are soothing for the dog and gentle on their nostrils.
Nootie - Pet Shampoo for Sensitive Skin - Revitalizes Dry Skin & Coat
NEW: Leak proof packaging
JAPANESE CHERRY BLOSSOM DOG & CAT SHAMPOO, REJUVENATING WITH ROSEMARY EXTRACT, REVITALIZES DRY SKIN & COAT- Safe for pets over 8 weeks old
IMPROVES SKIN & COAT WITH ONE WASH.
LONG LASTING FRAGRANCE
FORMULATED FOR VETERINARIANS - Nootie is sold in over 5,000 vet clinics and 4,000 pet stores worldwide. Our formulator has over 40 years of experience.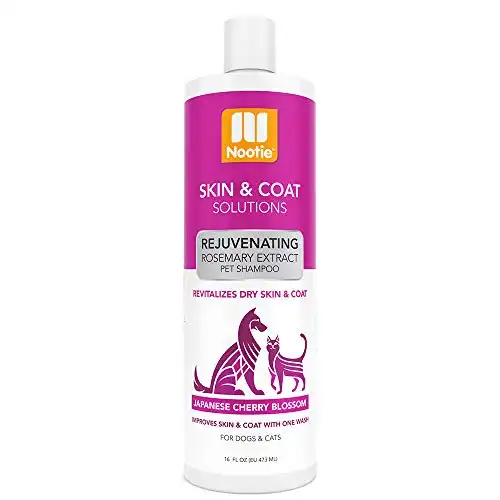 We earn a commission if you make a purchase, at no additional cost to you.
Moreover, the shampoo has essential fatty acids that prevent drying out and flaking for a soft and lustrous coat. Poodles are notorious for their sensitive skin.
This topical formula is hypoallergenic, promotes hydration, and only requires small amounts because it foams like crazy! It does the best job cleaning your dog's coat, and the delicious fragrance lingers for days.
Pros
Designed for Poodle type coast
Sweet and plaesant fragrance
Rids Poodle of foul odors
Cons
It needs more scent variety. I love the cherry blossom and so do most of our readers – but it is distinct. Go instead for a coconut and aloe choice below if you want less scent.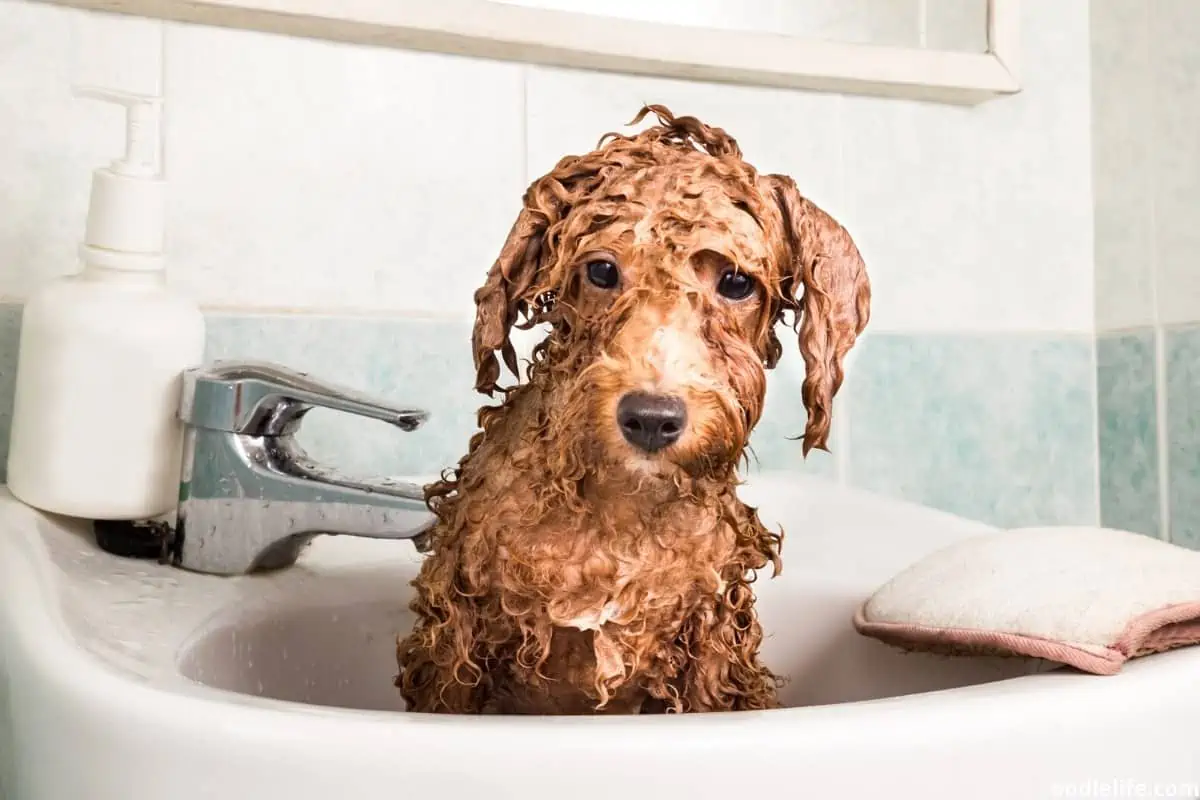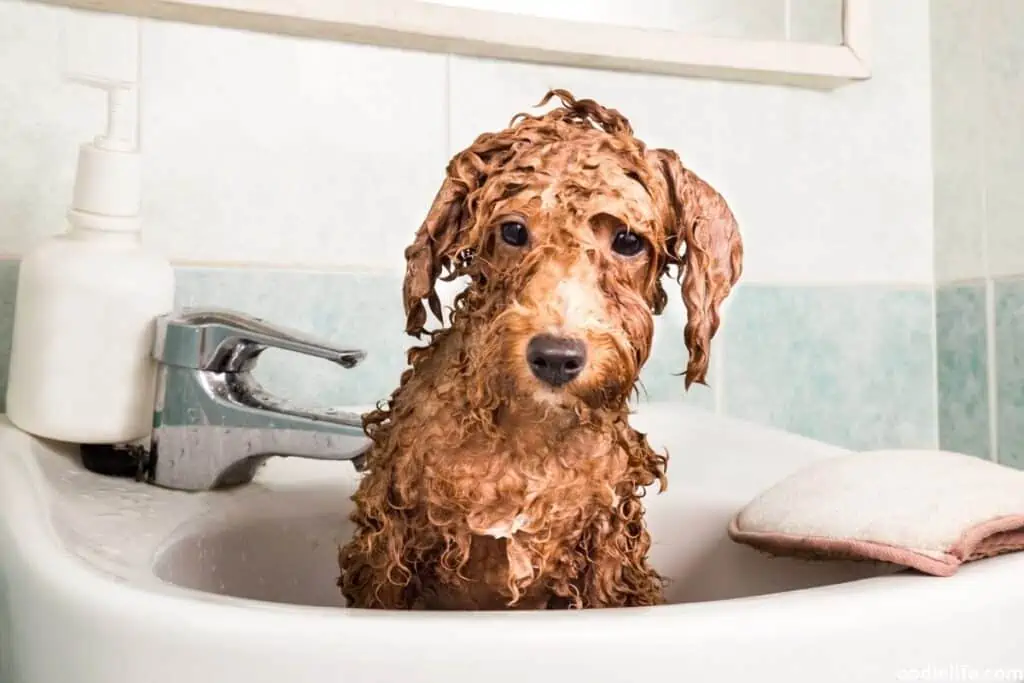 Best Budget – Wahl All-in-1 Shampoo
Wahl is a groomer's brand; this shampoo is mild on the skin and superb for everyday use. The lavender fragrance is light and smells fantastic. The 4-in-1 formula features chamomile to detangle and moisturize the Poodle coat and skin.
Wahl 4-in-1 Calming Pet Shampoo – Cleans, Conditions, Detangles, & Moisturizes with Lavender Chamomile – 64 Oz
Made in the USA - Our lavender chamomile pet shampoo is pH balanced, alcohol free, paraben free, PEG-80 free, and is highly recommended for cleaning, conditioning, detangling, & moisturizing coats
Calming Formula – This lavender-scented pet shampoo is great for cleaning dirty coats, coat conditioning & detangling, & skin moisturizing short to long coats. The thick lather rinses off clean & keeps your pet looking and smelling clean
Less is More - Wahl has a higher concentrate of a coconut-derived sodding agent, which means you don't have to use as much as other dog shampoos. A little bit of shampoo goes a long way and provides a rich lather that's easy to rinse off
Allergy-Friendly - Our dog icon, Rocket, was designed in the image of our family dog Cooper – a golden doodle, who has severe allergies. This is the only shampoo we have found safe and effective. He loves the smell too!
The Brand Used by Professionals - Wahl has been serving professional vets and groomers for over 50 years. clean, condition fur & hair for a smooth, soft coat. We are a company of animal lovers that want the best for your family member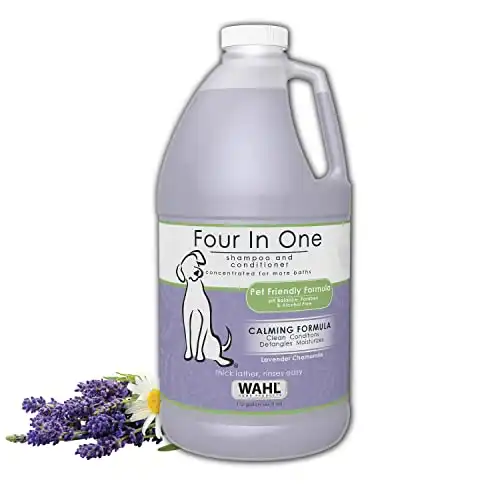 We earn a commission if you make a purchase, at no additional cost to you.
It readily lathers to wash off stubborn dirt, including outdoor residue that takes the shine off the dog's coat. More importantly, the ingredients are free from harsh chemicals and additives. It's effective at driving off fleas and ticks.
Wahl 4-in-1 Shampoo doesn't dry out the skin, and the scent doesn't overpower. You can get this shampoo in a 24 oz container, but the big 64 oz bottle ensures you get the best bang for your buck.
Pros
Fantastic for daily wash.
Gentle lavender scent
Chamomile scent
Exceptional value for the price
Plant-derived ingredients
Alcohol and paraben-free
Great for Poodles with allergies.
Cons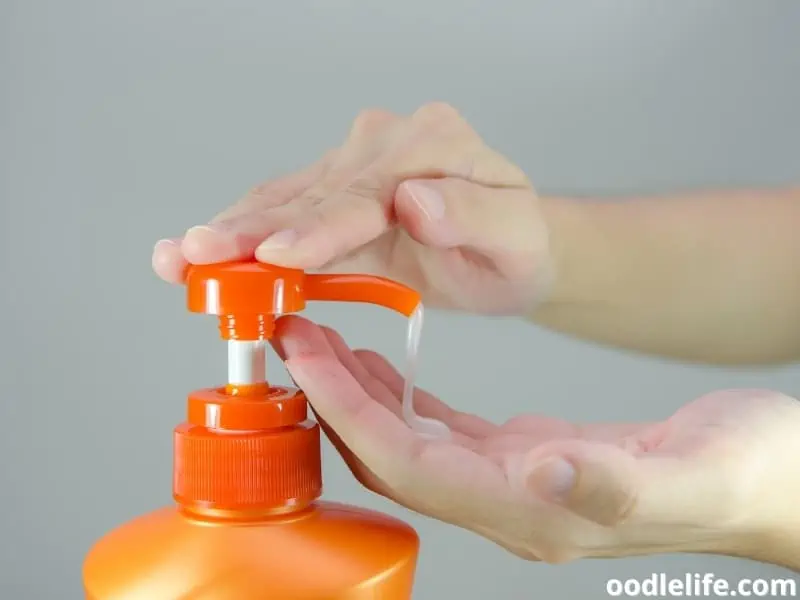 Best Shampoo for a Dirty Poodle – Veterinary Formula Triple Strength
This shampoo is excellent for Poodles that like to roll and play in the dirt. Even if your Poodle isn't the typical 'dirty dog,' you only need a bit to eliminate the awful smells and dirt.
Veterinary Formula Solutions Triple Strength Dirty Dog Concentrated Shampoo, 1 Gallon – DirtRepel Technology Cleans Extra Dirty and Smelly Dogs – Contains Wheat Protein, Shea Butter, Aloe, Vitamin...
FOR DIRTY AND SMELLY DOGS – With three times more active cleansing ingredients than other dog shampoos, Veterinary Formula Solutions Triple Strength Dirty Dog Concentrated Shampoo cleans and deodorizes the smelliest and dirtiest dogs
DIRT REPELLING FORMULA – Our exclusive DirtRepel formula utilizes ionic technology to keep your dog's coat cleaner, longer; This dog deodorizing shampoo is enriched with wheat protein, shea butter, aloe vera and Vitamin E to moisturize skin and condition coat
LONG-LASTING FRAGRANCE –The exceptional long-lasting green apple and white tea fragrance in this dog shampoo for smelly dogs has patented fragrance extenders so your clean, soft dog will smell amazing long after bath time is over
FORMULATED FOR DOGS – This triple action heavy duty dog shampoo is pH balanced for your dog's sensitive skin; It will not strip natural coat and skin oils and will not wash away topical spot-on flea and tick treatments
EFFECTIVE & AFFORDABLE – Veterinary Formula Solutions products are created with premium ingredients but available at a price that pet parents can afford; We know your dogs and cats are more than just pets, because we are pet parents too
We earn a commission if you make a purchase, at no additional cost to you.
The formula doesn't dry the dog because it contains Vitamin E, Aloe Vera, and Shea Butter. Besides, you'll love the white tea and green apple fragrance that makes your Poodle smell great even after a long period.
You only need to work up a good lather, and your dog will come out fresh as a daisy. Surprisingly, there isn't a lingering stink, and I was pleasantly surprised at the effectiveness of this shampoo. It is recommended for adventurous, inquisitive Poodles.
Pros
Dirt-repelling formula
Heavy-duty shampoo
Doesn't wash off tick and flea treatment.
Cons
It can be a bit harsh.
Not for regular use.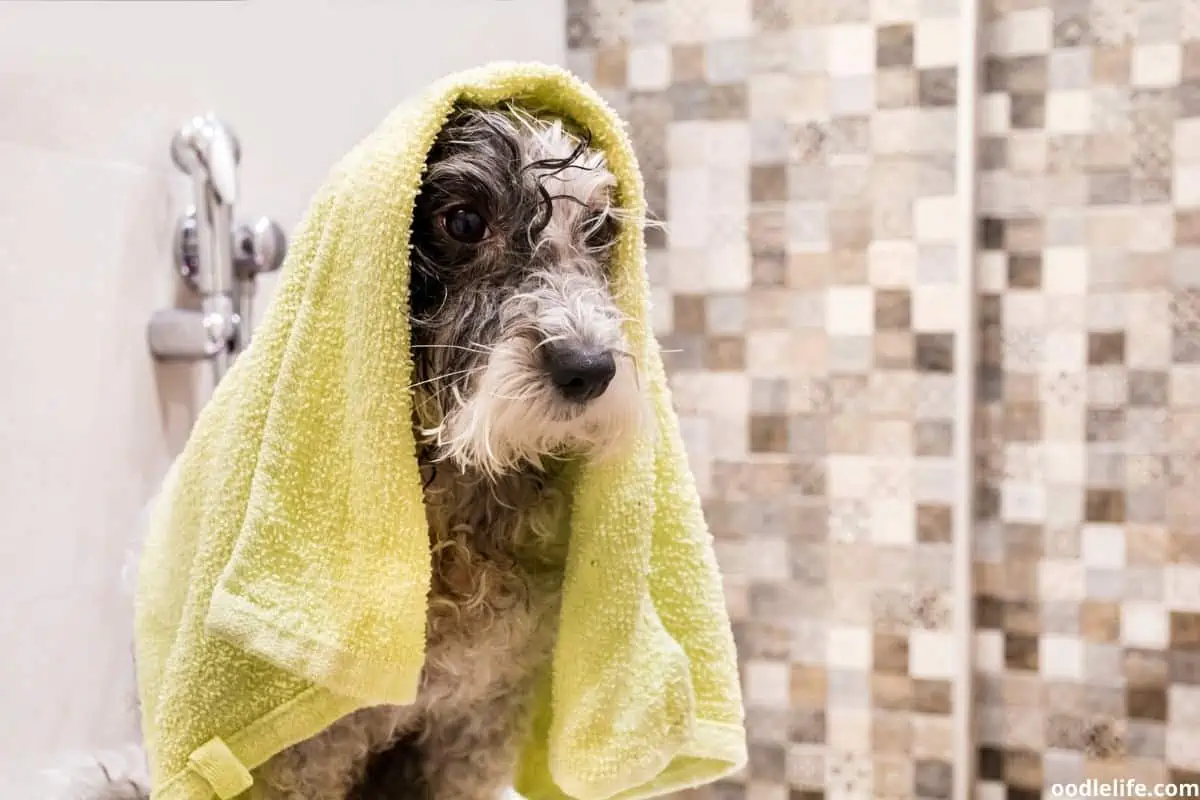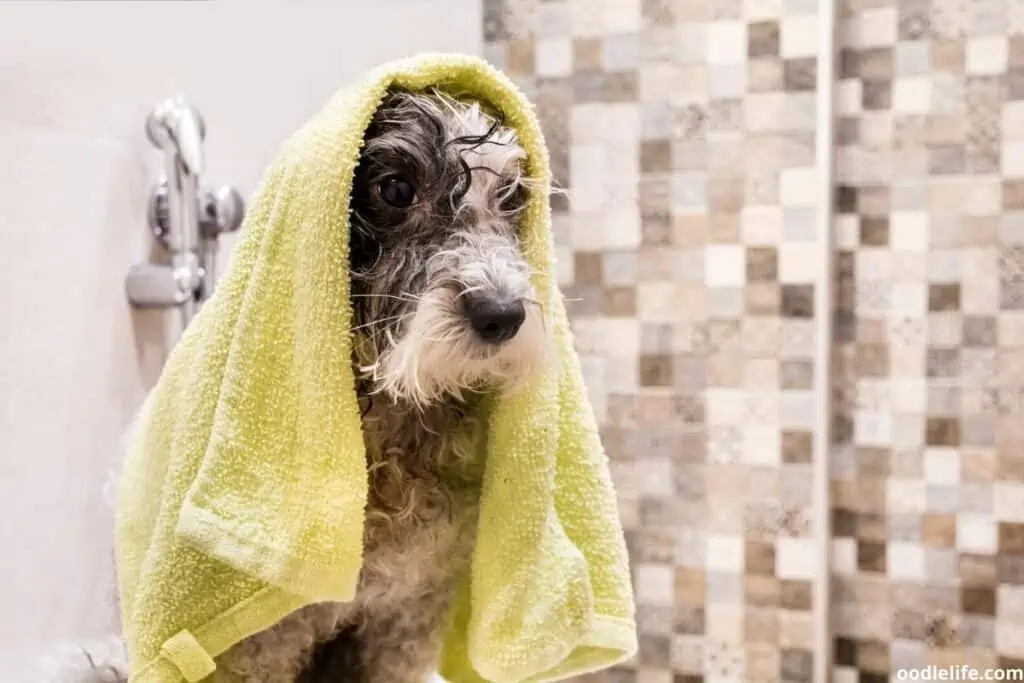 Best for Pampered Poodle – Hydra Luxury Care
Hydra Luxury Care is for Poodle owners without a budget. First, the smell is simply out of this world. Even after three days, your dog will still smell great.
Hydra Luxury Care Gentle and Moisturizing Puppy Shampoo with Mint and Chamomile, Pet Wash for Sensitive Skin, 10.14-Ounce Bottle
COAT MAINTENANCE: This salon-grade pet wash is infused with chamomile to provide hydration while alleviating dry skin and enhancing shine and softness. The formula is both easy to rinse and quick to dry, making bath time pleasant and stress-free.
CHAMOMILE AND MINT DOG SHAMPOO: Chamomile is soothing to the skin and helps reduce irritation while detangling hair and fur. Our puppy wash is unscented and free of dyes, sulfates, and allergens. The mix of chamomile and mint helps eliminate odor.
STRESS-FREE: Having a positive bathing routine in between visits to the groomer can help promote healthy skin, a tangle-free coat, and reduced stress for your pet when visiting the groomer. The pleasant experience will encourage your pet to enjoy grooming.
PET BONDING: Grooming your pet at home is a way to form a deeper emotional bond with them. Using Hydra Luxury Care during bath time can strengthen the relationship you have with your pet. Enjoy playing with your sweet pet while they get fresh.
DETANGLE: Our moisturizing cat and dog wash will provide your pet's coat with the proper lubrication to allow brushes to pass smoothly through their fur or hair, reducing matting. It also strengthens hair follicles, reducing damage and frizz.
We earn a commission if you make a purchase, at no additional cost to you.
Hydra Luxury Care has a range of doggy products. Still, this shampoo is designed to moisturize and hydrate with oatmeal extracts that revitalize your Poodle's coat. It's a salon-grade product that offers a tangle-free coat and prevents shedding.
Recommended for use between grooming sessions.
Pros
Rejuvenates dog coat.
It contains antioxidants to soothe itchy skin.
It contains grapeseed oil to enhance fur softness.
Cons
Small size.
On the pricey side.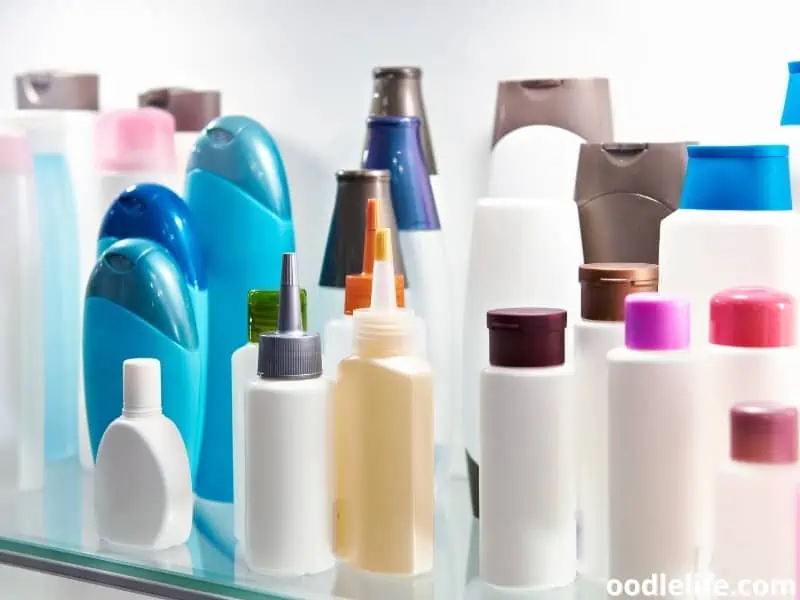 Best Value – Paws and Pals
The delicious-smelling Paws & Pals Oatmeal Shampoo is an exotic blend of scents and luxurious lather to give your Poodle's coat that soft sheen. The product contains natural oils and vitamins that don't irritate the eyes. It's arguably the best shampoo for Poodles because it keeps their fur vibrant and without residue.
Paws & Pals 5-In-1 Oatmeal Dog Shampoo, Conditions, Detangles, Moisturizes, Anti Itch, Odor Control - Made in USA w/Medicated Clinical Vet Formula - Best for Dog, Cat & Pets w/ Dry Itchy Skin ...
Proudly Made in USA - Vet formulated and manufactured in Los Angeles, CA USA without sacrificing vegan and organic principles or quality
6-in-1 Oatmeal Pet Shampoo & Conditioner - reduced shedding – anti itch, smelly odor control, moisturizes dry skin, conditions & detangles
Naturally Medicated Formula - Made with all natural ingredients plus pH balanced, alcohol free, paraben free Best for itching, deodorizing, shedding control, allergies, sensitive skin.
For Dogs & Cats - Our tear-free formula is the result of natural oils, vitamins, oatmeal, aloe vera, turmeric & sweet basil extracts that do not irritate or inflame your dog's eyes or nose
20oz Bottle with Pump - Less is more, Paws & Pals has a higher concentrate of oatmeal extract which means you won't have to use as much as other dog shampoos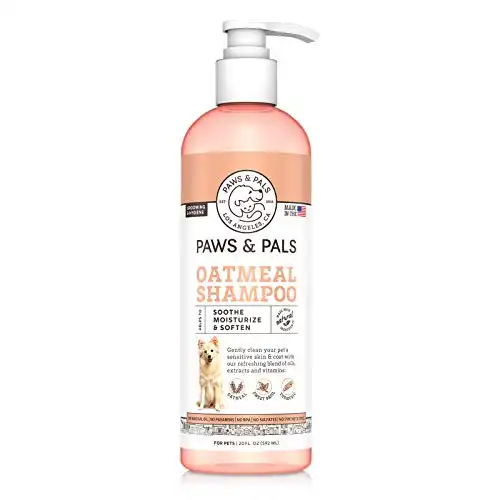 We earn a commission if you make a purchase, at no additional cost to you.
It also features a detangling formula to prevent knots and ensure your pet stays fluffy. Paws and Pals don't inflame the eyes or irritate the skin; you'll love the gentle rosemary and aloe vera extract on your dog.
Pros
It helps with itchy skin.
Works as regular shampoo.
Requires small application to lather.
The vanilla and almond aroma is amazing.
Tear-free formula.
Cons
Contains sulfates.
Expensive.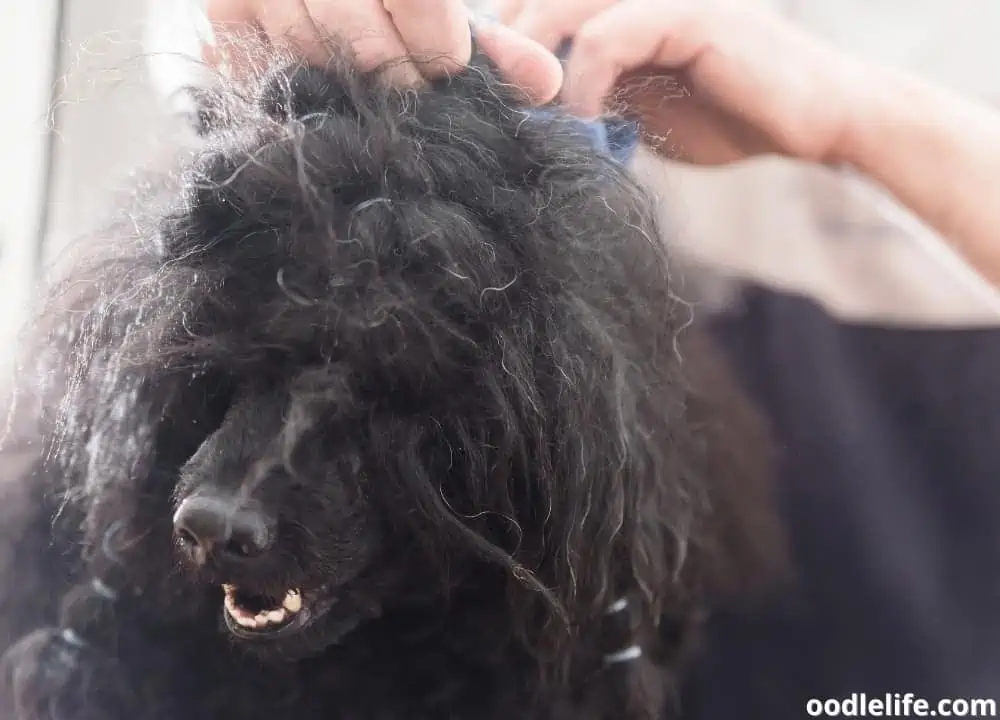 Best for Poodle Puppies – Oster Oatmeal Essentials
Introducing your Poodle puppy to bathing at the earliest possible time is essential. Puppies are quick learners and accepting, and you can eliminate future struggles using Oster Oatmeal Essentials.
We earn a commission if you make a purchase, at no additional cost to you.
This shampoo is designed for dogs around eight weeks old and is fortified with wheat protein and rosemary leaf extract. It also includes wheat protein to prevent shedding, and the scent will make your pup smell like a delicious dessert!
Besides, the shampoo is made with natural ingredients that are biodegradable and contains no dye, alcohol, or parabens. Your puppy's coat is sure to feel soft, and the gentle ingredients work best for sensitive skin.
Pros
Gentle on puppy skin.
Great for rashes.
100% natural oatmeal extract
pH balanced formula
Cons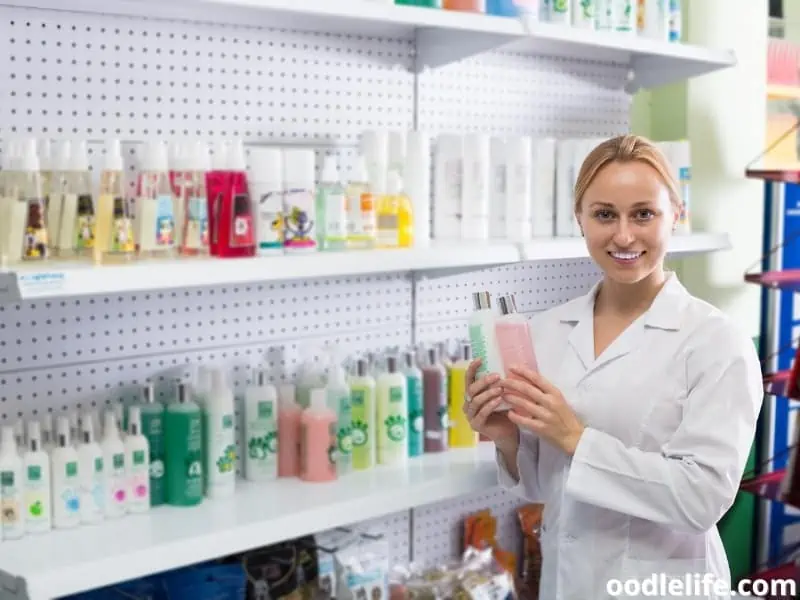 Best Scent – TropiClean Dog Shampoo
This shampoo from Tropiclean is fantastic for adult and puppy Poodles. The formula contains coconut and papaya –tropical fruits that ensure the dog's coat is healthy and soft.
Tropiclean Papaya and Coconut Luxury 2-in-1 Pet Shampoo and conditioner, 20oz
Cleans & Conditions – Dog shampoo & conditioner duo cleans the coat of dirt & debris while conditioning the coat for easy brushing.
Moisturizes Dry Skin – Luxurious lather hydrates the skin and coat leaving it soft and healthy.
Eliminates Dog Smell – Refreshing scent of papaya & coconut takes your pet to a tropical paradise with every bath!
Softens the Coat – Papaya, kiwi, mango, pomegranate, yucca, chamomile, and aloe extracts leave the coat feeling silky soft.
Tough on Dirt, Not Pets — Gentle coconut cleanser gives a soap-free clean, so you don't have to worry about washing away topical treatments.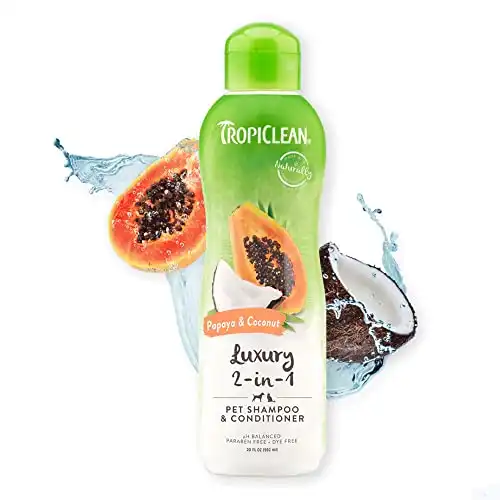 We earn a commission if you make a purchase, at no additional cost to you.
Moreover, mango, yucca, aloe extracts, and kiwi combine to make the coat easy to clean and brush. This shampoo lathers quickly and is fantastic for sensitive skin. It doesn't contain soap, ensuring your topical treatments remain effective.
TropiClean is cruelty-free, doesn't contain dye or paraben, and is suitable for dogs three months and above.
Interestingly, the scent isn't the strongest but lingers for long and smells amazing. This shampoo is the ideal choice for Poodles with itchy, sensitive skin.
Moreover, the low price makes it a no-brainer for dog owners who'd like to give their pets some executive five-star treatment.
Pros
It contains a mix of natural ingredients.
It helps with sensitive skin and reduces itches.
It makes the coat soft for brushing.
Safe for regular use.
Fantastic fragrance.
Cons
Packaging easily breaks apart.
Content could be more for the price.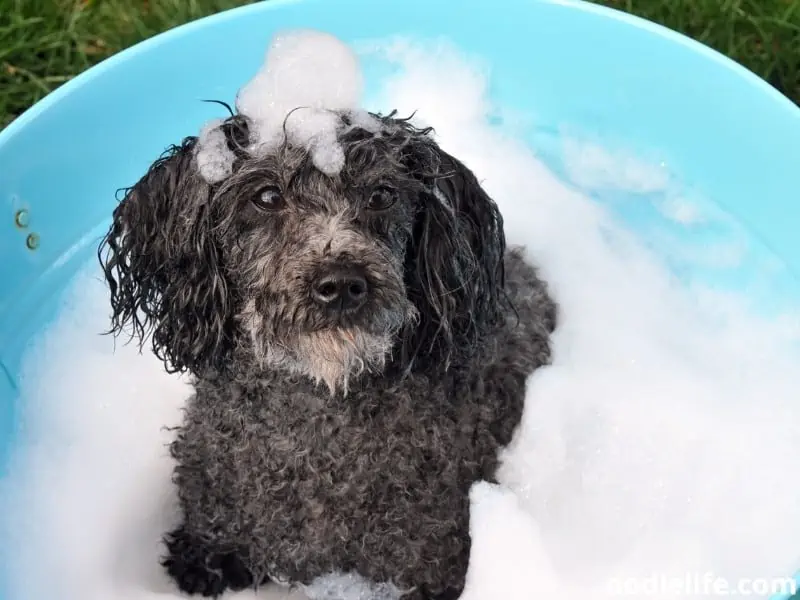 Best for Skin Infection – Antibacterial & Antifungal Shampoo
No pet owner asks for this rite of passage, but it sometimes happens that your beloved Poodle can't stop getting the ticks and fleas with no solution in sight.
Smiling Paws Pets - Itch Relief Shampoo for Pets - Contains Benzoyl Peroxide - Kills Fleas - Relieves Allergies, Itching, Dermatitis, Mange, Dandruff, Mites, Acne, Demodex, Seborrhea, Pyoderma - 12oz
RESCUES PETS FROM COMMON SKIN PROBLEMS: Unique dog skin shampoo treats the causes of itching, scratching, and redness at their source! Stop your pet from itching and scratching by using the right shampoo.
VETERINARY GRADE FORMULA: Veterinary grade formula creates the perfect anti-allergy shampoo for dogs and cats. Provides quick and effective treatment of common skin problems.
LOW COST ALTERNATIVE: Try our medicated dog shampoo for allergies and itching if you have previously tried costly prescription medicated shampoo for dogs. If you're not satisfied, you can return the product for a full refund.
MADE IN USA: Our powerful dog shampoo for is produced in our local, federally regulated facility in the USA. Protect your dog's health with the very best quality.
HIGHLY EFFECTIVE TREATMENT: Tired of seeing your poor puppy itch and scratch? The highly effective active ingredients in our shampoo can make annoying itching and allergic scratching go away fast.
We earn a commission if you make a purchase, at no additional cost to you.
This shampoo is your best bet for adult fleas, flea eggs, lice, and ticks. It's a sensitive skin formula that contains oatmeal, lanolin, and aloe vera to protect your dog while removing scales, dirt, and dandruff.
The shampoo has chlorhexidine and ketoconazole, both effective against bacteria, fungus, pyoderma, and ringworm. The passion fruit scent rids the Poodle of foul odors, always ensuring your dog smells fresh.
Pros
Treats skin infection.
Medicated shampoo is mild on the skin.
Has a refreshing passion fruit scent.
Affordable.
Cons
Not the best deodorant.
Can be harsh on pups.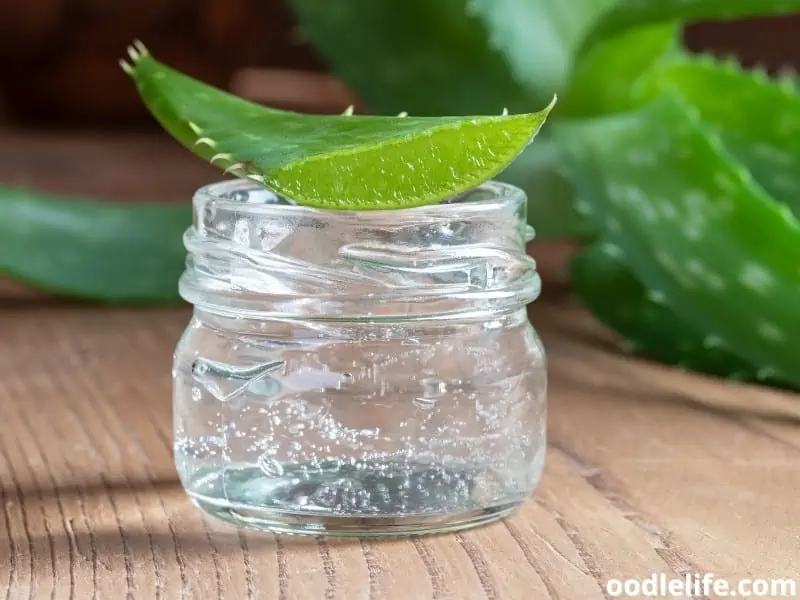 Best Sulfate-free Shampoo – Pro Pet Works
This organic 5-in-1 shampoo is the ultimate dandruff defender for your beloved Poodle. It has premium ingredients, including aloe vera gel, organic almond oil, and oatmeal.
Pro Pet Works All Natural Soap Free 5 in 1 Oatmeal Dog Shampoo and Conditioner-Moisturizing Formula for Dandruff Allergies & Itchy Dry Sensitive Skin-Puppy Grooming for Smelly Dogs -17oz
>ALL NATURAL PLANT BASED FORMULA: Featuring ingredients like Aloe Vera Gel, Organic Almond Oil, Oatmeal, and Vitamins A, D, E, and B12, our unique and special blend was formulated to be safe and...
>PREMIUM QUALITY: Made using only the finest ingredients available, our formulation is paraben-free, cruelty-free, sulfate-free, alcohol-free, and soap-free. The Aloe Vera Gel in our formula contains...
>MULTIPET USE: Our one-of-a-kind, 5-in-1 oatmeal shampoo and conditioner is not just great for dogs - use our blend on your cat/kitten, rabbit, guinea pig, or ferret. Preserving the natural oil...
>UNIQUE INGREDIENTS: What sets our blend apart are the ingredients we use. Soothing Aloe Vera Gel and Almond Oil synergistically work together to effectively help relieve skin issues and treat your...
>DESHEDDING FORMULATION: Our deshedding shampoo and conditioner helps to keep skin cells healthy, protect the skin against UV damage, and helps to deshed the undercoat. The Fatty Acids in our formula...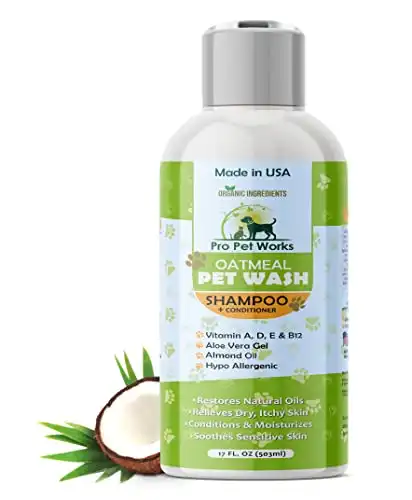 We earn a commission if you make a purchase, at no additional cost to you.
These ingredients are specially designed for easy brushing and a shinier coat. More importantly, the blend contains zero harmful components, with a pleasant fruity scent.
You only need a little to get this shampoo going! It doesn't have the most delightful fragrance, but the smell improves after washing your doggo.
Pros
Deep-cleansing formula.
Doesn't contain harmful chemicals.
High-quality natural ingredients.
Makes the coat lustrous and healthy.
Reduces itching.
Cons
The scent isn't for everyone.
Expensive.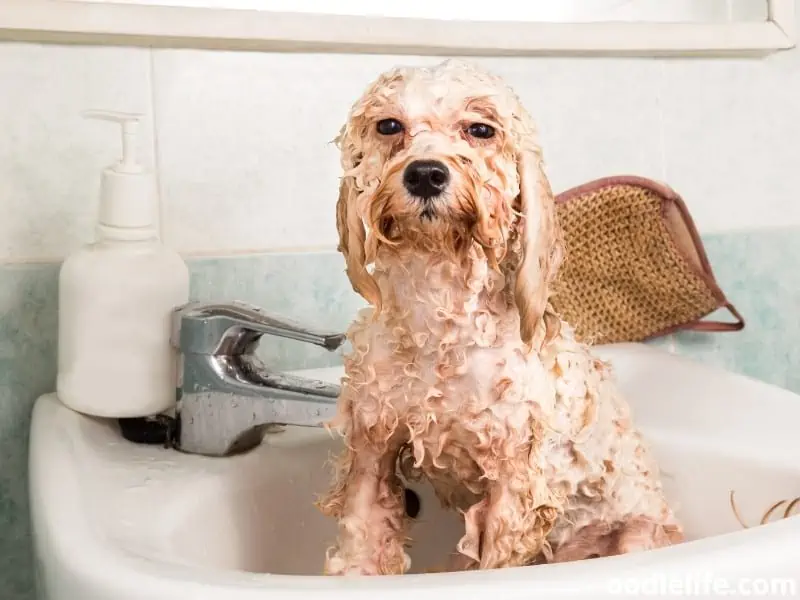 Frequently Asked Questions
Here are the most popular FAQs and answers for my selected Poodle Shampoo products.
Can I use human shampoo on my Poodle?
Human shampoos have different pH values than animal shampoos and can harm a Poodle. Always use dog shampoo to keep your Poodle's skin healthy and dandruff-free.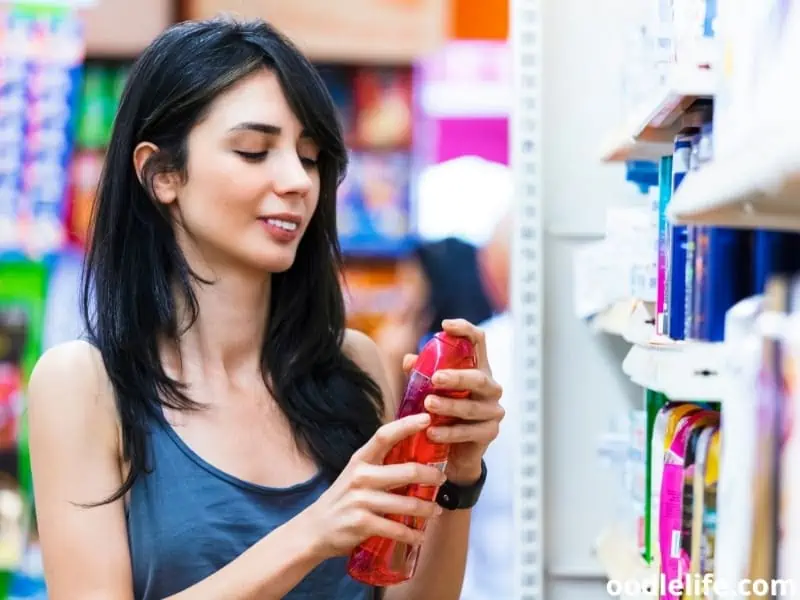 How often should a Poodle be bathed?
Poodles, like any other dog, need a regular bath. However, you must bathe your dog at least once in three weeks, which is the barest minimum to keep their coat healthy.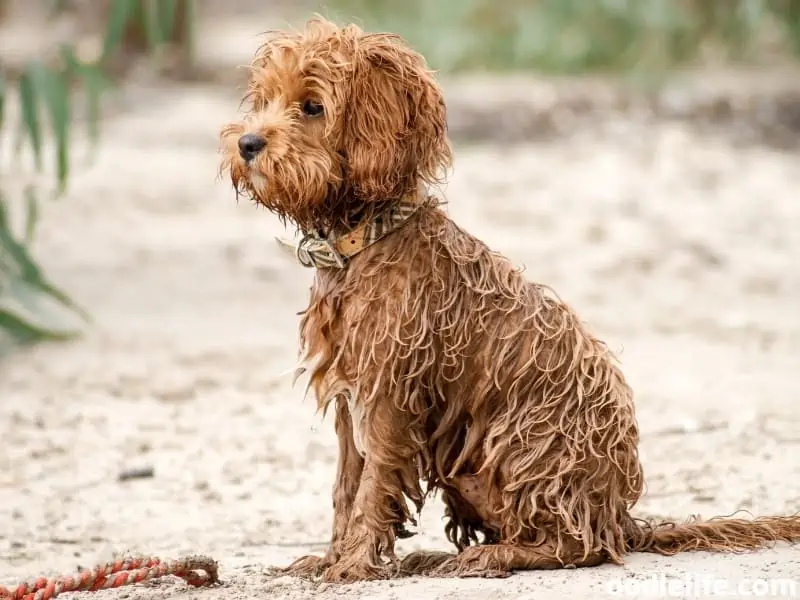 Does my Poodle need a conditioner?
A Poodle's coat is unlike any other dog and requires a conditioner to keep it soft and tangle-free.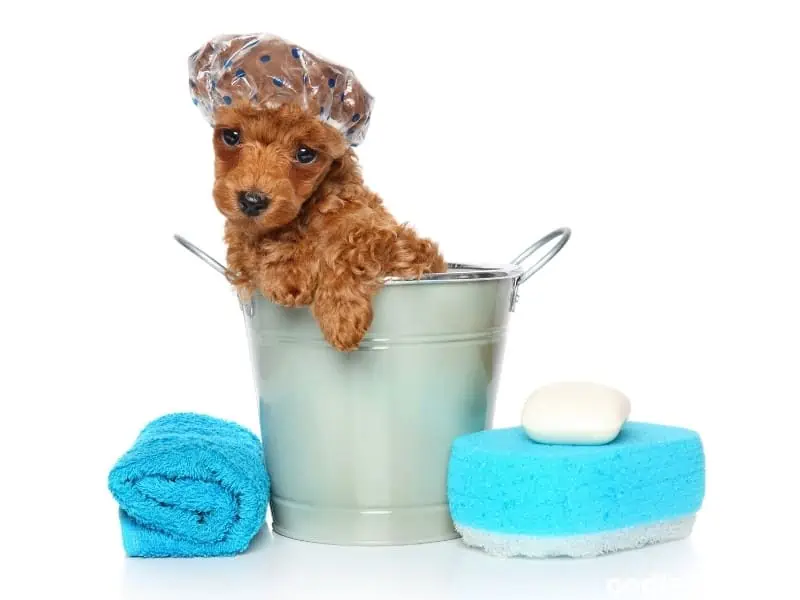 Conclusion
Poodles are beautiful, affectionate dogs that require much care and attention. The tightly packed nature of their coat makes it essential to use shampoo and scrub thoroughly to rid your dog of offensive odors.
The shampoos on this list are the best in their class, and while I recommend Healthy Breeds Dog Shampoo, you can't go wrong with the products above.