21 Cute Cockapoo Gifts for Cockapoos and Cockapoo Owners [+ DIY]
Looking for a gift for your favorite Cockapoo lover? Whether buying a gift for a Cockapoo -or a present for a Cockapoo owner – we got you covered. There are also budget friendly DIY gift ideas for the special touch or Secret Santa gift.
The perfect gift is out there – to show a loved one much you care about them and their pup. Whether it's a new toy, some treats, or even an adorable outfit, we have something that will make them smile. And if they don't already have a Cockapoo-inspired items in their home, now is the time to get them one!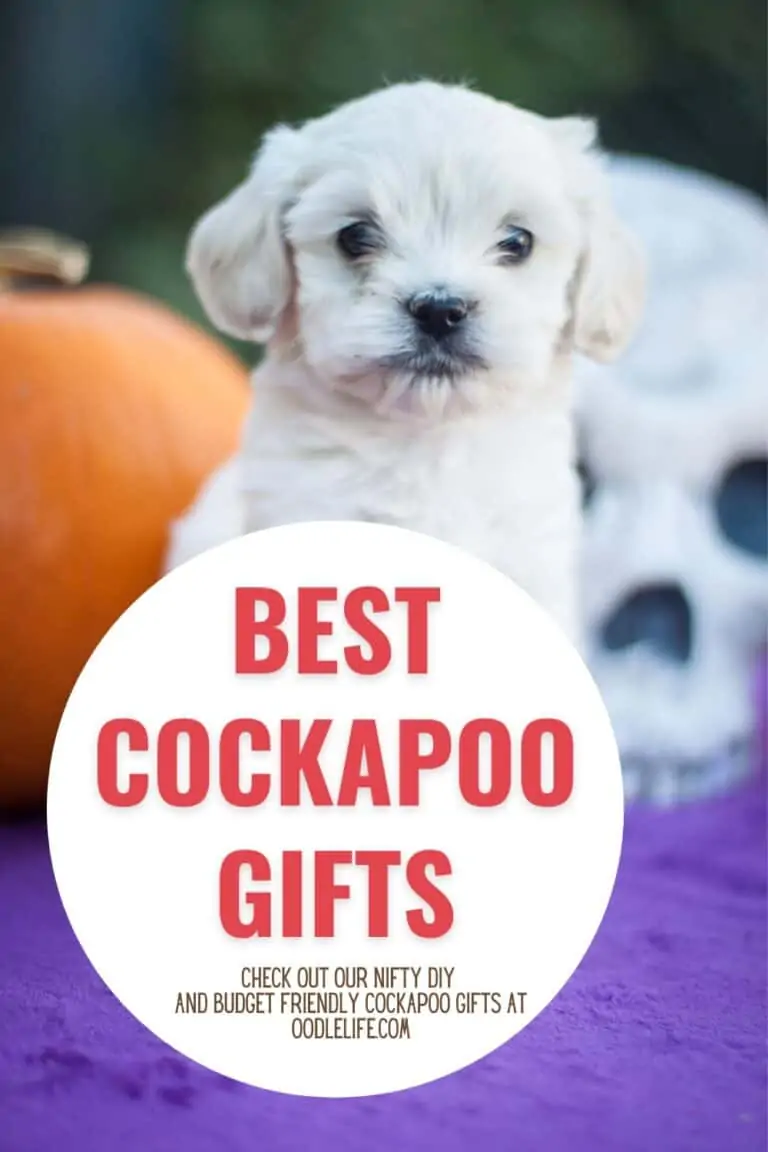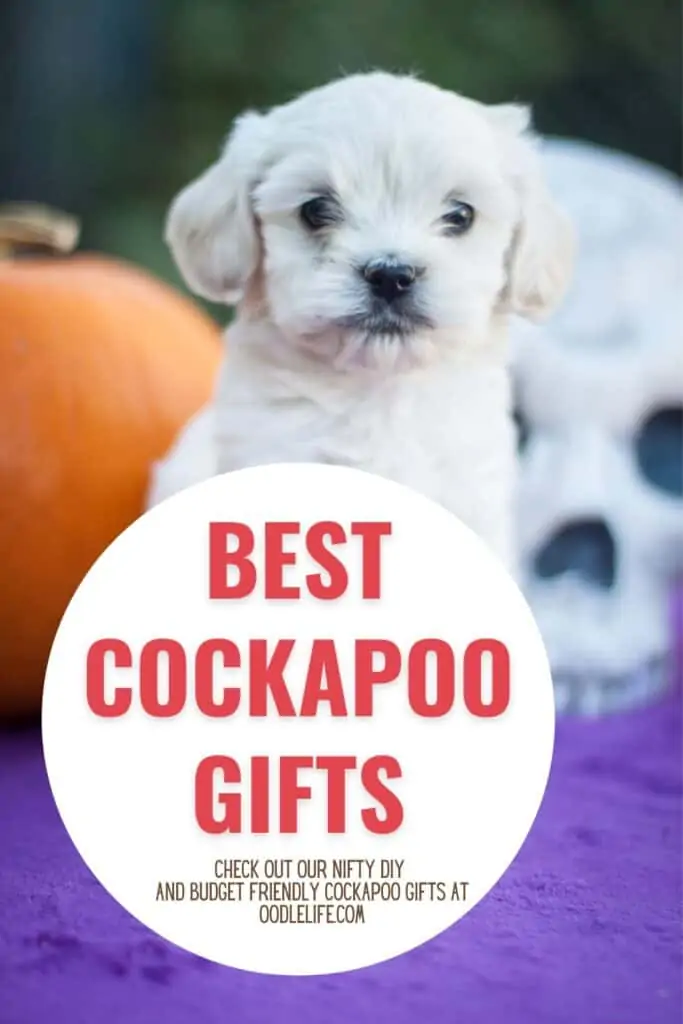 Cockapoos are part Cocker Spaniel and a part Poodle – possibly the sweetest blend pet blend ever. This exquisite miniature dog is bred for companionship and beauty. It's no surprise that they are one of the friendliest, gentlest dogs one could have.
To make-up for their toy-like size, Cockapoos tend to be extra loud, tremendously hyper, and forever enthusiastic. If you are a Cockapoo human, you understand that your little pooch needs a lot of exercise and a room full of toys to keep entertained.
Cute Gifts for a Cockapoo Lover (and Cockapoo puppy)
I Love Cockapoo Car Magnet
I Love Cockapoo Car Magnet
An "I love my Cockapoo" Car Magnet

Specially designed for an avid Cockapoo owner, this car magnet shows your love of all things pup. Perfect for the whole family to see while you drive around town in your own breed's vehicle with a killer sense of style.
It is also a great surprise gift because it is a magnet rather than a sticker. It is removable so even if they don't want it permanently attached to a car or boat – they can put it on the fridge or somewhere else without damaging anything!
A Cockapoo Statue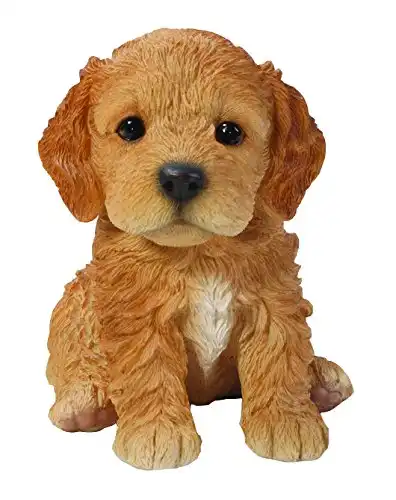 This beautiful statue will add a charming and unexpected element to your outdoor spaces. Why not have the cutest pup around, sitting next to you in any outdoor party? Add this paw-ty pleaser today!
Not to mention no chance of excessive barking from this Mini Cockapoo statue.
"All you need is a Cockapoo" Hanging Sign
These cute, 10″ x 5″, PVC signs will warm up just about any room. They're also easily hung with the rope hanger for a unique look in your favorite spots – doorways, handles, table centerpieces. Know someone who needs some Cockapoo love in their life?
Whether it's for a friend or for your own home, if there is one thing in this world that's always enjoyable and never goes out of style – it's love. And we love our Cockapoo dogs!
Cockapoo Plush Toy
Meet the Cockapoo Dog Stuffed Animal Plush, 10.5″ tall (26.5 cm). Strong, lovable plush toy with breed-specific design and coloring all made for human hands – not a dog's mouth!
Cockapoo Angel Statue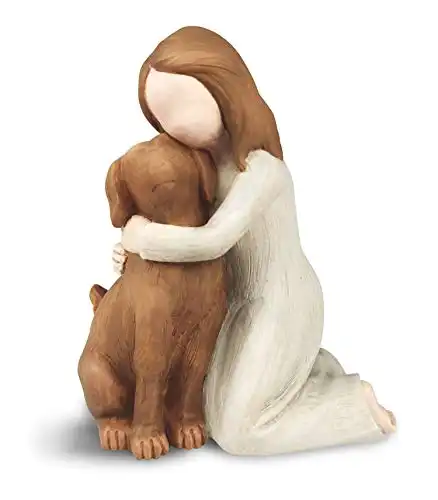 When they say pets are our best friends, you better believe it! This beautiful hand-painted angel statue is holding a Cockapoo dog and will watch over your home as if it was her own. Perfect for any pet owner to remember this great feeling of companionship in their day-to-day life.
Cockapoo Socks!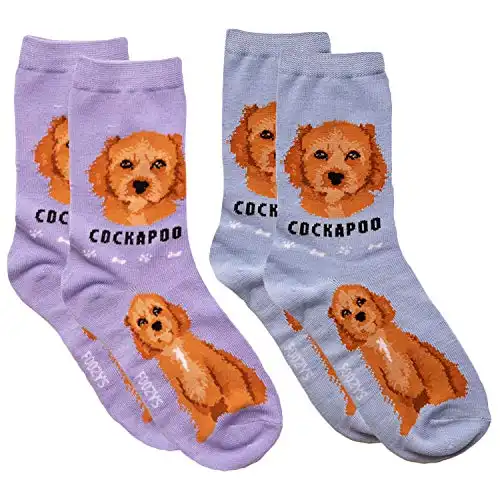 We hope you're making plans to get your paws on these adorable socks! Designed with the finest stretch cotton, these Cockapoo socks are perfect for heading into work or just lounging around the house.
Donate to a Cockapoo Rescue
There are mixed breed Poodle mix rescues that cater specifically to doodle dogs. A thoughful gift is a donation to one of the quality Cockapoo Rescue programs available. We go into detail on the best Cockapoo adoption rescues here.
The Ultimate List of DIY Gift Ideas for Cockapoos and Their Owners
Fun and Durable Toys
Tug toys are one the best pastimes for your tiny bundle of joy. Unlike the ones you get in pet stores, a DIY tug toy lasts longer. Not only that, you can choose to make it with materials that are safe and frugal.
Simple to make and easy to source, you can make a tug toy with things lying around at home.
Ball Tug Toy
All you need is a tennis ball, an old colorful t-shirt, and a sharp pair of scissors. Lay out your T-shirt with its sleeves spread open. Place the tennis ball in the center of the T-shirt, then wrap the ball tightly with the sleeves and ends. Leave out a long strip of the fabric.
Once that's done, cut up the T-shirt vertically into three equally divided strips. You can further cut up these strips into three narrow pieces to make braids with tight knots. Secure it so your Cockapoo dog can spend all the time in the world trying to untangle it.
Don't throw away your tattered denim jeans. You can use old denim instead of a T-shirt if your pet is tough on toys. Grab a pair and use the sturdiest part of the denim to make a solid and tear-proof plaything. An old towel also works.
Bottle Chew Toy
If you are tired of replacing chewed-up footwear, try this little trick. Take a plastic bottle and put it inside a thick, colorful sock. You want a strong bottle for this, not a flimsy one that's easily torn apart with a few bites. Offer it to your dog, or leave it at the door near your shoes. It makes for a great attention-grabbing toy for the nibbly Cockapoo breed.
Dog Wand
Also known as a flirt pole or flirt stick, this toy is super easy to make. Get a long stick or thin pipe. Then, simply tie a braided rope or any lightweight toy at the end. Dangle it in front of your Cockapoo and let them chase it (and you) around the yard.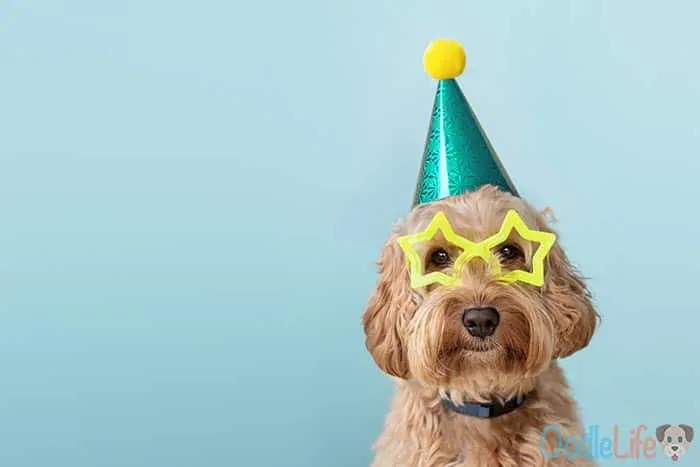 Homemade Sand Pit
If you have the space, spring for this one. Cockapoos love digging and rolling in the sand. Why not treat your poo-love to a homemade sandbox? Fill up a large-sized box or tray with clean sand or soil. This is all your Cockapoo needs for a fun play experience.
Yummy Dog Treats
Cockapoos, like all other four-legged creatures, rely on their noses to scope their environment and find food. Entice their senses and make mealtimes entertaining with food that is out of the ordinary.
Puzzle Box Treat
Take a cardboard box (finally, a use for all that online shopping packaging). Carve little holes across it, pack the box with delicious doggy treats, scrunched up balls of newspaper, and scrap fabric. Leave the box in the room and watch your Cockapoo tear the box apart to find the treats.
As a smaller alternative, get a tennis ball and slice a big X on one side. Hold the ball and squeeze to create an opening. Stuff kibble or other doggie snacks inside.
Roll Out Treats
Is your pup fond of interactive toys? Transform a PVC pipe into a toy that's guaranteed to fascinate and feed your pet. Drill holes into the sides of the pipe, then sand the edges for a smooth finish. Fill the pipe with treats that are small enough to fall out of the holes. Then, seal the ends of the pipe and put it on the floor. Your Cockapoo will be in raptures as they roll the pipe and find a snack.
If you are not that confident about using tools, a toilet roll will suffice. Stuff it with yummy treats, fold the ends, and secure them with duct tape. That's it! Watch your Cockapoo get mind-boggled while frantically trying to find the hidden treats.
Dried Potato Treats
Sweet potatoes are a Cockapoo favorite. Slice up a sweet potato into thin strips and place them in a baking tray and slide them into the oven at 175 degrees. Leave them in there for about 6-8 hours. Bring them out once done and let them cool. There you have it – a naturally sweet, healthy, chewy treat for your Cockapoo.
Alternately, slice a sweet potato into inch-thick circles. Core each piece with a cookie-cutter before popping it into the oven. Then, string the sweet potato discs together. Voila! You have a snack necklace that's full of fiber for your pet.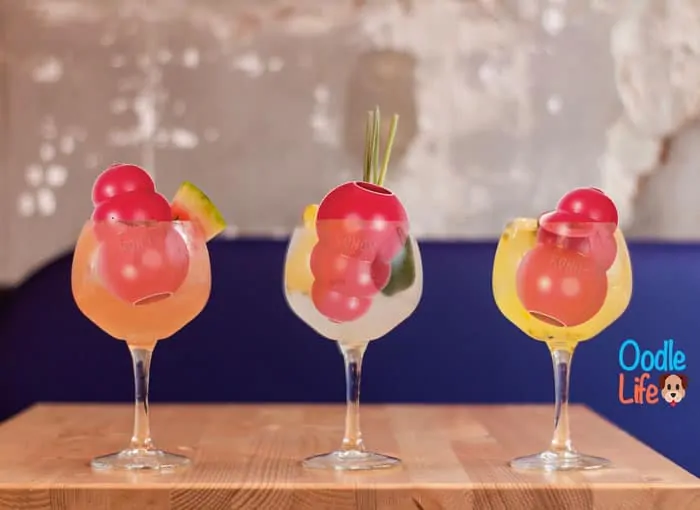 Frozen Treats
There's something about frozen yogurt that dogs can never get enough of. For hot and parched summers, surprise your Cockapoo with refreshing frozen Greek yogurt fruit candy chews. Dogs happen to love ice and a popsicle like this, without any sugar, is good for your Cockapoo. Try watermelon or mango for a tropical flavor.
Cockapoos love coconut oil, and they love licking ice. So, why not combine the two to make a healthy ice lick. For a fun treasure hunt experience, freeze your Cockapoo's favorite go-to toy inside the popsicle. It will be a welcome surprise. All these are great ways to keep your dog hydrated in the warm months.
Cockapoo Fashion Statements
Knitted Doggy Outfits
Even though Cockapoos have thick and furry coats, they do get cold in the winter because they are small and snug. To keep your pet warm and cozy, knit a sweater for your dog out of the softest yarn. Pick a pattern and material that you and your Cockapoo can share.
For warmer months, you can knit a dog collar cover instead. Make sure you take a selfie. A dog lover will lose their mind if you knit them a custom jumper for their Cockapoo pup.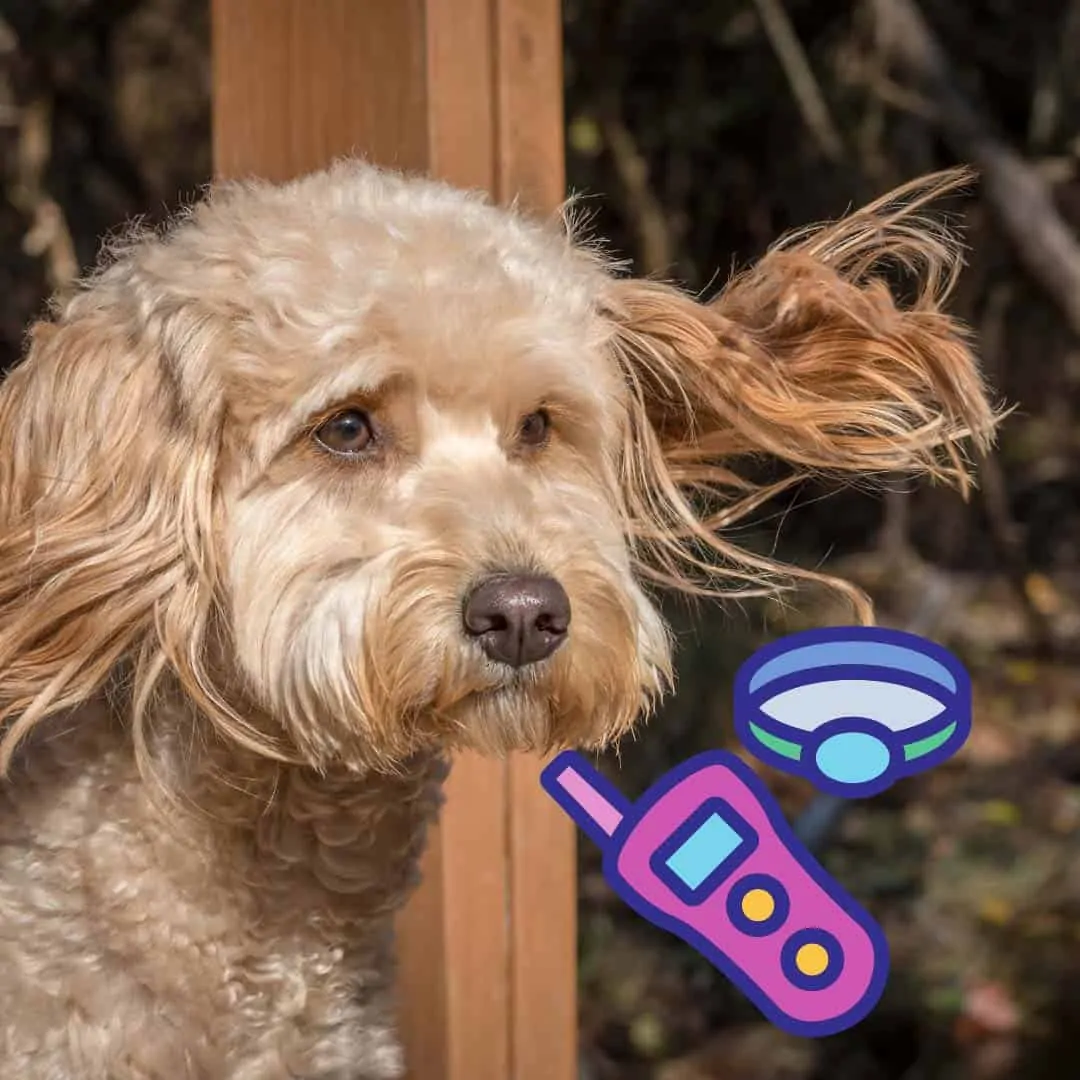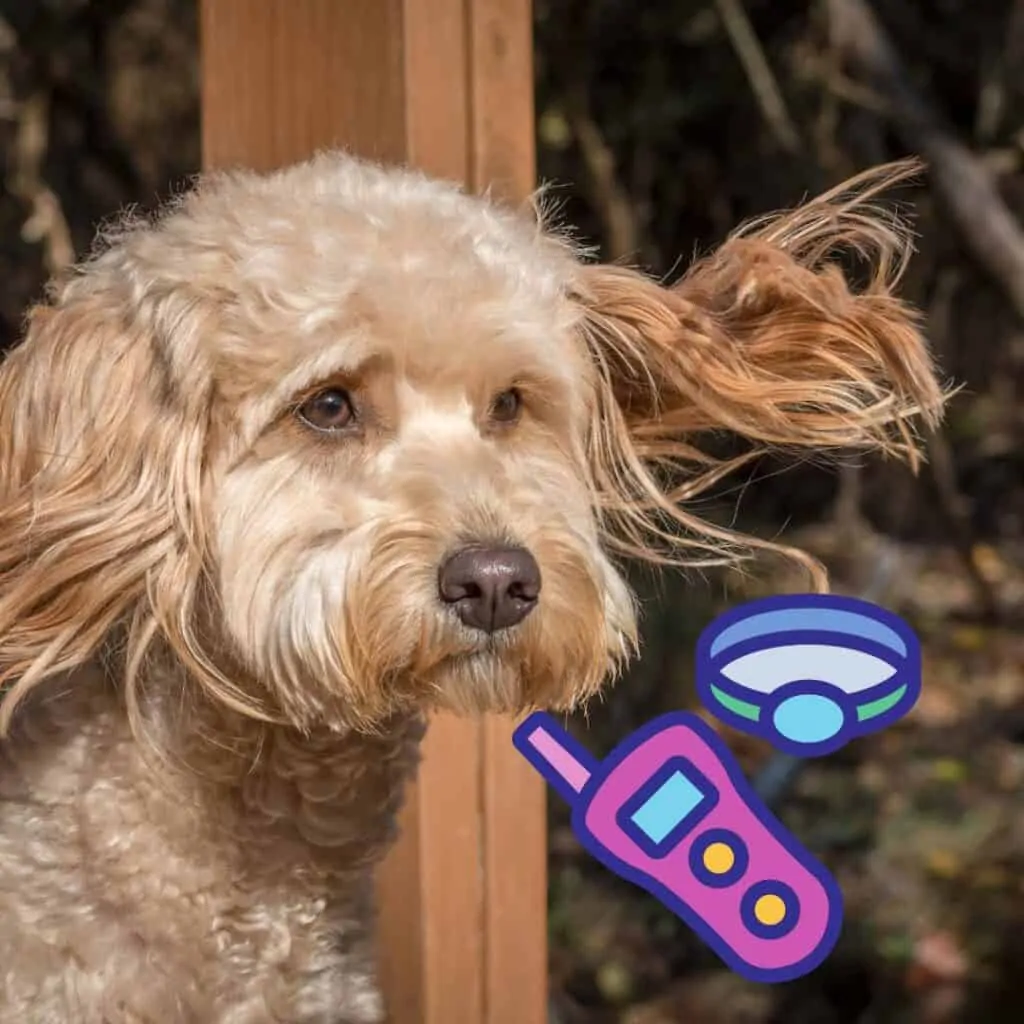 Fancy Dog Collars
Do you have a lot of old jewelry or holiday decor in the house? Take them apart and use the tiny bells and beads to prettify your Cockapoo's collar. The bells will keep you well-informed of your pup's movements, while the beads make a cool fashion statement. Make sure to fasten the pieces well so that they won't fall off. (Start with a good quality leather dog collar like these 5 best ones reviewed here)
Hip Bandana
Name tags are so last season. Cool and happening bandanas are trending these days. You don't have to buy one, you could simply make one by using an old scarf or handkerchief. Embroider your Cockapoo's name on it, or use fabric glue to create a custom design. It's a smart and handsome gift for your furry companion. (Here are the best dog Christmas bandanas for that time of year!)
Comfy and Cozy Pet Gear
DIY Dog Bed
Are you trying to entice your pup into sleeping away from your bed or the couch? Why not offer a personalized bed cushion? You can create one out of old pillows, blankets, and a wooden crate. Sewing is optional, as you can just tuck the fabric around the pillows. Instead of a crate, you can also repurpose an old tire, a wooden drawer, or a big basket.
Do you want a DIY dog bed that's photo-ready? Instead of buying an expensive bed from a fancy pet store, make a pup bed using one of your old suitcases. Dismantle the suitcase and use one half as a comfy bed. Stack it with a thick yet soft mini mattress. You can give the suitcase a slight elevation by sticking four tennis balls to its four corners. Then decorate the space with a colorful bed sheet and some tiny cushions.
Handmade Snuffle Mat
A rugged snuffle mat is usually made up of sink drainer mats or perforated shower mats. It looks odd, but your pet will excitedly forage through the mat for treats and toys. It's easy to make one of these at home. Strips of fabric are woven into the mats and tangle up together to form a tough and flexible grid. For assistance and directions, buy a snuffle mat kit online or watch a tutorial.
Custom Dog House
Are you handy with tools? Put your skills to good use by crafting a kennel that will protect your Poodle mix from the elements. You can search online for DIY dog house plans that range from the basic to the intricate. Some designs also make great pet carriers if you choose to travel with your fur baby. This project does not have to be pricey, as you can use recycled materials to build your Cocakapoo kennel.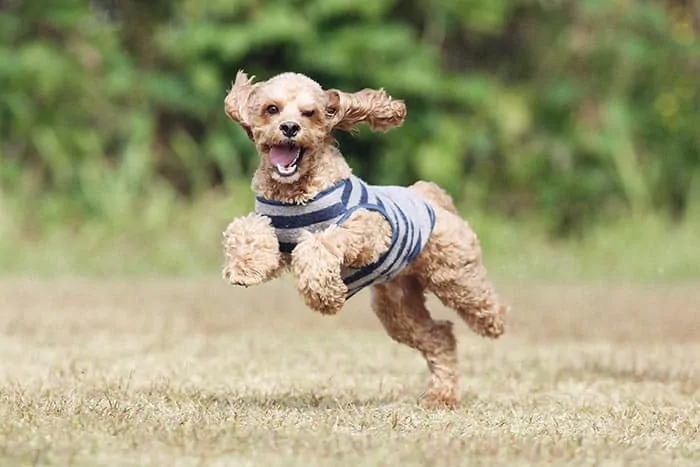 Cockapoo-Themed Items for Dog Parents
Cockapoo Memory Book
This one's for Cockapoo owners. If you love your dog, you are bound to take a whole lot of pictures of them doing all sorts of things. Take your collections of snapshots and put them together in a memory book or scrapbook. You could even make little notes beside every photograph to describe each precious moment.
Cockapoo Wall Decor
Decorate your home with some of your Cockapoo's most adorable expressions and moments. Choose photos that are closest to your heart. Then, fill the walls of your living room or bedroom with frames, scrollers, and printed fabrics that capture the lively spirit of your Cockapoo.
Cockapoo Calendar
Most people use their phones for this, but it can be nice to have a traditional paper calendar in your home. Why not have one featuring your Cockapoo? This way, every time you look up the date, you are reminded of all the wonderful times you've spent with your precious fur-doll. It is easy to craft one using cardboard, a free calendar template, and a print of your dog's photo.
Cockapoo-Friendly Plants
Nothing says DIY like gifting a houseplant that came from your garden. Make it a dog-friendly variety, and you are sure to win a pet lover's heart. These include snake plants, spider plants, parlor palms, prayer plants, and Boston ferns, name a few. For a practical touch, give kitchen herbs like thyme and basil. Plus points if you use a repurposed container as a pot.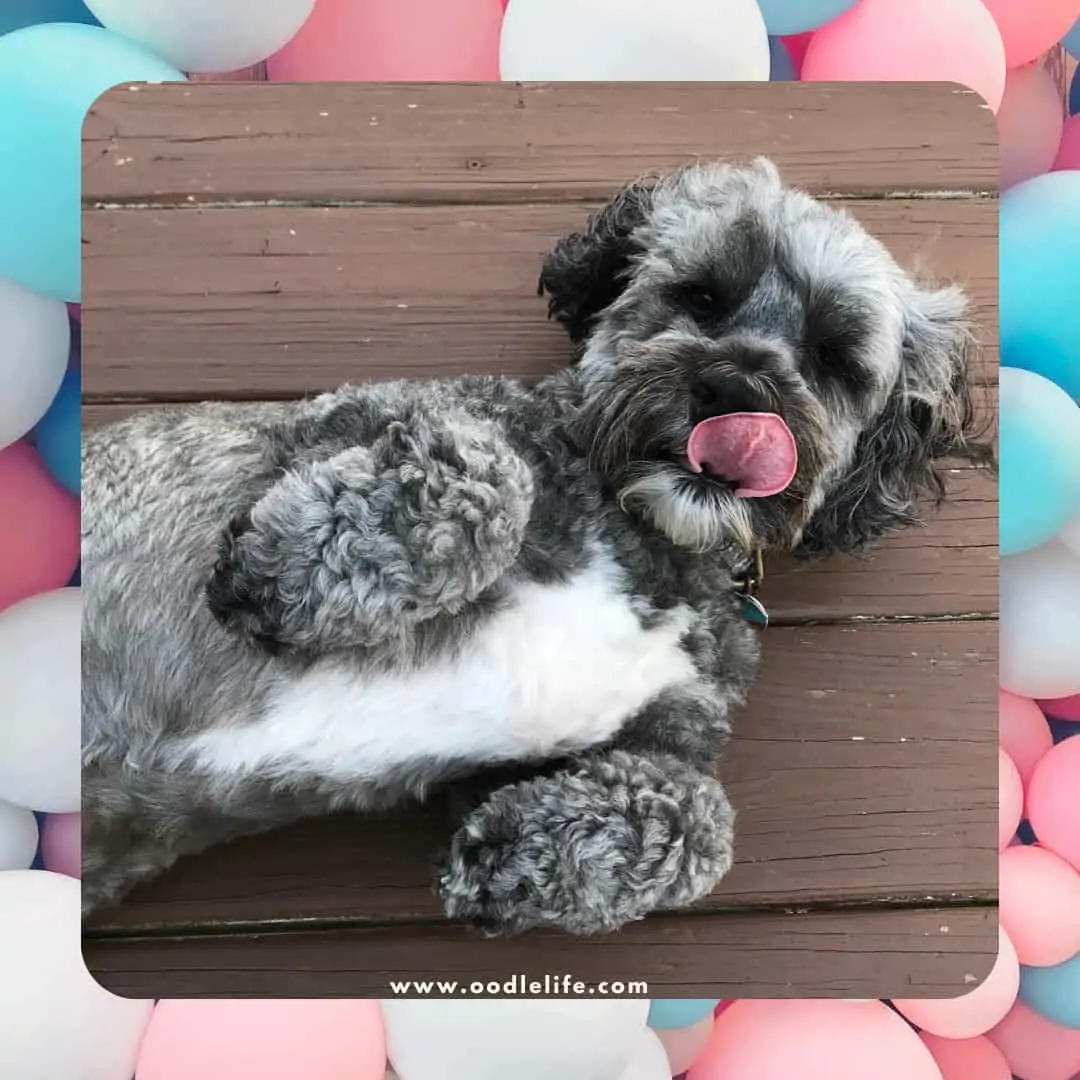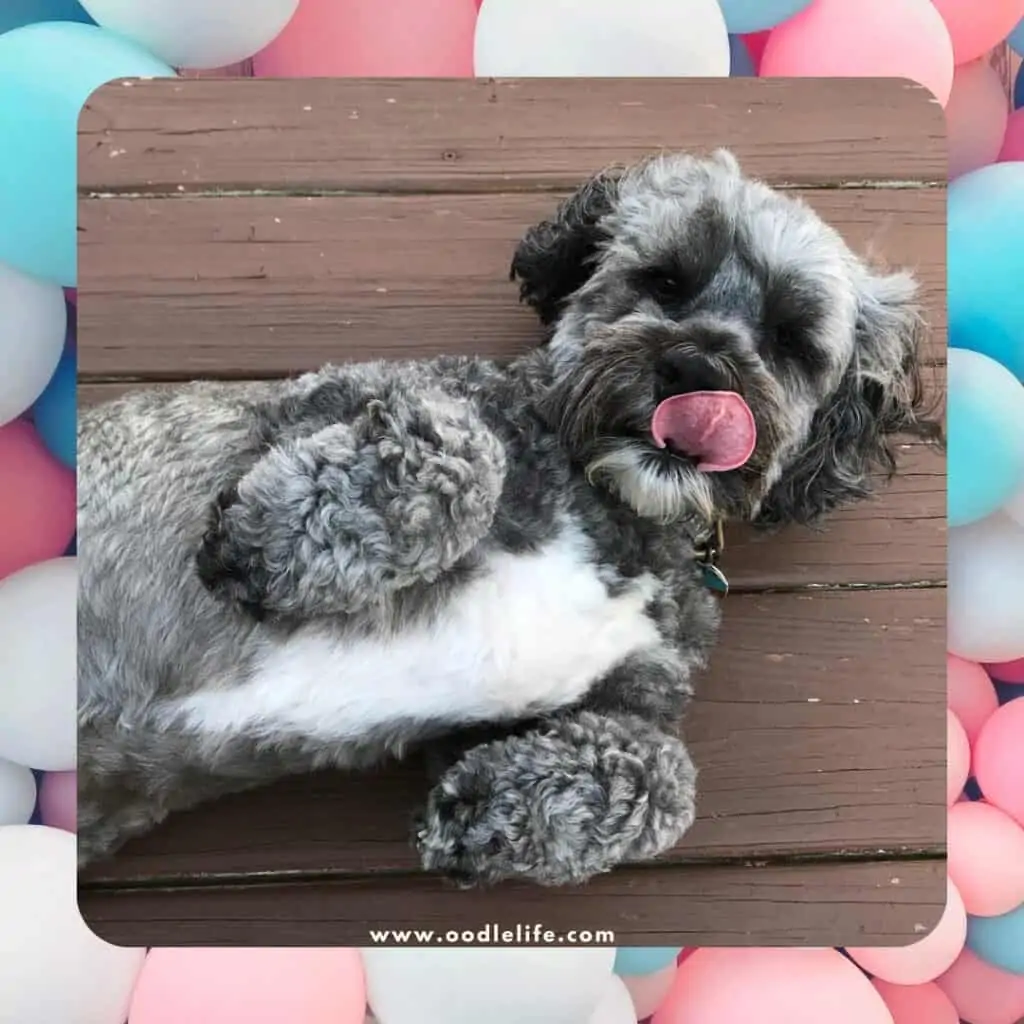 Handmade Dog Leash
For a personal touch, make a unique and functional dog leash for your Cockapoo. You can use a wide range of materials, including cotton rope, fabric, and ribbon. For safety, you may need to buy the clasp and other metal parts from a hardware store.
Make Them a Puppy-Safe Homemade Dog Shampoo
If you are using all-natural bath and body products, why not let your Cockapoos enjoy the same luxury? Ditch the overpriced, chemical-laden dog shampoos you get in the market. Instead, concoct homemade shampoo for your four-legged angel.
If you make this and bottle it as a gift for a Cockapoo dog owner… they will love the effort and natural holistic approach!
You will find different recipes online, but most of them contain:
water
apple cider or white vinegar
baby shampoo or dish soap (the non-toxic kind)
glycerin
aloe vera gel
Mix all the ingredients together in a clean glass bottle and give it a vigorous shake. Your DIY dog shampoo is ready to use.
If your dog has fleas, add colloidal oatmeal and Vitamin E tablets to soothe your itchy pet. You can also add lavender essential oil or orange oil if your pet is extra smelly. (Or buy a natural budget friendly good smelling Cockapoo)
Pet Gifts Don't Need To Be Expensive
However, you may hesitate to buy gifts if they barely last five minutes under your pet's paws. In the blink of an eye, your Cockapoo's newest plaything is in pieces on the floor. That can be quite frustrating. There goes all your money, time, and effort on store-bought toys that don't serve the purpose.
Instead, why not try some DIY dog toys for you and your dearest Cockapoo?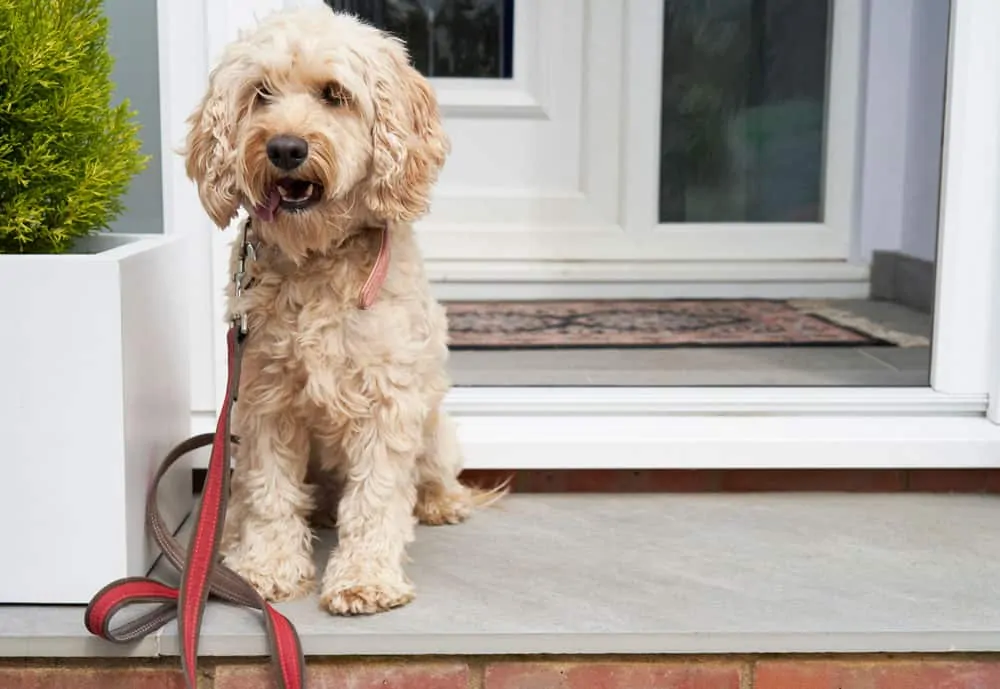 There are some sustainable, affordable, and enjoyable Cockapoo gifts that go the distance. Good news for dog and dog owner!
A dog's love language is usually quality time, but gifts are also welcome. From delicious treats and surprises to exciting playdates and fun adventures, humans do all they can to make their dogs feel special.
Perhaps a friend just recently adopted this adorable dog breed. What's the best gift to celebrate the new member of their family? Cockapoo parents appreciate gifts that they can use to care for their pets. With a little effort and creativity, you can give thoughtful and lasting pet gifts that won't break your budget.