Best Shock Collar for Small Dogs (2023)
Not everyone is a natural dog whisperer, and sometimes for the benefit and safety of our rambunctious small dogs, we need to recruit the big guns. This isn't about a moral judgment call. It's about protecting the pets we love from indulging in destructive and unacceptable behavior.
Shock collars are tools. They intend to help pet owners who are at their wit's end and have difficulty managing their dog's behavior. Those who resort to this method have the best intention.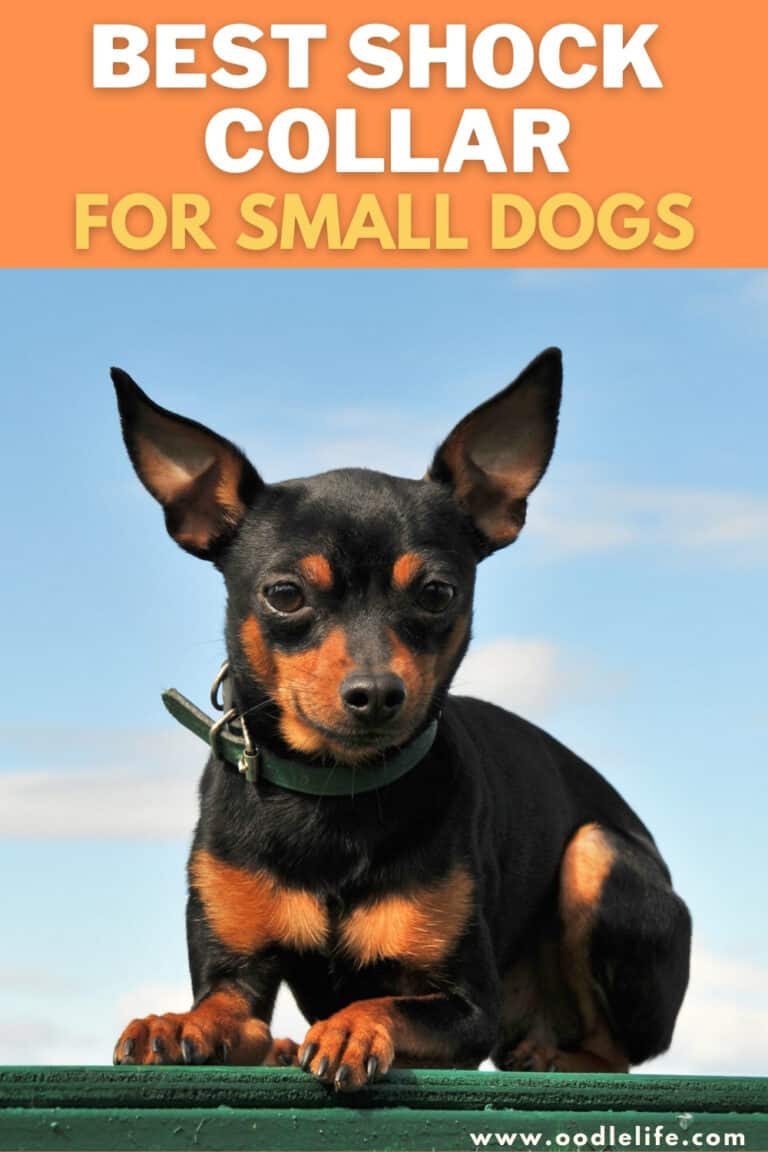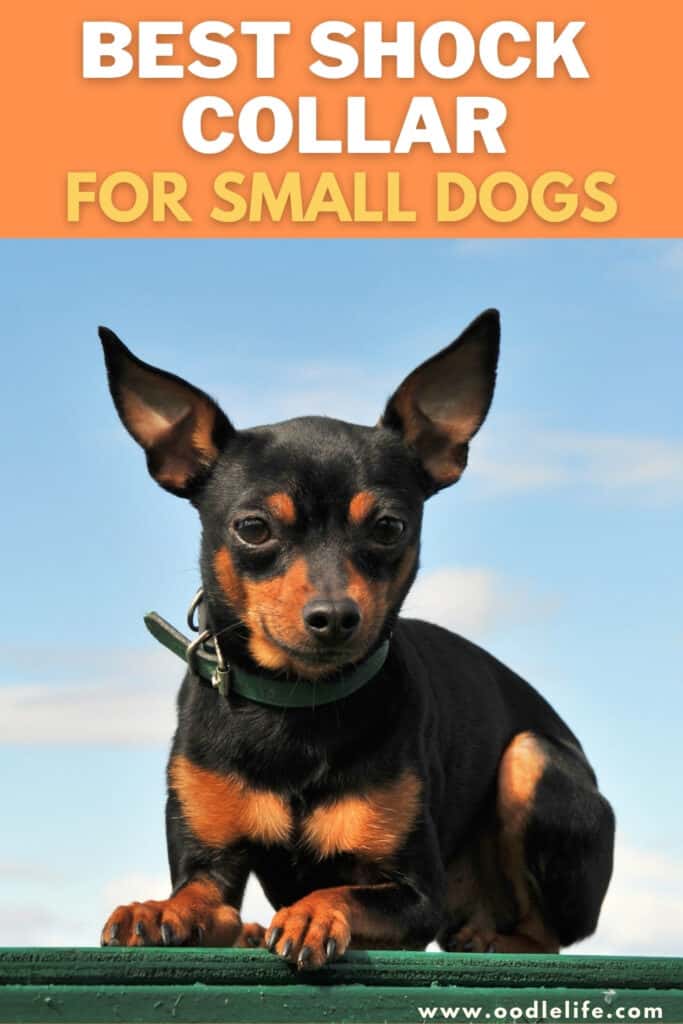 Training a dog is an enormous task, and the best shock collar for small dogs will go a long way in helping with that task without harming that adorable pup.
A repeating pattern in unruly dogs is that they never received the proper training to be a 'good dog.' That onus goes back to the owner. Dogs are still close cousins to wolves, and even in a wolf pack, there are behavior expectations and consequences.
A shock collar can help a dog owner curb destructive behaviors like digging, chewing, running away, incessant barking, and being aggressive towards other dogs, children, and people.
Our overall 'best choice' goes to the Pet Resolve Super Long remote, LED night light, and bark control for small (over 15lbs), medium, and larger breeds.
1. Pet Resolve Remote Shock Trainer – Best Overall
If your small dog fits in the over 15lb category, Pet Resolve is a good option. This versatile collar offers three training methods and the power to train three dogs simultaneously. Trainers can choose between three strategies: loud beeping, shock, or vibration to curb a dog's unacceptable behavior and teach them 'good dog' behavior habits.
Remote Dog Training Collar,Night Light,Removable Shock,Vibrate,Anti Bark,Beep Mode - Hunting Standard ¾ Mile Long Range Waterproof E Collar,Train 3 Dogs if Extra Collars Bought,Big,Large,Medium 15lbs+
🐾 FANTASTIC NEW UPGRADE SINCE MAY= 4.7* + EXTRA LONG & REMOVE THE SHOCK PRONGS + NO STANDBY MODE ALWAYS READY + ANTI BARK & LIGHT NIGHT MODE! Is your dog misbehaving and you want a well behaved pet with minimal fuss? The Pet Resolve system is the perfect solution to train upto 3 dogs for a range of desirable behaviors. Don't let your dog get side-tracked by other animals or misbehave in public. Teach your canine companion how to act properly with arguably the top training collar on the market!
🐾 SUPER LONG RANGE AND MEMORY; forget other dog training collars which use cheap plastic that breaks when you drop it and are designed for small spaces and yards, our e collar dog training system is of the highest quality and has a super long 3/4 Mile range (1312 yards suitable for hunting dogs) for easy outdoor training covering the widest areas! You certainly get what you pay for with training collars and unfortunately most cheap collars won't last long!
🐾 VARIABLE SHOCK & VIBRATION LEVELS, ANTI BARK & LIGHT for NIGHT MODE; train up to 3 dogs at once (additional collars required) with up to 10 levels of continuous or momentary shock (hold down button to shock for 1 up to 8 seconds, ideal for emergencies!) vibrations, or beeps, for safe, efficient training, allowing you to teach your dog a range of commands. Sometimes it only takes one click of a button to completely change the behavior of your dog and the vibration button does the job for most!
🐾 WATERPROOF CONSTRUCTION; does your dog love to run outside or swim? Unlike cheap collars, our training system is completely waterproof (remote splash proof) and can be fully submerged without damage! Most other collars fail in the rain, we provide shock collars dogs can actually swim in all year round! It's worth noting that this collar doesn't go in to standby mode like most, meaning that it's ready to use when you actually need it!
🐾 ULTRA LONG LASTING BATTERY & WARRANTY for LARGE, MEDIUM AND SMALL DOGS OVER 15LBS; our training collar is powered by a super high capacity rechargeable Li-ion battery, fully charged in 2 hours (Charge above 32 fahrenheit in the house) , for long lasting training without having to constantly change batteries! You also get a warranty included no questions asked and World Class Customer Service!
An extended range capability allows dog trainers to control up to 1312 feet distance for indoor and outdoor training and multiple channel setting.
The shock mode level comes with ten intensity levels to introduce behavior modification gradually.
Another bonus is the waterproof and durable housing to prevent damage, and the LED light makes walking your dog safer for you and your dog.
Pros:
Practical 10-level setting & multiple channels.
Waterproof for water-loving dogs.
Safe LED light feature.
Cons:
Charger is unreliable.
Can't fit dogs under 15lbs.
2. Enrivik Small Size Dog Training Collar Best for Tiny Dogs
Mighty dogs come in all sizes, and sometimes those tiny bundles of cuteness come complete with an aggressive attitude.
Small Size Dog Training Collar with Remote - Perfect for Small Dogs 5-15lbs - Waterproof & 1000 Feet Range
For Even The Smallest Pets - While other training collars say "fits small dogs" but end up being huge for them. The Envirik remote collar has an adjustable collar (8 - 26") - making it suitable for all dogs over 5 lbs including chihuahuas and bichons
Dog Training Guide - Each order comes with a full user manual including how to teach basic commands, how to use the remote collar in a safe and efficient manner and how to effectively use positive reinforcement for life-long behavior change
Positive Behavior Reinforcement - A complete dog training system with sound and vibration modes included. Reinforces positive habits and long lasting behavior change. Perfect for outdoor or indoor use. Increased range of 1000 feet
Minimalist Durable Design - The reinforced waterproof remote collar stands up to all doggy activities. Lightweight water resistant design, so you can take it on nighttime walks as well. Thinner strap so even smaller dogs find it comfortable
Only Need To Charge Once Per Week - Long lasting lithium ion battery means with normal use, you only need to charge the collar once a week. Plus the remote fits easily in your pocket so you can take it with you. Comes with battery saving standby mode
There is a reason why consumers buy this powerful training device with long-lasting battery power: it performs. The battery power pack allows dog trainers the convenience of only recharging once weekly and won't interrupt training sessions.
Small dogs with neck size 8'' (up to 25" necks) benefit from this obedience delivery method. With three control methods, sound, shock, and vibration, all in a waterproof housing, this system is ideal for smaller breeds like Terriers, Chihuahuas, and Yorkies.
The collar system isn't bulky and has a 1000-foot long range, and most dogs respond well to the sound and vibration training. Stubborn dogs may benefit from the shock setting.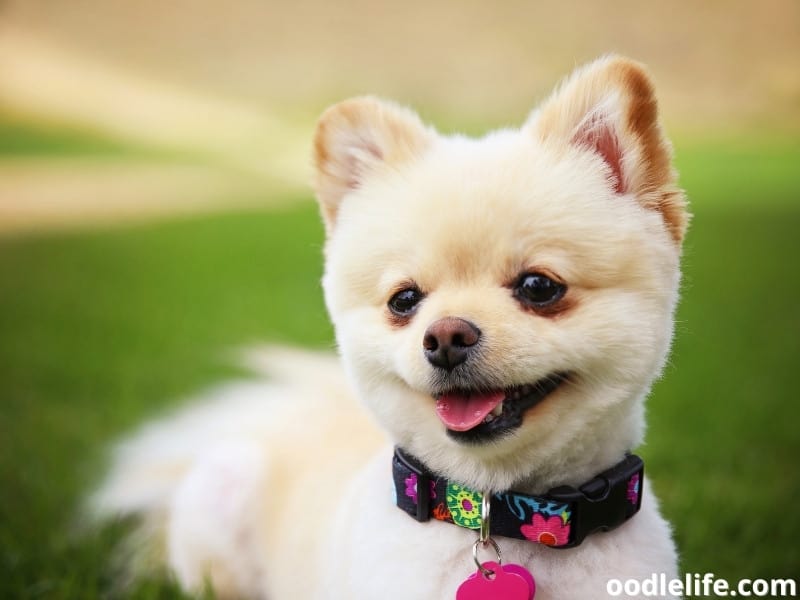 Pros:
Three training settings
Waterproof & slim band
Long-distance range & Lithium battery life
Cons:
May accidentally tricker shock setting
Product quality may be questionable
The shock feature may be too intense for tiny dogs
3. Mini GoodBoy No Shock Collar Most Attractive
In a market where most shock collar training systems for small dogs look bulky and cumbersome, Goodboy looks sleek and lightweight.
GoodBoy Mini No Shock Remote Collar for Dogs with Beep and Vibration Modes for Pet Behaviour Training - Waterproof & 1000 Feet Range - Suitable for Extra Small to Medium Dogs (5-15 lbs)
Small and Safe - This collar is as lightweight and safe as possible for small dogs while maintaining all the necessary functionality. Even 5 lb pets can wear this collar comfortably without feeling weighed down. Due to its small size and the removal of the shock feature, we can not guarantee that this collar is 100% effective on very stubborn dogs or pets over 15 lbs
Simple and Beautiful Design - The sleek and modern remote for this collar has a velvety matte finish that feels incredible to the touch. The simple design is straight-forward with no excessive buttons or settings. A large display with clear symbols makes it easy to see the selected mode and switch between training modes and correction strength as needed.
All the Training Modes and Features You Need - This collar comes with one intensity level for sound and nine levels for vibration mode. The remote works up to a range of 1000 feet, making it perfect for outdoor or indoor activities, and can control up to two collars (extra collar sold separately). Connecting a second collar to the remote is easy with the press of just one button.
Long-Lasting Battery Life - This collar uses the latest lithium battery technology, providing battery life that lasts for at least a week. Just with a single charge, the battery can provide up to 16 hours worth of continuous corrections (each correction is 8 seconds or less each for your pet's safety). The collar also has a battery-saving standby mode that is activated after 5 minutes of inactivity.
A Detailed Training Guide - Our collar comes with a step-by-step training guide explaining how to use the GoodBoy remote collar in a safe and efficient manner. This booklet teaches 15 important commands, offers insight in understanding your dog's body language, and teaches the best ways to deal with stubborn dogs. To make sure you get the best results, the training guide also includes tips for ensuring that the training sticks.
This collar doesn't have a shock setting and is perfect for training bad habits out of small dogs early and only needs minor corrections. The idea of shock training is also not for everyone, and this collar provides a great alternative option.
Affordable and attractive, the collar has nine settings for vibration intensity and a light feature. The battery pack lasts for 16 hours and has a 1000-foot range capacity, making it an excellent option in off-leash dog parks.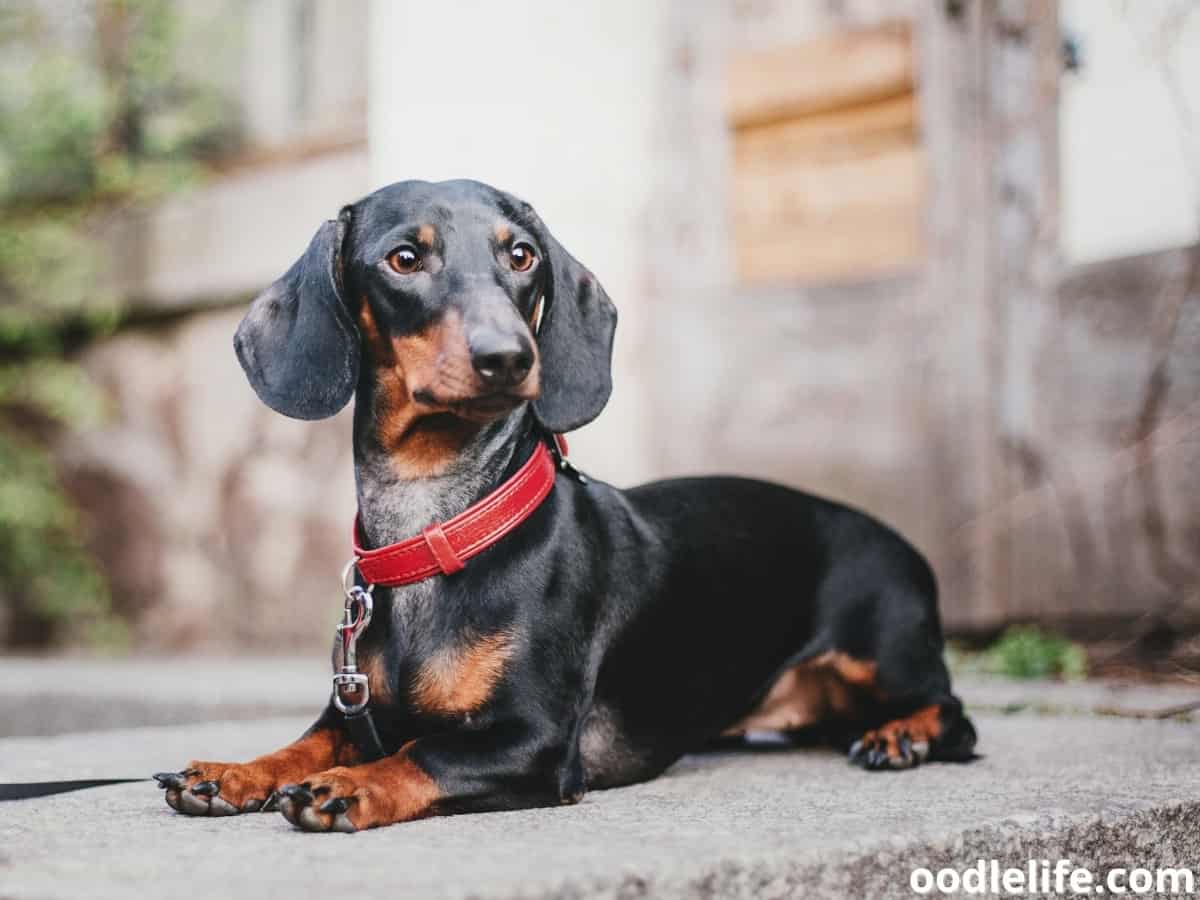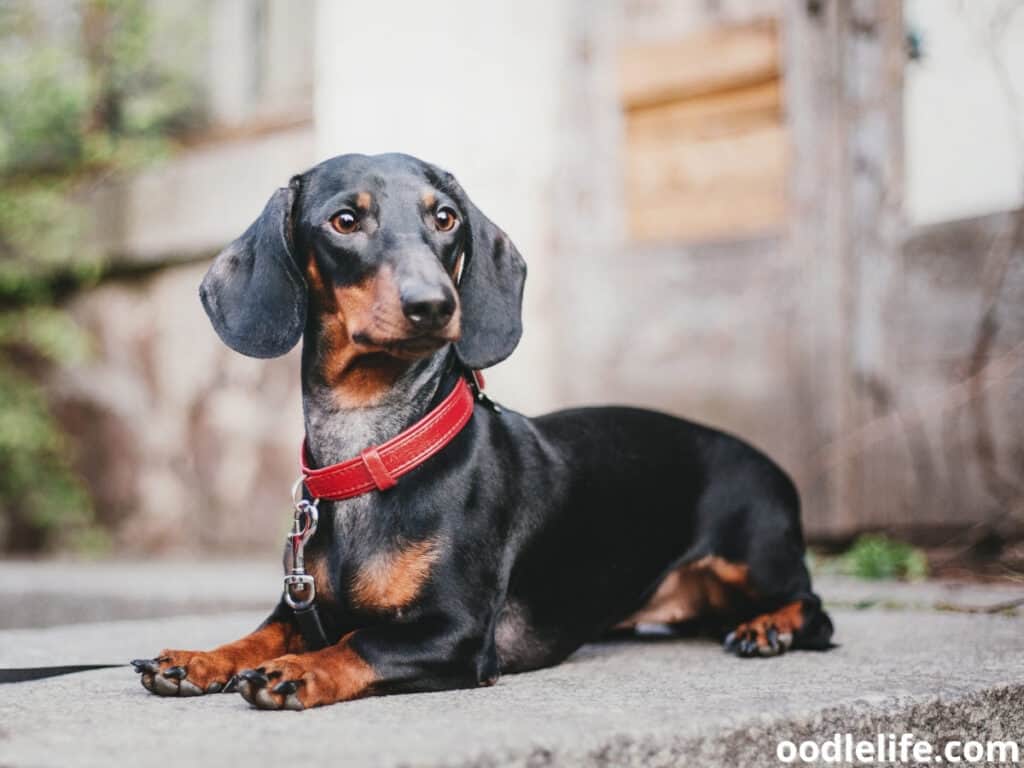 Pros:
Minimalist design and comfortable for tiny dogs
Quality batter life
Can purchase an extra collar for dual dog training
Training manual
Cons:
4. eXuby Tiny Shock Collar World's Smallest Shock Collar
This petite rendition of an obedience aid had a bright color and an adorable name. eXuby's cute name takes the sting out of incorrigible behavior patterns.
eXuby - Tiny Shock Collar for Small Dogs 5-15lbs - Smallest Collar on The Market - Sound, Vibration, & Shock - 9 Intensity Levels - Pocket-Size Remote - Long Battery Life - Water-Resistant - Teal
Smallest Dog Shock Collar in the World - Put an end to unwanted behaviors with the eXuby shock collar, our smallest and most effective model available. Use it to correct behavior with your toy breed or puppy without dragging them down.
Correct Your Small Dog's Bad Behaviors Instantly - Just because they're tiny, doesn't mean they can't have bad habits. With this tiny shock collar, stop your small dog's biting, barking, scratching, and other habits at just the tap of a button.
Not Just Functional, but Cute - Most tiny shock collars are ugly, but this attractive collar comes with blue and pink interchangeable plates for personalization. Even the remote is bright and cheery so it won't be a blemish in your home.
Switch Between Shock, Vibration, or Sound - Shocking can be too intense for some dogs, which is why this collar also comes with sound and vibration modes. Switch between nine levels of intensity to find the setting right for your pup.
Although some customers do use this product for Cats and at times is effective, this product is NOT intended to be used on Cats. Also, this is NOT an Automatic Bark Collar. It will NOT correct your dog automatically and will require a command from the remote.
eXuby produces these cute training collars for the Divas and Divos with a biting attitude. Aside from its happy appearance, this is an effective dog correction tool.
eXuby even made the electrodes hardly noticeable that even the most sensitive dog won't object to wearing the collar. They're equipped with a low start setting to gradually introduce your dog to reprisals and allow trainers to modify dog behavior safely and effectively.
Designed with shock, vibration, and sound training settings, trainers can adjust the nine intensity levels according to need. As a behavior adjustment method, this collar is suitable for teacup, micro, and mini breeds who need assistance in learning acceptable behavior. However, don't use them for cat behavior modification.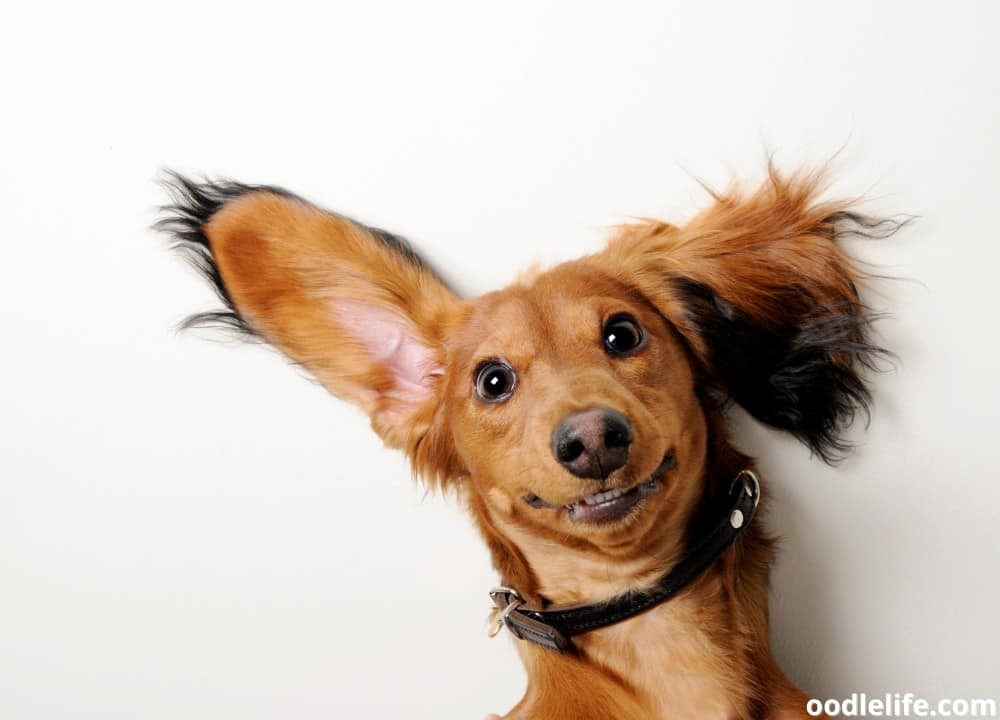 Pros:
Fashionable and less intimidating.
Adjustable modes for training with sound, shock, and vibrations.
Durable and long-lasting.
Cons:
5. The Mini Educator ET-300 Training Collar
The Mini ET has a proven track record. Many users recommend it as an obedience training tool for small dogs over 5lbs. Although the receiver is compact and only 2.4 ounces, it comes with 100 training power levels. Unlike other training collars, the Mini ET has a lock & set feature for personalized training settings.
Sale
E-Collar - ET-300 - 1/2 Mile Remote Waterproof Trainer Mini Educator Remote Training Collar - 100 Training Levels Plus Vibration and Sound - Includes PetsTEK Dog Training Clicker
This is a bundle of 2 items: Ecollar technologies Mini Educator - ET-300 and PetsTEK Dog Training Clicker Training Kit. Perfect for back yards, parks, competitions, police k-9 work, any types of hunting and large field training.
This training system has up to a half a mile range and fully waterproof with a remote that will float in the water.
Use with dogs that are 5 pounds and larger. Featuring 100 training levels plus tone and vibration only modes. Momentary and Continuous buttons for personalized training. For neck sizes between 6 - 30 inches. Assembled and tested in the USA.
With help of the clicker, you can teach your dog new behaviors with positive reinforcement. Training clicker comes in assorted colors: black.
This is one of the best training collars with a remote where you will see great results in training your pet.
Ideal for off-leash, agility training, field, or hunting training and location transmitter. The Mini ET also has an LED night light, three-mode settings, and a waterproof receiver.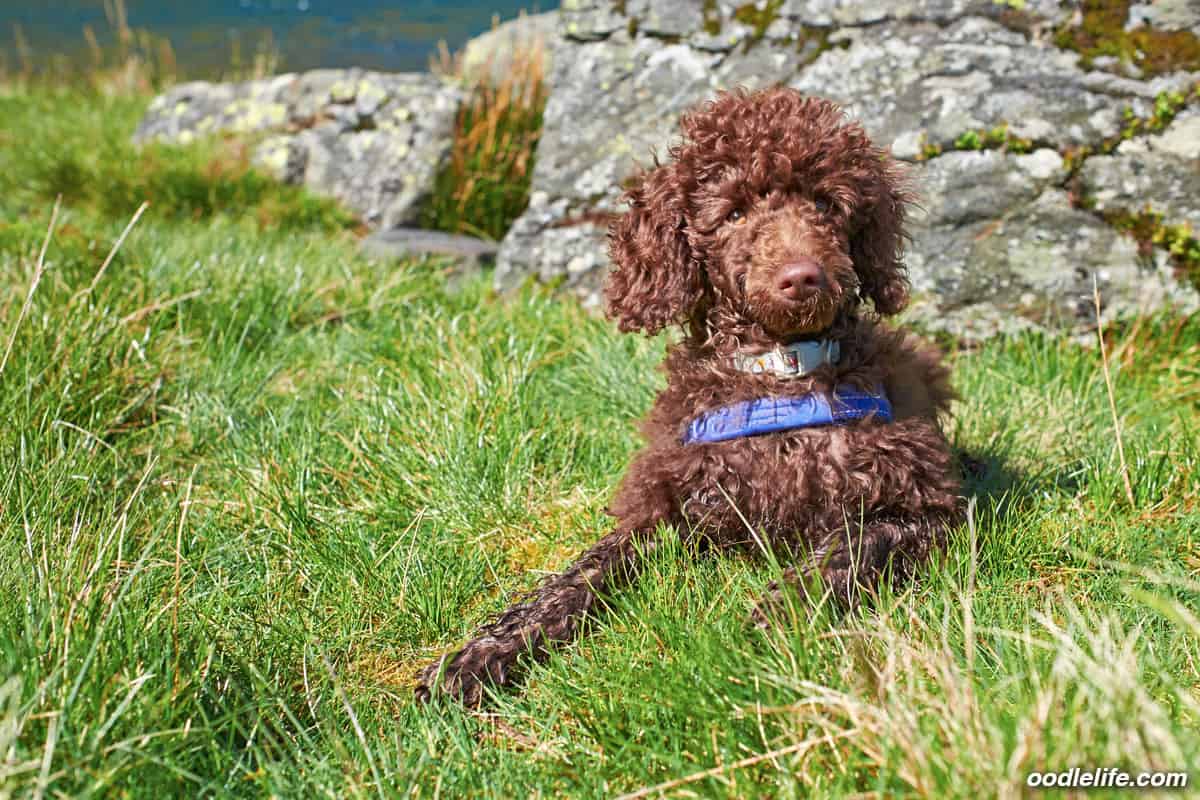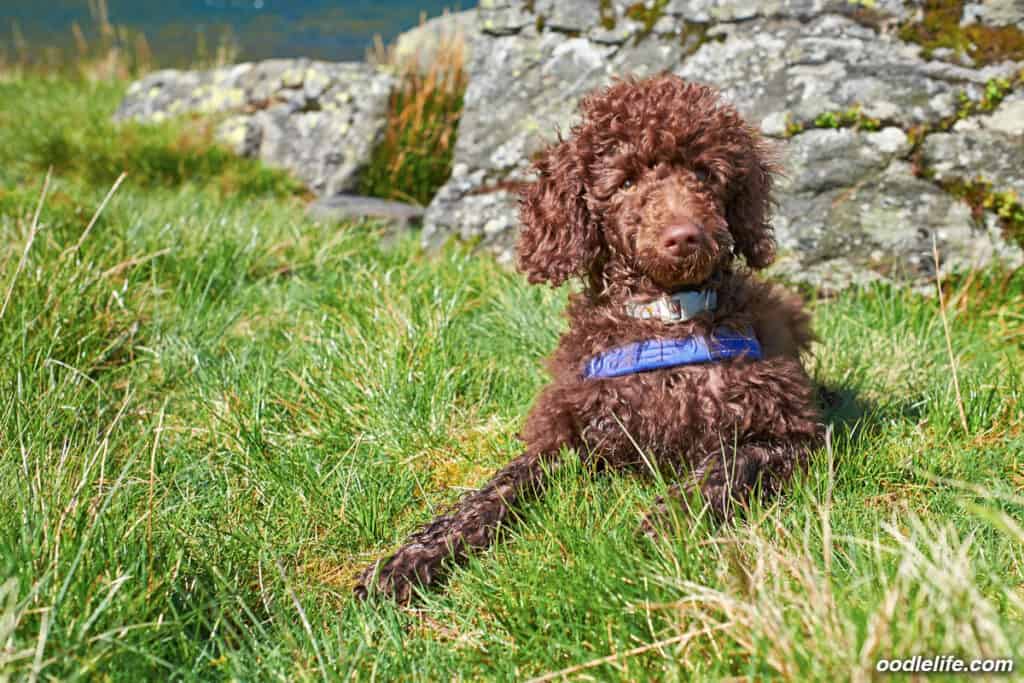 Pros:
USA-made
Proven product with a strong market reputation
Quality design
Cons:
Not anti-bark
Expensive
The battery charge may not hold
6. DOG CARE Training Collar
Not all dogs are created equal. Some small dog breeds are larger, and DOG CARE training collars fit this niche segment. Like other brands, DOG CARE utilizes the three training settings, shock, vibration, and sound control.
DOG CARE Dog Training Collar - Shock Collar for Large Dogs with Beep, Vibration and Adjustable Shock Training Modes, Puppy Shock Collar Equipped with Safety Lock, Long Battery Life Dog Shock Collar
3 safe and effective training modes; Dog training collars can help you teach good behavior to your furry friends; DOG CARE dog training collar with remote offers 3 safe modes (beep, vibration, and shock) to educate your dogs; Designed for pet owners, dog walkers, and professional trainers, DOG CARE shock training collar with remote can correct the annoying habits like barking, chewing, biting, and digging; Just wait and welcome your gentleman or lady with DOG CARE small dog training collar
No more misoperation with security keypad lock; DOG CARE small dog shock collar prioritizes the care for dogs; Compared with other devices, these shock collars for small dogs with remote are carefully designed with a security keypad that allows you to prevent any misfires, making the training work better; Just carry the remote without worrying about accidents; The remote also controls up to 2 collars, so you can work with 2 dogs at one time by having our shock training collar with remote
Intuitive design, portable and easy to use; Unlike those heavy DOG CARE dog training collars, this training collar for dogs is more portable, only half the size of a palm; This dog training shock collar is also designed for easy operation, with an intuitive design that fits beautifully in the palm of your hand; Fingertip-placed controls and thumb dial allow you to adjust the static level quickly; No matter you are a first-time pet parent or seasoned trainer, you will enjoy this intuitive design
1~10 level adjustable for different size dogs; While other shock collars for small dogs with remote are complicated to use with a hundred levels, the static level of this dog training collar with remote is reduced to 10; It's easier for the dog to feel the difference clearly and the training will come out more effectively; Also, this dog shock collar for dogs large breed is size adjustable, whether you have a 15-pound pup or a 100-pound one, you can adjust it to a suitable size for your dogs
Long-lasting battery life; Both remote and receiver are rechargeable; It is easy to recharge the dog training collar with remote via USB from any USB devices or wall outlet; It lasts longer compared to the battery-operated one; The long battery runtime of this DOG CARE dog shock collar is a true lifesaver on those camping or tailgating weekends, with the receiver's battery lasting for up to 15 days in standby mode
It also works as a bark collar and helps you and your dog overcome behaviors, like unwanted chewing, digging, and barking.
A unique keypad lock prevents accidental shock and accidental switch off when your dog plays or rolls against something. A long-lasting battery on a single charge is also a popular attribute.
Ten training levels help owners manage their pet training without the dog becoming immune to one setting. The collar fits larger dogs but is trimmable to make it fit narrower neck sizes.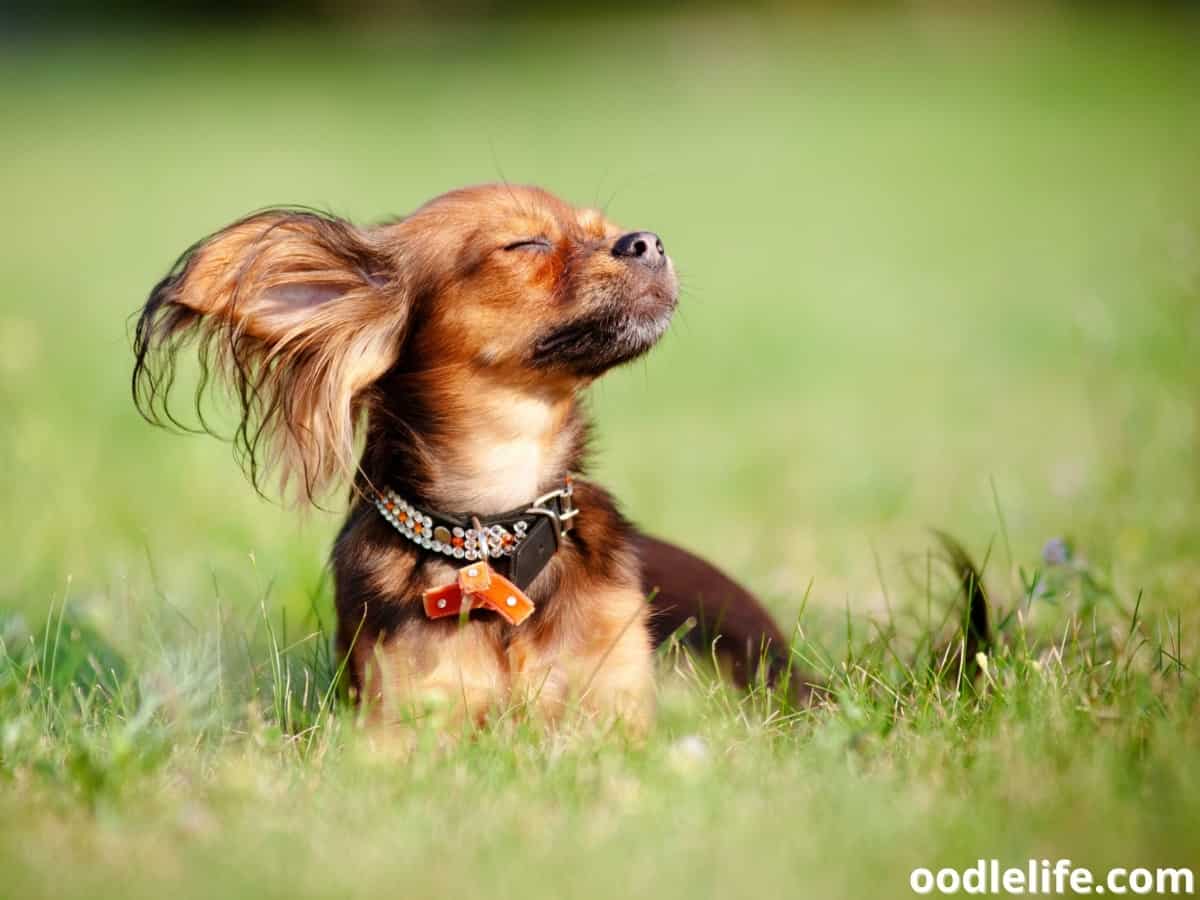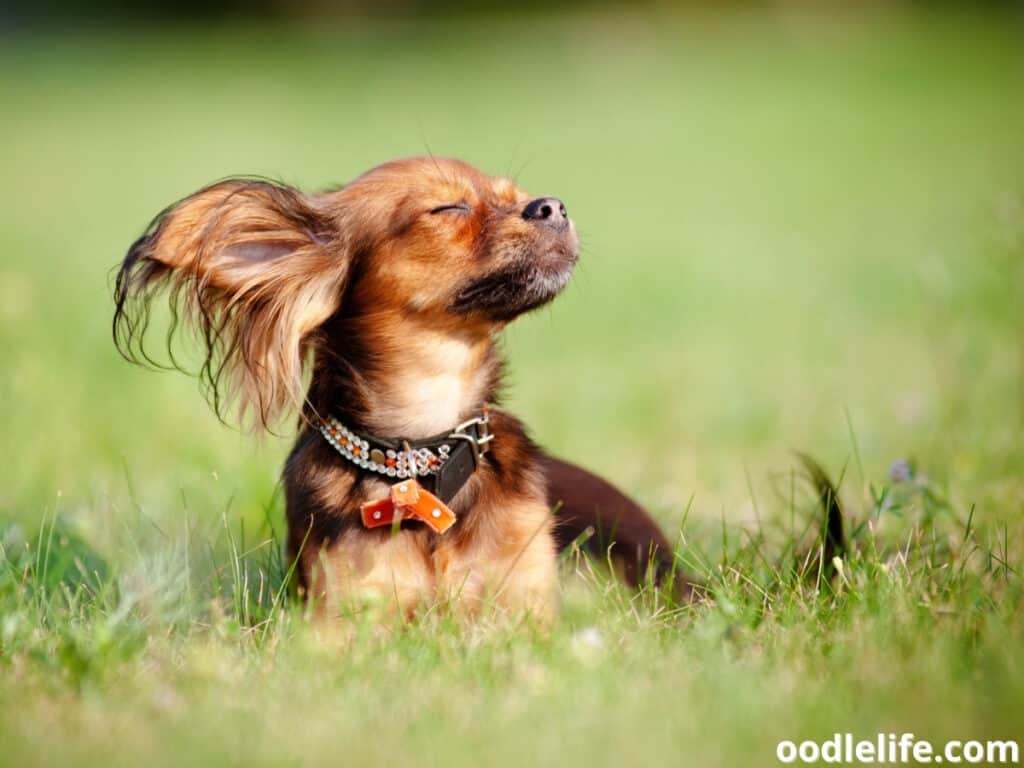 Pros:
15-day battery life
Adjustable/trimmable collar size
Keypad lock
Cons:
No night light
Sticking buttons
Won't work for tiny dog breeds
Key Takeaways
A pet takes time, patience, and practice; allow yourself and your pet to learn from one another. Investing time in a dog is rewarding. It's also important to know that spoiling a dog with love and affection is the easy part, but correcting a dog's bad behavior takes effort.
Keeping a dog entertained is also essential for their health and socialization. Those play times are an excellent time to use training methods and shock collars, like the universal fit Pet Resolve Collar (first pick), which works well for a large segment of smaller dogs.