Ethical Stop Dog Barking Device Reviews (2023)
If your dog had a voice, he would tell you that he's excited, craving attention, he's hungry, or she's bored with her time. And sometimes, excessive barking can cause restless nights and annoyed neighbors.
The best way to treat excessive barking is with an ethical stop barking device. Keep reading if you're unsure where to find your dog's best bark control device.
Best Bark Control Device For Puppies
4 of 5 stars
100% Humane.
Features 4 modes of Ultrasonic impact with a rechargeable battery that lasts for up to 14 days.
Compatible with dogs that weigh between 5-120 lbs.
Safe for dogs aged 6 months to 8 years old.
The STOPWOOFER Ultrasonic Bark Control Device is the best easy-to-use bark control device for new dog owners with puppies. STOPWOOFER uses ultrasonic frequencies to reduce excessive barking behavior and help new owners teach their puppies how to understand basic commands.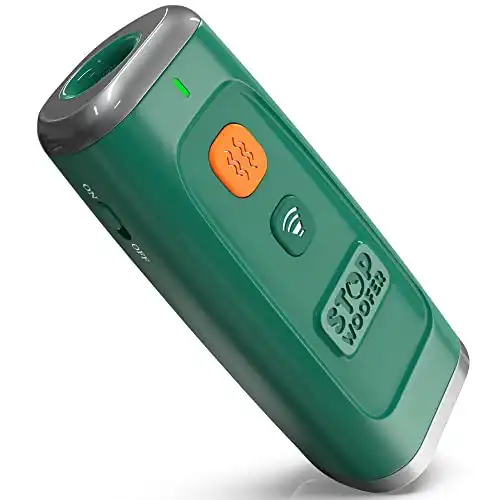 We earn a commission if you make a purchase, at no additional cost to you.
Pros: It is an easy-to-use training tool that complements positive reinforcement training.
Cons: Ultrasonic impact may not stop your dog from barking. Young pups tend to be playful in training.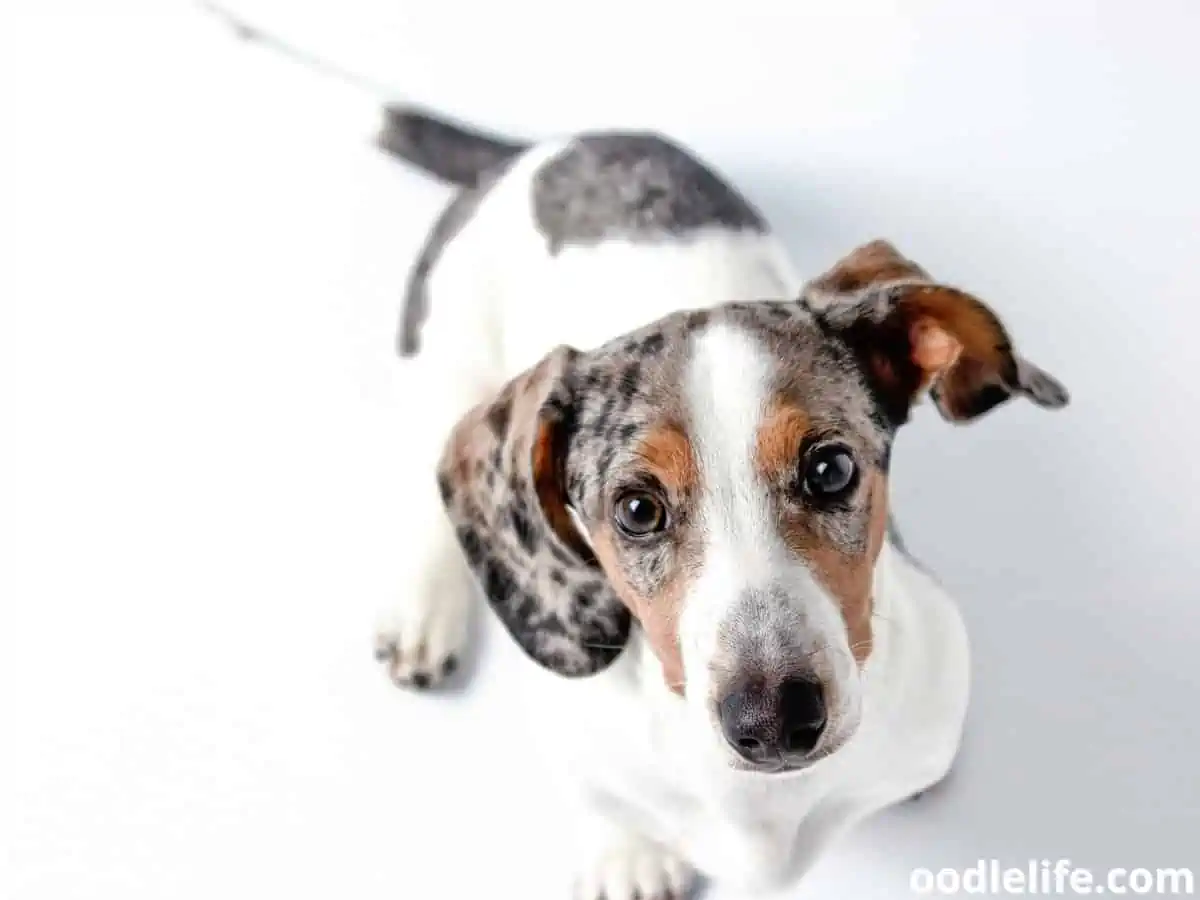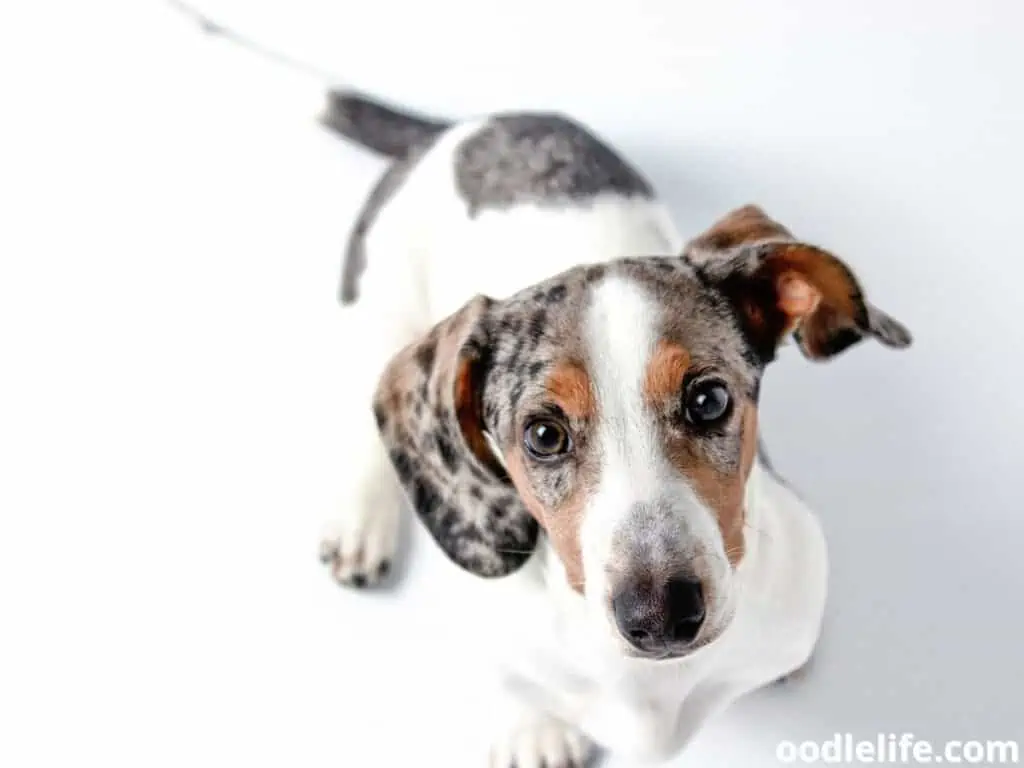 Best Bark Control Device For Dogs That Live With Cats
4 of 5 stars
Features signature 7 adjustable sensitivity and intensity vibration.
Offers 3 training modes of beep, vibration, and e-shock in 64 different patterns.
Fast charging rechargeable battery life for 12 days in as little as 30 minutes.
NBJU Bark Collar is the best dog bark control device for dogs that live with cats and need help improving their communication with their owners and guests.
NBJU Bark Collar for Dogs,Rechargeable Anti Barking Training Collar with 7 Adjustable Sensitivity and Intensity Beep Vibration for Small Medium Large Dogs (Black)
Humane, Effective Anti Barking Helper: The NBJU dog bark collar offers 3 working modes that are customizable with 7 adjustable sensitivity levels, allowing you to select the mode (beep, vibration, or...
Automatic Stop Barking in 0.1 Sec: Use an upgraded smart sensor and premium chip for more accurate detection of your dog's barking. It activates quickly when your dog barks, reminding them to follow...
Scientific and Safe Training Collar: Dog training should be both scientific and safe. The NBJU bark collar is equipped with a protection system that temporarily stops working for 1 mins if it has been...
Quick Charge& Long Battery Life: NBJU Bark collar recharge with high capacity battery, it can be fully charged in 30 mins for up to 15 days of work time, this device has a long enough battery life so...
Comfortable for all sizes of Dogs:The bark collar is light, the collar strap is sturdy and adjustable for the length of the dog's neck( fits for neck sizes 7.8" - 25" dogs around 8 to 120 lbs), this...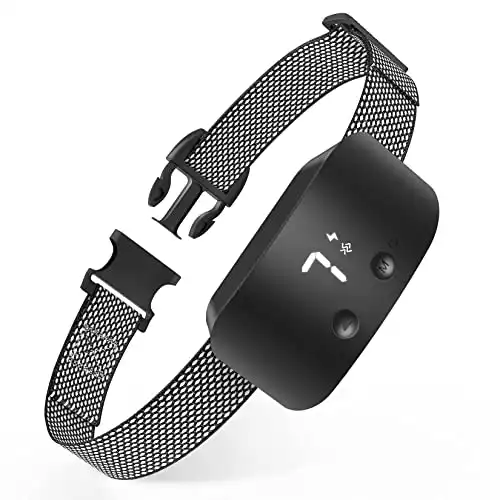 We earn a commission if you make a purchase, at no additional cost to you.
NBJU works best with dogs that understand basic commands to avoid activating the collar e-shock feature. Instead, try the beep and vibration mode to reinforce positive behavior and deter negative behavior at the dog park or house party.
Pros: The vibration feature is compatible with dogs that are deaf or hearing impaired.
Cons: Features the e-shock feature that may burn your dog if left unattended for a prolonged time.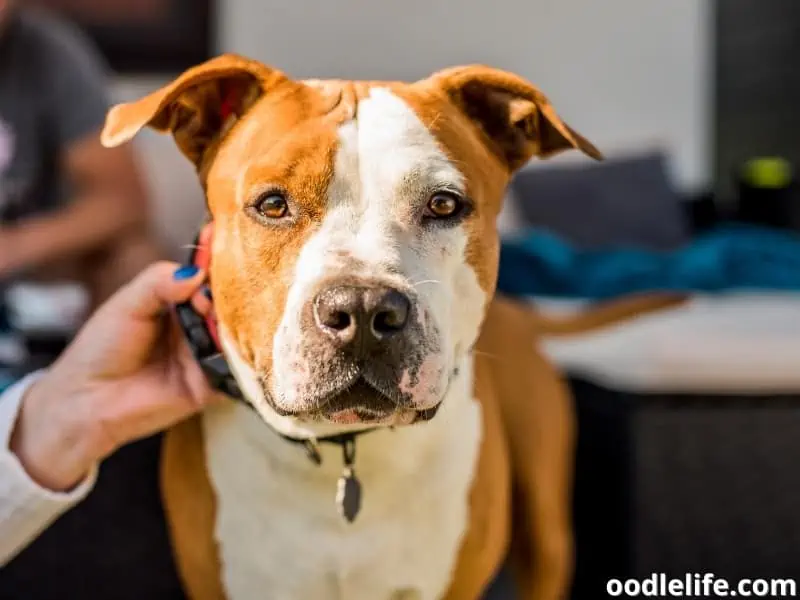 Best Bark Control Device For Your Neighbors Dog
4.5 of 5 stars
100% humane sonic bark deterrent.
Defer barking with adjustable ultrasonic bark control with 3 modes: high, medium, low.
The anti-barking device can minimize excessive barking up to 50 feet.
Includes a weatherproof microphone that detects barking.
WOODMARK can hang outdoors or indoors to prevent your neighbor's dog from excessive barking. First, the microphone detects dog barking in real-time. Then, at the sound of a bark, the Geohee emits an ultrasonic sound that surprises the dog into stopping barking.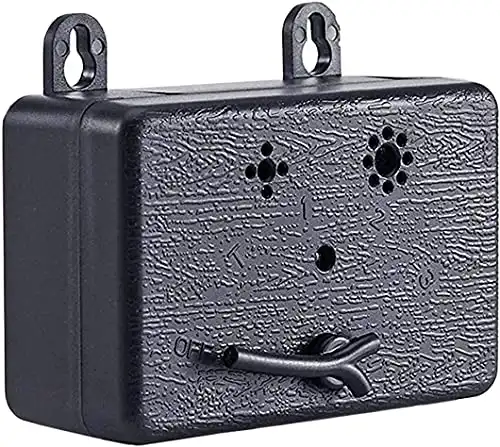 We earn a commission if you make a purchase, at no additional cost to you.
Pros: Wood mark is a long-range bark control device that is perfect for neighbors that want to avoid confrontation with their neighbors.
Cons: The sound may irritate the dog into barking more.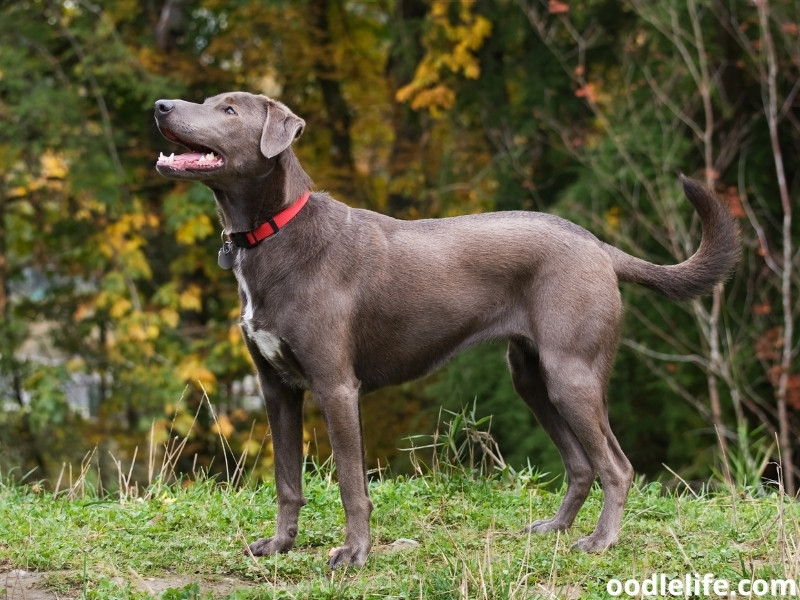 Best Indoor Bark Control Device
3.5 of 5 stars
Features new recording and signature AI audio recognition that distinguishes between background and your dog's voiceprint to prevent false triggers.
Includes 3 adjustable intensity settings: low, medium, and high.
Will detect dogs barking up to 50 feet away.
MODUS Dog Bark Collar features a signature 3-mode irregular ultrasonic frequency that prevents your dog from being fixed to the ultrasound frequency. That means that your dog won't get used to the sound. So you don't have to worry about.
MODUS Automatic Anti Barking Device Indoor, Anti Bark Box, Barking Control Device 3 Modes AI Recognition Tech and Irregular Ultrasound Frequency Stop Dogs from Barking, Safe for Human and Dogs
New Recording and AI Audio Recognition - MODUS dog barking control devices are updated with a new recording function. You could record your own dog's barking sound and the bark box can store the...
3 Adjustable Intensity Settings - The new version of MODUS anti barking device has 3 different intensity settings: Low, Med and High. Med and High level are set with the new function of frequency...
Up to 50 ft. Effective Distance - MODUS bark control device can automatically detect dog barking up to 50 feet away. Then, the anti barking device will automatically emit ultrasonic sounds that only...
Suitable for All-sized Dogs - The MODUS dog barking deterrent is suitable for dogs of all sizes. The bark control device adopted the ultrasonic technology to grab dogs' attention. It works...
Friendly Note - The anti barking device is ineffective to dogs with hearing problems and we don't recommend using this ultrasonic bark control device on dogs under 6 months as it may disrupt the...
We earn a commission if you make a purchase, at no additional cost to you.
Pros: It does not require your dog to wear the device.
Cons: It may disrupt your dog's hearing development if used on dogs under 6 months.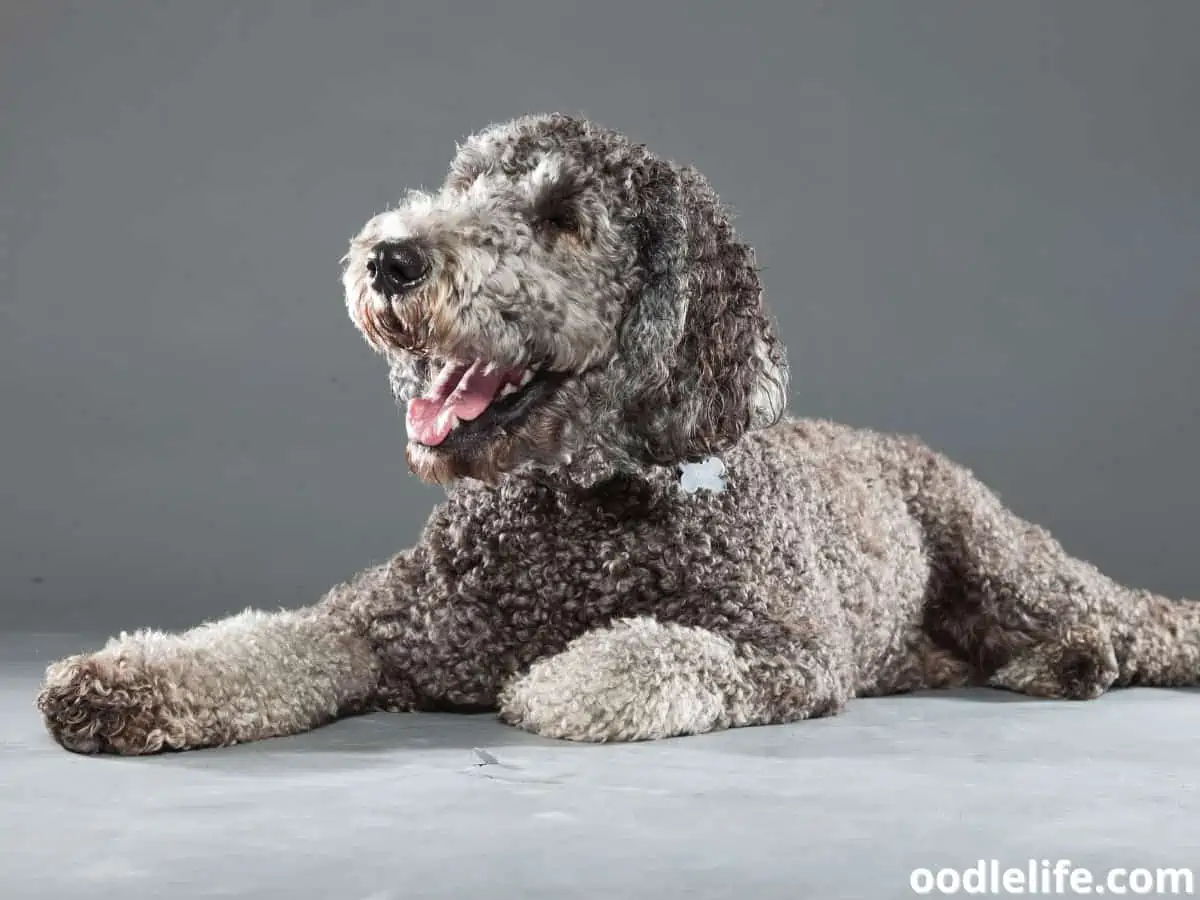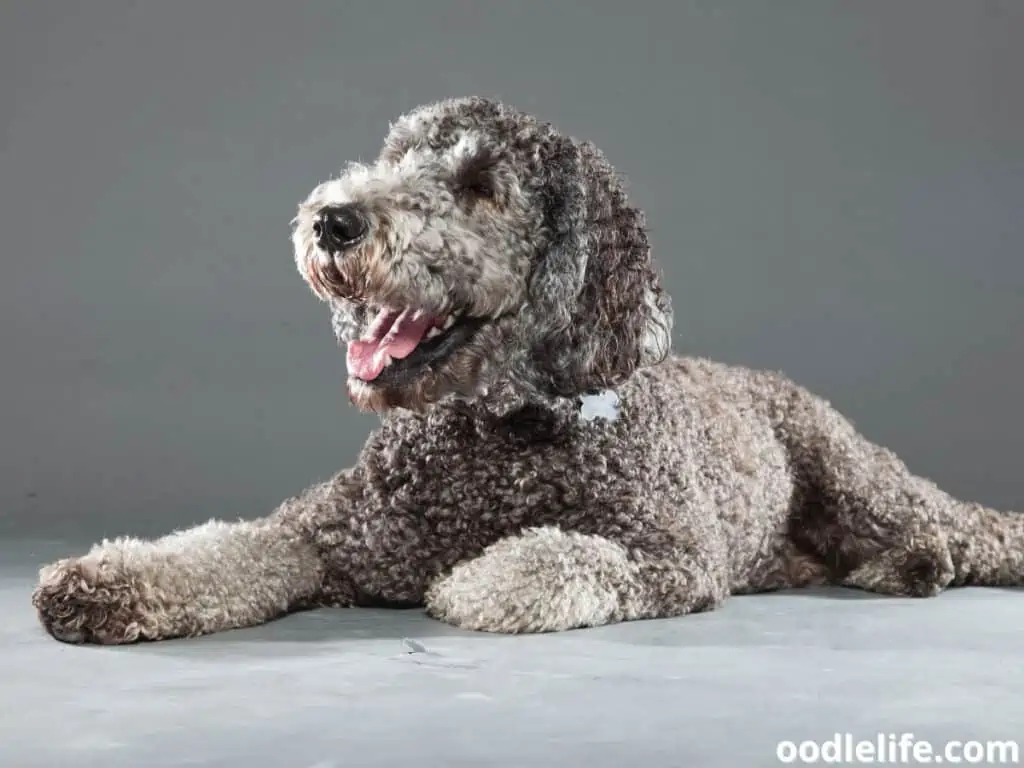 Best Bark Control Device For Training
3.5 of 5 stars
Features ultrasound frequencies that range from 15Hz to 120KHz.
Emits ultrasonic sound at 25KHz as far as 16 ft indoors and outdoors.
Easy to use on dogs between ages 6 months to 8 years.
The MODUS Bark Control Device 2-in-1 Dog Training Tool is the best anti-bark device to train your dog of any size without a collar. The Modus is a manual stop dog barking device that uses a high-pitched ultrasound whistle that only your dog can hear to grab his attention.
MODUS Bark Control Device - Anti Barking Device, 2-in-1 Dog Training Tool, 16.4 Ft Large Control Range, Safe to Use, Dog Silencer Dogs, Ultrasonic Pet Corrector Dog Whistle
Dog Bark Control and Dog Training - Our 2-in-1 ultrasonic anti-bark device provides a safe and effective solution for dog training and bark control. The anti-bark device can effectively train your...
Safe and Suitable for All Sizes of Dogs - The average hearing frequency for dogs ranges 15HZ to 120KHZ. MODUS ultrasonic bark control emits ultrasonic sound at 25KHZ, ensures the sound can grab the...
16.4ft Control Range, Indoor and Outdoor - This ultrasonic bark deterrent has 16.4ft effective control range, which is longer than the normal range 6ft. And its portable design makes it suitable to be...
No Skills Required, Simply Press The Button - MODUS dog training device fits perfectly in your hand. It comes with an adjustable anti-static wrist strap and includes 4 replaceable AAA batteries. No...
Friendly Note - This anti barking device doesn't work on dogs who are hearing impaired. We recommend using this product on dogs above 6 months and under 8 years. Also, at the beginning of use, the dog...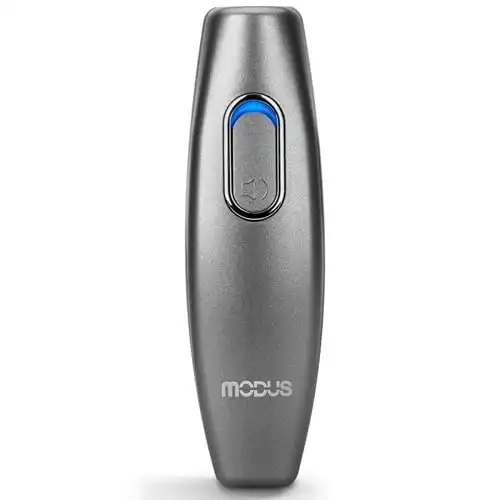 We earn a commission if you make a purchase, at no additional cost to you.
Pros: Perfect for training to control their barking, digging, fights, and more.
Cons: Some dogs find the ultrasonic sound annoying enough to exhibit adverse behaviors if not used properly.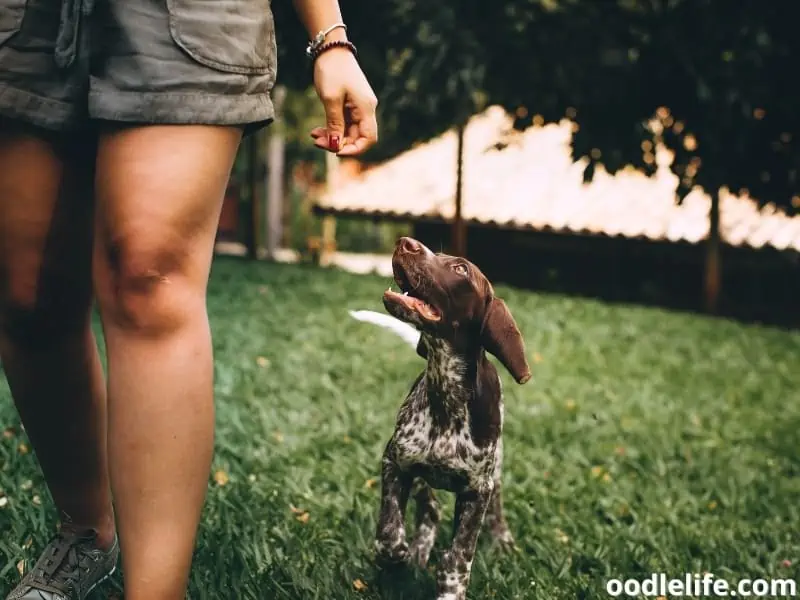 Best Bark Control Device For Medium-Sized Dogs
4 of 5 stars
100% Humane.
Waterproof and submersible up to 5 ft under water.
Features an automatic setting that will find recognize your dog's voiceprint.
Battery life that lasts up to 3 months.
It fits neck sizes up to 27 inches and weighs over 8 lbs.
PetSafe Basic Bark Control Collar with Static Correction is the best training device for medium-sized dogs. PetSafe is an easy-to-use bark collar that requires no programming using its signature voiceprint recognition. The safe collar allows the owner to control 6 adjustable levels of static correction with a vibration sensor that prevents false penalties.
PetSafe Basic Bark Control Collar for Dogs
SAFELY STOPS BARKING: 6 levels of automatically adjusting static correction help teach your dog to stop excessive barking.BATTERY POWERED: Uses PetSafe RFA-67 battery (included) (averages 3-6 months)SIZING: Collar fits dogs 8 lb and up and the adjustable strap fits pets with a neck size up to 27 in
WATERPROOF COLLAR: Train in any environment, indoors or out, with the waterproof collar up to 3 ft
BATTERY POWERED: Uses PetSafe RFA-67 battery (included) (averages 3-6 months)
SIZING: Collar fits dogs 8 lb and up and the adjustable strap fits pets with a neck size up to 27 in
BARK SOLUTIONS YOU CAN TRUST: For 25 years, we have been the trusted brand in creating safe, high-quality, training products to help you and your pet live happy together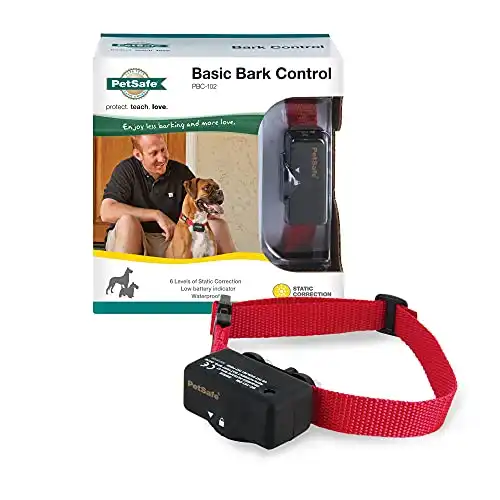 We earn a commission if you make a purchase, at no additional cost to you.
Pros: Includes an automatic safety shut-off after 50 seconds.
Cons: May cause burns to the skin.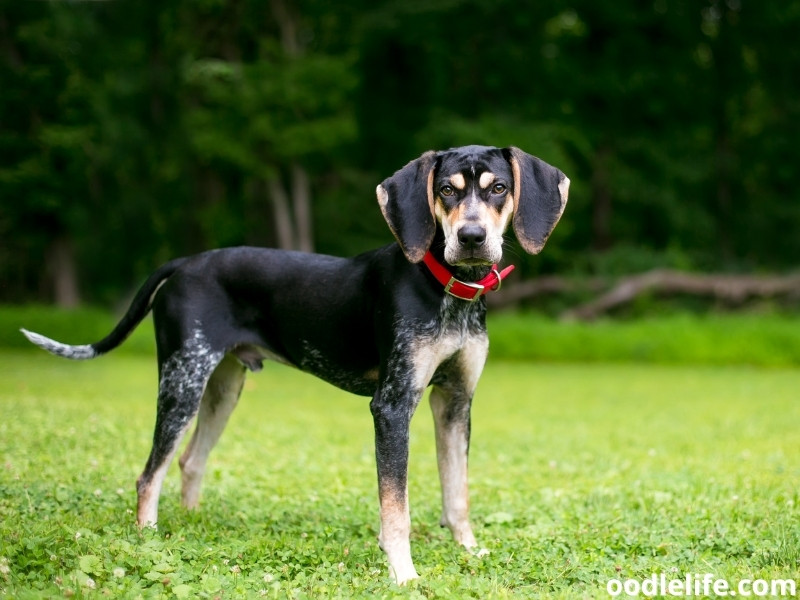 Best E-Collar Bark Control Device For Sport
4.5 of 5 Stars
Features weatherproof DryTek technology.
Rechargeable lithium-ion battery with over 50 hours of battery life per charge.
Supports training within a 500-yard range.
SportDOG is the best economical stop dog barking device for dogs that train to hunt in the field and work dogs to develop sports training in all terrain and weather.
SportDOG Brand 425 Remote Trainers - 500 Yard Range E-Collar with Static, Vibrate and Tone - Waterproof, Rechargeable - Including New X-Series, Black (SD-425X)
500 YARD RANGE: e-collar that can support training up to 3 dogs with the same remote with purchase of additional collars (SDR-AXS). For dogs 8 pounds or larger with neck sizes 5" - 22"..Product...
NO LOOK OPERATION: Designed for ease-of-use and no look operation while offering more levels of stimulation which allows for more customized training.
TONE, VIBRATE, AND STIM: This electric e collar offers 21 levels of static stimulation with medium/high ranges. Option to train with vibration (buzz) and tone (beep), too.
WATERPROOF: Submersible to 25 feet using DryTek technology.
RECHARGEABLE BATTERY: Lithium-ion batteries charge in 2 hours and last 50-70 hours per charge. System has low battery indicators.
We earn a commission if you make a purchase, at no additional cost to you.
SportDOG systems can be customized training sessions with buzzing vibration, beeping tones, or 21 adjustable static stimulation levels.
Pros: Incorporated DryTek Waterproof Technology is submersible in water up to 25 feet.
Cons: It may cause damage to your dog's skin if the collar is too tight, causing the probes to rub against your dog's skin.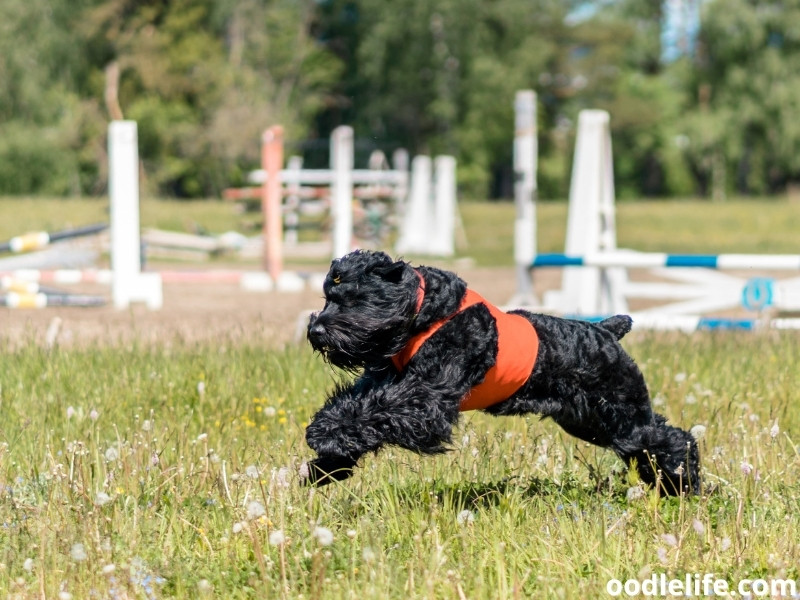 Best Ultrasonic Bark Control Device For Walking
4 of 5 Stars
Includes ultrasonic, undulating, and irregular sound wave frequencies.
Rechargeable 300mah battery that lasts up to 12 days.
Suitable for outdoor use to up to 16.5 feet.
ELOPAW Dog Barking Deterrent Device is the best device bark deterrent tool for dogs that like to take leisurely walks. ELOPAW features a beep function that owners can press before each ultrasonic emission, redirecting their dog's ultra-curious behavior. In addition, it allows you to help your dog become accustomed to the beeping sound instead of a high-pitched ultrasonic sound that acts like a pinch to your dog's ears.
ELOPAW Dog Barking Deterrent Devices Rechargeable Ultrasonic Dog Bark Deterrent 3 Frequency No Bark Control Devices 16.5 Ft Range Dog Whistles That Makes Dogs Stop Barking
Dog barking deterrent devices is more effective and human dogs can hear a wider frequency range from 15hz to 120khz this bark control device emits ultrasonic sound at 25khz which is above the hearing...
3 different frequency wave to avoid dogs getting used to simple frequency this ultrasonic dog bark deterrent can emit ultrasonic sounds with 3 different sound waves stable frequency undulating...
Recharge dog barking control device with low power light Indicator this sonic bark deterrent usb rechargeable 300mah battery full charge in 1 to 2 hours for about 12 days of regular use saves you the...
Convenient outdoor use of 16.5 feet controls range with dog barking deterrent devices just fits nicely in your hand and comes with an adjustable wrist strap the dog barking deterrent devices of this...
Human beep fucntion for conditioned reflex this dog barking deterrent devices has a beep function button you can press the beep button before every ultrasonic emission both beep and ultrasonic will...
We earn a commission if you make a purchase, at no additional cost to you.
Pros: ELOPAW is compact and easy to adjust on your wrists for day and night use.
Cons: The whistle included is generic. It is not an ultrasonic whistle.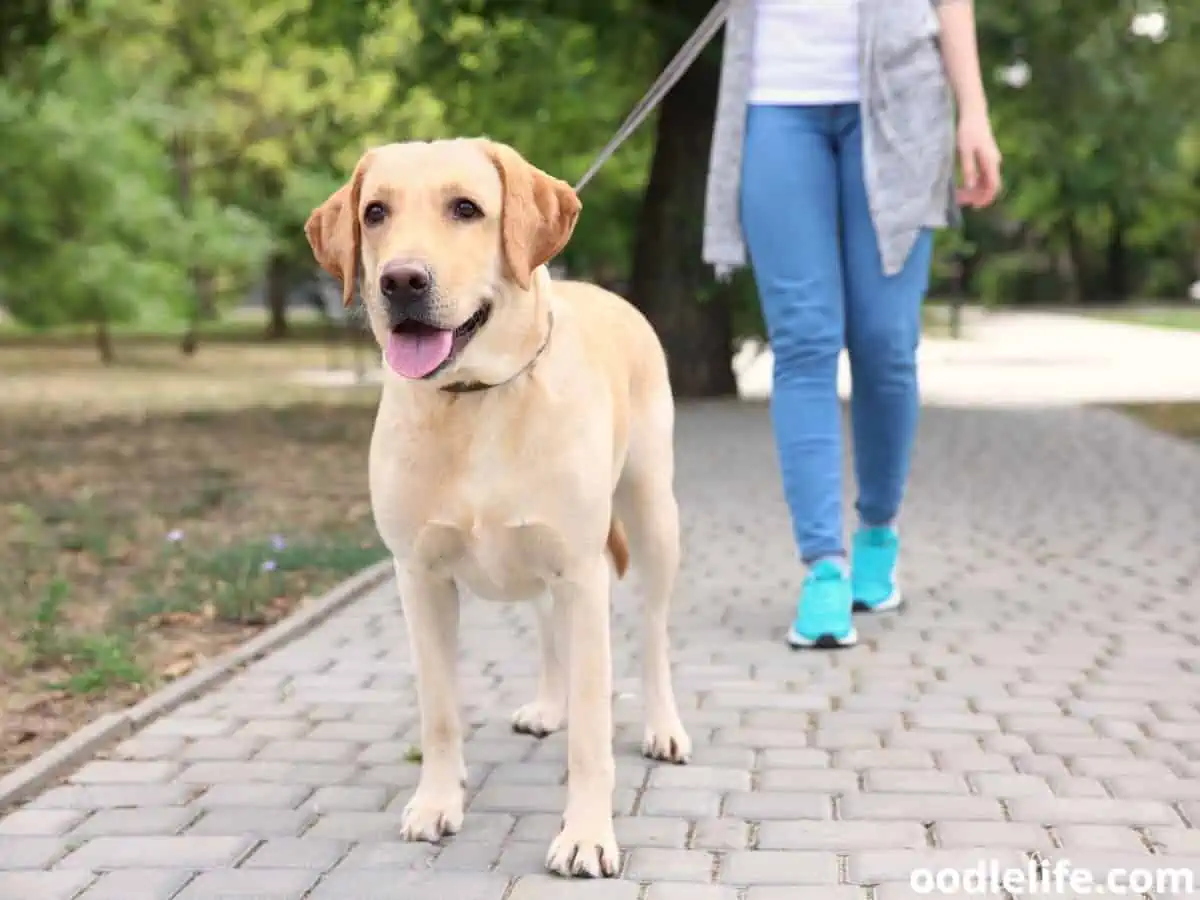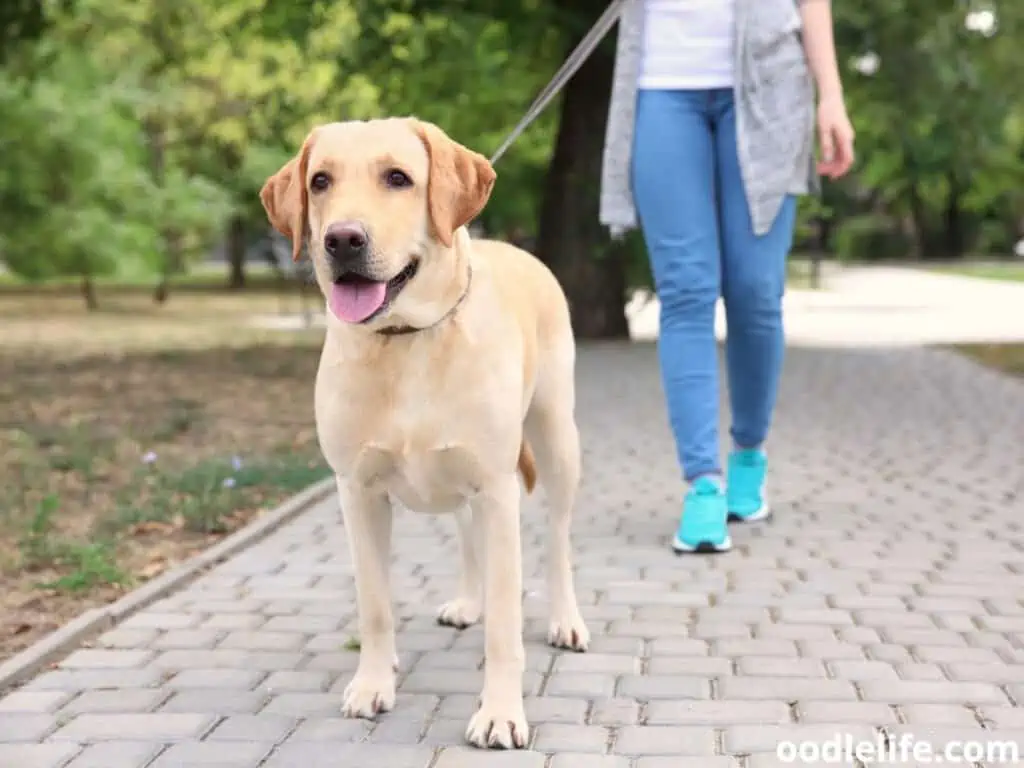 Best Bark Control Device Citronella Spray-No-Shock Bark Collar
3.5 of 5 stars
100% humane pain-free dog barking deterrent.
Detects and distinguishes dog barks and vocal cord vibration from outside external noises.
Includes harmless and non-offensive citronella bark collar with lemon spray
When you've tried vibration, ultrasonic, and e-shock bark deterrent options, choose Citronella Spray Bark Collar for the next best and healthiest alternative. Lemon Spray can help your dog remember and train faster by training all of his senses: smell, sound, sight, and taste.
Auto Citronella Spray Bark Collar for Dogs, [Include 1 Refill NO Remote] Spray Dog Training Collar, Humane Citronella Dog Barking Collars, Safer Anti Barking Control Collar for L/M/S Dogs
[ Humane & Free from Remote]: Our anti-dog barking collar can intelligently detect the dog's bark and automatically release harmless citronella spray to stop barking. Only barking twice or more in 10...
[ Adjustable Sensitivity & Sprays Volume ]: Our citronella bark collar has 2-level sensitivity and 2-level spray volume. You can choose the most suitable combination of sensitivity and spray volume...
[Charging & Not Waterproof]: Due to the built-in lithium-ion polymer battery of the barking collar, it only takes 1.5~2.5 hours for normal use for 10 days. Do not use while bathing or swimming.
[ Suit For Most of the Dogs ]: We send 2 Reflective Nylon Collar Strap that can allow you to change your dog's appearance. The adjustable strap(3-21inch) makes the stop barking collar fits all sizes...
[ Perfect After-sale Service ]: It is recommended to refill citronella each time before use. This collar cannot match the remote control. If you have any questions, please connect us, our professional...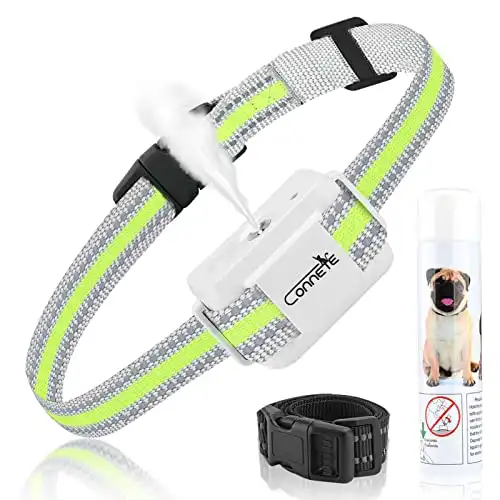 We earn a commission if you make a purchase, at no additional cost to you.
Pros: Complements basic command and off-leash dog training.
Cons: This bark collar is unsuitable for dogs with excessive barking or destructive behavior. The spray has a limit to how much lemon juice it contains. Dogs that bark a lot use more lemon spray than dogs that are quiet and easy to train.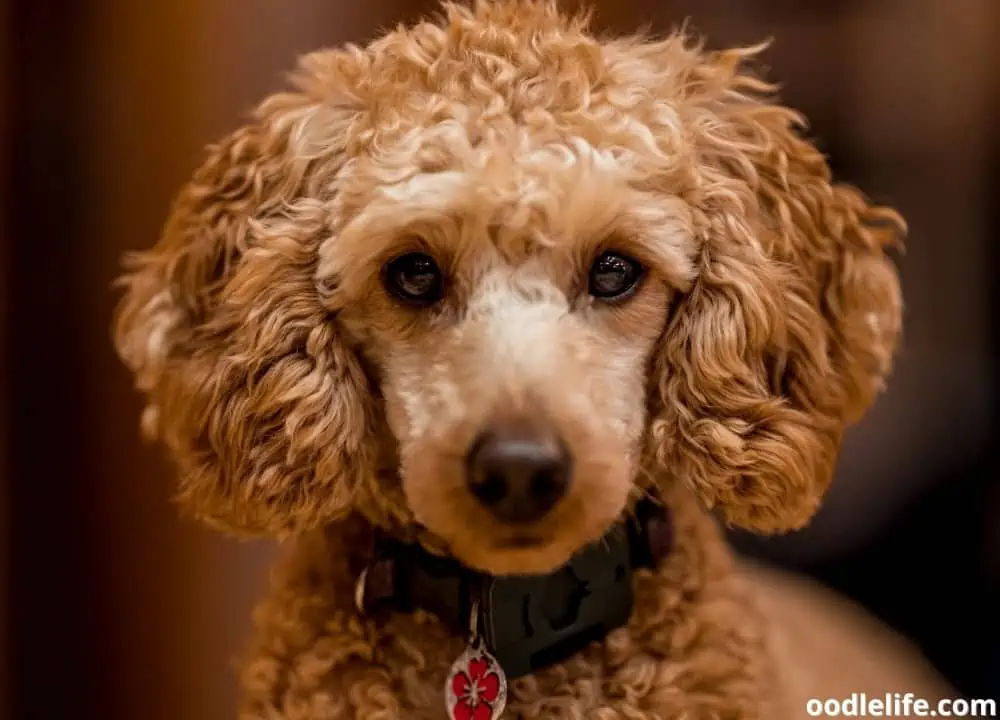 Best Bark Control Device For Customization
4 of 5 stars
Customize the sound, vibration, and stative level through the Dr. Trainer app on your phone or watch.
Features a smart triggering sensor that distinguishes your dog's bark from outside noises.
IP68 waterproof level design with a rechargeable battery that lasts up to 15 days.
Dr. Trainer B1sPro Bark Collar with App is a one-of-a-kind bark E-collar that lets you record your dog's every bark, even when he's not around on IOS & Android devices. With the app, you can set custom voice commands and adjust the level of sensitivity at a distance using a Bluetooth connection.
Dr.Trainer B1sPro Bark Collar APP&Watch Control, IP68 Waterproof Dog Training Collar with Smart Progressive Correction & Barking Report & Custom Sound, 0~99 Static Level Rechargeable Anti ...
【3 Training Modes Bark Collar】Dr.Trainer B1sPro anti-barking collars provide 3 extremely efficient and safe training modes(Sound &Vibration & Static). According to your Pet's weight and breed, the...
【Smartphone APP / Watch Control & 0~99 Static Level Adjustable】The B1sPro Bark Collar can set the level of Sound & Vibration & Static through the Phone APP and more. The Watch APP can control the...
【Intelligent Progressive Mode & Barking Report & Protection Mode】The B1sPro dog training collar can be tailored for your dog's needs, and you can adjust Each Level (sound&vibration& static),...
【No False Triggering & Fits All Sizes Dogs 7-22Inches 6-150 Lbs】The Dr.Trainer no bark collar is equipped with a smart triggering sensor, it will detect and filter, and there are 100 Decibel...
【Rechargeable Long-Lasting & IP68 Waterproof】The dog bark collar gets fully charged only in 40 mins, works about 15 days under normal circumstances. The IP68 waterproof level design can be used in...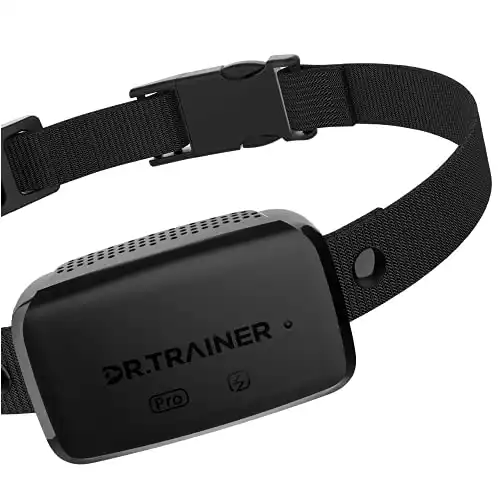 We earn a commission if you make a purchase, at no additional cost to you.
Pros: The Realtime Bark Report lets you record every bark even when your dog is not around. And with the app, you can stay connected with your dog's barking regressions.
Cons: The collar cannot detect crying or howling when you're away. The collar can only notice barking.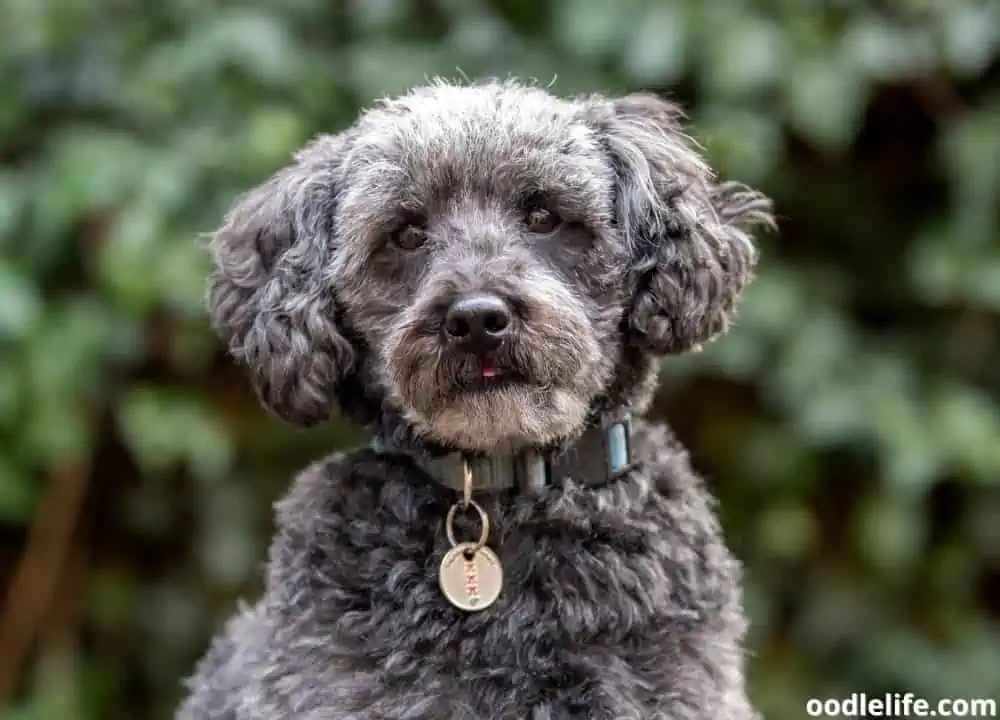 What Is a Bark Control Device?
A bark control device is a device that helps you influence your dog's behavior positively.
Ultrasonic Device Collars
Ultrasonic devices can hear your dog's bark and sense vibration in your dog's throat to administer ultrasonic sound waves.
Although the high sound frequency will not typically harm your dog's ears, the high-pitched ultrasonic sound can irritate some dogs into destructive behavior.
Signs that your dog may be hearing ultrasonic sound waves:
Head tilting, tail tucking, or ear dropping.
Avoids certain objects.
She appears to be agitating for no reason.
Consult a veterinarian or professional dog trainer before choosing a suitable ultrasonic device for your dog.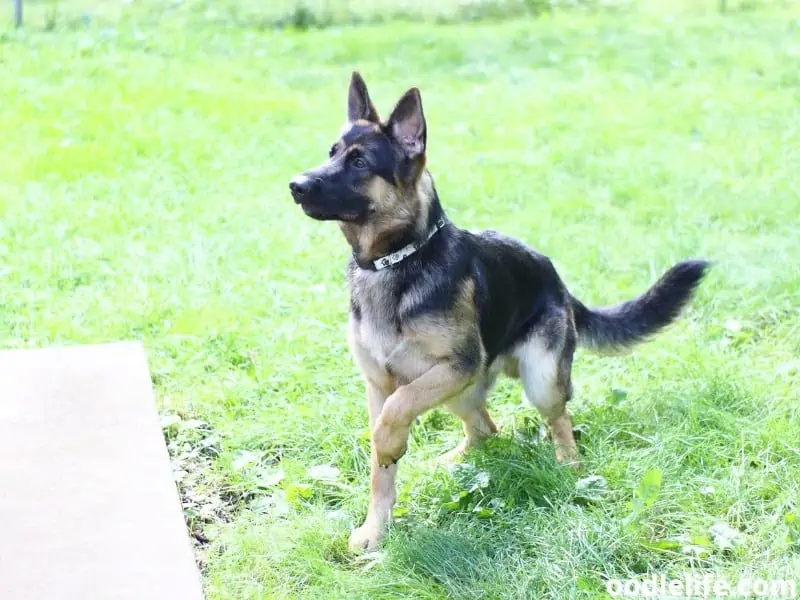 Spray And Gas Collars
Spray collar emits an annoying spurt of air, citronella, or lime when your dog barks interrupting and correcting barking behavior. Therefore, spray collars are unsuitable for extended use and require regular refill maintenance. 
Benefits of spray collars include:
Manual remote and automatic options.
100% humane using natural oils.
Variable sensitivity levels that easily strap around your dog's neck.
Book an appointment with your veterinarian to find the best spray collar for your dog.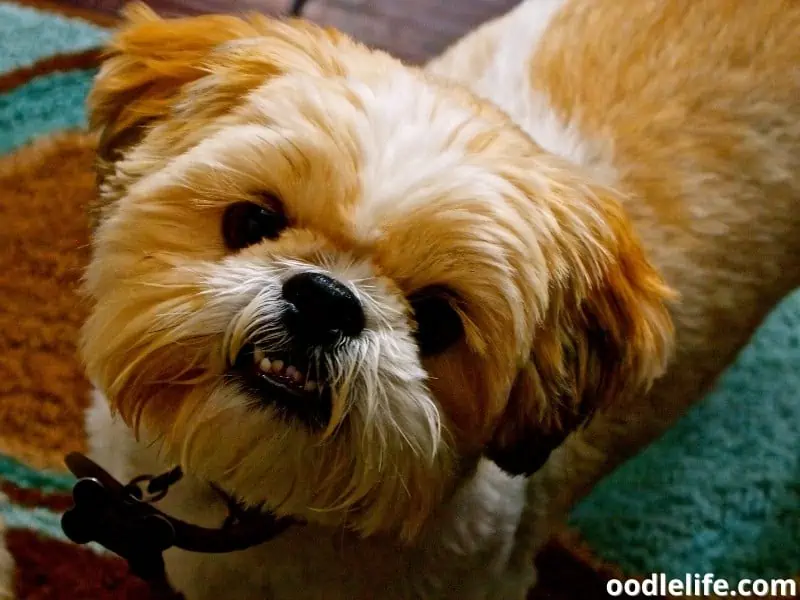 E-Collars
E-collars use slight static stimulation or shock to correct your dog's barking behavior. Despite the myth of E-collars being dangerous and posing severe harm with burns and trauma responses, E-collars can save your dog's life when used correctly. 
Remote Dog Training Collar, Vibrate, Waterproof, Rechargable
🐾 FANTASTIC NEW UPGRADE SINCE MAY Is your dog misbehaving and you want a well behaved pet with minimal fuss? Don't let your dog get side-tracked by other animals or misbehave in public. Teach your canine companion how to act properly with arguably the top training collar on the market!
🐾 SUPER LONG RANGE AND MEMORY; Super long 3/4 Mile range
🐾 VARIABLE SHOCK & VIBRATION LEVELS, ANTI BARK & LIGHT for NIGHT MODE; train up to 3 dogs at once (additional collars required) with up to 10 levels of continuous or momentary shock (hold down button to shock for 1 up to 8 seconds, ideal for emergencies!) vibrations, or beeps
🐾 WATERPROOF CONSTRUCTION; does your dog love to run outside or swim?Completely waterproof and can be fully submerged without damage!
🐾 LONG LASTING BATTERY & WARRANTY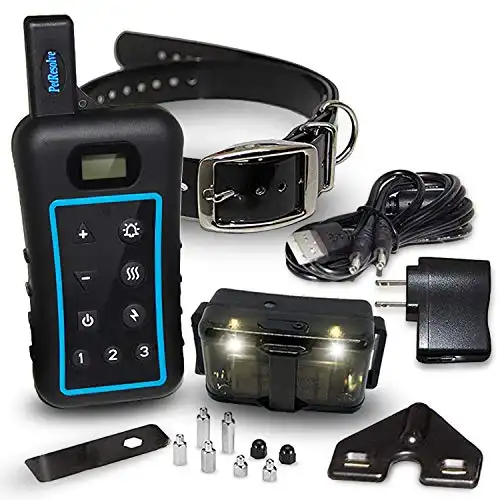 We earn a commission if you make a purchase, at no additional cost to you.
3 Reasons to Use an E-collar:
High-quality E-collars are the best bark different solution that delivers gentle punishment and they won't burn or harm your dog.
Consult a professional trainer to choose the best E-collar for you.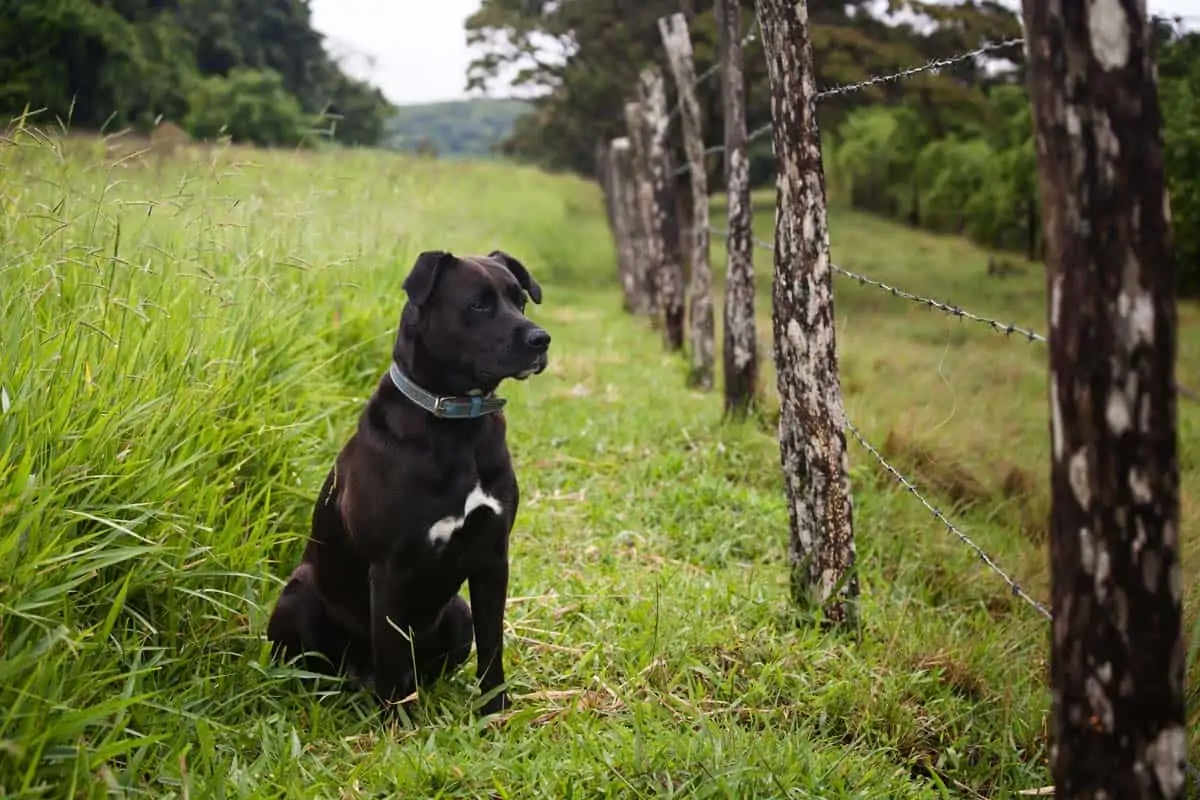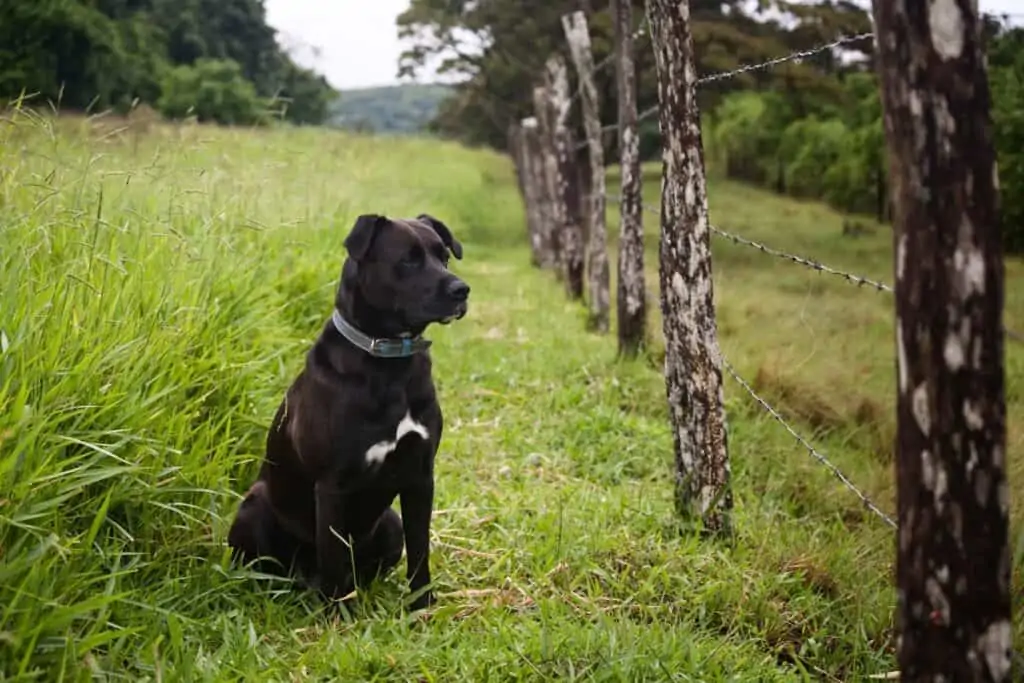 Are Bark Control Devices Cruel?
Bark control devices are not cruel when applied and used correctly. However, if your dog is barking due to separation anxiety, old age, and destructive behavior, bark control devices can negatively impact these preexisting conditions.
Punishment reinforcement can increase negative behaviors in dogs with anxious personalities and traumatic rescue stories. However, dogs can have long-lasting behavior corrections when combined with positive reinforcement training.
Signs that a bark control device is a good option for you:
Ineffective obedience training for your puppy.
Your dog is increasingly territorial.
Unwanted behavior.
Before putting your dog on any regime, consult a professional trainer or your local veterinarian.