The 5 Best Vibration Collars for Dogs (2023)
Training a puppy or dog to stop barking excessively or refrain from showcasing destructive behavior can be time-consuming for some owners. However, plenty of tools can help them streamline the process.
If you're not a fan of shock collars, consider using a vibration collar for your dog's training regimen. Vibration collars are essential for stopping your dog from barking without harming them, especially if they're nervous. Some owners find them essential for training deaf dogs or getting their attention.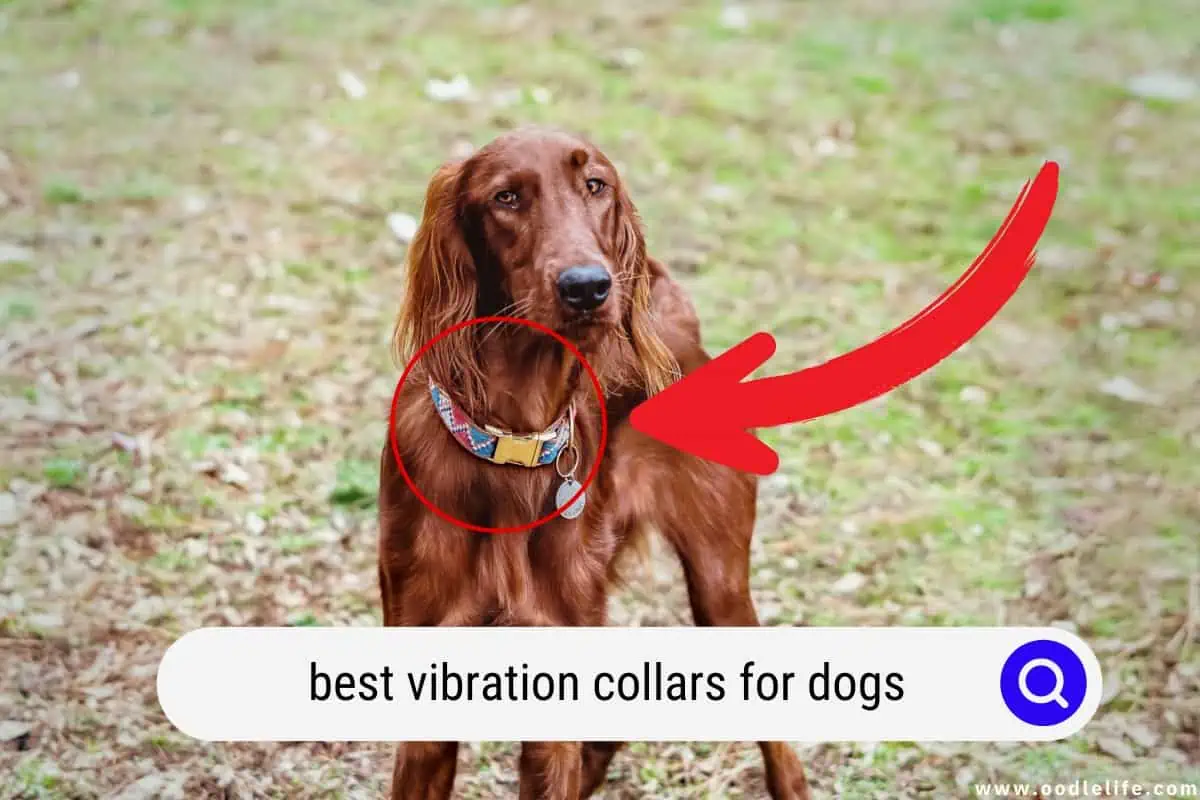 If you're interested in using the best vibration for dogs for training your furry companion, check out this list of my top five options. Each vibration collar has advantages and disadvantages, so you should consider each while deciding on your favorites.
Best Overall Option – Ropetty Dog Bark Collar
First up on this list is the Roppetty Dog Bark Collar, the top pick for the best vibration collar for dogs. It's suitable for most dog breeds, as small as eight pounds and as large as 120 pounds.
Ropetty Dog Bark Collar,No Shock Collar for Dogs Rechargeable No Bark Collar with Beep Vibration,Adjustable Sensitivity,Waterproof Anti Barking Device Dog Training Collar for Small Medium Large Dogs
🔰【Dual Vibration Mode】This upgraded dog bark collar equips with dual vibrating motors, provides 2 effective and humane training modes: Vibration Mode&Strong Vibration Mode for you to solve an...
🔰【Advanced Smart Dog Bark Recognition Chip】 Smart bark collar for dogs equipped smart sensor is designed with an advanced recognition chip with exclusive triggering technology, it will...
🔰【Adjustable Strap Size】 The strap of our no shock dog bark collar is adjustable which fits Mini/Small/Medium/Large dogs ranging from 8 to120lbs. The material and technology of this shock...
🔰【Rechargeable & IP67 Waterproof】 The power consumption of this electric dog bark collar for large dogs is quite low and the built-in 480mAh lithium battery is quite durable, 2-3 hours fully...
🔰【Exclusive smart test mode】The no shock bark collar for dogs is designed for no-pain correction with enhanced vibration and tone technology. This advanced version is also designed with our...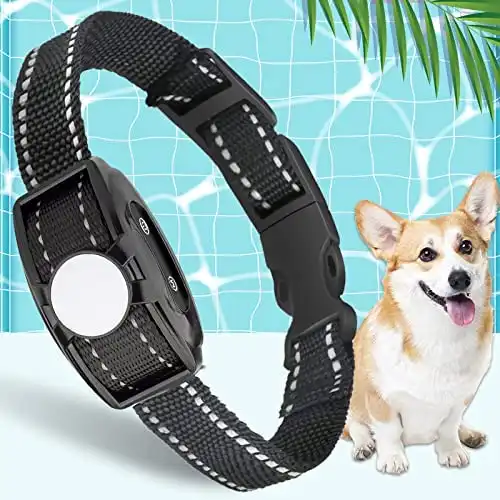 We earn a commission if you make a purchase, at no additional cost to you.
It's made with soft yet durable nylon material that won't chafe your dog's neck when used. It has white reflective stripes that enhance your dog's visibility at any time of the day.
The Ropetty incorporates a smart sensor that detects your dog's bark, preventing it from accidentally activating when other loud noises in the surrounding area.
The collar's LED screen flashes when its battery begins to run out. Each vibration mode has five intensity settings, giving owners plenty of options for managing their dog's behavior while training.
Since it isn't a remote-controlled model, you'll need to adjust the vibration settings manually.
Pros:
Suitable for small, medium, and large breeds
Reflective stripes for enhanced visibility
Detects your dog's bark while filtering out other sounds
Two vibration modes with five intensity levels
Cons:
It isn't remote-controlled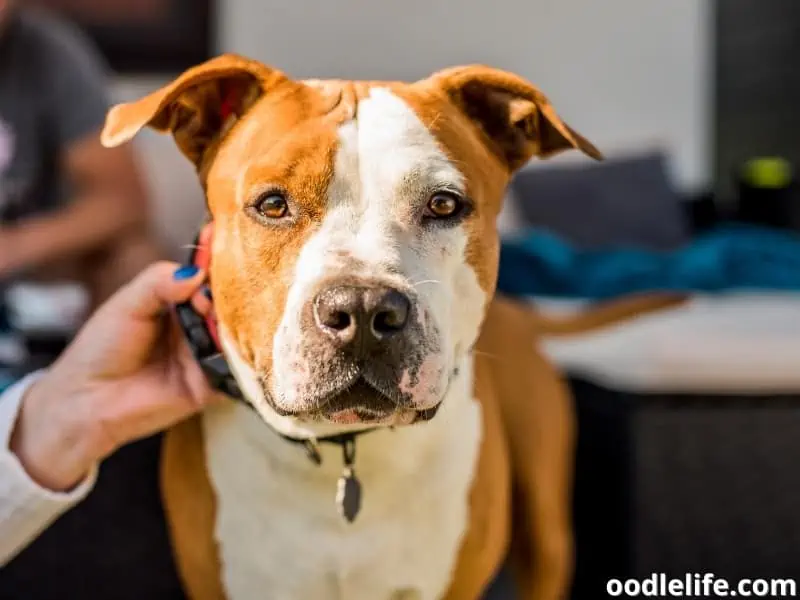 Best for Matching Barking Intensity Level – BarkMute Ultrasonic Vibration Bark Control Collar
The BarkMute is an excellent model for dog owners looking for a vibration collar catered to their dogs' barking intensity. This model increases its vibration duration until a dog stops barking, turning off after 30 seconds.
BarkMute™ Ultrasonic Vibration Bark Control Collar
No pain or stress: BarkMute uses ultrasonic vibrations to gently correct behavior
7 progressive levels: Starting with sound only, and gradually increasing in intensity to sound + vibration to help correct excessive barking
Adjustable sensitivity: BarkMute can be adjusted to match with your dog's barking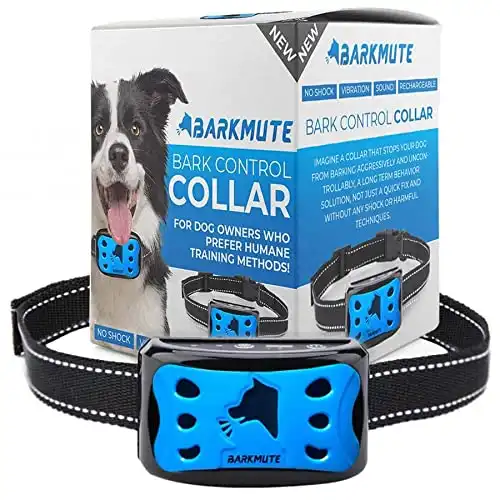 We earn a commission if you make a purchase, at no additional cost to you.
Owners can charge the BarkMute wherever they go with its USB-charging capabilities. It has excellent waterproof properties, so owners don't have to worry about it getting damaged from the rain.
Although the BarkMute is easy to adjust on most small and medium dog breeds, it might not fit dogs with neck sizes over 22 inches.
Pros:
USB-chargeable
Excellent rain and waterproof properties
Increases vibration duration until barking stops for 30 seconds
Cons:
Too tight for dogs with neck sizes over 22 inches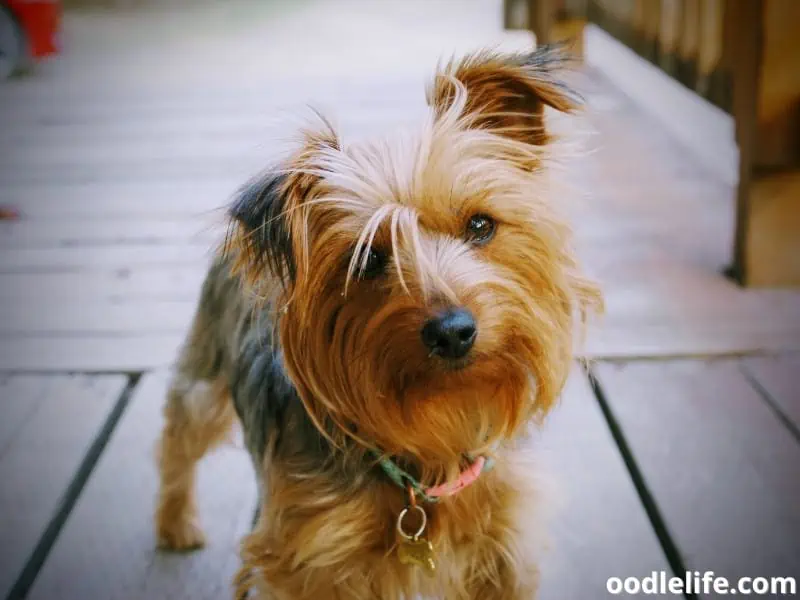 Farthest Remote Control Range – Paipaitek No Shock Dog Training Collar with Remote
Are you having trouble finding the best vibration collar for dogs who are a bit unruly and love running off? The Paipaitek's remote control can operate within a range of 1,640 feet, making it an ideal option to use at the beach or park.
Paipaitek No Shock Dog Training Collar with Remote Vibration Beep Collar for Deaf Puppy Dogs Waterproof Rechargeable Humane Dog Widgets Training Collar
HUMANE NO SHOCK DOG COLLAR - This vibration collar is no-shock and no- prongs, using buzz/beep/sound and vibration to distract your dog without hurting him, safe and effective dog training collar is...
EASY TO ADJUST TO FIT YOUR DOG - Whether your dog is barking wildly, chasing vehicles, chewing on baby toys, digging in the garden, biting, stealing food in the kitchen, swooping on prey, running...
WATERPROOF DESIGN FOR ANY WEATHER - IPX7 waterproof collar allows your dog to swim and play in the rain. 1600 feet of remote control is perfect for backyard, park or beach training. 1 remote control...
YOU CAN GET 2 STRAPS - Reflective black TPU + blue nylon,the strap is durable Enough to withstand any movement of the dog.the length of the strap can be adjusted according to the size of the dog's...
12 MONTHS SELLER WARRANTY,BUY WITH CONFIDENCE -Our pet training collar are popular all over the world,We have a strong confidence that these training collar can help most of the pet owners to train...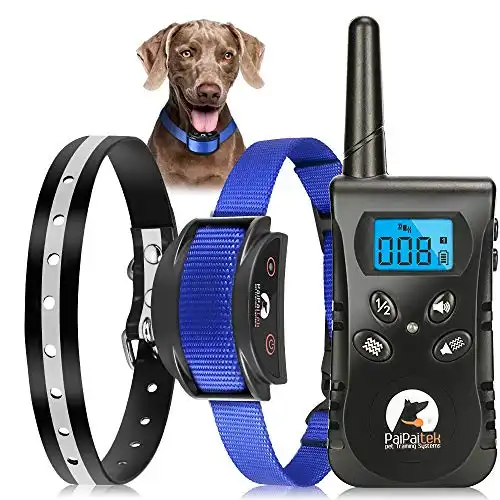 We earn a commission if you make a purchase, at no additional cost to you.
The collar is easy to adjust, making it ideal for most small and medium-sized breeds with a neck size of 15 to 22 inches. Its design doesn't incorporate prongs that dig into a dog's neck, providing extra comfort while withstanding any jerky movements.
The remote's tiny buttons make it hard for some users to adjust its vibration settings. It can become prone to turning off randomly, even after charging completely.
Pros:
1,640-feet remote control range
Ideal for small and medium breeds
Adjustable
Snug, prong-less design
Ideal for dog necks measuring 15 to 22 inches
Cons:
The remote can be hard to operate
Turns off randomly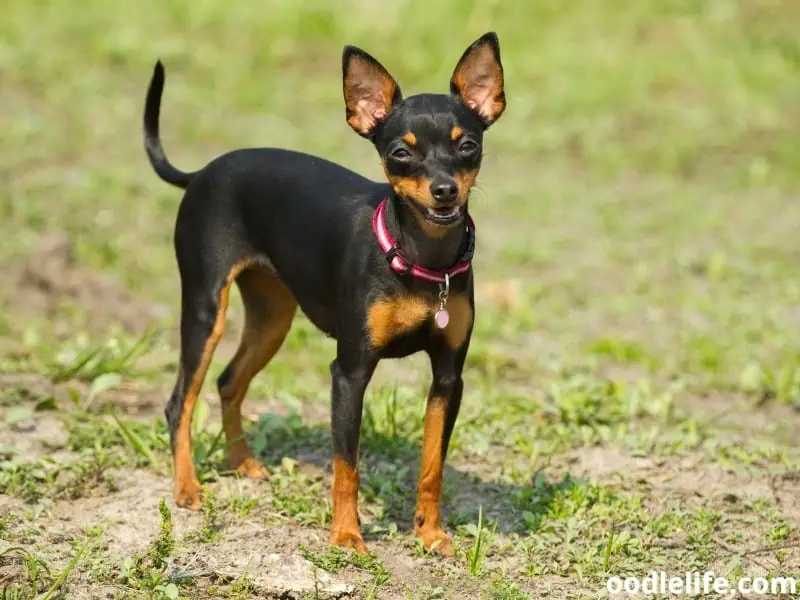 Best Option for Small Dog Breeds – Trulox Shockless Vibrating Bark Collar
The Trulox is the perfect model for dog owners looking for the perfect vibration collar for smaller breeds up to 15 pounds. The lightweight nylon collar's bright green stripe and reflective white stripes enhance a dog's visibility when worn. It comes with silicone prong covers that provide extra comfort for dogs with sensitive or sore skin.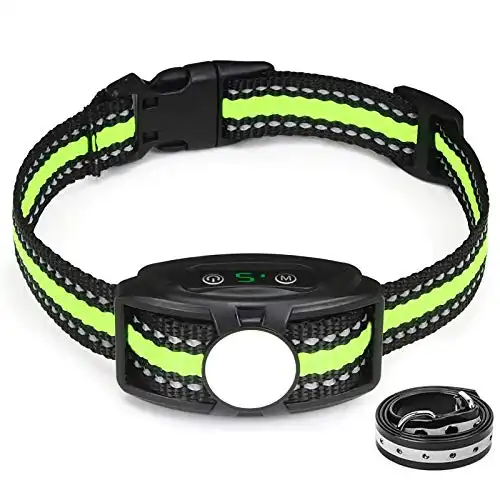 We earn a commission if you make a purchase, at no additional cost to you.
Owners can set the collar to a standard or strong vibration mode, depending on what they need to use for their dogs. Charging this model for two to three hours gives the Trulox enough power to last ten days. The LED display is easy to read and shows the collar's current vibration intensity.
Sometimes, its vibration capacity won't be enough to stop dogs from barking. This model might not be ideal for aggressive dogs.
Pros:
Lightweight
Two vibration modes
Easy-to-read LED display
Charges fast
Silicone prong covers for enhanced comfort
Cons:
Adequate vibration strength
Might not work for aggressive dogs
Best Option with the Most Vibration Level Output Settings – GoodBoy Mini No Shock Remote Collar for Dogs
If you're interested in trying a vibration collar with the most vibration level options, consider the GoodBoy. This model has nine vibration intensity levels and one sound-based level to enhance behavioral corrections.
GoodBoy Mini No Shock Remote Collar for Dogs with Beep and Vibration Modes for Pet Behaviour Training - Waterproof & 1000 Feet Range - Suitable for Small to Medium Dogs (Blue)
Small and Safe - This collar is as lightweight and safe as possible for small dogs while maintaining all the necessary functionality. Even 5 lb pets can wear this collar comfortably without feeling...
Simple and Beautiful Design - The sleek and modern remote for this collar has a velvety matte finish that feels incredible to the touch. The simple design is straight-forward with no excessive buttons...
All the Training Modes and Features You Need - This collar comes with one intensity level for sound and nine levels for vibration mode. The remote works up to a range of 1000 feet, making it perfect...
Long-Lasting Battery Life - This collar uses the latest lithium battery technology, providing battery life that lasts for at least a week. Just with a single charge, the battery can provide up to 16...
A Detailed Training Guide - Our collar comes with a step-by-step training guide explaining how to use the GoodBoy remote collar in a safe and efficient manner. This booklet teaches 15 important...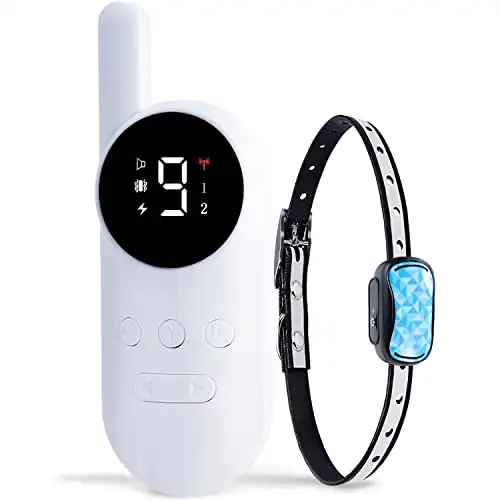 We earn a commission if you make a purchase, at no additional cost to you.
While many vibration collar models automatically activate once a dog starts barking non-stop, the GoodBoy lets owners control when it vibrates. The vibration duration depends on how long the owner presses the button after a dog barks, runs away, doesn't respond to their name, or does other disobedient behaviors, but its maximum length is eight seconds.
The vibration collar and its remote have excellent water-resistant properties, making it ideal for use in light rain. The remote works within a range of 1,000 feet.
The GoodBoy has excellent battery life and incorporates a standby mode that activates after five minutes of inactivity. Its miniature size doesn't make it ideal for larger breeds.
Pros:
Suitable for small dog breeds
Weather-proof remote
Battery-saving standby mode
Nine vibration intensity levels
Cons: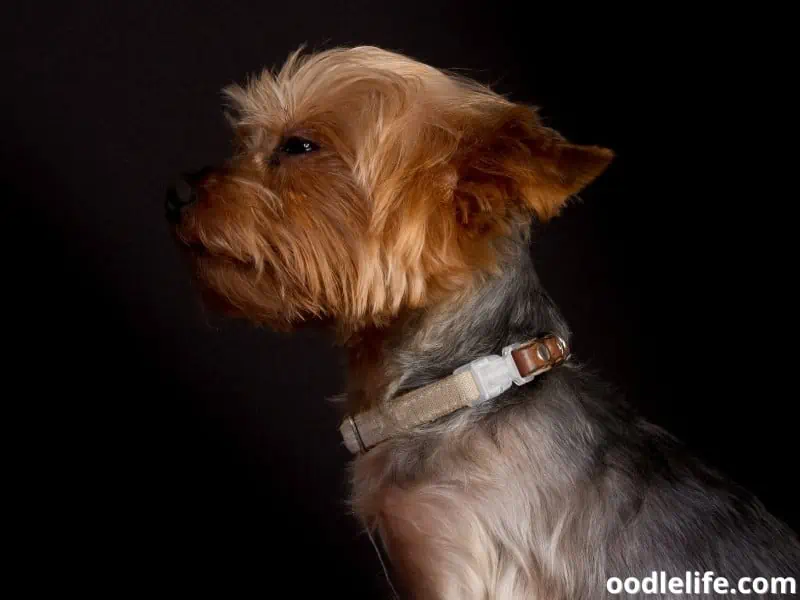 Factors to Consider When Choosing the Best Vibration Collar for Dogs
Before narrowing down your top options for the best vibration collar for dogs, there are several features you'll need to consider. Of course, some owners might prioritize some factors over others, but they all play a role in choosing the most functional and comfortable model.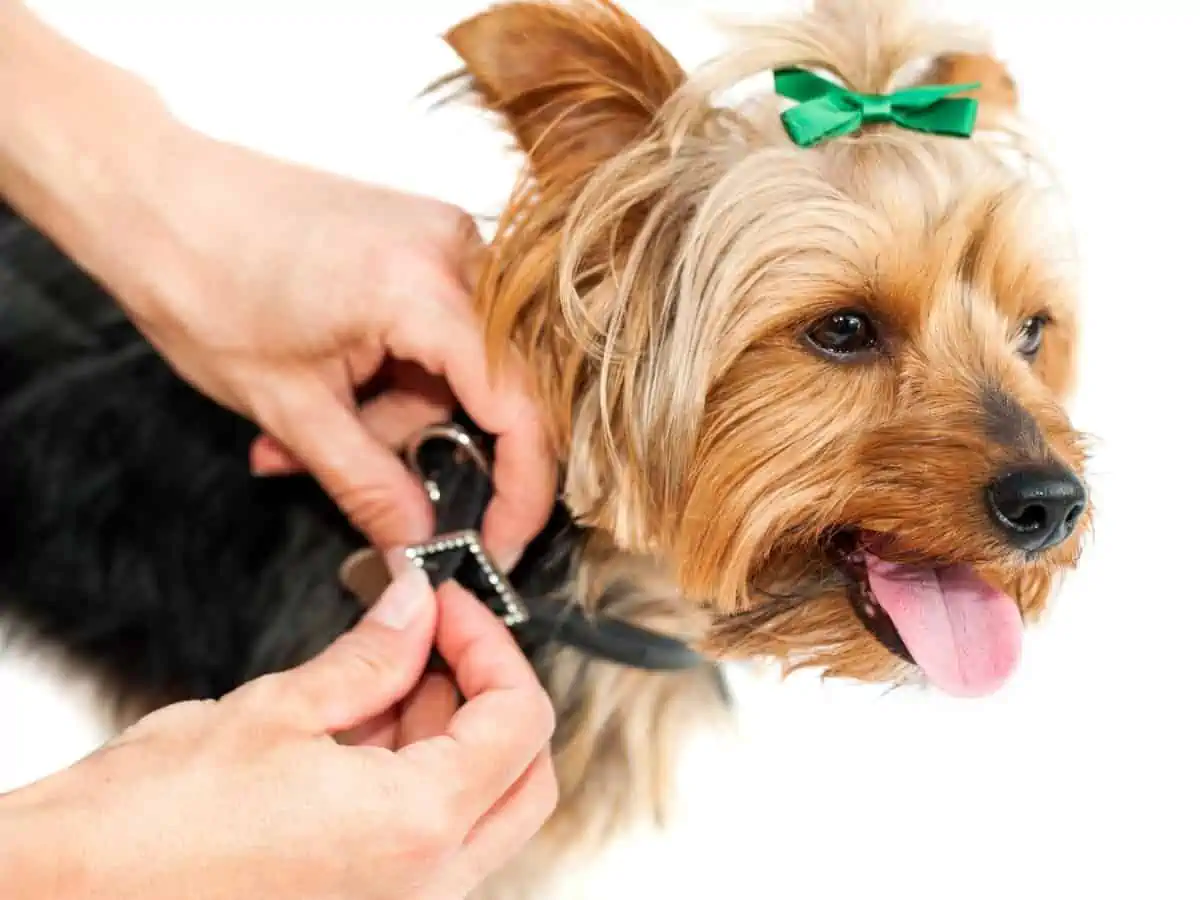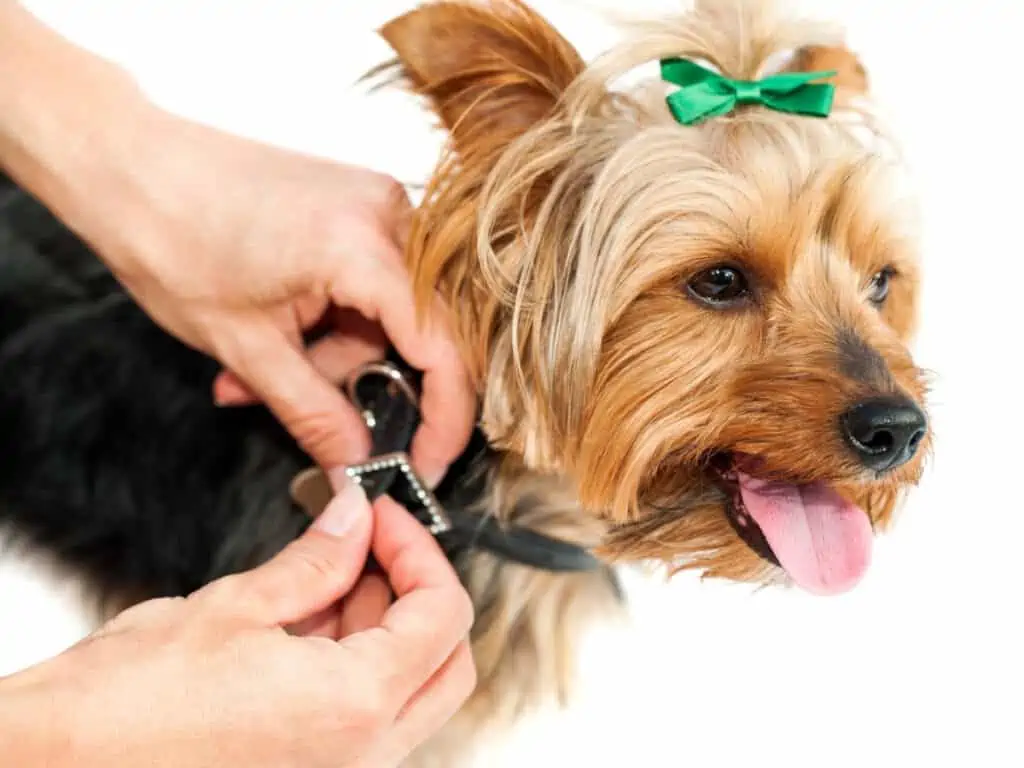 Check out this list of features to look for if you're having trouble finding the perfect vibration collar.
Automatic vs. Remote Control Activation
Not all vibration collars for dogs function the same way. Several models activate automatically once your dog starts barking. Other models let users activate the collar's vibrations via a remote control device, adjusting the intensity and duration to match their needs.
If you prefer remote control models, choose one with a range of at least 1,000 feet while using the vibration collar on your dog in the backyard or at the park.
Waterproof Properties
If your dog loves to swim, consider looking for a vibration collar model with waterproof properties. This feature ensures dog owners the vibration collar will still work while submerged in one meter of water and won't malfunction in the rain.
Your Dog's Size
Most vibration collar models have a set weight range to ensure it fits securely and comfortably. However, models manufactured for smaller dog breeds weighing up to 15 pounds aren't suitable for dogs weighing over 70 pounds.
Consider measuring your dog's neck and weighing them to ensure they match the model's sizing recommendation.
Battery Life
Vibration collars with longer battery life are essential if you don't want a low-quality model that you have to charge every few hours. Many long-lasting battery models fully charge within at least two hours. Consider looking for a model with auto-shutdown features to save extra battery power.
Vibration Intensity Settings
The best vibration collar for dogs should have plenty of vibration intensity settings to match your dog's training needs. For example, many models incorporate an audio warning before vibrating after your dog barks, while others' intensities persist until the dog stops. Users can change the intensity through the vibration collar's remote or receiver.
Do Vibration Collars Always Work?
Since the quality of a vibration collar varies from brand to brand, it might not always work on some dogs. If you use an automatic vibration dog collar, it might not pick up every bark your dog makes, especially if it's at a lower volume.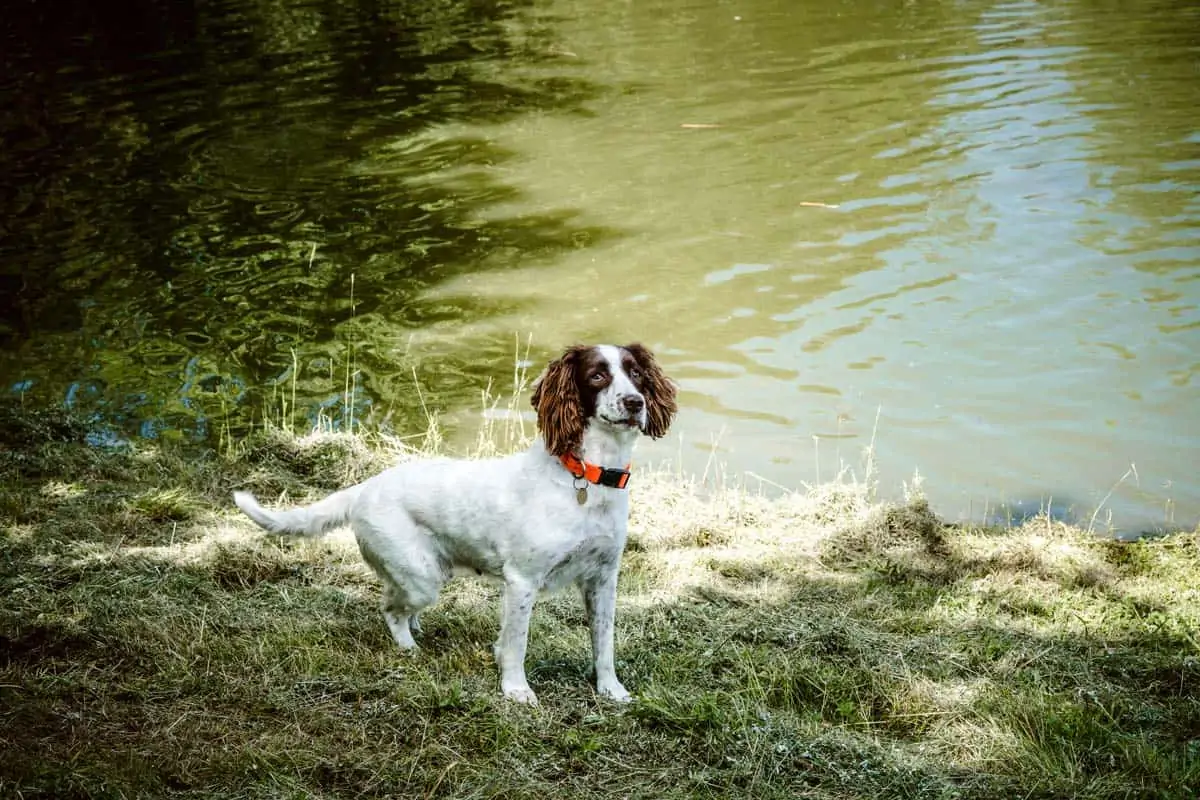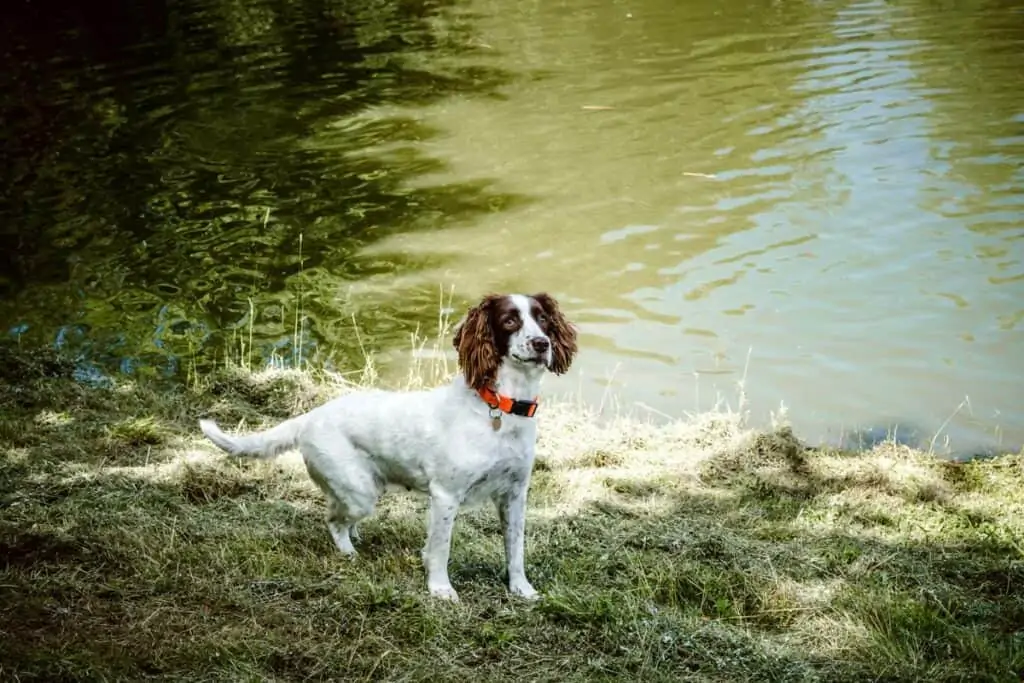 Sometimes, the vibration isn't enough to stop their unruly behavior. Other dogs might feel uncomfortable wearing the collar if it's too bulky or can't handle its higher vibration levels.
Final Thoughts
The best vibration collar for dogs should be comfortable, have plenty of vibration intensity settings that are easy to change, and be durable in most environments. These devices are an excellent, less harmful alternative to shock collars, so you can count on them to make correcting your dog's behavior more manageable.