Chow Pei Breed Guide (Chow Chow Shar Pei Mix)
Designer dogs are becoming more popular with dog owners worldwide. Mixing two breeds to get a dog with specific traits from each parent brings excitement to the designer dog world.
A Chow Pei is a mix between a Chow Chow and a Shar Pei. This designer dog breed is growing in popularity. Because they are not a typical breed, how to care for your Chow Pei correctly is essential.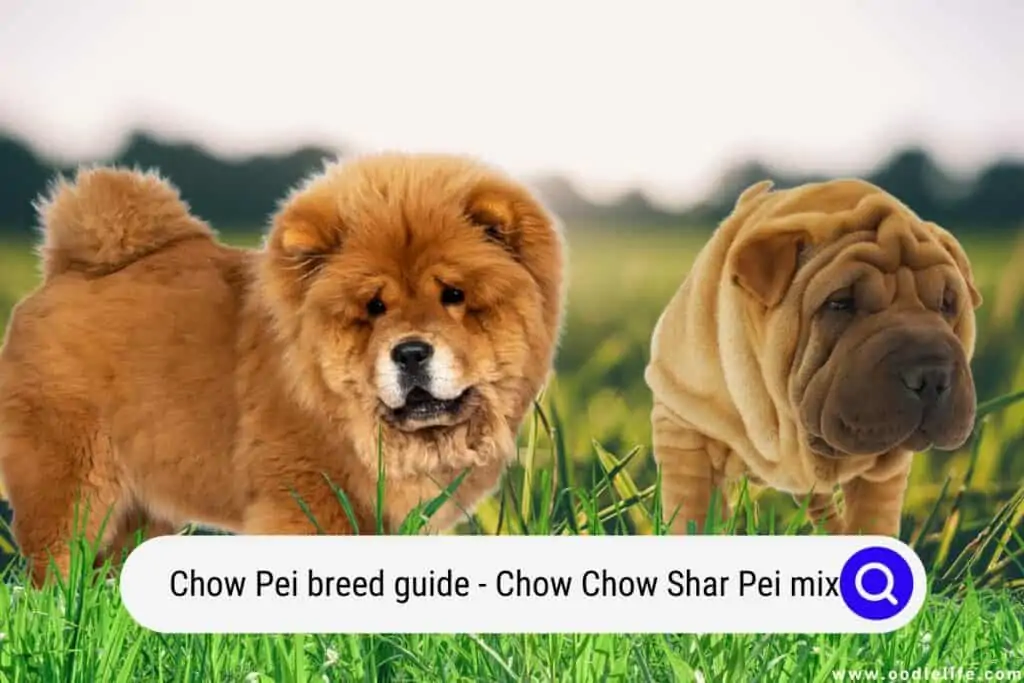 Check out the table below for a quick reference to caring for your Chow Pei.
| | |
| --- | --- |
| Price | $750-$1,500 |
| Size | 15-20 inches tall, 40-60 pounds |
| Lifespan | 10-15 years |
| Appearance | Varies: white, golden, black, gray, cream, brown |
| Suitable Owners | Singles, experienced dog owners |
| Care | Moderate |
| Temperament | Stubborn, intelligent, independent |
Price
If you are ready to spend a good chunk of money on a designer dog, a Chow Pei is the right choice for you. A Chow Pei puppy from a certified breed can cost up to $1,500. This cost is on the higher end of designer dog prices.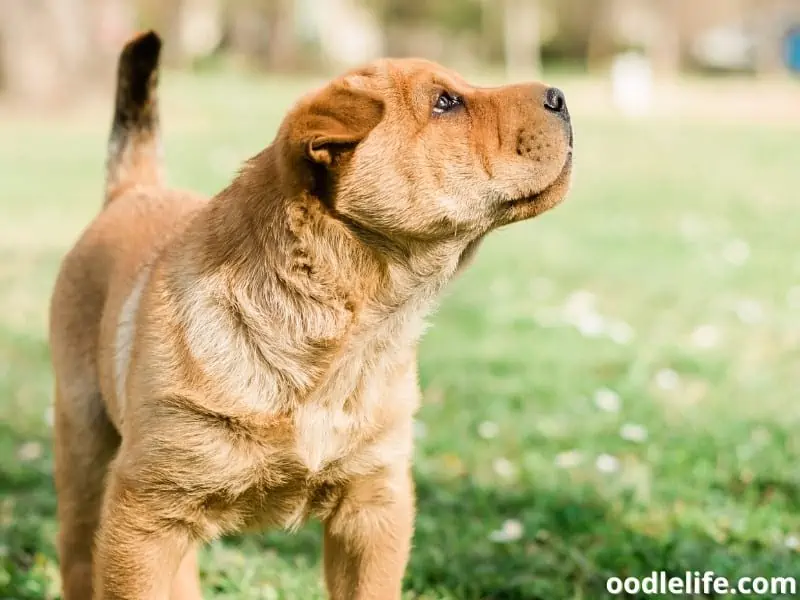 This high cost ensures that only owners that know they want a Chow Pei and are ready for one will buy one. I would not pay that much for a dog, so maybe I am not the right owner for this breed!
Chow Pei owners are known to take good care of their dog and knows what their dog needs. They will not bat an eye at buying the right food and providing the appropriate care for their dog, even if it takes a harder hit on their bank account.
Size
A Chow Pei is a medium-sized dog. Most experts consider dogs between 35-55 pounds as medium-sized dogs. Most people consider dogs over 60 pounds to be a large breed.
For some people, dog sizes are all relative.
A Chow Pei can reach up to 20 inches tall and weigh up to 60 pounds. This height is on the larger size of a Chow Pei. The resulting height and weight of the dog depends on the size of the parents, and the genetics the puppy inherits.
An average Chow Pei is 17.5 inches tall and weighs 50 pounds. That is a mid-size dog that is easily manageable. Most Chow Pei owners can pick up their dogs if needed.
Health and Lifespan
Chow Pei dogs are considered a healthy dog breed. But with any animal comes inevitable health conditions. Most of the conditions a Chow Pei is prone to are from conditions their parent dog breeds are prone to.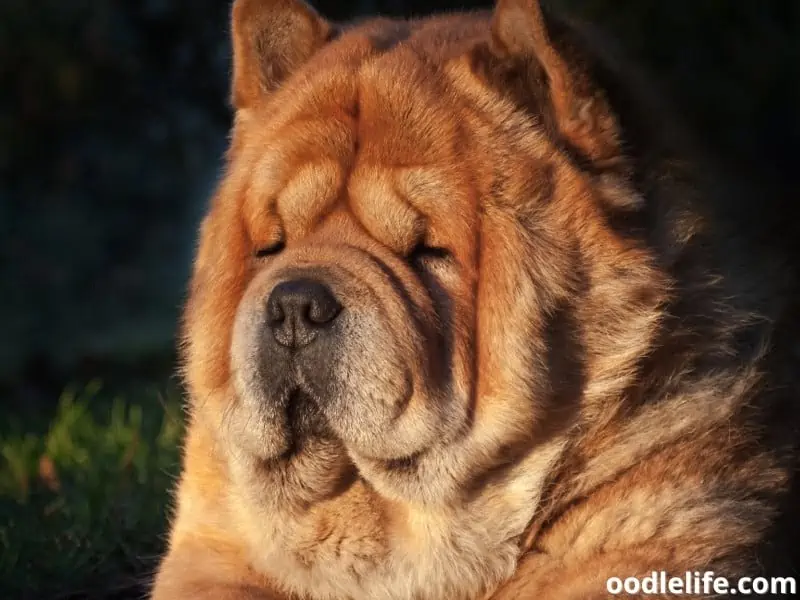 A Chow Pei is prone to skin problems, arthritis, and obesity. They get these conditions from the Sharpei and Chow Chow breeds. Some more conditions commonly affecting a Chow Pei are joint dysplasia, hypothyroidism, cancer, patellar luxation, bloat, and eye problems.
If you get a Chow Pei, it is crucial to watch for early signs of prone conditions. If you keep an eye out for these conditions and stay on top of caring for your dog, your Chow Pei can live up to 15 years! The average lifespan of a Chow Pei is 13 years.
Appearance
Because of the nature of mixing breeds, there is not a specific look to a Chow Pei. One puppy out of the litter may get more traits from the Chow Chow, while the other gets more characteristics from the Shar Pei.
Most Chow Peis do have lots of wrinkles, a curled tail, and fluffy hair. They can have a range of colors, including white, brown, black, cream, gray, and golden. The many colors of their parents contribute to the wide range of color combinations.
I love a fluffy dog, so a Chow Pei is the perfect combination of a squishy, wrinkly dog like a Shar Pei with the added fluff of a Chow Chow!
Most Suitable Owners
A Chow Pei can be a difficult dog to train and care for. They are not the most suitable for families or people with other pets. They are independent dogs who know what they want and can be very stubborn.
With that said, a person who lives by themselves and has lots of time to dedicate to caring for and training their Chow Pei is an ideal owner.
Someone experienced with dog training will have an upper hand with a Chow Pei. Their stubborn demeanor and be put off by someone who does not have the tools for training dogs.
Care
A Chow Pei needs high-quality food designed for mid-size dogs. They need 2-3 cups of high-quality food per day, split between two meals. The exact amount depends on the size and activity level of your dog.
A Chow Pei needs moderate exercise for a medium-sized dog. They enjoy going on walks daily and will benefit from trips to the dog park for some free play. Their parent breed, the Shar Pei, is a hunting dog, so their instincts may cause them to run off and seek their prey.
It is crucial to keep them leashed unless they are in a fenced area.
Chow Peis require a knowledgeable dog trainer because of their independent and stubborn temperament.
The amount of grooming your Chow Pei requires depends on how much hair they inherited from their Chow Chow parent! A Chow Chow has very fluffy hair that requires a lot of grooming.
If your Chow Pei inherited most of their fur genes from their Chow Chow parent, your dog will require a lot of grooming to keep their coat clean and not matted. If your Chow Pei has a more silky coat like its Shar Pei parent, your dog will require less grooming.
Temperament
The Chow Pei is a loyal dog that will stand by your side throughout your life. It is very intelligent but can let its independence and stubbornness get in the way of the best relationship with its owner.
If the owner is a knowledgeable dog trainer, the owner-dog relationship is very good. Inexperienced dog owners that get a Chow Pei may get frustrated with their stubborn temperament, resulting in a stressful relationship.
Final Thoughts
A Chow Pei is a designer dog for an experienced dog owner who is ready to spend time and money while taking care of their dog.
These squishy, fluffy dogs are sure to bring some excitement into your life!