Best Cockapoo Breeders in Massachusetts 2023
Cockapoos are wonderful hybrid dogs. They have all the best characteristics of Poodles and Cocker Spaniels.
They train easily, they shed minimally and they love people. They even tolerate cats if you socialize them appropriately and early enough.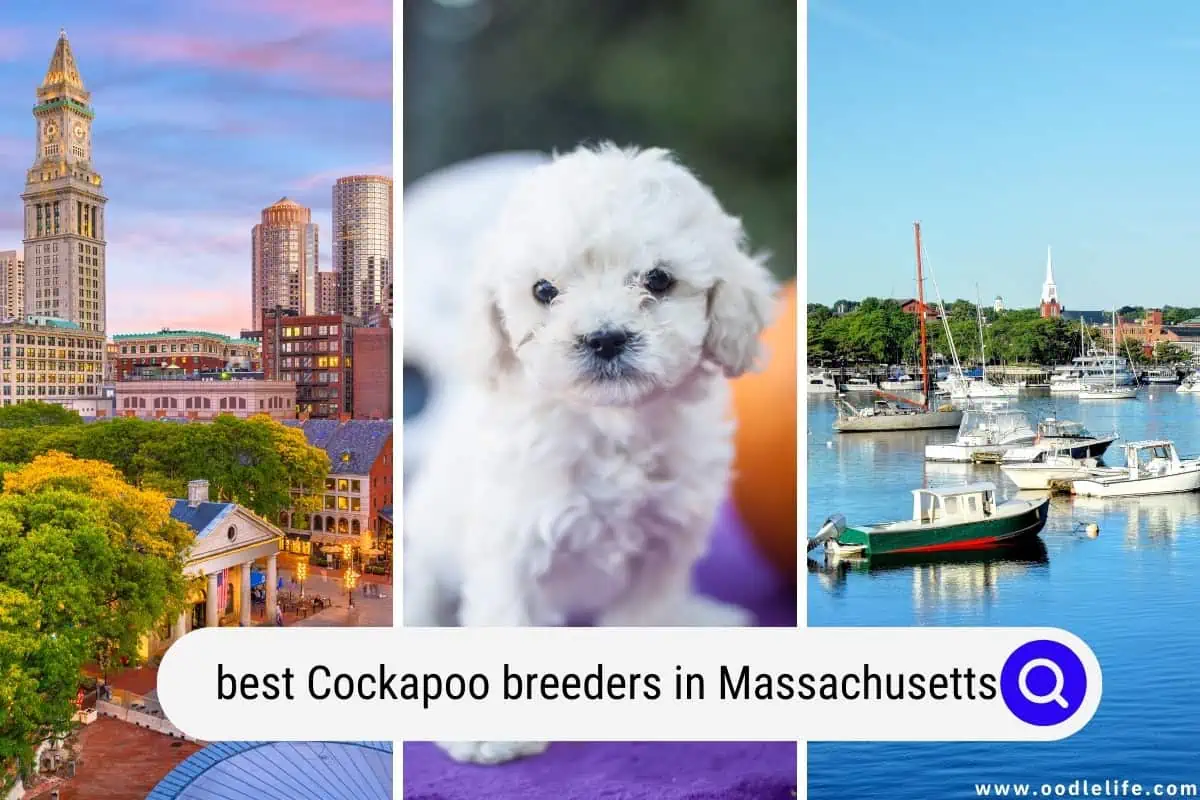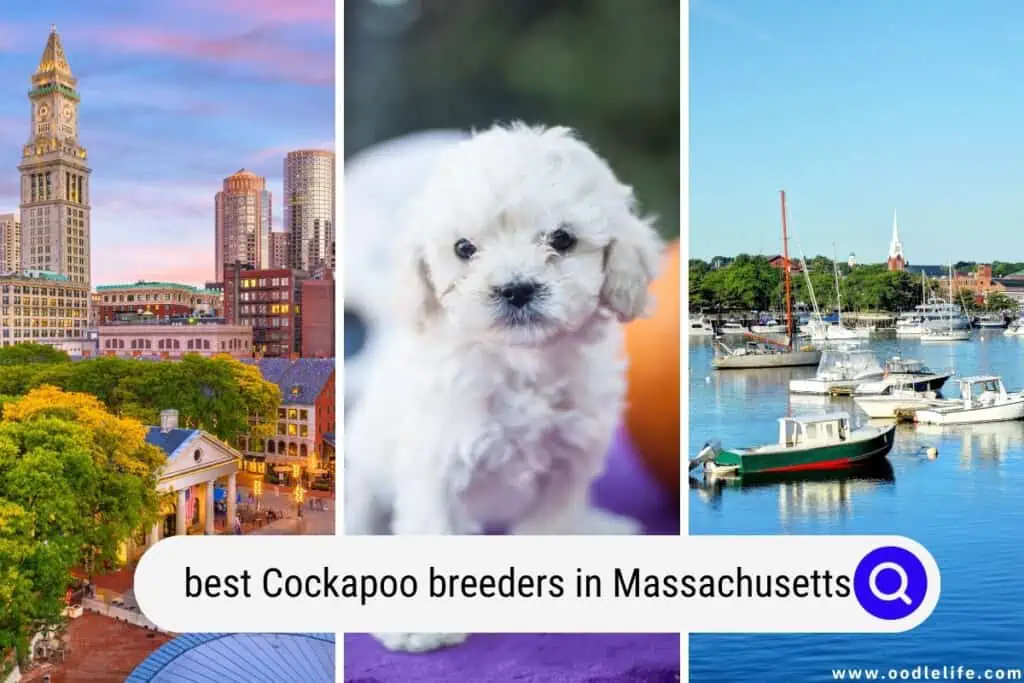 $300 2023 Discount!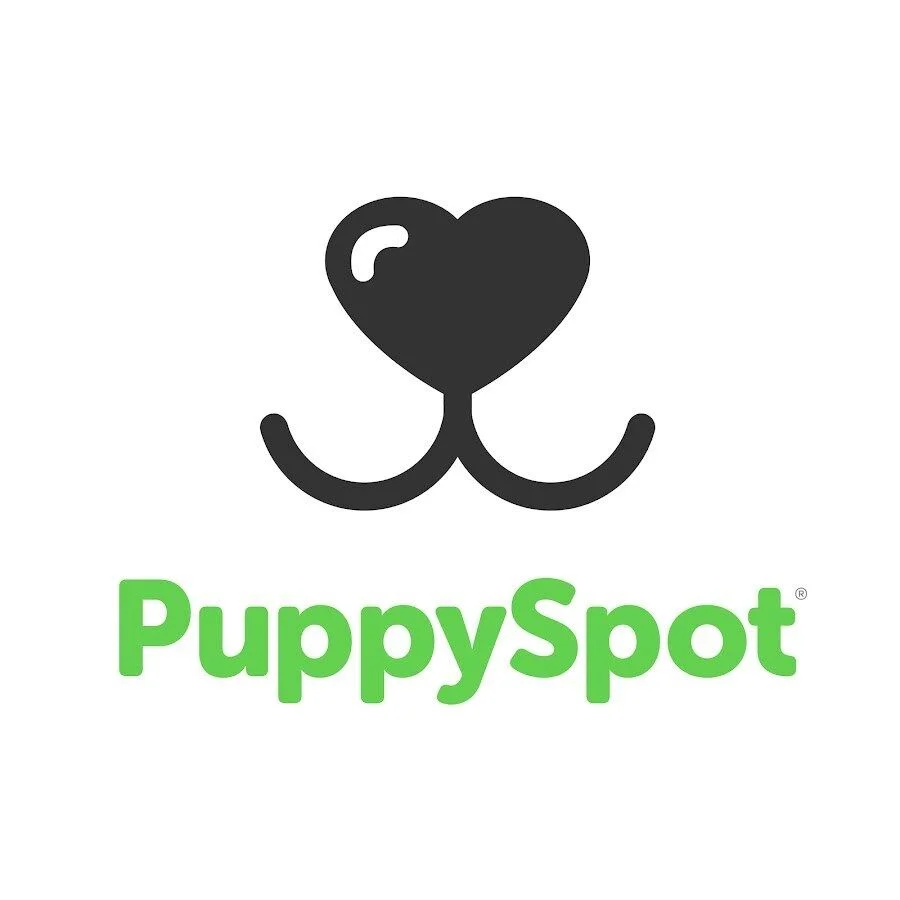 PuppySpot Adoption
PuppySpot is a reputable dog marketplace where you can browse and find compatible puppies right from the comfort of your home. They have placed over 200,000 puppies into homes in the US!
Click through and use the code PUPPY300 for $300 off any puppy adoption.
See Puppies and Save $300
But deciding to adopt a Cockapoo is easy. Finding an ethical and reliable breeder is harder. Here are some of the best Cockapoo breeders in Massachusetts.
1. Erin's New England Cockapoos
First on the list is Erin's New England Cockapoos. For this Cockapoo breeder in Massachusetts, breeding is a passion but not necessarily a financial venture.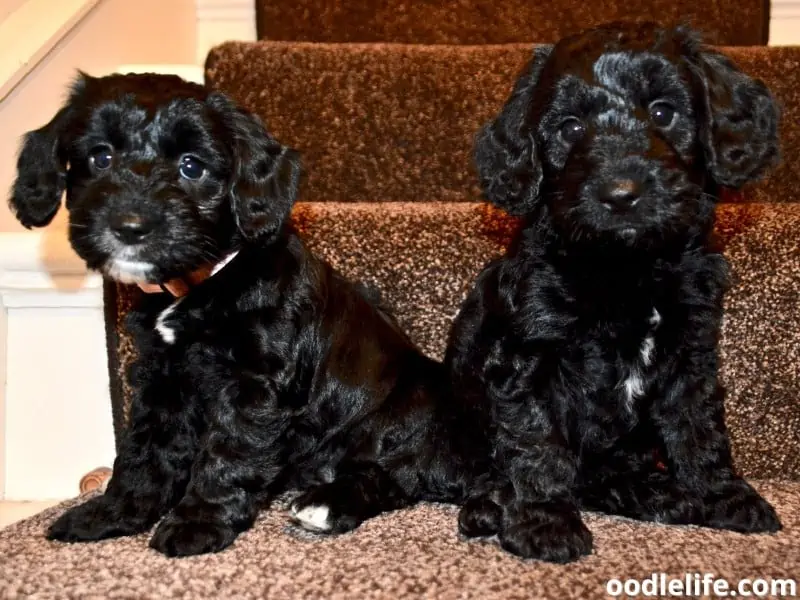 Erin's dogs are family first. They and the puppies live in her home, getting plenty of early exposure to people and daily life. The result is sociable, well-adjusted dogs that can't wait to come home to their new family.
Erin and her family have over 30 years of experience breeding healthy Cockapoos. One of the things that stands out about this breeder is that there isn't necessarily a litter every year. Puppy availability depends on the dogs' health and daily routine as much as Erin's.
But when there is litter, they are the focal point of Erin's New England Cockapoos. The puppies are handled regularly, and meticulously socialized and stimulated.
Their health is also a priority. Accordingly, none of the dogs at Erin's New England Cockapoos embark on a litter without a complete genetic panel test to catch potentially heritable conditions.
This Cockapoo breeder in Massachusetts is also transparent about their dogs' nutrition regimes. They offer new owners advice on the best diets for Cockapoos, training tips, and advice on how to familiarize a puppy with regular dental and grooming routines.
The other benefit of this breeder is that they have a guardianship program, which allows breeding dogs to become involved with their adoptive family from an early age. Occasionally, there's also a chance you can adopt an adult Cockapoo when they retire from the breeding program.
If you aren't prepared for the high-level energy of a Cockapoo puppy that can be an excellent option.
Contact Details:
Website: https://erinsnewenglandcockapoos.com/
Email: [email protected]
Location: Cape Ann, Massachusetts
2. Richard's Luxury Kennels
Richard's Luxury Kennels is one of the oldest Cockapoo breeders in Massachusetts on this list.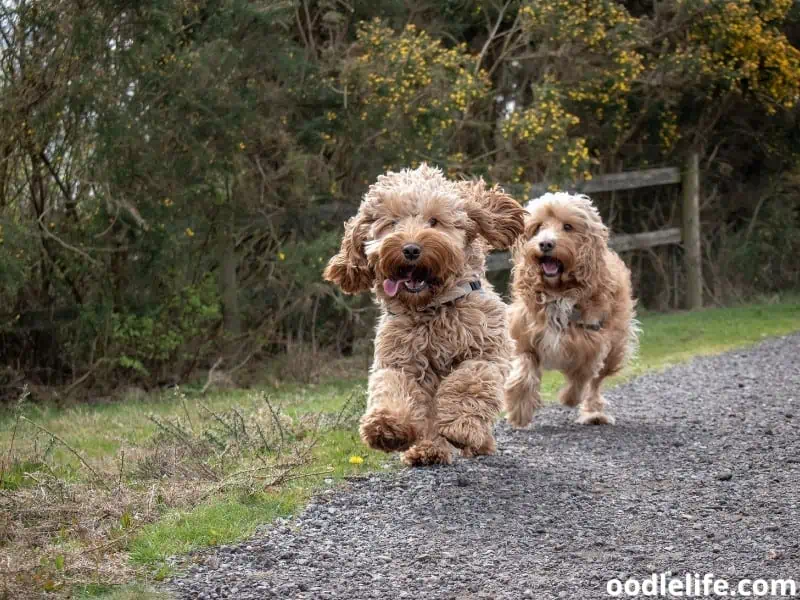 The company began as a dog kenneling service in 1973. Over time, their focus expanded to include breeding. Today, in addition to various kennelling services, they offer a variety of Poodle hybrid puppies, including Cockapoos.
Years of caring for other people's dogs make this breeder adept at raising sturdy and healthy Cockapoo puppies. Because the kennels are also operational as a dog boarding facility, the mother dogs have access to first-rate nurseries and care.
There are routine vet checks to ensure mum and puppies are healthy. Crucially, no dog gets bred without Richard and family first running comprehensive genetic testing to eliminate inheritable conditions, like Progressive Retinal Atrophy.
The other benefit of Richard's Luxury Kennels is that the puppies get extraordinary socialization from the moment they arrive. Once it's safe for them to mix with other dogs, they have ample opportunities to socialize with other dogs, animals, and the family.
Richard's Luxury Kennels also offers grooming, nail trimming, and brushing services. For owners that don't feel comfortable undertaking these vital parts of Cockapoo care themselves, that can cut down significant time and research sourcing a groomer.
Even if you prefer to try grooming and maintaining your Cockapoo yourself, this breeder can give you expert advice to make the process as simple as possible.
Contact Details:
Website: https://www.richardsluxury.com/
Phone: (978) 537-5485
Location: Leominster, Massachusetts
Strictly speaking, PuppySpot isn't a Cockapoo breeder in Massachusetts. But it does a fantastic job of separating the wheat from the chaff when it comes to dog breeders.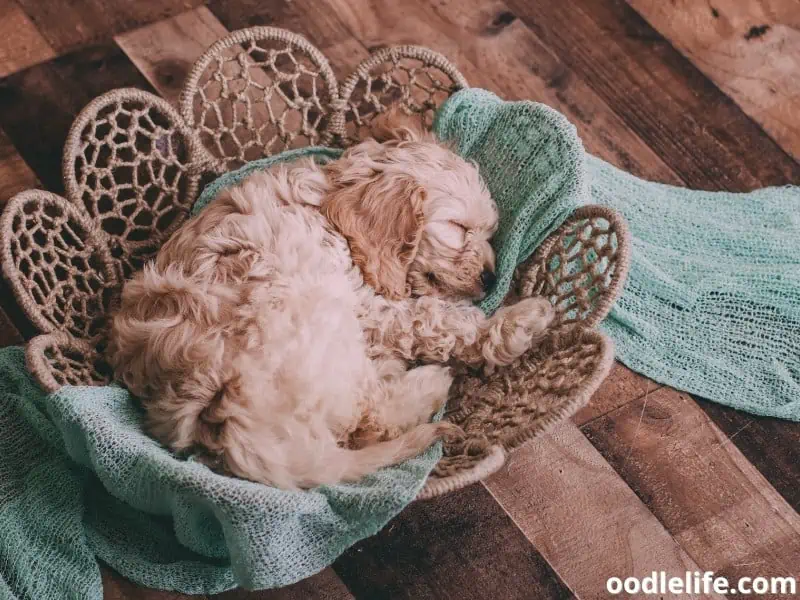 Rather than sifting through different websites and ads with no idea who to trust, PuppySpot does that for you. They then compile a list of reputable Cockapoo breeders in your area for you to choose from. 
They give you information about the breeders and the contact information to reach out if you decide to go ahead and approach them about a Cockapoo.
It's an excellent resource because, like any reputable breeder, it prioritizes Cockapoo puppies' health and sociability. Whoever you choose, you can rest assured PuppySpot won't connect you to a puppy mill supplier. 
Not only that, but PuppySpot is so rigorous about the screening process that it offers a ten-year guarantee on your Cockapoo's health. That's demonstrably longer than even the most reputable breeders feel prepared to commit to. 
Contact Details:
Website: PuppySpot
Phone: (888) 671-0518
Email: [email protected]
Location: United States
4. Town and Country Cockapoos
Town and Country's mission is to promote knowledge and understanding about the Cockapoo.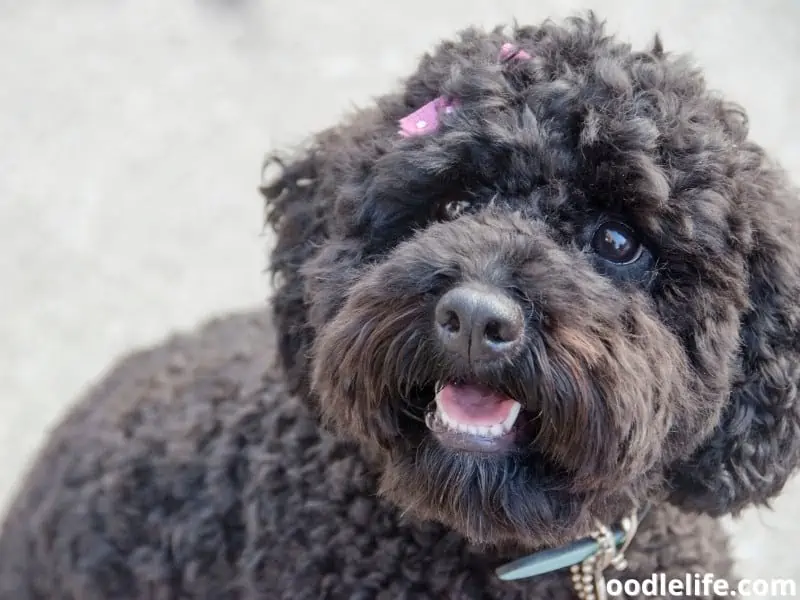 This Cockapoo breeder in Massachusetts works to produce healthy, stabilized, and social puppies. They thoroughly vet their Cockapoos before breeding and working with the dogs. This is extremely important to Town and Country, and they only breed dogs two years and older to ensure it's possible to spot any genetic conditions that might crop up.
They also work extensively with the dogs to guarantee they receive appropriate stimulation and socialization. They are handled from a young age and quickly become familiar with car regimes like grooming.
Town and Country guarantee their puppies' health. They can also talk with new owners about the best way to train a puppy and start the grooming process.
They have ten years of breeding experience and breed multiple sizes and generations of Cockapoo. They take care to meet the ACC's breed standards.
Because Town and Country Cockapoos runs out of a private homes, visits are by appointment. They ask clients to contact them by email since they cannot guarantee their availability by telephone.
Contact Details:
Website: https://web.archive.org/web/20171107185342/http://www.townandcountrycockapoos.com/
Email: [email protected]
Location: South Natick, Massachusetts
This highly recommended breeder may not be producing puppies at the moment, reach out to them and let us know if you have any luck!
5. Poodle Rescue of New England
Finally, while not a Cockapoo breeder in Massachusetts, the Poodle Rescue of New England is a valuable resource for families looking for Cockapoos.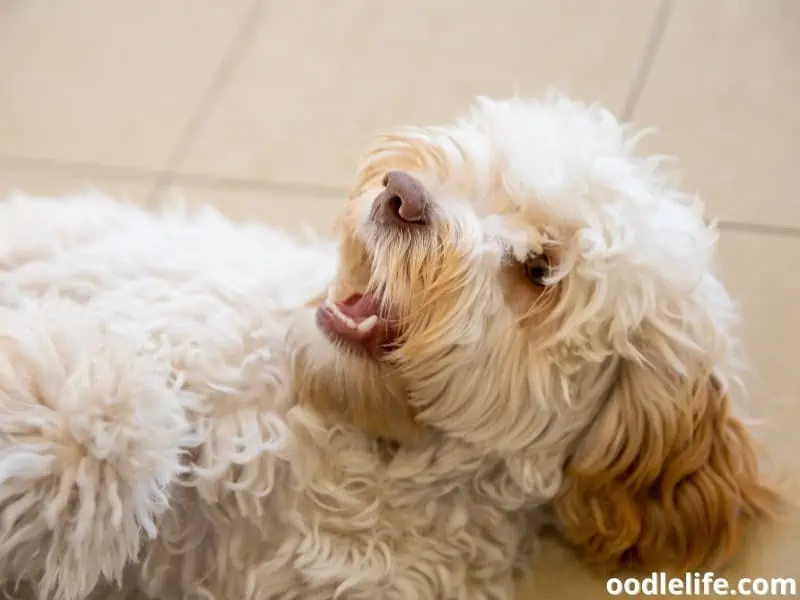 The Poodle Rescue of New England runs shelters out of:
Massachusetts
Maine
New Hampshire
Connecticut
Rhode Island
Vermont
Despite the name, the Poodle Rescue takes in many different Poodle hybrids, making it an excellent place to look for a Cockapoo.
It's run by knowledgeable volunteers, who will work with you to find a Cockapoo that suits your family's needs. Not all of them are Cockapoo puppies, but puppy behavior can be challenging and may not agree with all families, either.
And while many people can be wary of going through a rescue, it's important to consider the different reasons Cockapoos get rehomed. Some may indeed have difficult behaviors you don't feel equipped to curb. But Cockapoos also go into rescues if a family can no longer afford their care or a relative has died.
These are happy, well-adjusted animals that want to get back to home life as quickly as possible.
Contact Details:
Website: https://www.poodlerescuene.org/
Phone: (617) 628-1425
Email: [email protected]
Location: Somerville, Massachusetts
Final Thoughts
When looking for Cockapoo breeders in Massachusetts, research is essential. At first glance, it can be difficult to tell how reputable the business you are dealing with is.
Hopefully, this list helps simplify the process. Remember, you should never hesitate to talk to the breeder you choose. The reputable ones are only too happy to tell you about their dogs.
And never underestimate the importance of a visit. So much of finding the right Cockapoo comes down to personality. It doesn't matter how beautifully these dogs photograph, nothing compares to meeting them in person.