5 Best Cockapoo Breeders In New York (2023 Update)
Finding the best Cockapoo breeder in New York doesn't have to be a challenge with this comprehensive list of 2023's top breeders.
Friendly, loving, and great with children, it's no wonder that Cockapoos are one of the most sought-after designer dog breeds. But Cockapoos are not a fad–dogs.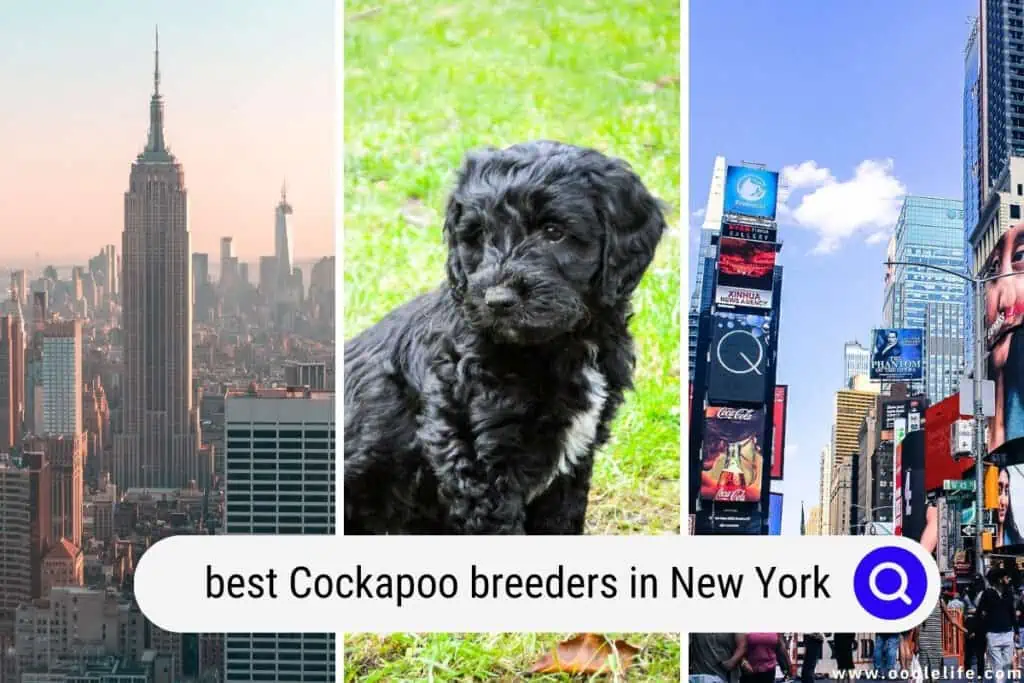 $300 2023 Discount!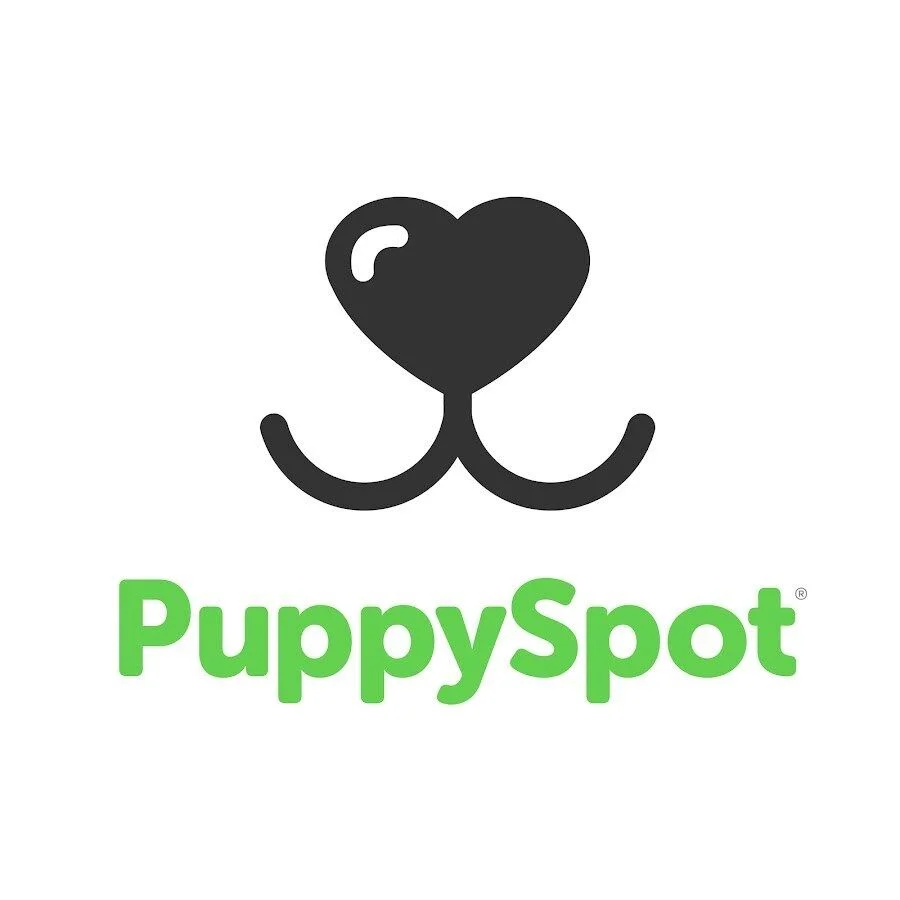 PuppySpot Adoption
PuppySpot is a reputable dog marketplace where you can browse and find compatible puppies right from the comfort of your home. They have placed over 200,000 puppies into homes in the US!
Click through and use the code PUPPY300 for $300 off any puppy adoption.
See Puppies and Save $300
Owners have loved this cross between a Poodle and Cocker Spaniel since the mid-1900s. Since then, the popularity of this even-keeled pet has only continued to grow.
How To Choose The Best Cockapoo Breeder in New York?
Choosing the best breeder is about finding one with responsible practices and who produces dogs that meet your personal standards and preferences.
Cockapoos should be medium-sized with an even mix of Poodle and Cocker Spaniel features. Because of their Poodle heritage, Cockapoos can come in a wide variety of colors, but their temperament should always be pleasant and loving.
A great breeder will socialize pups as early as possible to ensure a well-adjusted pup. Socialization is one of the most important aspects of training your Cockapoo. Like any dog, Cockapoos require training and exercise for best behavior. Ensuring your breeder takes the best care of their parent dogs shows that they care for the overall health of their animals.
To find the best Cockapoo breeders in New York producing puppies in 2023, check out the recommendations we've gathered below. As always, ask your breeder of interest plenty of questions and research widely before bringing a new canine friend home!
1. Chesley Hill Cockapoos
When you first hop onto the Chesley Hill Cockapoos site, the first thing you read is that the pups are "hand raised and loved from birth."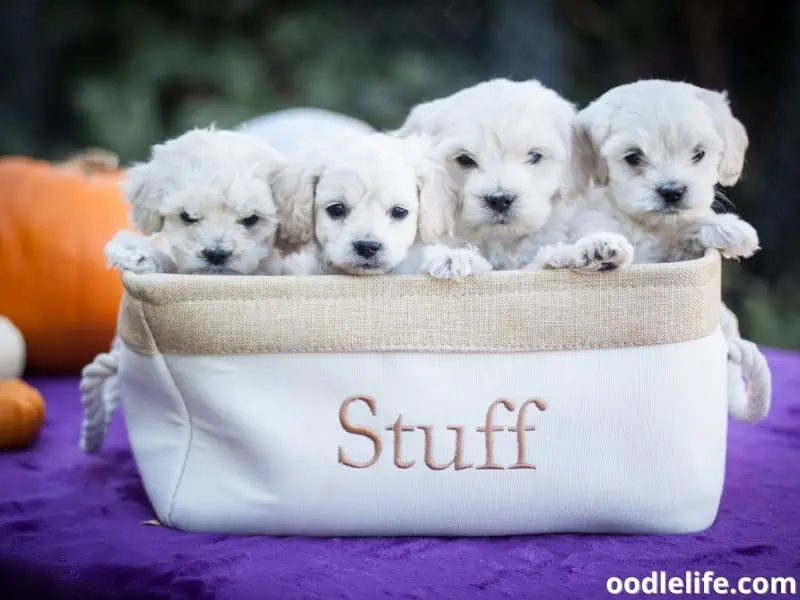 With Destiny at the helm, Chesley Hill produces Cockapoo puppies of only the highest standard. She takes the health of all her animals seriously and has all testing listed on the Chesley Hill website. Additionally, she consistently takes dog-training classes and certifications to ensure she is putting the best-trained and most well-adjusted Cockapoo puppies into New York and the east coast.
Destiny also emphasizes the importance of socialization for all her pups. All puppies are raised in-home with Destiny's three children, meaning these Cockapoos are some of the most family-friendly around.
All mothers Chesley Hill uses are fully screened for health history and temperament. They even go so far as to get feedback from owners of previous puppies. All of Chesley Hill's pure-bred parent dogs are AKC registered as well, meaning the descendant puppies are of the highest quality.
If a loving Cockapoo is your priority, Chesley Hill will provide your family with the best dog possible. They are a New England-based breeder that serves New York and several other states.
Contact Details:
Website: https://www.chesleyhillcockapoos.com/
Phone: (332) 877-7796 
Email: [email protected]
Location: New Hampshire, New England
2. Mulberry Farm Breeders
Mulberry Farm breeders is a common name amongst those looking for Cockapoos in the New York area. In another home operation, Carol and Rob have a combined 50+ years of experience in breeding animals. While Carol fell in love with Cockapoos a little later, Rob has been breeding and raising Cockapoos in New York for nearly 20 years.
Carol has spent her life raising animals. A former horse breeder, Carol is now fully focused on Cockapoos and Cavapoos. She has made Cockapoos her life, and both she and Rob have gone to every effort to ensure the best Cockapoo litter in New York.
Because of Mulberry Farm's history with breeding, you're assured a quality dog free of unexpected maladies, as well as support throughout the adoption process.
Both CBS and AOL have written about Carol and her love for Cockapoos, and she has also been interviewed on television with CBS and NBC. Clearly, Mulberry Farms is passionate about spreading the love for Cockapoos as one of the most versatile family dogs.
Contact Details:
Website: https://www.mulberryfarm.com/
Phone: (845) 635-9609 or (845) 417-8383
Email: [email protected]
Location: Pleasant Valley, New York
3. Brooklyn Cockapoos
If you're looking for a Cockapoo breeder in the heart of New York City with plenty of heart of their own, Brooklyn Cockapoos is the place to look.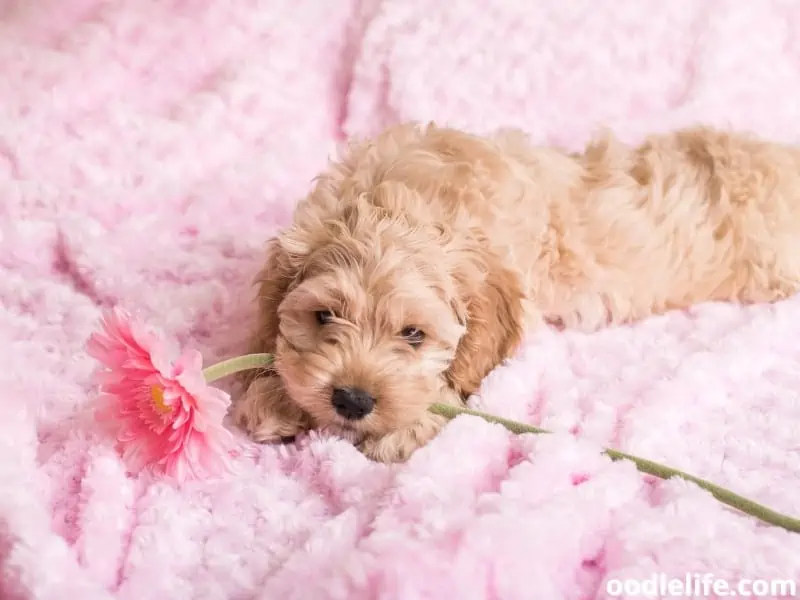 As any great breeder should, Brooklyn Cockapoos are committed to their puppies' mental and physical health. They emphasize early socialization and health testing to ensure every dog they adopt out is in the best condition.
Brooklyn Cockapoos has a loving, warm atmosphere and takes placing their dogs very seriously. They also ensure all mothers receive all the love and attention they need by placing them in guardian homes. The same is true for sires as well.
All of Brooklyn Cockapoo's pups are selected for their gentle souls and lovely appearance. Each Cockapoo comes with a 2-year health guarantee. They also take extensive measures to ensure the dog's lifelong protection and have a mandatory return policy. The best Cockapoo breeders are interested in looking out for the health of their pups well beyond adoption day and Brooklyn Cockapoos fits that description to a T. 
Contact Details:
Website: https://www.brooklyncockapoos.com/
Email: [email protected]
Location: Brooklyn, New York
4. Barmor Kennels
BarMor Kennels is one of the most experienced Cockapoo breeders in New York. They began with pure-bred Cocker Spaniels but, like so many, fell in love with the perfect blend that is the Cockapoo.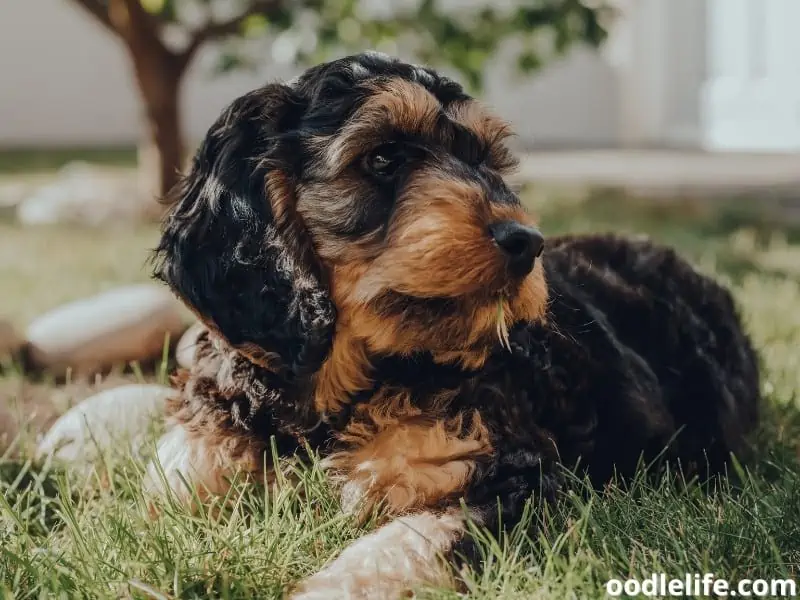 BarMor possesses the mark of a great breeder for ensuring all pups receive lots of attention and proper socialization early on. BarMor also crate-trains their puppies when they are old enough to create an easy adjustment process for your new Cockapoo puppy.
If health is a major concern for you, BarMor Kennels may be the best Cockapoo breeder in New York for you. They keep a close eye on all health regulations regarding dog breeding and limit visitation to their home and breeding dogs to make sure all their animals remain in peak health.
Another great feature of BarMor is its fixed pricing. They price all pups the same, regardless of color, gender, or the time of year. Once you're on the waitlist, you can wait for and will have three times to choose your forever pup. So if the first litter you're waitlisted for doesn't have the right Cockapoo for you, you can choose from the next. 
Contact Details:
Website: https://www.barmorkennels.com/
Phone: (585) 308-4440
Email: [email protected]
Location: Geneva, New York
5. Silver City Cockapoos
Part of the American Cockapoo Club and the New York Cockapoo breeder with the most pups, Silver City Cockapoos knows only passion Cockapoos.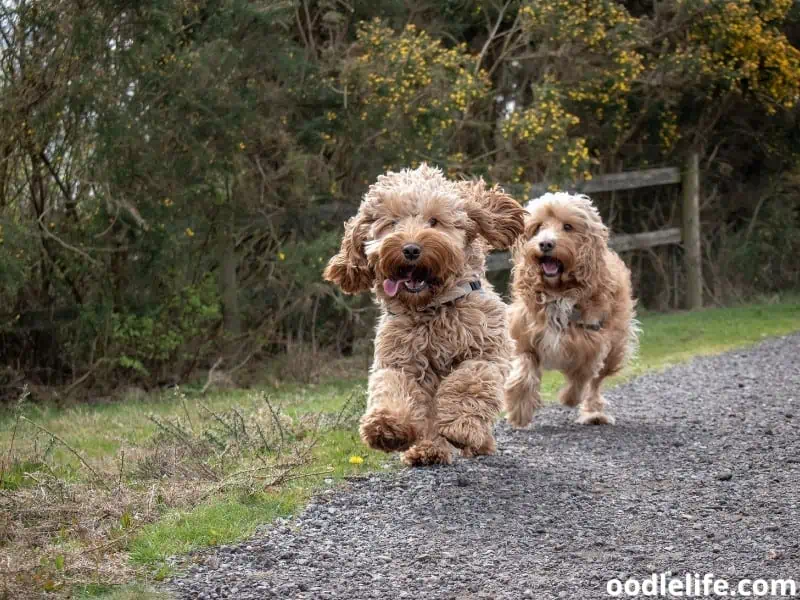 Krystina is a lifelong dog lover and found her passion for raising puppies when her family's Golden Retriever had a litter of puppies. She has now translated that passion into raising some of New York's best and most colorful Cockapoos.
Silver City Cockapoos are interested in transparency and share extensively about their breeding process through social media. 
Contact Details:
Website: https://www.silvercitycockapoos.com/
Phone: (315) 941-8306
Email: [email protected]
Location: Sherrill, New York
The Best Cockapoo Breeders In New York Updated for 2023
Many responsible dog owners refuse to buy from kennels or puppy mills. Buying a Cockapoo from a reputable, established breeder is the best way to ensure you've chosen the perfect dog for you and your family. Pet stores may try to sell other breeds under the trendy name of "Cockapoo," but these animals are often unhealthy and may have neither Cocker Spaniel nor Poodle genetics.
The best Cockapoo breeders in New York understand how to build this breed to create a happy, healthy animal. Choose a breeder who emphasizes great socialization of their pups, health testing, and reputable breeding stock.
These are the best Cockapoo breeders in New York with litters for 2023. We hope this guide helps you find the best adoption experience possible, and you will soon welcome the perfect Cockapoo into your home.