Best Cockapoo Breeders in North Carolina (2023 Update)
Cockapoo breeders in North Carolina can help you match with the perfect puppy, the newest addition to your family! Since quality breeders are located throughout the state, finding a good fit shouldn't be hard.
Cockapoos are a delightful cross between a Cocker Spaniel and a Poodle. The mix makes for an exceptionally intelligent dog, highly personable and wonderful with children.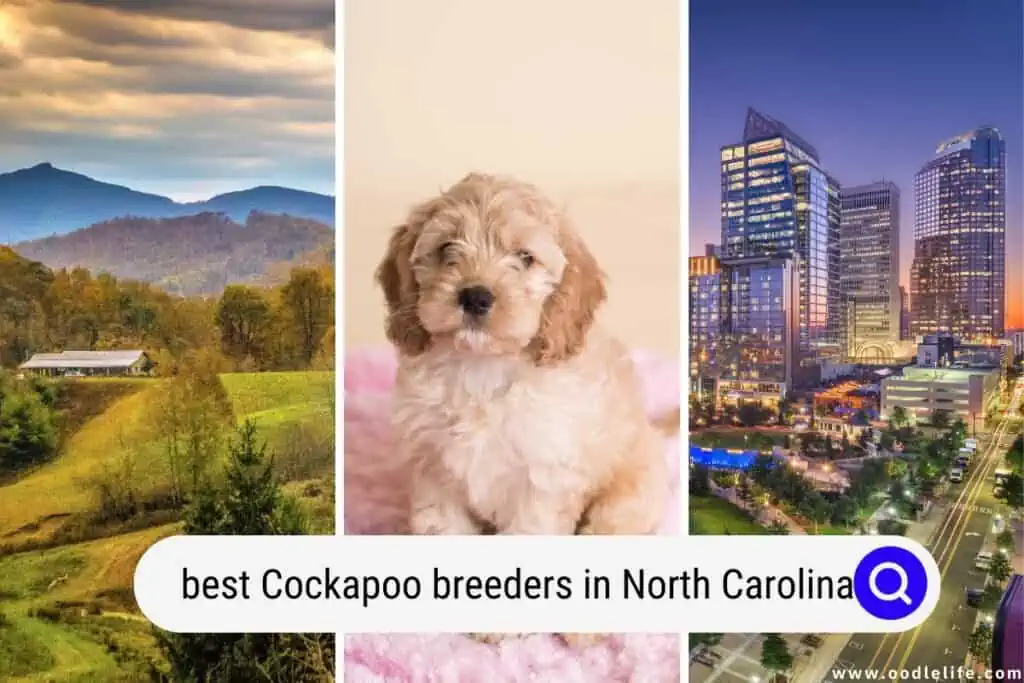 $300 2023 Discount!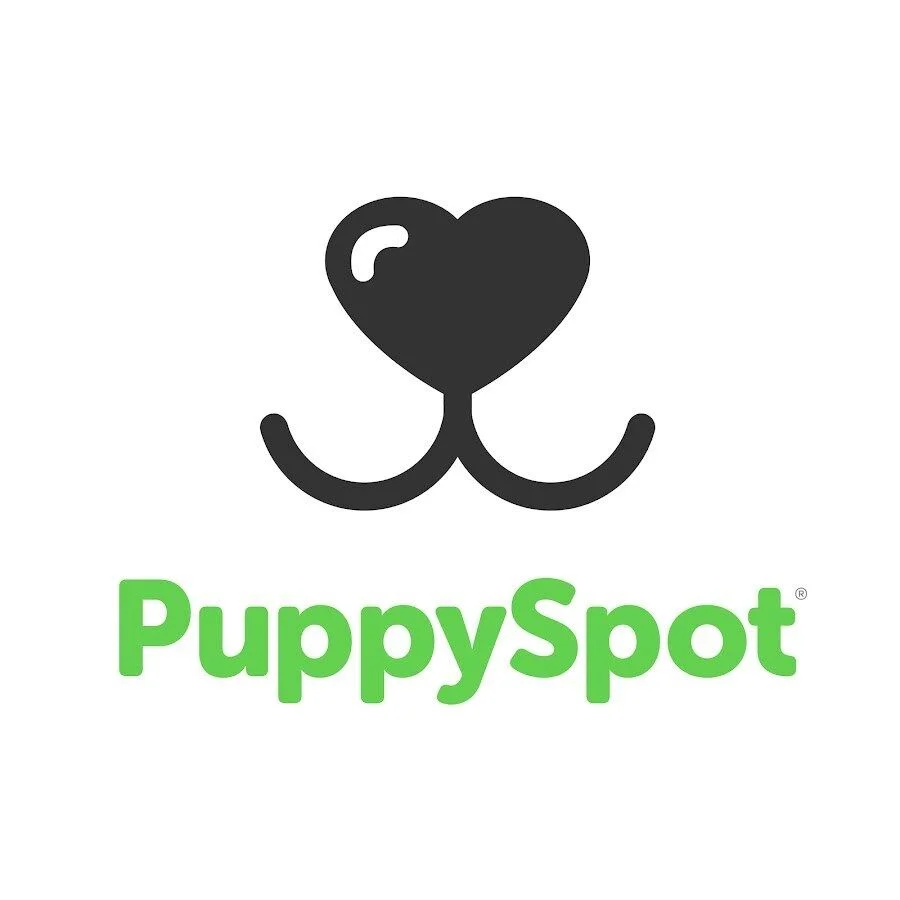 PuppySpot Adoption
PuppySpot is a reputable dog marketplace where you can browse and find compatible puppies right from the comfort of your home. They have placed over 200,000 puppies into homes in the US!
Click through and use the code PUPPY300 for $300 off any puppy adoption.
See Puppies and Save $300
They're also adorable, resembling something like a teddy bear. They have floppy ears, and curly hair that mats but never sheds.
These non-shedding, hypoallergenic, super smart pups are in high demand for families all over. If you have the time to give them the love and attention they need, a Cockapoo could be the perfect dog for you and your family.
1. Charlotte Dog Club
The first stop for Cockapoo breeders in North Carolina is the Charlotte Dog Club. Instead of one family-owned business, the Charlotte Dog Club consists of a group of dog breeders who are all committed to the same thing: loyalty and excellence.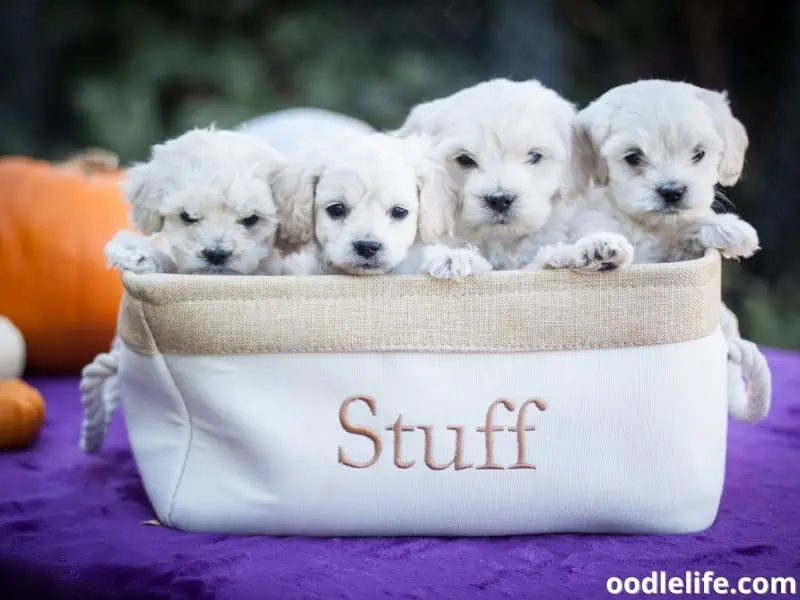 Each breeder provides a ten-year health guarantee with every puppy, which gives you peace of mind that you can trust the puppies they breed.
Besides Cockapoos, you can find other breeds at the Charlotte Dog Club, such as:
When you adopt a pup from Charlotte Dog Club, you're making a difference in the lives of the breeders, who love what they do, and the puppy. You're also making a great addition to your family.
The club originally started with a group of professional French Bulldog breeders. Today, it has grown to include breeders of all kinds. They make it easy to find your new furry family member.
Contact Details:
Website: https://charlottedogclub.com/
Phone: (704) 761-6389
Email: [email protected]
Location: Cleveland, North Carolina
2. Happytail Puppies
Happytail Puppies is situated in Oak Ridge, North Carolina, and is made up of a group of breeders, each one dedicated to making the best life possible for every puppy they raise.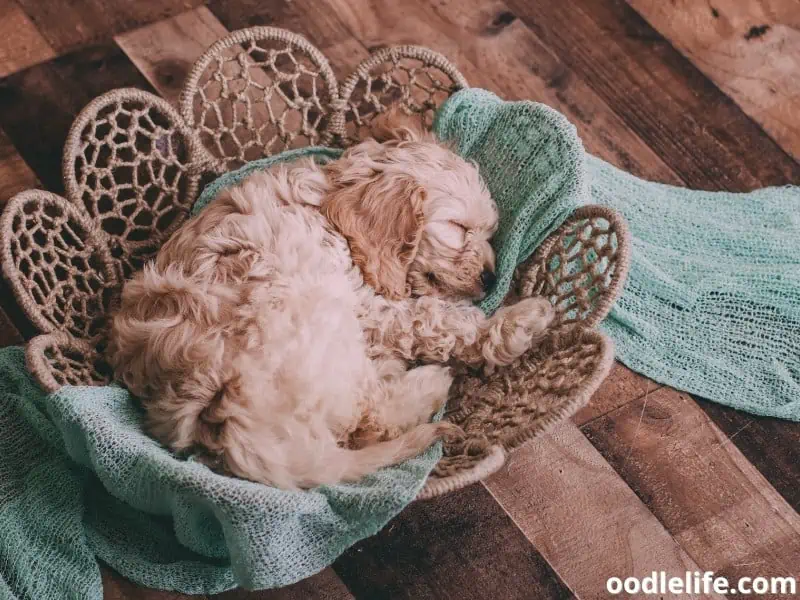 Puppies from Happytail are treated like part of the family until their forever owners come to find them. They're socialized and played with, even given basic training so that they enter their new homes with manners.
After you go home with your new puppy, you can trust that the folks at Happytail will continue reaching out to ensure you're adjusting well. They are always available to take your calls if you need anything.
From the friendly service to the adorable pups, it doesn't get better than Happytail Puppies. And if you ever need some extra accessories, you can find them here! Happytail provides dog owners with great deals on the following:
Dog vitamins
Dog food
Training programs
Fashionable collars and leashes
Puppy starter kits
The puppy starter kits are especially popular with first-time dog owners. It can feel overwhelming to try and find all the gear you need. That's why Happytail Puppies offers it bundled together in an affordable package.
Contact Details:
Website: https://happytailpuppies.com/
Phone: (336) 915-2510 or (855) 929-0573
Email: [email protected]
Location: Oak Ridge, North Carolina
3. Darlin' Doggies
Darlin' Doggies is all about matching the perfect family with the right puppy. The family-owned business is operated by Misty, a mother of two who loves animals and puppies.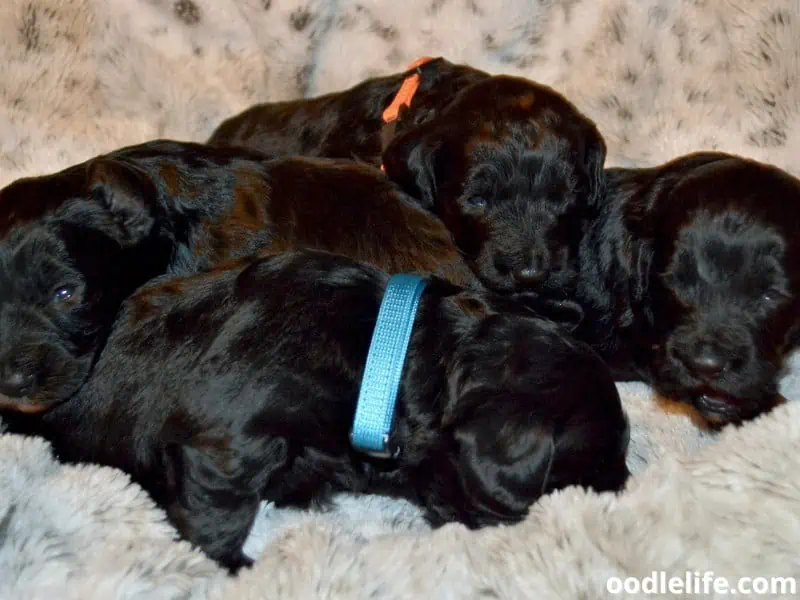 While they have many animals on their farm, the family focuses on Doodles and Poodles. Their experience and dedication put them in a great position to leverage their expertise to help you find the perfect dog for your family.
If you have questions, Misty or one of her employees is always available to take your call and help you find the answers you need. Their excellent customer service is one of the reasons that people keep coming back to Darlin' Doggies.
The puppy nursery at Darlin' Doggies has ample space for new pups to run around and get plenty of exercises. One of the staff members is responsible for puppy socialization, ensuring that your puppy is great with people before you even meet them.
Contact Details:
Website: https://www.darlindoggies.com
Phone: (704) 728-4924
Email: [email protected]
Location: Concord, North Carolina
4. Raven Oak's Rabbitry – Holland Lops
Did you know that raising dogs around other animals is a great way to get your puppies acclimated to different lifestyles? Dogs that grow up playing with cats, goats, and bunnies have no problem handling some rowdy children.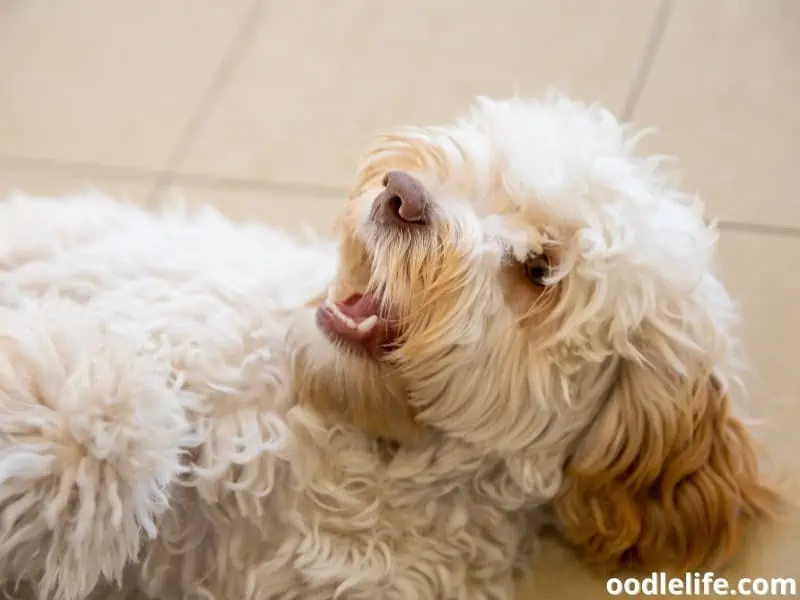 That's what make's Raven Oak's Rabbitry so unique. While many dog breeders raise their puppies on a farm, the folks at Raven Oak's raise rabbits and puppies together! So when you're looking for your new Cockapoo, consider stopping by Raven Oak's.
Raven Oak's is owned and operated by a mother and her daughter. Together, they put their love of animals to good use to ensure their puppies and bunnies have an excellent life before going to their forever homes.
What sets puppies from Raven Oak's apart is that they've been raised around all kinds of animals and small children. This socialization technique helps ensure they fit right in when you take them home.
Raven Oak's doesn't just raise Cockapoos and bunnies! They also raise the following:
Cocker Spaniels
Mini Aussiedoodles
And soon, German Shepherds
The growing family breeder is a wonderful place to find your next family member. Stop by today or give them a call to have all your questions answered!
Contact Details:
Website: https://ravenoaksfarm.my-free.website/
Phone: (919) 727-2294
Email: [email protected] or [email protected]
Location: Louisburg, North Carolina
5. Hart's Precious Pups LLC
When you work with Hart's Precious Pups LLC in Fayetteville, North Carolina, you have access to:
Cockapoos
Yorkipoos
Toy Poodles
Shihpoos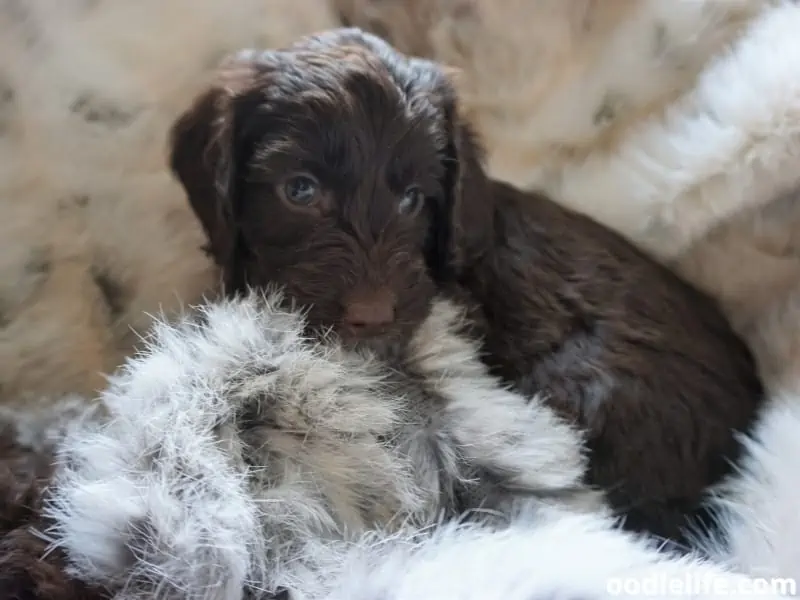 The expert breeders at Hart's are dedicated to high-quality puppies with excellent temperaments and wonderful charm. You'll fall in love the moment you walk through their doors.
It's not hard to see why Hart's Precious Pups is so popular with locals. The experts at Hart's work with every new puppy from the moment it enters the world until it goes to its forever home.
They help new pups prepare to impress their future families using standard training methods. By the time you pick up your dog, it's highly likely that they'll already be potty trained and have the basic behavior commands down as well.
Hart's is all about creating a safe, fun, learning-filled environment for the puppies. They believe their mission is to prepare puppies to be lifelong family pets. That means helping them socialize, behave, and develop loyalty.
After 12 weeks with Hart's expert team, your puppy will be ready to come home with you and start its new life as part of your family. In the meantime, you can stock up on all the puppy essentials to ensure you're ready!
Contact Details:
Website: https://www.hartspreciouspups.com/
Phone: (910) 719-9105
Email: [email protected]
Location: Fayetteville, North Carolina
Cockapoo Breeders in North Carolina, Final Thoughts
Finding the right Cockapoo breeders in North Carolina is about finding the people who care the most. When picking out your newest furriest family member, you want to make sure you find a breeder you can trust.
Having the right breeder makes all the difference when it's time to adopt your puppy. You can rest easy knowing that your pup has had a good life with lots of social interactions and plenty of time to play and learn a few behavior skills.
If you're ready to start looking for your family Cockapoo, don't hesitate to call ahead and ask lots of questions. The best breeders will always be ready with the right answers.