75+ Cookie Inspired Dog Names (Male and Female)
If you have a new furry friend joining the family, you may want to name them after something you love. After all, who doesn't love cookies?
Choosing the right name is one of the most important parts of getting a new dog. However, it can also be one of the most difficult. So to save you the trouble, I've compiled a list of the best cookie-inspired dog names for male and female dogs!
Why Name Your Dog After a Cookie?
Food names can be fitting for dogs of any breed. And if your dog has a sweet personality, naming them after a sugary treat can be a great way to reflect that.
A lot of dogs have similar appearances to certain cookies, too. Pretty much everyone has looked at a black and white dog and noted their resemblance to an Oreo, for instance. And dogs with earthy ginger pelts may remind many of a freshly-baked ginger snap!
Another benefit to naming your dog after a cookie is that it'll be easy for others to learn and remember. It'll be pretty hard for someone to forget your dog's name when it shares the title with their favorite cookie!
So, do you want to give your dog an adorable name that everyone will love? Keep on reading to see these creative cookie-inspired dog names!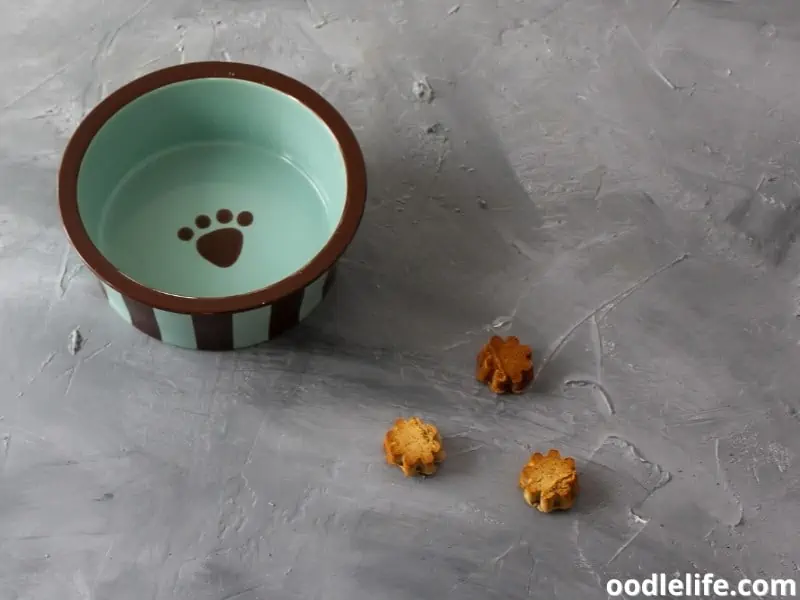 Male Cookie-Inspired Dog Names
These cookie-inspired dog names are perfect for your gentlemanly furry friend. Whether you've got a tiny Chihuahua or a massive Great Dane, there's a title on here that'll suit them just right.
Chip: Short for chocolate chip cookie! 
Macaroon: This coconut-almond cookie originates from Italy. You can shorten it to just "Mac" if you'd like. 
Graham: This subtle cookie-inspired dog name comes from graham crackers.  
Snowball: Snowball cookies get their name from their round shape and dusting of powdered sugar. This name is ideal for a fluffy white dog! 
Peanut Butter: Does your dog like peanut butter? Consider naming them after this classic cookie flavor. 
Crisp: This name refers to the crisp and crunchy texture of a tasty cookie. 
Rocky Road: Rocky road cookies have marshmallows, chocolate, and walnuts. You could shorten this name to "Rocky" for simplicity's sake. 
Nutty Buddy: Who wouldn't want to name their dog after this delicious peanut butter wafer cookie? 
Amos: "Famous Amos" is a brand that sells pre-packaged cookies. This can be a creative yet subtle cookie-inspired name for your dog.  
Spritz: These sprinkle-covered Christmas cookies are a fitting namesake for tiny dog breeds. 
Buckeye: Buckeyes are a classic around the holidays in Ohio. This chocolate-peanut butter treat could be the perfect title for a black and brown dog. 
Keebler: Name your dog after these elven mascots for one adorable cookie-inspired dog name. 
Pepperidge: Pepperidge Farm is a brand that sells several different kinds of cookies. It can also inspire a charming name for your male dog! 
Doughboy: If your dog is adorably chubby like the Pillsbury Doughboy, this may be the name for him. 
Churro: These cinnamon-covered cookies could be a charming source of name inspiration for your furry friend. 
Stroopwafel: Stroopwafels are waffle-like cookies. This could be a lovely title for a German dog breed. 
Biscotti: Biscotti is a crispy, Italian cookie that goes well with tea or coffee. You can shorten it to "Scotti" if you'd like.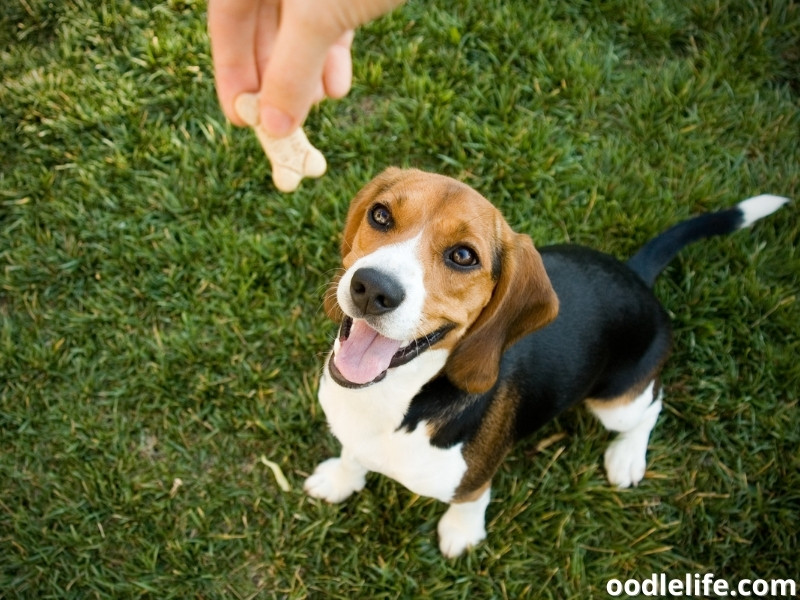 Female Cookie-Inspired Dog Names
Are you looking for a cookie-inspired dog name with a feminine flair? You'll want to try one of the titles on this list!
Ginger Snap: You could shorten it to "Ginger" if you'd like. This name is best for dogs with ginger-colored pelts.
Pizzelle: This Italian cookie has a very sophisticated sound to it.
Praline: Perfect for dogs with brown or tan fur!
Sandie: These pecan cookies have a cute, feminine name that'd be wonderful for your dog.
Little Debbie: If you're a fan of Little Debbie baked goods, consider naming your dog after their mascot.
Hazelnut: Ideal for dogs with hazel-brown fur. You could shorten this name to "Hazel" if you'd like something more simple.
Cocoa: What's a better name for a brown dog than the name "Cocoa"?
Poppy: This common ingredient in lemon cookies has a simple, cheerful sound to it.
Pumpkin: Pumpkin is a cute name for dogs born around Halloween!
Nutella: Fans of this chocolatey spread may want to consider naming their dog after it. This name is ideal for dogs with brown coats of fur.
Betty Crocker: Betty Crocker is a brand that sells a huge variety of baked goods, including cookies. You can also call your dog "Betty" if you want something a little shorter.
Lorna Doone: These crunchy shortbread cookies have a charming name that'd be fitting for your female dog.
Sugar: A simple, sweet, and necessary component of any cookie.
Fortune: If your dog is worth a fortune, this might be a fitting name for her.
Meringue: A suitable title for a small, white dog.
Maple: For a dog that's as sweet as a freshly baked maple cookie!
Blondie: As the name suggests, these vanilla, brownie-like cookies have a blonde color. This makes them a great namesake for blonde dog breeds like golden retrievers!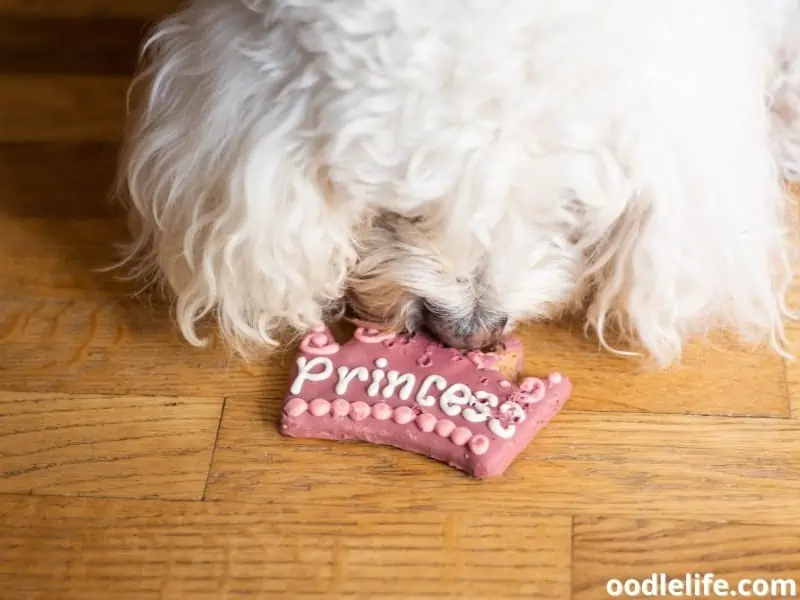 Gender Neutral Cookie-Inspired Dog Names
Did none of the names in the previous lists jump out at you? Don't fret—we have a few more ideas to choose from! These names can work wonderfully for dogs regardless of their gender.
Oreo: It may be a bit cliche, but it's popular among black-and-white dogs for a reason.
Sprinkles: A suitable name for a dog with a cheerful, colorful personality. It may also be fitting for a dog with a coat of speckled fur.
Oatmeal: One of the most underrated cookie flavors, but it can make a charming name for your beloved dog all the same.
Shortbread: Perfect for small dog breeds! You could even use "Shorty" as a nickname.
Wafer: A simple yet endearing cookie-inspired name for your dog.
Whoopie: This name comes from "whoopie pie," a cream-filled sandwich cookie with a cake-like base.
Molasses: If you have a dog with a deep brown pelt, this may be the name for them. It would also be suitable for a dog who's a little bit lazy.
Butter: Does your dog have buttery, golden fur? Why not name them after this delicious cookie flavor?
Snickerdoodle: This cinnamon-covered cookie would make a super fitting name for a labradoodle!
Lebkuchen: A classic Christmas cookie that'd be a cute name for a German dog breed.
Frosting: What's a sugar cookie without a little frosting on top? This is a lovely name for a dog with light and fluffy fur.
Cookie: It's a little on the nose, but still a cute name for both male and female dogs.
Linzer: This beautiful Austrian cookie has fruity jam in the center. It'd make a charming name for any dog, too.
Choosing the Best Name for Your Dog
Sometimes, choosing the perfect name for your new pup can take quite a while. Other times, the ideal name for your furry friend will jump right out at you. Either way, it's still a good idea to choose carefully and consider a few different factors.
For instance, you want a name that will suit your dog well. You can take some inspiration from their appearance, for instance. So if you have a brown dog, a name like "Cocoa" or "Nutella" may be super fitting.
Or, you could factor in your dog's personality—an energetic dog could have a name like "Rocky Road," or a lazy pup may deserve to bear the title of "Molasses."
When it comes to gender, cookie-inspired dog names can be pretty flexible. While we've organized many of the names on this list by male and female, it's not a strict rule. Ultimately, what matters is choosing a name that you'll love!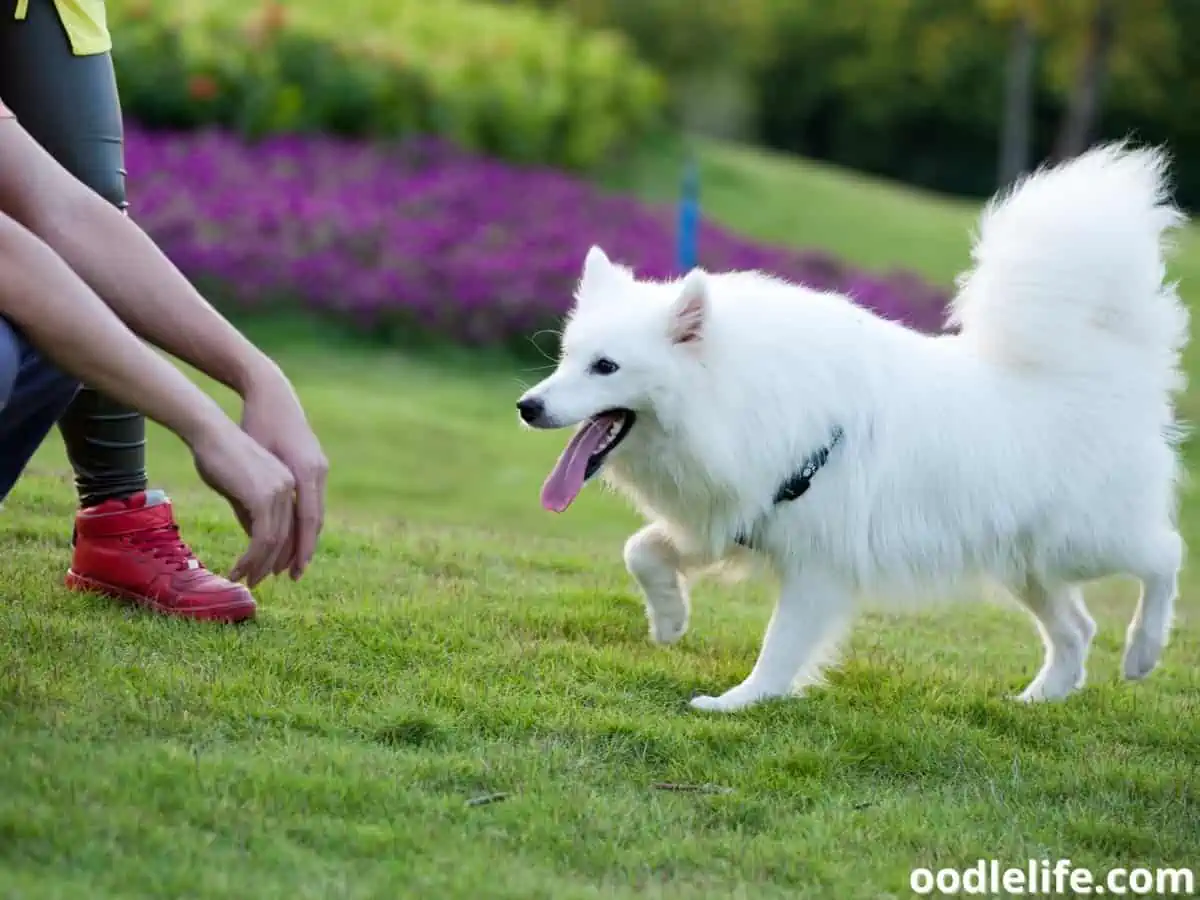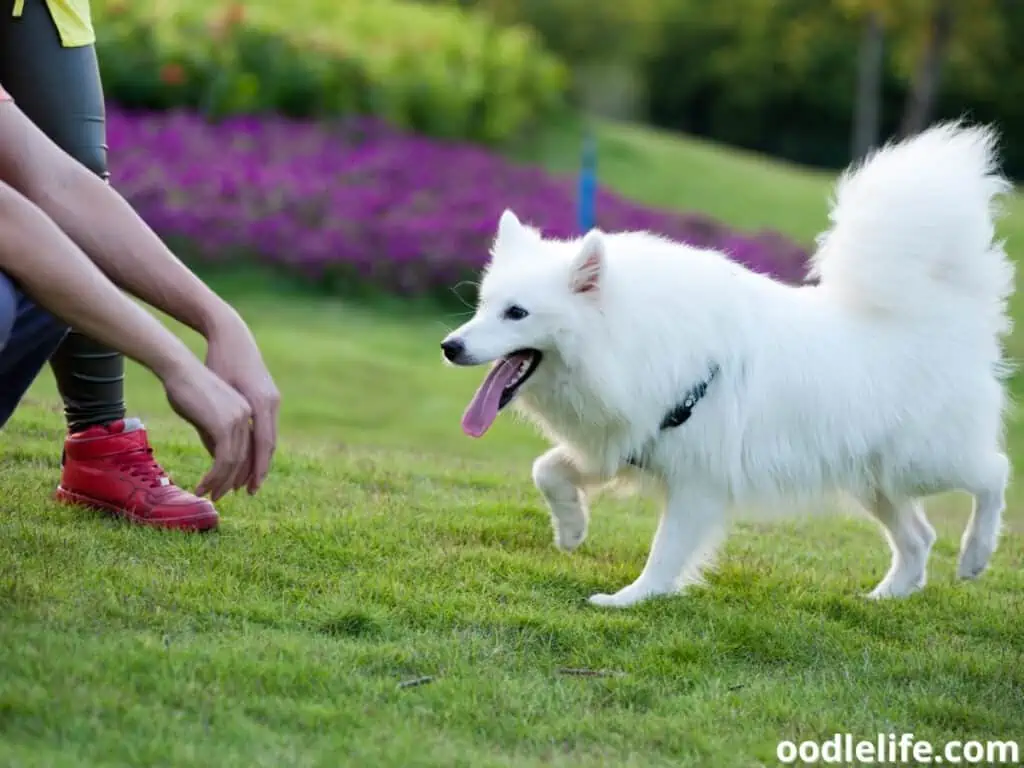 Final Thoughts
When you put your mind to it, you can surely give your new dog a creative name. So if you're someone with a sweet tooth who wants to reflect that in their new dog's name, a cookie-inspired dog name might be the way to go.
Once you've settled on a name, be sure to try it out on your new dog and make sure they get to know it. You'll also want to get a customized dog tag with their adorable new title!
Looking for more food-inspired dog names? Check out our list of the 87 Best Food Names For Dogs! Or if you've decided food names aren't your style, you may enjoy our list of the 90 Best Weather Names For Dogs.