DIY Dog Detangler Homemade Spray
There is unquestionably a bark load of benefits to be gained from bringing a dog into your life, however they can also require a good amount of maintenance, and attention.
Sometimes even when you brush them constantly, you can't seem to get rid of those deadly knots. Solution? A DIY dog detangler homemade solution.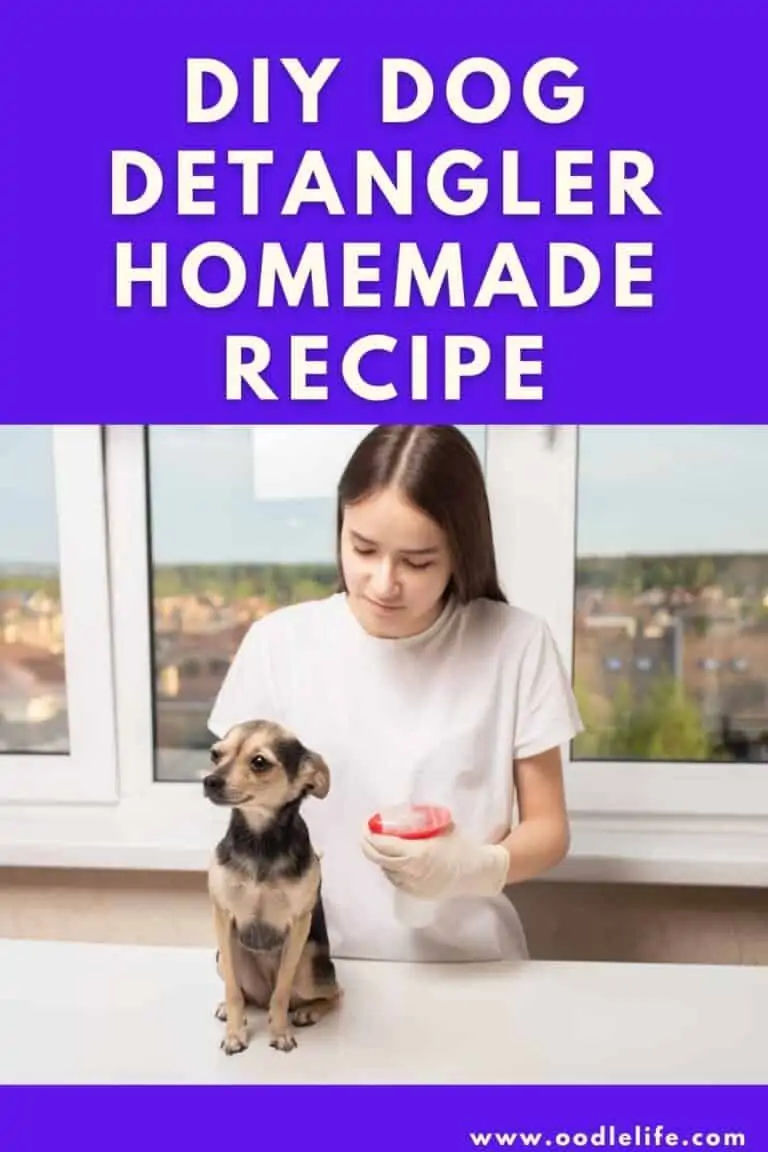 An immediate solution for many is to go out and purchase a Dog Detangler Spray, and while there are a multitude of great products available online, they are not always the most ideal solution.
The majority of popular dog detangler sprays are either too expensive, or contain nasty chemicals, or additives which can cause irritation to the dog's skin.
This is why a safe, and effective alternative is to make your own detangling spray.
And it's a whole lot easier than you may think.
DIY Dog Detangler Homemade Recipe
This 4-step process is a very simple way to detangle your pup, but keep in mind that it will have to be made into a regular routine to fully remove all tangles moving forward. The following DIY recipe is the best, and simplest way to remove tangles.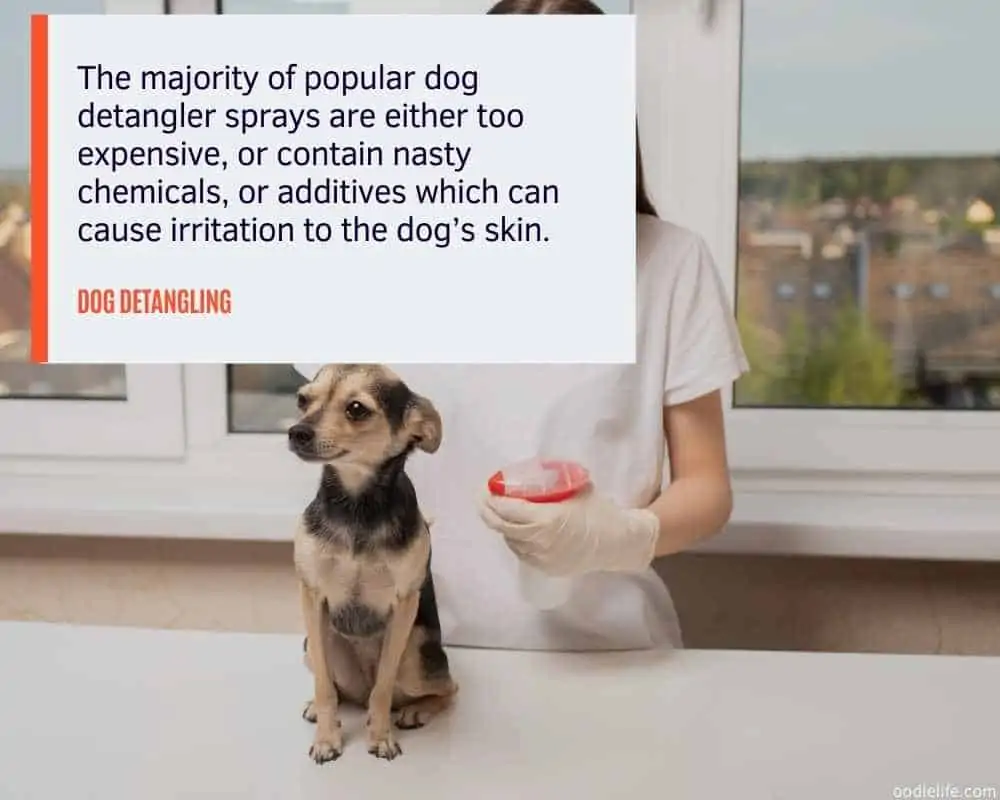 Step 1 – The 1st step is to gather all of the necessary equipment, and ingredients you're going to need for the entire process. A benefit to homemade detangler recipes is that you get to choose what goes in it.
The majority of DIY recipes are made with ingredients such as Aloe vera gel, coconut oil, and glycerin, as well as a spray bottle to mix it in. Aloe vera gel is calming and soothing, coconut oil provides slippage and moisture, and glycerin is an emulsifier that works well to blend all the products together.
Also, keep in mind that this recipe is designed as a conditioner, so you should be giving your dog a bath before using the spray.
Step 2 – The 2nd step is to mix it all together! Start by pouring the water into a spray bottle, and then melt the coconut oil to a liquid consistency, and add it to the bottle as well (after it cools).
You should be adding 2 cups of water to the pot (bring it to broil), and 1 tablespoon of coconut oil (heated to liquid consistency). Once this is done, mix in the glycerin (3 drops), and aloe vera gel (1 teaspoon), and give the bottle a good shake for a couple minutes to make sure that all the ingredients have blended together.
Step 3 – The 3rd step is to spray your dog's fur! Spray the homemade detangler on your dog's fur after bathing, shaking the bottle several times during the application process to keep the ingredients mixed.
Keep in mind that although there are many positives to DIY dog detanglers, it must be used within a short amount of time after it is made. This is because it doesn't contain preservatives and so germs can easily make their way into the spray. 
Step 4 – The final step is to simply massage the detangler into your dog's fur, and leave it there. Try to comb out their fur with a dog comb while it is wet, but don't rinse out the detangler spray.
Make sure to spray the detangler spray all over the dog's body, and give them a quick rinse after, using the water to wash off the traces of shampoo and conditioner. Once you've combed out the knots, rinsed out the product, and dried off your pooch, they should be good to go!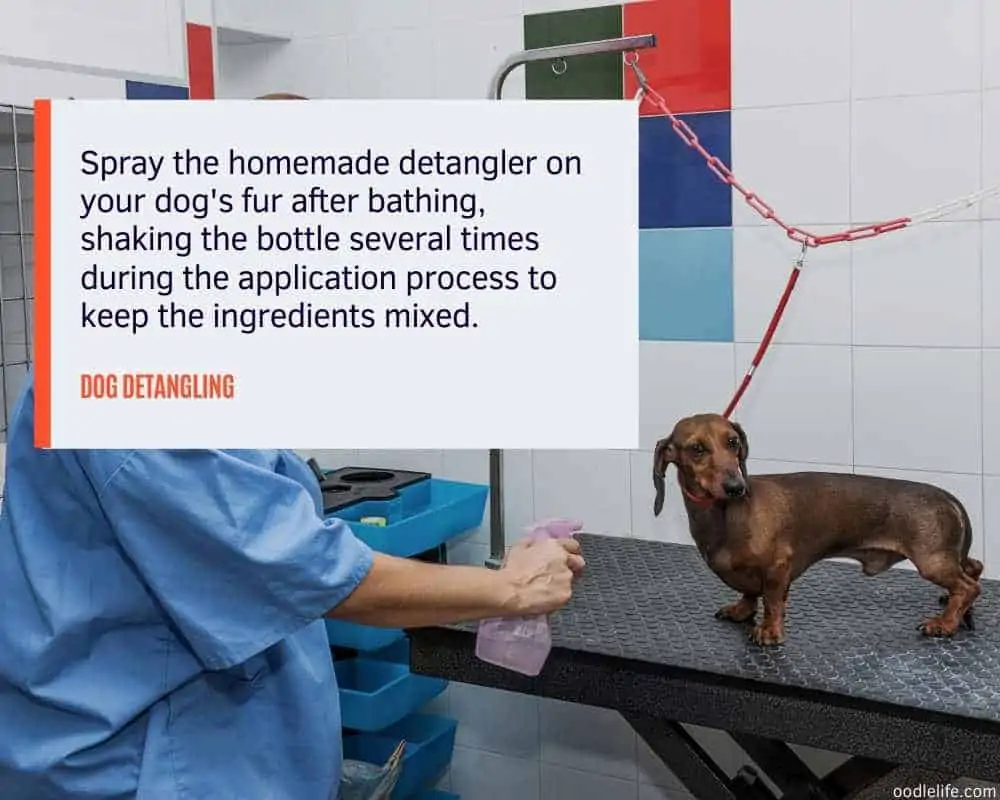 HOW TO AVOID HAIR TANGLES (without products) –
Beyond DIY detangler sprays, good personal care for your pup means they are less likely to get knots, and become matted. Be aware that if you don't regularly provide the basic care your dog's coat needs, they will be more likely to grow bacteria, and parasites (not to mention the pain and discomfort the dog will feel). There are a variety of ways to avoid hair tangles in general, with the most popular being;
Providing rewards for short grooming sessions – No matter how young or old your dog is, providing them with treats even for small amounts of brushing can go a long way in normalizing the routine for the dog. By doing this, you can gradually increase the amount of grooming you do, while slowly removing the treats/rewards to the point where they will no longer need them. 
Designated grooming area – Assigning a designated area in the house where the brushing/grooming takes place helps to establish a more controlled environment for the dog. If the dog knows, and recognizes it's environment every time you go to start brushing, over time they should become far more comfortable, and less anxious about the idea.
Brush where tangles occur frequently – Make sure that you are aware of the locations on the dog's body that are more susceptible to knots, and mats. With this in mind, it's always a good idea to start by brushing around the dog's ears, chest, legs, tail, or belly. 
Seek Vet's advice – Above all else, if you feel like nothing else is working, you should always try to reach out to your vet. At the very worst your vet will be able to provide you with an appropriate grooming routine, and refer you over to a good groomer or hairdresser. Many vets even have this service as a part of their practice.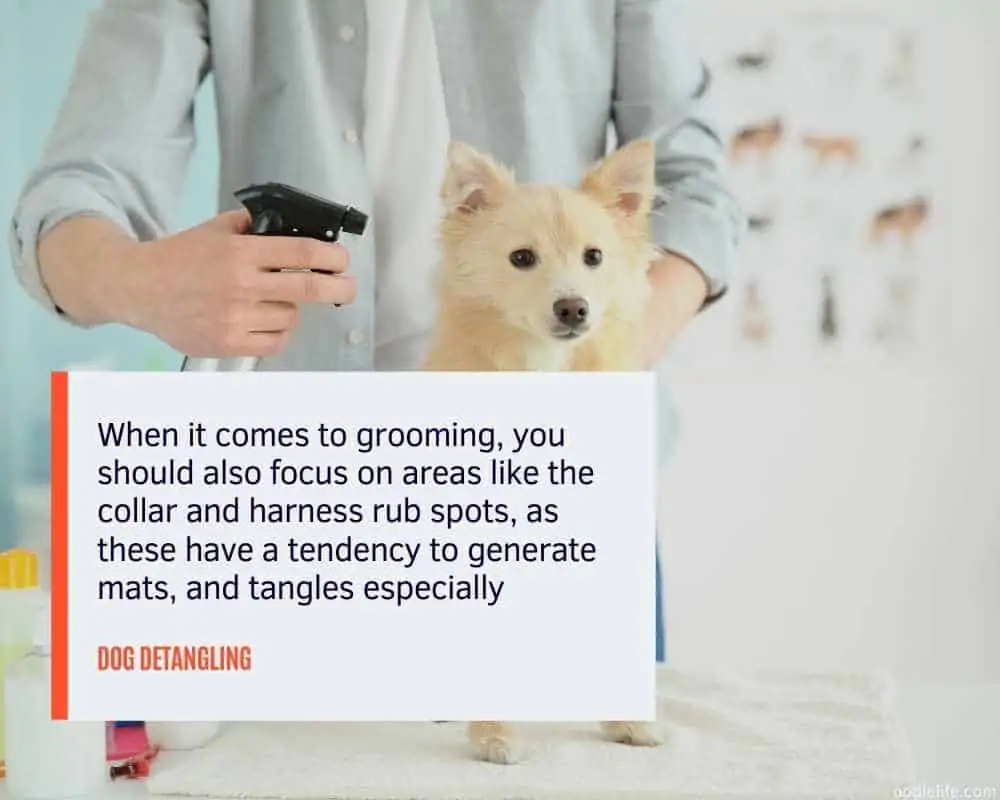 RECOMMENDED PRODUCTS –
While the most ideal option is a DIY detangler spray, it's important to note that there are some tremendous options online that contain healthy, all-natural ingredients. Just be aware of what's harmful and what isn't, and remember that ideally the best solutions have the fewest ingredients.
Past the detangling spray (whether homemade or bought online), you will also need to make sure that you have a high-quality de-matting comb on hand.
The following are the 5 best de-matting combs on the market;
Pat Your Pet: Pet Grooming Tool –
Sliding in as our top recommendation for de-matting combs is the Pat Your Pet Grooming Tool. This amazing design is surprisingly cost-efficient, and yet does not compromise durability, comfortability, or convenience.
It's a 2-in-1 grooming tool that is dual-sided with 9 teeth for tough mats, and 17 teeth on the other side for thinning and de-shedding. It also is built with rounded teeth on the exterior, and sharp teeth on the interior to provide a clean, accurate, and pain-free groom.
The Pat Your Pet Grooming Tool is the most recommended product by professional groomers, and easily carries the greatest value on the market.
GoPets De-matting Comb –
GoPets Dematting Comb with 2 Sided Professional Grooming Rake for Cats & Dogs
The original professional quality dematting tool. Over 17,000 people can't be wrong. Comfortably and quickly get a professionally groomed look in minutes.
Clear all different mats and tangles. The double sided pet comb has a different number of teeth on each side. The lower density side is a dematting rake for stubborn matts and tangles. The higher...
Multiple uses with a single comb. The pet grooming tool not only works great as a dematting brush or detangling comb, but also as an undercoat comb or deshedding rake. The dematting tool for dogs and...
A more comfortable and pleasant experience. The cat and dog brush has sharp teeth to prevent pulling hairs and the rounded ends help make it safer on sensitive skin as an undercoat brush. The non-slip...
Stop hurting your furry friends. Sharp stainless steel blades cut through mats and tangles instead of pulling the hair out. Plus all of the teeth have dull rounded ends so it will not scratch or...
We earn a commission if you make a purchase, at no additional cost to you.
GoPets is another spectacular brand, and though their de-matting comb carries a premium price, it also provides some of the best value on the market. This design carries world-class versatility, and durability as not only can it be used for all pets, it also comes with 23 + 12 precision teeth that are built to untangle or de-matt any coat. The handle is also made with non-toxic silicone gel, so comfort and usability shouldn't become an issue. Also, for every purchase made at GoPets, they donate a part of their profits to animal charities, no-kill shelters, and animal rescues.
Pet Republique Professional De-matting Comb Rake –
Pet Republique Professional Dematting Comb Rake Dual Sided Mat Brush Splitter - for Dogs, Cats, Rabbits, Any Long Haired Breed Pets (Regular 12+23 Teeth)
BEST MATS AND TANGLES REMOVER! - The dual sided 12+23 teeth designed matt breaker / detangler give you the best result of de-matting for even the longest and densest coats of dogs, cats, rabbits, long...
SAFE & PLEASANT! - The dematting tool's blades are very sharp on the inside but rounded on the outer edge. This design provides much safer experience than the traditional sickle shape mat combs, and...
GREAT VALUE & 100% SATISFACTION! –30 Days money back guarantee and one year warranty. Just contact us if you have any question, or if you are not satisfied for any reason and we will replace it or...
HELP SAVE OTHER ANIMALS! - When you buy any product from the Pet Republique (Seller), we will donate 15% of the profits to the American Animal Rescue Society, where rescued abandoned dogs and cats are...
HIGH QUALITY! - Our stainless steel teeth are strong and sharp to last for years. These de-shedding brush / undercoat rake are quality controlled during the process of manufacturing; parts will not be...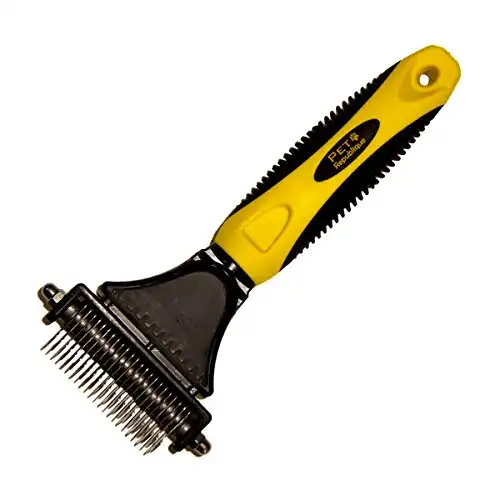 We earn a commission if you make a purchase, at no additional cost to you.
As one of the least expensive options available, Pet Republique has done a wondrous job at combining convenience, and affordability. This unique design is made with 12 +23 high-quality stainless-steel teeth that are built to last, and can be used for all pets.
Much like other designs, this comb is sharp on the inside, but round on the outside so to create a more enjoyable, and comfortable environment for the animal. Also, for every purchase Pet Republique receives, they donate 15% of their profits to the American Animal Rescue Society.
Miu Color Professional Pet Grooming Undercoat Rake Comb –
MIU COLOR Pet Grooming Brush, 2 Sided Professional Dematting Comb Grooming Undercoat Rake, Effective Removing Knots for Cats, Dogs
Professional Deshedding Brush: MIU COLOR undercoat rake not only helps remove undercoats and loose hair without pulling or cutting the fur, but also cuts through knots and gets the mats out without...
No Scratch & No Pain Design: Our undercoat brush for dogs & cats with sharp teeth to prevent pulling hairs, and the rounded ends help make it safer on sensitive skin as an undercoat brush.
All in 1 Cat Dog Undercoat Rake: Dematting, deshedding and brushing at the same time. Easy and pleasant use dog rake for you & great experience for your dog. Durable and comfortable handles in solid...
Effective Grooming Rake: Quickly and gently remove loose hair, mats and tangles with minimal tearing and cutting. Great for shaping, finishing, thinning and de-shedding, creating a soft, smooth and...
Ideal Choice for Pet: MIU COLOR Dematting Comb allows dogs and cats to have comfortable experience. It not only works great as a dematting brush or detangling comb, it also works as an undercoat brush...
We earn a commission if you make a purchase, at no additional cost to you.
The MIU COLOR Professional Comb is a stylish yet affordable option that is made with TPE and PP, which is environmentally friendly, and will not cause skin allergies. The handle is made with non-slip rubber, and is built with comfortability and durability in mind with the solid tang construction.
It comes with 17 + 9 teeth built in, and safe rounded ends so as to not cause discomfort for the animal. The MIU COLOR Professional Comb is great for shaping, finishing, thinning, and de-shedding.
RUBOLD De-matting tool for Dogs –
RUBOLD Dematting Tool for Dogs - Cat and Dog Brush for Shedding and Removing Mats - Undercoat Rake Comb for Safe and Gentle Grooming - Designed for Medium and Long Haired Cats Dogs and Every Other Pet
NO SCRATCH & NO PAIN! – This dematting tool for dogs has 17+9 precision teeth which provide gentle and precise grooming for dogs with sensitive skin. Rounded outside, so it doesn't scratch the skin,...
GET RID OF DOG HAIR ALL AROUND THE HOUSE – Simple 5-minute brushing will remove tons of unnecessary dead undercoat from your furry friend. An excellent choice for medium to long hair coats on all...
BRING OUT THE BEAUTY IN YOUR DOG – The Extra Wide 3,6 Inch Wide 2 in 1 Grooming Tool: Start with the 9 sharp teeth side for stubborn mats and tangles and finish with the 17 teeth side of the...
ALL IN 1 TOOL – Detangling, deshedding & brushing at the same time. Easy and pleasant use for you & the best experience for your dog. The ergonomic, strong, non-slip, unbreakable handle will help...
PERFECT GIFT FOR DOG LOVERS, BUY NOW WITH CONFIDENCE – 100% Happy Dog Guarantee for these dog brushes for grooming. Ideal for Dogs with Undercoat. Best for Golden Retriever grooming. Poodle,...
We earn a commission if you make a purchase, at no additional cost to you.
The RUBOLD De-matting tool is a tremendous all-in-1 device that can be used for detangling, de-shedding, and brushing all at the same time. It is also designed with 17 + 9 precision teeth, a rounded outside, and sharp inside so not to scratch the dog's skin, and clears all mats or tangles quick, and easy.
This tool is the perfect choice for medium-large sized dogs, and is designed with an ergonomic, strong, non-slip, and durable build providing exceptional value.
FAQs for DIY Dog Detangler
Are there any areas I should brush extra hard? – A common question that often arises is whether or not there are specific places on the dog that should be prioritized. Dogs with curly hair, soft hair, shedding hair, or long hair are more prone to knots, especially in locations where the hairs rub together like under their limbs, hips, and belly. When it comes to grooming, you should also focus on areas like the collar and harness rub spots, as these have a tendency to generate mats, and tangles especially.
Should I cut a dog's matted hair? – The simple answer here is NO! While it can be undoubtedly frustrating to constantly brush out knots, and mats, the absolute last thing you should aim to do is simply cut it off. First off, it can be hard to do as you could easily harm your dog's skin, or take off more than bargained for. But you're also likely to destroy the house in the meantime. Instead, you should always try to use detangler spray, and a comb to try to get out any knots. Absolute worst-case scenario, you can always reach out to a vet and they can direct you what to do (never cut off).