Best Dog Shampoo for CURLY Hair (2023)  
Dogs with curly coats are undoubtedly adorable. However, those beautiful curled coats can, unfortunately, harbor dirt and contaminants very quickly.
They can also become very tangled or, worse, matted. Therefore, it's imperative to use a shampoo that benefits their curly fur, or your dog could potentially develop severe skin irritations or infections.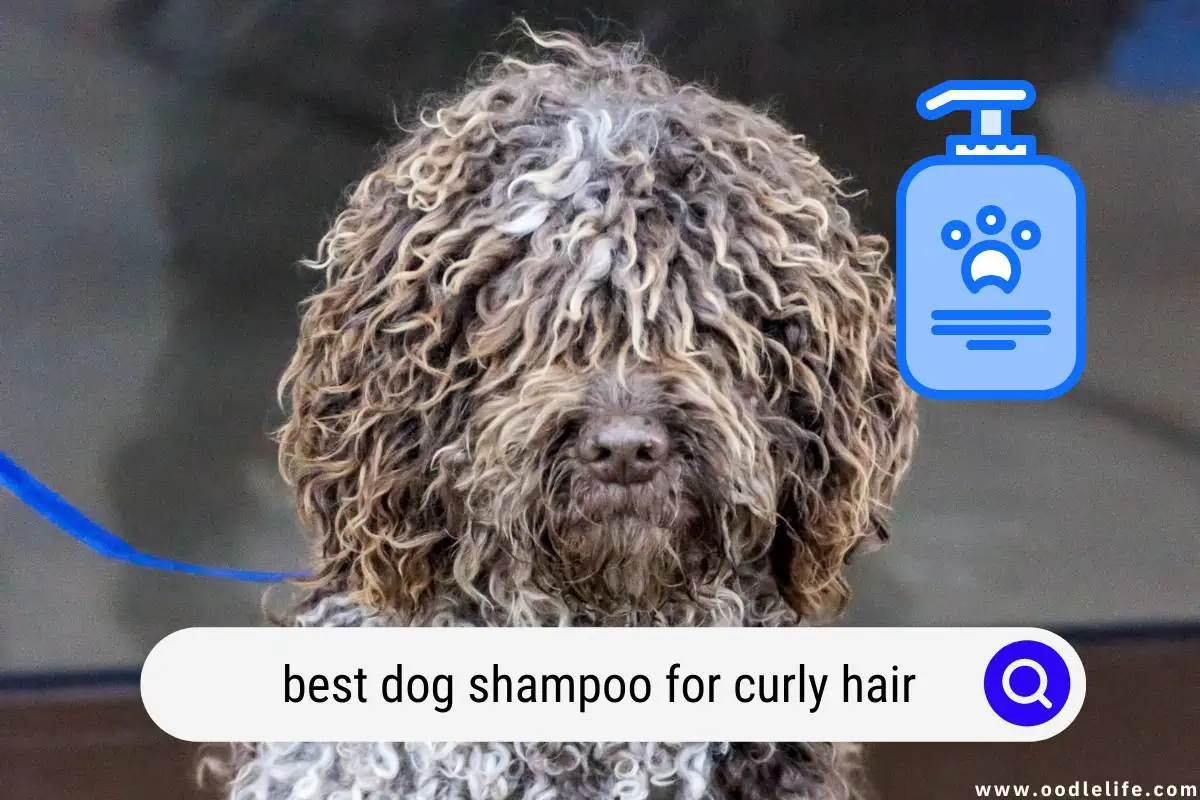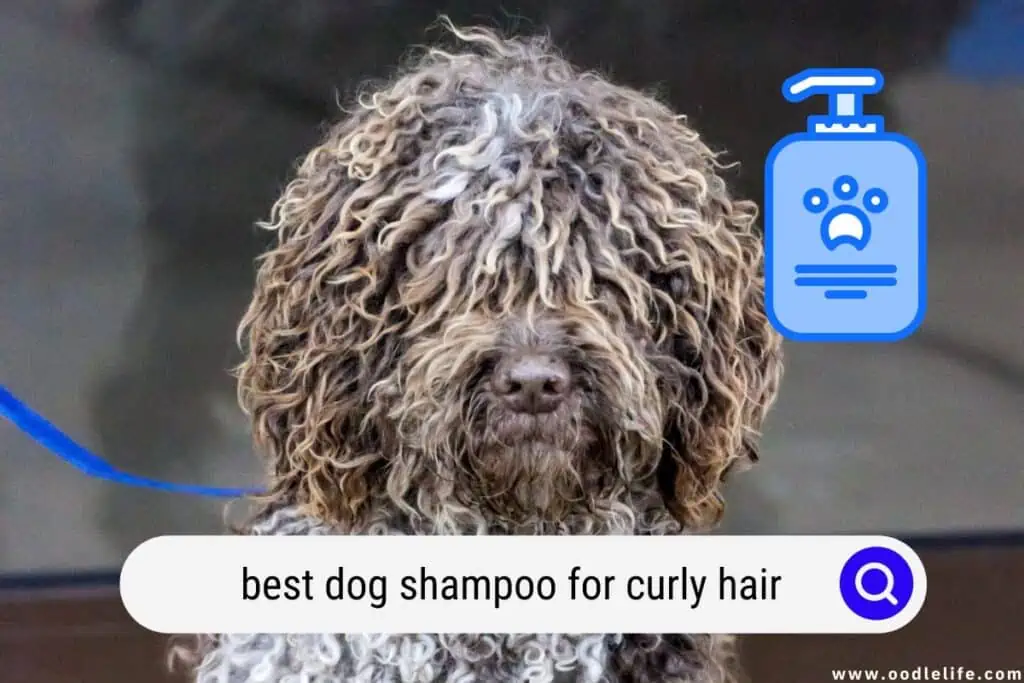 This great shampoo list will give your dog healthy skin while moisturizing its curls. So let's look at the best dog shampoo for curly hair in 2023.
Buddy Wash Dog Shampoo & Conditioner
The Buddy Wash Shampoo and Conditioner is great because it's vegan and doesn't contain harmful ingredients. These ingredients are clean and don't consist of parabens or chemicals.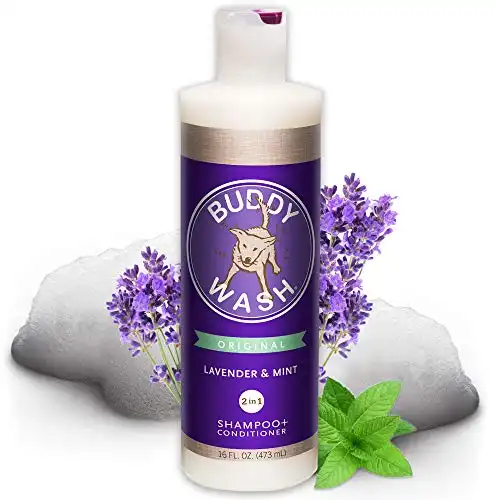 We earn a commission if you make a purchase, at no additional cost to you.
It's perfect for curly-haired dogs because the ingredients are very hydrating and moisturizing for their fur and skin.
The herbal ingredients provide moisture, while other components, such as aloe vera, provide a nourishing layer and a clean, fresh smell.
Top Benefits
Made in the US.
Free of soap and alcohol.
Lathers very well.
Contains hydrating oils.
It provides a soft velvet feel to your pup's fur.
Skout's Honor Probiotic Shampoo & Conditioner
This fantastic shampoo is another duo shampoo and conditioner mix perfect for curly hair dogs. It consists of avocado oil and other natural cleansers that assist in removing dirt and keep their curly coat full of shine.
SKOUT'S HONOR: Probiotic Shampoo + Conditioner for a Healthier Skin and Coat - Honeysuckle, 16 oz.
SUPPORTS NATURAL DEFENSES: A PH-balanced shampoo and conditioner that works to naturally support against shedding, itching, dryness, hot spots, and odor.
PROMOTES A BALANCED COAT: Avocado oil and Omega-3's work to condition your pet's fur and give it a noticeably balanced and healthy shine.
2-IN-1 PROTECTION: This shampoo and conditioner combo helps clean and protect your pet's skin against environmental damage and inflammation.
PAW PLEDGE: With every bottle purchased from Skout's Honor, a rescue animal is provided with a full day's worth of meals.
100% SATISFACTION GUARANTEE: Skout's Honor provides a 100% satisfaction guarantee. If you are not fully satisfied, simply return the product for a full refund.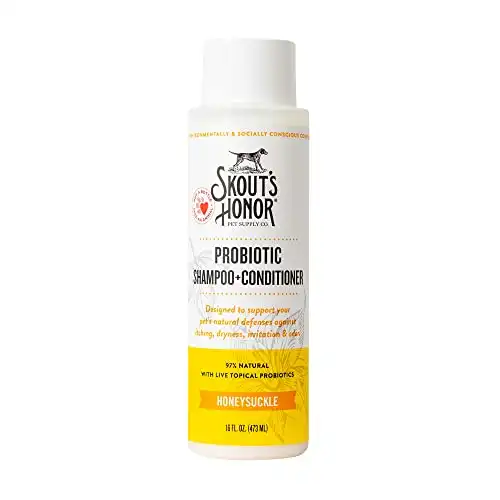 We earn a commission if you make a purchase, at no additional cost to you.
Another great benefit of this shampoo is it contains Omega-3 and has a pH balance. These benefit the coat and skin by decreasing itching and dandruff.
This shampoo also works well to combat odor and hot spots. This benefit will help keep your dog smelling and feeling fresh all day long.
Perhaps the most significant benefit of this excellent shampoo and conditioner combo is it helps to safeguard your dog's skin from inflammation and the environment.
Top Benefits
You can use it with flea & tick ointments.
Safe for pups as young as eight weeks old.
Paw Pledge approved.
Fights against itchiness, excessive shedding, dryness.
It gives your dog's coat an impeccable shine.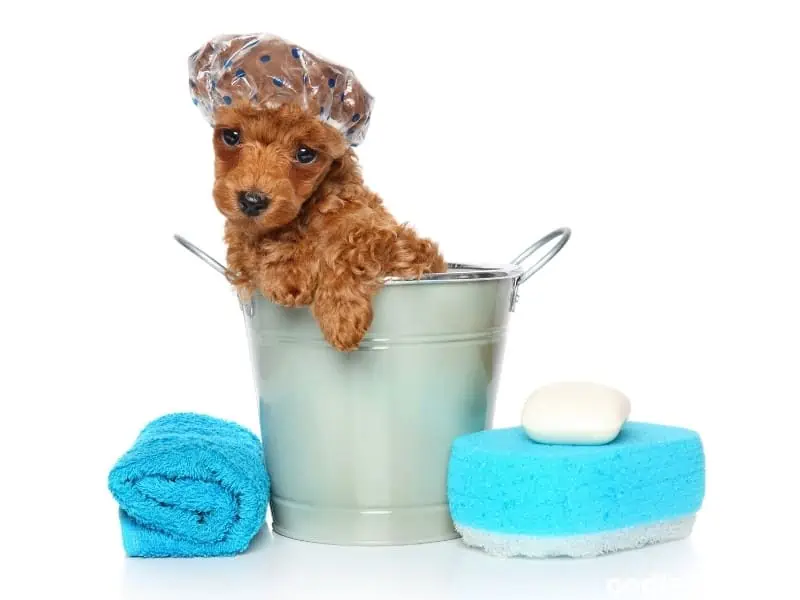 Nature's Miracle Supreme Odor Control Oatmeal Dog Shampoo
This shampoo & conditioner is a 4-in-1, perfect for curly dogs of any breed. It's great for allergies and rejuvenating even the driest curls and skin.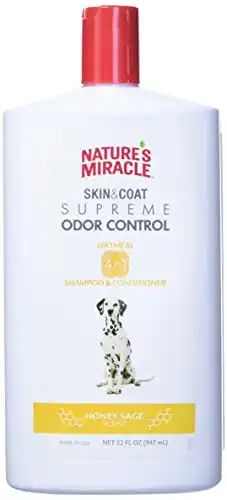 We earn a commission if you make a purchase, at no additional cost to you.
Their formula is composed of natural ingredients and free of soaps. In addition, the recipe includes natural oils that provide a smooth and moisturized layer on your dog's skin and coat.
The oatmeal helps deeply nourish your pups' curly fur while also helping to eliminate frizz. This combo also conditions and fights against skin odor.
Top Benefits
Calms itchy and dry skin.
Contains natural cocoa.
Reduces static.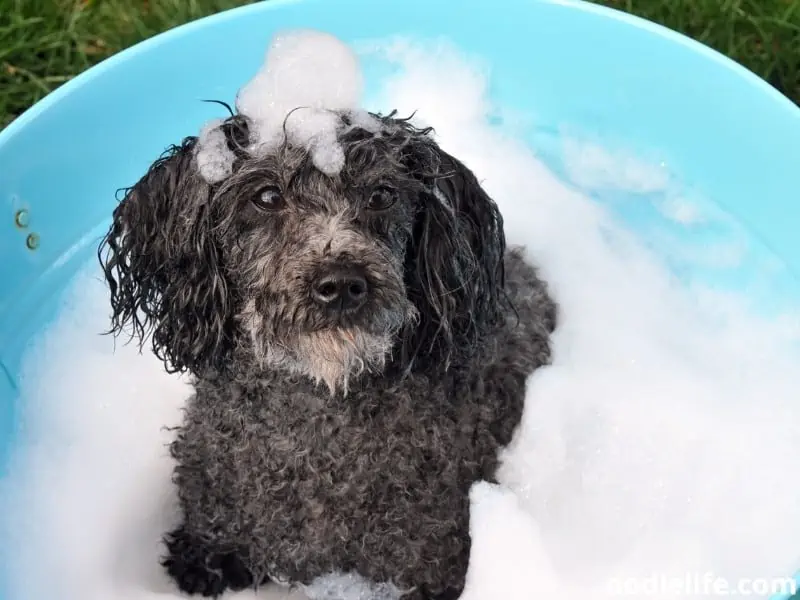 Pure and Natural Pet 2-in-1 Grain Free Organic Shampoo and Conditioner
This incredible 2-in-1 is loaded with healthy ingredients that benefit your dog's curly coat. These ingredients are free of parabens, artificial fragrances, and sulfates.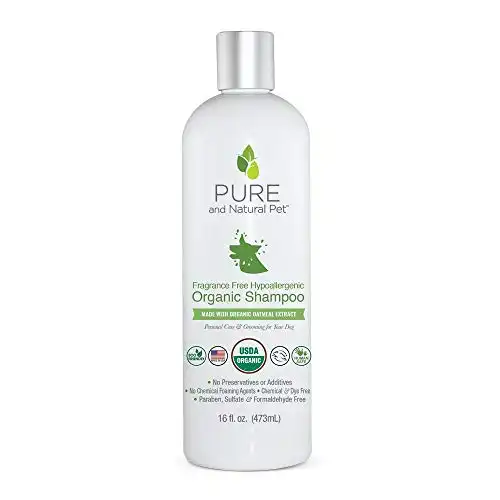 We earn a commission if you make a purchase, at no additional cost to you.
This organic combo is sure to protect the health of your dog's skin since it contains lots of gentle ingredients. These ingredients include lavender essential oil, aloe, and jojoba.
Other ingredients include amazing oils like peppermint oil, niaouli oil, and calendula oil, which all help to benefit the skin and relieve dryness.
Top Benefits
Soothes skin.
No additives or preservatives.
Suitable for any life stage and curly coats.
Won't disturb flea treatment.
Gentle and safe.
Keeps their coat shiny.
Great for sensitive skin or allergies.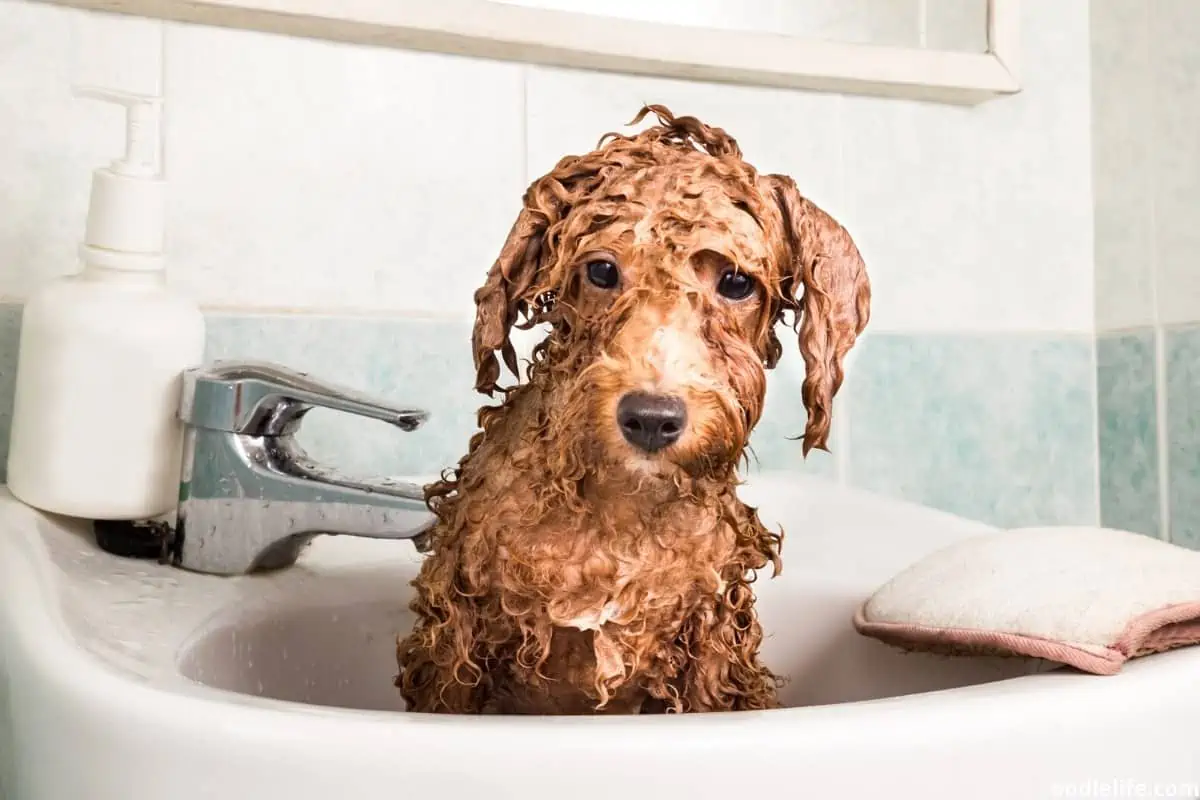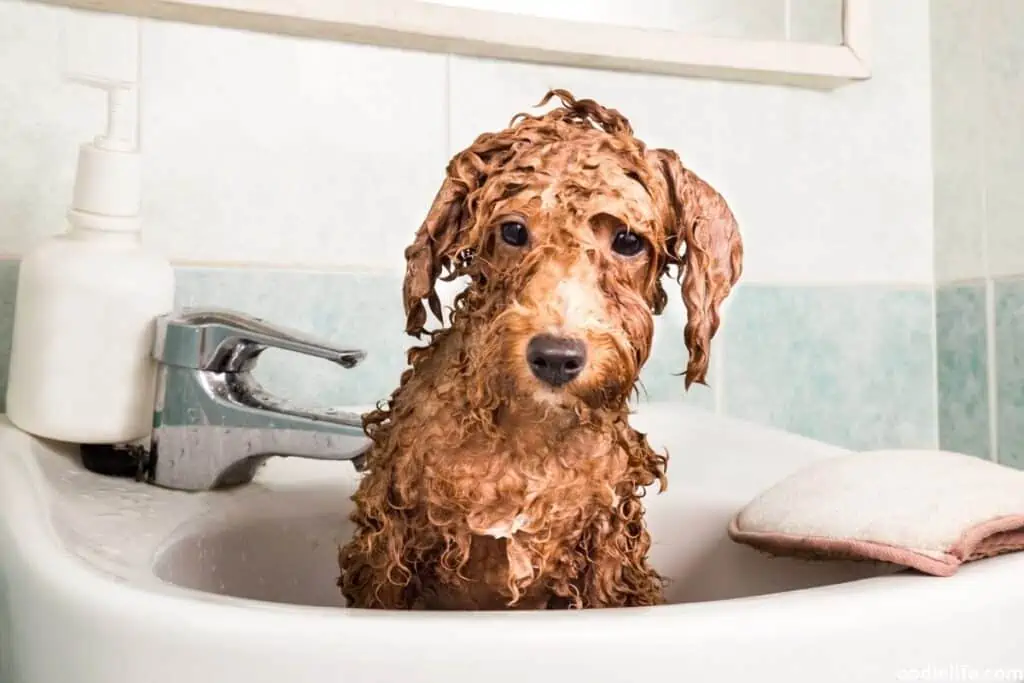 FURminator Deshedding Ultra Premium Shampoo for Dogs
The FURminator shampoo is great because it targets the problem of de-shedding and helps to decrease it. The unique formula in this shampoo fights excess shedding while keeping fur soft and manageable.
We earn a commission if you make a purchase, at no additional cost to you.
It even helps during the process of using deshedding tools. This shampoo allows for a smoother use of these tools by ultimately increasing their function.
Top Benefits
It contains fatty acids and Omega-3.
Free of additives or dyes.
Soothing benefits from Papaya leaf extract.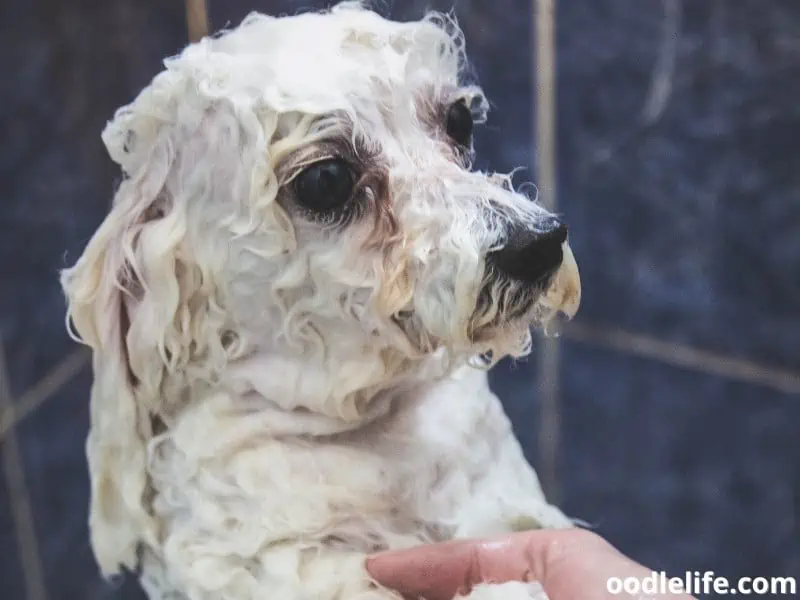 PetCare Sciences Tearless Puppy Shampoo
This shampoo is composed of a formula that gets deep into the cuticles of your dog's coat and cleans trapped dirt particles.
PET CARE Sciences 16 fl oz Tearless Puppy Shampoo and Conditioner - Anti Itch Dog Shampoo Sensitive Skin - Coconut Oil Oatmeal Pet Shampoo for Puppies
Tearless Puppy Shampoo and Conditioner - PET CARE Sciences Tearless Puppy Shampoo is one of many puppy supplies you will need to deal with your furry friend. Helping leave your puppy smelling great...
Best Puppy Shampoo - Highest quality professional grade formula. Natural Oat helps soothe and nourish delicate skin. Coconut is used to hydrate your pets coat. Packed with natural Aloe to freshen the...
Sensitive Skin Dog Shampoo - Gentle dog shampoo is not just for puppies. If your dog suffers with sensitive itchy skin. Our tearless dog shampoo helps soothe and protect skin in between washes whilst...
Easy to Use - Simply wet your dogs coat, apply product and work into a rich lather. Then simply rinse through with water. Perfect for dogs over the age of 12 weeks. Available in 8 fl oz, 16 fl oz and...
PET CARE Sciences - We know that your pet's health and happiness is incredibly important to you, and rightly so. PET CARE Sciences is here to help safely maintain the health of your precious pets....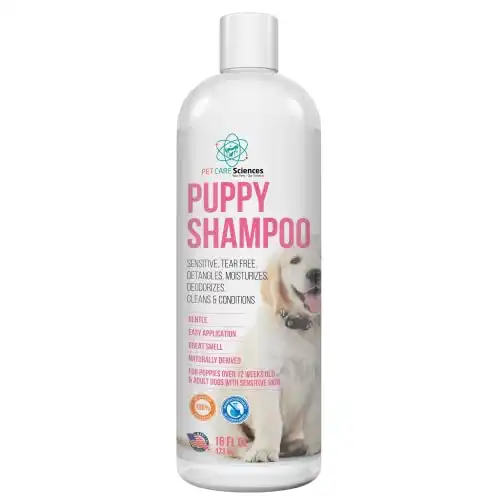 We earn a commission if you make a purchase, at no additional cost to you.
This incredible formula is gentle and doesn't contain any detergents, dyes, harsh chemicals, artificial fragrances, soaps, or preservatives.
It's essential that curly hair dogs get a deep clean. Due to their curly coats, dander and contaminants become trapped in the cuticles of the fur.
This unique wash is also perfect for sensitive skin and allergies. In addition, you can wash your curly pup worry-free as it doesn't contain any parabens, DEAs, phosphates, MEAs, or sulfates.
Top Benefits
Perfect for sensitive skin.
Provides a protective barrier for your dog's skin.
It doesn't strip away natural oils.
Leaves your dog smelling amazing.
You can use it on 12-week-old puppies and older.
Dermabliss Itch & Allergy Relief Medicated Dog Shampoo
Curly dogs, unfortunately, have a higher risk of skin problems due to their curled coats. Dermabliss was created by a veterinarian and specially formulated to target skin problems.
Vetnique Labs Dermabliss Dog Allergy and Itch Relief, Skin and Coat Health Supplements and Grooming Supplies with Omega 3-6-9, Biotin - Ditch The Itch (Medicated Relief, Benzoyl Peroxide Shampoo)
VETERINARY STRENGTH FORMULA - Dermabliss 3% Benzoyl Peroxide Medicated Dog & Cat Shampoo alleviates various skin conditions including mange, dandruff, acne, and seborrheic dermatitis and provides dog...
REDUCES EXCESS OILS - Dermabliss Dog Shampoo helps control microbial growth and non-essential oils on your pet's skin with the preventive and microbe-fighting properties of benzoyl peroxide....
GENTLE AND EFFECTIVE - Our benzoyl peroxide shampoo contains Vitamin E to help nourish the skin and is free from artificial fragrance, dyes, parabens, and sulfates so as not to cause further...
SAFE FOR DOGS AND CATS - Dermabliss 3% Benzoyl Peroxide is safe to use on dogs and cats of all ages. For best results use in conjunction with Dermabliss Medicated Wipes or Spray, and Furbliss Skin &...
CREATED BY VETS FOR HAPPY PETS - Our Dermabliss veterinary shampoo, and all Vetnique Labs products, are created with the health and well-being of pets and pet parents in mind. Our products are MADE IN...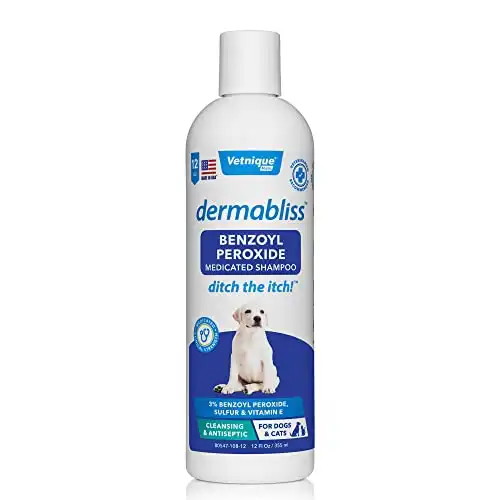 We earn a commission if you make a purchase, at no additional cost to you.
Its ingredients include oatmeal, aloe vera, and safflower seed oil, which helps to soothe itching and irritated skin. Each provides hydration, moisture, and protection for your dog's skin and coat.
Another great benefit of this shampoo is its anti-itch properties. These properties aid in healing and preventing further inflammation. Other ingredients include oat extract and pramoxine.
Top Benefits
Provides itch relief.
It has a rich lather.
Relieves skin irritations (like atopic dermatitis).
You can also use it on cats.
The ingredient pramoxine helps to numb skin from further irritation.
Gives the coat moisture while keeping it shiny.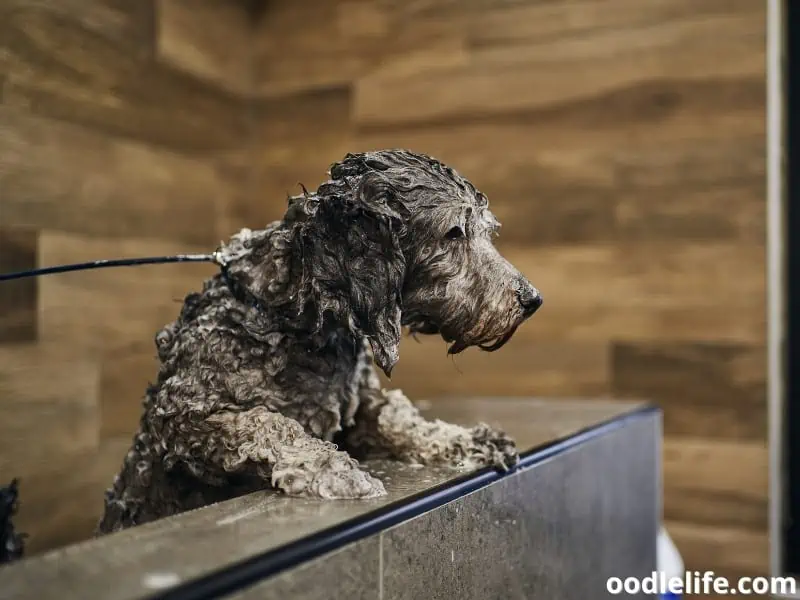 FAQs
Here are some commonly asked questions regarding grooming practices for curly-haired dogs.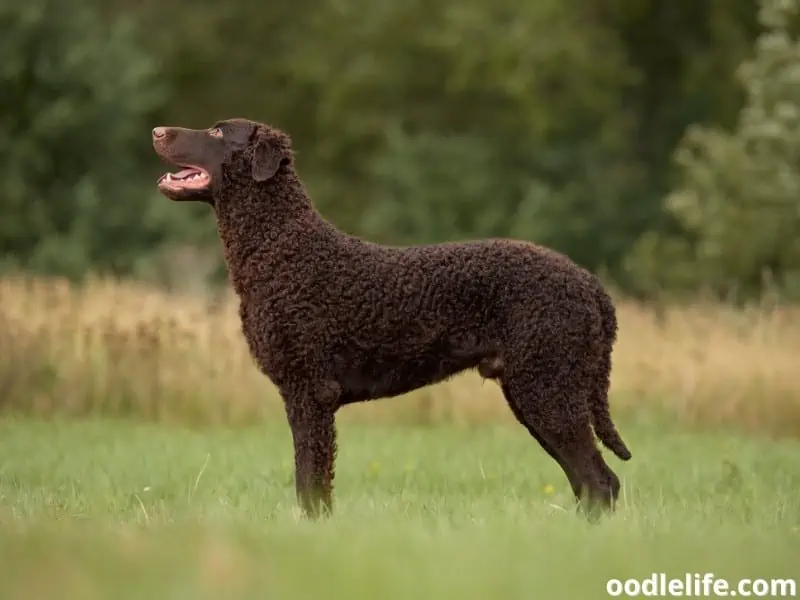 What is the best dog brush for curly hair?
Because curly hair has a higher tendency to get matted, you will want to use a slicker brush. This kind of brush has thin, bent tines that make dematting much easier.
How do I wash my dog with curly hair?
Before washing the dog, make sure you use your slicker brush to get out any mats. Then, with any of the shampoos listed above that you have chosen as the best option for your dog, you can follow the instructions to wash their hair. The instructions may recommend you shampoo the dog twice, followed by the conditioner.
After that, rinse until all the product is washed out of the hair. You should towel dry your dog's hair first. Then, you can use a dog-safe hairdryer or your own hairdryer on a low heat setting to dry the rest of the hair while brushing it to avoid more matting.
How do I take care of my dog's curly hair?
On top of washing and dematting, you can trim the excess hair around their ears, eyes, nose, mouth, and paws using clippers or scissors. You can also brush them daily to remove hair that could lead to matting.
Curly Hair Dogs and Grooming
Surprisingly, dogs with curly hair don't need a lot of grooming. You only need to maintain their fur a few times a week by combing and brushing it out.
Keeping it combed and brushed will ensure they don't develop any tangles. Be sure to comb around their legs and ears.
Along with dog shampoo for curly hair, a conditioner spray and detangler will also help. The detangler will help to ensure a gentle process of detangling after bathing your dog.
Lastly, always make sure you keep an eye out for skin infections by thoroughly checking your dog's skin. Especially take a close look at areas where matting may have occurred.