5 Best Dog Deshedding Shampoos (2023)
Regardless if you own a short-haired or double-coated dog breed, you're bound to deal with your dog's shedding throughout its life. Of course, some breeds might shed more than others, but other factors, like their health, stress, and diet, can also impact how often they shed.
Regular grooming can also help reduce shedding, so getting your dog de-shedding shampoo that keeps their coat healthy is essential.
We compiled a list of a few top picks to help you streamline your search and make bath time easier for you and your shedding dog.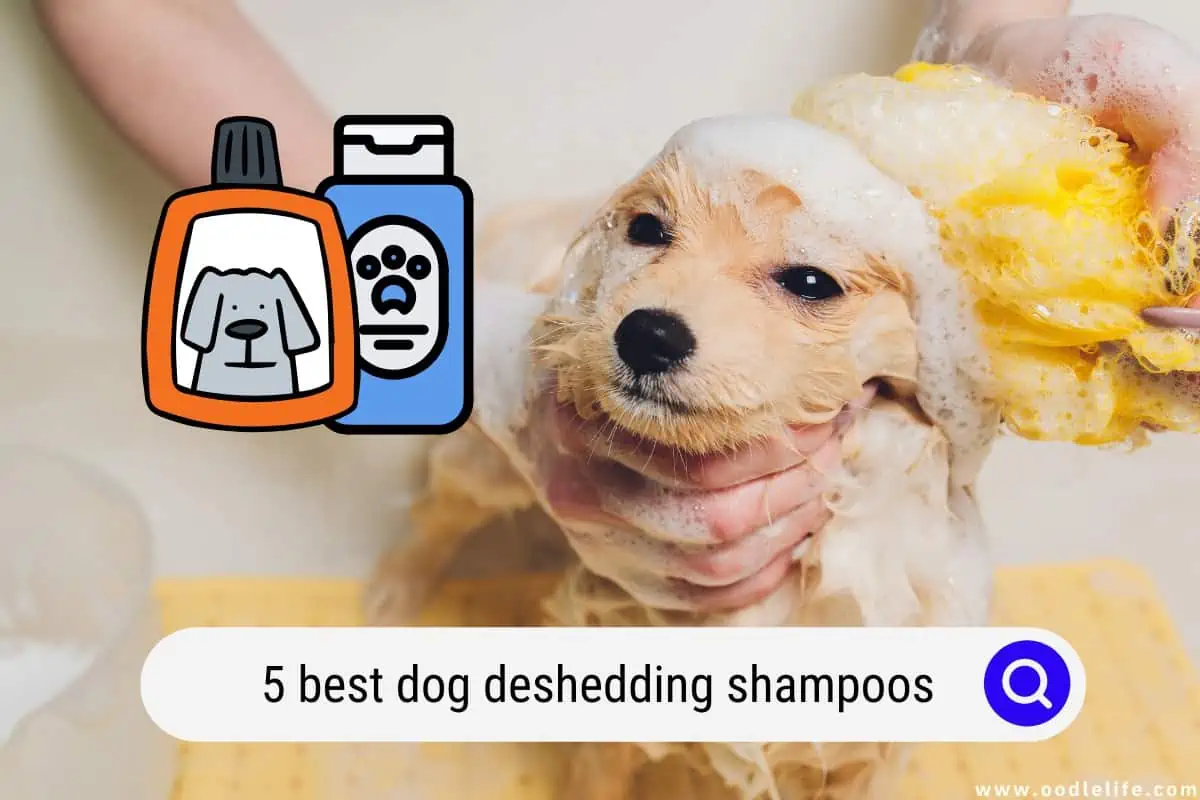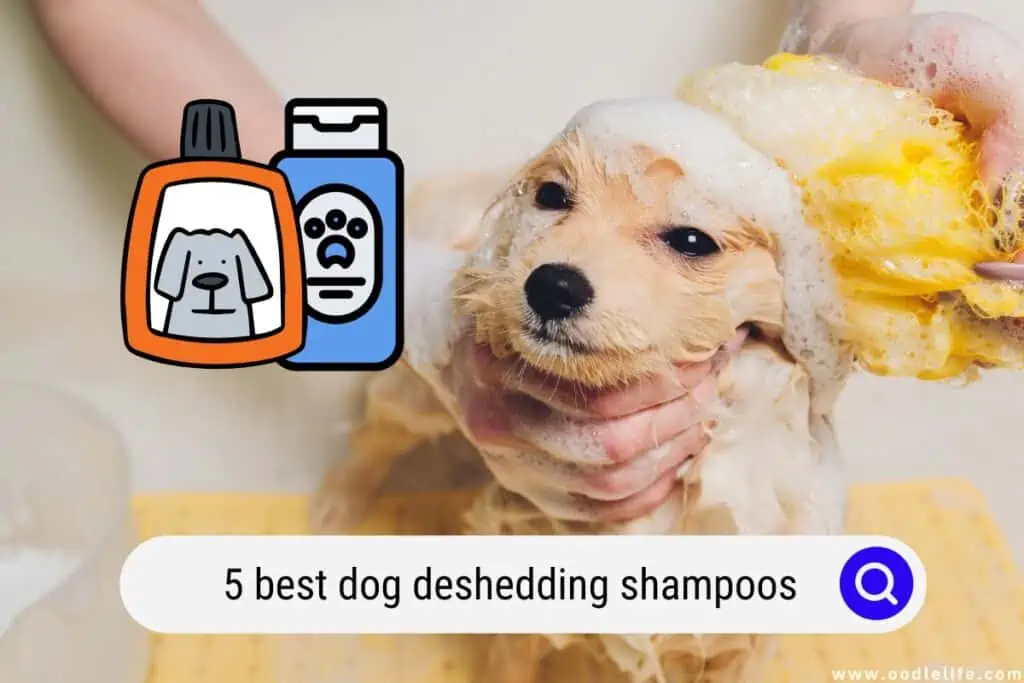 1. Shed-X Shed Control Shampoo for Dogs – Best Overall Option
Our best overall pick for quality dog deshedding shampoo is Shed-X Shed Control Shampoo for dogs. This pH-balanced shampoo contains many natural vitamins, amino acids, and antioxidant-rich ingredients that promote coat and skin care, like grapeseed oil and flaxseed oil.
Shed-X Shed Control Shampoo for Dogs, 16 oz – Reduce Shedding – Shedding Shampoo Infuses Skin and Coat with Vitamins and Antioxidants to Clean, Release Excess Hair and Exfoliate
HELP CONTROL EXCESSIVE SHEDDING – Excessive shedding can result from unhealthy skin and coat. Shed-X Shed Control Shampoo for dogs gently cleans, releases excess hair and exfoliates to reduce...
NOURISHES THE SKIN – Shed Control Shampoo infuses your pet's skin and coat with essential amino acids, Omega 3 and 6 fatty acids, Vitamins A, D and E and antioxidants. This dog shampoo promotes...
LONG-LASTING FRAGRANCE – The pleasant pomelo fragrance of this shampoo for shedding will leave your dog clean, soft and smelling amazing long after bath time is over.
FOR BEST RESULTS – Wet coat thoroughly with warm water and massage dog shedding shampoo into coat and skin. Allow the lather to remain for several minutes and then rinse thoroughly. Suitable for...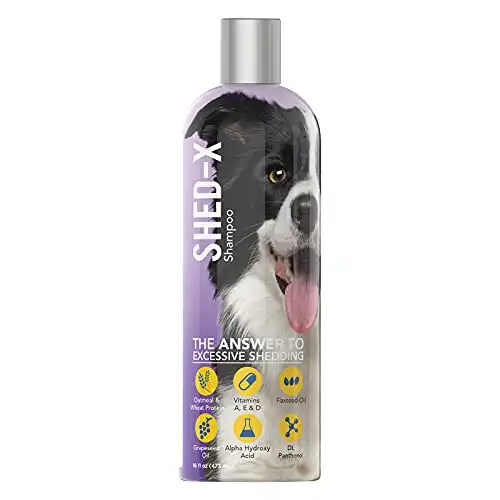 We earn a commission if you make a purchase, at no additional cost to you.
This shampoo formula is ideal for dog owners looking for a shampoo for managing excessive shedding, especially in their dog's undercoat. It's gentle on sensitive skin, ideal for frequent use, and has a long-lasting pomelo fragrance that doesn't overstay its welcome.
Although this shampoo leaves your dog's coat smelling fresh and their skin rejuvenated, it can make it oily and coarse if you don't rinse all its residue. It's not an ideal shampoo option for puppies younger than 12 weeks.
Pros:.
Long-lasting pomelo citrus fragrance
Manages excessive undercoat shedding
Gentle against sensitive skin
It contains skin-nourishing amino acids, omega-3 and omega-6 fatty acids, vitamins, and antioxidants.
Cons:
It can make your dog's fur coarse and oily if you don't rinse it thoroughly.
You can only use it on dogs older than 12 weeks.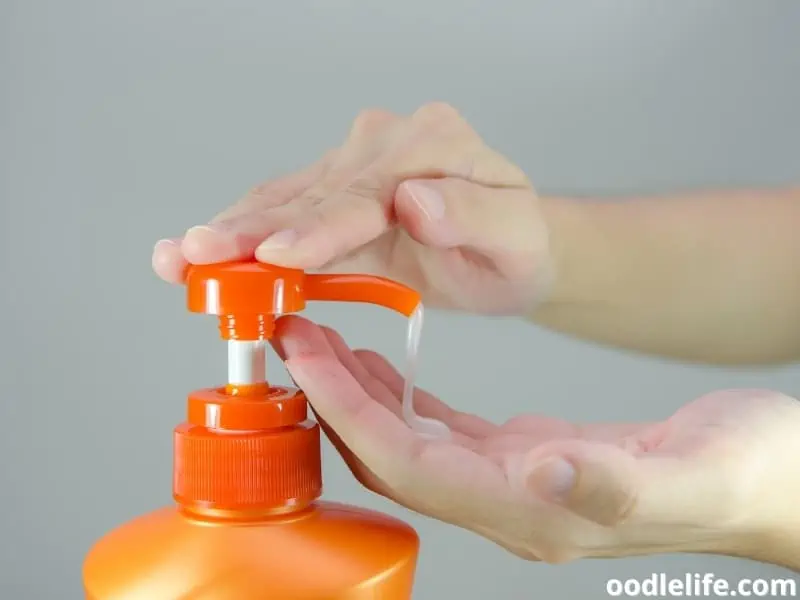 2. Nature's Miracle Shed Control Shampoo for Dogs – Best Budget Option
Quality dog deshedding shampoo can be challenging to find, especially if you want to save extra money in your dog care budget. However, we consider Nature's Miracle Shed Control Shampoo for Dogs one of the best options for anyone short on cash.
Nature's Miracle Shed Control Shampoo for Dogs, 16 Ounces, Citrus Scent
FOR DOGS ONLY: Specially formulated shampoo is pH balanced for dogs.
MELON BURST SCENT: Freshens with a light scent, leaves your dog smelling nice and clean.
ODOR NEUTRALIZING FORMULA: Helps neutralize odors and leaves no wet dog smell.
WITH ALOE AND KERATIN: Safe for pets when used and stored as directed.
SHED CONTROL: Formulated to help control shedding.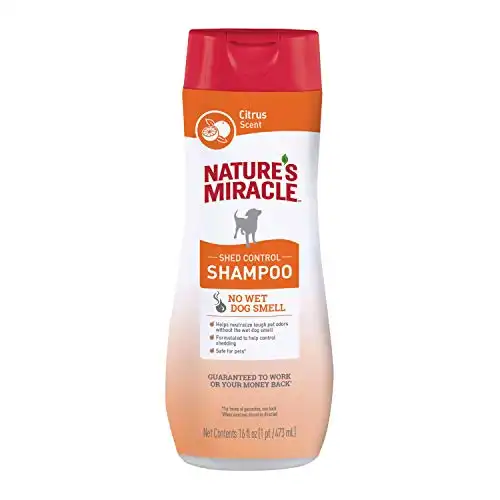 We earn a commission if you make a purchase, at no additional cost to you.
This affordable dog deshedding shampoo contains natural ingredients that eliminate odors from your dog's coat and skin and moisturize them. For instance, the formula's keratin enhances hair and skin tissue growth.
It also has a light citrus fragrance that keeps your dog smelling fresh for days, making it the perfect option for anyone worried about the shampoo leaving a wet dog smell.
This shampoo formula isn't tear-free, so you should keep it from getting into your dog's eyes when washing its face to avoid eye irritation. Also, it contains salt, which can cause dryness in your dog's skin if you use it on them frequently.
Pros:
Affordable
Enhanced odor-neutralizing and coat-moisturizing properties
Light citrus fragrance
Contains jojoba oil, keratin, and aloe vera
Cons:
It can irritate your dog's eyes.
It can cause dry skin.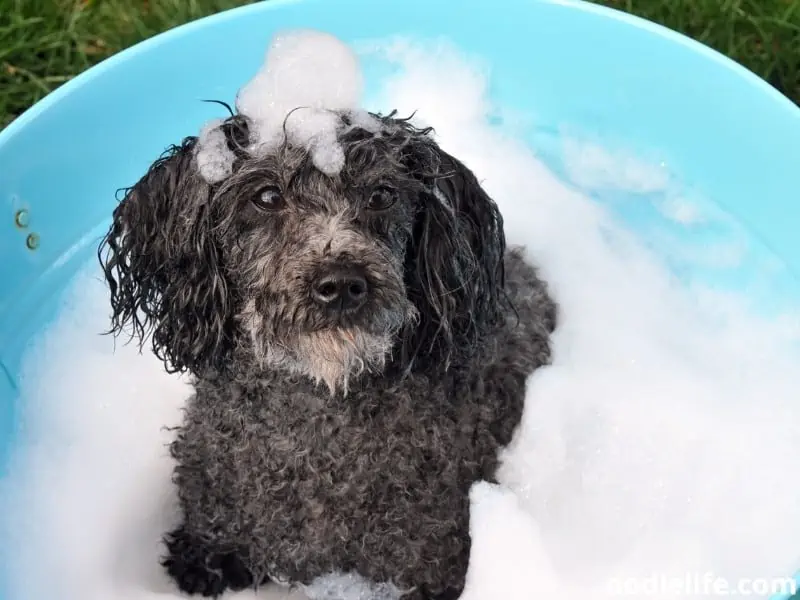 3. The Coat Handler Undercoat Control Deshedding Shampoo – Best Option for Double-Coat Breeds
Can't find a high-quality deshedding shampoo for double-coated dog breeds? Then, consider adding The Coat Handler Undercoat Control Deshedding Shampoo to your grooming supply list to streamline your dog's bathtime.
The Coat Handler Undercoat Control deShedding Dog Shampoo, 1 Gallon - Combats and Reduces Shedding, Undercoat Removal, Omega 3 & 6 Rich, Vitamin E Strengthens The Hair Follicle, Natural Ingredient...
Gentle Clean - Achieves a excellent clean and adds moisture, dramatically reduces shedding when used on a regular basis. Gives hair a fresh start by deeply cleaning, purifying, conditioning, and...
Crafted With Omega 3 & 6 Fatty Acids - Vitamin E helps to loosen undercoat and combat shedding by adding strength to the hair root. Soothes and nourishes sensitive dry skin.
Made With All Natural Ingredients - 100% Biodegradable, Soap and Cruelty Free. Will not wash off topical flea and tick treatments if used per instructions.
Makes 32 Gallons of Shampoo - 32:1 Ultra Concentrated, Dilute 32 parts water to 1 part shampoo or use at full strength if desired
Used By Grooming Dog Professionals - Used by professional pet stylists and groomers worldwide. This product is also safe for use on cats.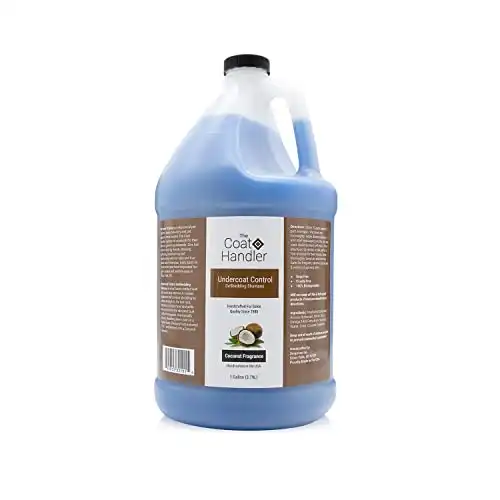 We earn a commission if you make a purchase, at no additional cost to you.
This shampoo contains natural ingredients to ensure a safe and gentle bath, including omega- and omega-6 fatty acids and vitamin E. These ingredients loosen old undercoat hair and strengthen your dog's roots.
You can use this shampoo on dogs of any age, including puppies at least eight weeks old. However, the shampoo's only fragrance option is coconut, so it might not be ideal for anyone who prefers other scents. It can also be pricey for some owners' dog care budgets.
Pros:
It has a soap-free formula.
Strengthens hair roots with vitamin E
Made with natural, biodegradable ingredients
Safe to use on eight-week-old puppies
Cons:
Expensive
It's only available in a coconut scent.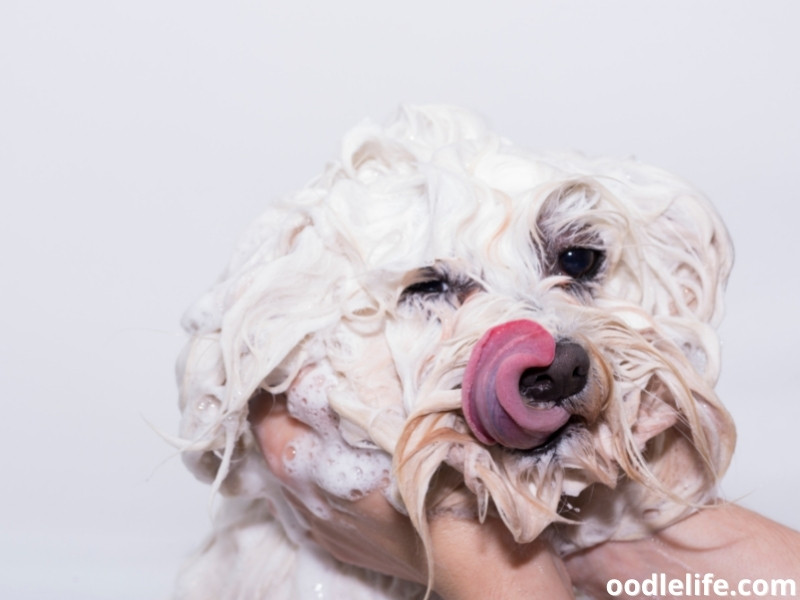 4. Bobbi Panter 2-in-1 Dog Deshedding Shampoo – Best Tearless Option
Eye irritation is one problem many dog owners want to avoid when washing their dogs' faces. So, why not consider using Bobbi Panther 2-in-1 Dog Deshedding Shampoo while maintaining your dog's coat?
We earn a commission if you make a purchase, at no additional cost to you.
Its tearless formula is perfect for dog breeds with sensitive eyes. It contains several natural ingredients for de-matting and detangling your dog's undercoat, like jojoba oil and aloe vera.
It doesn't contain salt, an ingredient used for thickening shampoo, so your dog's skin and coat won't dry out and result in itchy skin. It's also highly concentrated, making it ideal for deeper washes.
It lathers well and rinses quickly. However, its aloe vera fragrance might be overpowering to some users.
Pros:
It doesn't contain salt.
It won't rinse off topical flea and tick medication.
Fast-rinsing
It won't irritate your dog's eyes.
Contains chamomile, aloe vera, vitamin E, and jojoba oil
Cons:
Its fragrance might not appeal to all users.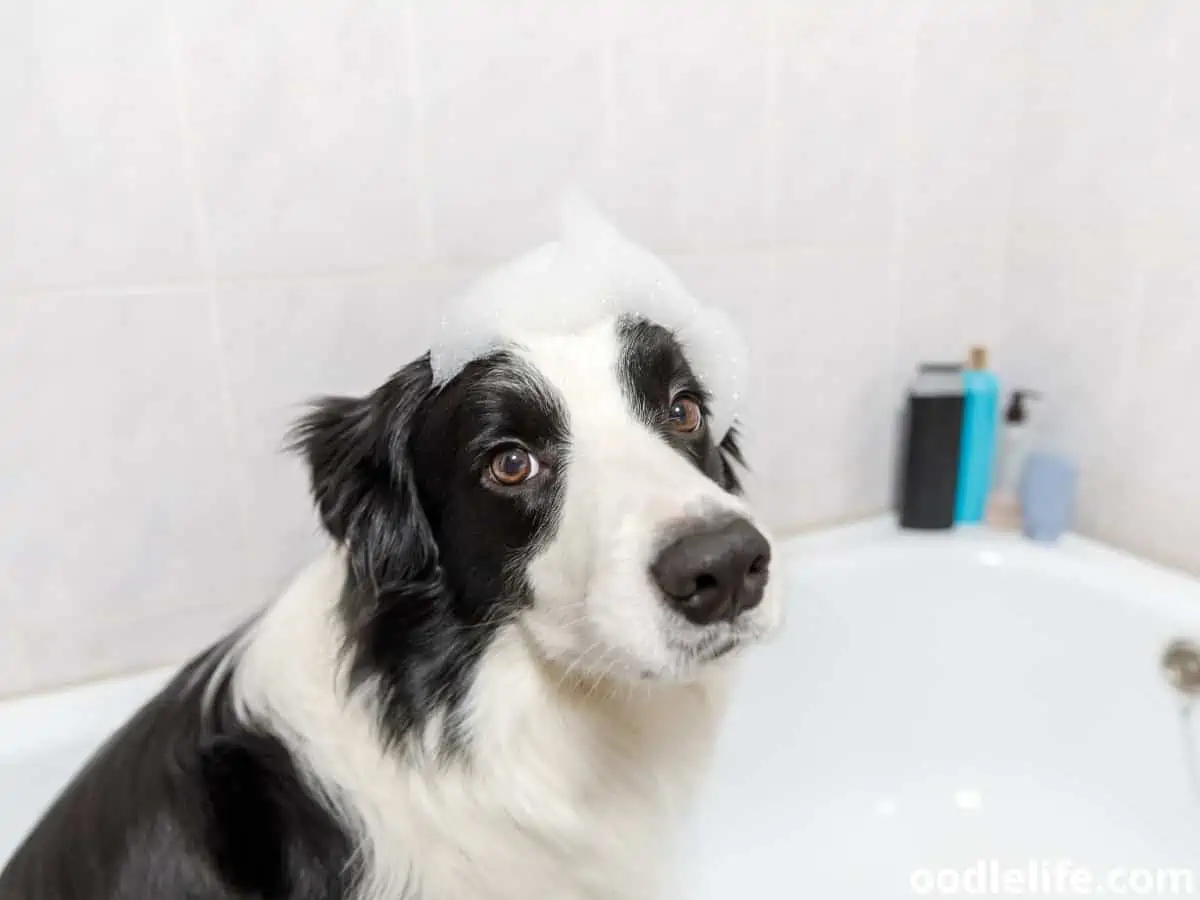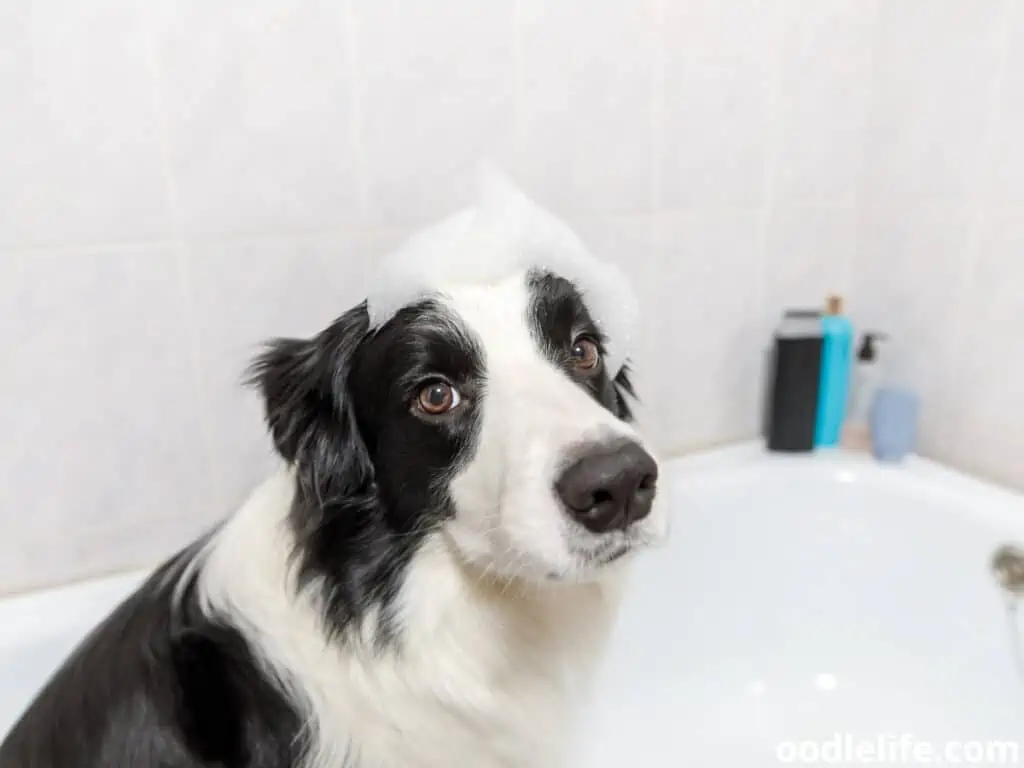 5. WAHL Shed Control Pet Shampoo – Best Deshedding Shampoo for Dogs With Skin Allergies
A potential cause of your dog's excessive shedding is skin allergies. Thankfully, WAHL Shed Control Pet Shampoo's formula is an effective solution for keeping your dog's shedding under control while keeping their coat looking and smelling fresh and reducing dander.
WAHL Shed Control Pet Shampoo for Dog Shedding & Dander – Lemongrass, Sage, Oatmeal, & Aloe for Healthy Coats & Skin – 24 Oz - Model 820005A
Made in the USA - Our lemongrass, sage, oatmeal, & aloe pet shampoo is pH balanced, alcohol free, paraben free, PEG-80 free and is highly recommended to reduce shedding and dander while leaving the...
Shed Control Formula – This lemongrass & sage scented dog shampoo is great for keeping the skin and coat healthy which means less shedding and dander to clean up. The thick lather rinses off clean,...
Less is More - Wahl has a higher concentrate of coconut derived sodding agent, which means you don't have to use as much as other dog shampoos. A little bit of shampoo goes a long way and provides a...
Allergy Friendly - Our dog icon, Rocket, was designed in the image of our family dog Cooper – a golden doodle, who has severe allergies. This is the only shampoo we have found safe and effective. He...
The Brand Used by Professionals - Wahl has been serving professional vets and groomers for over 50 years. clean, condition fur & hair for a smooth, soft coat. We are a company of animal lovers that...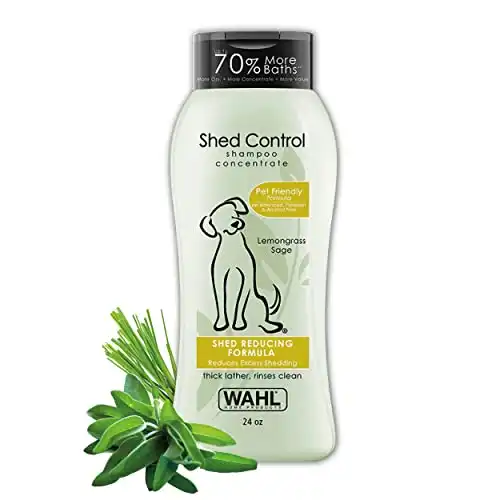 We earn a commission if you make a purchase, at no additional cost to you.
This shampoo's formula is pH-balanced and doesn't contain parabens or alcohol, ensuring it won't cause skin dryness or irritation for your dog. Its ingredients include oatmeal, lemongrass, aloe vera, and sage. 
It has excellent lathering properties and rinses easily after letting it stand for a few minutes. Its lemongrass and sage-scented aroma keep your dog smelling fresh for several days.
Although this shampoo contains natural ingredients, it can cause allergic reactions in some dogs. Consider washing your dog's face carefully with this formula since it isn't tear-free and can cause eye irritation.
Pros:
Ideal for dander management
Thick lathering properties
It contains natural cleansers, including oatmeal, sage, and aloe vera.
Fresh lemongrass and sage aroma
Rinses easily
Cons:
Its plant-based ingredients can trigger allergic reactions in some dogs.
It isn't tear-free.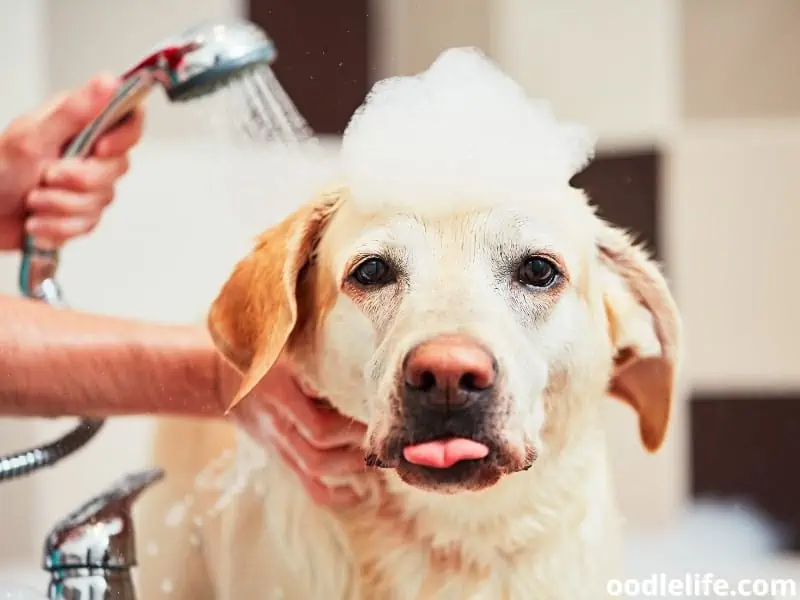 What To Look for When Buying Dog Deshedding Shampoo That Works?
Choosing an ideal dog deshedding shampoo can be challenging if you don't know what you want. Thankfully, there are several factors you should consider to help narrow down your options. However, these factors can differ from owner to owner, depending on their dogs' needs.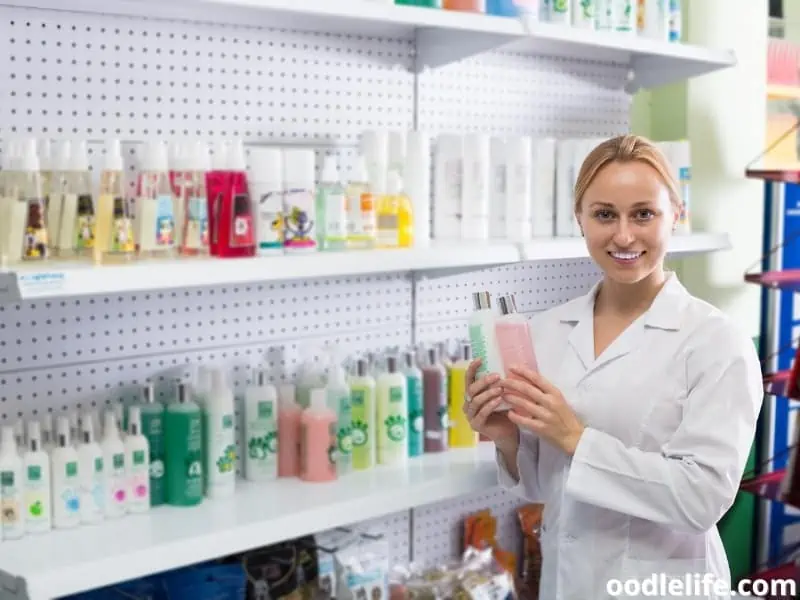 Ingredients
The best dog deshedding shampoo should have natural ingredients incorporated into its formula. Examples of safe ingredients include aloe vera and oatmeal. Avoid dog shampoo with sulfates, alcohol, parabens, and soaps to keep your dog's skin from getting irritated while bathing them.
How Often Your Dog Sheds
Some dog breeds shed throughout the year, while others shed the most during the spring and fall. Some formulas are more suitable for dogs with double coats, while others are ideal for all coat types.
Your Dog's Skin and Coat Conditions
Consider choosing a dog deshedding shampoo that matches your dog's needs. For instance, some deshedding formulas are ideal for combating lingering odors or matted undercoats, while others manage dry skin or excessive dander.
Lathering Capability
A shampoo that lathers well is ideal for owners who spend less time cleansing their dog's skin and coat of dirt, grease, and other residues. However, some shampoo options might be too watery and require extra shampoo per bathing session.
Dilution
Check your shampoo bottle to see if you can directly apply it to your dog's coat or dilute it with water. If your dog has sensitive skin, you should consider diluting your shampoo to reduce its chemical concentration to prevent potential irritation.
Fragrance
Some shampoo formulas incorporate fragrances to keep your dog smelling fresh after a bath. However, artificial fragrances can irritate some dogs' skin, so you should consider choosing a shampoo with natural aromas or an unscented formula.
Bottle Size
Consider the size of your dog's shampoo bottle when narrowing down your options. Larger bottles are usually more expensive but are worth the investment if their formulas work well for managing your dog's shedding and keeping them clean.
Your bottle size preference can also revolve around the size of your dog and how often you bathe them.
Final Thoughts
Dealing with excessive shedding can be overwhelming for dog owners who want to keep their dogs looking and feeling fresh, especially if they're a heavy-shedding breed.
Thankfully, the best dog deshedding shampoo can help you manage your dog's coat and skin, regardless of their condition. It should feel gentle on your dog's skin and coat, ensuring little to no irritation or dryness.
The shampoo options in this rundown have their share of advantages and disadvantages and may work better for some coat types or breeds than others, so it's up to you to see which works best for your dog's shedding conditions.