The Best Dog Shampoo Bars of 2023
Grooming isn't just an extra! It's essential to the health and well-being of our pooches. Whether you take your dog to a professional groomer or do the grooming yourself, your dog will need to be brushed and shampooed.
If you're looking for dog shampoo, you've probably come across dog shampoo bars. Some dog owners prefer shampoo in this format because it's better for the environment. While liquid shampoo comes in a plastic bottle and therefore creates waste, a shampoo bar doesn't need that kind of bulky and wasteful packaging.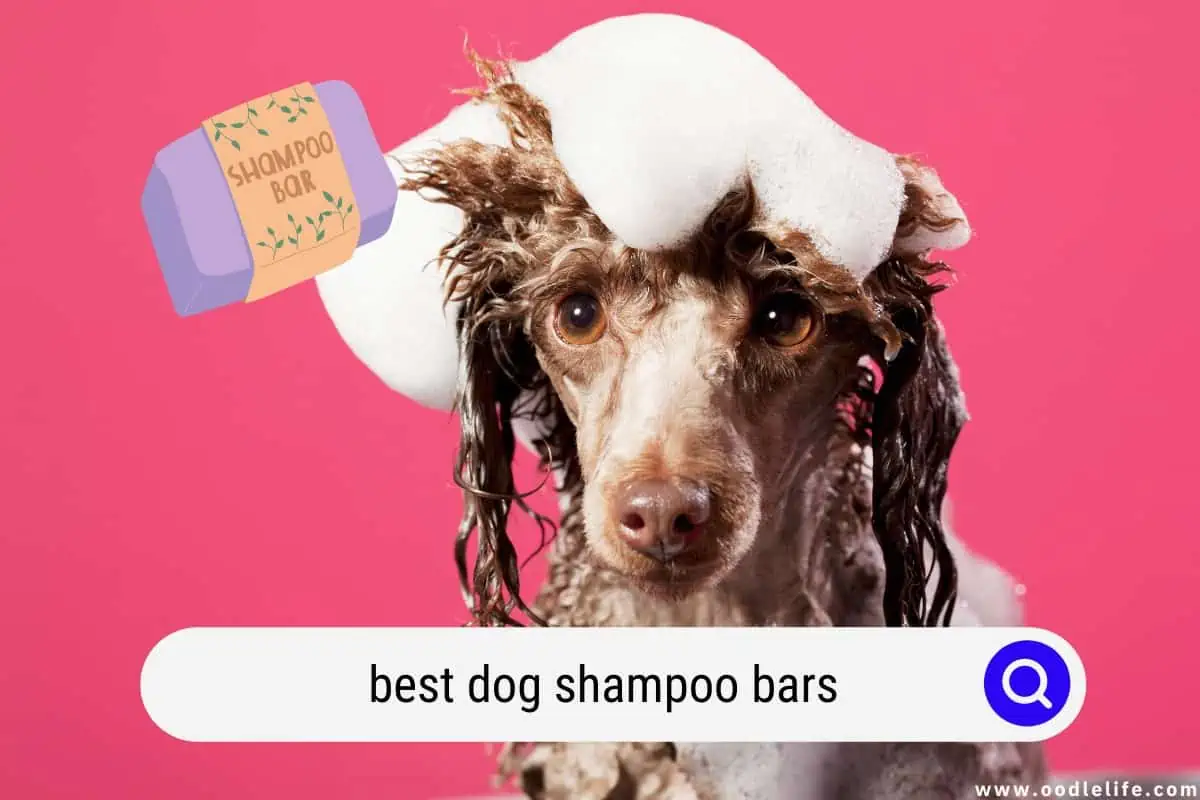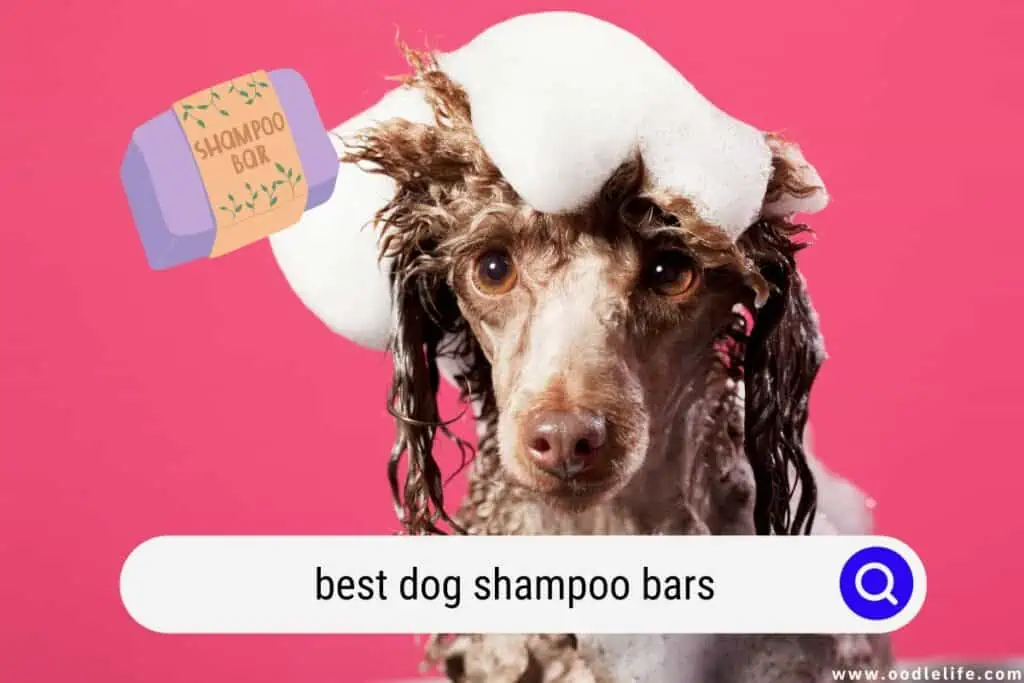 I've used shampoo bars on my dog, and I can tell you that as long as you choose a quality bar, it'll probably work well on your pet. Here I'll reveal the best dog shampoo bars of 2023, so you can choose the best dog shampoo bar for your canine companion.
What Are Dog Shampoo Bars?
A shampoo bar is exactly what it sounds like. It's a shampoo made in the form of a bar, like a bar of soap. I can already hear all my skeptics out there wondering if shampoo bars are really just soap.
No need to worry. Dog shampoo bars are a form of shampoo that is formulated with a dog's coat in mind.
Let's explore the pros and cons of using dog shampoo bars instead of liquid shampoo.
Advantages and Disadvantages of Dog Shampoo Bars
Dog shampoo bars have advantages and disadvantages like any other type of grooming product.
Advantages
No bulky plastic bottles.
Smaller footprint.
It may come in cardboard packaging.
Easy to use.
Often contain natural ingredients.
Artisan-inspired.
Disadvantages
Can be messy.
More difficult to store after use.
It may not stay fresh as long.
You may need to buy a reusable plastic container to store the bar.
No matter what shampoo you choose, ensure that it won't irritate your dog's skin before you use it all over his body. You can do this by doing a patch test to ensure it won't cause skin irritation.
Best Dog Shampoo Bars This Year
Now that you understand dog shampoo bars and their advantages and disadvantages, it's time to reveal the best shampoo bars of 2023.
1. J.R. Liggett's Shampoo Bar
J.R. Liggett has formulated this dog shampoo bar to soothe itchiness and irritation from sensitive skin. It's also great for dry skin, so if your dog has that condition, give this shampoo bar a try.
J·R·LIGGETT'S Pet Hair Shampoo Great for Sensitive Skin | Relieves Dry, Itchy Skin | Hypoallergenic Formula and Biodegradable | 100% Detergent-Free
GENTLE CLEANSING: Formulated specifically for Dogs with sensitive skin, our all-natural shampoo bar is mild and gentle! We use nutrient-rich ingredients like Almond and Tea Tree Oil for a healthy...
EASE ITCHING AND DRY SKIN: Our dog shampoo bars are packed with moisturizing ingredients! Almond Oil and Aloe Vera penetrate deep to hydrate skin and helps to eliminate itchiness due to dry irritated...
EASY AND ECONOMICAL: A perfect alternative to liquid detergent shampoos, our shampoo bar means no more spills or run off, wastefully going down the drain. Each bar is approximately equal to 24ozs of...
PET-SAFE INGREDIENTS: From Aloe Vera to Colloidal Oatmeal, our sulfate- free shampoo bar is a blend of botanical-based ingredients! 100% biodegradable with no detergents or GMOs, it's hypoallergenic...
HANDMADE IN CORNISH, NH USA: Our hand-cut bars are safe and gentle for all puppies. Essential Oil like Lavender and Rosemary are used for a healthy clean smell. We care about the health and wellbeing...
We earn a commission if you make a purchase, at no additional cost to you.
This shampoo bar is handmade in the United States. It creates a fragrant experience, with rosemary and lavender essential oils. All of the ingredients in this shampoo bar are safe for your dog's skin.
Two skin-soothing ingredients are colloidal oatmeal and aloe vera.
Pros
Gentle and great for sensitive skin.
Will help with itchy skin.
Affordable.
100% biodegradable.
All natural ingredients.
Softens the coat.
Cons
Small if you have a larger dog.
Essential oils may cause irritation in some dogs.
2. KELEBS Natural Calming Oatmeal & Lavender Dog Shampoo Bar with Essential Oils
With soothing ingredients like oatmeal and lavender, KELEBS is another excellent dog shampoo bar. The oatmeal in this shampoo bar particularly helps to soothe irritated skin. The product also contains coconut oil, which is an intensely moisturizing ingredient.
Kelebs Calming Lavender Oil Dog Bar Soap Anti-Itching Allergy Relief Soap Bar. Puppy Shampoo Bar for Sensitive Skin Essential Oils for Smelly Dogs, Oatmeal Organic Ingredients Zero Plastic Vegan 3Pc
Skin Soothing & Calming: Made with Lavender Essential Oil and Oatmeal, this formula is excellent for dogs with sensitive skin and those who have dry or itchy skin, as well as dogs with skin allergies...
Anti-itch: Our shampoo bars, which are specially formulated with essential oils that have great anti-itch properties, providing instant relief and gentle enough for sensitive puppies.
Reduce Stress: Lavender is very beneficial when it comes improving your dogs mental state. The agitation and stress that dogs suffer from constant licking and itching really takes a toll on them,...
Clean and Fresh: Made with premium quality Essential oils that are gentle enough for sensitive skin yet great at neutralizing unwanted foul smells from your dogs skin and coat.
Moisturizing: The starches and sugars found in Oatmeal are known for their water bounding properties, which are able lock in moisture and create a protective barrier to prevent further moisture loss.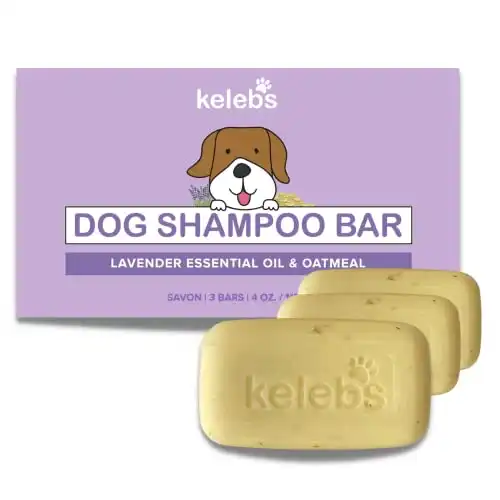 We earn a commission if you make a purchase, at no additional cost to you.
As a result, this KELEBS shampoo bar is perfect if your pup has dry skin.
Other moisturizing ingredients in this shampoo include jojoba oil, shea butter, sunflower seed oil, and cacao seed butter. When it comes to moisturizing, it's hard to beat this selection from KELEBS.
Pros
Intensely moisturizing.
Lavender essential oil adds a light fragrance.
Contains soothing oatmeal.
Sulfate-free.
Vegan.
Paraben-free.
Cons
May be too gentle for extreme dirt.
May not lather as well as other options.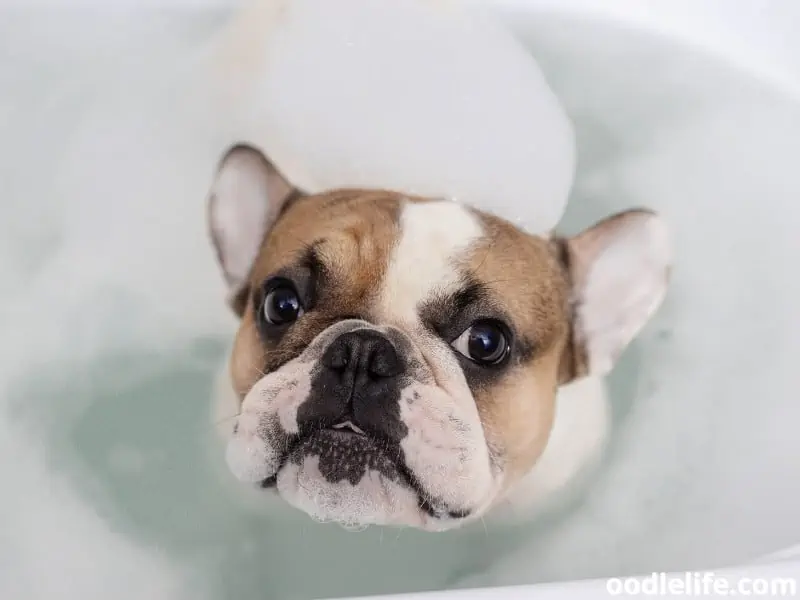 3. Honey Sweetie Acres Premium Pet Shampoo Goats Milk Essential Oil Bar
Goat milk has famous skin benefits, and this Honey Sweetie Acres dog shampoo bar has that ingredient in spades. The company founders are dog owners who have had a pet with a skin condition. Their trouble with finding gentle products for their dog with sensitive skin is what motivated them to create this product.
Honey Sweetie Acres Premium Pet Shampoo Goats Milk Essential Oil Bar - FIX Your PET'S Skin! (Pack of 2)
WE DEVELOPED THIS FOR OUR OWN BLACK LAB WHO HAD SKIN CONDITIONS. A combination of four separate essential oils and our rich recipe. A bar that cleanses sensitive skin gently, rinses clean to prevent...
VERY LONG LASTING, WAY FARTHER THAN THAT BOTTLE OF PET SHAMPOO YOU ARE USING. Wet your animal, rub the bar over the body generating loads of gentle lather and let sit for a few minutes (if possible)....
EACH BAR BEGINS ITS LIFE IN THE FIELDS OF OUR FARM, in the nutrients our goats consume, the best hay, the select feed/grain recipe we use and the overall health of our goats. Premium milk is essential...
NOT ONLY IS OUR SOAP "ARTISAN" IN NATURE, IT'S EVEN PEDIGREED! Where else can you review the pedigrees of the goats who contribute to your soap? Our milk does not come from a can produced by a...
The term "artisan" truly applies to those who understand the science behind the chemical reaction of the ingredients and know how to affect and create the best possible outcome. This is the essence of...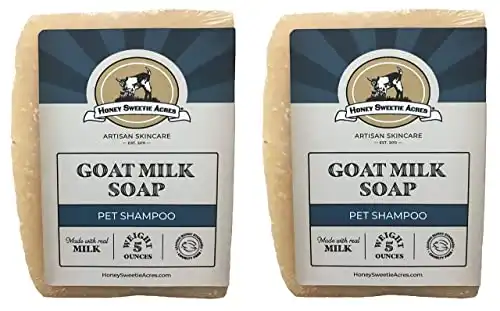 We earn a commission if you make a purchase, at no additional cost to you.
If your pup has skin challenges, you should give this shampoo bar a try. Honey Sweetie Goat Milk Essential Oil dog shampoo bar contains farm-fresh ingredients (from the owners' farm), and it is made with artisan techniques.
Pros
It comes in a pack of two bars.
Artisan made.
Farm-fresh ingredients, including fresh goat milk.
Soothes the skin.
Good for skin conditions.
Cons
Essential oils may irritate some dogs.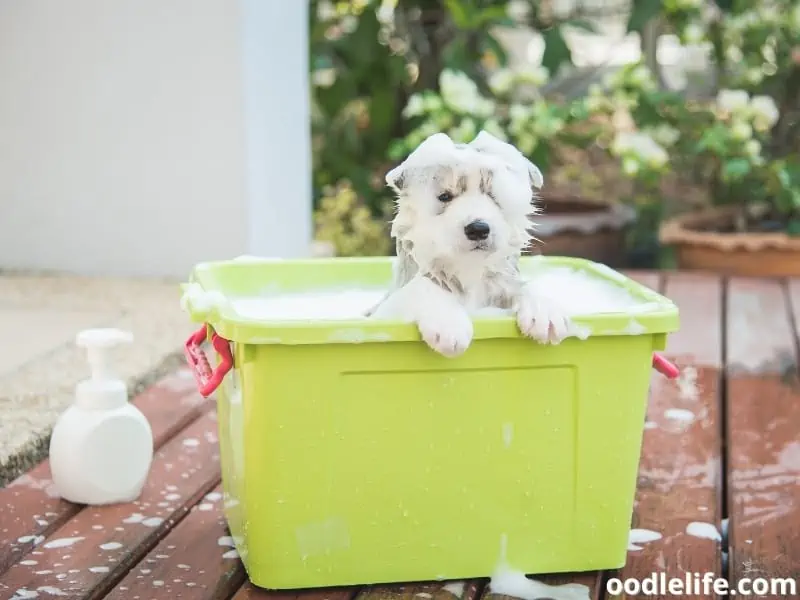 4. Ethique Eco-Friendly Dog Shampoo for Sensitive Dogs
If you're looking for a vegan dog shampoo bar, this Ethique dog shampoo bar may be a good choice. This shampoo bar comes in cardboard boxes instead of plastic wrap, which is more eco-friendly.
Ethique Shampooch Unscented Solid Dog Shampoo for Sensitive Dogs - Plastic-Free, Vegan, Cruelty-Free, Eco-Friendly, 3.88 oz (Pack of 1)
For the most delicate doggy skin, Shampooch is enriched with flaxseed and coconut oils for a shiny coat. It's scent-free and very gentle to keep your dog comfy, while getting fur all floofy and...
Is your pooch a bit smelly but hates bath time? No more struggling with pet shampoo bottles, lids & pump tops that get jammed full of dried shampoo with our easy to use shampoo bar for dogs & horses.
Our shampoo bars & conditioner bars are pH balanced, 100% soap free & safe for color-treated or damaged hair. Palm-oil free & made from natural ingredients, it's hair care you can feel good about.
Ethique's full line of hair care, skin care, and self care products are made from fair-trade, ethically sourced cocoa butter and coconut oil. From shampoo and conditioner bars to pet and kid shampoo!
We're on a mission to rid the world of plastic waste, offering our customers sustainable, ethically sourced products made from natural and effective ingredients. Better for you. Better for the planet.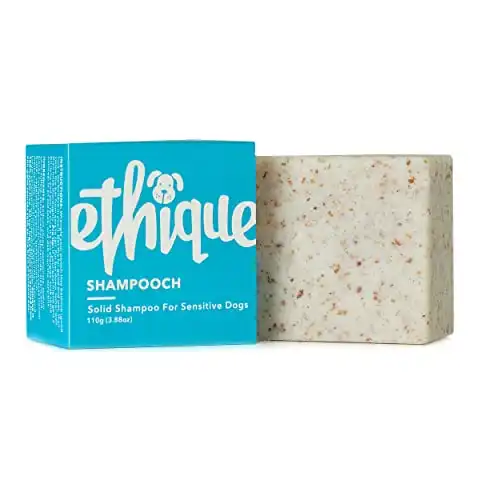 We earn a commission if you make a purchase, at no additional cost to you.
This Ethique Eco-Friendly shampoo bar for sensitive skin is made with the correct pH balance. It is an excellent choice for dogs with sensitive skin and skin conditions.
Pros
100 soap-free.
Cardboard packaging.
Palm oil-free.
It gives your dog a shiny and soft coat.
Cons
You may not like the scent.
It may not be moisturizing enough.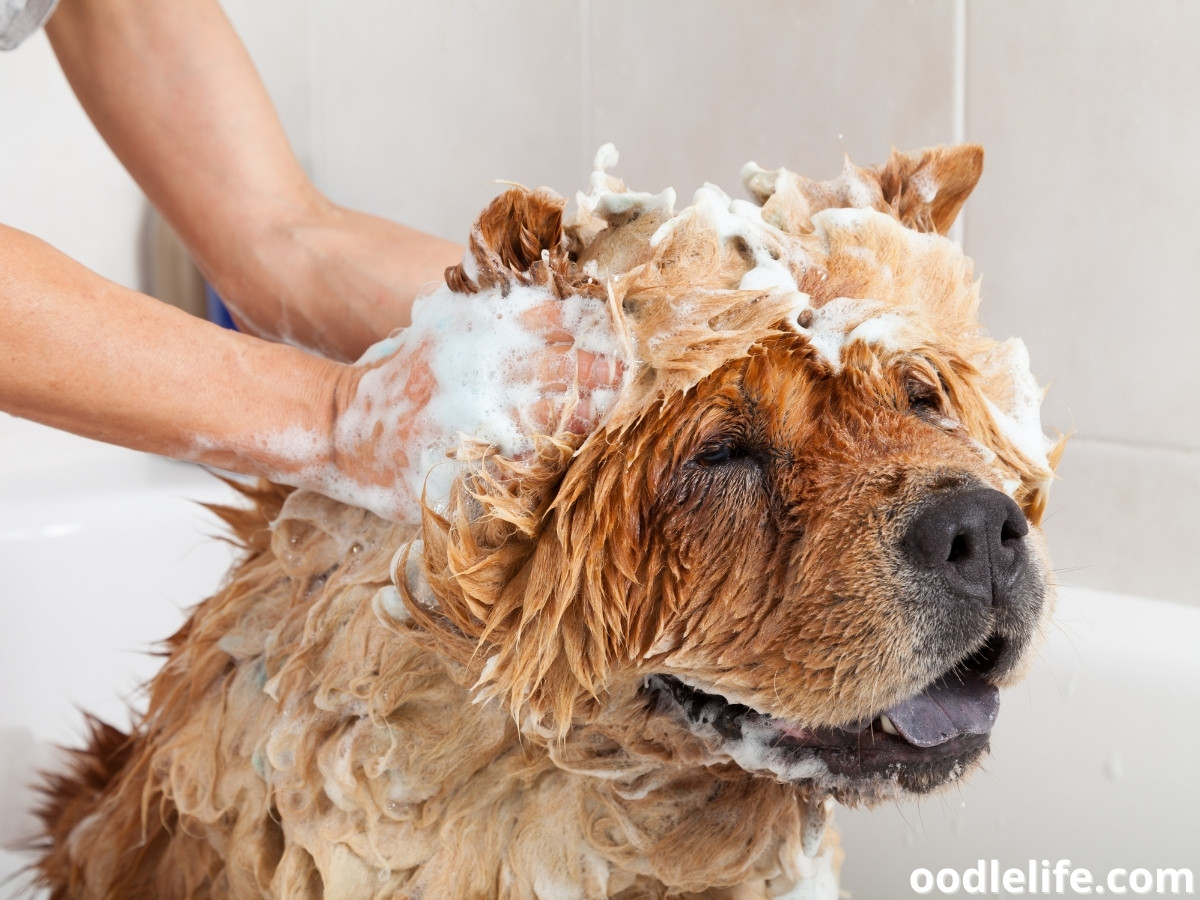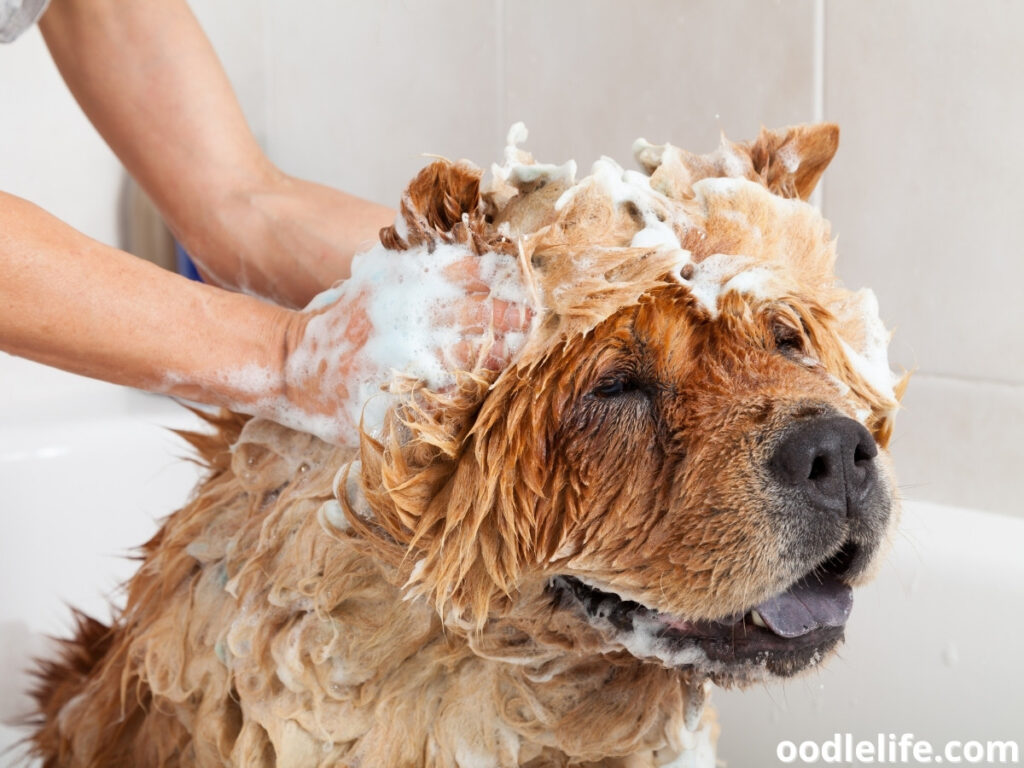 5. WashBar Natural Dog Soap Bar – Natural Dog Shampoo Bar
This citrus-scented dog shampoo bar comes in eco-friendly cardboard packaging. You can order a single bar or a two pack for better value. This dog shampoo bar is specifically formulated with anti-itch ingredients to suit dogs with sensitive and itchy skin.
WashBar Natural Dog Soap Bar - Natural Dog Shampoo Bar and Dog Shampoo for Smelly Dogs with Sensitive Skin, Easier to Use Than Liquid Pet Shampoo with No Plastic Bottle Waste, 2-Pack
A GREAT VALUE WASH - Two 3.5oz bar delivers the equivalent washing of 40.4fl.oz of liquid pet shampoo saving you money AND it's all natural, with NO plastic bottle waste. No need for conditioner.
SO MUCH EASIER WITH A BAR OF SOAP - Washing a dog is so much easier with a pet shampoo bar compared to liquid shampoo. It frees up one hand to hold the dog, and it is easier to wash the underside of...
GENTLE FOR SENSITIVE SKIN CONDITIONS - a natural anti itch dog shampoo helps to soothe dog dry skin, and dog itchy skin using the very best ingredients Mother Nature has to offer. Suitable for use as...
NOT JUST A DOG SHAMPOO FOR SMELLY DOGS - can be used on puppies, rabbits, guinea pig, hamsters, calves or horses and many other animals. Terrific dog stocking stuffers, or Christmas gift
OUR MONEY BACK GUARANTEE - We consistently get feedback from customers who are amazed at how well our products work, but in case you don't agree, we offer a no questions asked 30 Day Money Back...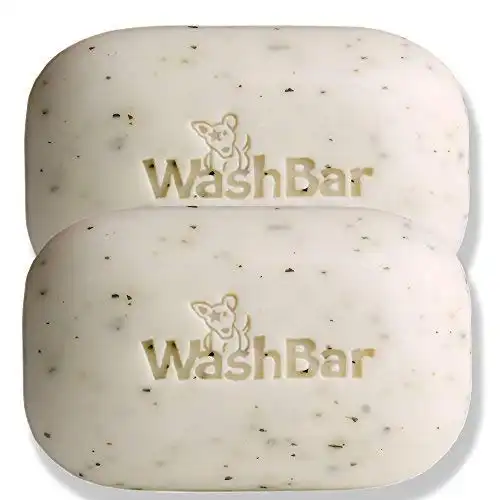 We earn a commission if you make a purchase, at no additional cost to you.
Another advantage of this WashBar Natural dog shampoo bar is that it comes with a money-back guarantee. If you're not happy with the product, contact the company within 30 days.
Pros
Natural ingredients.
Sulfate-free.
Good for itching.
Comes in cardboard packaging.
Cons
It may irritate extremely sensitive skin.
It may be too harsh for thin coats.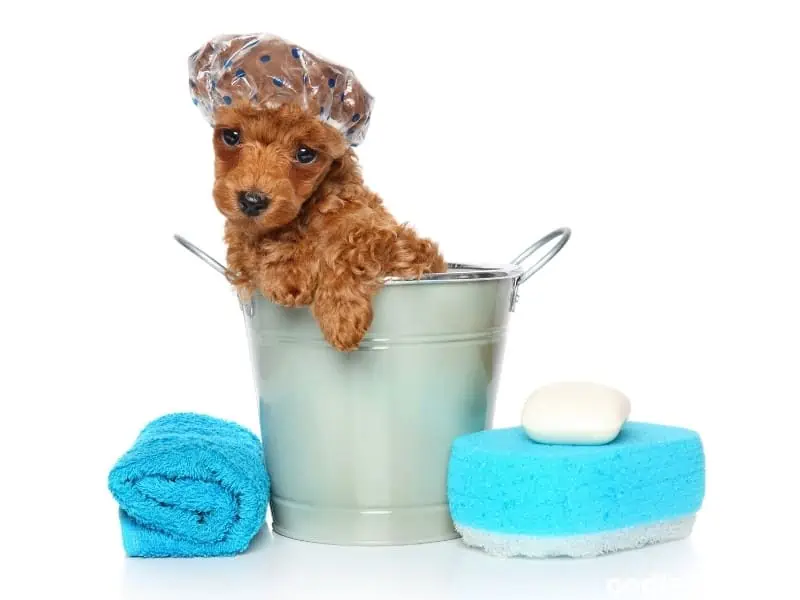 Final Thoughts
Not all dog grooming products are gentle on the skin. After all, not all dogs have the same type of skin. So when you buy shampoo for your dog, you must think about your dog's specific coat needs and possible skin conditions.
Luckily, dog shampoo bars like the ones on this list are typically made with natural ingredients, so they are easier on the skin. As an added benefit, dog shampoo bars aren't packaged in plastic bottles, they create less environmental waste than liquid shampoo.