Wahl Oatmeal Dog Shampoo Review – Dry Skin & Itch Relief Pet Shampoo for Dogs
We have tested a lot of dog shampoos for Oodle Life and also just when grooming dogs – and the Wahl Oatmeal Shampoo remains one of our cost effective favourites. Read our Wahl Oatmeal Dog Shampoo review below.
This budget-friendly dog shampoo has an excellent feel, lovely smell, and soothing natural ingredients. It is also made in the USA.
There are plenty of reasons I like this shampoo, and it even ended up int he Top 5 Best Shampoos for Bernedoodle list and the Top 6 Goldendoodle Shampoos as a highly commended runner-up.
As a spare shampoo, a cheap and cheerful dog shampoo for travelling or a second location – this one is a winner. Read on after the review box to find out how it went in hands on testing.
We also found it worked really effectively for a quick rinse after visiting the beach, but more of that later. Read on to see our review of Wahl Oatmeal Shampoo for dogs and puppies. Let's dive in!
Wahl Dry Skin & Itch Relief Pet Shampoo for Dogs – Oatmeal Formula
Price

Gentle To Skin

Cleaning Power

Fragrance
Summary
Made in the USA – Our oatmeal formula pet shampoo is pH balanced, alcohol free, paraben free, PEG-80 free and is highly recommended for moisturizing dry skin & providing itch relief

Oatmeal Formula – This coconut lime verbena scented pet shampoo is great for moisturizing dry skin, cleaning dirty coats, & itch relief. The thick lather rinses off clean & keeps your pet looking and smelling clean

Less is More – Wahl has a higher concentrate of coconut derived sodding agent, which means you don't have to use as much as other dog shampoos. A little bit of shampoo goes a long way and provides a rich lather that's easy to rinse off

Allergy Friendly – Our dog icon, Rocket, was designed in the image of our family dog Cooper – a golden doodle, who has severe allergies. This is the only shampoo we have found safe and effective. He loves the smell too!

The Brand Used by Professionals – Wahl has been serving professional vets and groomers for over 50 years. clean, condition fur & hair for a smooth, soft coat.
Check Price and Reviews on Amazon
Pros
USA Made
Contains Oatmeal, Aloe and other soothing natural ingredients
Itch relief formula
Concentrated formula means more washes from less Shampoo
Combination of shampoo AND conditioner to save hassle
Paraben free and pH balanced
Cons
Not medicated, some dogs will require further treatment if itchy
Best value comes from buying the larger quantities but this means more initial spend to save over time
A thick consistency (as it is a concentrate) which might confuse some
Hands On Review of Wahl Pet Shampoo
When testing a shampoo for dogs, there are a few features I like use to compare the different products on the market.
Price and smell
How it feels in hand, how it feels for the dog
How well it applies to the fur of Poodle Mix breed dogs
How easily the shampoo washes out and the effectiveness of the clean
And the ingredient list – seeking natural and simple over complex and manufactured
Price and Smell Of The Wall Oatmeal Dog Shampoo
There are no bones about it, this is a budget shampoo with a pretty luxury smell. They do wonderfully with this shampoo to have a completely inoffensive yet surprisingly potent clean oatmeal-aloe smell to this shampoo.
You dog will not smell like oatmeal, just a pleasant fresh smell that is inoffensive. allergy sufferers and those with particularly keen noses should do well with a product like this.
I won't warble on about it too much – but this product does deliver pretty solid value for its price range at the lower end of pet shampoos. The ingredient list is fair, and the characteristics of the Wall Oatmeal shampoo are solid.
How Wahl Oatmeal Dog Shampoo Feels In Hand
I really care more about how the shampoo will feel to the dog – but the place to start is to see how it feels to your hands! Some dog shampoos will feel surprisingly fresh or spicy, with an odd feel. This is not great for your dog!
A shampoo like Wahl Oatmeal is a concentrate which means the consistency is gluggier. It feels comfortable enough on the skin, and does not feel like extensive exposure to the shampoo would give any issues to the groomer or the dog.
How Well Wahl Oatmeal Shampoo Applies To Poodle Mix Fur
Non-shedding dogs have particular types of coats. Breeds like Labradoodles, Goldendoodles and Bernedoodles typically do not have an undercoat. They have long hairs that need to be washed all the way down to the root.
Finding a shampoo that applies well, penetrates to the deep layers and doesn't clump hair together makes life much easier.
I can say that the Wahl Natural Oatmeal Dog Shampoo offering does tick all these criteria. It applies well. There is little to no foaming. It was easy to massage down the the skin of the Poodle Mix dog without any hassles. This means a regular shedding coat, or even other dog breed coats or double coats should not have any issues.
Be sure to brush out your dogs coat before you bathe your dog. It is SO much more difficult to remove knots and tangles once the dog is wet.
Check Price and Reviews on Amazon
Is The Wahl Oatmeal Shampoo Ingredient List Good?
One of the most important things I check when reviewing and testing a shampoo is the ingredient list. A shampoo is good if it has natural ingredients, and does not cut corners with cheap fillers or wild chemicals.
I am always pleased to buy products made or assembled domestically in the USA. Wahl brings everything together locally. They have a big presence in the USA which means there is support available from local or online retailer if anything is imperfect.
Wahl Oatmeal Dog Shampoo Ingredient List
Gentle ingredients include: oatmeal, coconut, lime, aloe and lemon verbena. 
pH balanced, alcohol free, paraben free, PEG-80 free formula
Oatmeal, coconut (rough), and aloe are the foundations of many dog shampoos. In fact they are the foundation of some of my favourite dog shampoos hands down.
The rest of the ingredient list is clear of any nasties, and there are familiars names that we are happy to see in any dog shampoo.
Can Wahl Dog Shampoo Be Used on Cats?
Yes Wahl says it is all good to use their Oatmeal Dog Shampoo for cats. So you can buy one bottle for all your animals (well maybe not a dolphin or parakeet).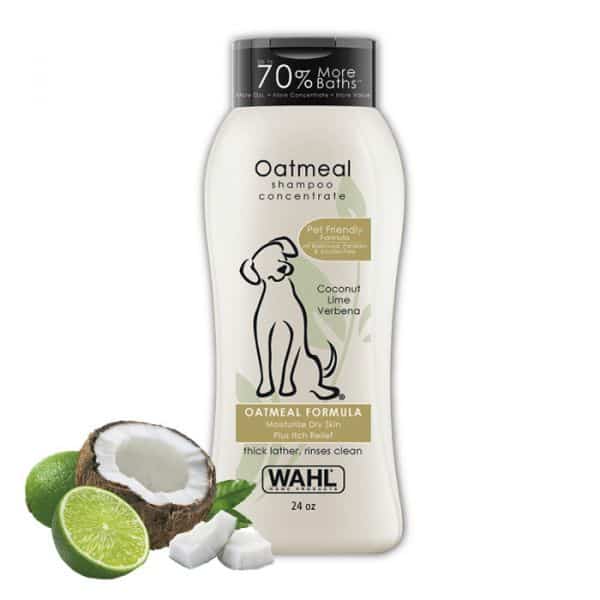 Final Thoughts on Wahl Oatmeal Shampoo for Dogs
The Wahl Oatmeal Dog and Puppy Shampoo is a really solid budget choice for puppies and dogs. I like the smell and feel, and the ingredient list is a-ok. No-one will complain about the smell and your dog won't mind being washed.
Check Price and Reviews on Amazon
My favourite dog shampoo right now (as recommended to me by a Groomer) is still the Nootie Japanese Cherry Blossom Dog Shampoo, but I recognise that budget conscious options like Wahl Oatmeal need to be recognised also.
And if you have a super clean dog after washing with your Wahl Natural Oatmeal Dog Shampoo – consider these 35 INDOOR dog games and activities to stay out of the mud and trouble.