Best Dog Shower Attachments (2023) 
Bathtime can be a challenge for you and your pet. But unless you want a grimy dog, washing them every now and then is essential. 
Fortunately, there is more than one way to bathe your dog. So if the standard sponge bath just isn't working for your furry friend, you may want to give dog shower attachments a try.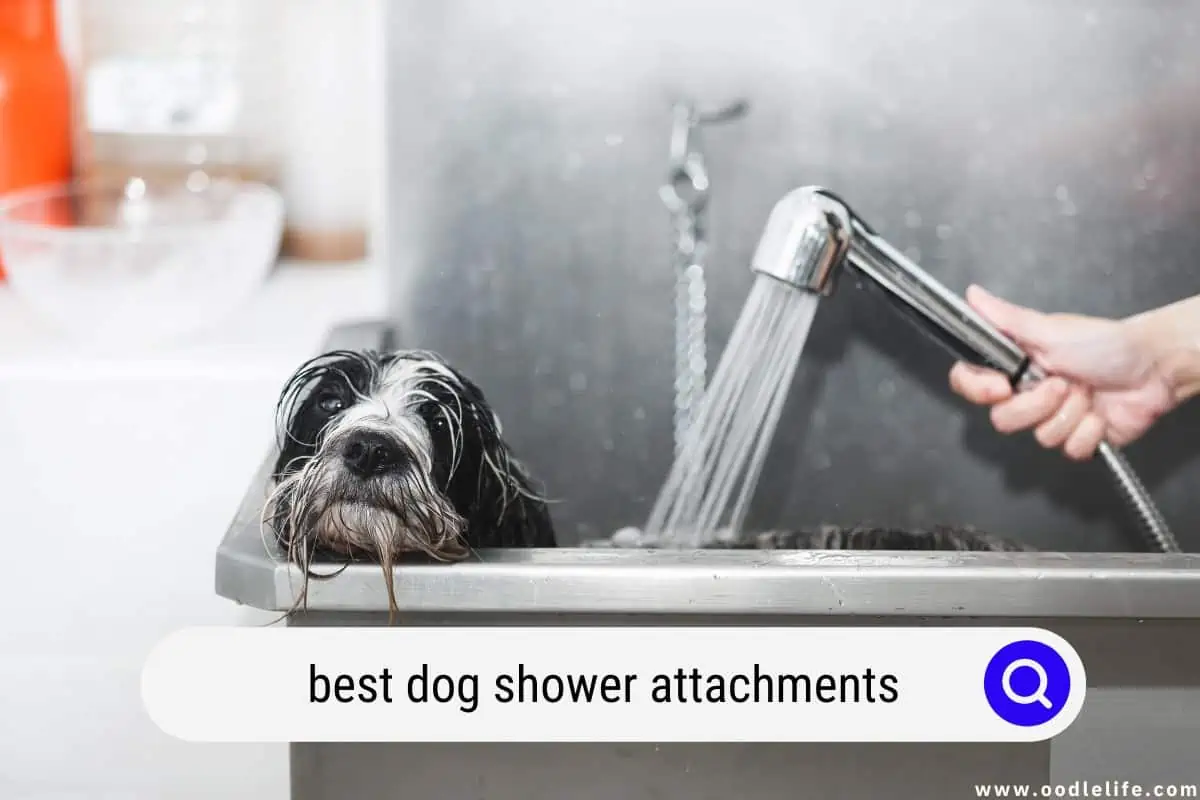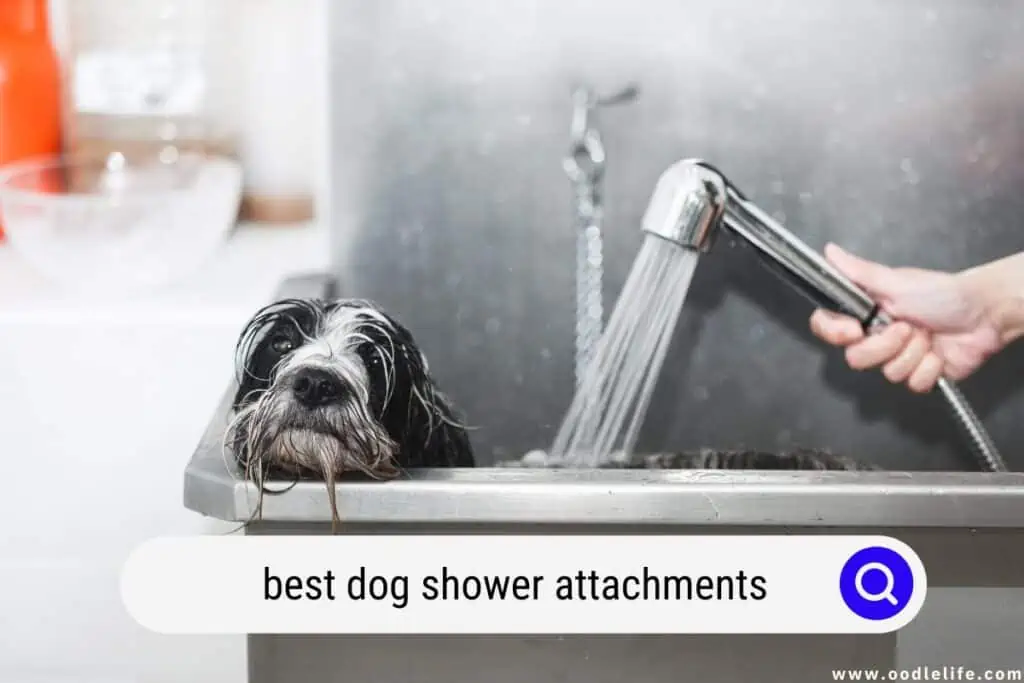 There are plenty of great products to choose from, but weeding them out from the poor-quality ones can be difficult. To save you from trial and error, I've compiled a list of the best dog shower attachments in 2023!
Why Should You Get a Shower Head Attachment for Your Dog?
Some of you might be wondering, "why do I need a shower attachment to bathe my dog?"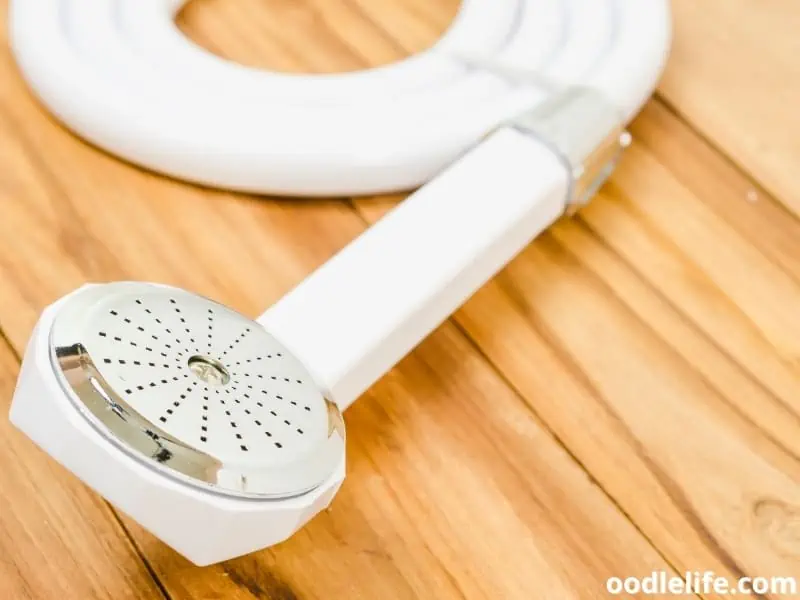 There are a few reasons why many dog owners use these gadgets to wash their furry friends. Here are some of the most common reasons why:
They're less messy. When you have a dog shower attachment, you can control the water and reduce splashing and spills.
They're easier for your dog. Some shower attachments include massage settings that make bathing more soothing for your dog. They can also allow you to rinse your dog much more quickly, which can make for a shorter bath time.
They're easier for you. Using a dog shower attachment can make it easier to rinse your dog thoroughly. They can also help you rinse any hard-to-reach areas.
Are Dog Shower Head Attachments Safe?
Dog shower attachments are a super safe way to bathe your dog.
However, you should be cautious of shower attachments with high spray settings because some of them may be painful for puppies or small dogs.
In addition, you should always use non-slip mats and pads when bathing your dog in a tub. Slipping in the bathtub can potentially injure your dog. 
Are Dog Shower Head Attachments Expensive?
The prices of dog shower head attachments can vary depending on the product. Some are as high as a hundred dollars, while others can be well under twenty.
Dog shower attachments can make it easier to bathe your dog, so many people feel they are worth the cost. They also tend to be long-lasting, so even if you purchase a high-end product, you might not need to buy a new one for several years.
Best Shower Attachments for Dogs
After browsing the web for the best dog shower attachments, I've narrowed down five of the most high-quality options.
Each product has pros and cons, so consider what you are looking for in a shower attachment before making your choice. The best dog shower attachments can vary from dog to dog.
Out of all the dog shower attachments on the list, my highest recommendation goes to this product from Aquapaw.
This attachment is super easy to use when washing your pet. You only need one hand for it, leaving your other one free to grab shampoo or comfort your nervous dog.
It also has a strong yet gentle silicone scrubber that can lather your dog's fur and remove stubborn dirt.
Pros
This product is ideal for dogs with long or thick fur. 
You can choose between two different pressure settings.
It's suitable for both indoor and outdoor baths.
Cons
The attachment might be loose on certain types of faucets.
It is not very durable.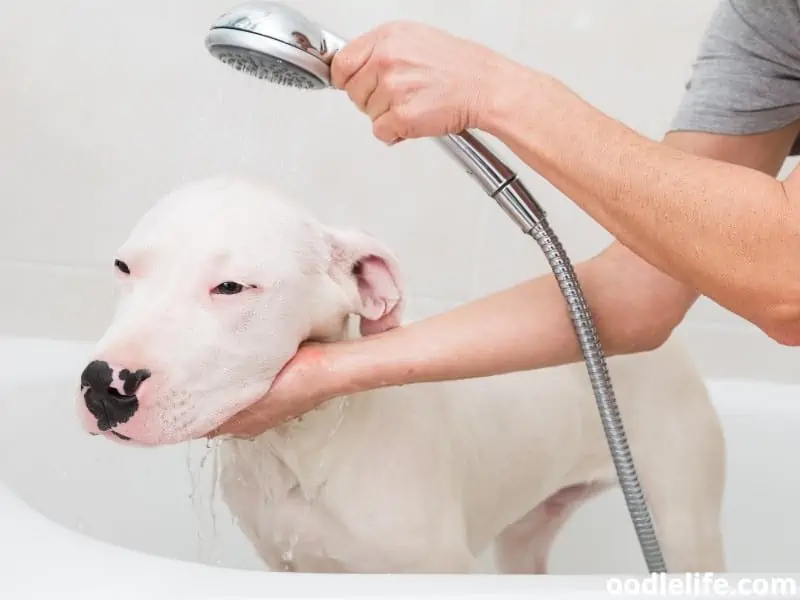 If you need a durable shower attachment for dogs, this product from Sneatup might be what you're looking for.
Sneatup Pet Shower Set with Soft Brush Showerhead Sprayer, 8.2ft Hose, Diverter for Bathroom Shower Arm
HASSLE FREE---Pet-Friendly design & Material(ABS, Silicone, Brass)
EXPERIENCE---More efficient & labor saving. Gentle massage and grooming without painful.
DEEPER CLEAN---24 soft silicone brush tips & 3 mode settings(Massage, Rainfall, Off)
DURABILITY---Ageing-resistant chrome plating. Upgrade anti-burst EPDM inner tube.
ELEGANCY---Just connect it to the shower arm(G1/2 threads). No effect on your fixed showerhead.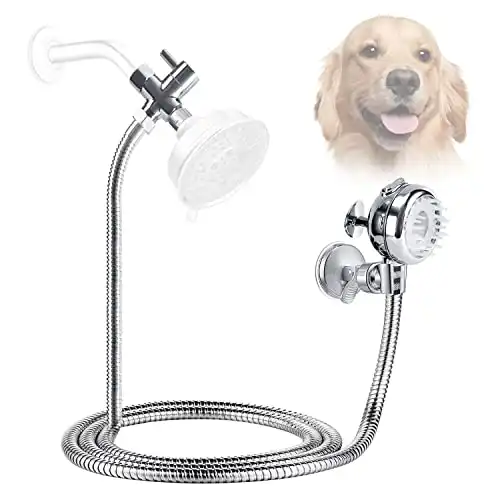 We earn a commission if you make a purchase, at no additional cost to you.
This attachment has two pressure settings: massage and rainfall. Try out both to see which one works best for your dog.
The attachment includes a soft silicone brush tip that can help you wash your dog's fur more thoroughly. 
Pros
The water settings are gentle on your dog, yet efficient at removing dirt.
It has durable chrome plating for a long-lasting dog bathing tool.
The 8.5-foot cord makes this shower attachment easy to maneuver.
Cons
The suction cup mount is not very strong.
The switch for the water settings often gets stuck.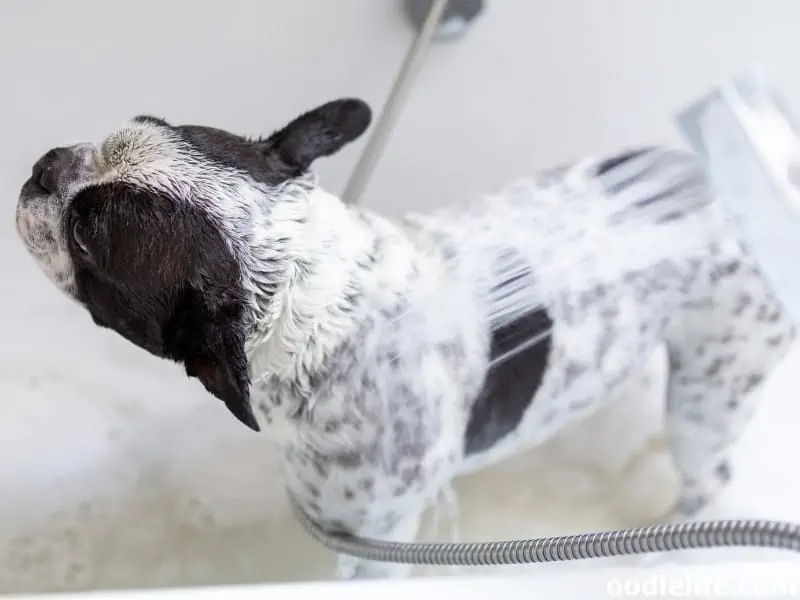 If you have a dog with long fur or a double coat, the Waterpik Pet Wand Pro might be the perfect choice for bathtime.
This attachment comes with a comb setting perfect for rinsing thick fur. It also has a gentle narrow spray for those hard-to-reach spots.
You can attach this wand to your shower head or your outdoor spigot, so whether your dog prefers indoor or outdoor baths, this product can do the job.
Pros
This attachment is easy to maneuver with one hand.
The water comb setting can provide a massaging sensation for your dog.
It's perfect for long-haired or double-coated dog breeds like Huskies and Poodles.
Cons
The material is plastic, so it can break more easily than some of the other options on this list.
The suction cup may not stick to some bathroom walls.
If you're a fan of Conair for its line of hair care products, you might enjoy this pet-washing shower attachment.
This dog shower attachment is easy to use. You can attach it to shower heads, sinks, or even outdoor spigots.
It also has a soft rubber brush you can attach to the head, which can help remove dirt from your dog's fur.
Pros
This shower attachment is suitable for both indoor and outdoor bathing.
It's a great choice for long-haired or short-haired dogs.
The soft brush and massage settings can help encourage your dog to sit still while you wash them.
Cons
It's one of the most expensive options on this list.
The attachment can sometimes leak.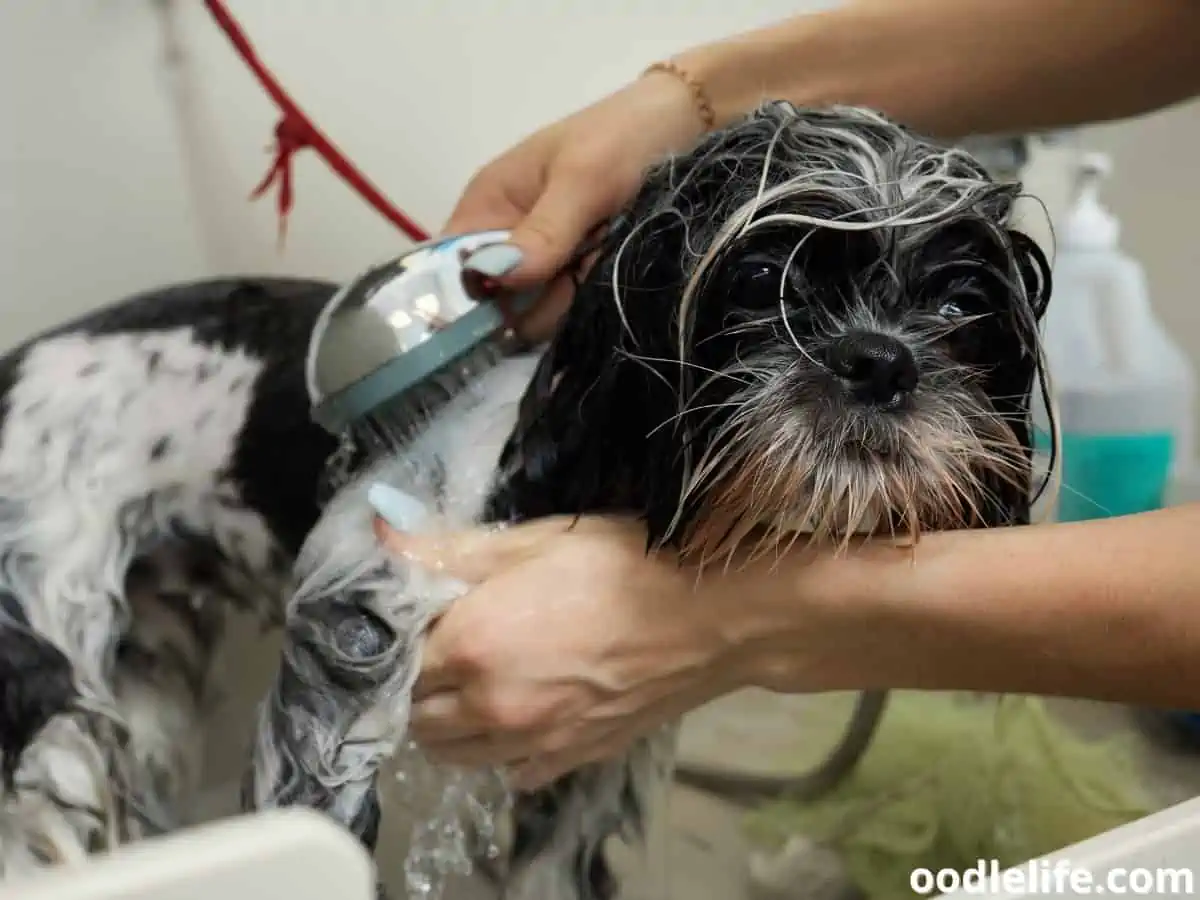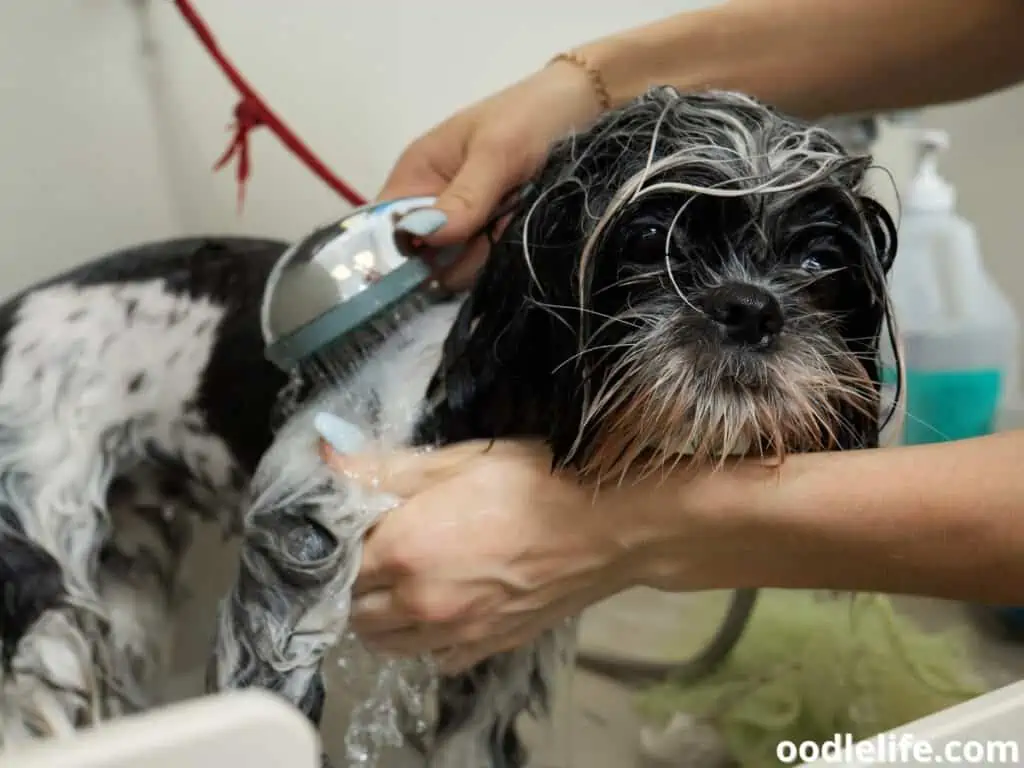 Need a shower attachment that's easy to take on the go? Consider picking up the Ivation portable outdoor shower.
Ivation Portable Outdoor Shower, Battery Powered - Compact Handheld Rechargeable Camping Showerhead - Pumps Water from Bucket Into Steady, Gentle Shower Stream
INDOOR/OUTDOOR HANDHELD SHOWER - Transforms Sink or Bucket of Water Into Instant Shower Stream; Water-Resistant Unit Includes One Touch On/Off Switch
PERFECTLY PLEASING PRESSURE - Showerhead Features One Simple Flow Rate for Comfortable Bathing Experience; Gentle Enough for Seniors, Babies and Pets
SUCTION CUP SUPPORT - Shower-Head Securely Sticks to Any Flat Surface with Provided Suction Cup; Bonus S-Style Hook Lets You Hang it Safely Overhead
BATTERY POWERED CONVENIENCE - Rechargeable Pump Plugs into Laptop, Car Adapter or Computer via USB; Full Charge Allows Up to 1 Hour of Continuous Use, PLEASE NOTE: May include a wall plug instead of...
COMPACT AND PORTABLE - Small, Discreet System Packs Easily in Luggage, Backpack or Car Trunk; for Hiking, Camping, Kid Bathing and Pet Cleaning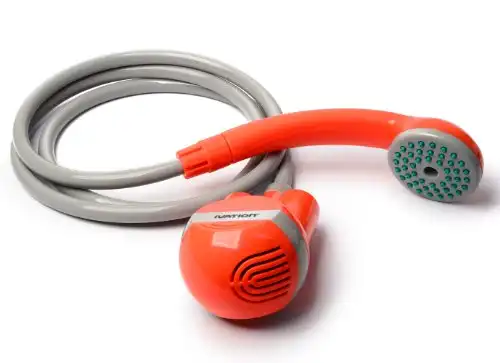 We earn a commission if you make a purchase, at no additional cost to you.
You can attach this product to your shower or sink faucet. Additionally, you can attach it to a bucket or tub of water for an outdoor bath.
This outdoor shower has a rechargeable battery that can work for up to a whole hour, giving you plenty of time to wash your dog from head to toe.
Pros
This attachment is perfect for washing your dog when you're away from home.
It has a single setting, making it very straightforward to use.
It's compact and very easy to transport.
Cons
It only has one water pressure setting.
It runs on a battery, so if you forget to recharge it you'll have to wait a while before using it again.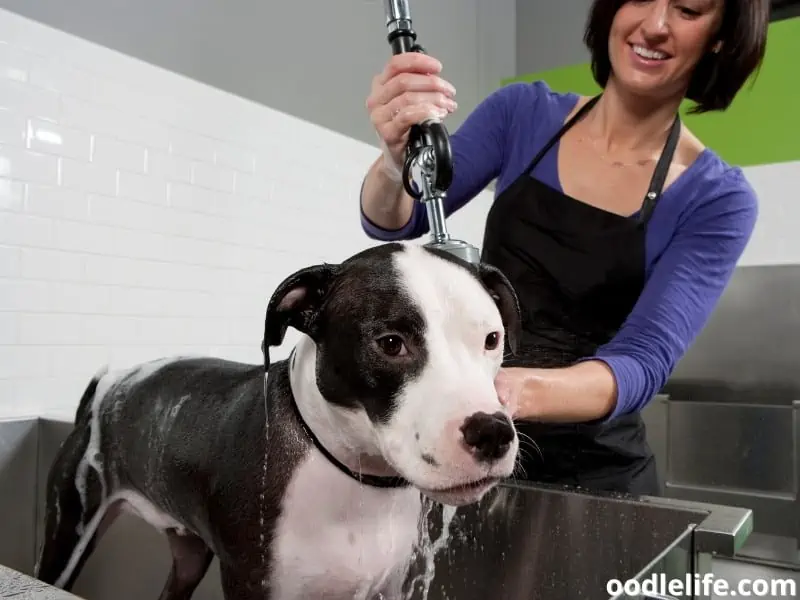 Final Thoughts
There are a lot of steps you can take to make bath time a little bit easier for your dog, and one of the best ways to do that is to get a dog shower detachment. 
These dog shower attachments can help get your dog clean with minimal fuss. They're a great way to deep-clean your dog's fur and even give them a bit of a massage while you're at it. Best of all, these attachments can make rinsing a breeze, which helps get your dog in and out of the bath as soon as possible.
The best dog shower attachments for your pup will vary depending on their breed and personality. So before you purchase one of the products I've featured, be sure to consider what would benefit your dog the most!