8 Best Dog Shower Heads in 2023
If you're a dog owner, then you know that bath time can be one of the most challenging parts of dog ownership. But even if your dog isn't a fan of baths, there are still many good reasons to make sure they get one on a regular basis.
For one thing, baths help to remove dirt, debris, and pollen from your dog's fur, which can otherwise aggravate allergies or lead to skin infections. In addition, baths also help to remove any leftover soap residue from previous shampoos, which can dry out your dog's skin and leave them feeling itchy.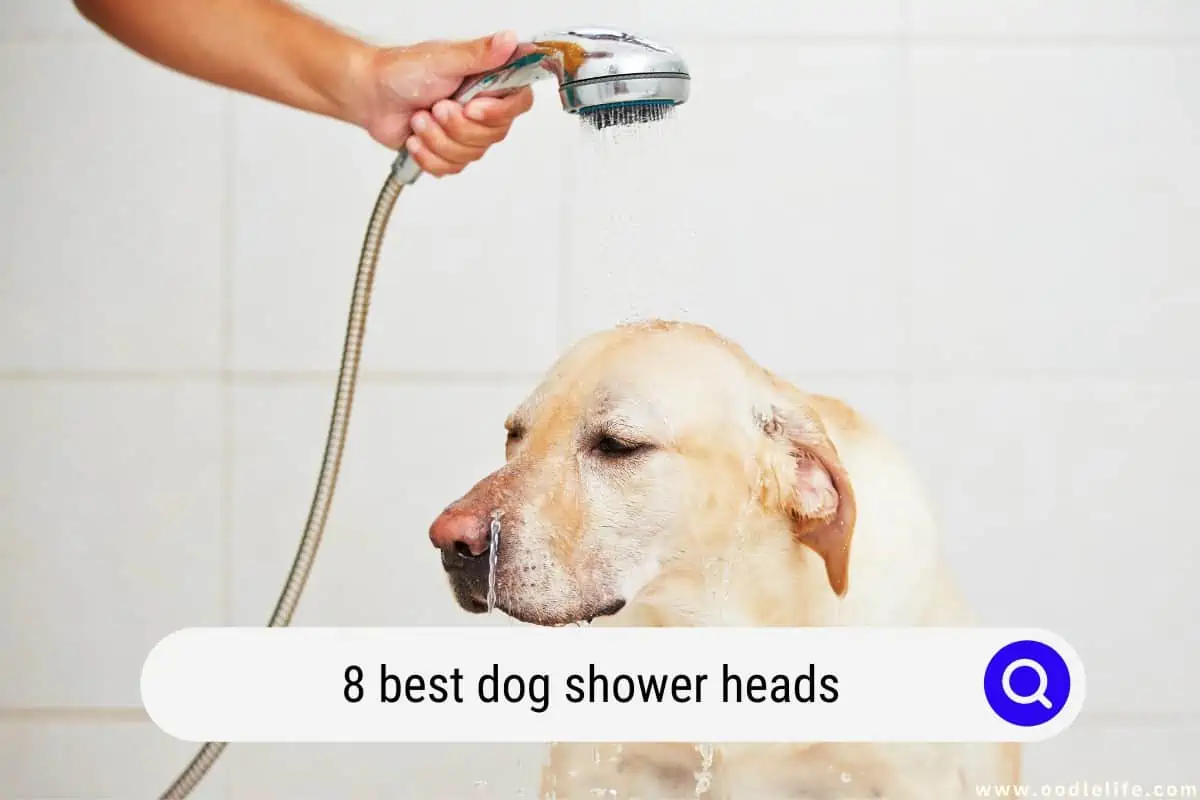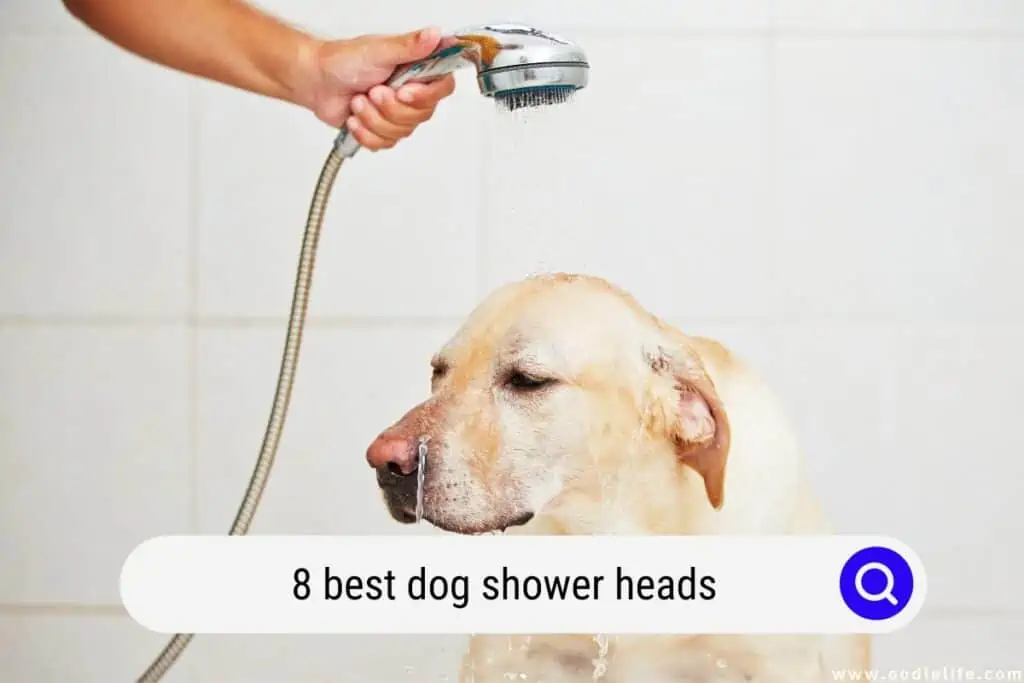 Finally, baths give you a chance to check your dog for any fleas or ticks that may have hitched a ride home from your last walk in the park.
With a good shower head, you can have bath time go smoothly and quickly, so your dog won't have to give you the evil eye and seem like you're torturing him! Here is a list of our top 8 shower heads for dogs!
The top-rated and top-reviewed dog shower head is the Waterpik Pet Wand Pro Dog Shower Attachment. Some of its key features are that it provides full coverage and can wash any dog of any size, no matter how big or how heavy-coated they are.
Once installed, you can easily switch between your regular shower head and your Pet Wand Pro. It can also be detached and attached to an outdoor garden hose as it also includes an outdoor adapter.
It comes with an 8-foot flexible hose which makes it much more convenient to shower big dogs indoors or outdoors.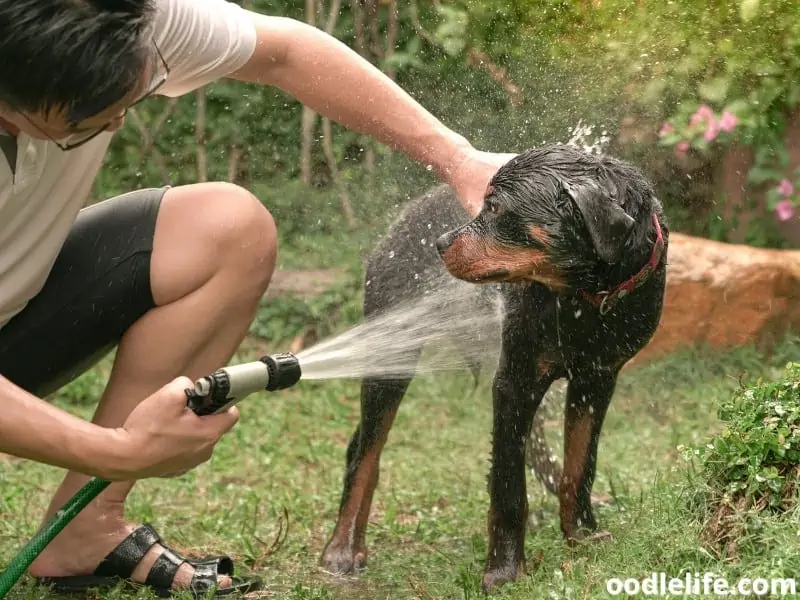 Aquapaw Pet Bathing Tool is the world's first wearable combination sprayer and scrubber. Using it is as easy as opening and closing your fist!
With an on/off button in the center of your palm, a simple opening and closing of your fist are all it takes to turn the sprayer on, shaped as a perfect grooming tool to get all the dirt and matted hair nice and clean.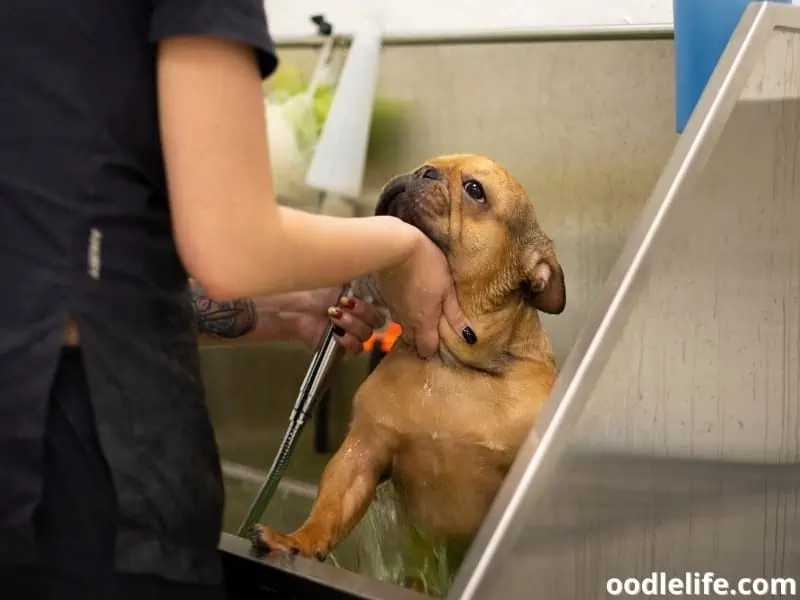 REEGE Dog Shower Sprayer Attachment Set is a complete bathing station you can use not only for your pet but also for yourself! It comes with a handheld dog shower sprayer and can be connected to hot and cold water.
It is made of top premium brass to ensure there are no leaks or any complications. The hose is durable and flexible stainless steel for convenience and quality.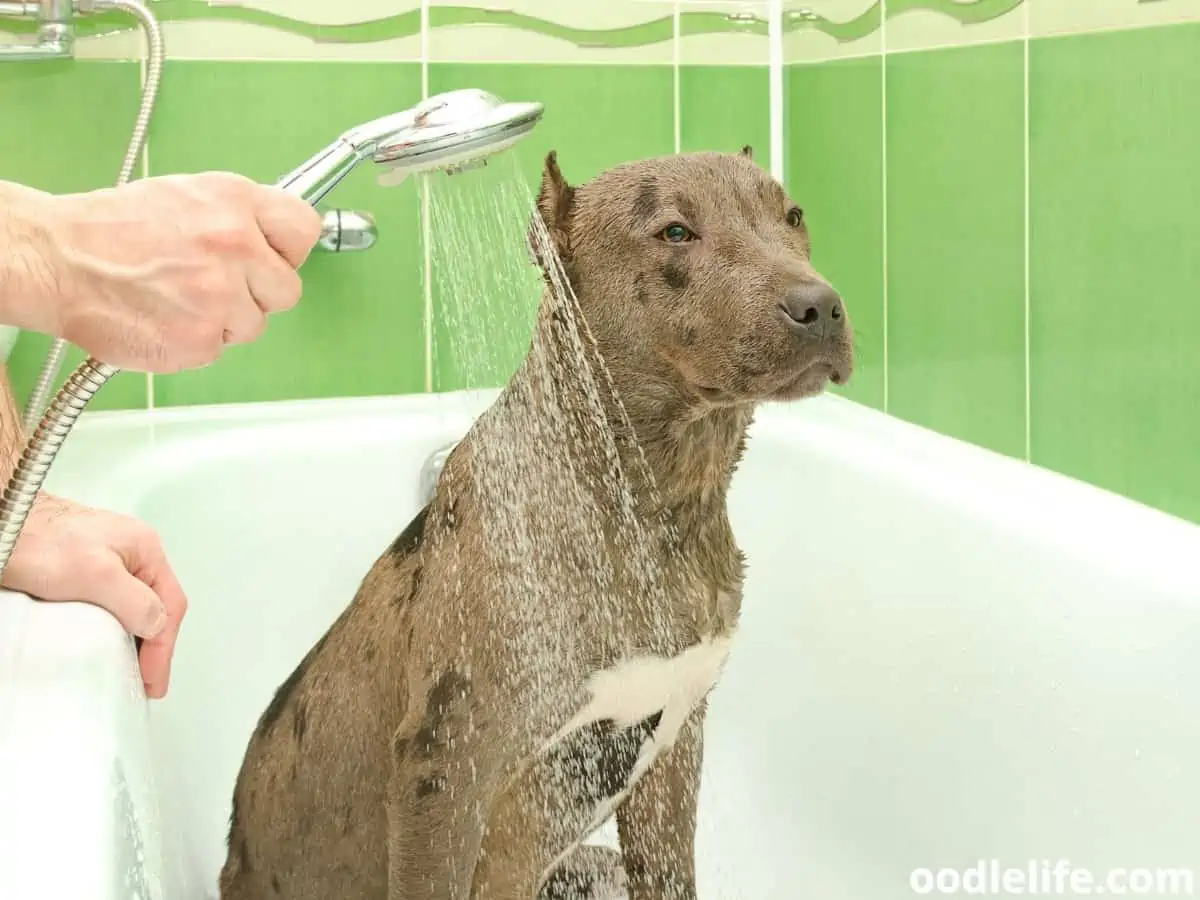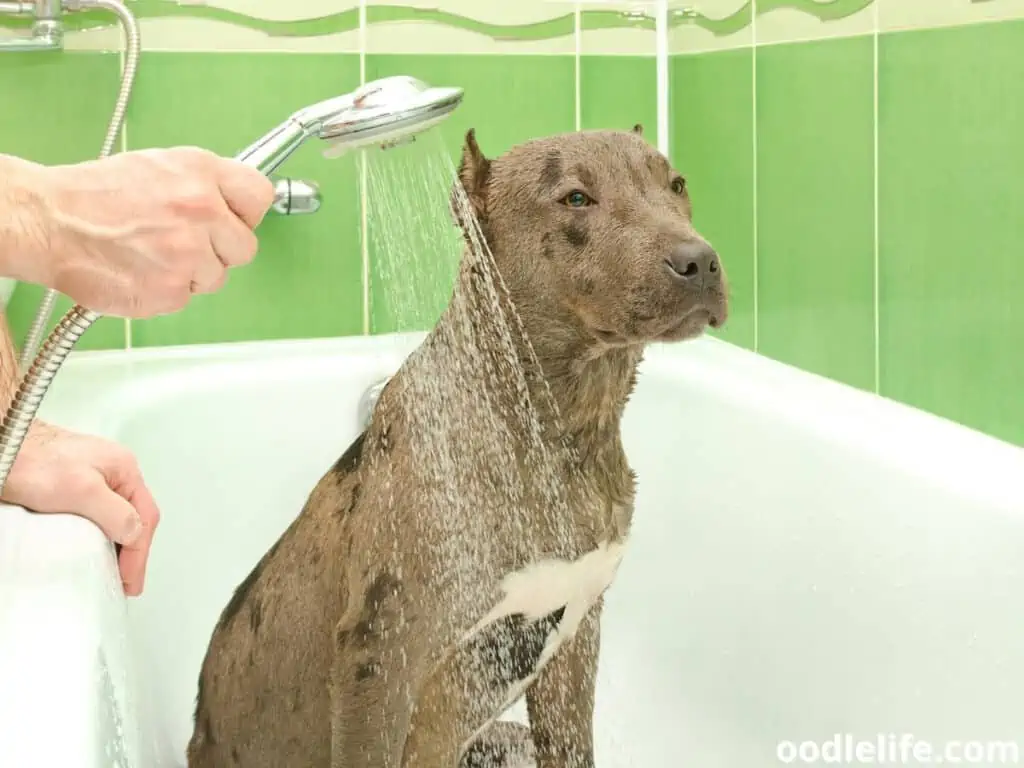 Though there aren't many ratings and reviews on faucet shower heads, the SmarterFresh Pet Faucet Sprayer set is a one-of-a-kind multifunctional faucet shower head with an included shower hose, giving you the experience of a shower fitted shower head.
Very easy to install and convenient, the best part is that you do not have to remove the diverter to use your faucet like normal for washing your hands. A wall mount is also included for you to hand your faucet sprayer when not in use.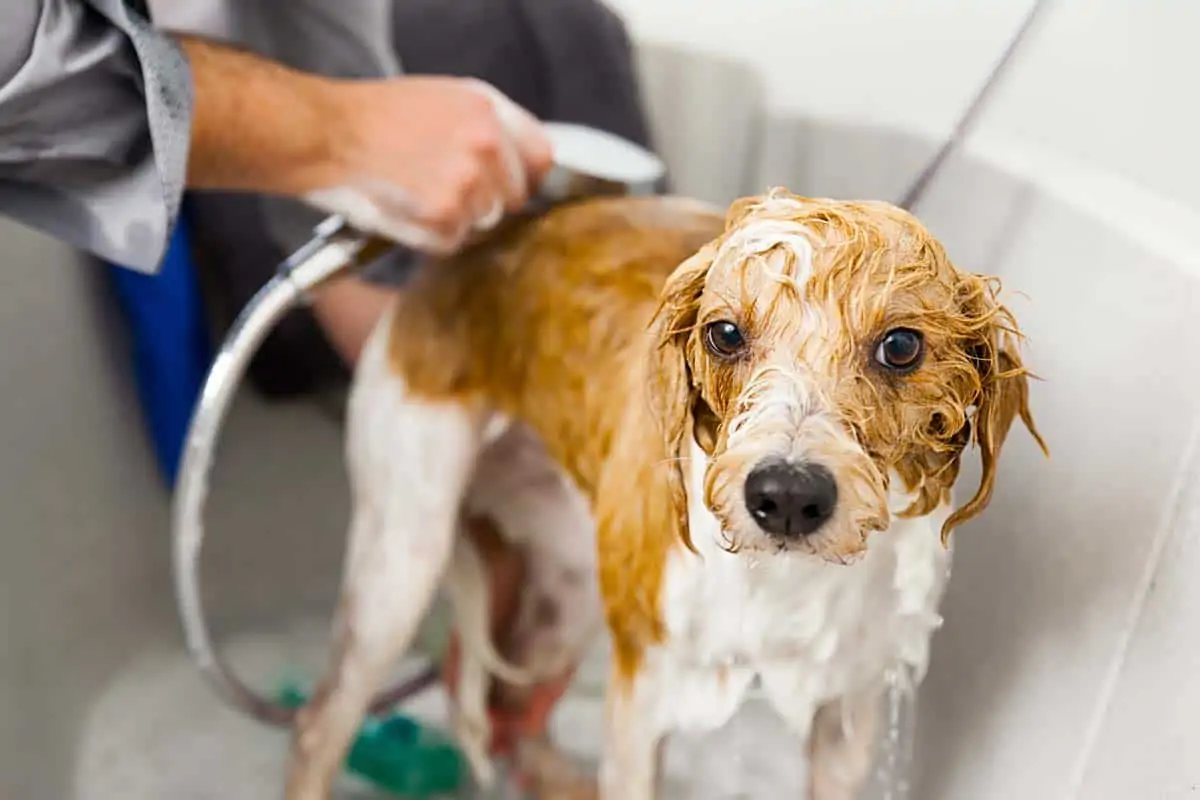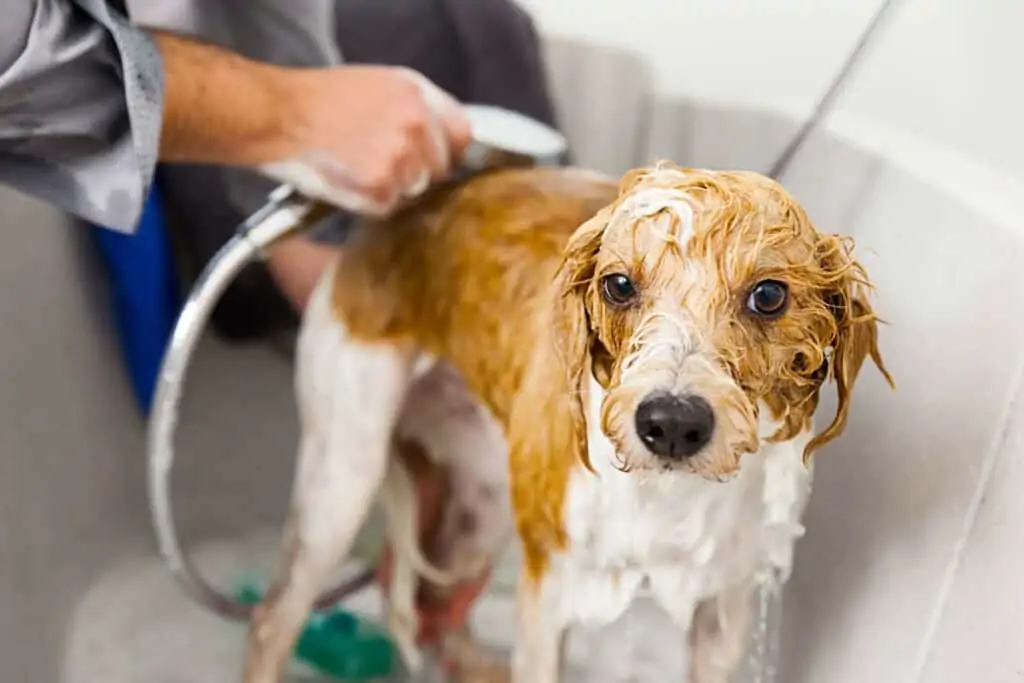 ConairPro Deluxe Pet Washer is ideal for gentle washing. It has two connectors to use for your indoor shower or your outdoor hose.
ConairPRO Dog & Cat Deluxe Pet Washer
DELUXE PET WASHER: Designed for washing & deep cleaning the coats of all breeds, our Deluxe Pet Washer features massaging rubber fingers for shampooing & has 2 connectors for use in your indoor...
DUAL SETTINGS: With a reinforced 8 foot hose for maximum versatility, this deluxe pet washer has dual spray settings: full body spray or cone-shaped, curtain spray. You'll get your pet squeaky clean!
PET GROOMING SUPPLIES: Grooming your cat or dog is easy when you have the right tools. We make professional-quality brushes, shears, clippers, nail grinders & more to keep your pet looking great!
MADE TO LAST: ConairPRO Dog & Cat pet grooming tools are designed with high-quality materials for durability & performance. Our brushes, combs, shedding tools, nail grinders & more are made to last!
Share The Love: From slicker brushes, shedding tools & shampoo brushes to full home grooming kits, ConairPRO Dog & Cat makes quality grooming supplies & products to help you take care of your cat or...

We earn a commission if you make a purchase, at no additional cost to you.
It comes with an 8-foot hose and has dual spray settings so you can bathe your pet with whatever water pressure it is comfortable with. It is durable, easy to install, easy to use, and well worth its price.
Ivation Handheld Portable Shower head is a rechargeable, compact shower head that pumps water from a bucket into a steady and gentle shower stream. It is gentle enough not only for pets but also seniors and babies too!
Ivation Portable Outdoor Shower, Battery Powered - Compact Handheld Rechargeable Camping Showerhead - Pumps Water from Bucket Into Steady, Gentle Shower Stream
INDOOR/OUTDOOR HANDHELD SHOWER - Transforms Sink or Bucket of Water Into Instant Shower Stream; Water-Resistant Unit Includes One Touch On/Off Switch
PERFECTLY PLEASING PRESSURE - Showerhead Features One Simple Flow Rate for Comfortable Bathing Experience; Gentle Enough for Seniors, Babies and Pets
SUCTION CUP SUPPORT - Shower-Head Securely Sticks to Any Flat Surface with Provided Suction Cup; Bonus S-Style Hook Lets You Hang it Safely Overhead
BATTERY POWERED CONVENIENCE - Rechargeable Pump Plugs into Laptop, Car Adapter or Computer via USB; Full Charge Allows Up to 1 Hour of Continuous Use, PLEASE NOTE: May include a wall plug instead of...
COMPACT AND PORTABLE - Small, Discreet System Packs Easily in Luggage, Backpack or Car Trunk; for Hiking, Camping, Kid Bathing and Pet Cleaning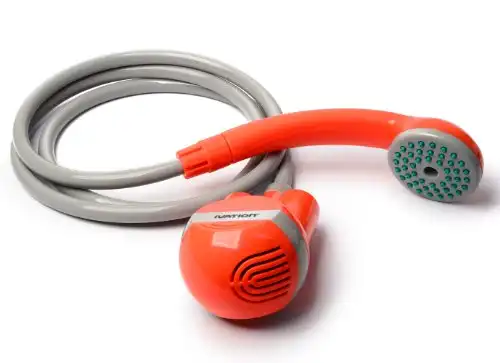 We earn a commission if you make a purchase, at no additional cost to you.
The shower head itself does not need to be held at all times but instead has suction to its back for you to stick it to any flat surface. It is perfect for an on-the-go bath when traveling or camping with your canine buddy.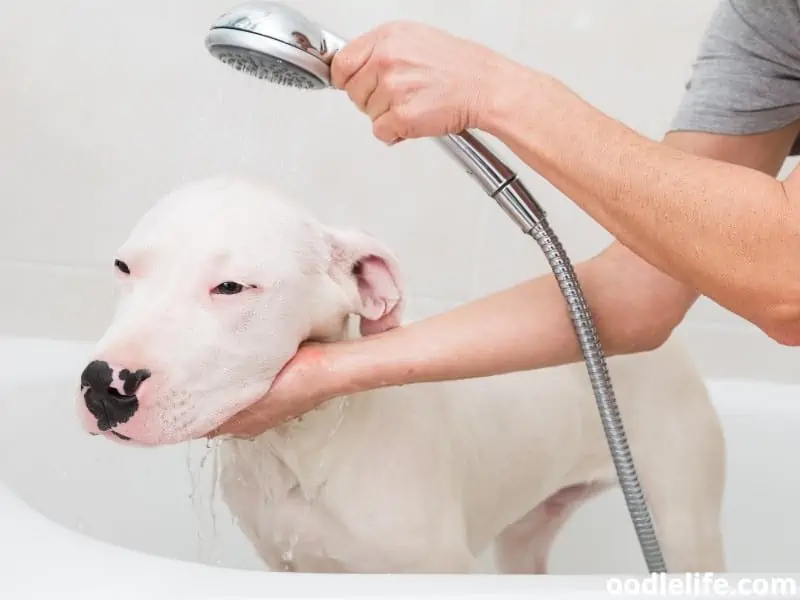 The unique Wondurdog deluxe dog wash kit has a silicone shield surrounding the sprayer itself to prevent you from getting soaked while showering your dog.
Along with many other features, it has a water pressure control valve. While you can control the pressure of water coming out of the sprayer, you can also bathe, brush, rinse, start and stop all with one hand.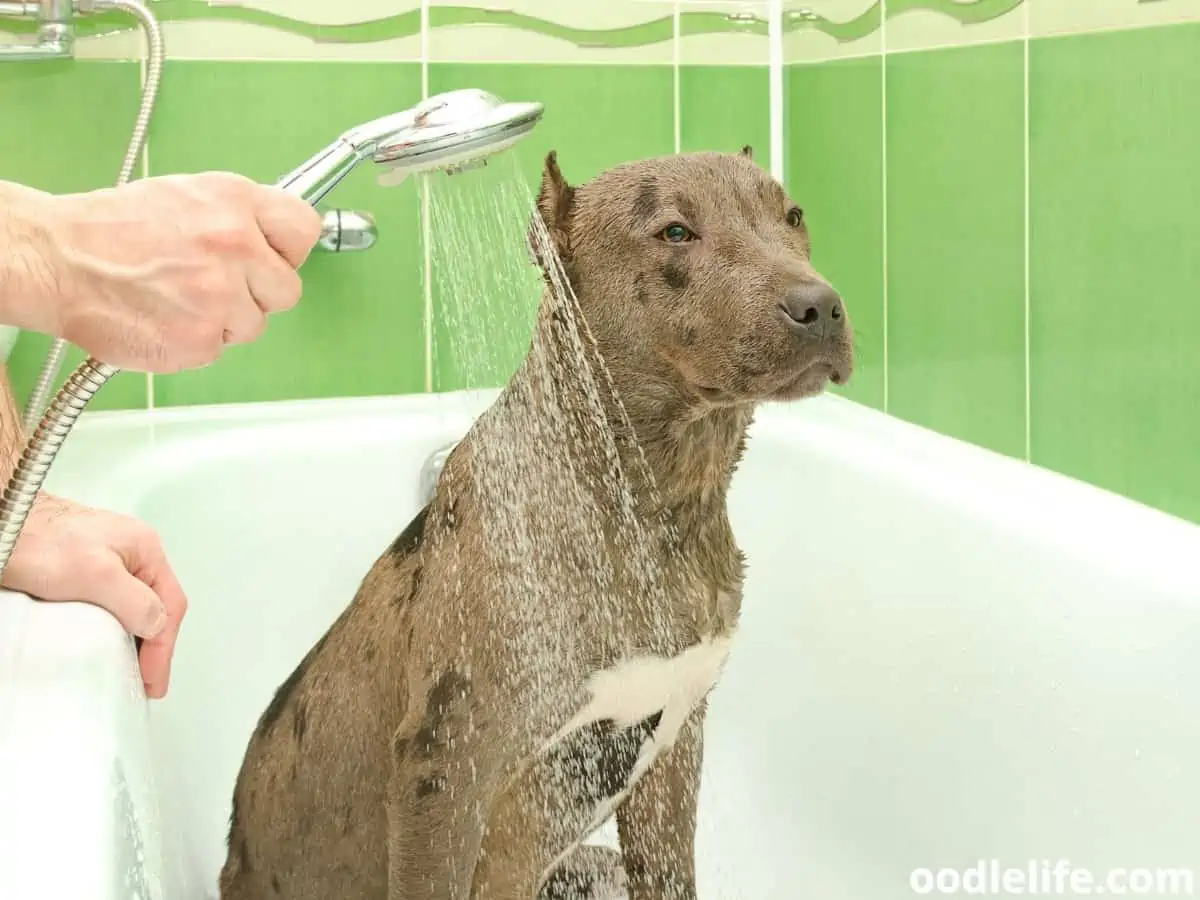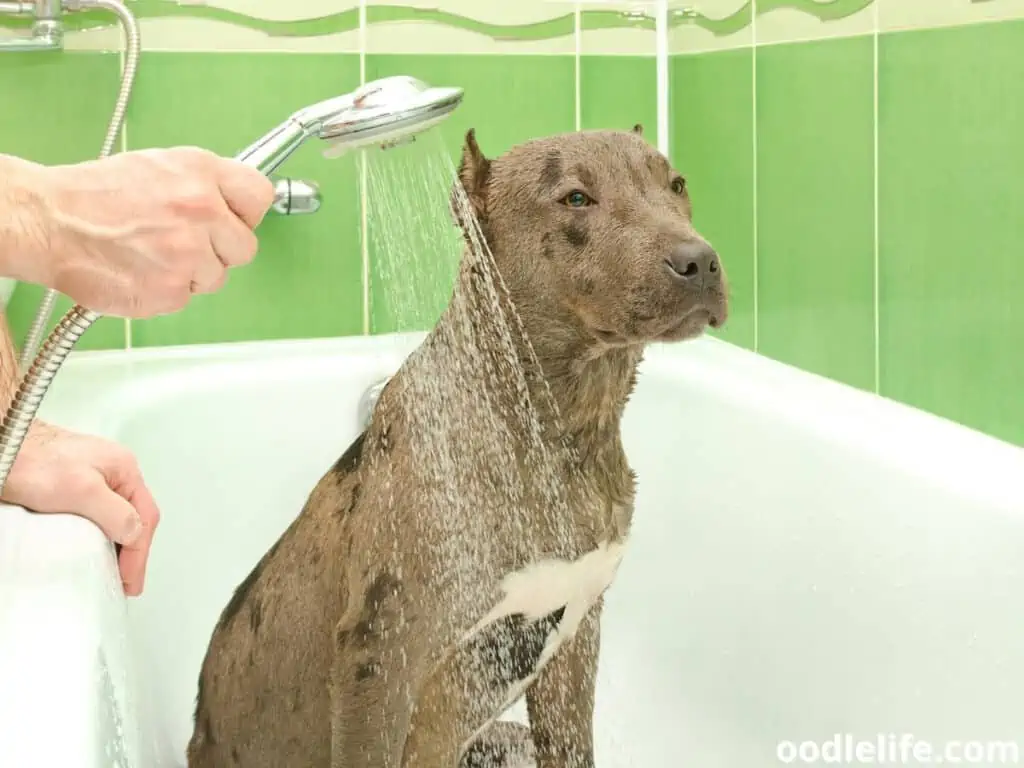 ZCONIEY Sink Faucet Sprayer Attachment is another very well-reviewed and rated faucet sprayer. Without the fear of getting yourself soaked, you can enjoy a stress-free bath time with your pet.
The extra 8-foot hose is what makes it different than standard faucet sprayers, which usually attach directly to the faucet, occupying the whole sink. This faucet sprayer attachment is ideal for all dogs, big or small.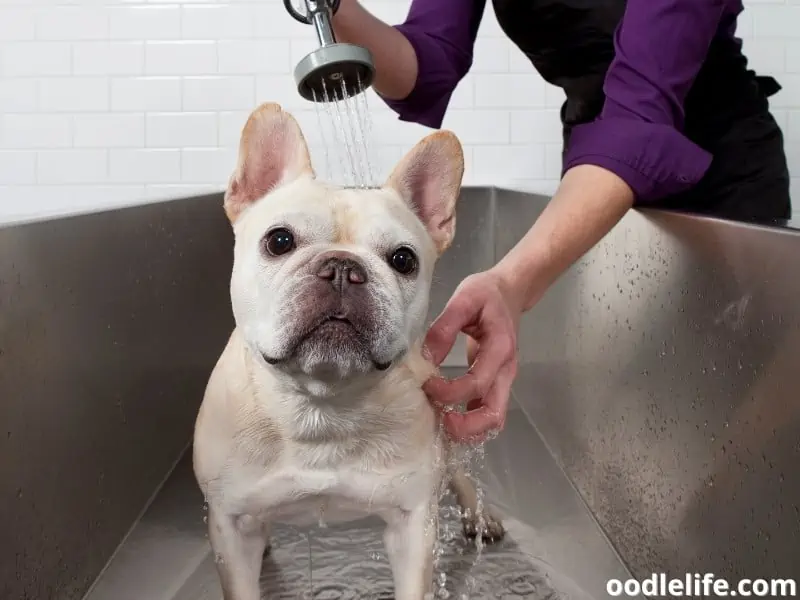 How To Pick The Best Shower Head For Your Dog?
Still didn't find something you like? As everybody has their own choice and preference, there are many different shower heads to choose from. To be able to choose the best one for your dog, consider the price, type of attachment, special features, and hose length to what you find most comfortable or attractive.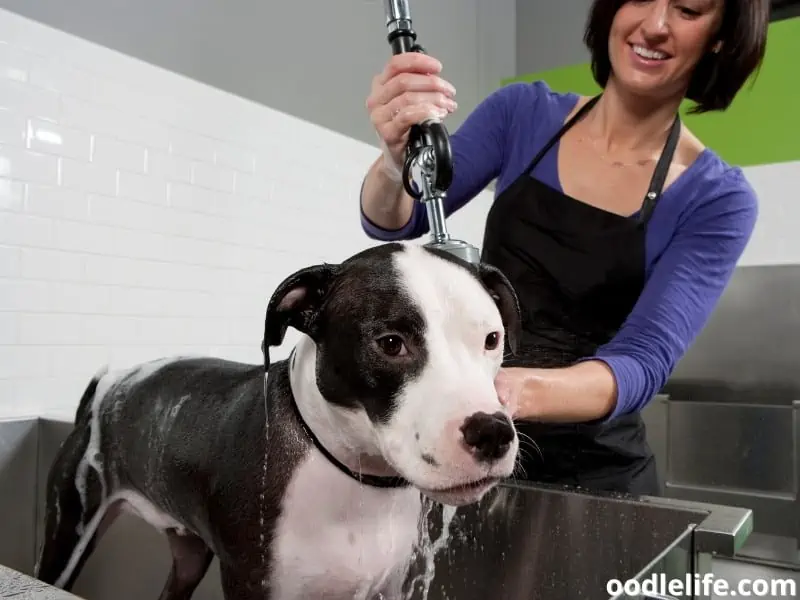 The three types of shower heads are shower heads for sinks, bathtubs, and for outdoor use.
Some pups do not like bathing as much as others. If that is the case, we suggest you do not buy a pricey one as a try. If you are confident your dog will love the bath and showering in general, buy one with more features to make bathing even more fun!
One thing we advise looking out for is if the shower head can be used indoors and outdoors. You can check by reading on the box if the shower head can be used on a hosepipe. The hose length should also be checked once to make sure your dog won't be required to stand near the shower attachment throughout the whole bath time.
Make sure the hand on the attachment is comfortable to hold so that your hand doesn't begin to hurt or get tired easily.
Special features may include adjusting the water pressure and some even have a silicone scrubbing attachment but only buy that if you feel like your dog will love it!
Why Use A Shower Head?
Bathing a pet isn't as easy as bathing yourself is. Having a dog shower head will make things a lot easier as they have long flexible hoses and some even have the option to adjust the water pressure to whatever your dog is comfortable with.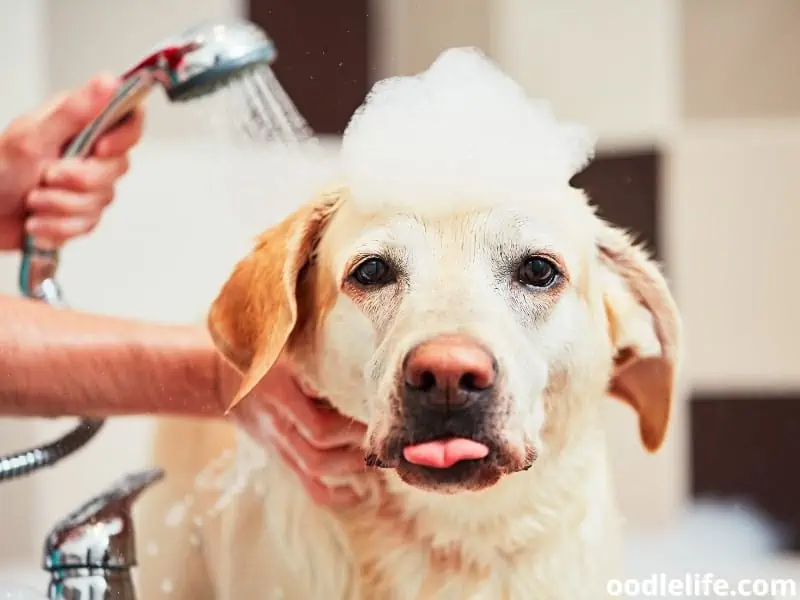 It also makes it much easier to aim the shower head to places hard to reach like their paws and their belly without getting your clothes wet. Instead of getting services from expensive professional dog grooming and bathing services, you can keep your dog's coat clean with a quality dog shower head.
Having a shower head to bathe your dog is also convenient as you don't have to maneuver around the edges of the bathtub to reach every spot on your dog, which can also be quite dangerous.
Shower heads with hoses can also help prevent water from going into your dog's ears, which can result in health problems. You can also prevent the water from being sprayed onto your dog's face to protect their eyes.
Shower heads with hoses are useful to properly clean the dirt and matted fur off your fur baby as fixed shower heads aren't as useful and may not clean them properly.
Dog shower heads help tremendously when it comes to fuss-free showers as you can adjust your position to however your pup is comfortable as long as you have a long and flexible hose attached. With a dog shower head, you will not need the help of another person when it is time to shower your dog, making it much easier to do the task yourself whenever you like.
Using a faucet sprayer will occupy your whole sink, plus, you will have to detach the sprayer in order to normally use the sink to wash your hands.
How To Bath Your Dog With A Dog Shower Head?
Give your dog a chance to follow you into the bathroom instead of forcefully bringing them. Wait for when they are relaxed.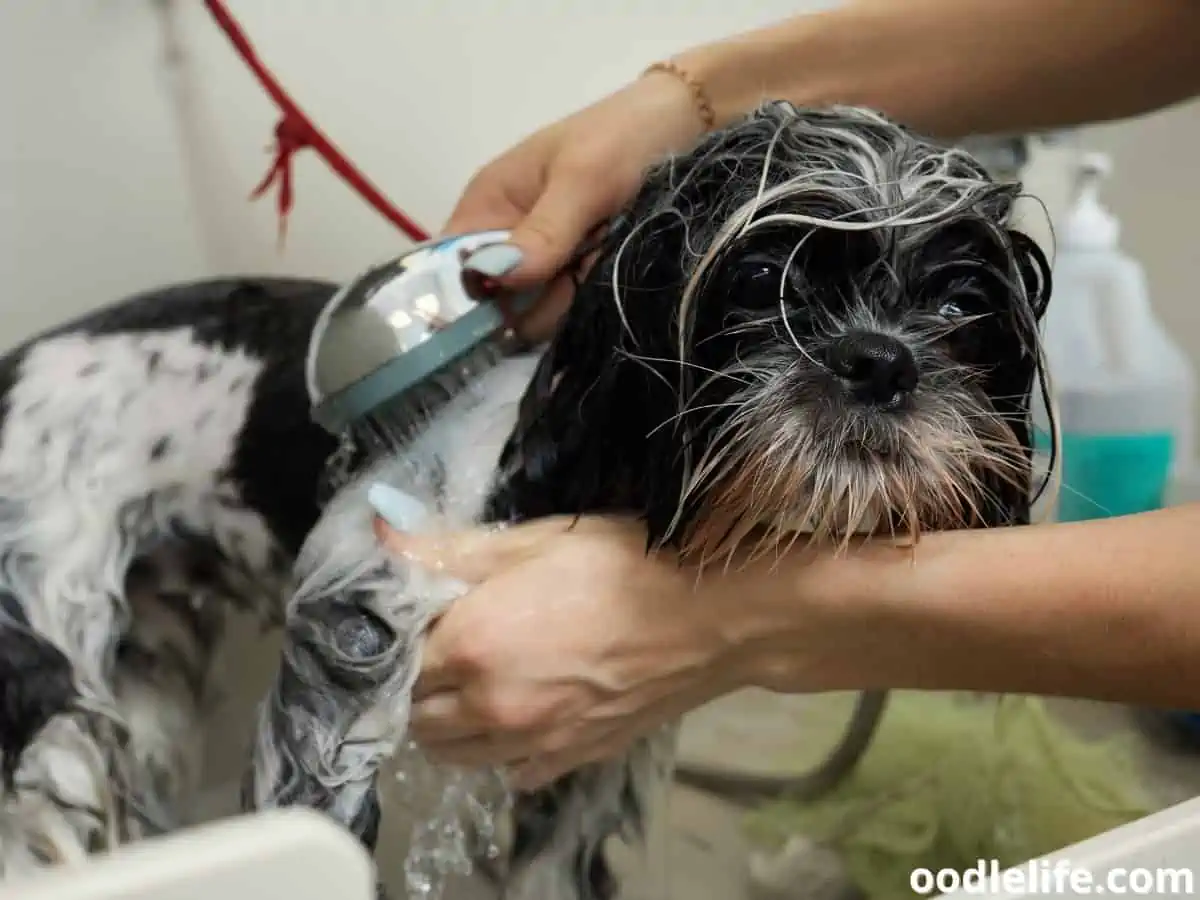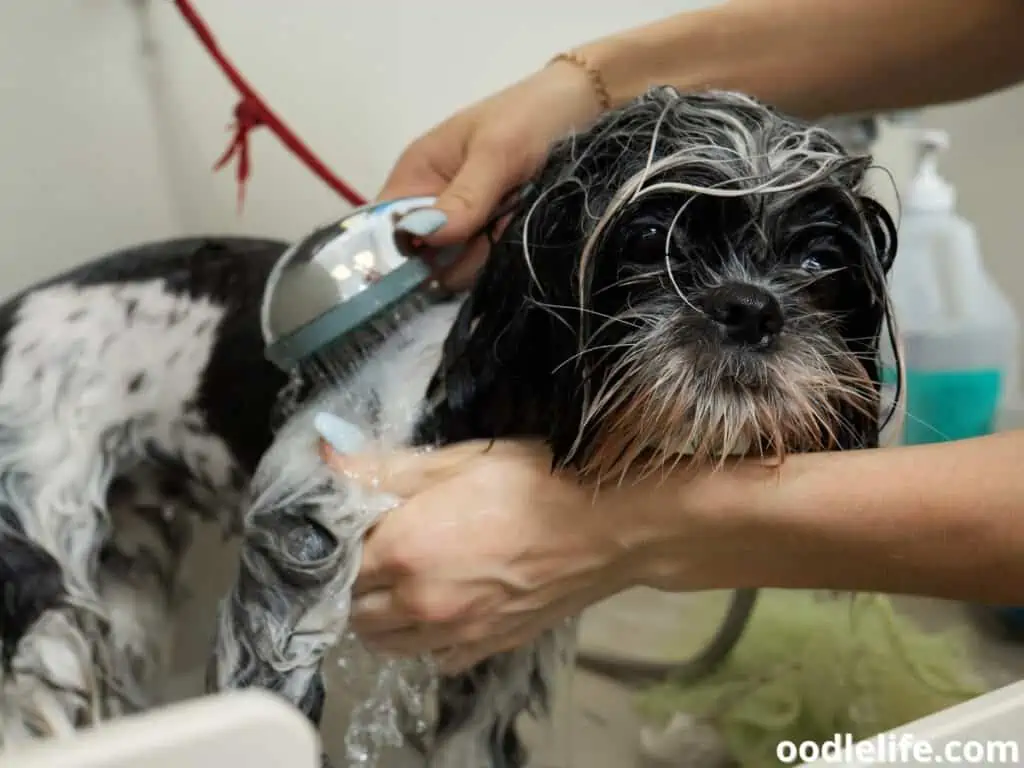 First, use the detachable shower nozzle to thoroughly rinse your dog with lukewarm water, making sure you do not get water in their ears or eyes. Keep the water pressure low so you do not startle your dog and end up scaring it.
Gently massage dog-friendly shampoo onto your dog's fur coat from the neck down.
Rinse your dog thoroughly with the detachable shower head and make sure you get all the shampoo out so it doesn't irritate your dogs skin.
Use a damp cloth to gently wash your dog's face and around its eyes, and don't spray water directly onto your pooch's face.
Once done, dry your dog so that it doesn't shake the water off its body and soak you. Then get ready for the zoomies!