39 Paw-fect Dog Valentine's Day Puns! (for Social Media) (2023)
Whether you're a dog or human, Valentine's Day is an important holiday. After all, Valentine's Day is all about friendship and love, and there's no one we love more than a man's best friend.
It's never too early to start planning those cute Valentine's Day cards and captions! We hope these puns will help you incorporate your fur baby into this holiday!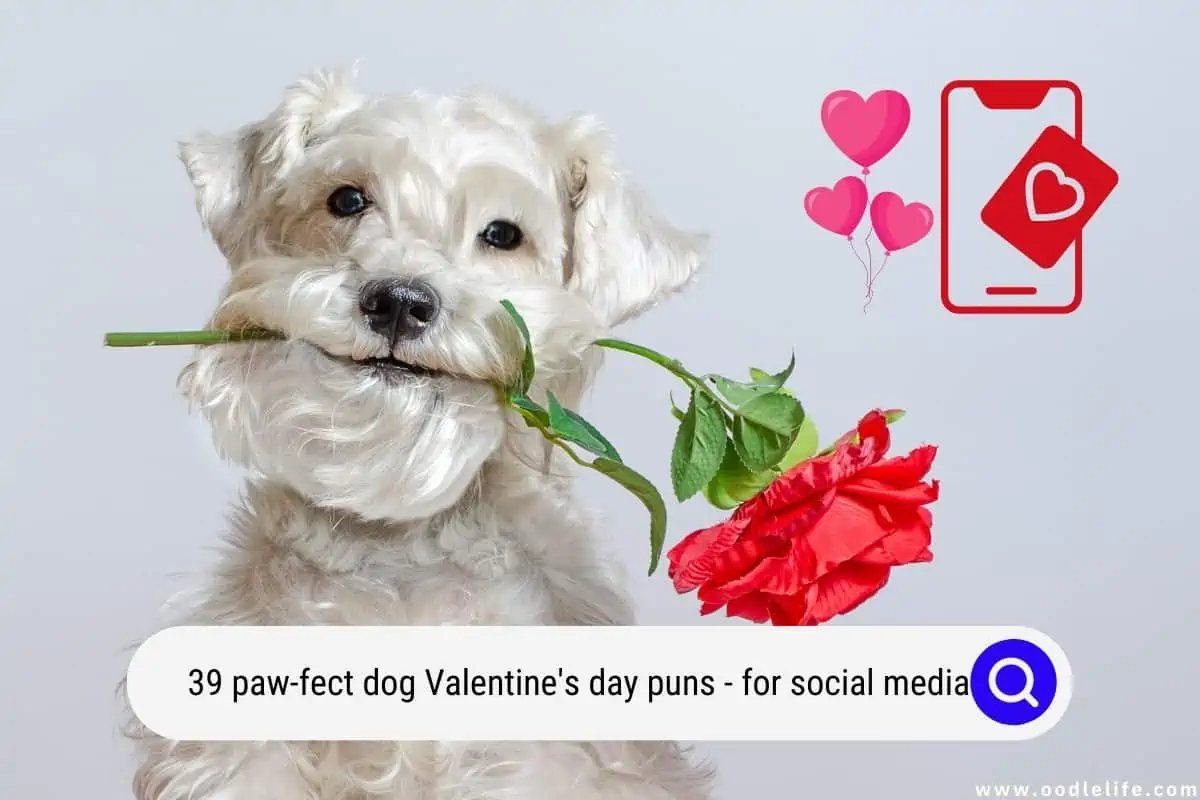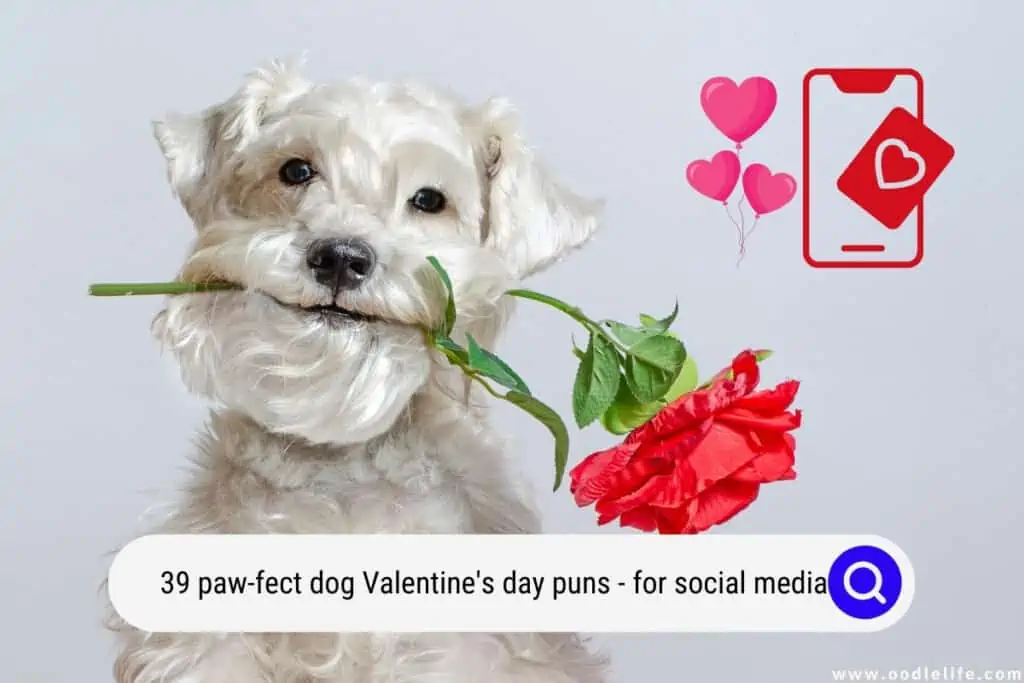 Whether you are showing love to a friend, family member, significant other, or your pup, these dog Valentine's Day puns are sure to make anyone smile!
We'll help you out with all kinds of Valentine's Day dog puns – whether you need them to be romantic, friendly, breed-specific, or if you need some punny captions.
We'll also help you out with some ideas if you want to create your puppy-themed puns.
Dog Puns For That Special Someone
Studies show that dogs can bring people together. With that said, could they help you get a date? Maybe improve romantic relationships? (that link is an actual study showing how dogs help people bond!)
Who knew! Your furry friend may be your best wingman.
Whether you need ideas for an Instagram caption or a card, we hope these puns will help bring you closer to your paw-son, just like a dog can.
Here are ten flirty and romantic Valentine's Day dog puns:
Valentine, you and I are paw-fect fur each other.
I'll love you fur-ever, Valentine!
Valentine, you're pretty fetching.
I ruff you to the moon and back.
Paw-lease say you'll be my Valentine!
Valentine, you're the only one fur me.
Life would be ruff without you, Valentine.
I to-tail-y dig you, woof you please be my Valentine?
Valentine, you are pup-fection!
I hope we sit and stay together fur-ever.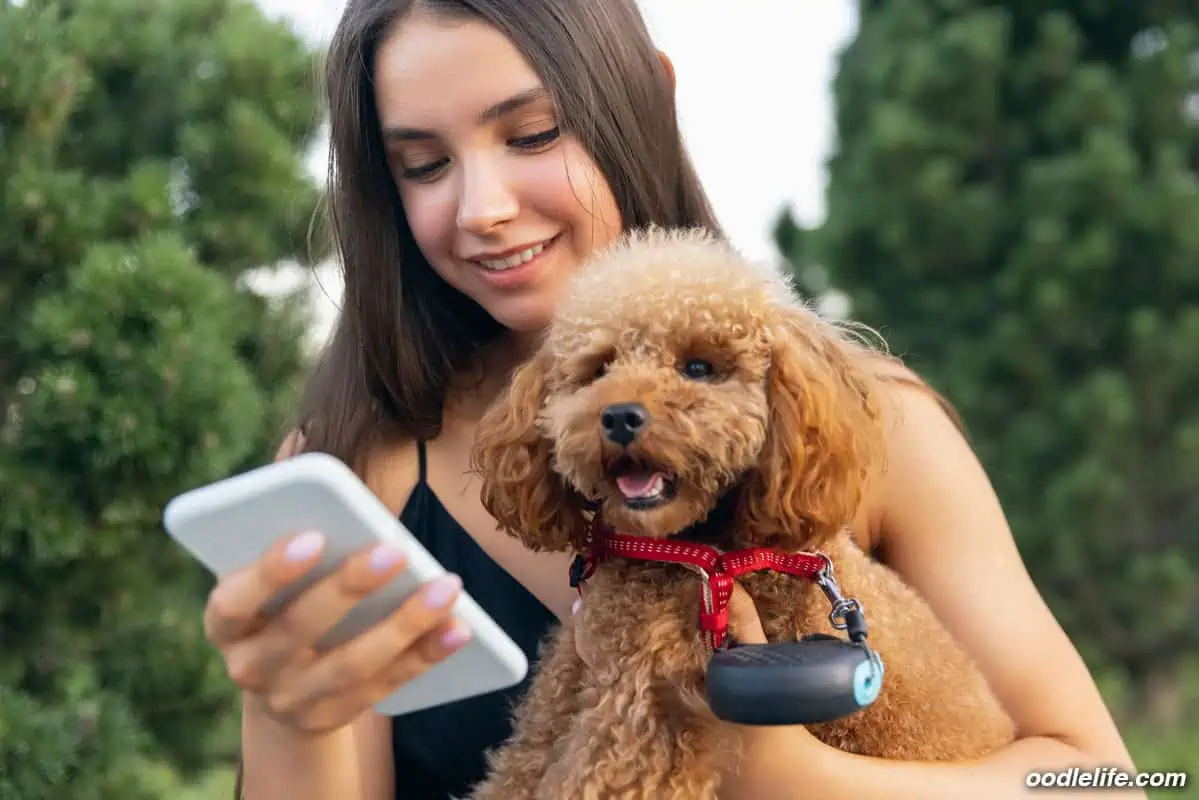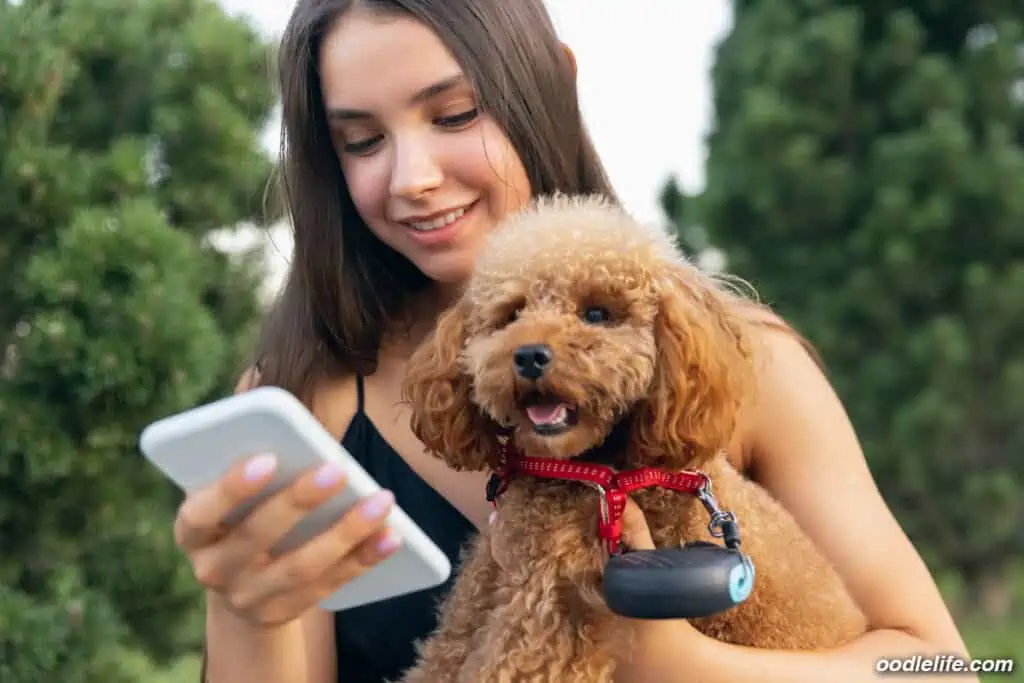 Dog Puns For Family and Friends
Over 48 million households in the United States include a dog as part of the family. That is a lot of puppy love!
If you are a part of one of those 48 million households and want to include your pup in your family's Valentine's celebrations, we've got you covered.
Unlike the last section, we have dialed back on the romance for these puns, so they're perfect for sharing with everyone. You can easily replace words like "friend" in these examples with mother, father, brother, sister, etc., so you can use them for anyone, even your dog!
Here are ten more Valentine's Day-themed dog puns, perfect for sharing with family and friends:
You are paws-itively won-fur-ful.
You are the doggone best.
I hope we are best friends fur-ever.
You are paws-itively pup-fect.
It is a real treat to know you.
You are to-tail-ly the best friend ever!
I'm glad I know a paw-some person like you!
Paw-lease say you bought Valentine's Day candy.
I hope your Valentine's Day was pup-mazing.
You are a rebarkable person.
Dog Puns For Specific Breeds
If you think all dogs are the same, you could not be more wrong. Did you know that there are 197 individually recognized dog breeds? Not to mention that many dogs have multiple breeds in their ancestry. 
Unique characteristics in dogs make them super special and we wanted to recognize that!
While we could not include a pun for every type of dog, we wanted to give you a few ideas for some common types. We even included some in here for your furry friends that might be more than one breed!
If you do not see your specific dog included in this list, feel free to use these as a guide to get creative!
Here are ten breed-specific puns to celebrate Love Day:
Valentine, you are Poodles of fun.
Pugs and kisses to my favorite Valentine!
Valentine, you are a-Mutt-zing.
I Lab you very much, Valentine!
I'm always glad to have you a-Hound, Valentine.
Collie me crazy, but I think you should be my Valentine.
No one can Terrier us apart, Valentine.
I can't imagine what I'd Beagle without you.
Muttin' but love for you, Valentine!
Valentine, you've got the Corg-key to my heart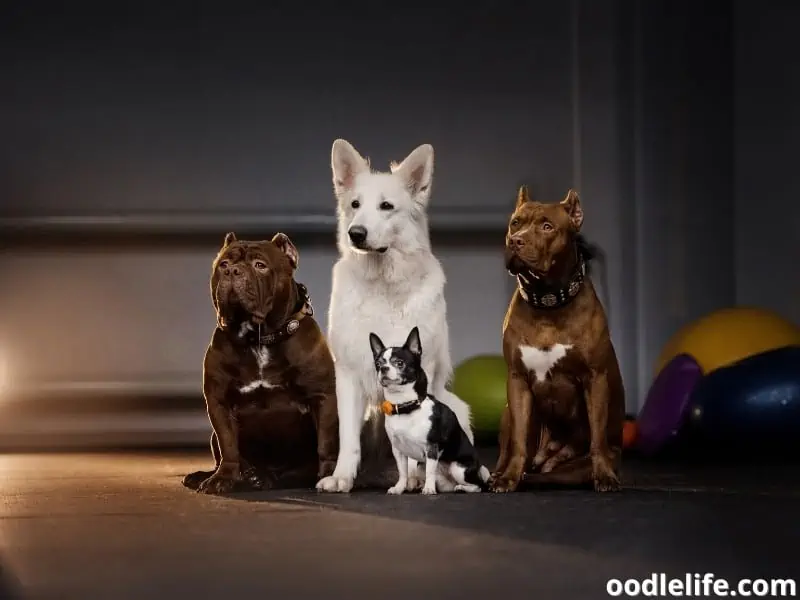 Dog-Related Valentine's Day Captions For Social Media
When you're posing with your pups this Valentine's Day, you want to ensure your social media caption is as sweet as they are.
Although many of the examples seen above can be used in social media captions, we'll give you some examples of longer phrases and sentiments that would work well underneath your celebratory photos.
Again, some of these words refer to specific people but can be substituted as needed. You can also change these to be singular or plural as needed, depending on how many people or pups are included in your photos.
Here are nine social media caption ideas for a pup-fect Valentine's Day post:
Spent Valentine's Day with my bone-afied best friends!
Happy Valentine's Day to this paws-itively pup-fect person!
To-tail-ly digging this Valentine's Day outfit.
Paws-ibly the best Valentine's Day ever.
This is a Valentine's Day I'll never fur-get.
I dog-finitely did not eat a whole box of Valentine's Day treats.
My bone-afide Valentine and I had a paw-fect day.
Had to sit and stay home today, but that did not make Valentine's Day any less paw-some.
Hope everyone had the doggone best Valentine's Day ever!
Now that you have a bunch of puns to use, we'll give you some ideas if you want to create your own!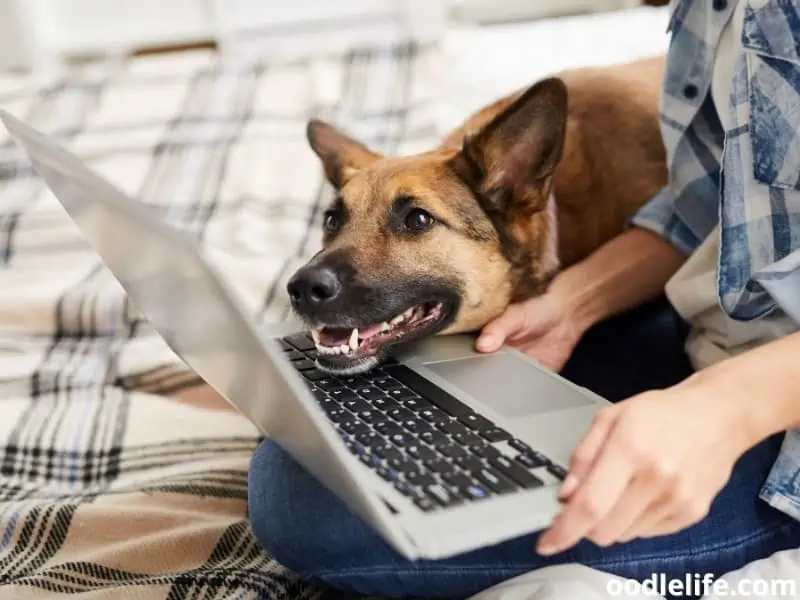 Creating You Own Puppy Puns
If you like what you've seen so far but want to be creative and unique in your cards and captions, we've still got you covered!
Here, we will help you out with dog-related words that can easily be turned into punny phrases! We will give you dog-related words that can replace a syllable of a word, words that can replace entire words in expressions, and dog-related words with dual meanings.
We'll also give you some advice on creating puns if you feel a bit stuck.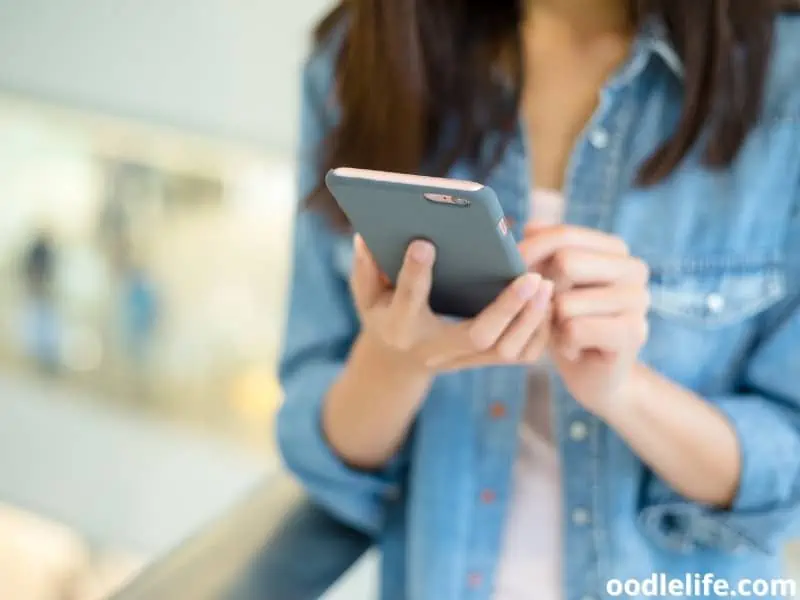 Dog-Related Words That Can Replace Syllables
Here, we will give you a list of puppy-affiliated words that can be used to replace certain syllables in larger words:
Bark: can be used in words like re-bark-able (remarkable)
Bone: can be used in words like bone-afied (bona fide)
Dog: can be used for doggone or dog-finitely (definitely)
Fur: can be used for fur-ever (forever) or won-fur-ful (wonderful)
Hound: can be used for a-Hound (around) or a-Hound-ing (astounding)
Mutt: can be used for Mutt-ing (nothing), a-Mutt-zing (amazing), or ad-Mutt (admit)
Paws: can be used for paws-itively (positively), paw-some (awesome), paws-ibly (possibly), or paw-lease (please)
Pup: can be used for pup-fect (perfect) or pup-mazing (amazing)
Tail: can be used for to-tail-ly (totally)
Stand-Alone Dog-Related Replacement Words
These are canine-correlated words that can replace entire words:
Beagle: be
Collie: call
Lab: love
Poodles: oodles
Pugs: hugs
Ruff: love
Terrier: tear
Woof: would
Dog-Related Words with Dual Meanings
These words have connections to dogs, but can also have unrelated meanings:
How to Create Puns?
Now that you have an extensive word bank and a set theme (dogs and Valentine's Day), how do you use these words to create a punny phrase?
Puns work best when the phrases they are in are common and can be easily recognized. That way, when you change one word, you can still figure out the meaning of the phrase.
So, it may be helpful if you think of a phrase related to your theme first, and then find a word or syllable to replace with a similar-sounding word.
For example, a common Valentine's Day phrase would be "I love you." If we want to make this phrase dog-related, we can take the word "love" out and replace it with a word like "Lab" or "ruff" since they sound somewhat similar to "love."
Now, the phrase becomes "I Lab you" or "I ruff you." Since the phrase is easily recognizable and the replacement word sounds fairly close to the original, you can still find the meaning in the phrase.
If you use these instructions, you can become a pun-making expert and create dog puns for Valentine's Day and beyond!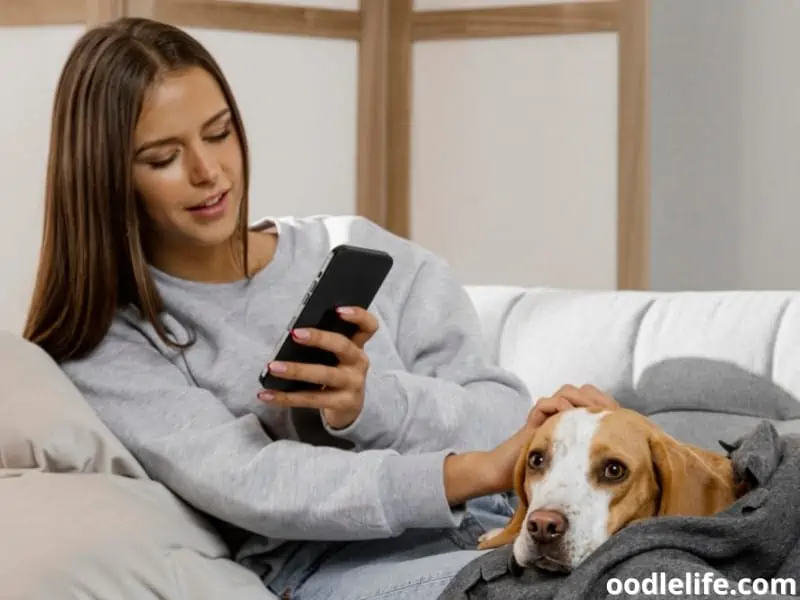 Wrap Up
Dog puns are a great way to add humor to any holiday. Whether you use the puns listed or create your own with the suggested words, we aim to help you make someone smile this Valentine's Day.
We hope we have shown you that, when it comes to dog-related Valentine's Day puns, the paws-ibilities are endless!